January, 13, 2013
1/13/13
11:30
AM ET
By the end of Sunday, it's possible the
Chicago Bears
will have concluded their first round of interviews in what has already been an epic coaching search.
Indianapolis Colts
offensive coordinator Bruce Arians was scheduled to be the 13th known candidate to speak with general manager Phil Emery. If there are more first-round interviews scheduled, they haven't been reported.
My educated guess is that some interviews have been completed in secrecy, so I wouldn't be surprised if Emery has spoken with 15 or more candidates.
We've discussed the possibility
that Emery is using this opportunity to pick the brains of as many smart assistant coaches as he can, but I think we have also seen an undeniable quality emerge as well.
Here's how
Tennessee Titans
general manger Ruston Webster put it last week during an interview with my AFC South colleague Paul Kuharsky on 104.5-FM in Nashville: "I know Phil Emery, and Phil Emery is about as thorough of a human being as I've ever known."
Meanwhile,
according to ESPN's Adam Schefter
, two of the coaches Emery has spoken with said "they never have interviewed with anyone as prepared and detailed" as him.
So before we try to ascribe some kind of ulterior motive to Emery's approach, and rather than conclude he is flailing blindly in the night, perhaps this search is best viewed as a physical extension of Emery's meticulous personality. Where and when it ends remains anyone's guess. Former NFL coach Jimmy Johnson tweeted that Emery favored his former assistant, current Montreal Alouettes coach Marc Trestman, but
nothing more has come
of what appears to be Johnson's personal view.
For the record, here are the Bears' Lucky 13 to this point:
Arians
Atlanta Falcons special teams coordinator Keith Armstrong
Seattle Seahawks offensive coordinator Darrell Bevell
New Orleans Saints offensive coordinator Pete Carmichael Jr.
Green Bay Packers offensive coordinator Tom Clements
Dallas Cowboys special teams coordinator Joe DeCamillis
Houston Texans offensive coordinator Rick Dennison
Denver Broncos offensive coordinator Mike McCoy
Minnesota Vikings special teams coordinator Mike Priefer
Vikings special assistant to the head coach Mike Singletary.
Tampa Bay Buccaneers offensive coordinator Mike Sullivan
Trestman
Bears special teams coordinator Dave Toub
January, 6, 2013
1/06/13
11:30
AM ET
After a wild 24 hours of news, action and quarterback intrigue for the
Green Bay Packers
and
Minnesota Vikings
, let's catch up on the
Chicago Bears
' coaching search as it enters its second week.
What stands out is how wide the Bears' net is.
ESPN's Adam Schefter
reported the Bears have either already interviewed or plan to speak with about a dozen candidates before circling back to a second round. Most of candidates have backgrounds on offense and, according to Schefter, they have all been told that two finalists will visit Halas Hall this week before an offer is made.
The names of nine coaches have emerged or been reported in recent days. The latest are
Houston Texans
offensive coordinator Rick Dennison, who is eligible to interview this week, and longtime NFL assistant Marc Trestman, who is currently the head coach of the CFL's Montreal Alouettes. Trestman will interview Monday. The Bears are also scheduled to speak Sunday with
Denver Broncos
offensive coordinator Mike McCoy.
Already, the Bears have interviewed
Atlanta Falcons
special teams coach Keith Armstrong,
Tampa Bay Buccaneers
offensive coordinator Mike Sullivan, New Orleans offensive coordinator Pete Carmichael Jr. and
Dallas Cowboys
special teams coordinator Joe DeCamillis.
In addition to McCoy, Dennison and Trestman, the Bears have requested permission to speak with Packers offensive coordinator Tom Clements and
Indianapolis Colts
offensive coordinator Bruce Arians.
None of those coaches have defensive backgrounds, which makes the focus of general manager Phil Emery's search clear. It's worth noting that respected defensive coordinator Rod Marinelli remains under contract and employed by the team. But there are almost certainly other names on Emery's list that have not yet emerged publicly, and some could have defensive backgrounds. Stay tuned.
January, 3, 2013
1/03/13
5:00
PM ET
The
Chicago Bears
have sought permission to interview
seven known candidates this week
for their vacant head-coaching position, according to reports. Five are offensive coordinators, two are special-teams coordinators and not one has a primary background as a defensive head coach.
What does that tell us about general manager Phil Emery's goals and objectives in this process?
First, we should make clear that the list of seven, whose names are at the bottom of this post, might not be all of the candidates Emery has targeted. Others could have gone undiscovered to this point by reporters or have been kept under the radar for competitive reasons.
But it's certainly worth noting that Emery appears to be most interested in the offensive side of the ball, the part of the team he said Tuesday was most disappointing under former coach Lovie Smith. NFL teams routinely seek out candidates that offer a stark contrast to the predecessor, and an offensive schemer would certainly qualify given Smith's background on defense.
It's possible that some of the candidates are being interviewed as potential offensive coordinators. You also wonder if Emery is leaving open the possibility for an offensive-minded coach to preserve the Bears' defensive staff, led by coordinator Rod Marinelli. Emery said Tuesday that all assistants were given an extra year on their contracts last season, meaning they all remain obligated to stay with the team unless the new coach fires them.
Again, it's difficult to draw too many conclusions based on what might be an incomplete list. All we can say at the moment is that there are no confirmed candidates with defensive backgrounds to this point.
The offensive coordinators:
Bruce Arians (
Indianapolis Colts
), Pete Carmichael Jr. (
New Orleans Saints
), Tom Clements (
Green Bay Packers
), Mike McCoy (
Denver Broncos
), Mike Sullivan (
Tampa Bay Buccaneers
),
The special teams coordinators:
Keith Armstrong (
Atlanta Falcons
), Joe DeCamillis (
Dallas Cowboys
).
January, 1, 2013
1/01/13
3:45
PM ET
It's too bad the networks can't flex-schedule press conferences. Because
Chicago Bears
general manager Phil Emery gave one of the most expansive and content-rich pressers in recent memory at a time -- New Years' morning -- when many Bears fans and perhaps some reporters were, uh, less than ideally equipped to provide rapt attention.
Emery provided a candid explanation for
why he fired coach Lovie Smith
after a 10-6 season, explained in unprecedented detail why he didn't address the Bears' offensive line last offseason, and
was appropriately non-committal
about the future of longtime franchise face
Brian Urlacher
.
[+] Enlarge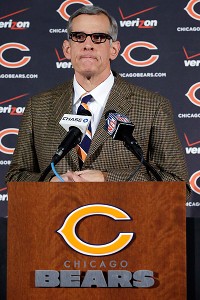 AP Photo/Nam Y. HuhBears general manager Phil Emery was candid about his reasons for firing head coach Lovie Smith.
Our friends at ESPNChicago.com have it all wrapped up
on their Bears blog
. I'm not sure I totally accepted Emery's explanation for the state of his offensive line -- essentially that he judged the acquisition of playmakers last winter to be more important considering the quality of line options available -- but that is a discussion over spilled milk. What's done is done there, and Emery will have more chances to address the line this winter.
What I thought was most important for the franchise was Emery's clear message of heightened expectations. In essence, Emery said that simply winning a lot of games -- as Smith did over the past nine years -- isn't good enough.
"Our No. 1 goal always has to be to win championships," Emery said. "And to win championships, we must be in contention on a consistent basis. And to be in contention, we have to be in the playoffs on a consistent basis."
Smith had an 81-63 regular-season record, but missed the playoffs in five of the past six years. Emery specifically quoted that drought Tuesday. He bluntly said the Smith's offenses were too inconsistent over time, and implied Smith had enough time to fix them. "We searched for answers," Emery said.
There is a risk in firing a coach who has won consistently, if not at a championship level. The next guy might not be able to win at all. That's the primary argument we've heard from
those who think Smith should have been retained
. Tuesday, however, Emery made clear he isn't willing to settle for good coaching or even very good coaching. He wants the best.
A year after taking control of football operations, Emery has ended an era during which the Bears were lulled into accepting good years instead of great ones. Lovie Smith is a very good head coach. By firing him, and by definition implying that the next coach will be better, Emery has set a high bar for himself and the franchise. But if you're a Bears fan, would you want it any other way?
Related:
ESPN's
working list of candidates
that Emery has reached out to interview now includes four men:
Denver Broncos
offensive coordinator Mike McCoy,
Atlanta Falcons
special teams coordinator Keith Armstrong,
Tampa Bay Buccaneers
offensive coordinator Mike Sullivan and
Dallas Cowboys
special teams coordinator Joe DeCamillis.
December, 31, 2012
12/31/12
4:21
PM ET
In the hours since the
Chicago Bears
fired coach Lovie Smith, the names of two possible replacements have surfaced:
Denver Broncos
offensive coordinator
Mike McCoy
and
Atlanta Falcons
special-teams coordinator Keith Armstrong. Both coaches are available to be interviewed this weekend, according to NFL rules, because their teams have playoff byes.
ESPN's Adam Schefter confirmed McCoy will interview
over the weekend;
Fox Sports' Alex Marvez
and ESPNChicago.com's Michael C. Wright reports that Armstrong has a meeting planned as well.
McCoy also has drawn interest from the
Arizona Cardinals
and figures to be one of the hottest coaching candidates on the market. He drew rave reviews last season for adjusting his offense to fit run-oriented quarterback
Tim Tebow
. He then presided over a substantial transition in 2012 following the Broncos' acquisition of quarterback
Peyton Manning
.
Armstrong, meanwhile, has a history with Bears general manager Phil Emery. He coached the Bears' special teams from 1997-2000, overlapping for three seasons when Emery was a Bears scout. The pair also overlapped with the Falcons for one season in 2008 when Emery was director of college scouting.
I would imagine that more names will emerge. We'll keep you updated.
December, 31, 2012
12/31/12
11:50
AM ET
Here is a list of teams that have fired their head coaches thus far on Black Monday:
Only one of those teams has a franchise quarterback in place.
The
San Diego Chargers
could soon be added to that list, but it's still fair to say that
Jay Cutler
will make the Bears perhaps the most attractive landing spot for head-coaching candidates in the coming days and weeks.
As we have discussed
, the Bears have some significant work ahead of them in terms of reinvigorating their defensive personnel. But new coaches are accustomed to taking over imperfect rosters. It's rare to assume control of a team that has a quarterback of Cutler's skills.
You could nitpick Cutler's performance during his four years with the Bears and note it has translated into only one playoff victory. But he still gives a prospective head coach a better chance at relatively quick success, especially considering Cutler's chemistry with receiver
Brandon Marshall
, than most other potential landing spots. Remember,
as we discussed a few weeks ago
, this won't be a plum year for either drafting quarterbacks or finding a starter via free agency.
Fox Sports' Jay Glazer
has reported the Bears are interested in
Denver Broncos
offensive coordinator Mike McCoy. If you're McCoy, who figures to be pursued by multiple organizations, would you prefer taking over a team with Cutler on the roster or, say, one with
Matt Cassel
,
Ryan Fitzpatrick
or
Brandon Weeden
?
There are plenty of other circumstances that affect a highly touted coaching candidate. Money, personnel control and the potential for working well with the general manager are all priorities. But as is often said, talent trumps all. And the Bears are equipped better than most NFL teams in that regard -- especially at quarterback.
January, 19, 2012
1/19/12
10:24
AM ET
In the video below, ESPN's Adam Schefter suggests that
Green Bay Packers
offensive coordinator Joe Philbin appears to be the favorite of
Miami Dolphins
owner Stephen Ross for the team's head coaching job. Philbin had a second interview Wednesday with the Dolphins.
Denver Broncos
offensive coordinator
Mike McCoy
is rumored to be the favorite of general manager Jeff Ireland. Dolphins defensive coordinator
Todd Bowles
is the third finalist for the job.