NFC North:

Mike Montgomery
November, 3, 2010
11/03/10
6:30
AM ET
We're Black and Blue All Over:
In an interview with
ESPNMilwaukee.com's Jason Wilde
, Green Bay Packers tight end Jermichael Finley revealed he had emergency surgery last week to address an infection in his surgically-repaired knee. He will receive an IV through a central line in his chest three times a day for the next six weeks or so.

Finley: "I had a second surgery. Nobody knows about it. I had caught a real small infection in my knee, so I had to go in about a week ago, had to go back under and get the infection out. I was in the hospital for two days. I'm surprised nobody knew about it. I had to get all these antibiotics in me, get blood drawn four or five times a day. It's terrible. Right now, I've got this IV in my chest, a central line.

"Nobody knew about the surgery. Some guys over at the facility had it, and it's floating around the locker room. I had to go in, it was emergency surgery. I had a 105 fever, I called Doc [team physician Pat McKenzie] and said, 'I'm not feeling too good,' and we had to rush in and clean out the infection. I don't know what it's called. I guess you could call it a staph infection, but I don't think that's what it was. But I had to rush in and they put a central line in my chest. I won't get this taken out for another month and a half. Three times a day I have to get antibiotics put through it. Courtney, she's my doctor right now."
Wow. I could be wrong, but this is the first I've heard of an infection that's "floating around the locker room" in Green Bay. Given the number of injuries and surgeries there this season, it's something to keep an eye on.
Continuing around the NFC North:
October, 31, 2010
10/31/10
11:40
AM ET
October, 18, 2010
10/18/10
1:15
PM ET
After the Green Bay Packers' 23-20 loss Sunday to the Miami Dolphins, here are three issues that merit further examination: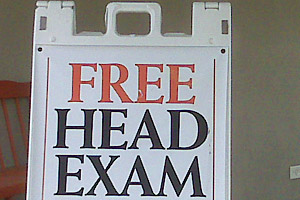 Kevin SeifertThe Green Bay Packers take their turn in the examination room after their loss to the Miami Dolphins.
ESPN Stats & Information came up with some numbers that suggest the Packers' defense was pretty weak up the middle Sunday, an unsurprising development considering the injury situation at linebacker and safety. Dolphins quarterback Chad Henne completed 14 of 17 passes between the numbers for 135 yards and two touchdowns. When he targeted outside receivers near the sideline, he completed nine of 21 passes. Meanwhile, tailbacks Ronnie Brown and Ricky Williams gained 86 percent of their combined yardage on runs between the numbers. Future opponents will no doubt notice the trend.

Over on Twitter, @JezzicaBe noted the irony of quarterback Aaron Rodgers getting two teeth chipped on a hit one day after we discussed multiple other occasions of questionable contact. After taking in the weekend's action, I think we can all agree the NFL has failed to protect all players -- quarterbacks or otherwise -- from head shots. Google "James Harrison" or "Dunta Robinson" and you'll see what I'm talking about. Where and when will it end? I shudder to think what could happen before substantive changes are made. This game has moved from violent to dangerous and is approaching a level that isn't even entertaining. NFL vice president Ray Anderson told NFL.com that he could start suspending players for helmet-to-helmet hits, but we'll wait on the action behind those words. Everyone wants to see collisions. No one (I hope) wants to see violent injuries.

I didn't like the late penalty call against Robert Francois any more than you did. It appeared that Francois was beyond the necessary yard off center on a fourth-quarter punt, and the call shouldn't have been made. I know it extended a Dolphins drive, but I hope no one is hiding behind it to explain why the Packers lost. There were multiple other opportunities to win this game. More concerning is why the offense continues to have long gaps between efficiency, as well as the Packers' difficulties winning close games. All three losses this season have come by three points. Their special teams haven't been very good as a whole, and I imagine that Tim Masthay could be kicking for his job Sunday night against the Minnesota Vikings. But let's stop blaming officials for losses that were otherwise avoidable.
And here is one issue I don't get:
Weekend reports about the potential availability of Dallas Cowboys tailback Marion Barber naturally connected the Packers. I don't doubt the Packers' need for a player of Barber's multiple skills, even though his bruising style suggests a body older than its 27 years. But I'll say it once again: Why do we include the Packers in trade rumors for veteran players? I can't totally rule out the possibility, but let's just reiterate that such a trade would fall wholly against general manager Ted Thompson's recent history. Look at what he's done so far this season. Reacting to the Packers' slew of injuries, he's signed running back Dimitri Nance off the Atlanta Falcons' practice squad. He's re-signed defensive end Mike Montgomery and now traded for safety Anthony Smith, who spent 2009 in training camp with the Packers. Like it or not, those moves fit Thompson's profile much more than trading for Barber.
October, 15, 2010
10/15/10
11:30
AM ET
The
Green Bay Packers
made it official Friday, placing linebacker
Nick Barnett
on injured reserve because of a wrist injury suffered Oct. 3.
ESPN's Adam Schefter
reported Barnett's season was over a few days later, but Barnett spent some time investigating all of his options before finally deciding on major surgery Wednesday.

Barnett
There is every reason to believe Barnett will seamlessly pick up his career next season, much like
Chicago Bears
linebacker
Brian Urlacher
did after suffering a similar injury in 2009. But for the rest of this season, the Packers are looking at the likelihood of
Desmond Bishop
serving as one of their two inside linebackers when they run their base 3-4 scheme.
The Packers used Barnett's roster spot to re-sign veteran defensive end
Mike Montgomery
, who spent five seasons with them before signing with the
Minnesota Vikings
as a free agent this spring. The Vikings released him last month, but with the Packers he'll provide depth behind injured defensive ends
Ryan Pickett
(ankle) and
Mike Neal
(shoulder).
June, 4, 2010
6/04/10
2:25
PM ET
My NFC West colleague Mike Sando
put together a char
t that confirms in quantitative fashion what you might have realized intuitively. The
Minnesota Vikings
and
Green Bay Packers
, two of the NFL's better teams last season, have to this point retained the vast majority of players with whom they finished the 2009 season.
Much can change between now and September, but the analysis is especially relevant when compared to the rest of the league. The Vikings' 94.4 percent retention rate is the league's highest, while the Packers' rate of 87.3 ranks fourth.
According to my records, the only players Minnesota hasn't brought back is running back
Chester Taylor
, cornerback
Karl Paymah
and offensive lineman
Artis Hicks
. The Packers' list includes punter
Jeremy Kapinos
, running back
Ahman Green
, safety
Matt Giordano
and defensive end
Mike Montgomery
. (The Packers' percentage is lower because they had a larger base of players when taking into account those on injured reserve.)
March, 30, 2010
3/30/10
6:58
AM ET
Well, well. I took a couple hours away from the blog following the
NFL owners meeting
, and here's all I missed:
Chicago is planning to
part ways
with a core member of its defense. A Pro Bowl quarterback wants to play for Minnesota, but the team that
wants him most
is Oakland. The Vikings signed another cross-border free agent. The
success
of a certain Oklahoma quarterback's Monday workout suggested
more strongly than ever
Detroit will be in position to draft Nebraska defensive tackle Ndamukong Suh.
That's not bad for the final weekend of March. Let's do some catching up here Tuesday morning:
March, 29, 2010
3/29/10
9:45
AM ET
By
ESPN.com staff
| ESPN.com
Chicago Bears
The Chicago Sun-Times details who is
not expected to be in attendance
when offseason workouts begin Monday.
According to the San Diego Union-Tribune, the San Diego Chargers are
close to signing
former Bears cornerback Nathan Vasher.
Detroit Lions
The Lions are in the process of
fine-tuning their plans
for next month's NFL draft.
While general manager Martin Mayhew has been extremely busy this offseason, he doesn't expect future offseasons
to be as hectic
.
Green Bay Packers
"
Training like you play
" is the phrase stressed in the Packers' weight room this offseason.
Rob Demovsky of the Green Bay Press-Gazette looks at
the rapid rise
of new Seattle Seahawks general manager (and former Packers personnel man) John Schneider.
Minnesota Vikings
Former Packers defensive end Mike Montgomery is
scheduled to visit
the Vikings on Monday.
After being major players in free agency in recent years, the Vikings have taken their
foot off the gas pedal this offseason
.
March, 5, 2010
3/05/10
7:54
PM ET
Perhaps you've seen
this report
from ESPN's Adam Schefter: Green Bay has re-signed left tackle
Chad Clifton
to a three-year contract that includes $7.5 million guaranteed.

Clifton
The deal came amid reports that Clifton was visiting Washington, which is looking for a new left tackle following the retirement of veteran
Chris Samuels
. Did the visit loosen the Packers' purse strings? Or did Clifton merely realize he didn't want to leave Green Bay?
Tom Silverstein of the Milwaukee Journal Sentinel
suggested the latter rationale earlier Friday. We might never know the truthful answer to that question, but in the short term it means the Packers won't be transitioning their left tackle position in 2010.
As we've
discussed recently
, the Packers are in a difficult situation. Clifton has struggled at times during the past two years and is nearing the end of his career, but the Packers have no obvious replacement on their roster. I don't think anyone considers
T.J. Lang
a short- or long-term answer at the position. It's possible the Packers will draft a starting-caliber left tackle next month, but obviously there are no guarantees.
Now the question is whether the Packers will re-sign right tackle
Mark Tauscher
or whether they will turn the position over to Lang. Part of the difficult situation is that Tauscher might have more career longevity than Clifton -- but the need to retain the incumbent was more acute at Clifton's position.
I have a feeling that this post wouldn't be complete without the near-obligatory "stay tuned."
Two other quick Packers notes from Friday: The team released defensive end
Mike Montgomery
and safety
Matt Giordano
.
March, 12, 2009
3/12/09
7:00
AM ET
Posted by ESPN.com's Kevin Seifert
Let's change things up a bit Thursday morning and lead off our coverage with some multimedia. In the video below, you'll see Jim Rome's eight-minute interview Wednesday with Detroit coach Jim Schwartz on ESPN.
A couple of highlights:
Schwartz said the Lions have refurbished their weight room and "changed up" the locker room at their practice facility. "Basically," he said, "[players] can step in the first day and say, 'Wow, things are different around here'"
On Georgia quarterback Matthew Stafford: "He still has some hoops to jump through for us." Asked to be more specific, Schwartz said: "We need to spend some time with him on the board, talking football, on a little more in-depth basis."
Here's the full video:
And now, let's march around the NFC North:
March, 3, 2009
3/03/09
6:58
AM ET
Posted by ESPN.com's Kevin Seifert
One of the more interesting questions entering free agency was whether Green Bay general manager Ted Thompson would accelerate his usual plodding approach in order to re-stock the Packers' roster for its transition to a 3-4 defense. The answer has been a resounding no.

Tom Silverstein of the Milwaukee Journal Sentinel offers a good overview of what the Packers have -- and haven't done -- in the first four days of the market. Here it is in a nutshell: "Their strategy appears to be to take their time and make sure they don't overbid for players who would have to compete to become starters."
This has led the Packers to have casual conversations with the agents for defensive ends Igor Olshansky (San Diego), Marques Douglas (Baltimore) and Mike Wright (New England). But no visits are scheduled. It's possible the Packers will schedule a visit soon with free agent safety Michael Adams (Cleveland). None of these players are game-changers but could contribute to a winning team.
Like it or not, that's the approach Thompson has taken once again in 2009.
Continuing around the NFC North on a Tuesday morning:
Two Packers free agents, defensive end Mike Montgomery and fullback John Kuhn, are beginning to take visits, according to Pete Dougherty of the Green Bay Press-Gazette. Montgomery is in Atlanta and Kuhn was in Arizona.
Judd Zulgad and Chip Scoggins of the Star Tribune examine the situation around Denver quarterback Jay Cutler, who would like to be traded.
Minnesota special teams ace Heath Farwell has scheduled a visit with New England, according to Zulgad.

Vikings defensive end Jared Allen will participate in a USO trip to U.S. bases in the Persian Gulf this week. Allen's younger brother recently joined the Marines, according to

Sean Jensen of the St. Paul Pioneer Press

.

Detroit has scheduled a visit with free agent offensive lineman Daniel Loper, according to Nicholas J. Cotsonika of the Detroit Free Press. Meanwhile, the Lions lost fullback Moran Norris to San Francisco.

Bob Wojnowksi of the Detroit News

would like to see the Lions pursue Cutler: "It's such a no-brainer, I shouldn't even waste your time on it. It's also probably a complete pipe dream, a nasty little tease, an unrealistic notion."




David Haugh of the Chicago Tribune offers a similar sentiment for the Bears: "At some point [returning to the Super Bowl] will require bigger and bolder moves, and prying Cutler away from Denver would be one that could cement [Jerry] Angelo's legacy in Chicago."

November, 14, 2008
11/14/08
7:21
AM ET
Posted by ESPN.com's Kevin Seifert
A subtle but interesting dynamic has evolved this week in Green Bay, where the Packers' coaching staff has made a big push to involve everyone in practice -- even those who traditionally get a pass because of chronic injuries.
The latest is left tackle Chad Clifton, who as Jason Wilde of the Wisconsin State Journal points out, fully participated in Wednesday and Thursday practices this week for the first time all season. Clifton has sore knees that generally benefit from rest during the week, but his uneven play this year has left him in need of more practice time.
Here's how offensive coordinator Joe Philbin described Clifton's situation:
"We need a little more continuity. That's one of the things we feel like has maybe slowed us down a little bit. We want to be smart, obviously. We're not going to grind the guy so he's taken out in an ambulance out to the field on Sunday so he can play. But continuity is important, and we believe in practice."
Indeed, when Clifton sits out a drill, the Packers have to shuffle several other positions to replace him. It's something the team has lived with for a while -- Clifton's nickname at times has been "The Big Lamborghini," because he was too valuable to use except on weekends -- but the Packers' 4-5 record and their critical matchup against Chicago dictated otherwise this week.
Quarterback Aaron Rodgers (shoulder) has stepped up his practice repetitions this week as well.
Elsewhere around the NFC North:
November, 2, 2008
11/02/08
7:39
PM ET
Posted by ESPN.com's Kevin Seifert
NASHVILLE, Tenn. -- Justice has more important priorities than the NFC North. And so there was no recourse Sunday for the Green Bay Packers, who lost their hold on the division lead even while taking the league's top team to overtime.
| | |
| --- | --- |
| | |
| | Doug Benc/Getty Images |
| | Aaron Rodgers' two turnovers cost the Packers. |
The Packers gave the Titans (8-0) arguably their toughest game of the season, amassing nearly 400 offensive yards and coming within 10 yards of position for a potential game-winning field goal. But when Rob Bironas' 41-yard field goal split the uprights with 9:36 left in overtime -- lifting the Titans to a 19-16 victory -- the Packers had no choice but to accept their 4-4 record and a one-game deficit in the NFC North.
(We'll save the Chicago Bears first-place status story for another day, upon further inspection of their comeback victory against Detroit.)

"We're a good team," Packers cornerback Charles Woodson said. "But the reality is we're 4-4. What you take from this game is that close ain't good enough. ... These are the type of games that test teams and let you know exactly where you are and where you aren't. We're a good team but not good enough to get over that hump right now."
Two Packers mistakes and a late spurt from Titans rookie runner Chris Johnson were the only differences between the teams Sunday. Green Bay quarterback Aaron Rodgers committed two turnovers, one an interception in the end zone and another a fumble that Tennessee recovered on the Packers' 17-yard line. The Titans converted the latter mistake into a 22-yard field goal midway through the third quarter.
"That gave them three points," Rodgers said. "And that's the margin of victory. You can't do that. That makes me very disappointed in the way I played."
The Titans didn't commit a turnover, but they also didn't take control of the game until overtime. Green Bay limited them to 57 offensive yards on their first six possessions of the second half, and it wasn't until late in the fourth quarter that Johnson found his footing.
Johnson gained 50 of his 89 rushing yards on the Titans' final two drives, putting Bironas in position for a pair of attempts. (His 47-yarder at the end of regulation hit the right upright.)
The Packers had twice battled back from six-point deficits, and more than a few Packers players were convinced the overtime coin toss decided the game.
"It might have been different if we had won the coin toss," linebacker Brandon Chillar said. "Not to make excuses, but that's how it is. ... I'd like to play them again and see what happens."
October, 2, 2008
10/02/08
7:24
AM ET
Posted by ESPN.com's Kevin Seifert
If you believe in curses, this week is big for you. Because one of the all-time hexes in sports is about to expire.
As the Detroit News' Bob Wojnowski details in this entertaining column, the Lions are poised to emerge from a 50-year hex allegedly dispensed by quarterback Bobby Layne on the day he was traded to Pittsburgh. On Oct. 6, 1958, Layne supposedly said the Lions "would not win for 50 years."
The Lions had won the 1957 NFL championship. But since trading Layne, the franchise has made only nine playoff appearances and won only one postseason game. Wojnowski brings readers up to date on the failures, tragedies and other "unfathomable" events over that span.
The Lions will be burdened for one more game, Sunday's matchup against Chicago, before the curse is lifted. In a twist of hope available only in Detroit, Wojnowski writes:

In a few days, the Curse of Bobby Layne will be gone, too, which supposedly will lift the shroud and allow the once-proud Lions to frolic again with football's best. Laugh if you must. But if you've never believed in curses, it wouldn't hurt to start now.
Jaunting around the NFC North on a Thursday morning: