January, 15, 2014
Jan 15
4:25
PM ET
EDEN PRAIRIE, Minn. -- Before the
Minnesota Vikings
fired Leslie Frazier on Dec. 30, there might not have been any player more outspoken in his desire for Frazier to stay than running back
Adrian Peterson
. The 2012 NFL MVP said after both of the Vikings' last two games that he wanted Frazier back as the coach, adding he planned to talk to ownership about his desire for Frazier to remain in charge.
Peterson got a chance to do that in a brief conversation before Frazier was fired, he told ESPN.com on Wednesday, but he quickly knew his input wasn't going to steer the Vikings' decision-makers in a different direction. Now that Peterson's had a chance to process the Vikings' decision to fire Frazier -- whom he called "a guy I trusted, a guy I believed in," -- the running back said he's moving forward with cautious optimism after the Vikings' decision to hire former
Cincinnati Bengals
defensive coordinator Mike Zimmer.
[+] Enlarge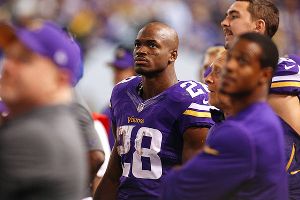 Adam Bettcher/Getty ImagesAdrian Peterson is anxious to see how Mike Zimmer will handle the Vikings offense.
"Trust me, I'm watching. I'm watching to see exactly what we're doing, just to see exactly what direction we're headed in," Peterson said. "I've been keeping my eyes open with the head coach; I knew he was probably the guy they were going to go with. It wasn't too much of a surprise. I've been watching for the coordinators -- are they going to keep Bill Musgrave around or what direction they're going to go with. With a new coach, that's when things start happening, too, that's all part of the process."
The running back hadn't talked to Zimmer as of Wednesday afternoon, but expected he would be in touch with the new coach shortly. He met one-on-one with general manager Rick Spielman after Frazier was fired, as many players did, to give him an idea of what he wanted to see from a new coach. But Peterson -- who'd been stunned the offseason before by the Vikings' decision to trade receiver
Percy Harvin
-- maintained a sober understanding of the business side of things.
"I've seen players come in with the Vikings -- guys I figured I'd probably play with until I finished playing with the Vikings -- and they're gone," Peterson said. "At first, it was, 'How could they let that person go?' It didn't really take me too long to kind of get over it and accept it for what it was. He (Frazier) is out, so we start a new chapter. My personal feelings, I didn't let it get in the way with business."
Now that Zimmer is in place, Peterson said he'll anxiously await news about what the Vikings will do on offense. ESPN NFL Insider Adam Schefter reported the team has received permission to talk with
Cleveland Browns
offensive coordinator Norv Turner, and Zimmer has been linked to offensive coordinator candidates like former
Jacksonville Jaguars
head coach Mike Mularkey, former
Detroit Lions
offensive coordinator Scott Linehan and Bengals quarterbacks coach Ken Zampese.
Whatever the Vikings do, Peterson said, he wants to see a game plan that will keep defenses honest. The Vikings have seen eight men or more in the box on 383 snaps during the last two seasons -- the second-most in the league, according to ESPN Stats and Information -- as teams have lined up to stop Peterson, effectively daring the Vikings' woeful passing game to beat them.
"When I play offense, I want to be able to have you on your toes, where you're not really expecting what's coming," Peterson said. "Being versatile offensively [is the biggest thing I'm looking for]."
Peterson called Musgrave a "good guy, a great mind," but said he hadn't given much thought to whether Zimmer would keep Musgrave on the staff.
The running back, who carried just 18 times in the Vikings' last four games, was replaced on the Pro Bowl roster by
Eddie Lacy
on Wednesday. He made the decision to let his body heal up after spraining his right foot and straining his groin during the 2013 season, but one thing in particular made it hard to skip the Pro Bowl -- the possibility that
Deion Sanders
might play.
"That's the only thing I was going to regret," he said. "Not the cash, not winning the Pro Bowl, not winning MVP. That's the only thing I was going to regret -- not getting the chance to line up against Deion."
April, 17, 2012
4/17/12
8:04
PM ET

Breakdown:
The
Minnesota Vikings
' schedule reflects low expectations for their 2012 season. They'll have one prime-time game, a Thursday night matchup in Week 8 against the
Tampa Bay Buccaneers
, and 13 of their other 15 games are scheduled for the early 1 p.m. ET Sunday time slot.
The good news is the Vikings have a chance for a decent start. They'll host the
Jacksonville Jaguars
, led by first-year coach Mike Mularkey, in Week 1. And then they'll travel to the rebuilding
Indianapolis Colts
, led by another first-year coach in Chuck Pagano and presumably led by rookie quarterback
Andrew Luck
.
Even for a team with modest goals, a 2-0 start is within reach.
Complaint department:
The Vikings play four of their final six games on the road, including potential cold-weather games in Green Bay and Chicago. That's not a schedule conducive to a young team hoping to progress as the season wears on. And while the Vikings-Packers rivalry has diminished in recent years, it would be nice to see at least one of the games take place before December. But as this schedule reads, the teams will play at Lambeau Field in Week 13 and at the Metrodome in Week 17.
Final Minnesota game?
The collapse of the Vikings' stadium bill puts the focus on their long-term future and begs this question: Will the Packers-Vikings game in Week 17 be the Vikings' final game in Minnesota? In many ways, the Packers would be an appropriate opponent for that game. Minnesota was Packers country before the NFL placed the Vikings there in 1960.
Vikings Regular-Season Schedule (All times ET)
Week 1:
Sunday, Sept. 9, Jacksonville, 1:00 PM
Week 2:
Sunday, Sept. 16, at Indianapolis, 1:00 PM
Week 3:
Sunday, Sept. 23, San Francisco, 1:00 PM
Week 4:
Sunday, Sept. 30, at Detroit, 1:00 PM
Week 5:
Sunday, Oct. 7, Tennessee, 1:00 PM
Week 6:
Sunday, Oct. 14, at Washington, 4:15 PM
Week 7:
Sunday, Oct. 21, Arizona, 1:00 PM
Week 8:
Thursday, Oct. 25, Tampa Bay, 8:20 PM
Week 9:
Sunday, Nov. 4, at Seattle, 4:05 PM
Week 10:
Sunday, Nov. 11, Detroit, 1:00 PM
Week 11:
BYE
Week 12:
Sunday, Nov. 25, at Chicago, 1:00 PM
Week 13:
Sunday, Dec. 2, at Green Bay, 1:00 PM
Week 14:
Sunday, Dec. 9, Chicago, 1:00 PM
Week 15:
Sunday, Dec. 16, at St. Louis, 1:00 PM
Week 16:
Sunday, Dec. 23, at Houston, 1:00 PM
Week 17:
Sunday, Dec. 30, Green Bay, 1:00 PM
August, 7, 2011
8/07/11
1:00
PM ET
MANKATO, Minn. -- The summer of 2011 is not the time for Nervous Nellies. After the NFL lockout wiped out five months of offseason work, there is a lot to do and (almost) no time to do it. If you freak out under stress, you aren't going to be much good to anyone this August.

Fortunately for the
Minnesota Vikings
, their new coach is probably the most serene leader in the NFL. Leslie Frazier makes Tony Dungy look like a spaz. No matter what curveball he has been dealt since accepting the Vikings' interim job last November, Frazier has projected a tranquility that should serve the team well during the hectic run-up to the 2011 season.
In the span of about six weeks, Frazier will oversee the installation of a new offense. He'll preside over the transition to quarterback
Donovan McNabb
, develop a new left tackle and do his best to instill a tone of professional confidence that reflects his own personality.
Three days at Minnesota State University, Mankato, revealed the Vikings are well on their way to adopting Frazier's style. Players and staff worked hard but with an emotional ease that belied the tense tenure of former coach Brad Childress. It's been a while since I've seen smiles during a full-contact Vikings practice, and I was amazed at how downright
happy
people were -- from the elite players on the roster to the lowest-level staffers. Even left guard
Steve Hutchinson
, whose next career is certain to include a role as
Oscar the Grouch
, chatted gregariously with reporters after last Wednesday's practice.
As a football team, the Vikings have a long way to go in terms of chemistry and scheme. But I can tell you this: No one seemed worried.
"I've been around enough successful teams," said Frazier, who won a Super Bowl as a player [the 1985
Chicago Bears
] and assistant coach [the 2006
Indianapolis Colts
]. "I think I have an idea of what it takes to win in this league. That's what I've tried to get across to the players over and over, and will continue to do that."
THREE BIG ISSUES
1. How quickly can the Vikings install Bill Musgrave's new offense?
Players are learning different terminology and an entirely new scheme, one that will roughly resemble what the
Atlanta Falcons
run under coordinator Mike Mularkey. Rookie quarterback
Christian Ponder
received a partial playbook during the one-day lockout respite in April, and he helped distribute it to teammates by making copies himself.
Still, Musgrave freely admits there isn't enough time to install everything. He has cut back the volume of the playbook and won't have his full arsenal installed for some time, if at all, in 2011.
"We're in uncharted territory," he said. "We've never been through anything like this, whether as a coach or a player. We're trying to be smart in whittling down the volume that we present to the players. We want to be diverse and difficult to defend on offense, but at the same time, we want to know what the hell we're doing. We also want to get these guys back in football shape, so we don't want to work hard mindlessly. We want to work smart. We're balancing all those factors."
For now, at least, less will have to be more.
[+] Enlarge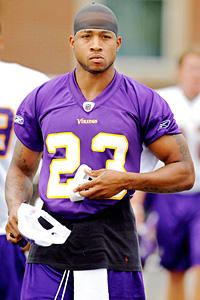 Bruce Kluckhohn/US PRESSWIRECedric Griffin has recovered from injuries to both of his knees last season and coach Leslie Frazier plans to start him in Week 1.
2. Cedric Griffin's quick recovery:
I'm not sure if Griffin's story has gotten enough national attention, but it will be remarkable if it holds up. Griffin tore both anterior cruciate ligaments in a span of 10 months, starting with the right knee in January 2010 and then the left knee last October. But doctors cleared him for full participation when training camp began and he was working with the first team throughout my three days in Mankato.
Griffin was never the fastest cornerback in the NFL, and it's fair to wonder how two major knee surgeries will impact his ability to run downfield with receivers. But the Vikings appear to be counting on Griffin, who is backed up by a pair of young cornerbacks --
Chris Cook
and
Asher Allen
-- who each struggled last season.
Griffin probably won't play in the preseason opener, but Frazier said he has every intent of starting him in the Sept. 11 season opener against the
San Diego Chargers
. Said Griffin: "Injuries are a part of this game. If you get hurt, you get back up and continue to work hard. That's what I do."
3. Replacing Sidney Rice:
The reality is the Vikings weren't going to find a receiver who could duplicate Rice's ball skills and leaping ability. Instead, they signed
Michael Jenkins
to offer reliable hands and precise routes. They renegotiated the contract of receiver
Bernard Berrian
, who should be motivated to put aside two lost years caused by a poor connection with former quarterback
Brett Favre
.
Most of all, however, the Vikings have thrust their faith behind third-year pro
Percy Harvin
, whom they hope will be their pseduo-No. 1 receiver and the top playmaker in their passing game. At 5-foot-11 and 195 pounds, Harvin doesn't have the prototypical size for that role. But he has already earned the respect of McNabb, for one.
"I have played with guys that play big, but are short in stature and have been so successful," McNabb said. "You talk about guys like
DeSean Jackson
and
Santana Moss
. There is no reason why Percy can't be a perennial Pro Bowler, as a starter at the receiver position with over 1,000 yards receiving, 90-100 catches."
BIGGEST SURPRISE
The release
of left tackle
Bryant McKinnie
could qualify as both the biggest surprise and biggest disappointment of the Vikings' summer. We'll classify it as the former because no one, not even Frazier, saw these circumstances coming. Specimens like McKinnie, who is 6-foot-8 with a 94-inch wingspan, are rare and can take years to suitably replace.
Last week, I suggested McKinnie's departure was
a warning shot
to a roster that might have underestimated Frazier's demeanor. But I really don't think Frazier arrived at training camp intending to make that kind of splash, a belief Frazier reinforced during an interview.
"It really wasn't intended to send a message to our team," he said. "I had not planned in this offseason to have a new left tackle. That was not the plan. It was just a matter to do what's best for our team and our organization. If there is anything from them to get from this, it's that. That's why I did what I did it. Every decision I make is going to be what's best to bring a championship to Minnesota. No hidden agenda. No personal agenda, that was it."
Indeed, Frazier could have chosen a less crucial position if he was just looking to make a point. No, Frazier arrived in Mankato to find he had an unexpected crisis on his hands: a key player who was in no condition to play anytime soon. The Vikings planned for uncertainty at quarterback. They orchestrated intentional changes at receiver and defensive line. All the while, they were counting on McKinnie as their left tackle. His condition stunned and angered them and will leave them weakened for some time.
[+] Enlarge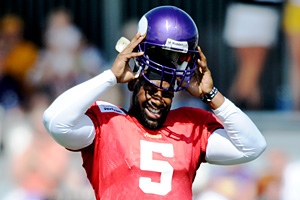 Hannah Foslien/Getty ImagesMinnesota quarterback Donovan McNabb is with his third team in three seasons.
MOST DELICATE JOB
The Vikings acquired McNabb for the
shortest of short-term jobs
: To help them win until Ponder is ready to start. In order to give McNabb a fair chance to do that, Frazier and Musgrave must give him unconditional support. But they'll have to do it while keeping one eye on Ponder's development as well.
The first week of training camp suggested the Vikings aren't close to having a quarterback controversy on their hands. McNabb
authoritatively took control of the offense
, working with several veterans at a local high school until he was eligible to practice, and then learning enough of the playbook to effect a smooth transition on his first day as the starter.
Ponder, on the other hand,
looked like a rookie
in his first week of professional practices. He displayed a quick release and an obvious ability to throw on the run, but his inexperience manifested itself in poor downfield accuracy and some bad interceptions.
McNabb's
one-year, $5.05 million contract
doesn't suggest he is in the team's long-term plans. But Frazier said he hasn't given much thought to the eventual quarterback succession, and I for one believe him.
"I really haven't thought that far ahead," Frazier said. "From time to time I'll look a little bit ahead, but there is so much to get done right now. It's all-encompassing. So to start saying right now what we're going to do a year from now or two years from now, that we're going to do this or that in certain positions. ... With all the changes we're having in 2011, you better get your focus on right now or you'll look back and regret certain things."
OBSERVATION DECK
After spending four seasons in a West Coast, zone-blocking scheme, tailback Adrian Peterson appears invigorated by the potential of Musgrave's offense. "The running back is definitely asked to do a lot more," Peterson said. "I'm excited about it. [There are] different formations, different looks that a running back has outside of the box. I'm excited to get this installed in my mind, this playbook, and get out there on Sunday to showcase the new Vikings offense." If all goes as planned, Peterson will play a much bigger role in the Vikings' downfield passing game than in previous years.

Peterson wants to be on the field for every play, but obviously the Vikings will need to establish both a backup and some potential relief on third down as well. Conventional wisdom suggests it will be Toby Gerhart, a second-round pick in 2010 who ran for 322 yards in limited service as last season. But I wouldn't rule out fourth-year pro Lorenzo Booker, a late addition last season who could also return kickoffs. During full-padded goal-line drills, Booker hit the holes quicker and more decisively than Gerhart, who seems to need time to gather a head of steam.

The Vikings' left tackle transition has attracted national attention, but it's not the only offensive line position in flux. Right guard Anthony Herrera is still recovering from a torn anterior cruciate ligament suffered last November and has not yet returned to practice. His status for the start of the regular season is uncertain at best. The Vikings are using second-year player Chris DeGeare in his spot, but they also re-signed veteran Ryan Cook as a possible alternative. From what I saw, neither player can match Herrera's aggressive play. On the plus side, Hutchinson and right tackle Phil Loadholt both reported to camp in the best shape of their Vikings careers.

While the offense is under significant schematic renovation, the defense doesn't appear much different under new coordinator Fred Pagac. That's no surprise. Pagac was the Vikings' linebackers coach for five years, including four under Frazier, and will run a similar hybrid form of the so-called "Tampa-2" scheme. Pagac implied that his game-day calls might be more aggressive than Frazier's, and there was plenty of blitzing during the team drills I saw. "The calls might be a little different according to the different situations but that's just a difference in philosophy," Pagac said. "Our defense is going to be the Viking defense that you've seen here for the last five years except again, we're going to push running to the football, playing with our hair on fire and having fun. We're going to get after it."

Fourth-year pro Erin Henderson is working with the first team at outside linebacker, the position vacated by the unsigned Ben Leber. It's not clear if Henderson is merely the first of a rotation of players who will get an opportunity or if the Vikings intend for him to be their starter. Henderson has been a good special-teams player but hasn't previously done much to distinguish himself on defense. Another candidate, Kenny Onatolu, is recovering from a stress fracture in his foot.
February, 18, 2011
2/18/11
10:30
AM ET
With the offseason in full swing, let's take a look at one major question facing each NFC North team as it begins preparations for the 2011 season:
CHICAGO BEARS

Yes, quarterback
Jay Cutler
didn't exactly finish the 2010 postseason on a strong note. It's been well-documented that the Bears need to upgrade their personnel along the offensive line. But here's another question to consider:
How much longer can the Bears rely on their aging defensive stars?
The Bears' best defensive players will all be at least 30 years old when training camp begins. Middle linebacker
Brian Urlacher
turns 33 in May. Defensive end
Julius Peppers
turned 31 last month. Linebacker
Lance Briggs
will be 31 in November, and cornerback
Charles Tillman
turns 30 next week.
There were no indications last season that any of those players are slowing down, but time stops for no one. More importantly, the Bears don't have promising young players at any of their positions. (The one exception might be nickelback
D.J. Moore
, who might one day be ready to replace Tillman as a No. 1 cornerback.)
It's true that not many teams have an elite pass-rusher or No. 1 cornerback waiting in the wings, but this offseason wouldn't be a terrible time to start addressing at least one or two of these future problem spots. The Bears won the NFC North last season primarily on the strength of a resurgent defense, and you would think the Urlacher-Briggs-Peppers-Tillman core represents their best chance for a repeat performance in 2011. But the Bears will need to start addressing those positions if they hope to have a productive transition to the next generation of their defense.
DETROIT LIONS

Are the Lions cooked if Matthew Stafford can't stay healthy?
Consider this question a variation of the central theme of the Lions' offseason: Getting Stafford back into the saddle as their starting quarterback. There is every indication that he will recover from shoulder surgery in time for the 2011 season, whether or not it begins on schedule in September. What's impossible to know at this point is whether Stafford can make it through a full season after missing 19 of his first 32 NFL games because of injury.
But is this an either/or proposition? To take the next step toward being a playoff contender, do the Lions need Stafford? Or, can they continue to fortify their team to the point where they can cover for whatever drop-off there is between Stafford and backups
Shaun Hill
or
Drew Stanton
?
While it would be a setback for the franchise if Stafford can't stay on the field, it doesn't have to be a lethal blow. Remember, the Lions scored an average of 22.6 points per game last season with Stafford playing only one full game. Hill and Stanton proved more than adequate as backups. If the Lions can plug a few more defensive holes this offseason, their success might not be anchored to the health of their franchise quarterback. Just a thought.
GREEN BAY PACKERS

Where will quarterback Aaron Rodgers find new motivation?
Before the 2010 postseason, Rodgers' career had been defined by closed doors. He drew motivation from the slights -- both real and perceived -- he absorbed from college recruiters, NFL draftniks, fans loyal to predecessor
Brett Favre
and media members who questioned his playoff acumen.
But after compiling a 109.8 passer rating in the Packers' playoff push, Rodgers is rightfully recognized among the top quarterbacks in the game. He was the Super Bowl XLV MVP and one of four quarterbacks in history to throw for at least 300 yards and three touchdowns, without throwing an interception, in a championship game.
"I guess I ran out of motivation, huh?" Rodgers said Feb. 7. "You know what, I'm always looking for challenges. I think the challenge now goes to repeating, scrutinizing this season, finding ways to get better. Obviously, being a perfectionist and having a quarterback coach who is as well, there's going to be plenty of time to work on things and plenty of things to work on."
As we
discussed in Tuesday's SportsNation chat
, there is at least one carrot remaining if Rodgers is looking for something new to chase: Becoming one of the best quarterbacks of all time.
MINNESOTA VIKINGS

It's well-known that the Vikings need to find a long-term answer at quarterback. But a parallel question of near-equal significance hasn't received enough attention on this blog.
What kind of offense will that new quarterback be expected to run?
The Vikings spent the past five seasons in a run-based version of the West Coast scheme. They drafted and made free-agent acquisitions based on skill sets that excel in similar offenses. New coach Leslie Frazier hired Bill Musgrave to replace offensive coordinator Darrell Bevell, however, and has charged him with developing a scheme that best fits the Vikings' roster.
"It will definitely be the
Minnesota Vikings
system," Musgrave told reporters last month.
Given their current personnel, it would make sense to incorporate elements of the West Coast scheme. And in reality, it's counterproductive to organize any offense based purely on arbitrary tenets. But every good offense has a personality and style, and those designations remain open-ended for the Vikings.
Will Musgrave build around tailback
Adrian Peterson
, minimizing a talented group of pass-catchers that includes
Sidney Rice
,
Percy Harvin
and
Visanthe Shiancoe
? Will he incorporate some of the aerial creativity of Mike Mularkey, whom he worked under with the
Atlanta Falcons
? What will he use as his base set? Two receivers? Three receivers? Two tight ends? On all counts, stay tuned.
January, 9, 2009
1/09/09
6:15
PM ET
Posted by ESPN.com's Kevin Seifert
The Detroit Lions are wrapping up the second week of their coaching search Friday by interviewing Minnesota defensive coordinator Leslie Frazier, the sixth known candidate to discuss the position with team officials. You would think they are closing in on the end of Round 1, but there are at least four more names hovering in NFL circles as potential targets.
Atlanta offensive coordinator Mike Mularkey has long been identified as a person of interest, but if he has interviewed, absolutely no one who is talking knows about it. Three other coaches whose teams play this weekend -- Arizona offensive line coach Russ Grimm, Baltimore defensive coordinator Rex Ryan and San Diego defensive coordinator Ron Rivera -- could get into the mix before the Lions make a decision.
Like most media members, I have very little insight into what the Lions' newly restructured front office is thinking. It's pretty obvious they're targeting NFL assistants and aren't concerned about hiring a first-time head coach. Defense appears to be a priority as well. Otherwise, there's no telling if the Lions are even leaning in a direction at this point.
But we won't let that stop us from assessing this pool of candidates. To be clear, the ranking below represents my own thoughts and not necessarily the Lions'. I based the list in part on the specific challenges facing the Lions' next coach, who must eradicate a losing culture, possess a high level of patience and work in a committee-style front office.
Let me know what you think in the comment section below.
Tennessee defensive coordinator Jim Schwartz
The skinny: Might have the ideal amount of toughness and institutional know-how to deal with this project.
Minnesota defensive coordinator Leslie Frazier
The skinny: Wouldn't be ruffled by tough times and would be excellent in committee system.
Baltimore defensive coordinator Rex Ryan
The skinny: Fiery personality and aggressive approach would shake up the team and organization.
New York Giants defensive coordinator Steve Spagnuolo
The skinny: He's the hottest candidate on the market and isn't likely to opt for the Lions' job.
Dallas offensive coordinator Jason Garrett
The skinny: His background with quarterbacks would be key if the Lions take one with the No. 1 overall draft pick. Plus, fans -- and ticket-buyers -- love offense.
Arizona offensive line coach Russ Grimm
The skinny: Players would respect him and he would improve the line. Having never coordinated, his organizational skills are unknown.
San Diego defensive coordinator Ron Rivera
The skinny: His track record in Chicago and San Diego is impressive. But why did the Bears fire him after going to the Super Bowl?
Atlanta offensive coordinator Mike Mularkey
The skinny: Offense is good, but his tenure as Buffalo's head coach was not.
Washington secondary coach Jerry Gray
The skinny: Some suggest the Lions are actually considering him as a defensive coordinator.
Miami defensive backs coach Todd Bowles
The skinny: See Gray.
January, 6, 2009
1/06/09
4:20
PM ET
Posted by ESPN.com's Kevin Seifert
Let's take this opportunity to make four points on the Detroit Lions' coaching search:
First of all, the Lions are one of several teams that have requested permission to interview San Diego defensive coordinator Ron Rivera. (Here's a report from ESPN's John Clayton if you have an Insider subscription). Rivera issued a statement Monday saying he won't interview with anyone until the Chargers' season is over.
Of the eight reported candidates the Lions have under consideration -- and I'm not considering former Denver coach Mike Shanahan among them -- six are defensively-oriented. That's a pretty good indication of where new general manager Martin Mayhew, a former defensive back himself, is headed.
Only one of the eight, Atlanta offensive coordinator Mike Mularkey, has been an NFL head coach. Some of the candidates would be worthy of market-level contracts, but the Lions don't seem interested in hiring a coach who would require a blockbuster deal. That's a pretty good indication of where the Lions are in terms of their budget and finances.
I agree with David Birkett of the Oakland Press, who suggests that Minnesota defensive coordinator Leslie Frazier has the type of background and personality that could make him a good fit for this job. He is scheduled to interview in Detroit on Friday and Saturday. Will Frazier accept it if the Lions make an offer? I don't know. He is also a candidate for a much better job in Denver. Otherwise, no favorite has emerged as of yet. The NFL rumor mill isn't really churning in part because no one knows much about Mayhew and how he thinks.

January, 5, 2009
1/05/09
7:13
AM ET
Posted by ESPN.com's Kevin Seifert
Two grizzled veterans might have played their final games Sunday in Minnesota's 26-14 wild-card playoff loss to Philadelphia.
Center Matt Birk had a picture taken of himself on the field after the game and spent a long time working the locker room. Quarterback Gus Frerotte, meanwhile, made plans to re-join his family in St. Louis amid rumors he does not want to return as the Vikings' backup.
Birk, who completed his 11th season with the team, does not have a contract for next season and the Vikings want to move on at the position. He said "you never know" about future plans but made clear that moving on was an option, according to Judd Zulgad of the Star Tribune.
"After [the game] I made sure I went around and just shook everybody's hand and just telling them how much I appreciate them," Birk said. "One thing that's evident is change in this deal. A lot of guys aren't going to be back."
Frerotte, meanwhile, is signed through the 2009 season but did not hide his objections to remaining the backup after a back injury healed two weeks ago. He has spoken often about the hardship of leaving behind his family in St. Louis, where his children are in school, and might not be interested in returning to Minnesota in 2009.
Here's what Frerotte said afterwards, according to Rick Alonzo of the St. Paul Pioneer Press:
"Like I told Coach [Brad Childress], I want to be the guy that's out there. It's hard to sit back. Any professional wants to be out there and play with these guys. Obviously I'm a pro, and you're going to do whatever you can to help Tarvaris and help the team, but you want to be the guy out there that's facing the bullets."
Continuing around the NFC North on the first day of the offseason for all four teams:
January, 3, 2009
1/03/09
10:35
AM ET
Posted by ESPN.com's Kevin Seifert
Let's get caught up on the Detroit Lions' coaching search, which will continue into the weekend.
The Lions are scheduled to interview Tennessee defensive coordinator Jim Schwartz on Saturday in Nashville, according to John Niyo of the Detroit News. Schwartz will be the second confirmed interview; the Lions met with New York Giants defensive coordinator Steve Spagnuolo on Thursday.
Meanwhile, Dallas offensive coordinator Jason Garrett has withdrawn from consideration, according to the National Football Post. And the Lions have added Atlanta offensive coordinator Mike Mularkey to their list of candidates.
Other candidates under consideration include Baltimore defensive coordinator Rex Ryan, Minnesota defensive coordinator Leslie Frazier, Washington secondary coach Jerry Gray and Miami assistant head coach Todd Bowles. UPDATE (4 p.m. ET: Gray interviewed Friday in Detroit, according to the Washington Post.
Interviews with assistants whose teams play this weekend -- including Ryan and Frazier -- could occur as soon as Monday.
Continuing a weekend tour around the NFC North:
October, 14, 2008
10/14/08
3:00
PM ET
Posted by ESPN.com's Kevin Seifert
First, a pre-emptive word about my highly controversial decision to slot Atlanta at No. 5 in ESPN.com's weekly power rankings -- 10 spots higher than their final destination.
Yes, it's true: I had the Falcons ranked No. 32 when the season began. But I covered their 22-20 victory Sunday over Chicago and saw a good bit of their Oct. 5 win over Green Bay. To my amateur eye, they're a well-rounded team that doesn't have an obvious attack point.
Quarterback Matt Ryan is pretty polished for a rookie. Ryan has some scary weapons and a creative play caller in offensive coordinator Mike Mularkey. Defensively, the Falcons won an interior slugfest with the Bears' offensive line. And you always have a chance to win a close game with Jason Elam as your kicker.
No. 5 is pretty high, especially compared to the votes of my colleagues, but to me there's something interesting going on in Atlanta.
Meanwhile, here's a look at where the NFC North stands: