April, 9, 2014
Apr 9
2:00
PM ET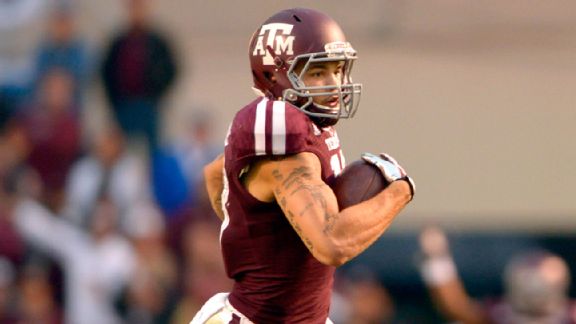 Thomas Campbell/USA TODAY SportsIf Mike Evans is available when the Detroit Lions pick at No. 10, Mel Kiper Jr. would select the Texas A&M wide receiver.
Since the end of the 2013 season, when the
Detroit Lions
once again found themselves in the familiar position of being in the top 10 of an NFL draft, many questions have been asked about what the team will do with the pick.
Could they trade it and try to move up to nab receiver
Sammy Watkins
? Could they try to trade back to acquire a position of need – perhaps a cornerback – and also to stockpile picks? If they stay at No. 10, what could happen?
Would they draft a wide receiver? Reach for a corner? Take the best defensive player available or best player available (other than a quarterback) period?
With Detroit not in the market for a starting quarterback this season, the Lions have many, many options available to them a month from now when the NFL draft starts at Radio City Music Hall.
And with so many potential scenarios playing out, I gave one to ESPN draft analyst Mel Kiper Jr. last week. Four names, four different positions, one slot – assuming Detroit stays at No. 10 – available. What does he think the Lions would do if wide receiver
Mike Evans
, safety
Ha Ha Clinton-Dix
, linebacker
Anthony Barr
and cornerback
Justin Gilbert
were all available at No. 10?
This came on the heels of his
Grade A draft last week

, when he selected defense for the Lions in the first three rounds. He did that, in part, because he doesn't seem to believe Evans will be available for Detroit at No. 10.
So what does he think Detroit would do if those aforementioned four players were all sitting there for the Lions?
"If Evans, Barr, Clinton-Dix and Gilbert are there, it's a no-brainer for me," Kiper Jr. said. "It's Mike Evans because he's the highest-rated player, by a pretty good margin now. I always say, if you're picking at 10, you have to get a guy who is six, seven or eight. He's number five on the board right now. Five, six on my board, right on the heels of Sammy Watkins as the second-best receiver in this draft and some may even have Evans ahead of Watkins. He's a big-time talent. He's a physical freak.
"People say, well, he reminds some of us of
Mike Williams
, well, yeah, you could make that argument but he's much more consistent catching the ball and is more explosive. But there's always going to be that comparison. So I would say Evans."
The Lions, of course, drafted Mike Williams in 2005 -- the first draft Martin Mayhew was the assistant general manager for. That selection
did not work out too well for the Lions
, who were hoping to pair Mike Williams with Roy Williams for a dynamic receiver pairing.
Unlike 2005, receiver isn't as big of a need position since the team signed
Golden Tate
to be the team's No. 2 receiver this offseason.
Kiper went on, though, and explained what he thinks the Lions might do if Evans is unavailable at No. 10 – and considering Tampa Bay traded the other receiving Mike Williams (Syracuse-and-still-in-the-NFL variety) to Buffalo – the Bucs are now in desperate need for a receiver and pick ahead of Detroit.
"Clinton-Dix is still the major need. He's a hot guy right now and is clearly, I think, the consensus best safety," Kiper said. "So if you want to stretch it a bit and fill a need, I'm not saying they are stretching because their rating may have Clinton-Dix in the top 10, but I would say just on need alone in a division with
Aaron Rodgers
and [Jay] Cutler and you know Minnesota is going to address the cornerback spot, I would say they may stretch it a bit for Clinton-Dix if Evans was gone at that point."
This would be a fairly logical selection for Detroit even though the team signed
James Ihedigbo
to a two-year deal this offseason to play next to
Glover Quin
. Ihedigbo will be 31 years old by the end of the season, and if the team can pick someone up to be a third safety this year and a starter by 2015, that scenario would put them in a good position in the defensive backfield for the first time in a long time.
September, 11, 2011
9/11/11
4:25
PM ET
TAMPA, Fla. -- A few quick thoughts after
Sunday afternoon's events
at Raymond James Stadium:


What it means:
The
Detroit Lions
got their first Week 1 victory in four years, giving us at least one more week of Lions Fever. After months of offseason hype, much of it on this blog, the Lions provided a convincing glimpse that they can be a force this year in the NFC. They displayed an explosive pass offense and a stingy defense, along the way outgaining the
Tampa Bay Buccaneers
431-313 and had 25 first downs to the Bucs' 17.
Picky, picky:
To be fair, the Lions didn't do a great job closing out this game. They allowed the Bucs to pull within one score on
Mike Williams
' 5-yard touchdown pass with 1 minute, 35 seconds remaining. Right tackle
Gosder Cherilus
' post-play 15-yard penalty at the end of the ensuing possession was an inexcusable loss of end-game exposure, and the Lions defense also had 12 men on the field for one play during the Bucs' final possession. But ultimately the Bucs ran out of time with the ball on the Lions' 41-yard line.
StaffordWatch:
Lions quarterback
Matthew Stafford
was sharp in his first regular-season game since offseason shoulder surgery, throwing for three touchdowns and becoming the first Lions quarterback since Bobby Layne in 1953 to have a 300-yard game in a season opener. Lions fans no doubt gasped when Stafford limped off the field after his third-quarter touchdown pass to receiver
Calvin Johnson
, but he was merely cramping up on a hot and humid Florida day.
WeatherWatch:
Temperatures reached 90 degrees with a heat index of 94 during the game. But the Lions followed the perfect path for such an occasion. Their offense possessed the ball for 36 minutes, 14 seconds. It helped that the Bucs' only touchdown came on an
Aqib Talib
's interception return, robbing the Bucs of an early possession.
Tulloch shines:
I thought new middle linebacker
Stephen Tulloch
made a nice impression in his debut with the team, sacking quarterback
Josh Freeman
once and nearly bringing down backup
Josh Johnson
on a second play that he broke up. It's amazing how a high-energy, sure-tackling middle linebacker can change the face of a defense.
Secondary solid:
National observers have expressed concern about the Lions' secondary, but I thought it held its own Sunday with a number of strong individual plays. Cornerback
Chris Houston
intercepted a pass in the end zone. Cornerback
Aaron Berry
broke up a pass in the end zone. Safety
Louis Delmas
also made a nice play to break up a third-down pass in the second quarter.
What's next:
The Lions will host the
Kansas City Chiefs
next Sunday at Ford Field.
June, 21, 2011
6/21/11
1:00
PM ET
ESPN.com's NFL writers rank the top 10 up-and-coming assistant coaches in the league today. Next week: Top players overall.
Seven NFL teams named new head coaches after last season, tapping into a pool that included experienced coordinators and relatively unknown assistants alike. The class of 2011 featured longtime candidates (Leslie Frazier, Ron Rivera). It also included a trusted position coach in Mike Munchak (
Tennessee Titans
) and a couple of relative hotshots in Hue Jackson (
Oakland Raiders
) and Pat Shurmur (
Cleveland Browns
).
Who will comprise the NFL's next batch of head-coaching candidates? That was the question ESPN.com hoped to answer in this week's edition of the offseason Power Rankings. We established one ground rule by eliminating any assistant who has already had a permanent head-coaching job. The idea was to develop a list that focused on the "next wave" of coaching candidates.
No less than 24 NFL assistants received at least one vote, a reflection of both the variables involved in head-coaching searches and the relative lack of national name recognition for all but the most highly regarded assistants.
So in that vein, it was no surprise to see four well-known assistants at the top of our list, headed by
New York Giants
defensive coordinator Perry Fewell -- who placed first or second on six of the eight ballots.
Dallas Cowboys
defensive coordinator Rob Ryan finished second, followed by
New York Jets
offensive coordinator Brian Schottenheimer and Arizona offensive line coach Russ Grimm.
Fewell is an ideal candidate in many ways, having spent time as the
Buffalo Bills
' interim coach in 2009 and leading a substantial turnaround of the Giants' defense last season. Fewell interviewed for four head-coaching jobs last winter, and NFC East blogger Dan Graziano suggested that experience, along with a high profile afforded to coaches in New York, make him "the most likely guy on the list to be a head coach soon."
Just don't bother forwarding his name to AFC South colleague Paul Kuharsky, who couldn't find room for Fewell on his 10-man ballot. Kuharsky noted the Giants' poor performance in Week 2 last season against the
Indianapolis Colts
, during which quarterback
Peyton Manning
threw three touchdowns and cruised to an easy 38-14 victory.
"Certainly I'm letting one game overinfluence my ballot," Kuharsky muttered. "But Fewell's plan for the Giants against the Colts last season was so bad that I could not help but score him down for it. Was he not familiar with how Peyton Manning and Indianapolis operate?"
We can't cover every coach who received votes in this exercise, but let's hit some of the more interesting names that received attention.
Another Ryan?
Deserved or not, Ryan has long been considered a loose cannon. There is little doubt about his schematic prowess, but hiring him would require a confident owner ready to make a leap of faith.
The success of twin brother Rex Ryan with the Jets might have softened the perception of that risk, and collectively we see Rob Ryan on the doorstep of a job.
"Similar to Rex, Rob Ryan is good with X's and O's and has the type of outgoing personality players want to be around," AFC North blogger James Walker said. "I think both are equally important in today's NFL. Both brothers say exactly what's on their mind, and before that scared off a lot of teams. But Rex broke the ice with his success in New York and that could help Rob in the future."
The next generation:
Schottenheimer has turned down more opportunities to interview for head-coaching jobs than he has actually submitted to. He has nixed requests from the
Miami Dolphins
and Bills in recent years, but he did interview for the Jets' job that ultimately went to Ryan. I placed him atop my ballot (he finished No. 3 overall) because I think NFL people have made up their mind that he is the kind of young and innovative assistant who can turn around their franchise. (Think: Cowboys coach Jason Garrett.)
Schottenheimer's pedigree doesn't hurt -- he's the son of longtime NFL coach Marty Schottenheimer -- and I'm not sure how closely teams will dissect the specifics of the Jets' offensive performance. Graziano, on the other hand, thinks Schottenheimer is close to coaching his way out of the golden-child image he cultivated and left him off his ballot.
"Having spent a good amount of time around that team the past couple of years, I just feel like defensive coordinator Mike Pettine is the more likely guy to end up a head coach," Graziano said. "Schottenheimer's under a ton of pressure as Ryan defers the offensive responsibilities to him. I feel like, if the offense has a bad year, he could end up in trouble or even out of a job. And given their youth at quarterback and running back and the uncertainty of their receiver situation, a bad year for the Jets' offense is possible.
"Now, he could be a genius, make chicken salad and be the next hot name eight months from now. But I think there's the potential that he may have already peaked as a hot coaching prospect and that he might not be set up to succeed in New York."
The big fella:
Four years ago, Grimm thought he would be the next
Pittsburgh Steelers
coach. He moved to Arizona after the Steelers selected Mike Tomlin instead, and we view his status as a head-coaching candidate with wide disparity.
AFC West blogger Bill Williamson put Grimm atop his ballot, and AFC East blogger Tim Graham had him No. 2. Kuharsky and I left him off.
Williamson thinks Grimm has moved to "the top of the food chain" largely because most of his "hot-name" contemporaries have already gotten jobs. As well, Graham suggested that it will soon be Grimm's turn because he is still well-regarded throughout the league.
Personally, I couldn't get past Grimm's well-publicized gaffe after interviewing with the
Chicago Bears
, after which he referred to the team owners as the "McClaskey" family. I also agree with NFC West blogger Mike Sando, who ranked Grimm No. 8 and wondered: "Is he still ascending? Grimm seems content coaching the line in Arizona. He has plateaued and doesn't seem to be losing any sleep over it."
Welcome back:
Unless you're a college football fan, you might not have heard of
Jacksonville Jaguars
offensive coordinator Dirk Koetter. He spent six years as the head coach at Arizona State, but has drawn some quiet acclaim for his work with the Jaguars and made a strong impression while interviewing with the
Denver Broncos
last winter.
"In a setting where he won't have to deal with boosters and can shine for being a smart X's and O's guy with strong coaching DNA," Kuharsky said, "I think he'd do far better. He's smart and will interview quite well. He really impressed John Elway and the Broncos before losing out to John Fox's experience. St. Louis wanted him as coordinator, but Jacksonville wouldn't let him go. He's heading into the final year of his contract. How
Blaine Gabbert
develops early on will have a big bearing on Koetter's future."
Secret weapon:
In two years, the
Tampa Bay Buccaneers
have developed quarterback
Josh Freeman
into one of the better starters in the league. The man largely responsible is offensive coordinator Greg Olson, who navigated a disastrous 2009 preseason -- coach Raheem Morris promoted him in the middle of training camp after firing Jeff Jagodzinski -- and NFL teams often seek out coaches with success developing young quarterbacks.
"I think Olson deserves a ton of credit for developing Freeman so quickly," said NFC South blogger Pat Yasinskas. "Freeman threw for 25 touchdowns and six interceptions in his first full season as a starter and carried an incredibly young team to a 10-6 record. I also think people need to look at what Olson did last year with rookie running back
LeGarrette Blount
and rookie receiver
Mike Williams
. He helped make them into instant stars."
Super Bowl entitlement:
The
Green Bay Packers
were the only team to place more than one name in the top 10, as would be expected from a championship team. Assistant head coach/inside linebackers Winston Moss is at No. 6, while safeties coach Darren Perry finished No. 10. I also voted for receivers coach Edgar Bennett, who has moved over from running backs coach and is clearly being groomed for bigger things.
I'll detail my ranking of the Packers' assistants, including why I think so highly of Perry, in a future post for NFC North readers. But we'll say this for now: Moss is a strong leader who has drawn interest from the Raiders, while Perry is a disciple of Packers defensive coordinator Dom Capers and his coveted 3-4 scheme.
March, 17, 2011
3/17/11
12:00
PM ET
»
NFC Draft Watch
:
East
|
West
|
North
|
South
»
AFC
:
East
|
West
|
North
|
South
Each Thursday leading up to the NFL draft (April 28-30), the ESPN.com NFL blog network will take a division-by-division look at key aspects of the draft. Today's topic: draft rewind -- examining the past five drafts.

Chicago Bears
Best choice:
My initial thought was to nominate receiver
Johnny Knox
, a fifth-round pick two years ago out of Division-II Abilene Christian. Knox has 96 receptions in two seasons and is as close to a No. 1 receiver as the Bears have. But the 2006 decision to draft kick returner
Devin Hester
in the second round was inspired. Hester has changed the game and has become one of the
best returners in the history of football
. He has also made steady improvement as a receiver after converting from cornerback. Hester it is.
Worst choice:
The Bears made Central Michigan defensive end Dan Bazuin a second-round pick in 2007. He was taken No. 62 overall but never played a regular-season down for the team. A left knee injury ended his rookie season and a second operation on the knee led to his release in the summer of 2008. I'm not sure if the Bears could have projected the knee problems, but bidding farewell to a second-round pick after one year is problematic.
On the bubble:
Chris Williams
, drafted as the left tackle of the future in 2008, missed almost half of his rookie season because of a back injury and has started at three different positions in the ensuing two years. As of today, the Bears
aren't saying where he will play in 2011
. The position changes could merit credit for flexibility, or they could be grounds for criticism because the Bears haven't been able to lock him down at left tackle as they have hoped.

Detroit Lions
Best choice:
If you had the option between a pass-rushing, playmaking defensive tackle and a freakishly skilled receiver, which would you take? I would go with the former, which is why I'm making defensive tackle
Ndamukong Suh
my top Lions choice over the past five years. Receiver
Calvin Johnson
is an elite player, but to me, Suh plays a more important position. I realize Suh wasn't exactly a surprise pick at No. 2 overall in 2010, but it's rare that a player taken at that spot lives up to the hype so quickly.
Worst choice:
This discussion is limited to the past five years, so we can't nominate receiver
Mike Williams
(2005). Many of the Lions' now-discarded draft picks were selected with former coach Rod Marinelli's Tampa 2 defensive scheme in mind, so it's not surprising they would no longer be around. There is no smoking gun in this time period, so I'll go with receiver
Derrick Williams
, a third-round pick in 2009 who has failed as both a No. 3 receiver and a kick returner.
On the bubble:
Quarterback
Matthew Stafford
, the No. 1 overall pick in the 2009 draft, has missed more games (19) than he's played (13) in the past two years. His three-game appearance in 2010 suggested improvement over his 20-interception rookie season, but like any player, Stafford must find a way to stay on the field or he will be a bust.

Green Bay Packers
Best choice:
Trading back into the first round in 2009 to select linebacker
Clay Matthews
was an inspired move. And tight end
Jermichael Finley
, you might recall, was a low third-round pick in 2008. But in this case, I have to go with finding one of the top receivers in the game at the bottom of the second round of the 2006 draft.
Greg Jennings
was the No. 52 overall pick that year and not exactly a household name after his Western Michigan career. But he was productive from the moment he arrived in Green Bay and earned a well-deserved Pro Bowl berth last season.
Worst choice:
Tennessee defensive lineman
Justin Harrell
had a history of injuries when the Packers made him the No. 16 overall pick in 2007. Not coincidentally, injuries have prevented Harrell from establishing any sort of career. He has played in 14 games over four seasons, felled by back and knee ailments, among others. Because of the value of his draft position, Harrell gets the nod over Louisville quarterback
Brian Brohm
, who bombed after the Packers took him in the second round in 2008.
On the bubble:
The Packers don't have a player who fits neatly into this category, but on a relative scale I would go with guard
Daryn Colledge
, a second-round pick in 2006. Colledge has started all but three games over the past five years, making several position changes along the way, but the Packers never seem willing to commit to him for the long term. That trend continued last month, when they tendered him as a prospective restricted free agent but didn't seem interested (yet) in a multiyear contract. Is this the year they find someone to take over his left guard spot?

Minnesota Vikings
Best choice:
Defensive end
Ray Edwards
has 29.5 sacks in his five-year career, including 16.5 in the past two season, some significant numbers for a player taken in the fourth round of the 2006 draft (No. 127 overall). But it's hard to get past the value the Vikings have gotten from receiver
Percy Harvin
, their first pick (No. 22 overall) in 2009. They put a substantial amount of pre-draft work into his background, and he has not been responsible for any off-field issue that has been publicized. In two seasons, moreover, Harvin has 131 receptions and has been a force as a kickoff returner as well. The Vikings didn't fully grasp Harvin's migraine history, but I'm not sure if many teams did at the time.
Worst choice:
Safety
Tyrell Johnson
, whom the Vikings targeted and traded up to the No. 43 slot in 2008 to draft, has been a disappointment and is not guaranteed a starting job in 2011. But as far as impact on the organization, it's hard to look past the decision to trade into the second round of the 2006 draft and select quarterback
Tarvaris Jackson
. There is no doubt Jackson had some physical skills to get excited about. But ultimately, that decision -- along with former coach Brad Childress' faith in his future development -- set back the franchise and left it in desperation mode this spring.
On the bubble:
Right tackle
Phil Loadholt
was the No. 54 overall pick in 2009 and has started 31 of a possible 32 games since. But is that because he deserves to be an established starter in the NFL, or was he simply the Vikings' best option? There are mixed opinions about Loadholt's performance over that stretch, and it's not clear if the Vikings' new coaching staff considers him an unquestioned starter moving forward.
April, 14, 2010
4/14/10
7:24
AM ET
On a quiet Wednesday morning here in the NFC North, you might want to take a minute to check out
this painstaking work
by ESPN.com's Sheldon Spencer, who compiled a list of the best late-round (7-30) draft choices and undrafted free agents of all time.

Three Green Bay players are on the list, two on offense and one on defense. Quarterback Bart Starr was a 17th-round selection in 1956, center Jim Ringo was a seventh-round pick in 1953 and defensive back Willie Wood was signed after the draft in 1960.
All four current Black and Blue teams are represented on the list. There are more familiar names in the
sixth-round grouping
, and ESPN.com will continue to introduce a new round every day this week. I'll be sure to link to them in our morning post. History buffs should enjoy it.
Continuing around the division:
April, 12, 2010
4/12/10
3:00
PM ET
As we approach the draft next week, a few Detroit-receiver jokes are almost inevitable. And incredibly, the responsible trio --
Charles Rogers
, Roy Williams and
Mike Williams
-- remain in the news to this day.
Last week, a judge ordered Rogers (drafted in 2003) to re-pay the Lions $6.1 million after his career was cut short by violations of the NFL's substance abuse policy.
ESPN legal analyst Lester Munson
wrote it would take a "miracle of biblical proportions" for the Lions to see much, if any, of that money.
Roy Williams (2004) is still not in tune with Dallas quarterback
Tony Romo
nearly two years after the Lions traded him to Dallas, writes
Calvin Watkins of ESPNDallas.com
.
And finally, Mike Williams (2005) will get a tryout during a minicamp in Seattle this week. My
NFC West colleague Mike Sando
notes Williams played for current Seahawks coach Pete Carroll at USC. Williams, however, hasn't been in an NFL uniform since 2007. Although he is only 26, Williams has only missed three of the past six seasons of his career.
February, 24, 2010
2/24/10
2:00
PM ET
»
NFC Busts/Gems
:
East
|
West
|
North
|
South
»
AFC
:
East
|
West
|
North
|
South
»
Draft Watch
:
Biggest needs
(2/17) |
Busts/gems
(2/24) |
Schemes, themes
(3/3) |
Recent history
(3/10) |
Needs revisited
(3/17) |
Under-the-radar needs
(3/26) |
History in that spot
(3/31) |
Draft approach
(4/7) |
Decision-makers
(4/14) |
Dream scenario/Plan B
(4/21)
Each Wednesday leading up to the NFL draft (April 22-24), the ESPN.com blog network will take a division-by-division look at key aspects of the draft. Today's topic: Busts and late-round gems.
Chicago Bears

Gems:
The Bears took a chance on an unknown with elite speed in the fifth round last year and came up with receiver
Johnny Knox
, a Division II college player. Knox caught 45 passes, including five touchdowns, as a rookie and made the Pro Bowl as a kickoff returner. Cornerback
Zack Bowman
, a fifth-round pick in 2008, has seven interceptions in 17 career games. He appears to have the makeup to be a long-term starter.
Busts:
Running back
Cedric Benson
, the No. 4 overall pick in 2005, was released after three years. Defensive end Dan Bazuin, a second-round pick in 2007, never played for the Bears.
Detroit Lions

Gems:
Running back
Aaron Brown
, a sixth-round pick last year, proved to be an explosive and exciting playmaker. He'll get more playing time as he limits mental errors, but his speed and open-field running ability give him the capacity to be a difference-maker. Linebacker
Zack Follett
, a seventh-round pick in 2009, is a strong special teams player.
Busts:
The Lions' mid-decade mistakes, from quarterback
Joey Harrington
to receivers
Charles Rogers
and
Mike Williams
, have been well-chronicled. The Lions have only one player remaining from the 2006 draft, linebacker
Ernie Sims
, and receiver
Calvin Johnson
is the only 2007 draftee expected to make a significant impact in 2010.
Green Bay Packers

Gems:
Defensive lineman
Johnny Jolly
, a sixth-round pick in 2006, has proved to be a solid starter at both tackle and now end in the Packers' 3-4 scheme. His immediate future is threatened by a looming trial for felony drug possession in Houston, but from a football perspective, he has been a hit. Guard
Josh Sitton
, a fourth-round pick in 2008, might have been the Packers' most consistent offensive lineman last season.
Busts:
Quarterback
Brian Brohm
, the No. 56 overall pick of the 2008 draft, stumbled from the start and didn't make it through his second year with the team. Among other things, Brohm struggled with his downfield accuracy. He is now on Buffalo's roster. Defensive lineman
Justin Harrell
, the No. 16 overall pick in 2007, has been plagued by what could ultimately be a career-ending back injury and has made minimal impact.
Minnesota Vikings

Gems:
Center
John Sullivan
started 16 games in 2009, a year after Minnesota made him the No. 187 overall pick of the 2008 draft. Although he wasn't perfect, Sullivan has already given the Vikings more starts than many sixth-round picks provide. A fourth-rounder in 2006, defensive end
Ray Edwards
has been a full-time starter for the past three years. Over that span, he has 18.5 regular-season sacks plus another four in the playoffs. Some have expected even more from him, but that's pretty good production for a second-day pick. Edwards was part of a draft that has helped make up for a disastrous 2005 affair.
Busts:
In that 2005 draft, the Vikings had three picks in the top 49, but none made an impact. Receiver
Troy Williamson
couldn't catch the ball, defensive end
Erasmus James
tore the same anterior cruciate ligament twice and offensive lineman
Marcus Johnson
couldn't hold a starting job.
May, 3, 2009
5/03/09
12:00
PM ET
Posted by ESPN.com's Kevin Seifert
As promised....
Jeff of Minneapolis writes: If a rookie pay scale was implemented, do you think players would be more interested in staying in school instead of coming out early? It seems a lot of these players would be better off with another year of experience, rather than rushing into the NFL and maybe getting drafted later than they would if they stayed.
Kevin Seifert: I'm not sure if that's going to be a by-product. Under the current system, I think there is a lot of incentive for promising underclassmen to return to school in hopes of further improving their stock so they can take advantage of the insane money at the very top of the draft.
Say you're a junior who is being projected to go high in the second round or low in the first. Sure, you'd make pretty decent money if you jump in right away. But if you can light it up in your senior season, vaulting yourself into the top 10 of the draft, all of a sudden we're talking about another stratosphere. It could be a $10 million-plus decision.
Of course, the reverse could happen. Your stock could tumble into third- or fourth-round value. But the risk of falling from the second to the fourth round might be worth it when the reward is possibly jumping into the top 10.
But on to the meat of your question. Under a new system, players at the top of the draft would make less money. But it's still going to be a big payday, one that many college players won't be able to resist.
What I am pretty sure about is this: As speculation grows about cutting back rookie salaries, you're going to see more prominent underclassmen declare for 2010 so they can capitalize on the current system.
---
Robert of Columbus writes: I have been a die-hard Lions fan since birth, but I feel that many fellow Lions fans are not seeing the big picture in terms of where this team is headed. Many comments have been made comparing this draft to the drafts of the Matt Millen era, and I feel these are unjust. Millen failed to draft impact players at so many different positions. In all of Millen's drafts there was not one impact player drafted at QB, TE, OG, OC, DE, MLB, CB or S. On Saturday it appears that the Lions drafted impact players at three of those positions. While it is still early and they have not yet stepped on the field, the Lions appear to have drafted 3 players who should fit the bill. Stafford, Pettigrew and Delmas have the potential to be major players for the Lions for years to come. I think on a team with so many holes getting impact players, regardless of position, was necessary and the correct move.
Kevin Seifert: Robert, the key word is "if." None of us really have any idea if the three players you mentioned will pan out or not. Part of it will depend on whether the Lions' coaching staff can develop them into impact players, something that Martin Mayhew believes the team has fallen short on in recent years.
But in general, this is the danger of trying to judge a draft in its immediate aftermath. Sure, Charles Rogers didn't work out. Neither did Joey Harrington, nor Mike Williams. But in the days and weeks after they drafted, I don't think anyone knew for sure they would fail. If I remember right, people were pretty excited about Rogers and Harrington, at least, and were open-minded about Williams.
So I agree that some of your fellow Lions fans might be reacting a bit emotionally to the number of skill players and the dearth of linemen that were taken in this draft. But I also think it's too early to suggest anything definitive about the future of the players they did take.
---
Breana of Chicago writes: Kevin, who do you think will have the better passing game this year: The Vikings with their question marks at quarterback and Bernard Berrian, Percy Harvin, Bobby Wade, and Sidney Rice -- OR the Bears with Jay Cutler and their question marks at receiver?
Kevin Seifert: Thanks for the question, Breana. I like it so much I'm going to use it as a the jumping-off point of a debate later this week.
It comes down to this: What situation is better in football: A good quarterback with suspect receivers? Or a suspect quarterback with a deep group of receivers? If anyone wants to get an early word into this discussion, hit the mailbag.
March, 23, 2009
3/23/09
2:21
PM ET
Posted by ESPN.com's Kevin Seifert
DANA POINT, Calif. -- Defensive lineman Shaun Cody's contract agreement with Houston closes the book on Detroit's disastrous 2005 draft.
Cody was the Lions' second-round pick that season and went on to play in 53 games over the next four seasons, compiling 91 tackles and 1.5 sacks. He and quarterback Dan Orlovsky were the last members of the draft class to depart.
Lions officials have said they want to get bigger and stronger along the defensive line and have signed veteran Grady Jackson to start at nose tackle. They have also hosted Boston College defensive tackle B.J. Raji on a visit.
For those interested, below is the Lions' full 2005 draft class. They were not alone. As we noted earlier this month, only four members from that class remain with their original team throughout the entire NFC North.
Round 1: USC receiver Mike Williams
Round 2: USC defensive end Shaun Cody
Round 3: Stanford defensive back Stanley Wilson
Round 5: Connecticut quarterback Dan Orlovsky
Round 6: Oregon State defensive end Bill Swancutt
Round 6: Marshall linebacker Johnathan Goddard
March, 18, 2009
3/18/09
11:00
AM ET
Posted by ESPN.com's Mike Sando and Kevin Seifert
The Detroit Lions, St. Louis Rams and Seattle Seahawks combined for six victories last season. That included two Seahawks victories over the Rams.
The draft won't fix these wayward teams overnight -- unless, of course, they follow the advice of NFC West blogger Mike Sando and NFC North blogger Kevin Seifert.
Kevin Seifert: Well, Mike, first off I'd like to thank the Seahawks and Lions for making our jobs a bit easier for the next six weeks. Before last weekend's trade that sent defensive tackle Cory Redding to Seattle for linebacker Julian Peterson, we were weighing the candidacies of too many players for the No. 1 overall pick in the April 25-26 draft.
| | |
| --- | --- |
| | |
| | AP Photo/Darron Cummings |
| | Baylor tackle Jason Smith would help solidify the Lions' offensive line. |
Would the Lions take Georgia quarterback Matthew Stafford? Would they capitalize on the strong tackle class and swoop up Baylor's Jason Smith? Or would they make a compromise selection and take the player considered the safest pick in the draft, Wake Forest linebacker Aaron Curry?
Seems to me this trade has eliminated Curry from the Lions' mix. Don't you agree? I mean, would you draft Curry after giving up a promising defensive tackle (and also a fifth-round pick) for someone who plays the same position? I don't think I would. They say Curry could project as a middle linebacker in the NFL, but it would be awfully hard to justify drafting a middle linebacker with the No. 1 overall pick.
So that pretty much settles it, right? Wouldn't you agree that Curry is much more likely to wind up with one of your NFC West teams, whether it's St. Louis at No. 2 or Seattle at No. 4? If it were up to me, the Lions would take the best left tackle in the draft, and that would be Smith.
Mike Sando: I tend to see Curry landing with Kansas City in that third slot. The Rams could use him, sure, but they pretty much have to emerge from this draft with a starting offensive tackle. Can they find one after the first round? Probably, but 'probably' might not be good enough for a team that has invested so much in Marc Bulger and Steven Jackson. Upgrading the offensive line was the No. 1 priority this offseason. Signing Jason Brown solved the problem at center, but Alex Barron is the starting left tackle now that Orlando Pace is out. They're talking about having Jacob Bell move from left guard to right tackle. That doesn't sound promising.
As much as Steve Spagnuolo wants to build that defense, I'm not sure the Rams can resist taking a tackle. Once Curry makes it past the Rams, the Chiefs would seemingly be a good fit -- which would put Seattle in an interesting position. They've got Matt Hasselbeck, but should they consider Stafford under our scenario?
March, 5, 2009
3/05/09
12:00
PM ET
Posted by ESPN.com's Kevin Seifert
It didn't take long for some of you to dig up the answer to Wednesday's trivia question, which asked you to name the four players from the 2005 draft who still remain on their original NFC North roster.
In fact, bmhess06 posted the correct answer exactly 12 minutes after we hit the "publish" button:
The other 26 players have either moved on or are free agents. (For you math majors, that translates to a 13 percent success rate.) The failure list includes a stunning four first-round picks and an eight of the first 58 players taken in the draft. The first-round picks:
Black and Blue teams weren't the only ones who swung and missed in the 2005 draft. San Francisco hasn't gotten much out of the No. 1 overall pick, Alex Smith. Tennessee slightly misjudged the character of cornerback Pacman Jones.
But when you consider the state of play last season in the NFC North -- its .390 winning percentage was the third-lowest among all divisions -- you have to attribute at least part of it to the 2005 draft.