October, 19, 2014
Oct 19
7:55
PM ET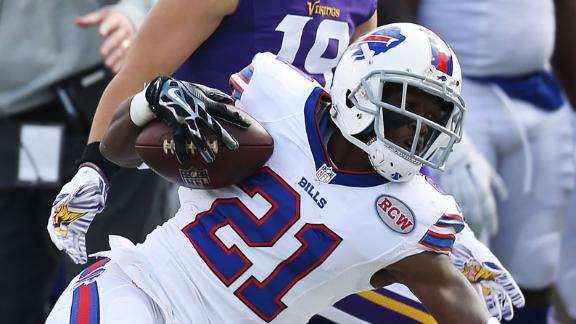 ORCHARD PARK, N.Y. -- Mike Zimmer became the
Minnesota Vikings
' head coach in no small part because of games like these. His predecessor, Leslie Frazier, presided over a team that blew five last-minute leads in 2013, effectively handing over their chance to win a mediocre division in a series of miscommunications, coverage breakdowns and missed chances to salt away games. Zimmer and Frazier will share a field next Sunday in Tampa, and the closing touchdown drive the Vikings allowed in a 17-16 loss to the
Buffalo Bills
on Sunday shares some DNA with the ones that helped send Frazier back to being a defensive coordinator.
But the Vikings' problems were spliced in between a set of commanding plays from an aggressive defense, and they put a sour finish on a performance that looked nothing like the tepid defensive efforts the Vikings had last season. The Vikings put the Bills on the brink several times on Sunday, and came tantalizingly close to taking the game for themselves.
That they didn't ultimately shows how much of a work in progress they remain.
"You check off every thing you wanted to do, you do it -- other than maybe stopping the run as well as we would like," linebacker
Chad Greenway
said. "But the game wasn't over. There was time on the clock, and they were able to make some key throws there at the end."
The Vikings' performance, which featured six sacks, three forced fumbles and an interception, will ultimately be remembered for the throws Bills quarterback
Kyle Orton
made, especially in situations where the Vikings had the Bills dead to rights. Greenway was targeted on one of those throws -- a fourth-and-20 strike to tight end
Scott Chandler
, who got just behind the linebacker after it appeared Greenway was still communicating defensive adjustments to teammates when the ball was snapped.
"You can't have it," Greenway said. "It's a situation where you've got to get off the field. I thought I was in a good spot. Perfect throw-and-catch. That's what sucks about this game; you play good for a long time, and you end up losing."
Three plays later, cornerback
Josh Robinson
was matched against wide receiver
Sammy Watkins
on third-and-12; Robinson had inside leverage on Watkins in man coverage, but Watkins beat a quick jam from Robinson and got inside on a slant route for 18 yards. Then, on second-and-20 after an intentional grounding penalty that forced 10 seconds off the clock, Orton hit
Chris Hogan
on a jump ball over
Xavier Rhodes
. Two plays later, the Bills were in the end zone, on a touchdown pass to Watkins that Orton squeezed past Rhodes with one second left.
"I've just got to make the play on the ball," Rhodes said. "No matter if it was good coverage, I've got to make the play."
Coming into Sunday's game, the Vikings were tied for the second-worst conversion rate in the league on third downs of 10 yards or longer, giving up first downs on nine of their 27 attempts. They'd forced a fumble on a third-and-10 in the first quarter, and sacked Orton on a third-and-10 and third-and-17 in the fourth quarter. But then came the fourth-down completion to Chandler, the third-down slant to Watkins and the second down jump ball to Hogan, and the Vikings' progress was tough to remember.
"We probably need to be better in some of those long-yardage situations than we have been," Zimmer said. "That's kind of been the Achilles heel. But, if you go back and look at the things we're working on: playing the run. Other than the one long run [by C.J. Spiller], I thought we played the run well. The third-down conversions have been better. Defensively, I think we continue to work towards where we have to get to. Our guys have to continue to have confidence in themselves that they can make these plays at the end of the ball game."