December, 15, 2013
12/15/13
11:30
PM ET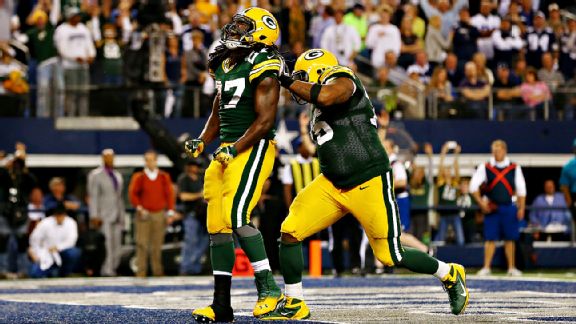 Tom Pennington/Getty ImagesEddie Lacy's fourth-quarter touchdown capped Green Bay's 23-point comeback.
ARLINGTON, Texas -- At one point on Sunday, referee Walt Coleman forgot to turn off his microphone. As he walked to the sideline to look at a replay of a key play in the fourth quarter, he asked two other officials: "So what happened?"
All 91,054 fans at AT&T Stadium could hear it.
You better believe many of them asked themselves the same question as they walked into the North Texas night about an hour later. Depending on their rooting interests, they were either amazed or bewildered.
In the visitors locker room, however, there was just belief.
The
Green Bay Packers
said they believed they could come back from a 26-3 halftime deficit. They believed their struggling defense would eventually start making big plays. They believed their backup quarterback,
Matt Flynn
, would rally them for a second straight week.
But did any of them really think their
37-36 victory
over the
Dallas Cowboys
would happen like this?
"No, not like this," said defensive tackle
Ryan Pickett
, a 13-year NFL veteran who has been around the league longer than any other player on the Packers' roster. "That was big. That was fun."
It matched the 1982 season opener against the Los Angeles Rams -- who led 23-0 at halftime before the Packers won 35-23 -- as the largest comeback in team history.
It kept the Packers' NFC North title hopes alive, perhaps even in time for starting quarterback
Aaron Rodgers
to return from his fractured collarbone for the penultimate game of the regular season next Sunday against the
Pittsburgh Steelers
.
In many ways, the madness that was this game began with the play that left Coleman unsure of what had just taken place. With 12 minutes and four seconds remaining, Packers cornerback
Tramon Williams
appeared to intercept a
Tony Romo
pass that went off the hands of tight end
Jason Witten
and return it to the Cowboys' 8-yard line. Williams thought -- and still thinks -- he cradled the ball to his chest to prevent it from hitting the ground.
But after Coleman watched the replay -- which the referee must do on all turnover plays -- he ruled that the ball hit the ground. The comeback, which at that point had pulled the Packers within five points, had seemingly been thwarted.
With the ball back in his hands, Romo marched the Cowboys down the field and completed that resurrected drive with a 5-yard touchdown pass to
Dez Bryant
that put the Packers in a 36-24 hole with 7:55 remaining.
"I was a little down in the dumps after that," Packers left guard
Josh Sitton
said. "But Flynn came up to me and said, 'Just believe, man. Just believe.'"
Sitton, after pausing for effect, said he told Flynn: "Hell yeah, let's do it."
And so they did.
With plenty of thanks to the Cowboys' wretched defense, which came in ranked last in the NFL, the Packers scored touchdowns on five straight possessions to start the second half. Four of them came on touchdown passes by Flynn, each to a different receiver.
Running back
Eddie Lacy
, whose 141 rushing yards made him the Packers' first rookie to rush for 1,000 yards since John Brockington in 1971, scored the other. It was the game winner, a 1-yard plunge with 1:31 to play with help from defensive tackles
Mike Daniels
and
B.J. Raji
, who came in as extra blockers.
Williams finally got his interception -- this one thanks to a replay review after it was originally ruled incomplete -- and it clinched the game. Packers coach Mike McCarthy wisely asked for a timeout and although it wasn't needed because the replay official eventually buzzed Coleman to take another look, it may have slowed down the Cowboys from quickly running another play.
"The one that I didn't get credited with, I thought I caught it," Williams said. "The one I did get credited with, I never felt more sure about a catch in my life. I showed my emotion on the field about it, didn't give the ref the ball back because I wanted them to take a look at it."
Fellow cornerback
Sam Shields
got one on the Cowboys' previous possession, when seemingly all they had to do was run out the clock. But they stopped running, something
DeMarco Murray
(134 yards) had done so well against the Packers' porous defense. Romo audibled on a second-down play, according to coach Jason Garrett.
Clay Matthews
nearly came up with a sack but when he didn't, Romo fired a pass in the direction of
Miles Austin
that Shields picked off with just 2:50 to go, setting up Lacy's touchdown.
Throw it all together, and it made for a victory that could serve multiple purposes for the Packers. It could show them the errs of their first-half miscues and, if all goes well and Rodgers comes back, it could mean something in the postseason.
"I haven't felt this way in a long time," Matthews said. "I feel like we won the Super Bowl."
McCarthy opened his postgame news conference with the word "Wow" and then went on to explain how it all happened -- even if not everyone could quite comprehend it.
"We were just sitting there in the locker room and kind of looking around like, 'What just happened?'" Flynn said. "I guess we're not really processing it. I know that we did have a really big comeback. We all realize that."
October, 2, 2011
10/02/11
5:52
PM ET
ARLINGTON, Texas -- You knew something was coming late Sunday afternoon in the bowels of Cowboys Stadium.
Detroit Lions
coach Jim Schwartz strode to a podium, smirking and calmly waiting for reporters to get themselves in position. Before opening the floor for questions after a
34-30 victory
over the
Dallas Cowboys
, Schwartz said:
"Indulge me for a second. I'm just glad that the third-best receiver on their team is on our team."
[+] Enlarge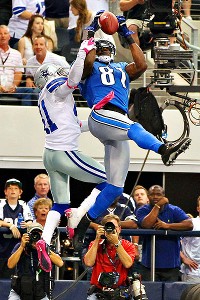 Tim Heitman/US PresswireCalvin Johnson had eight catches for 96 yards and two touchdowns against Dallas.
Schwartz was responding to what I thought was
such a dumb comment
from Cowboys defensive coordinator Rob Ryan that I didn't write it last week. Asked about Calvin Johnson, Ryan said: "We work against better receivers with
Miles Austin
and
Dez Bryant
. They are probably two of the premier receivers in football, but this guy is right there. He's almost that good. He's excellent."
Ryan's attempt at bravado fell so flat, because it was so baseless, that I thought it wasn't worth our time. Schwartz, however, capitalized and made sure the right people knew about it.
By coincidence or otherwise, Johnson caught another two touchdowns Sunday, giving him the NFL record for most consecutive games with multiple touchdown receptions, and now has eight for the season. He said he didn't pay attention to Ryan's comments, despite hearing them "from other people," and added: "I just go out there and do what I have to do."
You're not going to get much more from Johnson, whose soft-spoken demeanor doesn't lend itself to inflammatory public statements. But Schwartz couldn't resist. He rattled off his line once and then moved on.
"It makes something nice to say after the game and stuff like that," Schwartz said, "but none of that stuff matters once you get on the field. But you see in a game like this, the effect that a
Calvin Johnson
has, not just in the game winner but all the other plays in the game."
Point made.
More in a bit.
November, 21, 2010
11/21/10
8:17
PM ET
A few thoughts on the
Detroit Lions
' latest
road defeat
:


What it means:
The Lions lost their 26th consecutive road game, falling to 2-8 on the season and 4-22 during the Martin Mayhew-Jim Schwartz regime.
Today's bizarro moment:
If you look at the box score, you see that the
Dallas Cowboys
took the lead for good with nine minutes, 16 seconds remaining in the third quarter on
Bryan McCann
's 97-yard punt return. What you won't see, of course, is that McCann had decided to let the ball bounce -- he hoped -- into the end zone for a touchback. Lions gunner
John Wendling
made a nice play to tip the ball away from the goal line. But in a play that can only happen to the Lions, McCann grabbed the ball on an unusually high bounce and raced up the left sideline for the score. The play put the Cowboys up 14-12. What will they come up with next?
Hair-pulling:
Defensive tackle
Ndamukong Suh
was called for a horse-collar tackle of Cowboys tailback
Marion Barber
on a key second-down play early in the fourth quarter. In fact, Suh tackled Barber by his hair -- a completely legal play that was confirmed on the FOX broadcast by former NFL vice president of officiating Mike Pereira. The Cowboys should have faced a third down from their 10-yard line but instead got a new set of downs from the 5, culminating in
Miles Austin
's 5-yard touchdown reception to extend the Cowboys lead to 28-19. Schwartz's livid reaction was completely justified.
What's next:
The Lions have a short week to prepare for their annual Thanksgiving Day game. This year, they're matched up against the 8-2
New England Patriots
.
October, 17, 2010
10/17/10
11:25
PM ET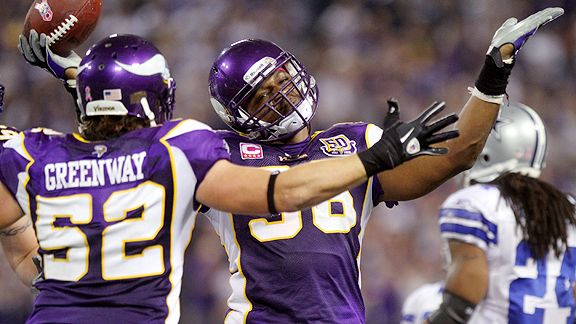 AP Photo/Andy BlenkushE.J. Henderson's two interceptions were key in the Vikings' unlikely win over the Cowboys.
MINNEAPOLIS -- If you like to watch football, every NFL weekend is living art. If you like to see football played
well
, I'm sorry. You're out of luck.
I'm starting a new blog policy. Yes, I'm going to stop pointing out how ugly some of the NFC North's so-called marquee matchups have been this season. And no, it's not just because the
Minnesota Vikings
were the beneficiaries in Week 6 of one of the dumbest approaches I've ever seen an NFL team take. Maybe we need to recalibrate our expectations for what qualifies as a winning performance in this league.
Let's face it. The Vikings took a
24-21 victory
over the
Dallas Cowboys
for three reasons:
Percy Harvin returned the second-half kickoff 95 yards for a touchdown, pulling the Vikings even after the home crowd booed them off the field at halftime.

Middle linebacker E.J. Henderson, a strong run-stopper still rounding into shape after having a titanium rod inserted into his left leg last winter, doubled his career interception total by stepping in front of two Tony Romo passes. Those interceptions set up the Vikings' mostly anemic offense for 10 of its 17 points.

Felix Jones. Even Vikings players admitted they were surprised. According to ESPN's Stats & Information, 24 of the Romo's 32 pass attempts traveled five yards or fewer downfield. In-ex-plicable.
The Cowboys criminally ignored their receivers' mismatch against the Vikings' injury-depleted secondary, dumping 10 passes to tailback
In a year when "parity" is a euphemism for "no one is any good," maybe that's all it takes to win: A kickoff return, a linebacker catching two passes and an opponent unable to get out of its own way. I give some credit to coach Brad Childress for recognizing the wholly unaesthetic nature of the day's proceedings.
"It's close to migrant work," Childress said. "You go where it is every week. So we bought one more week. There is parity. All you've got to do is look."
That's pretty much all Henderson did on his interceptions. In 97 career games over nine seasons, he had managed a grand total of two interceptions. Both came in 2006. For about half of his career, the Vikings have removed him in obvious passing downs because they thought he was slow in coverage.
His first interception Sunday came after Romo bounced a pass off defensive tackle
Kevin Williams
' helmet. The ball sailed high in the air, where Henderson grabbed it at its lowest point and returned it to the Cowboys' 16-yard line. Even a Vikings offense that would finish with 188 total yards couldn't avoid capitalizing, driving all 16 yards for a touchdown that tied the game at 7 on the final play of the first quarter.
I don't mean to diminish Henderson's performance, especially when you realize the fractured femur he suffered last December could (and maybe should) have been career-ending. Henderson isn't an emotional person, but it was still heart-warming to see him skip off the field after a second interception that was not only a smart play but also put the Vikings in position for
Ryan Longwell
's game-winning 38-yard field goal.
Henderson fooled Romo into thinking tight end
Jason Witten
would be open, taking several steps toward the line as if he were about to blitz. Recognizing the play all along, he peeled off late and snatched Romo's pass out of the air.
"Just stepped back and he threw it over the middle," Henderson said.
Said Childress: "He's a smart, smart, smart football player."
You couldn't say that about anyone in Cowboys' colors Sunday, be it player or coach. Romo threw two touchdown passes to receiver
Roy E. Williams
and a third to rookie
Dez Bryant
. Nickel back
Lito Sheppard
appeared to be the victim in each instance.
Were it not for injuries to cornerbacks
Cedric Griffin
and
Chris Cook
, Sheppard might not have even been active for this game. But even with Sheppard playing nickel and former dime back
Asher Allen
in a starting role, the Cowboys refused to capitalize on the mismatch.
Romo targeted Williams three times, Bryant twice and
Miles Austin
five times. They finished with a combined six catches. Tailback Jones, meanwhile, had 10 passes thrown his way. He caught all 10 for 61 yards.
I realize the Vikings hit Romo a few times on their opening possession. In fact, Vikings defensive end
Jared Allen
said: "You saw them change their game plan literally in the first series after we hit him about three or four times." But come on. You give up on your best weapons for large stretches of the game because of a couple early hits?
Vikings players seemed incredulous but thankful.
"That was fine with me if they didn't want to go upfield," nose tackle
Pat Williams
said. "They're trying to dump and throw screens and run draws. No problem here."
"I can't say we were prepared for that," defensive tackle Kevin Williams said. "We hadn't expected that."
Of course they didn't.
What team in its right mind would throw all day to Felix Jones when it had Roy Williams, Miles Austin and Dez Bryant matched up against an opponents' No. 3 and No. 4 cornerback??!!
I'm fired up not because the Cowboys did just as much to lose this game as the Vikings did to win it. It's that the oversight seemed outrageous even in this year's NFL. I'll leave the
NFC East commenting
to colleague Matt Mosley, but let's just say I would consider it a fireable offense if it were the other way around.
The Vikings were far from perfect themselves, and their offense seemed stuck in lethargy for far too long Sunday. Normally, I would say I saw few encouraging long-term signs from this victory. But in the NFL circa 2010, a winning performance consists of making fewer mistakes than your opponent. That, and three big plays, were enough to send Childress' "migrant workers" home happy after a full day's work.
August, 23, 2010
8/23/10
3:15
PM ET
We spent some time this offseason discussing how to incorporate some fantasy discussion amid our daily brawls. I'm still tossing around some ideas, but one thing I'm committed to is making sure you know whenever the vast ESPN.com fantasy staff produces something of NFC North value.
The video below contains one such item, a discussion between Matthew Berry and Christopher Harris based on the premise that
Detroit Lions
receiver
Calvin Johnson
and
Dallas Cowboys
receiver
Miles Austin
are both available in the second round of your fantasy draft. Whom do you choose?
I won't give away the store other than to tell you there was some disagreement among the panelists.
January, 15, 2010
1/15/10
1:00
PM ET
AFC
:
Jets-Chargers
:
Graham
|
Williamson
»
Colts-Ravens
:
Kuharsky
|
Walker
NFC
:
Cowboys-Vikings
:
Mosley
|
Seifert
»
Saints-Cardinals
:
Yasinskas
|
Sando
Three nuggets of knowledge about Sunday's divisional playoff game between the Dallas Cowboys (12-5) and Minnesota Vikings (12-4).
[+] Enlarge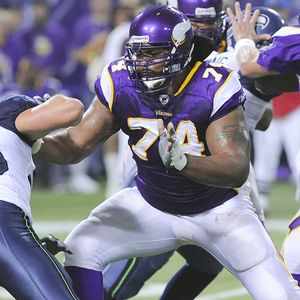 AP Photo/Jim MoneBryant McKinnie can prove he deserves to go to the Pro Bowl with a strong performance Sunday.
1. We'll find out if Minnesota left tackle Bryant McKinnie is worthy of his Pro Bowl status.
McKinnie started this season well but struggled against good pass-rushers in the second half. Sunday, he will face one great pass-rusher in
DeMarcus Ware
and another really good one in
Anthony Spencer
. McKinnie admittedly was hobbled by several minor injuries in December, but he's had two weeks to get his body right. The Vikings will help him when they can with chips and protection slides, but it will have to be on a limited basis. Rookie right tackle
Phil Loadholt
will need help as well. A Pro Bowl left tackle should be trusted to protect a quarterback at all times, even from elite pass-rushers. The Vikings gave McKinnie a $48.5 million contract in 2006 for games just like this one.
2. The nation has spent this week discussing the Ware-Spencer dynamic, and for good reason.
According to ESPN Stats & Information, the Cowboys had the third-most sacks (27) this season when lining up in their base defense (four or fewer pass-rushers). Any guesses as to which team ranked No. 1 on that list? That's right. The Vikings had 32 sacks when only rushing four men. The Cowboys aren't the only team that has at times dominated offensive lines this season. All-Pros
Jared Allen
(14.5 sacks) and
Kevin Williams
(6 sacks) could make a huge impact on this game as well. I'm guessing that Allen knows that Dallas left tackle
Flozell Adams
, an excellent blocker, has also been called for six false start penalties this year. Allen will do everything he can to capitalize on that dynamic. On the other hand, Dallas is well-equipped to handle aggressive fronts. According to ESPN Stats & Information, the Cowboys called more draw plays (105) than any other NFL team. They also ranked first with 547 yards on those plays.
3. But if they can't get pressure on Cowboys quarterback Tony Romo, the Vikings will be in trouble.
Their tackling has been substandard since two key players suffered significant injuries, and the Cowboys have at least one player -- receiver
Miles Austin
-- who will capitalize if given the opportunity. The loss of middle linebacker
E.J. Henderson
has made an impact, as has the foot injury of cornerback
Antoine Winfield
. Although Winfield has returned to the field, he clearly isn't at full capacity. Normally one of the NFL's best tacklers, he hasn't always been in good position since returning. Austin led NFL receivers by gaining an average of 7.3 yards after the catch this season. Austin will eat up a poor tackling team.
January, 13, 2010
1/13/10
7:23
AM ET
Having missed on its first two choices for offensive coordinator, Chicago was down to this dilemma: Pursue a little-wanted veteran (Mike Martz) or a relatively unknown up-and-comer. The Bears chose the latter.

Cincinnati quarterbacks coach Ken Zampese began interviewing Tuesday for the job, according to
Dan Pompei of the Chicago Tribune
. Zampese, the son of former long-time NFL coach Ernie Zampese, is considered a front-runner for the job.
The Bengals are looking for a swift decision, so we could have resolution to this issue soon. Meanwhile, the Bears are awaiting a decision from Perry Fewell as to whether he will take their defensive coordinator job. Fewell interviewed Monday, but is also being pursued by the New York Giants and remains a candidate for Buffalo's head-coaching job.
Continuing around the NFC North:
September, 22, 2008
9/22/08
10:20
AM ET
Posted by ESPN.com's Kevin Seifert
GREEN BAY, Wis. -- Is it a bad thing when you roll into your hotel and the next day's newspapers are already stacked in the lobby? Last night was a late one here in the Fox River valley, especially after dropping Mosley off at his hotel somewhere near the shore ... of the Pacific.
During my drive back, I kept returning to one thing: How noticeably faster the Dallas Cowboys were during a 27-16 victory over Green Bay. The Packers have some speed on their roster, but it seemed no one could keep up with the likes of Felix Jones, Miles Austin and the entire Cowboys defensive line.
Part of speed is positioning and alignment, and I'm sure that when the Packers look at the film they'll see more than a few occasions where they lined up wrong and exacerbated the Cowboys' advantage. But you can't coach players to run faster, and if there is a postseason rematch between these teams, the Packers will need to focus more on offensive ball control to help out both their own defense and their offensive line.
The Packers used eight running plays and 14 passing plays in the first half Sunday night. Swapping that ratio, while out of character for coach Mike McCarthy, would have left the Cowboys' speedy offense on the sideline longer and given the Packers' offensive line an opportunity to wear down Dallas' pass rushers.
Instead, the Cowboys had possession of the ball for 18 minutes, five seconds in the first half and 32:12 overall.
We'll have our takes on all four NFC North games later today. For now, here are some snippets to chew on for a while from around the division: