NFC North:

MNF in Detroit
October, 10, 2011
10/10/11
6:06
PM ET
DETROIT -- My trip into downtown Detroit brought me past Joe Louis Arena and down Jefferson Street. I weaved through the local streets surrounding Ford Field, partly to get a sense of how Detroit is enjoying its first "Monday Night Football" game in 10 years and partly to avoid the traffic pouring into the area.
I don't want to add to the layers of condescension that some of you already feel has been heaped on Detroit for this occasion. I'm not sure if this night will be great for the city of Detroit. I don't usually like to make those sorts of connections. There are many, many other issues involved there that have nothing to do with football.
But it'll be great for the
Detroit Lions
fans, especially those who converge at Ford Field.
And that's what interests me most. It was obvious to even an occasional visitor that downtown Detroit was hopping Monday afternoon. At least on my drive, the sidewalks were filled with fans wearing Lions jerseys and other garb. Outdoor bar patios were packed, in part to take in the
Detroit Tigers
' appearance in the American League Championship Series.
I've been coming to Ford Field since it opened, and on some days it was quiet enough to hear individual conversations below the press box. Three hours before Monday's game, it was already a zoo. Stadium workers have been watching and cheering the Tigers on the big screen, and there is what I can only describe as a youth hip-hop chorus performing on the field. (I know. I'm showing my age.)
Via Twitter, Lions players have been imploring fans to make Ford Field the kind of home-field advantage Monday night that other indoor stadiums provide NFL teams. That's what I think will be great for the city of Detroit and the Lions: If their fans can join in on the competition of sorts after so many years of sitting it out.
More to come, including an eagerly-anticipated pregame warmup from rookie Lions defensive tackle
Nick Fairley
.
October, 10, 2011
10/10/11
2:45
PM ET
DETROIT -- Greetings from the general Detroit Metro area, where people keep telling me that Monday night will feel like a playoff atmosphere at Ford Field. I can tell you this much: Members of the tourist industry -- airline employees, car rental agents and hotel staff -- are all decked out in their
Detroit Lions
garb. When you arrive in Detroit, there is no doubt a football game is fixin' to be played.

That's a start!
I'll be heading downtown in a few hours. But first I wanted to hit a topic that ESPN's Trent Dilfer treated with better context than I could. In
his weekly ESPN Insider column
, Dilfer breaks down the Lions' offense in a way I haven't seen before.
First, the raw numbers from ESPN Stats & Information:
Lions quarterback
Matthew Stafford
has thrown 88 percent of his passes (141 of 161) from the shotgun. Through the first four weeks of the season, Stafford had thrown 27 more shotgun passes than the next most-frequent NFL quarterback.
But an interesting thing has happened on the rare occasion when Stafford has taken a traditional center snap. He's completed 15 of those 20 passes, including six for touchdowns, and hasn't thrown an interception.
Dilfer, naturally has a strong opinion on this dynamic. He thinks the Lions are smart to be in the spread as often as they are, considering their lack of a power running game and the premium they're putting on protecting Stafford. Their success in the small sample of under-center plays should not spur them to do more of it, Dilfer writes. Instead, it reflects in several cases an audible by Stafford. In others, the Lions lucked into favorable matchups.
Many NFL teams use the shotgun, some as their most popular formation. But Dilfer writes that Lions offensive coordinator Scott Linehan has devised the NFL's purest form of the spread offense that he's seen:
Without getting into all the nuances of the various spread offenses you see at the college level, I'll say this: In reviewing the film, I've watched every snap the Lions have taken on offense this season (more than once, in fact), and I don't remember a team running a system closer to what, say, Kevin Wilson was running for years at Oklahoma, producing a run of great quarterbacks. Even New England isn't quite like this, and Tom Brady is in the shotgun constantly. But that's what the Lions under offensive coordinator Scott Linehan are doing this season.
As we get closer to game time Monday, the
Chicago Bears
should know what the Lions plan to do. How to stop it will be their challenge. If you're interested, here is
a handy filter link for all of our "MNF in Detroit" posts
over the past week.
October, 8, 2011
10/08/11
4:19
PM ET
Let the anticipation continue building for a certain rookie defensive tackle's NFL debut as we review the final injury report of the week:
Detroit Lions:
Defensive tackle
Nick Fairley
(foot) practiced for a fourth consecutive day and is listed as questionable for Monday night's game. Lions defensive coordinator Gunther Cunningham said Fairley worked with the first-team defensive line during a two-minute drill Saturday in practice. It's been more than two months since Fairley had surgery on his foot. If he plays, expect it to be in a limited package.
Cunningham added he has done some "political maneuvering" during the week as it relates to Fairley's availability.
"I think he's practiced really well," Cunningham said, "and all I said to [defensive line coach
Kris Kocurek
] was, 'I guess we weren't wrong' when I watched him in practice.' He's moving really well, he's running and I think he's got a cheering section out there. The linebackers all noticed him and I thought [linebacker
Stephen Tulloch
] was going to throw up after he saw him make a play. He said, 'My God is he fast.' And I said, 'I think he was faster than you at the combine.'"
Cornerback
Aaron Berry
(groin), defensive end
Lawrence Jackson
(hamstring) and safety
Amari Spievey
(hamstring) are also questionable. Keep an eye on Spievey. He didn't practice much this week.
Chicago Bears:
Defensive end
Corey Wootton
is listed as probable despite a hand injury that was heavily wrapped during practice Saturday. Receiver
Earl Bennett
(chest) and offensive lineman
Gabe Carimi
(knee) remain out. All other players, including safety
Chris Harris
(hamstring) will be available.
October, 8, 2011
10/08/11
3:16
PM ET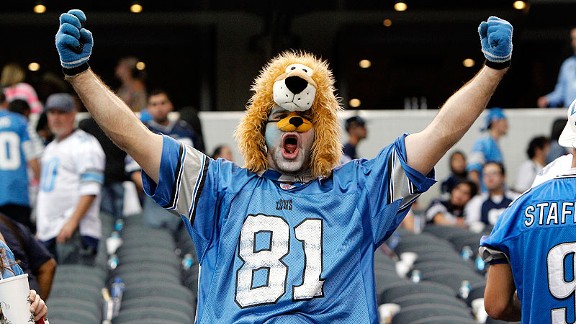 AP Photo/LM Otero"It's important for our players to perform for our fans," Lions coach Jim Schwartz said of Monday.
You know already that Detroit hasn't hosted a Monday night game in 10 years. You're aware that the
Detroit Lions
haven't won on Monday night since 1998 and that Ford Field has been sold out for months and that 2,000 standing-room-only tickets were sold in a matter of hours last week. And maybe, just maybe, you
saw the lions that stomped on a bear piñata
at the Detroit Zoo.
If you think the past week has been crazy in Detroit, the next 36 hours or so will be flat-out wild. But when you pull back the pomp and sift through the circumstance, and when you're done listening to
Barry Sanders
narrate the new introduction of ESPN's broadcast, and you remember that Sanders played in the last Lions' victory on a Monday night, you'll note that we have a pretty critical division game on our hands as Week 5 matchups go.
A Lions victory would give them a three-game lead over the 2010 NFC North champions in the second week of October. The
Chicago Bears
would be 2-3, trailing what could be two 5-0 teams if the
Green Bay Packers
defeat the
Atlanta Falcons
on Sunday night.
[+] Enlarge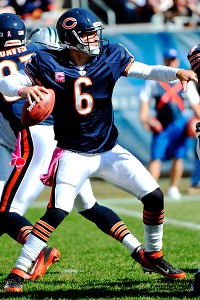 Rob Grabowski/US PRESSWIREJay Cutler has a passer rating above 100 in four meetings against the Lions.
It's not unheard of for a team with a three-game deficit after Week 5 to recover and clinch a division title. It happened as recently as 2009, according to the Elias Sports Bureau, when the
San Diego Chargers
(3-3 after six games) overtook the 6-0
Denver Broncos
.
But let's just say the Bears don't want to put themselves in that spot, which required the Chargers to win their final 10 games while the Broncos finished 2-8. It's also never too early to note that a defeat Monday night would give the Bears two losses in the division and three in their conference, both of which are important factors in playoff tiebreakers. And with two of their division competitors off to perfect starts, the Bears find themselves fighting for relevance with leaves still on the Upper Midwest trees.
Bears linebacker
Lance Briggs
dispensed with the usual clichés this week and
acknowledged to Chicago reporters
that Monday night's game is "huge." He added: "It's a division game, and it's a game that puts us right in the mix or will set us back three games. We're just coming off two losses in the conference, so this is a must have. We have to have it. Period."
The Bears have won six consecutive games against the Lions, and quarterback
Jay Cutler
has finished with better than a 100 passer rating in his four starts against them. The potential of overcoming that history, which has become a weekly event for the Lions, brings another level of intrigue to this game. One of the biggest challenges for the Lions, in fact, will be to enjoy the festivities while still recognizing the importance of the game.
In truth, the NFC North could be a two-team race by early Tuesday morning.
"It's important for our players to perform for our fans," Lions coach Jim Schwartz said. "I mean, they know the history of this franchise and they know how long it's been since they really had something to get behind and something to cheer about. I don't know if that makes a difference on [game day]. It's important for us to play well, it's important for us to play for our city, but there's a lot of other things that go into it."
October, 6, 2011
10/06/11
12:45
PM ET
Only one NFL defense has allowed more yards than the
Chicago Bears
. Opponents are averaging 24.5 points and 21 first downs per game, both of which rank in the bottom third of the league.
Those numbers are drawing some double-takes both around the NFL and in Chicago, where the Bears assumed their defense would pick up where it left off after last season's NFC North title. Even general manager Jerry Angelo
admitted he was "depressed"
last Sunday after the
Carolina Panthers
ran up 543 yards in a 34-29 Bears victory.
Obviously the Bears won't win many games when an opponent piles up that many yards. Sunday probably would have been a loss were it not for a pair of
Devin Hester
kick returns and cornerback
D.J. Moore
's interception return for a score.
But I don't find myself in a panic quite yet about the Bears defense. Angelo told the team's website that he isn't "as depressed" upon further review, and I agree that there are several important contextual aspects to at least consider.
First, as discussed in the video below, the Bears offense has put the defense in a pretty tough spot. The Bears have run the second-fewest number of plays (228) in the NFL and have the fourth-lowest average time of possession per game (26 minutes, 32 seconds).
Those figures alone don't necessarily explain away the Bears' defensive performance, but they do illustrate the disproportionate bind its been put in.
Second, it's only fair to point out that the Bears have faced three of the top five offenses in the league this season, based on total yards. The Panthers,
New Orleans Saints
and
Green Bay Packers
have been gashing everyone this season. Again, that doesn't excuse the Bears but it does put their performance in a different light.
Angelo said he feels "strongly that we're going to rebound" and added: "That's a lot of yards, and we're not used to seeing that around here. We have a high standard and we expect to play to that standard each and every week, regardless of the opponent."
Monday night at Ford Field would be a nice place to start. I don't like the Bears' chances of keeping pace in a shootout with the Lions offense, and I bet you don't either. I'm pretty sure the Bears will lose if the Lions reach their season average of 33 points.
The Bears will need to capitalize on the Lions' vulnerability to the outside pass rush. And they'll also need to remember what it took to turn Lions quarterback
Matthew Stafford
into a checkdown machine in the teams' 2010 matchup at Soldier Field. In just under a half of play, Stafford completed 11 of 15 passes for just 83 yards before defensive end
Julius Peppers
knocked him out of the game with a blind-side sack.
The Bears have a blueprint and most of the same players from that game. If they can't rise above the context Monday, they'll find themselves in a three-game hole in the NFC North.
October, 5, 2011
10/05/11
3:05
PM ET
The nation will tune in Monday night for what might be called a post-modern look at the Black and Blue division. The starting tailbacks of the
Chicago Bears
and
Detroit Lions
are two of the best receiving backs in the NFL.
Sorry, national audience. Smash-mouth football largely has departed even our most storied franchises, and while both running backs play a key role in the team's offenses, rarely has either been used in the way that Walter Payton, Billy Sims,
Barry Sanders
and others once were.
It's true that Bears tailback
Matt Forte
rushed for 205 yards in Sunday's victory over the
Carolina Panthers
. In their first three games, however, the Bears averaged 53.7 rushing yards and overall they have the third-fewest rushing attempts (82) of any NFL team.
Forte, however, leads all NFL running backs with 26 receptions. The Lions'
Jahvid Best
ranks sixth with 17. On the ground, Best is averaging 3.2 yards per carry and the Lions have the fourth-fewest rushing yards (298) in the league.
We've been over this before. A dynamic running game isn't necessarily required in the NFL, and as Lions coach Jim Schwartz said this week, "I mean, good gracious. We don't need to put panic attacks in everything else because we haven't run the ball. With all due respect to [former Michigan coach] Bo Schembechler, we can pass it."
Indeed, the Lions are 4-0 behind the NFL's seventh-most passing yards (1,205). Best and tight end
Brandon Pettigrew
have accounted for more than a third of those yards on mostly short passes that largely have comprised the Lions' modern-day running game.
The Bears are a different story, however. They are a rare NFL team that is better off running the ball. As ESPN Stats & Information pointed out this week, the Bears' four scoring drives against the Panthers were powered by a run-pass ratio of 84-16. On their non-scoring possessions, the Bears' ratio was 38.5-61.5.
What does all this mean in terms of Monday night's game? It's hard to imagine the Lions doing anything other than throwing the ball liberally, even if it's short passes to Best and Pettigrew. The Bears' chances for winning, meanwhile, might rest on whether Forte has a better day as a runner or a receiver.
October, 5, 2011
10/05/11
11:30
AM ET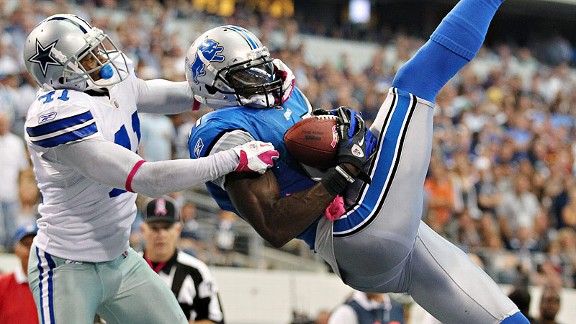 Matthew Emmons/US PresswireCalvin Johnson has scored two touchdowns in each of the Lions' first four games.
You might have heard by now that
Detroit Lions
receiver
Calvin Johnson
has eight touchdown receptions in the first four games of the season. That output ties an NFL record for that stretch, and it gives us (well, me) justification for tracking Johnson's progress relative to the best scoring seasons for a receiver in NFL history.
As long as Johnson keeps scoring, we'll keep revisiting the chart accompanying this post. It provides a game-by-game look at how
Randy Moss
caught 23 touchdown passes over 16 games in 2007. It also shows the incredible 12-game run of former record-holder
Jerry Rice
, who caught 22 touchdowns in 12 games in 1987. (He lost four games due to the NFL players' strike.)
As you can see, Moss had seven touchdowns through four games. Rice had five. Just sayin'.
At least one player can provide an insightful bridge between Moss and Johnson. Lions receiver
Nate Burleson
played with Moss in 2003 and 2004 when both were the
Minnesota Vikings
, and I asked him last weekend for an off-the-cuff comparison between the two.
"I can't pick one or the other, but they'll both go down as a couple of the biggest threats in NFL history," Burleson said. "They're very different. Both great playmakers. Big hands. Can track down the ball extremely well.
"But the one thing I can say about Calvin is that he runs with the ball in his hands. He's trying to create a collision once he catches it. And he blocks. That's what makes him special. That's what separates him in my eyes from the other elite receivers in this league right now. On any given play, whether he's got the ball or not, he's going to make an impact."
In the end, that level of physicality probably gives Johnson an edge on the kind of jump ball touchdown he's perfected this season. Moss knew how to outreach and out-position defenders for the ball, but Johnson's bigger body -- he's an inch taller and about 30 pounds heavier than Moss -- gives him an additional advantage.
October, 4, 2011
10/04/11
2:30
PM ET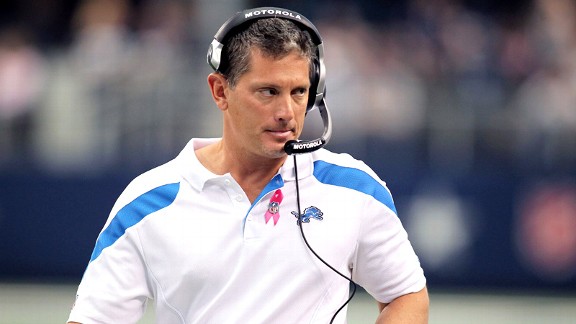 Tim Heitman/US PresswireJim Schwartz, known for his intense sideline demeanor, has one of his calmer game-day moments.
If a football team takes on the personality of its head coach and quarterback, then the
Detroit Lions
are the NFL's most bipolar franchise.
On one end, the Lions are coached by an emerging sideline madman. Already this season, coach Jim Schwartz has been caught cursing at officials, taunting opposing players and creating a postgame fist-pump that has risen to cult status in Detroit.
On the other end, quarterback
Matthew Stafford
's unflappable steadiness has lent serenity to the huddle even as the Lions faced 20-plus point deficits the past two weeks. If his biography didn't confirm that he grew up in Dallas, I would swear Stafford spent his formative days surfing somewhere in northern California.
"We take on Matt's personality out there on the field," receiver
Calvin Johnson
said. "I always say that Matt is cool, calm and collected in the huddle, no matter what the situation is."
Monday night, the nation will see for itself when the Lions host the
Chicago Bears
at Ford Field.
To be sure, Stafford has displayed the enthusiasm of a 23-year-old during the exciting moments of the Lions' 4-0 start. More importantly, however, he hasn't hung his head in moments of despair. After throwing an interception to end the Lions' first possession Sunday at Cowboys Stadium, Stafford simply walked off the field, slapped his hands together and checked in with offensive coordinator Scott Linehan to explain.
Asked about the pass after the game, Stafford shrugged and said: "It was the right read. Just threw a bad ball."
[+] Enlarge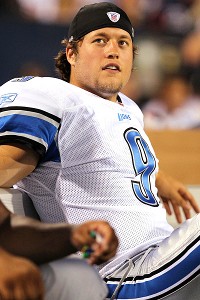 Timothy T. Ludwig/US PresswireMatthew Stafford's cool and measured demeanor provides a nice countermeasure to Schwartz's more fiery approach.
Asked how he handled a 27-3 deficit in the third quarter, Stafford said: "I think everyone was thinking, we've got to make some plays. That's the way it is."
I'm sure some people would prefer a more fiery attitude from a team's on-field leader, but I tend to think that Stafford's perspective is a critical element for this team. An excitable young quarterback is far more likely to force throws and make mistakes than one who mostly avoids the emotional roller coaster of a typical game.
That's especially true, of course, when the head coach is going berserk on the sidelines.
We first discussed Schwartz's sideline demeanor
after his first season with the Lions, noting he was once the epitome of sideline concentration during his tenure as the Tennessee Titans' defensive coordinator.
Like many new head coaches who hand off play-calling duties to assistants, Schwartz filled his game-day void by berating officials and falling prey to the disappointments of his rebuilding team. At the time, Schwartz insisted that his sideline icons were Tony Dungy and Tom Landry and said: "When we get this team the way we need to be, you'll see a lot different me. Because if you look at me for all my years in Tennessee, I wasn't that guy with veins popping out of my head. But you can only do that when you have good players and you have confidence in them and they know you really well."
So much for that.
At the end of the Lions' Week 3 victory over the
Minnesota Vikings
, FOX microphones caught him telling referee Ron Winter's to "learn the [expletive] rules!"
And in the third quarter last week, Schwartz took exception to
Dallas Cowboys
receiver
Dez Bryant
's trash-talking to Lions players during a break in the action while officials reviewed his 34-yard catch. Schwartz had immediately challenged it, and when referee John Parry reversed it, Schwartz took of his headset and pointed at Bryant.
His lips were easy to read.
"Hey, hey," Schwartz screamed. "How about that? Incomplete, you mother [expletive]!"
Asked about the episode Monday, Schwartz smiled and said: "I don't think Dez Bryant had a catch after about midway through the first quarter."
Actually, he caught one more -- a 6-yard touchdown in the second quarter. But the point was taken. Bryant didn't sustain his hot start, or justify his trash-talking, thereafter.
To be clear, Schwartz's sideline demeanor has never pushed him over the edge or left him unable to do his job. The Lions' 4-0 start has been characterized by aggressive but sound game management.
And away from the field, Schwartz has a pretty monotone conversational style. His news conferences suggest he has a future in filibustering if he ever decides to step down from coaching. In reality, he is a young coach whose first head-coaching offer came from what was, at the time, the worst franchise in the league. Like everyone else in the Lions organization, he has taken a special measure of pride in their resurrection this season.
But that's how it has worked so far for the 2011 Lions. The coach gets 'em fired up while the quarterback keeps 'em level-headed. So far, it's been a perfect combination.