NFC North:

Morten Andersen
July, 11, 2014
Jul 11
10:00
AM ET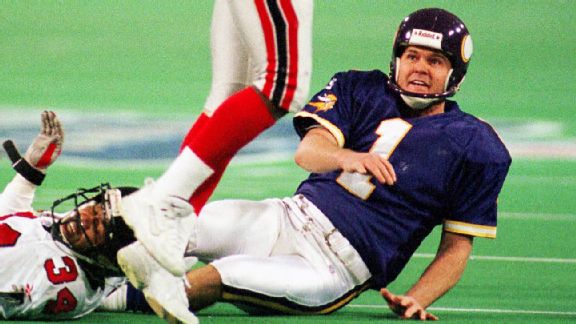 AP Photo/Beth A. Keiser
This is the play voters and ESPN Vikings reporter Ben Goessling picked as the most memorable in the team's history, beating out Brett Favre's interception in the 2010 NFC Championship Game and Tommy Kramer's Hail Mary pass to Ahmad Rashad to beat the
Cleveland Browns
in the 1980 "Miracle at the Met."
Score:
Falcons 30, Vikings 27
Date:
Jan. 17, 1999.
Site:
Hubert H. Humphrey Metrodome
Well, voters, we agreed on this one. For a team that has played in four Super Bowls and has been in five NFC title games since its most recent Super Bowl appearance, there were plenty of memorable moments. But this play, which kept the most prolific offense (and possibly the most dominant team) in Vikings history from securing a fifth Super Bowl bid, was tough to top.

The most striking thing about Gary Anderson's 38-yard miss with 2:18 left in the 1999 NFC Championship Game was how swiftly it pulled the bottom out from under a team that had an air of inevitability about it to that point. Yes, the Vikings had some injuries going into the NFC title game, but their offense had been so explosive (607 points in 17 previous games), and they'd been so dominant at home (winning all nine of their games by an average of 23.22 points) that it didn't seem like an upstart Falcons team had any chance of coming into the Metrodome and halting the Vikings' march to the Super Bowl. It certainly didn't seem that way when Anderson -- who hadn't missed a kick of any kind all season -- lined up for an easy field goal attempt that would have put Minnesota up by 10.
But Anderson's miss gave the Falcons life, and the Vikings seemed too stunned to recover after that point, with coach Dennis Green calling for Randall Cunningham to take a knee after the Falcons' game-tying touchdown and the team punting twice in overtime before Morten Andersen's game winner. As a kid growing up in Minnesota at the time, it was stunning to watch that Vikings team -- so brash and aggressive to that point, so certain of its superiority, particularly in the raucous Metrodome -- on its heels. The Vikings probably never would have reached that point had Anderson's kick sailed through the uprights. Instead, they lost the game, they've endured two more NFC Championship Game defeats since, and their Super Bowl drought is at 37 years and counting.
The fact is it all could have been so different, if not for a miss from a heretofore perfect kicker. That's what made Anderson's miss the most memorable play in Vikings history.
July, 9, 2014
Jul 9
10:00
AM ET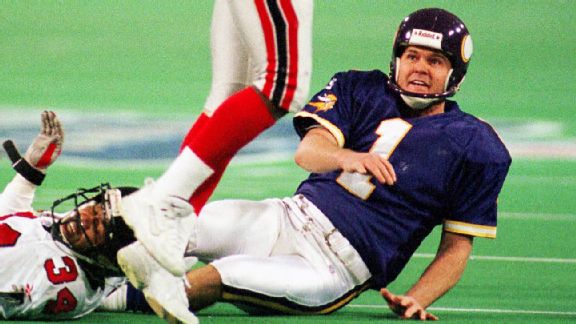 AP Photo/Beth A. Keiser
»
VOTE HERE
»
NFC Plays:
East
|
West
|
North
|
South
»
AFC:
East
|
West
|
North
|
South
This is the third of three plays nominated as the most memorable play in Vikings history, following Brett Favre's interception in the 2010 NFC Championship Game and Tommy Kramer's Hail Mary pass to Ahmad Rashad to beat the
Cleveland Browns
in the 1980 "Miracle at the Met." Please vote for your choice as the Vikings' most memorable play.
Score:
Falcons 30, Vikings 27
Date:
Jan. 17, 1999
Site:
Hubert H. Humphrey Metrodome

Description:
Behind rejuvenated quarterback Randall Cunningham and rookie receiver Randy Moss, the
Minnesota Vikings
had rolled through the league in 1998, scoring 556 points on the way to a 15-1 record. They had beaten the
Arizona Cardinals
in the NFC divisional playoffs the week before, and were 11-point favorites to beat the Falcons and advance to Super Bowl XXXIII. For weeks, a local radio station had been playing a parody of Will Smith's "Miami," with lyrics suggesting a trip to South Florida for the Super Bowl was inevitable.
The Vikings had a 13-point lead in the first half and a 10-point lead in the fourth quarter, and after they stopped the Falcons on fourth down from the Minnesota 24, the Vikings had a seven-point lead and the ball with 6:07 left. They drove to Atlanta's 21 with 2:18 to play, and put kicker Gary Anderson on the field, needing only a 38-yard field goal to go up 10. But Anderson -- who had not missed a field goal or an extra point all season and had become the first kicker ever to have a perfect regular season -- yanked the field goal left, and the Falcons drove 71 yards in eight plays, tying the game on a Chris Chandler touchdown to Terance Mathis (Vikings fans will point out that safety Robert Griffith dropped what would have been a game-ending interception in the end zone four plays before the touchdown).
Minnesota had the ball on its own 27 with 37 seconds left in regulation when coach Dennis Green ordered Cunningham to take a knee, grounding the most prolific offense in the game, and Anderson never got a chance to atone for his miss; two Vikings drives sputtered in overtime, and Falcons kicker Morten Andersen sent Atlanta to its first Super Bowl with a field goal from 38 yards: the same distance from which Anderson had missed.
The Vikings have lost five NFC title games since their last Super Bowl appearance in 1977, but it's tough to suggest any one hurts more than their 1999 loss. The Vikings had the most dominant offense in the league, and all they needed to effectively lock up a Super Bowl trip was for Anderson to make one more kick. Instead, that kick drifted left.
@GoesslingESPN definitely not a top play, but my most memorable - Gary Anderson missing the FG in the '98 title game #NFLNVikingsTopPlays

— Ernie Reppe (@erniereppe) June 10, 2014
.
December, 18, 2012
12/18/12
11:45
AM ET
The most-discussed place-kicker in the NFC North these days is the
Green Bay Packers
'
Mason Crosby
. Commotion about the veteran's extended slump -- he has missed an NFL-high 12 field goals -- has overshadowed what could be a record-setting performance by another specialist in this division.
Minnesota Vikings
place-kicker
Blair Walsh
drilled three field goals of at least 50 yards in last Sunday's 36-22 victory over the
St. Louis Rams
, making him eight-for-eight from that distance this season. As the chart shows, Walsh has tied the NFL record set by
Morten Andersen
and
Jason Hanson
for 50-plus yard field goals in a season and has two games remaining to break it.
Andersen, Hanson and Walsh are tied together by at least one common thread -- indoor home games -- but let's not let that fact dilute this accomplishment. After all, Walsh has actually been a better long-distance place-kicker than the more-celebrated
Greg Zuerlein
-- a.k.a "Legatron" -- of the St. Louis Rams, who also play their home games in a dome.
Walsh, in fact, has missed only three of 32 field goal attempts this season, and his 29 conversions are tied for third in the NFL. Mix in his 64.3 touchback percentage on kickoffs, the NFL's third-best, and you have a strong Pro Bowl candidate for the NFC North's only rookie place-kicker.
Some of you know I'm down on the entire concept of the Pro Bowl, but many of you are not. So as time permits over the next week or so, I'll try to highlight some of the NFC North's deserving but perhaps unnoticed candidates. The teams will be announced Dec. 26.
November, 27, 2008
11/27/08
8:00
AM ET
| | |
| --- | --- |
| | |
| | Bob Donnan/US Presswire |
| | The next time Jason Hanson makes a field goal from 50 or more yards out, he will tie the NFL record for most career field goals from that range. |
Posted by ESPN.com's Kevin Seifert
Detroit Lions fans will soon see history, and we promise you it's a good thing. The next time that place-kicker Jason Hanson makes a field goal of 50 yards or more -- and the way things have been going, it could come Thursday -- he will tie the NFL record for most career kicks from that distance.
It's an obscure but overlooked plateau that's been mostly hidden by the Lions' horrific season. But it speaks to one of the NFL's most underappreciated players, a kicker who has been drilling difficult field goals largely under the radar for the past 17 seasons.
At 38, in fact, Hanson converted a career-long 56-yard kick earlier this month at Carolina. He leads the league with six field goals of 50 or more yards this season (in six attempts), and his next will tie Morten Andersen's NFL mark of 40. For a team that has had trouble moving the ball, Hanson might be the offensive MVP.
2008 Leaders In Field Goals From 50+ Yards
Rank
Player
Team
Years
Games
FG Made
FG Att.
Pct.
Long
1
Jason Hanson
DET
17
11
6
6
100.0
56
2
Matt Prater
DEN
2
11
5
5
100.0
56
3t
Josh Brown
STL
6
11
4
6
66.7
54
3t
Ryan Longwell
MIN
12
11
4
4
100.0
54
3t
Josh Scobee
JAC
5
11
4
4
100.0
53
"I've felt good about making them," Hanson said, "because for us this season, points have been crucial no matter where we are on the field. If your drive stalls but you can hit a 50-yarder, at least you get something out of it."
Hanson has always been known for a strong leg, but it took him a while to refine his long-distance kicks. In his first three NFL seasons, 1992-94, Hanson made only five of 17 (29.4 percent) attempts from the 50-plus range. Since then, he has converted 34 of 55 (61.8 percent).
"When I came out of college [at Washington State], that's what I was known for," Hanson said. "So I felt pressure to make them. It would be like, 'Hey, let's watch this kid kick.' I'd be trying to put every ball in the stands. ... At some point, you learn to control yourself. You realize that if you get wild, it doesn't help. You kick them hard but not wild. That's part of maturing, I suppose."
Hanson has made a few concessions to age -- he now kicks twice a week in practice, tops, rather than every day -- but otherwise remains in remarkably good shape. A two-time Pro Bowler, his kickoffs remain strong and he seems set to kick well into his 40s.
But with his team poised to miss the playoffs for the ninth consecutive year, you wonder whether Hanson's career will end where it began. His contract expires after this season, and his family is currently living in Washington as he prepares for an offseason decision.
During a phone conversation last week, I asked Hanson the indelicate question of why he has remained with the Lions for so long and whether he wanted to return -- considering what will likely be another rebuilding project under a new front office.
"I will say this," Hanson said. "The worst part about losing and the record we've had over these years is that you're judged only by your record. But there are a lot of things about Detroit and the Lions that really are first class and even world class. We have a great facility. There are great people in other departments. Everything has been judged on wins and losses, but to me it's been a great time to be in Detroit other than the drain of losing.
"Personally, I've always enjoyed playing here. I have a family, and sometimes it's not as easy as you might think to do something different. I've always loved this organization, and I believe you should always do what's in front of you. I'm playing professional football and trying my best. You can never predict the future, but I've always wanted to stay here. It's been 17 great years."
And soon to be history-making as well.
All-Time NFL Leaders In Field Goals From 50+ Yards
Rank
Player
Years
Games
FG Made
FG Att.
Pct.
1
Morten Andersen
25
382
40
84
47.6
2
Jason Hanson
17
266
39
73
53.4
3
Jason Elam
16
247
38
63
60.3