NFC North:

Moss cut 110110
November, 3, 2010
11/03/10
4:19
PM ET
Randy Moss
is no longer an NFC North (blog) player.
He's now the blog property of my AFC South colleague, Paul Kuharsky.
The
Tennessee Titans
were
awarded Moss on waivers Wednesday
. They will assume the remainder of Moss' contract. The Vikings still are out a third-round draft pick.
You might recall that in 2001, Moss opened a conference call with Titans beat writers by saying, "What up, Tennessee?"
That's all I got.
November, 3, 2010
11/03/10
3:26
PM ET
EDEN PRAIRIE, Minn. -- Like you, I've had enough of the Machiavellian aspects of
Randy Moss
' departure from the
Minnesota Vikings
.
After listening
to coach Brad Childress Wednesday, I think it's pretty clear this was all about self-preservation. Moss' brazen personality threatened Childress' standing as the alpha male of this organization, and there was no way Childress was going to allow that.
So let's move on and assess how the move will impact the rest of the team. First, you should know that at least one prominent player was still distressed on Wednesday. Receiver
Percy Harvin
, who developed a quick friendship with Moss while benefiting from favorable defensive looks, was asked if he was surprised and/or angry. "For me," Harvin said, "it's a little bit of both."
[+] Enlarge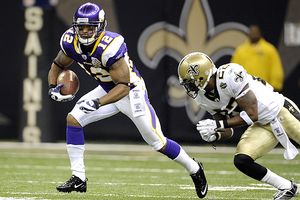 John David Mercer/US PresswirePercy Harvin caught 19 passes for 287 yards in the four games Randy Moss was on the team.
Quarterback
Brett Favre
did his best to remain neutral but noted: "I know fans don't always agree with decisions. As players, we're no different."
Favre added: "As when we brought him in, time would tell if it would be a good fit. We'll see if it's a good fit now. We're back to where we were four weeks ago."
And that's the bottom line. The Vikings acquired Moss on Oct. 6 because their offense had been punchless in its first three games. He didn't compile the numbers the Vikings had hoped for, catching one touchdown among nine receptions, but he clearly and obviously impacted the way teams were defending the offense.
The
New England Patriots
, for example, positioned safety
Brandon Meriweather
some 20-25 yards downfield on Moss' side, opening up the intermediate routes for Harvin and tailback
Adrian Peterson
. Hall of Fame quarterback Troy Aikman said during the television broadcast that he had "never" seen a safety play that deep for an entire game.
Overall, Harvin caught 19 passes for 287 yards in the four games Moss played. Peterson caught nine passes for 111 yards in the same span. Favre suggested there was a direct connection between the events, and said that benefit more than compensated for the plays Moss ran half-speed.
Over the past three games, Favre said, "he got double coverage every time. That takes another guy out of the box. I understand that. Did he hustle on every play? I don't know if Randy has ever hustled on every play. That's just Randy. But he knows what his value is. He figures, 'Heck, two guys follow me everywhere I go.'
"There are probably certain routes that he doesn't run as well, but there's one in particular that you're scared of."
Sidney Rice
was Favre's deep threat last season, and Rice (hip) practiced Wednesday for the first time all year. He could return as early as Sunday against the
Arizona Cardinals
, but the Vikings now have a three-week window to let him practice without counting against their 53-man roster.
Rice's looming return augurs some long-term optimism. But all you need to know about their short-term status came when Childress was asked how he would compensate for Moss' departure on the field.
"We've got
Hank Baskett
," Childress said, referring to a player with six catches with three teams over the past three seasons. "We'll elevate his turns and get him in the mix."
The Vikings were a better team on the field with Moss, and that likely would have remained the case moving forward. The real question is whether they can be a good enough team without him. That will determine whether Childress survives this episode, or if it has signaled the beginning of his end.
November, 3, 2010
11/03/10
2:04
PM ET
EDEN PRAIRIE, Minn. --
Minnesota Vikings
coach Brad Childress faced questions for 13 minutes Wednesday about his decision to waive receiver
Randy Moss
, offering few details but acknowledging the original plan to acquire him was "a poor decision." Childress wouldn't say if he consulted owner Zygi Wilf prior to setting Monday's events in motion, but said that a "meeting" prevented him from speaking to vice president of player personnel Rick Spielman.
In the locker room, receiver
Percy Harvin
made clear he was angry and disappointed by the decision, and I'll get to a big-picture post in a bit -- including the news that injured receiver
Sidney Rice
will practice Wednesday for the first time this year. For now, however, here is the transcript from Childress' remarks for those who were eager to hear his explanation:
Opening statement
[+] Enlarge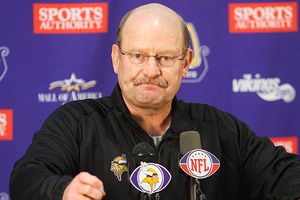 AP Photo/Andy KingBrad Childress on Wednesday said the plan to acquire Randy Moss was "a poor decision."
Brad Childress:
Randy Moss. It didn't work out. Not going to get into any particulars. We have an internal process that we go through. I can understand that all of you have questions, and I appreciate everybody's passion in knowing why. You hope all your personnel decisions work out for the best, and whether you talk about the [Jared] Allens or the [Steve] Hutchinsons or the [Visanthe] Shiancoes or the Chester Taylors or the Percy Harvins, some work out and some don't work out. And some end up being short term and some end up being long term.
This didn't work out. Nobody's more disappointed than I am that it didn't work out. But it didn't work out, and so we're casting our gaze forward here and I do wish Randy the best of luck in whatever the future holds down the line for him in football.
What didn't work out?
BC:
I'm not going to get into a lot of the particulars. I'm not going to do that. It's done. It's over with. It was a decision that you don't take lightly, but it was a decision that I had to make and it's over.
You asked fans to embrace this guy. Why don't you think the fans deserve more?
BC:
Because I wished and hoped that it would have worked out as well. But it was a programmatic non-fit, and it didn't work out. When things don't work out, you need to move quickly to take steps.
Did you have support of ownership?

BC:
Without getting into all the internal dialogue, we have a process that we kind of hold to here and I'm not going give you chapter and verse on the process. But I told my team right after I finished with you folks here. I thought it was important to paint a landscape of what Tuesday was going to be like for them, what the rest of the day was going to be like so that they didn't have to come back here Wednesday and deal with that. I owe that to those guys.
We're at 52 [players] right now, pending any roster move that may occur, but I have faith and confidence in the games remaining and we're the only guys that are going to fix this thing right now.
Why did you portray Moss as a member of the team during Monday's news conference? Why not back it up so you could comment on it after telling players?
BC:
Because that's when I usually have my 12:30 press conference. That's from your standpoint, I get that. I'm going to get questions regardless whether they are on point or not on point. I can't control that. I have a 1 o'clock meeting standing with my group so that's what I end up going to.
Don't you think you're obligated to tell the truth to fans who will be asked to pay for a new stadium?
BC:
I think as long as the right people are contacted in the right order I think that that's important. Obviously, it wouldn't have served a purpose to come out here and tell you guys and have you go running with it before the dominoes start to go down.
But why then make players answer for your decision?

BC:
That's not why I put them in that situation, to have to answer for my decisions. I have to answer for my decisions. In the long run with ownership, obviously, my name is affixed to wins and losses in this program here. So, it's not an attempt to deceive, it's just a matter of letting the people know that need to know. And when we came out with the statement, that's when all that had been done. That's why he didn't show up on the waiver wire that day, just because there is a process that's involved.
Did you use the same process in this decision as you always do? Did you notify ownership in the same way?

BC:
I go through about the same process about all the time. I talk with Rick, I talk with [vice president of football operations Rob Brzezinski]. I let the owners know. But the thing happened here. I talked to the team, then you let everybody else know what's going on. Actually, Rick was in a meeting.
So you told players before you told ownership?
BC:
No, that's not the case. I'm not going to get into all the process stuff.
Did you see this an isolated episode or do you need to do more investigation into players before making trades?

BC:
I feel like I do a decent job of looking into guys' backgrounds. People coming off the waiver wire, you attempt to be able to create pieces of the puzzle that you need to know. I think I talked to you guys about all the back channels, the conversations that end up happening in this league. And I'm grateful that we have an organization that has those type of back-channel conversations in place, because there are some that don't have those in place.
Yeah, it was a poor decision. I've got to stand up and I have to make it right. When it's not right, you need to make it right.
Do you think this has threatened your job?
BC:
I wouldn't know that. I'd say that's up to everybody else to look at. I know that basically it's usually tied to how many wins you have and how many losses you have.
Was this a move made out of desperation?
BC:
You know, I'm not that. This is probably the most unemotional decision I've made in this job here. Just the matter of fact of what had to happen occurred.
Do you think this will impact the team on the field?
BC:
You know, it'd be a good question for them. I know we have to play better football out there. Throw it and run it and tackle better. I'd like to think not.
How did you get duped knowing his background?
BC:
It's not worth getting into the particulars. I'm not going there.
When did you talk with Randy?
BC:
I didn't end up talking to Randy. I made a number of phone calls that went unanswered. I texted him a few times to get back in touch. In the end, Rick ended up finally getting a conversation with him.
Why did you say he'd be back Wednesday when you knew otherwise?
BC:
Because 10 days ago we talked about him going back to New England, to stay there to see his family, to see his 8-year-old, it wasn't a problem for me. It's the same thing that happened with
Brett Favre
when we played New Orleans, he went home after the game and went back with them.
But why did you say he'd be back here?
BC:
Because that was my intent. That was the plan for him to come back Tuesday night or Wednesday. Actually it was going to be Tuesday night. We talked about that, how he was traveling, how he was getting back.
So you decided in between the press conference and the team meeting?
BC:
No, I can't say that's when I decided. The wheels were in motion in my brain for what had to happen.
Are you in danger of losing the team?

BC:
I don't even know what that means. I really don't. Losing that football team. They're all in there. They're all to a man standing there this morning ready to shake the cobwebs off and get this thing right. That would be a better question to answer by them, not by me. But I'm not even sure what that means: Lose your football team. The Minnesota Vikings are in that locker room and we need to play better and I need to coach better.
How are you emotionally?
BC:
I'm fine. I'm fine. I'm really [at] peace. The decisions I make are for the best welfare of the Minnesota Vikings. I can look myself in mirror every night when I go to bed and know that in my heart of hearts.
Did you consult Bud Grant on what it's like to cut a Hall of Famer?
BC:
I did not. No. I saw Bud, but I didn't share any of that with him.
What was the reaction from the team?

BC:
For every decision you make, you could get 53 divergent opinions, so that's a good one for you to ask those folk in there.
What was your message to the team today?

BC:
What I said is we'll be best served by everybody focusing on the
Arizona Cardinals
and their job within the context of this game plan and what we need to do to be able to beat that football team, that beat us last year that happens to be coming up here this year; that are more than capable of scoring a bunch of points and can be extremely disruptive defensively. That's exactly where we went.
We don't need any philosophers is what I told them. We need realists. It's Nov. 3, 2010. We are a 2-5 football team. What do we need to do to pull out of this thing.
Did Moss' outburst to a local catering company affect the decision?

BC:
I wasn't down there. I wasn't down there for that. That's something that came to me.
You must have heard about it.
BC:
I did. I'm not getting into particulars. Not doing it.
When will you get Sidney Rice back?
BC:
Sidney will come off the PUP list today. He was out at the walkthrough. As with other people who come off that, everybody heals differently. He's got three weeks for us to activate him. We'll just see how he progresses here. He's done everything that he can do from a rehabilitation standpoint. Not unlike us with Cedric [Griffin] getting out there.
He needs to do football-specific things. He'll come out and take some turns today. He'll be on the scout team running today and we'll see how he comes back tomorrow. There's a conditioning aspect that's got to be met. Obviously football's a physical game, the pounding, the running on the turf, the full-speed routes. We'll just see how he comes through that. You've got two pretty good examples of guys coming off significant injuries down in Green Bay. It's been a couple weeks and those guys haven't been activated. I don't have a crystal ball. We'll just see what he can do by the end of the week.
How do you compensate for Moss' loss on the field?

BC:
We've got
Hank Baskett
, who has been inactive. We'll elevate his turns and get him in the mix. He'll help us there and he'll help us on special teams.
November, 2, 2010
11/02/10
4:45
PM ET
To close the book on the
Randy Moss
story (for now): Yes, the Vikings
officially placed him on waivers
Tuesday. Teams have until Wednesday at 4 p.m. ET to claim him, after which the league will award him to the team with the highest waiver priority (based on the
chart in our previous post
.)
If no one claims him, the Vikings will be responsible for the remaining $3.338 million on his contract and Moss will be a free agent.
Meanwhile, check out the interview that Moss' agent, Joel Segal, did on ESPN's
"The Scott Van Pelt Show."

Segal said he has spoken to several Vikings players, including clients
Tarvaris Jackson
and
Percy Harvin
. "The players I've spoken to are real disappointed that [Moss] is gone," Segal said.
November, 2, 2010
11/02/10
10:30
AM ET
The pending departure of receiver
Randy Moss
from the
Minnesota Vikings
has naturally sparked speculation about where he might land next. All veterans must pass through NFL waivers after the trade deadline, and Moss is no different.
I can't see him landing with another NFC North team, but nothing would surprise me anymore. To that end, the chart below shows the NFL's current waiver priority. Any NFL team will have the opportunity to claim Moss when he is presumably waived Tuesday afternoon. If more than one team claims him, the one with the highest priority -- based on reverse order of current record -- will be awarded his rights.
Here you go:
November, 1, 2010
11/01/10
9:32
PM ET
OK then. We close Monday's installment in
Theatre of the Absurd
with an official statement about a roster move the
Minnesota Vikings
have not yet confirmed.
That's right. As we all know by now, the Vikings informed receiver
Randy Moss
at some point Monday morning
that he would be waived
. They have not yet executed the roster move, but coach Brad Childress released a statement Monday evening that read:
This decision was made based on what we thought was in the best interests of the Minnesota Vikings, both in the short and long term. We wish Randy the best as he moves forward in his career.
The statement wipes out any speculation that an internal struggle could lead to the Vikings rescinding this decision, a long-shot scenario
we shot down earlier Monday
. I look forward to the time when Childress makes himself available to explain why this move was in the team's best interests.
Have a pleasant evening.
November, 1, 2010
11/01/10
6:15
PM ET
ESPN's Adam Schefter has confirmed that receiver
Randy Moss
was not listed on the NFL's daily waiver wire Monday, meaning he technically remains property of the
Minnesota Vikings
.
I'm not sure there is much to read into that news. It's not uncommon for the official paperwork of a roster move to trail the news. I suppose it's possible that someone in the organization is trying to reverse what appears to be a decision by coach Brad Childress, but Moss' agent has already publicly acknowledged the move.
It's hard to imagine Moss 3.0 ever occurring. It's much more likely that Moss will appear on Tuesday's waiver wire, extending the drama into Wednesday afternoon.
That said, I think it's worth asking whether this move took place in an orderly and professional manner, or if it was actually as haphazard as it looks from the outside. Based on media reports, here's what we can piece together:
Agent Joel Segal told the Star Tribune that he and Moss learned of the move Monday morning.
During his early-afternoon news conference, coach Brad Childress told reporters that he had given Moss permission to remain in New England and visit family members. "I allowed him to stay back there and visit with his family, since he is from there and he will be back Wednesday morning [or] Tuesday night," Childress said.
Immediately after that news conference, Childress told Vikings players in a team meeting that Moss would be waived.
Linebacker Ben Leber confirmed that Childress broke the news to players.
Childress' latest failure on the truth-o-meter prompts a conspiratorial mind to imagine how chaotic the Vikings' internal communication might have been Monday. Is owner Zygi Wilf on board? What about the remainder of the team's leadership structure, which includes vice president of player personnel Rick Spielman and vice president of football operations Rob Brzezinski? Based on job descriptions, it is Brzezinski's role to submit the roster move to the NFL office.
You want to assume the team is on the same page internally, even if it has mismanaged the decision from a public perspective. But if it's not -- if Childress jumped the gun on this move -- then we could be in for an interesting 24-48 hours. Stay tuned.
November, 1, 2010
11/01/10
5:01
PM ET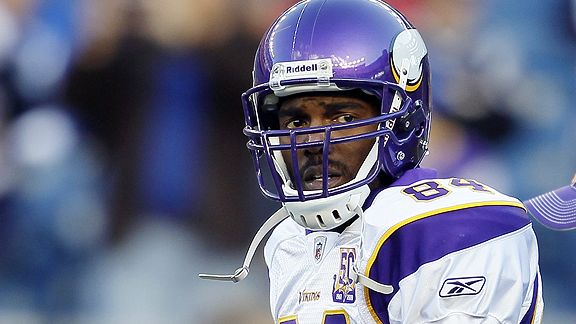 Jim Rogash/Getty ImagesThe Minnesota Vikings didn't seem to know what they were getting into when they traded for Randy Moss.
Near the end of what was a lost season in 2006,
Minnesota Vikings
coach Brad Childress cut his leading receiver a few days after some comments critical of the team's approach appeared in a local newspaper. Childress was so incensed, in fact, that he released receiver
Marcus Robinson
on Christmas Eve.
It was hard not to think of that episode Monday after the Vikings
decided to waive
receiver
Randy Moss
, less than 24 hours after he
took shots at Childress and the entire team
during a rant following the Vikings' 28-18 loss to the
New England Patriots
. To be sure, it was a decisive reaction to what had quickly become an untenable internal distraction. But it fully illustrated Childress' rigid definition of team chemistry as well as a catastrophically inadequate pre-trade assessment of Moss' history and methods.
Many of you are already asking if Vikings owner Zygi Wilf, ostensibly embarrassed and/or enraged by Moss' postgame rant Sunday, stepped in and demanded Moss' departure. The answer is I'm not completely sure. But I can tell you this: To my knowledge, Wilf has never in six seasons mandated a football decision. It would have been totally out of character and a departure from his management style to do so now.
Which brings us back to Childress, who has repeatedly hammered players over the years for expressing opinions contrary to a team-oriented message. Respected veterans from Robinson to cornerback
Antoine Winfield
to receiver
Bobby Wade
to safety
Darren Sharper
have absorbed his wrath after speaking their minds in media interviews.
Before news of the move hit Monday, Childress said he did not consider Moss' comments "incendiary." I didn't believe him then and I think we now know it wasn't the case. It seems pretty evident to me that Childress read Moss' comments and then watched the tape of his performance Sunday in New England -- a game marked by many of Moss' patented half-run routes and punctuated by a poor effort on what could have been a touchdown reception in the fourth quarter -- and gave up on him.
The decision compounded the original mistake the Vikings made in acquiring Moss from the Patriots last month. Nothing that happened since then should have been surprising to them. Moss' long history of being what I call pathological contrarian told you all you needed to know. What follows are documented facts, not opinions:
Despite his remarkable skills, Moss doesn't run hard on every play.

In most of his previous seasons, Moss has given up on at least a few catchable balls.

He doesn't speak often to the media. But he has no filter when he does, and frequently produces mini-dramas with truths that usually hit too close for comfort.

He has run astray of authority at every stop of his NFL career, explaining why he has now been fired on four occasions -- twice by the Vikings, once by the Oakland Raiders and once by the Patriots. If you want a quiet soldier, Randy Moss isn't your guy. No surprise there.
These issues are all prominently displayed on Moss' NFL résumé. They were obvious to anyone who cared to look, and they are the presumed tradeoff you make for a player who will go down as one of the best downfield receivers in NFL history.
Childress said last month that he did not speak with Moss until after the trade. But we can only assume that he was fully aware of the Moss Paradox and accepted it among the terms of the deal. Surely they didn't think Moss had changed in a fundamental way, not with Patriots coach Bill Belichick so eager to deal him midway through the season. And it would have been the height of hubris to believe that their organization and structure would somehow transform Moss into someone he has never been.
No, when you acquire Randy Moss for a 12-game rental, you do so with your eyes wide open. Before pulling the trigger, you accept the potential for disruption in return for the short-term benefit on the field. To waive Moss because he did what he has always done reflects an inexcusable lack of conviction in the original decision. That's no way to build a team, either in the short- or long-term.
In fact,
Fox Sports' Jay Glazer
reported that Childress said during a team meeting Monday that Moss "wasn't type of guy they wanted" in Minnesota. Really? Moss' history is too long for Childress not to have made that determination before the trade.
This latest catastrophe robbed the Vikings of a third-round pick and could cost them an additional $3.388 million if another team does not absorb his contract by claiming him on waivers. Worse, they are back to where they were a month ago: without a legitimate downfield receiver to open the field for tailback
Adrian Peterson
and slot receiver
Percy Harvin
. Veteran
Sidney Rice
, who is recovering from a hip injury, appears several weeks away from a return.
But those short-term issues pale when compared to the long-term implications of this episode. If you're a Vikings fan, you're probably having a hard time mustering much faith in the team's direction and leadership. What are they doing and where are they going? I don't know -- and I'm not sure they do either.
November, 1, 2010
11/01/10
3:20
PM ET
You really can't make it up. Here's what's happened in the Theatre of the Absurd today:
At about 1:40 p.m. ET,
Minnesota Vikings
coach Brad Childress told reporters that he had given receiver
Randy Moss
an opportunity to spend time with his family in the New England area before re-joining the team on Wednesday. He said he did not believe Moss' bizarre postgame rant was "incendiary" and said he did not regret acquiring Moss "at the present time."
About 30 minutes later, Childress
informed players in a team meeting
that Moss
had been waived
, an admission of a mistake so colossal and embarrassing that it will forever define Childress' tenure in Minnesota.
For now, we'll put aside another bout between Childress and the truth-o-meter. To start it off, I'll say this: Moss' return to Minnesota last month was much more shocking than his quick demise. The Vikings, of all teams, should be ashamed to have made this gambit given their knowledge of Moss' history. They lost a third-round draft pick for four mostly unproductive games and are left with a fractured franchise that seems headed to Armageddon.
Otherwise, it was just another act in the Theatre of the Absurd.
More in a bit.