August, 25, 2013
8/25/13
10:00
AM ET
On Friday
, the
Detroit Lions
released
Chaz Schilens
, the veteran they signed just before training camp to hedge against the injury rehabilitation and depth issues among their receiver group. With
Nate Burleson
and
Ryan Broyles
apparently
healthy,
and Patrick Edwards generating
significant training camp buzz
, questions about the position seemed to be allayed.
The Lions seemed so confident, in fact, that they had
already released
veteran
Mike Thomas
despite a $1 million guarantee in his 2013 contract.
Did those moves reflect confidence? Or did they suggest the Lions simply weren't satisfied with the makeup of the position? I'm beginning to wonder if it is the latter, a belief fortified by
Jason La Canfora'
s report that that the Lions are making league-wide calls to check availability of starting-caliber receivers.
What exactly is going on here?
The first and arguably most important fact to remember is that Burleson and Broyles are both assigned primarily to the slot position, a new role for Burleson as he enters his 11th NFL season. (Thomas is also a natural slot receiver, but the personnel logjam there had him working mostly on the outside.)
With Burleson and Broyles working the slot, the Lions have been hoping that Edwards could lock down the outside spot opposite
Calvin Johnson
. Yet for all the glowing reports of his work in practice, Edwards hasn't done much in the first three preseason games. He has caught four passes for 16 yards, working mostly against first-team defenders, and in an instructive moment, he lost a battle for a ball in the end zone against
New York Jets
rookie cornerback
Dee Milliner
in the preseason opener.
If anything, Edwards has been matched by six-year veteran
Matt Willis
, a journeyman trying to make his third NFL team.
Johnson hasn't played much this preseason, accentuating these question marks. And we all know the Lions have a number of proven receiving threats at other positions -- from tailback
Reggie Bush
to tight ends
Brandon Pettigrew
and
Tony Scheffler
.
But despite it all, it is beginning to looks like they don't have a No. 2 receiver -- a hole that jumped out from their roster all offseason. With NFL roster cuts looming, the Lions might have a chance to do something about it this week.
Note:
According to
Tim Twentyman of the Lions' web site
, the team released four more players Sunday morning and have five left to go to meet the NFL's requirement of 75 by Tuesday. Those released were: defensive end
Ronnell Lewis
, receiver
Cody Wilson
, cornerback
Myron Lewis
and safety
Chris Hope
. Lewis was a fourth-round draft pick last season but got only one snap on defense. Hope's release suggests the Lions are comfortable with the health of starters
Louis Delmas
(knee) and
Glover Quin
(hip).
November, 20, 2011
11/20/11
8:00
PM ET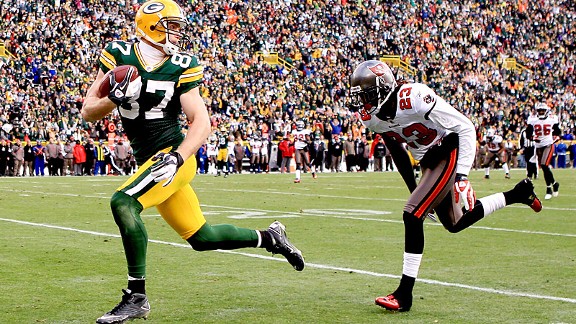 Matthew Stockman/Getty ImagesJordy Nelson caught six passes for 123 yards and two touchdowns against Tampa Bay.
GREEN BAY, Wis. -- I'm sorry to disappoint you. We had it half-right last week on
Jordy Nelson
. He does fit a stereotype -- just not the one that seeped its way into national discussion.
The son of farmers and a Kansan, Nelson wears his hair in a crew cut and still squints in front of television camera lights. He physically recoils in the public spotlight and really means it when he says: "I just prefer to do my job every day in practice, and in the game, and then go home and hide out with the family."
Nelson is a blue-collar Midwesterner if there ever was one, a condition that will be increasingly difficult to maintain after a stretch of games that could catapult him to the Pro Bowl. Nelson caught two more touchdown passes Sunday in the
Green Bay Packers
' 35-26
victory
over the
Tampa Bay Buccaneers
, including the game-clincher, and brought his season total to nine with six games remaining.
How understated is Nelson? Discussing his performance Sunday, the best word that coach Mike McCarthy and quarterback
Aaron Rodgers
could come up with was "consistent." Added McCarthy: "I wish I could be more complimentary: He is so consistent and he's the same guy every day, and that's huge on a lot of different fronts... ."
Which is largely why Nelson seemed so out of place last week
in a national discussion
about the speed and perception of white receivers. We touched on the topic twice, wondering whether opponents were truly underestimating him because of race or whether they have made a schematic decision to focus on other players in the Packers' offense.
Regardless, Nelson said the issue made him "uncomfortable" as it played out last week. He said he laughed when an official, and even some Bucs players, referenced it on the field Sunday. But you don't have to know Nelson well to recognize he wasn't going to dip his toe into those social waters.
"I hate the spotlight," he said. "I don't like it. That's why, what happened last week, I did not like that one bit. … I don't even deal with race and anything like that. It's something we've discussed in the locker room here, and I hope it didn't offend anybody. … I'm not mad at anybody. I just don't like to be in the spotlight, and that kind of put me out there."
It would be insulting to the Buccaneers to suggest they underestimated Nelson, for racial or any other reasons. Sunday marked his third 100-yard game in the past five weeks, and here are his numbers during the Packers' 16-game winning streak, dating to last season and including playoffs:
Receptions:
67
Yards:
1,255
TDs:
12
"I really don't care how they think," Nelson said, "because honestly, if someone underestimates you, it's better [for me]. But everyone in this league has a job. They watch film. They see what they see. I'm going to keep doing what I'm doing and keep grinding."
[+] Enlarge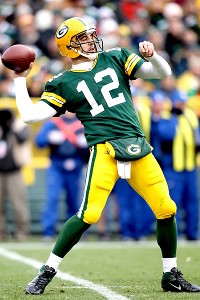 Matthew Stockman/Getty ImagesAaron Rodgers has thrown 31 touchdown passes this season, including nine to Jordy Nelson.
I would think opponents are now fully aware that Nelson is not a stereotypical white receiver, if there is such a thing. He can run past anyone, as suggested by his average of 18.7 yards per catch over that 16-game stretch. But there is only so much that can be done while also defending against receiver
Greg Jennings
, tight end
Jermichael Finley
and the rest of the Packers' offense.
Sunday, the Buccaneers fruitlessly searched for ways to handle Nelson while not losing sight of the Packers' so-called heavy hitters. Nelson is a starting-caliber receiver whom the Buccaneers mostly tried to defend with backups. Ever heard NFL people talk about having players who can step up when the focus is elsewhere? Nelson hasn't been underestimated; he's the best example of how the Packers' offense is overwhelming opponents on matchups.
Sunday, the Buccaneers tried nickel back
E.J. Biggers
on Nelson. They rotated cornerback
Ronde Barber
on him a few times, and for some reason had little-used
Myron Lewis
matched up in single coverage on third-and-four at the Bucs' 40-yard line with 3 minutes, 1 second remaining in the game.
The Packers were clinging to a 28-26 lead. If you watch the replay, it appears that Nelson put a dirty double-move on Lewis to leave him in the dust for a 40-yard touchdown.
Not so, Mr. Humble said afterward.
Nelson said he thought Rodgers was going to feed him a shorter pass that would be a jump ball.
"So I slowed down a little bit to gather myself to get ready to jump," Nelson said. "And when it came out of his hand, I was like, whoa, that kind of took off. That little hesitation did help myself. The DB did think it was going to be to the back shoulder."
Come on. Nelson wasn't going to say so, but make no mistake: It was a big-time move at a critical moment for a team that is making a run at history. This season, Nelson has showed us that stereotypes can be true. You just have to make sure you've nailed him on the right one.