December, 8, 2010
12/08/10
3:15
PM ET
EDEN PRAIRIE, Minn. -- Part of me wants to be suitably impressed that
Brett Favre
would even consider playing Sunday with a sprained SC joint near his right shoulder. On top of two still-healing fractures in his left foot. On top of elbow tendinitis and with a 10-stitch scar on his chin as a reminder of one of the many brutal hits he has absorbed this season.
The rest of me wants to exclaim: What in the name of Y.A. Tittle are you doing to yourself?
Some of you historians might remember Tittle as a Hall of Fame quarterback who played his last four seasons with the
New York Giants
. He was also the subject of an iconic 1964 photograph. The shot depicts Tittle, 38, as bloodied, dazed and sitting on his knees after a hit that cracked his sternum and gave him a concussion.
[+] Enlarge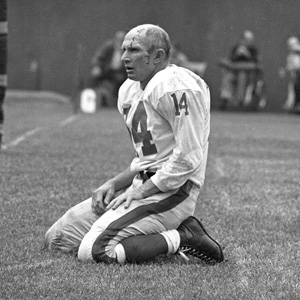 AP Photo/Dozier MobleyY.A. Tittle took a pounding during the final year of his playing career.
Tittle, of course, played out the rest of the season as the Giants finished 2-10-2, throwing 10 touchdown passes against 22 interceptions before announcing his retirement. The photograph became a paradigm for the unceremonious end to a Hall of Fame career.
I couldn't stop thinking about it Wednesday as Favre, for what seems to be the 14th week this season, detailed how he hoped to navigate his injury and somehow start Sunday's game against the Giants. At some point you have to wonder: When will enough be enough? Is all of this really necessary?
Is there no point where you set aside toughness and accept your football mortality? How many times must you be helped off the field before you realize the impact of the beating you've taken on your long-term health?
That's the question I was most curious about when Favre took the podium Wednesday. We all know why he is trying to play. It's what he has always done. But I think we can all agree that Favre has taken some of the most brutal hits of his career this season. Two that come to mind: Getting planted last Sunday by
Buffalo Bills
linebacker
Arthur Moats
and the Oct. 31 chin shot from
New England Patriots
defensive lineman
Myron Pryor
.
Does a 41-year-old man, and new grandfather, worry about subjecting himself to such abuse? Does he think his age, combined with his now-limited mobility, have played a role in the punishment?
Favre said he has been thinking about that "for the last few years" and that it's "crossed my mind once or twice" this season.
"I think had I not played this year, I was still going to feel the 19 years I've played for many years to come," he said. "I probably haven't helped myself too much this year. But you know, I chose to play. It's part of it. As an older player, you find it harder, as we all do, to recover from certain injuries. But that's the price you pay."
And that's the bottom line, I guess. If you decide to play football at age 41 -- and earn $16 million doing so -- you might take a pounding. It's part of the gig. But golly, we're starting to get to Y. A. Tittle territory here -- beaten, bloodied and refusing to accept it.
October, 31, 2010
10/31/10
10:28
PM ET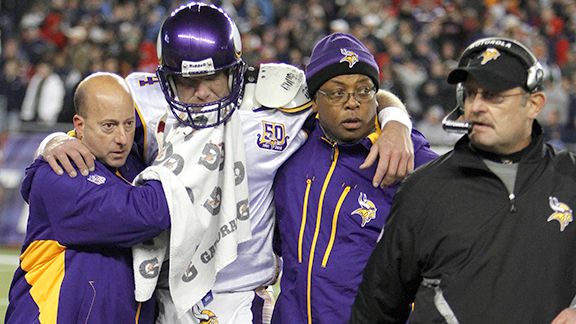 AP Photo/Michael DwyerBrett Favre had to be helped off the field after taking a hit that would require eight stitches.
FOXBOROUGH, Mass. -- It's official. There is no debate. The
Minnesota Vikings
, who
produced some pretty fine Masterpiece Theatre
last week, have taken it up a notch. (Or down, depending on your perspective.)
It's still Theatre ... but of the Absurd.
I don't know how else to describe what happened during and after the
Vikings' 28-18 loss
Sunday to the
New England Patriots
. In the span of about four hours, you had:
Quarterback Brett Favre playing perhaps his best game of the season despite two fractures in his left foot, only to be felled by a brutal fourth-quarter hit under the chin that left him woozy and needing a cart to get off the field.

Coach Brad Childress describing Favre's face as "a pretty good shade of white" after the play, and Favre appearing nearly unconscious as he lay on the cart. But after taking eight stitches to close the wound and a dose of numbing agent -- while apparently also making a quick trip to the Fountain of Youth -- Favre dragged himself in front of reporters and made clear he would play next Sunday against the Arizona Cardinals. In his affected state, perhaps Favre thought the Metrodome was hosting open casting calls for the Bionic Man. In all seriousness, it was stunning to see him standing upright and answering questions after the hit he took from defensive lineman Myron Pryor.

Finally, you had receiver Randy Moss offering a nearly five-minute statement in which he took oblique shots at Childress and the entire team while suggesting he wished he had not sulked his way out of New England earlier this month.
The only thing missing was a car full of clowns speeding through the locker room. Or maybe I just missed that one.
Favre said afterward that "hopefully our guys don't go south" after losing for the fifth time in seven games this season, leaving them tied with the
Detroit Lions
for the worst record in the NFC North. I really don't know if Moss became the first player to bag the season, or if his episode reflected a man so far off the deep end that his thoughts can't stand for those of the entire franchise.
Hopefully you read the
entire transcript of Moss' statement
, which he said would be his new way of interacting with the media following the NFL's decision to fine him $25,000 last week. (In true Theatre of the Absurd fashion, Moss said the only questions he would answer this season would be the ones he posed to himself.)
Of particular concern Sunday, however, were two of his sentiments: That Childress erred by not taking a short field goal just before the half, and that the Vikings didn't value his insight into the Patriots' schemes and tendencies.
With the score tied 7-7 late in the second quarter, Childress elected to run tailback
Adrian Peterson
on fourth-and-goal from the Patriots' 1-yard line. The play lost 2 yards, and ultimately the second half might have played out differently had the margin been three points closer. I think you could debate the decision reasonably on both sides, but it's not often that you hear a veteran player say what Moss uttered.
"I wish we could have had that three at the end of the half," he said. "Maybe it could have been different. Maybe not."
(Moss also referred to Patriots coach Bill Belichick as "the best coach in football history," leaving Childress no better than No. 2 on that list.)
For his part, Childress said he wanted to "just be aggressive" and added: "We were going to need seven points there, we thought, as opposed to those threes."
More notable, however, was Moss' "disappointment" that players and coaches didn't heed the information he provided during the week, a contribution Childress noted publicly several times.
"Tried to prepare, tried to talk to the players and coaches about how this game was going to be played," Moss said. "[A] couple tendencies here and a couple tendencies here. The bad part about it, is you have six days to prepare for a team, and on the seventh day, that Sunday, meaning today, I guess they come over and say, 'Dag Moss, I guess you was right about a couple plays and a couple schemes they were going to run.'
"And it hurts as a player, that you put a lot of hard work in during the week, and at the end of the week, Sunday, when you get on the field, that's when they acknowledge ... the hard work that you put in throughout the week. That's actually a disappointment."
The Vikings actually controlled the game for much of the first half, utilizing Peterson to consume the clock for nearly 20 of the first 30 minutes. They took a 10-7 lead with 9 minutes, 37 seconds remaining in the third quarter but couldn't regain the lead after
Tom Brady
's acrobatic 65-yard touchdown pass to receiver
Brandon Tate
.
But Moss' decision to lash out at least calls into question whether Childress still has the attention of a locker room filled with talented veterans who believe they know what it takes to win. Moss was targeted only twice and caught one pass for 8 yards in the game. Afterward, Childress referred to him as a "decoy" and Favre suggested there might be avenues to utilize Moss more frequently.
Favre noted that the Patriots, like the
Green Bay Packers
and
Dallas Cowboys
before them, had played a safety over top of him for most of the game. But, Favre added, there are ways to get around that.
"Now, maybe we can scheme up ways to move him around," Favre said, "or maybe even when it's two-deep coverage you buy enough time in protection by some type of play-action. I don't know."
In any event, this team sure looked on the brink of collapse as it departed Gillette Stadium. Favre admitted that, as he rode off the field a bloody mess, a dark thought briefly crossed his mind. "What in the world am I doing?" Favre said he was thinking at the moment.
But Favre insisted that "I'm in it to win it," and here is the reality: Even with two teams at 2-5, the NFC North remains a four-team race. But I was struck, and even felt a pang of sympathy, as Favre closed out his news conference.
"There have been plenty of times I should have been knocked out," Favre said. "But I wasn't. I think I'm all right."
A member of the Vikings' public relations staff called an end to the interview, but Favre wouldn't leave the podium. As the numbing agent caused him to slur a bit, Favre continued. Even now, he was still in character.
"I'll be ready to play next week," he said quietly, staring at the ground.
On this day, however, it hardly mattered. There are no roles for a Bionic Man in this show. We've moved from standard drama to
The Endgame
.