September, 7, 2012
9/07/12
10:00
AM ET
Two years ago, we noted that
Green Bay Packers
quarterback
Aaron Rodgers
had established himself
as one of the better running quarterbacks in the NFL
. Of course, that was when he was 26 years old and midway through his third season as a starter.
Now 28 and entering his fifth year at the Packers' helm, Rodgers would be excused for backing off the scrambles and focusing on pocket passing. But based on the 2012 preseason, as well as some extensive comments on the subject this week, it appears Rodgers has prepared himself to continue taking off whenever he sees open turf.
[+] Enlarge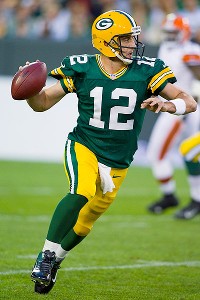 David Stluka/AP ImagesPackers QB Aaron Rodgers said he worked on becoming more flexible during the offseason to help improve his mobility.
He scrambled eight times for 76 yards in three games this summer, including two touchdowns against the
Cincinnati Bengals
. Speaking during his
ESPN 540 radio show

, Rodgers said he spent the offseason focusing on "my foot speed, my endurance and my strength" through greater flexibility.
"I want to be able to move around a little bit better out there," Rodgers said, "and I thought flexibility would be a good way to do that. So I focused on that a lot."
Among other things, Rodgers said he spent 20-30 minutes stretching after workouts. I'll let him explain the rest because, frankly, I'm not sure I fully understand the details myself.
"I did a lot of posture stuff with my workouts," he said, "making sure that I was doing more pulls for my back then pushes for my chest. Because whether you're an athlete or not, a lot of people internally rotate their shoulders which decreases your flexibility in your shoulder if you're a thrower.
"Or when you're sitting at a desk most of the days you're going to have your shoulders internally rotate. So to combat that, I'm doing more exercises to open up my chest and pull my shoulders back. It increases the flexibility on your shoulder and takes stress off of it. So those are some of the things I thought about."
Since becoming the Packers' starter in 2008, Rodgers has scored more rushing touchdowns (16) than any other quarterback. Over that span,
via the database at pro-football-reference.com
, he ranks second in rushing yards by a quarterback (1,136). What's amazing is the Packers only occasionally call runs for him the way the
Carolina Panthers
might for
Cam Newton
or the
Atlanta Falcons
did for a younger
Michael Vick
. Most of Rodgers' production is what he calls "reactionary." He's quick to recognize when a combination of man-to-man defense and deep routes will force defenders to run away from him with their backs turned. He also tries to keep what he called a "pass-first mentality outside of the pocket." In essence, he wants to avoid tucking the ball away because the threat of a pass -- even if he is a yard or two past the line of scrimmage -- can give him an advantage in the open field.
"The defensive guy isn't looking over at the sticks…," Rodgers said, "so I want to make sure that it looks like I at least have the ability to throw the football because that's going to keep them away from me a little bit more."
Still, even as he approaches middle age in football terms, Rodgers demonstrated this summer that he still has the raw speed and athletic ability to run past presumably faster defenders. Against the Bengals, he broke the pocket at the 12-yard line and simply ran around Bengals cornerback
Nate Clements
to the end zone. (Video
here courtesy NFL.com
.)
"[That] was fun for me because I spent a lot of time working on my athletic ability this offseason," he said. "My speed, my stamina, my quickness, and I felt like I kind of separated a little bit from the corner."
Someday, opposing defensive coordinators will be able to remove Rodgers' scrambling tendencies from their Packers game-day check list. It won't be in 2012, however.
July, 12, 2011
7/12/11
5:15
PM ET
Thanks to everyone who joined in on a
festive and well-attended SportsNation chat
. I'll circle back on a number of the issues you brought forth during the week, but I wanted to get to one right away because it applies to the
latest installment of our Calling Canton series
on the prospects of
Green Bay Packers
cornerback
Charles Woodson
.
Jay (Boston)

Kevin, enjoyed the Calling Canton article today. One stat that wasn't mentioned--and might be difficult to compare--that I always sing Woodson's praises on is tackles for loss. I think that there is what sets him apart from so many of the other topflight CB's currently playing--he does an decent job shutting down receivers and plays above average defending the run. Any idea how his tackles for loss numbers stack up against others?

Kevin Seifert (2:37 PM)

Not off the top of my head, but it would be worth checking out. I'll do a follow-up post if I can find it. Thanks, Jay.
As it turns out, the pro-football-reference.com database doesn't track tackles for loss, which are as unofficial as straight tackle statistics. But the Packers' public relations staff forwarded a modern-day comparison, via STATS Inc., that confirms Jay's suspicions.
Over the past five seasons, here are the NFL's unofficial leaders in tackles for loss among cornerbacks (or "stuffs," as STATS refers to them as):
Nate Clements: 18
Ronde Barber: 17
Antoine Winfield: 17
Charles Woodson: 16
Nnamdi Asomugha: 11.5
You ask, we tell. Sort of.