February, 23, 2012
2/23/12
3:33
PM ET
INDIANAPOLIS -- There is a moment at most NFL combines when I see a highly regarded prospect and am surprised at what he looks like in person. Friday, that player was USC left tackle
Matt Kalil
, one of a handful of players the
Minnesota Vikings
might draft at No. 3 overall.
Dressed in a baggy sweatsuit, Kalil looked as much like a tight end as he did a left tackle. He played last season at 300 pounds and said he weighed in this week at 306. But suffice it to say, there are plenty of pounds left to be packed on his 6-foot-6 frame.
[+] Enlarge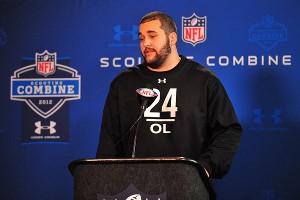 AP Photo/Gary A. VasquezOffensive tackle Matt Kalil said he plans to add more weight to his 306-pound frame.
"Definitely [I would like] to put more bulk on my frame," Kalil said. "I'm so tall and slender, I could weigh 310, and it wouldn't look it. I can definitely add more weight, and I will be training the next few months -- getting bigger, getting stronger, working on my body."
To be clear, I don't think Kalil needs to go on a massive weight-gaining expedition in the next few months. He credits his success to playing light on his feet and moving well, and for that reason it wouldn't make sense to jump, say, 30 pounds in a year. But weight is one of the measurables people will fixate on here at the combine, and for comparison, consider that
Green Bay Packers
left tackle Chad Clifton weighs 320 pounds and J'Marcus Webb of the
Chicago Bears
is listed at 333 pounds.
Last year, Colorado left tackle Nate Solder was considered a project in part because he had 319 pounds spread out over his 6-foot-8 frame. The
New England Patriots
selected him with the No. 17 overall pick. But to this point, most draft observers have agreed that Kalil is polished from a technique standpoint and ready to start in the NFL immediately.
He'll have a chance to convince Vikings officials of that Friday when he meets them for a formal interview. Kalil will also speak with the
St. Louis Rams
, who own the No. 2 overall pick and could make the Kalil discussion a moot point for the NFC North. Stay tuned.
April, 28, 2011
4/28/11
10:45
AM ET
Circling back one final time on draft issues we've discussed over the past few months:
As we speak on the first day of the NFL draft, the
Chicago Bears
haven't filled any of their five positions along the offensive line. They have candidates for each spot, and they're hoping to re-sign free-agent center Olin Kreutz, but the next three days will play a big role in determining how the lineup shakes out.
But the Bears face a practical dilemma with the No. 29 overall pick: Will an offensive lineman worthy of that spot still be on the board? And if not, should they trade down or take a player at another position? To be sure, the Bears also have needs at defensive tackle and linebacker, and I, for one, wouldn't hammer them for drafting a receiver at No. 29.
But first, the offensive line: Tackles are typically the most sought-after line position in the draft. Everyone has their own evaluation, but it's hard to imagine the top two -- USC's
Tyron Smith
and Boston College's
Anthony Castonzo
-- being available at No. 29. It also wouldn't be surprising if Colorado's
Nate Solder
and Wisconsin's
Gabe Carimi
were gone as well.
If that's the case, the Bears might have to decide between Mississippi State tackle
Derek Sherrod
, a marginal first-round pick, or move on to guard, where Baylor's
Danny Watkins
could be available. (Florida guard-center
Mike Pouncey
is probably a top-20 pick.) Other options include North Carolina defensive tackle
Marvin Austin
and even Pittsburgh receiver
Jonathan Baldwin
.
Depending on their partner, trading down could net the Bears anywhere from an extra sixth-round pick to a 2012 first-round pick. Such are the myriad options when a team is positioned so low in the first round. Hang on for the ride.
Earlier:
Solder is an
interesting prospect
. The Bears' offensive line
is in flux
.
Establishing the value
of the No. 29 pick. I
managed to draft Carimi
in the ESPN.com Blog Network mock draft. The Bears have spent
a lot of time researching Austin
.
April, 21, 2011
4/21/11
12:00
PM ET
»
NFC Draft Watch
:
East
|
West
|
North
|
South
»
AFC
:
East
|
West
|
North
|
South
Each Thursday leading up to the NFL draft (April 28-30), the ESPN.com NFL blog network will take a division-by-division look at key aspects of the draft. Today's topic: Dream scenario/Plan B.
Chicago Bears

Dream scenario:
There is no doubt the Bears' top draft priority is to elevate their offensive line personnel, and typically tackles are valued more than guards or centers. Typically, most blue-chip tackles are off the board by the No. 29 overall pick. So the Bears can only hope that one of the draft's five or so first-round tackles drop to the bottom of the first round. They would be more than pleased to get Wisconsin's
Gabe Carimi
, Colorado's
Nate Solder
or even Mississippi State's
Derek Sherrod
. If nothing else, a first-round tackle would give the Bears more flexibility in determining the best positions for 2010 starters
Chris Williams
,
Frank Omiyale
and
J'Marcus Webb
.
Plan B:
If all five tackles are off the board, the next step would be to identify the top guard available. The Bears' offensive line needs are equal across the board. That guard could be
Danny Watkins
of Baylor. But don't rule out general manager Jerry Angelo pushing hard to trade down and out of the first round if none of the tackles are available.
Detroit Lions

Dream scenario:
I don't think there's any question here. The Lions should be thrilled if Nebraska cornerback
Prince Amukamara
is available at their No. 13 overall slot. He has elite speed, good cover skills, none of the baggage of Colorado cornerback
Jimmy Smith
and fills a huge need. The Lions really don't have a surefire starting cornerback under contract at the moment.
Plan B:
If Amukamara is off the board, the Lions will need to make a character decision on Smith. They brought him in for a pre-draft visit at the facility last month and presumably have a handle on what type of person he is. If they're comfortable, Smith fills the same need as Amukamara. If not, the Lions are in a position to take the best offensive or defensive lineman available.
Green Bay Packers

Dream scenario:
We've noted that it would be surprising for a blue-chip offensive tackle to be available at No. 29. The likelihood drops accordingly at No. 32. But truth be told, drafting a high-caliber offensive tackle might be the Packers' best-case scenario.
Bryan Bulaga
, their top pick in 2010, is already entrenched at right tackle. But at some point they'll have to replace left tackle
Chad Clifton
as well. It's doubtful a high-caliber left tackle will drop to No. 32, but we can dream, right?
Plan B:
There would be nothing wrong with drafting an outside linebacker here, especially if a prospect like UCLA's
Akeem Ayers
is available.
Minnesota Vikings

Dream scenario:
Honestly, the dreamiest scenario is one of the top two quarterbacks dropping unexpectedly. It's so dreamy that I don't know if I can even consider it dream-scenario worthy. In all likelihood, Auburn's
Cam Newton
and Missouri's
Blaine Gabbert
will be long gone by No. 12. But if one of them drops, the Vikings would be stunned and thrilled. Even if, say, Gabbert falls past the
Arizona Cardinals
at No. 5, the Vikings would have to consider it a blessing and should gladly pay the price it would take to move up.
Plan B:
In all likelihood, Newton and Gabbert will be off the board. You could argue that a quarterback is so important that the Vikings should just target the next man on their list at No. 12. But given the Vikings' need, the next-best scenario would be to draft the best offensive or defensive linemen available at No. 12 and then find a way to trade back into the first round to select a quarterback somewhere below No. 20.
April, 14, 2011
4/14/11
7:30
AM ET
We're Black and Blue All Over:
Detroit Lions
quarterback
Matthew Stafford
tweeted
last week
that his surgically-repaired right shoulder was approaching 100 percent recovery. To that end, it's worth noting (via
Tim Twentyman of the Detroit News
) that Stafford is scheduled to participate in a quarterback challenge at halftime of the University of Georgia's spring game Saturday.

The competition against other former Georgia quarterbacks will include throwing passes to contestants on the field. While I doubt any of those passes will be 60-yard rockets, it's fair to say Stafford wouldn't put himself in that situation if there were any doubt about the progress of his recovery.
All along, the Lions have maintained Stafford will be ready to take the first snap of training camp, which in most years starts at the end of July.
Continuing around the NFC North:
March, 11, 2011
3/11/11
1:45
PM ET
We discussed
Colorado offensive tackle
Nate Solder
last month during the NFL scouting combine, noting his versatility as a left or right tackle could make him a good fit for several NFC North teams. Solder is an athletic 6-foot-8 former tight end who is still growing into his frame, but he sure made a powerful impression during his recent pro day workout.
In
this video
, you'll see Solder matched up against Matt Russell -- a 37-year-old former
Detroit Lions
linebacker who is now a scouting executive for the
Denver Broncos
. Let's just say that Solder got the better of the matchup.
Multiple mock drafts have connected Solder and the Lions. I could also see the
Chicago Bears
having significant interest. Hopefully their scouts have better luck than Russell.
March, 9, 2011
3/09/11
2:15
PM ET
Mel Kiper's latest ESPN.com mock draft

features a mixture of need and value for the NFC North teams. Let's take a look:

12. Minnesota Vikings
Kiper's pick:
North Carolina defensive end
Robert Quinn
Seifert comment:
Kiper had the draft's top two quarterbacks off the board with the first four picks. He doesn't consider his third-ranked quarterback, Washington's
Jake Locker
, a smart choice at No. 12. That order of events would leave the Vikings with a talented player, but not a clear answer at quarterback. Quinn is well-regarded edge rusher who is suited for either a 3-4 or 4-3 scheme, and the Vikings are expected to bid farewell to starting left end
Ray Edwards
. They would have to thoroughly investigate Quinn, who did not play in 2010 because of an NCAA suspension for accepting gifts from an agent.

13. Detroit Lions
Kiper's pick:
USC offensive tackle
Tyron Smith

Seifert comment:
For months, media draft analysts have seen offensive line value at this segment of the draft. In this mock, Smith is the first offensive lineman off the board. Smith's stock hasn't dropped despite a limited showing at the scouting combine, and he could figure as a long-term replacement for left tackle
Jeff Backus
. Kiper didn't give the Lions a cornerback here because LSU's
Patrick Peterson
and Nebraska's
Prince Amukamara
are already off the board. Kiper has his next cornerback, Colorado's
Jimmy Smith
, going late in the first round.

29. Chicago Bears
Kiper's pick:
Colorado offensive tackle
Nate Solder
Seifert comment:
Going this late would represent a significant slide for Solder, an athletic 6-foot-8 mammoth who could play left or right tackle. The Bears should be pretty happy if this scenario occurs. Solder would give the Bears additional flexibility to arrange their best five linemen in a coherent Week 1 starting group.

32. Green Bay Packers
Kiper's pick:
Arizona outside linebacker
Brooks Reed

Seifert comment:
Kiper refers to Reed as a "sleeper" in his class with strong instincts and good enough speed to get to the passer in a 3-4 scheme. My guess is the Packers will take an outside linebacker here only if value suggests they should. It's a need, but not to the extent that general manager Ted Thompson will move past his core philosophies.
March, 4, 2011
3/04/11
10:45
AM ET
Conventional wisdom suggests the
Detroit Lions
' biggest positional needs this offseason are cornerback and outside linebacker. After the
decision to part ways
with veteran
Kevin Smith
, a few of you are adding tailback to that list. Mock drafts in which the Lions select an offensive tackle at No. 13 overall have been attributed to value, not need.
Are we sure about that?
[+] Enlarge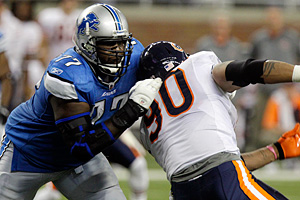 AP Photo/Carlos OsorioGosder Cherilus played well in 2010, but there is concern about the status of his surgically repaired right knee.
We know that Lions left tackle
Jeff Backus
had a pretty decent year in 2010. (How else would he have been named to our
prestigious All-NFC North team
?) On the right side, the Lions saw significant progress from former No. 1 pick
Gosder Cherilus
. But an underplayed element of the Lions' short-term future on the offensive line -- and possibly beyond -- is the state of Cherilus' surgically repaired right knee.
Cherilus had microfracture surgery on the knee in December, which by my count was at least the third procedure he's had on that knee. One came during his time at Boston College and another was last spring. Microfracture surgery is a serious undertaking that involves drilling holes in the bone to help stimulate recovery. Plenty of players have returned from it, and Lions general manager Martin Mayhew
said as recently as last week
that "we think he's going to come back fine."
But would the Lions say anything else at this point? If they were concerned about Cherilus' long-term future and interested in drafting a potential replacement at No. 13, I don't think they would say so right now. Speaking last week at the NFL scouting combine, Lions coach Jim Schwartz noted that "injuries have been a concern" for Cherilus.
"He's had some things that have set him back along the way," Schwartz said. "But Gosder's probably our most improved offensive player, particularly on the offensive line last year. He missed most of the offseason last year and then came out in training camp competing for his job. And he didn't win it by default. He stepped out and earned it every single day. He was very consistent and put a lot of the inconsistencies that he had in his first two years behind him, and was having a very, very consistent season. And [we] started to see some of the reasons that he was a first-round draft pick.
"Unfortunately he has been set back a little bit, but I think that he showed enough and had enough success that we feel like he was on the right track and there's good things to come from him."
We
discussed one intriguing prospect
, Colorado's Nate Solder, earlier this week. After the scouting combine,
Scouts Inc.
rated Solder the top offensive lineman in the draft and the No. 12 overall prospect. ESPN analyst Mel Kiper, meanwhile,
dropped Solder to his No. 22 overall prospect

because he completed only 21 repetitions of the 225-pound bench press. USC's Tyron Smith is Kiper's top offensive lineman and his No. 18 overall prospect.
February, 27, 2011
2/27/11
11:00
AM ET
INDIANAPOLIS -- We've spent some time discussing the
top quarterbacks here at the NFL scouting combine
, especially those who could fit into the
Minnesota Vikings
' future plans. We've looked at the dramatic, if fantastical, possibility of Oregon linebacker
Casey Matthews
joining his brother
with the
Green Bay Packers
.
[+] Enlarge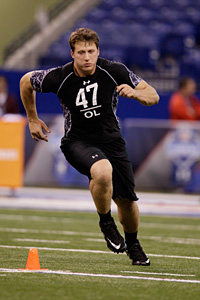 AP Photo/Darron CummingsColorado's Nate Solder recorded the top 40-yard dash time among offensive tackles (5.05).
Among all the angles I encountered in Indianapolis, one of the more intriguing is Colorado offensive tackle
Nate Solder
, who has a mammoth frame combined with high-end athleticism, a combination that could put him into play for multiple NFC North teams.
He would be a nice value pick at No. 12 for the Vikings, who might want to start a succession plan for left tackle
Bryant McKinnie
or challenge right tackle
Phil Loadholt
. The
Detroit Lions
could target him at No. 13,
as several early mock drafts have suggested
. And there is no doubt the
Chicago Bears
would benefit from a left tackle prospect of Solder's level, even if they have to trade up to do it.
A converted tight end, Solder measured 6-foot-8 1/4 and a lean 314 pounds. Despite his frame, he also recorded the top 40-yard dash time among offensive tackles (5.05) and had the best 10-yard split among all offensive linemen (1.63).
(As Scouts Inc. points out, the 10-yard split measures an offensive lineman's burst and explosion.)
Need more numbers? Solder was tied for the third-best vertical jump among offensive linemen (32 inches) and the third-best broad jump (9-2). His bench press results were disappointing -- he managed only 21 reps of 225 pounds -- but it's safe to say he still needs to fill out his frame.
So we know Solder is an athletic specimen. But can he play? That's what I asked ESPN analyst Todd McShay during a break in the action this weekend.
"The biggest thing with him is his ability to move laterally and bend," McShay said. "He plays high too much of the time and you see him get in trouble when he does. But he's close. If he gets with a good coach, he could be a good starting left tackle for a long time in this league."
In honor of Solder's unique match with the NFC North, let's proceed with our three-question format, and add one more for good measure.
On moving from tight end after his freshman season:
Nate Solder:
Some things came naturally. It takes a lot of athleticism to become a left tackle, same as a tight end. But some things didn't come natural -- knee bend, using your hands, those sort of things.
On his height:
NS:
I think the worry of being a taller guy is not being able to bend and the thing I've done to counteract that is to show I can bend, work on staying bent. Now, the advantages are you've got a lot bigger wingspan and it's a lot harder to run around you.
On if he ever wanted to play basketball:
NS:
I was a decent basketball player, I had much more potential at football, and that's kind of the way I was offered. And no it wasn't hard to give up, because I had an outlet in football and I love it now.'
On his 2010 game against Cal, when defensive end Cameron Jordan beat him for a sack and two tackles behind the line of scrimmage.
NS:
Well, that was a breakdown in technique from me. You learn not to take anyone for granted and that guy played a heck of a game, and you've got to give it to him and no matter who you go against, you can't break down in your technique. That was just a fundamental error on my part.
February, 27, 2011
2/27/11
8:59
AM ET
February, 26, 2011
2/26/11
10:00
AM ET
INDIANAPOLIS -- As the third day of the scouting combine gets underway, let's tap into Scouts Inc. to provide a glimpse into
the highlights of Day 2
:
February, 25, 2011
2/25/11
8:55
AM ET
February, 10, 2011
2/10/11
1:15
PM ET
The end of the college all-star game season brings
Todd McShay's latest mock draft
. It's available to Insider subscribers in full, but I'm authorized by the
highest power imaginable
to bring you his NFC North selections. The comments below are mine.
12. Minnesota Vikings
Player:
North Carolina defensive end
Robert Quinn
Seifert comment:
Quinn is an elite talent that missed 2010 because of suspension. The Vikings need a quarterback to develop, but McShay went with Quinn's talent over the potential of Washington quarterback
Jake Locker
. I'm not sure I would do the same.
13. Detroit Lions
Player:
Colorado offensive tackle
Nate Solder
Seifert comment:
Another value pick and someone who could eventually take over for left tackle Jeff Backus. I'm fine with an offensive tackle here if none of the linebackers or cornerbacks still available are worthy of the No. 13 pick.
29. Chicago Bears
Player:
Illinois defensive tackle
Corey Liuget
Seifert comment:
The Bears need help at offensive line more than any other position, but there's nothing wrong with adding some youth to their defensive interior.
32. Green Bay Packers
Player:
Temple defensive end
Muhammad Wilkerson
Seifert comment:
The possible departure of free agent Cullen Jenkins would give the Packers a need at defensive end, and Wilkerson is apparently a good fit for the 3-4. Of course, the Packers are also getting back 2010 second-round pick Mike Neal, who was injured for most of last season.
January, 19, 2011
1/19/11
12:35
PM ET
Whether we're at the Epicenter of Humanity or not, there's no beating down ESPN's draft coverage.
Mel Kiper

and
Todd McShay

each weighed in Wednesday with mock drafts. You'll need an Insider subscription to see all of the picks, but I can slip you each man's choices for the two NFC North teams whose draft positions are locked in.
12. Minnesota Vikings
Kiper's pick:
Colorado offensive lineman
Nate Solder
McShay's pick:
USC offensive lineman
Tyron Smith
Seifert's comment:
I'm presuming Solder or Smith would be envisioned as replacements for two-year starter
Phil Loadholt
. I wouldn't count right tackle as the Vikings' biggest need, but an upgrade wouldn't hurt. Quarterback is the Vikings' top priority, but Missouri's
Blaine Gabbert
and Auburn's
Cam Newton
are already off the board in both mocks. McShay also has Washington's
Jake Locker
taken ahead of the No. 12 spot.
No. 13. Detroit Lions
Kiper's pick:
UCLA outside linebacker
Akeem Ayers
McShay's pick:
Solder
Seifert's comment:
The Lions are expected to release veteran linebacker
Julian Peterson
, and
Zack Follett
's neck injury has left his future cloudy. So along with cornerback, outside linebacker ranks as the Lions' top need. If all things are equal, Ayers seems a smarter pick than Solder -- even if
Gosder Cherilus
had his moments last season.

NFC NORTH SCOREBOARD
Friday, 8/22
Saturday, 8/23