January, 30, 2013
1/30/13
7:55
AM ET
We're Black and Blue All Over:
One of the staples of Super Bowl media day is press gatherings with national television analysts. Most of them are former players who come armed with strong opinions on the league and its trends, and their job is to share them in exchange for publicizing their network.

One of their primary topics Tuesday, it seems, was the Detroit Lions. NFL Network analyst Warren Sapp continued his assault on defensive tackle Ndamukong Suh, calling him a "blind dog in a meat house" because of the way Sapp thinks Suh ignores run defense in search of the quarterback. Sapp said he watched Suh all season and said: "I never saw this dominant player that you guys are selling." He added that Suh hadn't reached out to him properly for advice. (More from
Chris McCosky of the Detroit News
.)
Meanwhile, Sapp merely laughed at the Lions' decision to add defensive line guru Jim Washburn to their staff, saying only that Washburn "leaves something to be desired" as a coach but refusing to elaborate. (More from
Anwar S. Richardson of Mlive.com
.)
And finally, CBS analyst Boomer Esiason said the Lions have done a poor job of surrounding quarterback Matthew Stafford with weapons and balance. Esiason, via
Dave Birkett of the Detroit Free Press
: "He's got no running game, he's got Ndamukong Suh running all over the place up there, they bring in convicts. ..."
Yikes. The Lions were 4-12 last season amid some dramatic headlines, making them easy targets for national criticism. Some of the language used Tuesday was inflammatory, of course, and none of the sentiments were new. But the substance of most of the criticism has merit, and it goes along with a high-profile collapse from a playoff season.
Continuing around the NFC North:
January, 12, 2013
1/12/13
12:19
PM ET
SAN FRANCISCO -- Good morning on a beautifully sunny day here. I'm rushing to the hotel lobby to meet our frantic NFC West blogger, Mike Sando, and dash over to Candlestick Park. You never know what pregame traffic is going to be like. Only seven hours and 41 minutes to go!
[+] Enlarge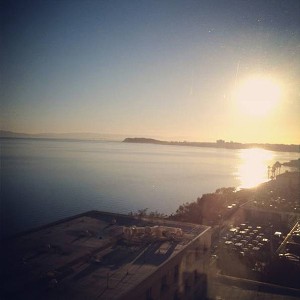 Kevin Seifert/ESPN.comA sun-filled view of the San Francisco Bay on this gorgeous Saturday morning.
In the brief interim, here is the newest angle I can bring you on the
Green Bay Packers
' divisional playoff game against the
San Francisco 49ers
: The Packers are playing the team with the NFL's highest number of All-Pro players.
That's right, the Associated Press placed six 49ers on the first team, which is generally considered the highest of the NFL's postseason team honors. No Packers players were among the five NFC North representatives; quarterback
Aaron Rodgers
and linebacker
Clay Matthews
made the second team.
You can follow this link
to the full team. Below is our slice of the action:
Player:
Minnesota Vikings
tailback
Adrian Peterson
Comment:
One of two unanimous selections.
Player:
Detroit Lions
receiver
Calvin Johnson
Comment:
Received 49 of a possible 50 votes. Sending out an APB for the 50th.
Player:
Chicago Bears
receiver
Brandon Marshall
Comment:
A few years ago, who would have thought that the Black and Blue division would have both All-Pro wide receivers?
Player:
Bears cornerback
Charles Tillman
Comment:
Tied an NFL record by forcing 10 fumbles. Enough said.
Player:
Place-kicker
Blair Walsh
Comment:
The only rookie on the first team.
In addition to Rodgers and Matthews, the second team included: Vikings fullback
Jerome Felton
, Bears defensive end
Julius Peppers
, Lions defensive tackle
Ndamukong Suh
, Vikings linebacker
Chad Greenway
, and Bears cornerback
Tim Jennings
.
December, 27, 2012
12/27/12
12:30
PM ET
»
NFC Season Wraps
:
East
|
West
|
North
|
South
»
AFC
:
East
|
West
|
North
|
South
Five things to know and my 2012 all-division team:
[+] Enlarge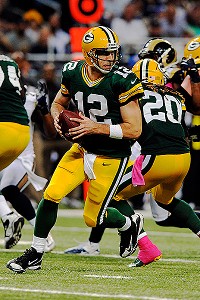 Jeff Curry/US PresswireAaron Rodgers leads the league in passer rating (106.2) despite two of his top receivers missing significant time with injuries.
Division MVP:
If your definition of this award is the player who has the most impact on his team's winning percentage, then our MVP is
Green Bay Packers
quarterback
Aaron Rodgers
. If your MVP is the player who had the best season, then it's
Minnesota Vikings
tailback
Adrian Peterson
. I lean toward the first definition, so Rodgers is the choice. He was the one elite constant in an injury-ravaged season that limited most of the team's top players. Rodgers has helped cover for 24 missed games by defensive back
Charles Woodson
, linebacker
Clay Matthews
and receivers
Greg Jennings
and
Jordy Nelson
. Along the way, he helped receiver
Randall Cobb
approach stardom and fed 13 touchdown passes to former No. 4 receiver
James Jones
-- and he still is leading the NFL in passer rating (106.2). Rodgers might not have matched his 2011 MVP performance, but he was the most important player on the division's top team. Peterson has had a career year by all accounts, but he has actually been more productive in the Vikings' wins than their losses. Quarterback
Christian Ponder
's play has been
more closely tied to the Vikings' winning percentage
.
Honorable mention:
Lions receiver
Calvin Johnson
overcame a midseason spate of injuries to himself and most of his fellow receivers
to set the NFL record
for receiving yards in a season. Johnson has 1,892 yards and can become the NFL's most productive receiver on a per-game basis in a season with 104 yards Sunday against the
Chicago Bears
.
Biggest disappointment:
The
Detroit Lions
brought back 21 of 22 starters from last season's 10-6 team and assumed their young nucleus would continue to improve. Instead, the Lions stumbled to a mistake-filled abomination of a year that will lead to a difficult offseason. Among the issues: They have effected a 23-point swing in their takeaway/giveaway ratio from 2011. Opponents have 10 touchdown returns via special teams, fumbles and interceptions. The Lions have committed a division-high 118 penalties. Quarterback
Matthew Stafford
has
taken a step back
, especially in his drop from 41 to 17 touchdown passes, and has an untenable $20.3 million salary-cap charge for 2013 that will have to be adjusted. Meanwhile, most of the Lions' defensive starters -- including both outside linebackers and their entire secondary -- are eligible for free agency after the season.
Draft help:
By intent or chance, the Packers demonstrated this year that it's possible to draft for need and get immediate help despite annual warnings from football gurus that the approach is short-sighted. Disappointed with the performance of their 2011 defense, the Packers used their first six draft picks on defensive players. Five of them have been significant contributors. First-round linebacker
Nick Perry
had two sacks in six games before suffering knee and wrist injuries. Cornerback
Casey Hayward
has been one of the NFL's better cornerbacks, producing six interceptions and 26 pass breakups. Safety
Jerron McMillian
is a part of the nickel rotation, and defensive linemen
Jerel Worthy
and
Mike Daniels
have combined for 4.5 sacks. The Packers have also gotten a productive season from undrafted rookie linebacker
Dezman Moses
, who has four sacks. In all, the Packers rank No. 10 in the NFL in total defense (329.6 yards per game allowed) and No. 7 in scoring defense (19.9 points per game allowed).
Their goal of injecting youth and energy
has been accomplished.
Ponder's future:
At his best
, Vikings quarterback Christian Ponder has been efficient this season.
At his worst
, he has played like a career backup. But there are a number of factors suggesting Ponder will be back in 2013 as the Vikings' unquestioned starter. One is his recent upswing, which includes a 96.9 Total Quarterback Rating (QBR) in Week 15 and a 78.5 QBR in Week 16. Both were top-10 performances in the league during the respective weeks. Another is the
relatively poor class of quarterbacks
in the 2013 draft along with a limited set of options in free agency. This week, coach Leslie Frazier told
ESPN 1500
this week, "I don't know any scenario that's going to come up to say, 'You know what? We need to be looking for a replacement for Christian in the offseason.'" Ponder is a good leader and has proved an explosive scrambler at times, ranking fourth among NFL quarterbacks with four rushes of at least 20 yards. But given the quarterbacks in Green Bay, Detroit and Chicago, it's difficult to project Ponder as anything more than the fourth-best quarterback in this division for the foreseeable future.
Whither Bears?
The Chicago Bears opened the season
with Super Bowl hopes
and roared to a 7-1 start. Their 2-5 record since then has brought them to an organizational crossroads. They could still qualify for the playoffs, and perhaps they will make a run once they get there. But that wouldn't erase the issues that have arisen, most notably an aging defense that might lose middle linebacker
Brian Urlacher
, a pending free agent who has slowed noticeably at age 34. Meanwhile, the Bears' offense became a two-man team between quarterback
Jay Cutler
and receiver
Brandon Marshall
. They got almost no production from the rest of their pass-catchers -- Marshall has 72 more receptions than their second-most productive player -- and tailback
Matt Forte
was slowed by injuries. Forte had 12 runs of at least 20 yards in 2011 but has managed only six this season in about the same number of carries. Finally, the Bears slogged through a third consecutive season with a patchwork offensive line that still has more questions than answers. Whether or not they make the playoffs, the Bears will have to address those issues in order to be a more consistent team in 2013.
A few notes on the 2012 All-NFC North team below:
November, 15, 2012
11/15/12
4:00
PM ET
Around here, we
learned yet another lesson about the limits of conventional wisdom
last week. Playing without leading receiver
Percy Harvin
, the
Minnesota Vikings
completed 75 percent of their passes and put up 221 passing yards in a 34-24 surprise over the
Detroit Lions
.
Conventional wisdom, of course, would suggest that underwhelming performance by the Lions pass defense doesn't bode well for Sunday's matchup against the
Green Bay Packers
. Quarterback
Aaron Rodgers
might not have played to his 2011 MVP standards this season, but he has thrown 15 touchdown passes and just one interception during the Packers' four game winning streak. Receiver
Jordy Nelson
(ankle) has returned to practice, and this matchup certainly appears to favor the Packers strongly.
Nelson, along with fellow receivers
James Jones
and
Randall Cobb
, will face a secondary that is likely once again to start a pair of backup safeties in
Erik Coleman
and
Ricardo Silva
. Cornerback
Chris Houston
returned to practice Thursday and told reporters he will play Sunday, but he is dealing with an ankle injury serious enough to prevent him from returning to last Sunday's game at the Metrodome. There has been some speculation that the Lions could activate veteran cornerback
Drayton Florence
from injured reserve for reinforcement, but as of Thursday afternoon, no move had been made.
The Packers' offensive weakness this season has been sacks; Rodgers taken an NFL-high 29 of them. Is the Lions defensive line/pass rush up to the task, especially against a Packers offensive line that will feature a new right tackle (
T.J. Lang
) and left guard (
Evan Dietrich-Smith
)?
We noted earlier this week that defensive tackle
Ndamukong Suh
had a strong game against the Vikings despite a light statistical line. But almost sacking Rodgers doesn't mean as much as it would against other quarterbacks. And the bottom line, according to ESPN Stats & Information, is that the Lions are averaging one sack for every 18.1 opposing dropbacks, ranking No. 19 overall in the NFL.
As we learned last week, the moment you think you have this game figured out, it takes a sharp turn on you. But if conventional wisdom holds this week, it's difficult to envision how the Lions will stop the Packers' offense. Overall, the Packers have won 12 of their past 13 games against them, and that lone victory came in 2010, which Rodgers did not finish because of a concussion. That's the view from here, at least. But you already know how much I know.
October, 23, 2012
10/23/12
2:29
AM ET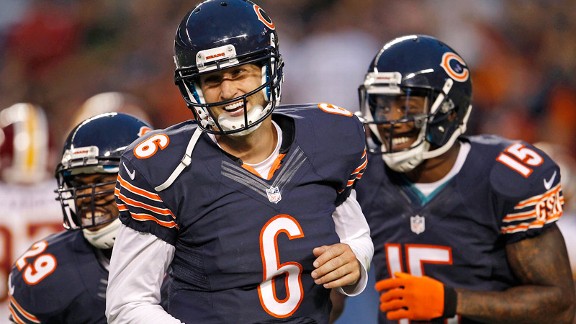 Nuccio DiNuzzo/Chicago Tribune/MCTThe Bears have the second best record in the NFC while the Lions may be on the brink of a lost season.
CHICAGO -- It's late and I'm loopy, so let's play a silly little game just for the heck of it. If the NFL season ended Monday night, three NFC North teams would be playoff bound. The fourth would own a top-10 draft choice.
Commissioner Roger Goodell would never call off a season after seven weeks, of course.
(Think of all the lost ticket revenue!)
We're not even at the season's midpoint, but already, I think, we're beginning to see some clarity in this division. The
Chicago Bears
,
Green Bay Packers
and
Minnesota Vikings
have each put themselves in position for the division title, while the
Detroit Lions
are on the brink of 2012 extinction.
That's right. After a
13-7 defeat
of the Lions in a game that wasn't that close, the Bears have the second-best record (5-1) in the NFC. According to the
updated standings,
the Vikings (5-2) rank fifth and the Packers (4-3) sixth in the conference. The Lions, on the other hand, have more losses at 2-4 than 24 of the NFL's 32 teams.
I realize there is more football left to be played this season than has been played. But this is the time of year when patterns emerge and stories start getting written, and Monday night we saw the Bears emerge from their bye as sharp as they entered it. They forced four turnovers, three in the red zone, and were 30 seconds away from their first shutout in three years. And the Lions looked no different than the team that has won this season only when mounting a fourth-quarter comeback.
"This was two evenly matched teams," Lions coach Jim Schwartz said afterward. "When you're playing a good team like Chicago, one that's leading the NFC North, we're on the road, we're not going to win the way we played."
To be clear, the Lions had a chance to steal this game largely because the Bears' offense slowed considerably after quarterback
Jay Cutler
suffered bruised ribs late in the second quarter. But there was never a time when I thought the Lions were matching the Bears blow for blow, as evenly matched teams do.
Evidence? Bears cornerback
Charles Tillman
did the impossible, matching up all night with Lions receiver
Calvin Johnson
and limiting him to three catches on the 11 passes he was targeted on. The Bears surprised the Lions by blitzing more often than usual, on 28.8 percent of
Matthew Stafford
's dropbacks, according to ESPN's Stats and Information. And the Bears' two-deep safety look didn't give up a pass longer than 23 yards.
The Lions, in fact, absorbed most of the blows Monday. Bears defenders stripped the ball from running backs
Mikel Leshoure
and
Joique Bell
in the red zone. And in a sequence that defined the current situations for both teams, the Bears fought off the Lions at their most vulnerable moment.
It began when Lions defensive tackle
Ndamukong Suh
sacked Cutler violently but legally -- and cleanly, according to all involved -- with 4 minutes, 52 seconds left in the second quarter.
Cutler missed five plays while getting the injury attended to. (Asked if he received a pain-killing injection at halftime, Cutler said: "We did some stuff back here in the back room.") When he returned to open the third quarter, it was clear Cutler couldn't step into and drive his throws. He was short to tight end
Kyle Adams
on second down and managed a pair of 2-yard passes to tailback
Matt Forte
before the Bears punted.
"It was on my right side," Cutler said. "I couldn't really follow through. Couldn't get through the ball. It had an impact on our play calling, but defense was playing so well, we thought we could ride it out a little."
Still, at that moment -- with Cutler debilitated and the Lions' defense seemingly energized -- you could sense the potential for a turning point. But the Lions'
Stefan Logan
muffed the ensuing punt, and three minutes later the Bears took a 13-0 lead that stood until the final seconds of the game.
Schwartz kept it positive afterward, saying: "We can battle back. We've battled back in games, we can do it in the season." But the Lions now have six very similar games on their resume -- slow starts, special teams miscues and last-second dashes -- that suggest they have some fundamental issues they might not be equipped to address immediately.
"If I had all the answers," Stafford said, "it would be nice."
If the Lions seem stuck in a rut, the Bears appear as well-rounded and disciplined as they've ever been under coach Lovie Smith. Tillman and linebacker
Lance Briggs
are having All-Pro seasons, and Monday they had reason to rally around their quarterback for positive reasons.
You might not realize it, but the Bears are 10-1 in Cutler's past 11 starts dating back to last season. While there was never a (rational) reason to doubt his toughness, Monday night felt like the moment when he earned his stripes in Chicago.
"That's what you should have as your Chicago Bear quarterback," Smith said. "And he does it time after time."
Put it all together, and the Bears are in their best-case scenario after six games. The Vikings and Packers aren't far behind. The Lions are on the short end of things. But no division is perfect, right?
October, 12, 2012
10/12/12
7:00
AM ET
It's a tribute to the Chicago Bears' defense, and perhaps also an indication of my early senility, that middle linebacker Brian Urlacher didn't make our
"By the bye" post Thursday
. Urlacher was probably the most-discussed player on the Bears' roster during training camp, given his offseason-long struggle to recover from a knee injury, but his relatively quiet start to the season hasn't gained much attention.

Urlacher has 20 total tackles in five games and has batted away two passes while playing 267 of a possible 325 snaps, according to
Pro Football Focus
. To his credit, Urlacher acknowledged that he hasn't been himself during an interview
Thursday with ESPN 1000
.
"I've been lucky because our defense has been playing so well," Urlacher said. "I haven't done anything, and look what we've done so far. ... I have to think those plays are going to start coming my way, and when I need to make them, I will. I was put in position to make a lot of plays, some of them I didn't make.
Urlacher added that his knee "feels different" but said: "[T]here's no doubt in my mind I'll be able to be an impact player again. I just have to keep getting better."
That's a relatively stark admission from a proud player who will have to grind through at least 11 more games in his current condition. It's worth continued monitoring, but to this point, there is no way to argue that Urlacher's reduced playmaking has hurt the Bears. Other players have most definitely stepped up.
Continuing around the NFC North:
May, 23, 2012
5/23/12
1:30
PM ET
A committee of ESPN experts -- including Trent Dilfer, Mel Kiper, Gary Horton, Matt Williamson -- assembled this offseason to create a unique version of our traditional Power Rankings.
Naturally, NFC North teams are featured prominently in what amounts to a
three-year projection of Power Rankings for the 2015 season

. The
Green Bay Packers
received the top spot as the team best equipped to compete three years from now, while the
Detroit Lions
were not far behind at No. 6.
The file requires an Insider subscription to read in full, but I can pass along where our four teams ranked and also a glimpse at the methodology used. Here is how the committee evaluated each team and the degree of impact each category had:
Roster (32.5 percent of total score): Players under 30 emphasized
Coaching (20 percent): Capability and stability of current staff
Quarterback (17.5 percent): Where quarterback play would be in three years
Draft (15 percent): Based on team's 2012 class and how many picks available in next three years.
Front office (15 percent): Ability to manage roster and market's attraction to free agents.
Now on to the NFC North rankings with comments from me:
1. Green Bay Packers
Seifert comment:
The presence of a 28-year-old MVP quarterback and one of the NFL's top general manager-coach combinations puts the Packers on an ideal long-term path.
6. Detroit Lions
Seifert comment:
Quarterback
Matthew Stafford
had a 5,000-yard season before his 24th birthday. That's a nice start. General manager
Martin Mayhew
has elevated the team's talent level every season of his tenure and most of the Lions' key players -- Stafford, receiver
Calvin Johnson
, tight end
Brandon Pettigrew
, defensive tackle
Ndamukong Suh
, safety
Louis Delmas
and linebacker
Stephen Tulloch
-- are under 30.
17. Chicago Bears
Seifert comment:
Jay Cutler
is a legitimate franchise quarterback, but the best players on the Bears' defense are all over 30. That list includes defensive end
Julius Peppers
, linebackers
Brian Urlacher
and
Lance Briggs
, and cornerback
Charles Tillman
.
31. Minnesota Vikings
Seifert comment:
Questions about quarterback
Christian Ponder
's long-term prospects made it difficult for the committee to project future success. There are also concerns about a lack of young impact players on defense. Defensive end
Jared Allen
is 30 and linebacker
Chad Greenway
is 29.
December, 12, 2011
12/12/11
1:00
PM ET
After the Detroit Lions' 34-28 victory against the Minnesota Vikings, here are three issues that merit further examination:
Kevin SeifertFollowing their win against the Vikings, the Lions take their turn in the examination room.

As scary as that fourth quarter was for the Lions, they ultimately demonstrated an important step in their development on the final play of the game. Coach Jim Schwartz admitted the Lions were at a loss for how to deal with Vikings quarterback Joe Webb, saying: "We tried everything." But on the final play of the game, the Lions were determined to prevent Webb from running into the end zone. Schwartz called for a 6-man blitz, with linebacker Stephen Tulloch apparently spying on Webb as a seventh defender. Linebacker DeAndre Levy broke free and forced a fumble by Webb, who was looking to throw to tight Kyle Rudolph. The Lions didn't get lucky and take advantage of an opponent's mistake. They caused an opponent's mistake on the final play of the game. Big difference.
I'll be interested to get a sense for defensive tackle Ndamukong Suh's state of mind when he re-joins the team Monday. Will he be humbled after a two-game NFL suspension? Angry? Determined to move on? If nothing else, Suh should be supremely fresh and energetic for the final playoff push. After seeing his teammates short-handed and gasping for air as they chased Webb in the fourth quarter Sunday, I hope Suh has resolved to never leave them in that position again.
Sunday showed us that the Lions might have to open their wallet to several players this offseason. Atop the list, at least for me, is Tulloch, who had nine tackles Sunday and also recovered a Christian Ponder fumble for the first touchdown of the game. Tulloch probably isn't going to win many postseason honors, but the Lions' defense has been noticeably tougher and more credible from the moment he took over at middle linebacker this summer. I also think that defensive end Cliff Avril has made himself some money this season. Two sacks Sunday lifted him to a career-high nine through 13 games. He has also forced six fumbles. The Lions have a lot of money tied up in their defensive line, so it's not a lock that they'll spend more to retain Avril. But I imagine someone will throw him some money this winter. He has 17.5 sacks in his past 26 games.
And here is one issue I still don't get:
I was surprised at how angry the Lions, their fans and their NFC North blog readers were by the mere mention that Levy grabbed Webb's face mask on the final play of the game. The unemotional fact is that the Vikings should have gotten one more chance to score the winning touchdown. It was an obvious and unambiguous missed call. That doesn't mean that the Lions should have lost or the Vikings should have won. It's not even a top-5 reason for the final outcome. Calls are missed in every NFL game, and the Vikings got their share of favorable calls Sunday. The Levy play was a little more important than the others, given when it happened. But let's just have some consistency here. If you're going to complain when a call is missed against your team, it's tough then to also complain when it's pointed out that you benefited from a missed call later.
November, 29, 2011
11/29/11
3:14
PM ET
Rampant speculation has followed Adam Schefter's report on
Ndamukong Suh
's plans
to appeal his two-game suspension
. We have yet to hear from either Suh or the
Detroit Lions
, but here is what we know:
Suh plans to abide by the terms of his suspension this week, staying away from the Lions' practice facility until the appeal is complete.
Former NFL coaches Ted Cottrell and Art Shell are the candidates to hear the case and make a decision.
A decision would come by the end of the week.
Anything beyond that is guesswork. NF commissioner Roger Goodell contemplated the suspension for a long weekend and it's hard to imagine Cottrell or Shell suddenly reversing it. So at the very least, it seems reasonable that Suh will miss Sunday night's game against the
New Orleans Saints
.
Would the suspension be cut in half, allowing Suh to return for the Lions' Dec. 11 game against the
Minnesota Vikings
? I guess it's possible, although I wonder what new information would surface to motivate leniency.
Some of you don't understand why Goodell encouraged Suh to appeal, as Schefter reported. I consider that a matter of semantics. Goodell is highly motivated to ensure the integrity of the discipline and appeal system he has arranged. Encouraging Suh to utilize it lends credence to what could otherwise be viewed as a dead end.
In the end, Suh has extended this spectacle in hopes of getting the suspension reduced. You could say he has nothing to lose. But I still think he would be better off avoiding any suggestion that
he is still trying to defend or justify
his actions. So it goes.
May, 5, 2010
5/05/10
1:15
PM ET
The 2009 season was a bang-up time for NFC North rookies, from receiver
Percy Harvin
to linebacker
Clay Matthews
to safety
Louis Delmas
. So as we move away from the NFL's draft/free agency season, I'm wondering if the 2010 class can possibly match its predecessor.
I don't know if we'll have the raw numbers this season, but we do have some strong individual candidates. So as we move through a slower news week, tell me who will be the division's top rookie in 2010.
I've offered two candidates per team as a starting-off point, but feel free to veer in any direction you wish. I tried to take into account which rookies seem likely to play right away; hence, Green Bay first-round pick
Bryan Bulaga
didn't make my list. Some positions are more likely to earn NFL-wide awards than others, but for the purpose of this discussion, consider an offensive tackle every bit as important than a running back.
As always, I'll review your submissions and publish a representative sample -- along with my take -- by the end of the week. Have at It.