December, 19, 2013
12/19/13
10:00
AM ET
The
Philadelphia Eagles
have found themselves in the middle of the NFC North race as much as the NFC East race over the past month. Sunday night's game against the
Chicago Bears
is their third game in a row against an opponent from the North.
Two weeks ago, the Eagles and Bears helped each other out. Chicago defeated the
Dallas Cowboys
, pushing the Eagles into first place in the East. The Eagles beat the
Detroit Lions
, opening the door for the Bears in the North.
They won't be helping each other this week. ESPN.com Bears reporter Michael C. Wright and Eagles reporter Phil Sheridan discuss some of the issues facing both teams.
Sheridan:
Like the Eagles, the Bears survived this season when a backup quarterback took over and played unexpectedly well. Unlike the Eagles, who stayed with
Nick Foles
, Chicago went back to
Jay Cutler
and sent
Josh McCown
to the sideline. So, Michael, how is that scenario playing out in the locker room, on the field and among the fans?
Wright:
The reaction is quite a bit different between the fans and the players, obviously. In the immediate aftermath of Cutler's ankle injury on Nov. 10 against Detroit, Bears coach Marc Trestman told the team and the media that Cutler would be the starter again as soon as he was medically cleared to play. The coach never wavered on that declaration, and that was apparent even among the players during McCown's incredible four-game run. In answering questions about McCown during that stretch, Trestman and the players seemed to temper the compliments regarding the backup, making it a point to state that Cutler was still the starter once he would be able to return to action. So within the locker room, the message was always that Cutler would return, but among the fan base, as McCown flourished, the call to make him the permanent starter grew louder regardless of what Trestman and the players said on the record. Cutler certainly helped himself by bouncing back from a bad start at Cleveland to throw for three touchdowns in a win, but there's certainly a segment of the Chicago fan base still calling for McCown to be the man under center.
Phil, Chicago's defense simply can't stop the run, so
LeSean McCoy
is poised to have a pretty big game if the Eagles decide to feature him. What was the deal with McCoy running the ball just eight times against the
Vikings
?
Sheridan:
That was one of the head-scratching strategies Chip Kelly deployed Sunday. It was like stepping into a time machine and watching an Andy Reid-coached game. Kelly's explanation was simple enough: The Vikings were missing four cornerbacks and the Eagles thought they could exploit the inexperienced backups. Then, he said, the Eagles fell behind and had to throw, but McCoy had run for 217 yards the week before, mostly in the second half as the Eagles staged a comeback win. Ultimately, there is no explanation or excuse for eliminating a weapon as dangerous as McCoy from your offense. That's supposed to be the defense's job.
The Eagles did a better job against
Larry Fitzgerald
and
Calvin Johnson
in recent weeks than against the Vikings' deeper, less star-studded receiving corps. How much more dangerous are the Bears now that
Alshon Jeffery
has emerged alongside
Brandon Marshall
? Is Jeffery even better at this point?
Wright:
In the past, teams focused most of their game plan on shutting down Marshall. That involved double-teams and shading coverage over to his side. Teams are now finding they can't do that anymore because if you double Marshall, you put Jeffery in one-on-one matchups that he's going to win the majority of the time. The Bears say teams are now starting to mix it up against those receivers, which makes it important for Cutler to be able to quickly recognize the coverage and distribute the ball accordingly. I wouldn't say Jeffery is the better receiver overall at this point, but I will say that he tracks the ball in the air better than anybody else on Chicago's roster, which has allowed him to make some unbelievable grabs in contested situations. I'd say one player to watch is No. 3 receiver
Earl Bennett
. With all the focus on Marshall and Jeffery, the Bears have made it a point in recent weeks to involve Bennett more in the offense. Remember, Bennett played college football with Cutler at Vanderbilt, so there's chemistry. Bennett has hauled in a touchdown in each of the past two games.
How will Philadelphia's secondary look on Sunday? I know the Eagles are banged up, causing something of a musical-chairs effect in the secondary. At this point, do you know which guys the Eagles will have available to face Marshall, Jeffery and tight end
Martellus Bennett
?
Sheridan:
We don't know yet, Michael. The larger problem is that, even when everyone is healthy, the Eagles' secondary isn't equipped to handle a receiving corps as deep and talented as the Bears' is. The Eagles have the 31st-ranked pass defense for a reason. During their five-game winning streak, they were able to give yards but minimize points allowed by forcing turnovers and playing well in the red zone. That formula fell apart in Minnesota. As for the injuries, the biggest loss would be nickel corner
Brandon Boykin
, who leads the team in interceptions and is a very good cover guy. It looks like rookie safety
Earl Wolff
will be back after missing four games with a knee injury, but it remains to be seen how effective he'll be after missing that much time. If the Bears go three or four wide, the Eagles will be hard-pressed to match up with all those weapons. Their best hope would be to pressure Cutler, but they have struggled against guys who get the ball out as quickly as he does.
There's a chance linebacker
Lance Briggs
returns Sunday night. What impact would that have on Chicago's defense? Can the Bears clamp down on the Eagles or is this thing destined to be a shootout like their win over Dallas two weeks back?
Wright:
I see this one being a shootout. I think Briggs will have an impact on the defense in terms of making sure the calls get in quickly and the defense is lined up correctly. Briggs should also be an upgrade over rookie
Khaseem Greene
, who has filled in on the weak side over the past seven games. But Briggs has been on the shelf for a month and a half, and there's no way he's in football shape yet. So you have to wonder how much he will actually be able to contribute from a physical standpoint. If Briggs plays like the Briggs we all know, then Chicago will have a much better shot at controlling Philadelphia's rushing attack, but I'm not sure he'll return as that guy. So let's count on a shootout. The team with the defense that gets that one or two key stops down the stretch will be the team that comes out on top.
Early in the season, Philadelphia's frenetic pace seemed to be the next new thing, the revolution. Now that the Eagles have basically an entire season under their belts, how have teams adjusted to their pace on offense? Is it still as big an advantage as it seemed to be early in the season?
Sheridan:
It has been an effective tactic at times. The up-tempo approach is one of the reasons Foles replaced
Michael Vick
as the No. 1 quarterback. Vick is obviously a bigger threat in the read-option, but Foles is more comfortable with the pace Kelly likes. Hard to blame Vick, who had a career's worth of offensive football to unlearn. But the pace can hurt the Eagles, too. When they have a couple of three-and-outs in a row, as they did against the Vikings, their defense is back on the field way too quickly. And when a team moves the ball as well as the Vikings did, the defense wears down. It was useless by the fourth quarter. The Eagles defense has been on the field for more plays than any team in the NFL. That is partly a side effect of Kelly's up-tempo offense.
December, 12, 2013
12/12/13
12:00
PM ET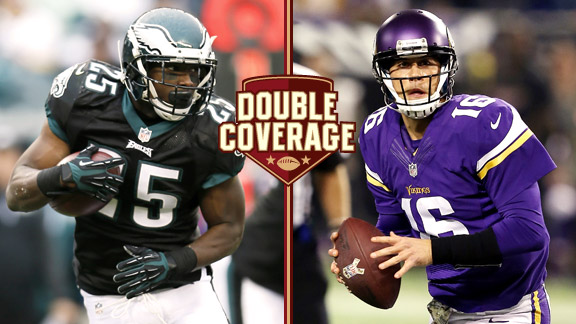 AP PhotoLeSean McCoy and the explosive Eagles offense visit Matt Cassel and the struggling Vikings.
The
Minnesota Vikings
and
Philadelphia Eagles
couldn't be in much different places than they were a year ago.
In 2012, the Vikings made a seven-game improvement, winning their final four games and riding
Adrian Peterson
's 2,097-yard season to a 10-6 record and a playoff berth. The Eagles, meanwhile, lost nine of their final 10 games, finished 4-12 and fired longtime coach Andy Reid. This season, it's Philadelphia that's racing toward the playoffs, with a new quarterback (
Nick Foles
), one of the most exciting offenses in football and an 8-5 record. The Vikings haven't been able to settle on a quarterback, have blown five leads in the last minute of games and might be preparing to part with coach Leslie Frazier after starting the season 3-8-1.
To get you ready for the game, ESPN.com Vikings reporter Ben Goessling and Eagles reporter Phil Sheridan discuss the matchup and the rapidly changing directions of both teams:
Ben Goessling:
Phil, it's been surprising to see how much better the Eagles' offense has worked under Nick Foles than
Michael Vick
, considering how well Chip Kelly's system seemed to suit Vick. What is Foles doing to make it work so well, and just how bad of a matchup is this for the Vikings' defense?
Phil Sheridan
: At the moment, I'd have to say the Eagles' offense is a tough matchup for any defense. Their past two opponents, Arizona and Detroit, came in as well-regarded defenses. The Eagles scored 24 points on the Cardinals by early in the third quarter and then exploded for 34 second-half points in the snow Sunday against the Lions. The Eagles are able to run or pass at a high level right now, which makes them just plain tough to defend.
As for Foles and Vick, it does seem counterintuitive that a running threat wasn't as effective as the relatively slow-moving Foles in Kelly's offense. But Foles is good at several key facets of what Kelly wants done. He's become adept at keeping the tempo up in the no-huddle. He's been accurate in the passing game. And he's made good decisions when Kelly's play call presents him with an option.
Kelly gave a hearty endorsement of
Toby Gerhart
, whom he faced while he was at Oregon and Gerhart played at Stanford. Kelly said he thought Gerhart could be an impact player who just happens to be stuck behind one of the great backs of all time. What's the deal? Can Gerhart replace Peterson and keep the Vikings' offense going?
Goessling:
It depends on his health. He's dealing with a hamstring issue of his own, so if Peterson does indeed miss the game because of his sprained foot, Gerhart might not be able to handle the same kind of workload as Peterson. He's only got two games of 20-plus carries in the NFL, but then again, as Kelly said, he's certainly built to take a pounding. He's a stout, physical back who runs well between the tackles and does a solid job picking up blitzes. Plus, he's not exactly afraid to embrace the idea that he's auditioning for other teams before he hits free agency in March. He certainly isn't going to be a featured back in Minnesota behind Peterson, and while I'm sure the Vikings would like to keep him, he might find better opportunities elsewhere.
What's the key to solving the Eagles' defense? The Vikings probably won't be at full strength this week, given their running back situation and the fact they've been shuffling through quarterbacks all year. What do they need to do to move the ball and avoid the turnovers the Eagles have been creating lately?
Sheridan:
It is still possible to move the ball on the Eagles. They give up a lot of yardage and are vulnerable to runs after the catch in the short- and intermediate-passing game. I was fascinated to see if they could handle
Calvin Johnson
and
Reggie Bush
on Sunday. But the weather limited Johnson and Bush didn't play at all, so that riddle remains unsolved. Teams have been able to move the ball but have bogged down or turned it over in the red zone. If the Vikings can find ways to score from inside the 20, they can stay in the game.
One key for opponents is not falling behind. Green Bay, Washington and Arizona did, and that allowed the Eagles' defense to concede rushing yards and go hard after quarterbacks. That has led to turnovers as much as anything.
Not so long ago, it was intimidating for opposing offenses to come into the Metrodome and deal with
Jared Allen
coming off the edge with all that crowd noise behind him. Is Allen still that kind of force, and has the atmosphere changed with the team struggling this season?
Goessling:
Allen hasn't been the same guy this season. He'll still play hard, and he's as relentless in his pursuit of a quarterback outside the pocket as anybody you'll find in the league, but he just looks like he's lost a step. He isn't as quick around the edge as he used to be, and he's gotten lost when he's been double-teamed. The guy who has brought more of the Vikings' pass rush this season is right end
Brian Robison
, who got a contract extension from the team during the season. He's not quite as quick off the edge as Allen was in his prime, but he might be a better edge rusher now, and he's good at knowing when to disengage from his blocker, step back and deflect a pass.
The Metrodome has lost a little of its edge in recent weeks with the Vikings struggling, but I wouldn't sleep on the fans there: If the game is close Sunday, they'll still get loud. They've only got two more games to crank up the volume in that old Teflon-coated warehouse before it's torn down, so I'd expect the noise level to be there, if partly for nostalgic reasons.
From afar, it would seem like the Eagles have every reason to be confident heading into the final stretch of the season. How far do you think they're capable of going in the playoffs?
Sheridan:
That's a heck of a question, because the whole idea of the playoffs seemed so remote just a few weeks ago. Gradually, as the Eagles got within striking distance of the Cowboys in the NFC East, it seemed like a good first season for Kelly if the Eagles could get a taste of the postseason.
Now? After five wins in a row, they are in sole possession of first place in the division. Foles and
LeSean McCoy
are putting up epic numbers. The defense hasn't allowed more than 21 points in nine games. That sounds to me like a team that can win a home playoff game. Can they go to Seattle or New Orleans and win? That seems like a stretch, but the Eagles keep raising their own ceiling.
Leslie Frazier's first NFL coaching job was here in Philadelphia as an assistant on Andy Reid's staff. He seems to be in a tough spot there, with the kind of quarterback issues that undermine even good coaches. Is the feeling that Frazier is to blame for this season, and what kind of job security does he have?
Goessling:
I certainly wouldn't put it all on Frazier -- the quarterback situation has been a mess, and the Vikings have also paid dearly for GM Rick Spielman's decision to cut
Antoine Winfield
and go almost completely with young defensive backs. That's had as much to do with the Vikings' defensive issues as anything else, and when you've got problems at quarterback and in the secondary, you're going to have a really hard time in today's NFL. Players are still playing hard for Frazier, but the Vikings have blown five leads in the last minute, and coaching issues seem to have contributed to at least a couple of those breakdowns. What's more, Frazier didn't get a contract extension after the Vikings' surprise playoff berth last year, so to come back, he'd either have to coach into the final year of his deal or get an extension. Neither one of those seem as likely as him paying the price for the Vikings' many issues this year.
December, 9, 2013
12/09/13
4:30
PM ET
It took three quarters, but Philadelphia finally began going to its zone-read rushes in the fourth quarter on Sunday during the Eagles' 34-20 win against Detroit.
And it changed the game.
Perhaps no play shifted things more than
LeSean McCoy
's 57-yard run in the fourth quarter, a touchdown where Detroit's once-stout run defense fell completely apart, part of a fourth quarter when the Lions couldn't stop anything or any rusher the Eagles used.
[+] Enlarge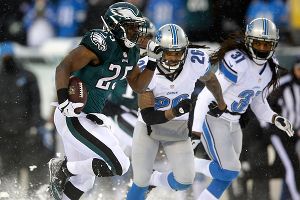 AP Photo/Michael PerezLeSean McCoy ran past Detroit's Louis Delmas, 26, on his way to a 57-yard TD in the fourth quarter.
It was the second big touchdown rush of the game for Philadelphia, and was the last time the Lions had the lead Sunday.
Everything Detroit tried to do on the play essentially failed.
The Eagles lined up in shotgun with 13:24 left in the fourth quarter and the Lions up, 20-14. They had McCoy to the right of quarterback
Nick Foles
and three receivers to the left side, the side McCoy would eventually try to run to.
Detroit had its nickel package on the field, including two defensive backs playing within two yards of the line of scrimmage. Foles snapped the ball and used a zone-read to eventually give the ball to McCoy moving forward behind the left side of his offensive line.
At the time the ball was snapped, the Eagles' offensive line also had a good jump on the Detroit defensive front.
Nick Fairley
was blocked wide to open the hole for McCoy, and he was also blocked into linebacker
DeAndre Levy
, essentially taking him out of the play as well.
This was only the start of Detroit's issues on the play.
"It was just a missed run fit, somebody was in the wrong gap and they split us," Levy said.
This opened up a hole for McCoy, who was already at the second level and almost the third level of the defense. This was what he did much more effectively in the fourth quarter -- he essentially made one cut and then accelerated forward.
Meanwhile, the Lions were struggling with assignments and tackles.
"They lost gap integrity a couple times," Philadelphia center
Jason Kelce
said. "That's when you saw Shady (McCoy) get those big runs."
Once McCoy got past the initial line,
Stephen Tulloch
was slow on his read of the run, taking him out of the play.
Ndamukong Suh
appeared to be held early on the play as well, but he likely wasn't going to be able to get there fast enough to make the play at the line.
What turned this particular run into a touchdown was receiver
Jason Avant
. The veteran was downfield and had Detroit nickel back
Bill Bentley
blocked well. What sealed the touchdown was the angle safety
Louis Delmas
took to the ball.
It appeared Delmas was heading the opposite direction of McCoy anyway, but then Avant blocked Bentley into Delmas, knocking him off track as well. Delmas then tried to catch McCoy, as did
Willie Young
from the back side of the run on the line, but neither could catch him.
"Missed tackles, missed tackles," Delmas said. "You've got to find a way to get the ball on the ground. You've got to grab cloth or pick up a snowball and hit him in the back of the head with it.
"But you've got to find a way and we didn't."
Young actually ended up being the closest player to McCoy when he reached the end zone. Delmas dove for him after the mistake and missed, and
Rashean Mathis
couldn't catch up with him, either.
It was just part of what Detroit coach Jim Schwartz said were 180 yards after missed tackles Sunday. And part of what was a record-setting day from McCoy.
"The guys up front gave me opportunities one-on-one by blowing those guys off the ball," McCoy said about his running game in general. "I think everybody was so intimidated and scared up front, but I thought the big guys on my team took the challenge and stepped up.
"The whole week they talked about just running the ball and giving me different matchups one-on-one. Not only myself, but with the backs that we have, I think in one-on-one opportunities, we're going to win. (Sunday), that's what happened."
December, 7, 2013
12/07/13
12:00
PM ET
This could get very interesting.
Philadelphia has the fastest offense in the NFL, a group that prefers to run if it can but will pass when it must. Detroit has one of the most aggressive defensive lines in football, a run defense that has been impossible to penetrate over the past two months of the season, and an offense that can keep pace with the Eagles.
Fairley
Plus, these are two teams fighting for berths in the playoffs. For Philadelphia, a win would at the very least allow the Eagles to keep pace with Dallas in the NFC East race, if not move into first place entirely. For Detroit, a win puts the Lions closer to its first-ever NFC North title.
So how do the Lions move closer? Here are four keys.
Work the right side of the line:
The right side of Philadelphia's offensive line has struggled in pass protection. The Eagles' center,
Jason Kelce
, is a little bit undersized. This bodes well for Detroit's front four, specifically defensive tackles
Nick Fairley
and
Ndamukong Suh
. The entirety of the defensive line is coming off its best game of the season against Green Bay, remains fairly healthy, and has a mission of showing it can be more consistent over the final month of the season, an issue over the first three months of the season.
If Philadelphia focuses too much on Fairley and Suh, it will leave potential rush lanes for Ziggy Ansah,
Willie Young
and
Devin Taylor
, who have all shown glimpses of strong production throughout the season.
Get the ball to Calvin Johnson:
This is obviously part of Detroit's strategy on a weekly basis, but Philadelphia gives up more passing yards per game than any other team in the league. The Eagles' secondary has struggled against receivers this season --
Michael Floyd
had five receptions for 99 yards and
Larry Fitzgerald
had five catches for 72 yards last Sunday -- and Johnson is the best in the game. Consider this: The team with the second-worst pass defense in the league is Dallas, and Johnson caught 14 passes for 329 yards against the Cowboys -- the second-best receiving game in NFL history. Also, 72 percent of the yards the Eagles have allowed this season have been passing yards.
Reach the 10-yard line:
The Lions are the best team in the league in converting goal-to-go scenarios, scoring touchdowns on 83.3 percent of those trips. It also helps that perhaps more than any other team, Detroit is built to score close to the end zone. They have two massive red-zone targets in Johnson and tight end
Joseph Fauria
, along with both a downhill back in
Joique Bell
and a make-you-miss back in
Reggie Bush
. Being able to convert more often than not in those scenarios are what good teams are able to do.
Don't stress inside the red zone:
The Lions have been quite good inside the red zone this season -- ranked third in the NFL in red-zone defense with a 38.7 percent conversion rate. Meanwhile, Philadelphia, for all its speed and quickness and having
LeSean McCoy
in its backfield, is only 29th in red-zone efficiency offense, converting 46.2 percent of the its opportunities. That's a good place for the Lions to be successful.
December, 6, 2013
12/06/13
3:55
PM ET
ALLEN PARK, Mich. -- The plays look fairly similar, but the innovation in Chip Kelly's offense with Philadelphia comes not necessarily through what those plays are designed to do, but through two other things.
The difference is the pacing and tempo, the speed at which the Eagles run their plays compared to most of the other teams in the NFL.
This is where Kelly is hoping to have that advantage in Philadelphia, why his Eagles are 7-5 and in a tight NFC East race with Dallas. It's not the plays, see, it's everything that happens once the ball is actually snapped.
[+] Enlarge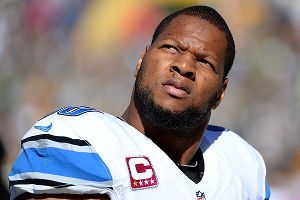 Harry How/Getty ImagesNdamukong Suh and the Lions' defensive line is preparing to play at a faster pace against the Philadelphia Eagles' up-tempo attack.
"We don't do anything different than anybody else in the NFL," Kelly said. "Everybody else runs open sets with three receivers on one side and one on the other, and one back sets. That's kind of what everybody else in the league is doing, and what everybody at every level is doing.
"It's nothing revolutionary."
No, it isn't, although not every team in the NFL runs sets and packages like Philadelphia and Kelly.
But the Lions, who will see the Eagles on Sunday, understand the main difference in all of it. It is that speed and how Philadelphia will try to spread out the Lions.
"They spread you out, obviously," safety
Glover Quin
said. "So when you're spread out, you have to do a good job in space. You got to do a good job in tackling. You've got to do a good job covering 1-on-1's, things like that.
"It's going to be a bunch of space, and they are going to spread you out and they have a bunch of options on every play, and so everybody is going to be on top of their game."
To prep for Philadelphia, Detroit defensive coordinator Gunther Cunningham said he went back and watched some film of Oregon along with tape of the Eagles. Kelly, though, said his offense is different now than what he did in college.
There are elements, sure, but his offense is more of a combination of what he ran at Oregon and New Hampshire, along with some of what Pat Shurmur did in Cleveland. There are both elements of college and NFL offenses in the Philadelphia offense, much of which causes them to look a little different.
And one thing Detroit is going to be paying attention to is what happens when the Eagles fake handing the ball off to running back
LeSean McCoy
.
"The primary thing is they fake the run and throw what we call a bubble screen to (
DeSean Jackson
), who is sitting right behind the offensive tackle," Cunningham said. "So he's doing a lot of things like that. [The] issue for the defensive coaches is the work, the preparation work for the game and to let your players know to stay patient, let's do what we do and let's get the ball back for the offense. That's the approach I think teams need to take."
Prepping for Philadelphia is two-fold. First is McCoy. The Eagles' lead back already has 1,088 yards and five touchdowns this season, but has only rushed for more than 100 yards in a game once in the second half of the season -- a 155-yard game against Green Bay in Week 10. In 12 games this season, Philadelphia has run the ball more than it has passed it seven times, passed more four times, and had perfect balance between run and pass once -- last week against Arizona.
Having McCoy able to run the ball has opened things up for quarterback
Nick Foles
, who has 19 touchdown passes and no interceptions this season. Foles has been the key for a more balanced attack in Philadelphia during its four-game winning streak.
"Our whole offense is based on what the defense can give us," Kelly said. "I'll throw it a thousand times a game, I'll run it a thousand times a game. Depends on what the situation is."
Considering Detroit's run defense this season, perhaps expect more pass. The Lions have yet to allow a 100-yard rusher this season. Over the past month, they have not allowed a team to average more than two yards a carry.
Scoring on the ground? Forget it. Detroit hasn't allowed a rushing touchdown since September.
Much of that has to do with Detroit's front four, the group that could be most affected by the pace Philadelphia plays with. So the mantra this week for the Lions has been simple, even as they deal with the Eagles' offense.
Three-and-outs would mean a less tired Detroit defense.
"The quicker they run the plays, the quicker we can get them off the field," Quin said. "The quicker they run, the quicker we get them off the field and get the ball to our offense."
December, 5, 2013
12/05/13
10:00
AM ET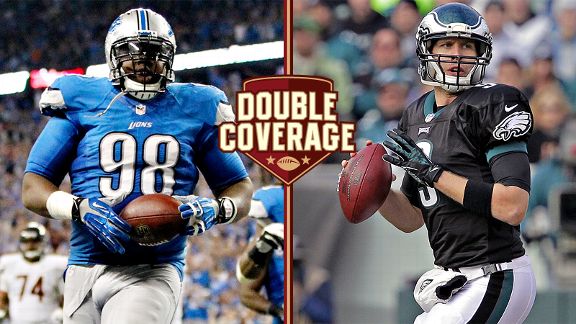 Getty ImagesNick Fairley and the Lions' defense will have their hands full slowing down Eagles QB Nick Foles.
The
Philadelphia Eagles
have exceeded expectations so far in coach Chip Kelly's first season. The
Detroit Lions
have arguably fallen a little short of expectations in coach Jim Schwartz's fifth season.
When the two 7-5 teams meet in Philadelphia, it won't matter how they got there. The Eagles and Lions are both in position to win their division titles, and a win Sunday will be a major step toward achieving that goal.
The game will feature two potent but very different offenses.
Nick Foles
may not be the bona fide franchise quarterback that
Matthew Stafford
is, but he is the hottest quarterback in the league over the past five weeks. The Eagles' defense may lack stars like
Ndamukong Suh
, but it is playing better every week as a group. Stafford,
Calvin Johnson
and
Reggie Bush
will provide its toughest test since the Denver disaster back in September.
ESPN.com reporters Michael Rothstein, who covers the Lions, and Phil Sheridan, who covers the Eagles, took a look at some key issues in a game with major playoff implications.
Sheridan:
The NFC North race has been deeply affected by quarterback injuries, with Chicago's
Jay Cutler
and Green Bay's
Aaron Rodgers
out of the picture lately. Despite a healthy and productive Stafford, the Lions haven't been able to separate from the rest. What are some key reasons for that?
Rothstein:
It starts with turnovers and inconsistency. The Lions' defensive line, the same group that dominated on Thanksgiving, largely disappeared in some earlier games. Turnovers are a major issue, too. The Lions have three or more turnovers in four of their past five games. Against Tampa Bay and Pittsburgh, that was a key factor in those losses. Detroit is a very talented team that continues to feel like a group still finding out exactly how it wants to play. But it does start with those turnovers. A couple of the Lions' players even told me after Thursday's game -- by far the Lions' best performance this season -- that turnovers were still a major issue. And Detroit committed four of them and still scored 40 points. If they do that Sunday, the Lions will be leaving with a loss.
Speaking of turnovers, Foles appears allergic to mistakes, especially turnovers, this season. Is it all fitting in with Chip Kelly's system? Maturation? Magic? Something different? What has turned him into this quarterback this season?
Sheridan:
There is almost certainly an element of magic involved. By that I mean that Foles has had a bit of luck on his side. He threw two would-be interceptions to
Patrick Peterson
Sunday, for instance.
DeSean Jackson
batted one away and a penalty negated the other. But there is no doubt that Foles has played extremely well and with remarkable poise and confidence. He has fully embraced and absorbed Kelly's offense, which includes sound pass protection and a great running game -- two of every quarterback's best friends. Foles has been accurate and unafraid to trust his receivers to make plays on the ball. If you make good decisions and sharp throws in a well-designed offense, it turns out pretty much like what we've seen from Foles the past two months.
The Eagles felt pretty good about running their offense effectively against good Tampa Bay and Arizona defenses. The Lions seem like a new challenge with that front of theirs. Was the Thanksgiving game a sign the Lions have gotten it going on defense or are they just as likely to disappear in the face of Kelly's uptempo, unorthodox offense?
Rothstein:
It's tough to say because the Lions haven't really seen this type of offense before, although I'm guessing the three younger guys on the line -- tackle
Nick Fairley
and ends
Ziggy Ansah
and
Devin Taylor
-- are somewhat familiar from their recent college days. Getting pressure with the front four -- and, at least last week, well-timed blitzes from linebackers and safeties -- is still going to be the key for any Detroit defensive success. And doing it for one week doesn't make it a guarantee that it'll continue. Even though he doesn't have huge stats, Suh has been a consistent force up front and if he and Fairley can get going early, it opens things up for Ansah on the outside.
The pressure key, though, is more important for Detroit's cornerbacks. The Lions have been very inconsistent there this season, but they were able to take the first read away from Green Bay's
Matt Flynn
a lot. By doing that, it gave the defensive line an extra second to get to Flynn so it all worked together. But it has been a matter of consistency, which the Lions have not had there this season.
Since we were talking about the Detroit defensive line, the Lions have been extremely good against the run. They haven't allowed a rushing touchdown in two months and have gone six straight games holding teams under 70 yards rushing total. Some of this is the proliferation of passing in the NFL, but considering
LeSean McCoy
's numbers this season, how much do the Eagles try running before sticking with Foles and his arm?
Sheridan:
One of the most striking differences between Kelly and Andy Reid, a guy I covered for 14 years and respect a lot, is that Kelly is very committed to the run. He sticks with it almost no matter what, with the belief that it will eventually wear a defense down. Reid would abandon the run game after two or three unsuccessful plays. Early in the season, McCoy was on pace to break the NFL record for rushing attempts in a season. He is now on pace for 100 fewer carries than that, about 310. That's because Foles' success in the passing game has allowed Kelly to be more balanced. A few teams -- the Giants and Cowboys, especially -- were able to shut the Eagles' running game down. Arizona did a good job of it in the second half. But Kelly hasn't completely abandoned it in any of those games. If that changes Sunday, it will mean he really thinks the Lions' defense is invulnerable to it.
The Eagles were moderately successful keeping
Larry Fitzgerald
from going off last week. Johnson is another matter. Has anyone been really effective in stopping Megatron and, if so, how did they go about it? Does it take an elite corner or an elite scheme? A drone strike?
Rothstein:
The team that has been most successful in limiting Johnson this season has been ... the Detroit Lions. There have been times during games this season when the Lions have seemed to go away from the best receiver in football, most notably in the second half against Pittsburgh, when he had no catches.
Darrelle Revis
has been pretty good on Johnson as well, but for the most part, it takes a really good scheme to keep the ball out of his hands. Unless you have a corner like Revis, usually some sort of bracketing of Johnson can be effective. But the Lions are OK with that happening because it opens up the field for Bush and
Nate Burleson
. That was a big reason the Lions got Bush -- just for that.
This kind of leads into my last question. Philadelphia's pass defense has been both poor and porous this season. Do they have any sort of manpower to match up with Johnson -- and to a lesser extent Burleson,
Brandon Pettigrew
,
Kris Durham
and Bush -- or could this be another game like he had against the Cowboys or Bengals?
Sheridan:
Before getting to the answer (spoiler alert: It's no, the Eagles can't match up with Johnson), let me clarify a bit. It's true that the numbers show the Eagles to be terrible as far as yards allowed. They really have given up vast chunks of yardage. But they are keeping teams out of the end zone, and that is giving the offense breathing room to function.
While insisting the Eagles' defense is better than its stats, I have to say this matchup could be the one that breaks some of those trends. Stafford is better than
Carson Palmer
and Johnson is better than anyone, so this may be the week the yards translate into more points. The Eagles' strength right now is their front seven, and if they can get pressure on Stafford and force him into some of the mistakes he is prone to making, that will go a long way toward covering up the mismatches on the back end.
November, 7, 2013
11/07/13
12:00
PM ET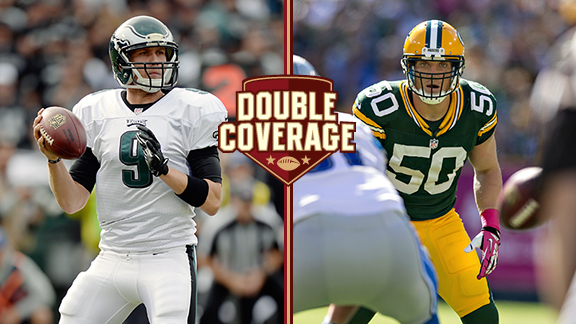 Getty ImagesNick Foles and A.J. Hawk meet Sunday in Green Bay in a game that's turned in the Eagles' favor.
If you expected the
Philadelphia Eagles
to have the edge at quarterback for their Week 10 meeting against the
Green Bay Packers
at Lambeau Field, go to the head of the class.
The teams play Sunday, a week after their quarterbacks made headline news. The Pack's
Aaron Rodgers
broke his collarbone in Monday night's loss to the
Chicago Bears
, a day after the Eagles'
Nick Foles
tied the NFL record with seven touchdown passes against the
Oakland Raiders
.
A game that looked to be safely in the Packers' column is suddenly wide open. NFC North aficionado and all-around NFL expert Kevin Seifert breaks down the game with ESPN.com Eagles reporter Phil Sheridan.
Phil Sheridan:
I'll start with the obvious one: Can the Packers win without Rodgers? Did they take his durability for granted in not having a better backup in place?
Kevin Seifert:
On a local level, the backup quarterback has been an annual source of controversy for the Packers throughout Rodgers' career as a starter. Nationally, most people didn't find out about it until Monday night.
Seneca Wallace
is the backup only because he was available when they realized none of the players they took to training camp was up to the job. He is 6-15 in his career as a starter, and his career seemed over in August 2012 when the
Cleveland Browns
released him.
The Packers' entire scheme is built around Rodgers doing things that only Rodgers can do. Think of what happened when the
Indianapolis Colts
played without
Peyton Manning
in 2011. The Packers will need to make fundamental changes to their offense -- and expect substantial elevation in other areas of their team -- to make it through this wilderness.
I have to imagine the Eagles can't believe their luck to be facing Wallace instead of Rodgers, huh?
Sheridan:
They are saying all the right things about wanting to face the best and never wanting to see anyone get hurt, but they aren't oblivious. This game looked like a double-digit loss the day the schedule came out, and it still looked like an easy Packers home win until Rodgers' collarbone broke Monday night. So it not only becomes a winnable game for the Eagles, it comes when a win, combined with a Dallas loss (the Boys are in New Orleans), would move them even with the Cowboys at 5-5.
And it's not like the Eagles owe anybody an apology when it comes to luck. They haven't had a quarterback start and finish two games in a row since September, and they've been down to
Matt Barkley
twice.
They may not have a starter as good as Rodgers, but their backup isn't half bad. Foles threw for seven touchdowns Sunday against an Oakland defense that didn't blitz or, at times, even cover receivers. Given Dom Capers' background, how would you expect him to respond to a challenge like this?
Seifert:
Capers is known for major scheme changes from week to week, depending on matchups. But as usual, the Packers are dealing with injuries that will limit his options. They are down four linebackers at the moment, although the Packers are hopeful that
Clay Matthews
can return soon -- if not Sunday -- and play with a club to protect his broken thumb.
In short, I'm not sure how many options Capers will have. He does have a group of talented cornerbacks --
Tramon Williams
,
Sam Shields
,
Casey Hayward
and
Davon House
. Capers will have to hope that they can stick with the Eagles' group of perennial All-Pros and future Hall of Famers better than the Raiders did.
Are the Eagles' receivers really that good?
Sheridan:
If they are, they have managed to keep that greatness a secret until Sunday in Oakland.
DeSean Jackson
is a dynamic player, no question about that, but he has been taken out of games in the past when cornerbacks get physical with him. The Raiders did not, and Jackson went off.
As for
Riley Cooper
and
Jason Avant
, they have not made up for the loss of
Jeremy Maclin
to a torn ACL during training camp. Cooper had great numbers Sunday -- five catches, three touchdowns, 139 yards -- but he has been neutralized more often than not during the season.
Tight ends
Brent Celek
and
Zach Ertz
had big numbers at Oakland too. So either the Eagles offense really turned a corner or the Raiders just didn't have anyone playing corner. Maybe a bit of both.
The Packers have added a more robust running game to their offense this season. Now that Rodgers is hurt, can
Eddie Lacy
& Co. carry the team until the quarterback is back? Is that even possible in this pass-happy league?
Seifert:
I tend to doubt it. Up until Monday night's game against the Bears, much of the Packers' success in the run game came against light boxes (six men or fewer) designed to focus first on the pass, according to the charting we get from ESPN Stats & Information. The Bears brought a safety into the box Monday night and the Packers still rushed for 199 yards, but we should note that the Bears have the NFL's fourth-worst rush defense this year.
And even when you run successfully, it usually takes longer to score and thus your total points can drive down. The Packers were averaging 30 points per game before scoring 20 Monday night against the Bears.
How do you think the Eagles will approach it? Eight men in the box? Nine? How about 11?
Sheridan:
This sets up a bit like the Tampa Bay game, I guess.
Mike Glennon
was making his second start, and the Bucs' passing game was not expected to be a big threat. The Eagles focused on shutting down
Doug Martin
, and they did, holding him to 67 yards on 16 carries. It helps, of course, to get a lead and force the opponent to throw the ball more.
All season, the Eagles' focus has been to stop the run while limiting big pass plays downfield. That made them vulnerable to intermediate passing and runs after the catch. Tampa Bay's
Vincent Jackson
, for instance, had nine catches for 114 yards and two touchdowns while the Eagles were focused on Martin.
That has to be the Packers' blueprint for success. If Wallace can get the ball out quickly and catch
Jordy Nelson
and
Andrew Quarless
in stride, the Packers can move the ball. The Eagles are better at tackling and covering underneath than they were, but there's opportunity there.
April, 24, 2012
4/24/12
1:00
PM ET
Our look at the 2012 Gruden QB camp continues with Arizona's Nick Foles,
ranked as the draft's sixth-best quarterback

by ESPN's Todd McShay. Foles is a 6-foot-5, 243-pound specimen who in this video gives us a pretty weak version of the Arizona pregame dance.