July, 15, 2010
7/15/10
1:00
PM ET
By
Scouts Inc.'s Matt Williamson
| ESPN.com
»
NFC On the Radar
:
East
|
West
|
North
|
South
»
AFC
:
East
|
West
|
North
|
South
A player, coach or issue that should be on your radar as training camp approaches.
The
Detroit Lions
should do a much better job protecting
Matthew Stafford
in 2010. In fact, the offensive line overall should be improved. Why? The weakest position on Detroit's offensive line was left guard.
[+] Enlarge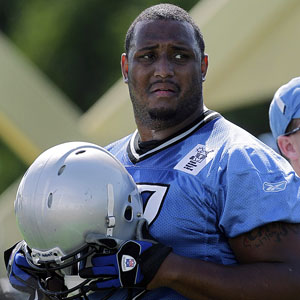 AP Photo/Paul SancyaThe addition of Rob Sims at guard could pay big dividends for Detroit.
But, somewhat under the radar, the Lions acquired
Rob Sims
to man that spot. Sims didn't fit what the new coaching staff was looking for in Seattle, but he is a big body who is a massive upgrade at the weakest spot on the Detroit line. Adding Sims should pay big dividends.
Also, right tackle
Gosder Cherilus
improved throughout the 2009 season. He has a first-round pedigree and more than enough ability to flourish on the right side. I expect his ascension to continue.
Jeff Backus
takes a lot of unwarranted criticism as Detroit's left tackle, but in reality, he is a middle-of-the-road option at this critical position and maybe even better. With Sims, Cherilus and Backus along with center
Dominic Raiola
and vastly underrated right guard
Stephen Peterman
, the Lions' starting line is more than adequate. There is also better depth up front than in recent memory. The evolving skill players will help the cause as well.
In terms of weaponry and peripheral pass blockers, the Lions have a lot more options than a year ago. If healthy,
Brandon Pettigrew
could be a great asset as a blocker in addition to his abilities as an intermediate receiver. He struggled in this capacity as a rookie, but was renowned for it at the college level. Expect improvement.
A question I do have, though, concerns
Jahvid Best
. The 5-foot-10, 199-pound rookie could have a hard time matching up with pass-rushers. But, on the other hand, having a guy like Best in the game could slow the rush because of his threat on draw and screen plays. Also, in Stafford's second season, a natural progression would be for him to improve the internal clock in his head and get the ball out quicker.
Contrary to popular belief, the Lions were not terrible in pass protection in 2009. The Lions were sacked 43 times, but in many cases, Detroit was forced to throw when coming from behind while the pass-rushers played pass the entire way. But in 2010, the Lions will be better.
July, 8, 2010
7/08/10
1:00
PM ET
»
NFC On the Radar
:
East
|
West
|
North
|
South
»
AFC
:
East
|
West
|
North
|
South
A player, coach or issue that should be on your radar as training camp approaches.

The Vikings' offensive line can be intimidating. Tackles
Bryant McKinnie
and
Phil Loadholt
are twin 6-foot-8 towers. Left guard
Steve Hutchinson
is one of the best interior blockers of his era.
John Sullivan
adequately replaced longtime Vikings mainstay
Matt Birk
at center in 2009, and
Anthony Herrera
was solid at right guard.
[+] Enlarge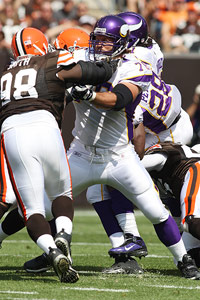 Icon SMINot only does Hutchinson push people around in the trenches, the Titans say the veteran has helped this offseason with his effort and communication skills.
But Minnesota's line needs to be on fans' radar as the 2010 season approaches. Has the line peaked? It's possible. The situation isn't like the 2007 Bears, 2008 Redskins and 2009 Cowboys – all teams that let their lines reach an average age of 31 with five starters in their 30s, but things bear watching.
Hutchinson, 32, is coming off his toughest season. Injuries nagged him all last season, making every play a struggle. The expectation is he should bounce back , but 32 can be a tricky age for a guard.
Alan Faneca
had two Pro Bowl seasons with the Jets at ages 32 and 33, but his pass-blocking dropped off so quickly in the second half of seasons that the Jets released him this offseason.
The enigma is McKinnie, which may sound strange because he is coming off his first Pro Bowl season. McKinnie handled his first trip to the Pro Bowl as though it was more of a party than a football game. He tweeted about his nightlife and missed practices, leading to his dismissal from the NFC team. Despite his Pro Bowl invitation and solid blocking for
Brett Favre
and his quick release, McKinnie allowed nine sacks during the regular season. The league's trend of finding shorter, quicker pass-rushers could be a problem for him. Herrera also turned 30 this year and could be on the downside of his career.
There were times last season that running back
Adrian Peterson
didn't seem to have the holes of the previous few seasons. The Vikings went to the NFC title game and were a play or two from going to the Super Bowl, but the pounding Favre took in the NFC Championship Game against the Saints may take away some of the aura of invincibility for a line considered to be one of the best in football. The Vikings would have benefited by taking Florida standout offensive lineman
Maurkice Pouncey
in the first round, but the Steelers spoiled that possibility. So keep an eye on the line for the Vikings, who have high expectations this season.
July, 1, 2010
7/01/10
1:00
PM ET
»
NFC On the Radar
:
East
|
West
|
North
|
South
»
AFC
:
East
|
West
|
North
|
South
A player, coach or issue that should be on your radar as training camp approaches.
As much as we like to downplay offseason practices, they almost always focus our attention as training camp approaches. For reasons not always explainable, some players head to summer vacation surrounded by the proverbial buzz.
This spring is no different, so with training camps about a month away from opening, let's nominate a Buzz Player for each NFC North team:
Chicago Bears

Bowman
Player:
Cornerback
Zack Bowman
Comment:
The Bears moved Bowman to the left side, ostensibly making him their No. 1 cornerback after a six-interception season in 2009. Those who covered the Bears' open practices reported Bowman was an interception machine. Can Bowman take the leap to elite status in 2010?
Detroit Lions

Follett
Player:
Linebacker
Zack Follett
Comment:
Follett has gotten
as much ink
as any Lions player this offseason, becoming a bit of a cult hero for his off-kilter personality and accessibility to fans. That's gotten him on the radar. But as the Lions plug him into
Ernie Sims
' old weak-side position, can the guy play? We're about to find out.
Green Bay Packers

Nelson
Player:
Receiver
Jordy Nelson
Comment:
The Packers' top draft pick in 2008, Nelson has 55 receptions in 29 games over the past two seasons. Nelson appeared to have taken a significant step this spring, however, and might make it difficult for the Packers to keep him off the field. Starter
Donald Driver
is 35. Just sayin'.
Minnesota Vikings

Webb
Player:
Quarterback
Joe Webb
Comment:
I think Webb is as surprised as anyone to have been switched back to quarterback after most NFL teams projected him as a receiver. He could be part of a larger power play to free up the Vikings' third quarterback position, but there is no doubt people are talking about his combination of size and athleticism. We should know by the end of training camp if the buzz is well-founded.
June, 24, 2010
6/24/10
1:00
PM ET
»
NFC On the Radar
:
East
|
West
|
North
|
South
»
AFC
:
East
|
West
|
North
|
South
A player, coach or issue that should be on your radar as training camp approaches.
As he wrapped up mandatory minicamp this week,
Green Bay Packers
coach Mike McCarthy
refused to rule out the possibility
of acquiring a veteran outside linebacker. (I also didn't see where he ruled out bungee-jumping from the top row of Lambeau Field, but I haven't caught up on all of the news stories yet.)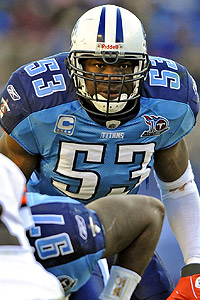 Don McPeak/US PresswireSigning a veteran free agent like Keith Bulluck would go against the norm for GM Ted Thompson.
"We'll continue to evaluate that and watch what goes on around the league," McCarthy said -- of the linebacker situation, not bungee-jumping.
We all know how rarely the Packers seek veteran help from outside the organization. If you look at their roster, you see only one veteran free agent who signed this offseason. And that was safety
Charlie Peprah
, who spent three seasons with the Packers before joining the
Atlanta Falcons
last year.
But the Packers' personnel remains in flux at left outside linebacker, and they even gave defensive end
Cullen Jenkins
some reps there during minicamp. It's been expected that
Brad Jones
and
Brady Poppinga
would compete for the starting role in the base scheme, and the truth is that defensive coordinator Dom Capers uses so many sub packages that he can cover for an uncertainty at one position.
So would the Packers break from their usual practices and seek veteran help? ESPN's Adam Schefter recently ranked veterans
Adalius Thomas
and
Keith Bulluck
as the best free agents remaining on the market, and Thomas has extensive experience in the 3-4. A trade is also a possibility.
But I think the Packers are in no rush to make a move. The history of general manager Ted Thompson suggests the Packers would prefer to evaluate their current group in the early stages of training camp before looking outside the organization.
June, 17, 2010
6/17/10
1:00
PM ET
»
NFC On the Radar
:
East
|
West
|
North
|
South
»
AFC
:
East
|
West
|
North
|
South
A player, coach or issue that should be on your radar as training camp approaches.
[+] Enlarge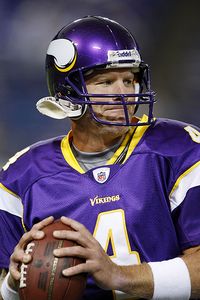 Bruce Kluckhohn/US PresswireWhat tack will the Vikings take to explain Brett Favre's near-certain absence from camp?
It has always seemed likely that quarterback
Brett Favre
would return
to the
Minnesota Vikings
for the 2010 season. His
May 21 ankle surgery
solidified that belief, as did coach Brad Childress' implication that Favre would be welcomed whenever he is ready to return.
The last remaining question will be answered in the coming weeks: How will the Vikings characterize Favre's near-certain absence from camp? Remember, Favre is technically a member of the Vikings' 80-man roster. Will they claim he needs more time to determine his future? Will they announce he has been excused? Or will they provide no explanation at all?
This issue might not matter to you as long as Favre is on the field Sept. 9 at New Orleans. Every indication suggests he will be. But as someone who's always on the lookout for disingenuous activity, I'm curious how this game will play out.
In explaining why Favre missed last weekend's mandatory veteran minicamp, coach Brad Childress suggested Favre is still "
batting around retirement in his mind
." To put it nicely, I would classify that explanation as less than the full story.
Look, we in the media -- and, in turn, fans at large -- get lied to all the time while covering the NFL. Teams have morphed into propaganda machines that play cat-and-mouse with the simplest points of information. (I find that approach particularly amusing when teams seeking public funding for new stadiums refer to themselves as civic institutions, but I digress.)
I get it. That's the way this league works. Many of us media types would be out of a job if no reporting, translation or interpretation was needed. In this instance, however, I'm hoping the right people will step up and tell us the truth when Favre misses training camp -- rather than play us for the history-challenged fools they probably think we are.
June, 10, 2010
6/10/10
1:00
PM ET
»
NFC On the Radar
:
East
|
West
|
North
|
South
»
AFC
:
East
|
West
|
North
|
South
A player, coach or issue that should be on your radar as training camp approaches.
The
Chicago Bears
' aggressive approach in signing their draft choices annually sparks a wave of panic among fans of other NFC North teams.
It's June 10 and my team hasn't signed anyone! What's going on?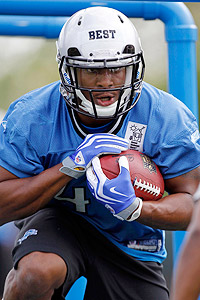 Leon Halip/US PresswireJahvid Best is one of two Detroit first-round draft picks still unsigned.
During our
SportsNation chat
earlier this week,
Josh of Nashville
asked when he should start getting worried about the
Detroit Lions
having two unsigned first-round picks. The truth is that the rookie signing season really doesn't start until the second week of July. That's typically when NFL executives return from summer vacation and when more agents start feeling comfortable within the market.
As we
discussed last weekend
, there are only a few advantages to signing draft picks well before the start of training camp. And some teams don't enter into negotiations as long as organized team activities are taking place because they want to maximize their roster space. (Unsigned rookies don't count against the 80-man roster.)
Other than the Bears' five-man class, only one other NFC North draft pick has signed a contract:
Minnesota Vikings
fullback
Ryan D'Imperio
-- the second of their seventh-round selections. It's possible that a few more low- to mid-round picks will sign in the next few weeks, but it's highly unlikely we'll get to a substantive point on the division's first-rounders -- the Lions'
Ndamukong Suh
and
Jahvid Best
, along with the
Green Bay Packers
'
Bryan Bulaga
-- for another month.
So sit tight, stay tuned and don't panic.
June, 3, 2010
6/03/10
1:00
PM ET
»
NFC On the Radar
:
East
|
West
|
North
|
South
»
AFC
:
East
|
West
|
North
|
South
A player, coach or issue that should be on your radar as training camp approaches.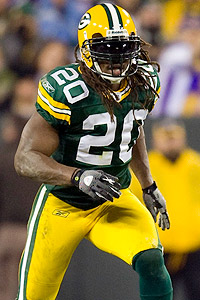 Jeff Hanisch/US PresswireAtari Bigby has not been participating in the Packers' OTAs.
Organized team activities can foster a skewed NFL reality based on non-contact practices, disproportionate attention on young players and contract squabbles that almost always are resolved by training camp. So we should mix some hesitation with an otherwise clear set of clues that the
Green Bay Packers
are giving rookie
Morgan Burnett
a solid foundation to one day unseat veteran safety
Atari Bigby
.
Bigby is a restricted free agent who hasn't signed his tender and thus isn't participating in OTAs. He's been a productive player when healthy but has missed 12 games with a variety of ailments over the past two seasons. The Packers recently rewarded Pro Bowl safety
Nick Collins
with
a contract extension
, but it's not clear if they have enough faith in Bigby to do the same.
That the Packers traded up to draft Burnett suggests his presence has some intent. He has been working with the first team for most OTAs and
coach Mike McCarthy said Wednesday
he has been "very impressed." McCarthy said Burnett has appeared particularly comfortable from a communication standpoint and added: "I think he's off to a good start. I think he's a very natural football player."
You would expect to hear those keywords from a coach who has a veteran starter sitting out practices; nothing like a little motivation to report. You would also expect a quote similar to the one McCarthy provided on Bigby:
"I think all of our players understand the importance of the OTAs, particularly the players that have been here in the past, the opportunities that they're given and the time that the coaching staff puts into these OTAs and the individual time that's available afterwards. Anytime a player misses these, it's an opportunity that is wasted as far as being with his teammates. But we can't deny there are business situations that surround our business, and that's no different for Atari or any others that have not been here."
Much of this dynamic depends on Burnett. If he proves ready to start as a rookie, the Packers could have an interesting training camp competition. But if he's like most third-round draft picks and needs extra time, Bigby will slide back to his role for at least one more season.
May, 27, 2010
5/27/10
1:00
PM ET
»
NFC On the Radar
:
East
|
West
|
North
|
South
»
AFC
:
East
|
West
|
North
|
South
A player, coach or issue that should be on your radar as training camp approaches.
[+] Enlarge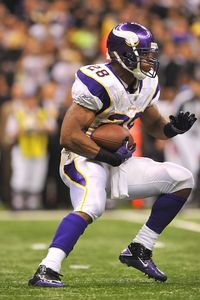 Larry French/Getty ImagesAdrian Peterson knows he must do a better job securing the ball.
We're now four months removed from the NFC Championship Game, an event that announced to the world that
Minnesota Vikings
tailback
Adrian Peterson
has
a fumbling problem
. Organized team activities have begun, training camp is two months away and no one can say what -- if anything -- Peterson has done to address the issue.
Coach Brad Childress long ago dismissed the possibility of a fundamental intervention, saying in February that "I'm not going to discourage that guy from running the ball with the style that he runs the football with." He expressed confidence that Peterson could resolve the issue mostly on his own and noted that Hall of Fame running back
Walter Payton
fumbled at a higher rate than Peterson during the first three years of his career. (Peterson has 20 fumbles in 915 carries, while Payton fumbled 30 times in 846 carries.)
I'm all for using statistics to provide context and explanation. In this case, Payton's fumble totals dropped dramatically after his third season. He cut his season total in half for Year 4 and needed more than five full seasons before he fumbled another 30 times. Clearly, something happened between Year 3 and Year 4.
Will something click for Peterson this offseason? During an
interview at the Pro Bowl
, Peterson vowed to do "a better job" protecting the ball, but to this point specifics have been scarce. That's nothing to be alarmed about or even question at this point. But if Peterson is planning anything significant -- carrying the ball a different way, for example -- now would be the time to work on it.
May, 20, 2010
5/20/10
1:00
PM ET
»
NFC On the Radar
:
East
|
West
|
North
|
South
»
AFC
:
East
|
West
|
North
|
South
A player, coach or issue that should be on your radar as training camp approaches.
[+] Enlarge
Jonathan Daniel/Getty ImagesHow well Jay Cutler adjusts to running Mike Martz's offense will be critical to the Bears' success this season.
The
Chicago Bears
committed up to $120 million this spring to secure the most high-profile free-agent class in the NFL. In all, they turned over nearly half of their defensive starters. Those moves garnered most of the Bears' offseason headlines, but none of them will matter if the unlikely pairing of quarterback
Jay Cutler
and offensive coordinator Mike Martz doesn't work out.
Cutler spent the first four years of his NFL career in versions of the West Coast offense, which places a premium on quick-release passes. Under Martz, he will take more seven-step drops while waiting for receivers to finish off deeper routes. He'll orchestrate a much more intense pre-snap set of shifts and formation changes.
Most important, Cutler must coexist with a coordinator who is every bit as strong-willed and stubborn as he is. Much of the groundwork for that relationship is being laid now, and it will continue during this weekend's veteran minicamp.
Speaking recently on ESPN 1000 in Chicago
, Cutler said he is spending "a couple hours" in Martz's office every day to watch film and absorb the offense and insisted they've "hashed out" any philosophical differences about the scheme.
"I had some issues with a timing offense and not being able to see things [before the throw]," Cutler said. "He had only worked that way. There was a little bit of give and take, and we're definitely on the same page with everything. It's been really interesting working with him and a lot of fun."
NFL optimism is always high in May, and you wouldn't expect Cutler to feel any differently at this point. The real test will come when the season begins. Will the Bears' offense function at a high level from the start or will it take some time to develop? If it's the latter, will Cutler and Martz work through those issues or build a wall of frustration?
The answer to that question will provide the single strongest indicator of the Bears' success this season.