NFC North:

Oshiomogho Atogwe
July, 23, 2010
7/23/10
11:45
AM ET
Hopefully all of you got a chance to read John Clayton's take on the NFC North in his
training camp preview
. Included in the post was this analysis of the Detroit Lions' safety situation:
Safety Louis Delmas, a second-round pick in 2009, seems to be a good piece to build around. Lions coach Jim Schwartz must sort out whether Ko Simpson, Marquand Manuel or C.C. Brown is the strong safety to pair with Delmas.
I would be surprised if the Lions don't add one or two names to that list of candidates before the start of the regular season. It might not be their top organizational priority, as evidenced by their
cool pursuit
of free agent Oshiomogho Atogwe, but my understanding is that they were less than satisfied with their options as minicamp concluded last month.
Tim Twentyman of the Detroit News
suggests the Lions could have interest in Kansas City Chiefs safety Jarrad Page, who has asked for a trade. Another option is veteran defensive back Dante Wesley, whom the Lions
signed as a reserve cornerback in April
mostly for special teams purposes. Wesley has some experience as a safety, however, and the Lions likely will give him a chance to compete for the strong-side position in training camp.
We'll get into a more formal discussion of training camp battles next week, but at this point, the Lions' safety situation is among the most fluid in the division.
June, 23, 2010
6/23/10
2:04
PM ET
Most everybody in our NFC North blog community
loved safety
Oshiomogho Atogwe
. That is, everybody but the teams themselves.

Atogwe
Atogwe
re-signed
Wednesday with the
St. Louis Rams
after three weeks of minimal interest on the free agent market. As we discussed last month, there were legitimate reasons to consider safety a position of need for all four of our teams. But the
Detroit Lions
were the only one among them to
acknowledge any level of interest
, and ultimately they appeared unwilling to offer the kind of financial security Atogwe was looking for.
There is some thought that Atogwe's
reputation ballooned a bit
when the Rams made him their franchise player in 2008. In reality, he has never been so much as named to a Pro Bowl. Given the unsettled safety situations in most NFC North locales, he was an option worth investigating. Ultimately, however, he proved nothing more than that.
June, 16, 2010
6/16/10
11:45
AM ET
Through
our own discussions
, we long ago ruled out free agent safety
Oshiomogho Atogwe
as a possibility for the
Chicago Bears
. Now Bears general manager Jerry Angelo has all but made it official. In an
interview with the team's website
, Angelo said:
[Atogwe] is a good football player. We've evaluated him and we like him. But at this point, we're set. We drafted Major Wright and traded for Chris Harris. We also have Danieal Manning, Craig Steltz and Josh Bullocks, all of whom have started in this league. We have five pretty good safeties, four of whom have a goodly amount of experience within our scheme. We feel good about that position.
I'm not sure if Angelo intended it, but I'm thinking his answer reflects the internal, long-term depth chart the Bears have for the safety positions. Harris is going to start at one spot, and as we discussed in
Tuesday's SportsNation chat
, I'm sure the Bears hope Wright wins the other job.
June, 7, 2010
6/07/10
12:30
PM ET
It's been a week since we wondered if
the entire NFC North would be fighting
for free agent safety
Oshiomogho Atogwe
. I had a wild mental image of each team pulling a different Atogwe limb, but it didn't work out that way.
The
Green Bay Packers
, who rarely pursue veteran free agents, never seemed a serious candidate. There were some connections between Atogwe and the
Chicago Bears
, but as
Michael C. Wright of ESPNChicago.com
pointed out, there isn't much money left in the Bears' player payroll budget.
The
Minnesota Vikings
have indicated their safety depth chart could change, but apparently it won't include Atogwe. Friday, coach Brad Childress said the Vikings had no interest in him. "We've got who we need right now on this football team," Childress said.
(For now, the Vikings are giving
Jamarca Sanford
-- a seventh-round draft pick in 2009 -- a chance to unseat either
Madieu Williams
or
Tyrell Johnson
.)
That leaves the
Detroit Lions
, who have been the NFC North's most active team in free agency over the past two years. Atogwe is a native of nearby Windsor. Although he is nearly 29, Atogwe plays a position that historically has featured stars in their mid-30s.
Most important, check out the Lions' current stack of safeties in the chart to your right. It doesn't exactly rule out the need for further talent, especially when you consider that three of the six players on the list --
Marquand Manuel
,
Daniel Bullocks
and
Ko Simpson
-- are recovering from season-ending injuries.
So the question circles back to Atogwe. As
Howard Balzer pointed out in the St. Louis Globe-Democrat
, the Rams are letting him test the market. If anyone has made a significant bid for him -- the Lions or anyone else -- it hasn't been reported.
Stay tuned. Or, at least 25 percent of you should.
June, 5, 2010
6/05/10
11:00
AM ET
It's around this time of year when I ... just ... can't ... get ... this ... out of my head. (
Alice Cooper version
. Not a big GWAR guy even though we share a hometown.)
No more pencils
No more books
No more teacher's dirty looks
Out for summer
Out till fall
We might not go back at all
School's out forever
School's out for summer
School's out with fever
School's out completely
If it's not out yet, kids, it will be soon. Now go make something of yourselves.
Questions? Comments? Savagery? You know where to find me: via
ESPN.com
,
Facebook
and
Twitter
.
Onward ...
Via Facebook, Chad asks about the Chicago Bears' five-year run of signing draft choices faster than any other NFL team:
Why are the Bears so fast to sign players? Is there some disadvantage that other teams are avoiding or is it truly just a testament to the Bears front office in this matter? What are all the advantages to signing picks so early? Do they save money? Do they end up spending more but getting their rookies into more camps?
Kevin Seifert:
A good question, one with both a short and long answer. The short version: For most fans and observers, there is little impact of signing draft choices in May instead of July. It's important to note that rookies can participated in organized team activities and minicamp even without a signed contract. Essentially teams agree that in the case of catastrophic injury, they (or an insurance company) would pay out the market-level bonus and first-year salary they would have gotten if they had been under contract.
There are some inside-baseball financial advantages, however.
Players might be motivated to sign early to jump-start their cash flow. Remember, weekly checks in the NFL don't start until the regular season. The first significant payment rookies receive is their signing bonus. If you sign in May, you start getting it May. If you sign in July, that's when it starts coming. Some players get advances from their agents or sponsors, but I'm sure the agents like to get those advances back as soon as possible.
To understand the Bears' motivations for moving so quickly, I reached out to NFC North friend Andrew Brandt, the
Green Bay Packers
' longtime contract negotiator who now runs and writes for the
National Football Post
. (He was also an agent earlier in his career.) Brandt confirmed some suspicions I had -- namely, that the Bears' approach allows them to set the market for their draft position rather than be beholden to future developments.
Here's part of what Brandt said:
From a team point of view, it may want to set the market knowing that there are teams around them that have done player-friendly deals in the past. Or it may want to set precedent with its structure in terms of years, escalators, percentage increases in bonus, etc. Or it may simply be more motivated to start vacation prior to camp. ...

For most of these rookie contracts, the amount of negotiable dollars is very limited.
So one comprehensive take on the Bears' strategy could be this: After you get out of the first round, rookie contracts are pretty standard and formulaic. An agent isn't going to negotiate much above the mostly pre-assigned slot, and a team isn't going to squeeze players much below it. So the Bears just take a more aggressive stance than most, figuring that "setting the market" won't cost them much and in some cases could save them money if another team hands out an above-market contract near the position of one of their draft choices.
There is a disadvantage, however. You can decide for yourself how significant it is. NFL rosters are limited to 80 players during the offseason, but unsigned draft picks don't count against that total. So if, say, your 8-man draft class is unsigned, you can have 88 players on your roster at this point in the year. That's eight extra players to evaluate, eight extra players to develop and eight extra players to use in practice drills to cover for injured veterans. Chances are low that one of those eight will someday become a regular contributor, but some clubs hold off on signing draft choices until after organized team activities for exactly this reason. Signed draft choices do count against that 80-man limit.
---
Tom L. of New York notes a recent post on the Darren Sharper-Visanthe Shiancoe Twitter exchange and writes:
Please stop with the X-Files. I normally check in on your page every few hours at work to see if anything is going on in the beloved Black & Blue, but this is getting to be too much. These guys are entitled to utilize social media in whatever way they want (within team and league imposed boundaries) but you don't have to report every tweet. We don't care anymore, but they aren't go to stop. You can. Please do.
Via Twitter, @Rbuike was more to the point:
This is getting boring.....
KS:
Fair enough. This "news" story was uncharted territory for most of us. I'm pretty sure that
Red Smith
(Green Bay's own!) never had to determine how much significance to attach to a series of verbal volleys launched via Twitter.
In general, I believe that tweets are public record and no different than a player answering a question during a group interview. If a player said during a conventional interview anything close to what Sharper and Shiancoe tweeted, I don't think we would have this conversation. It's not often that NFL players threaten to hurt each other, offer six-figure bets or compare one another to Osama bin Laden.
In the back of my mind, I've had to consider whether this thing escalated when Sharper and/or Shiancoe realized the media was jumping on board. That's a chicken-and-egg question that I can't answer. So I decided to keep posting as long as I thought the quotes were interesting and/or entertaining. I assumed these guys would run out of gas. And so that's why I handled it like I did. And it looks like their tanks have finally reached "E."
---
Kyle of Elmhurst, Ill., writes:
Can you tell me why the Bears are going to put
Chris Harris
at free safety and keep
Danieal Manning
at strong safety? How does this make any sense? Harris is going to be a starter because the Bears traded for him. He is clearly better suited in the box and at strong safety so why are they putting him at free? Also,
Major Wright
is going to be the Bears free safety and if Harris is at free then that means Wright is not going to have a good shot at over taking him. Why can't the Bears put Harris at strong (where he is better) and have Wright try to win the job at free? What is the Bears logic in this cause I just don't see how this makes sense?
KS:
I agree with most of your points but would caution you on one big fact: It's the first week of June. Last year at this time, we were talking about the pros and cons of
Corey Graham
as a starting safety. Needless to say, that experiment never made it anywhere near the regular season.
The Bears' safety situation is routinely fluid. This minicamp arrangement could simply have been a nod toward Wright's status as a rookie and a desire to get Harris and Manning on film playing out of position for future reference. I would have to think that as soon as the Bears feel Wright is ready to get on the field, they'll open up the free safety spot for him and move Harris to strong.
Finally, I don't think there is as hard of a line between the free and strong safety positions as many people seem to believe. The free safety sometimes plays in the box, and the strong safety sometimes has deep coverage responsibilities. But to the extent there are differences, I'm guessing the Bears would eventually like Wright at free safety with Harris at strong.
---
Brandon of Kokomo, Ind., writes:
There's been a lot of talk about the possibility of O.J. Atogwe
joining the Lions and other NFCN teams
, but what about the possibility of
Atari Bigby
leaving the Pack and going to Detroit? The Lions have an open position at safety, and the Packers don't seem in any type of rush to get Bigby resigned. It seems unlikely to me, a lowly Lions fan, but what are the real chances of it actually happening?
KS
: Until recently, I would have said "slim to none." Now, I would just say "highly unlikely." You rarely see teams trading a veteran player within the division, and the Packers seem especially traditional when it comes to that idea. (See Favre, Brett.) But we did see the Lions and Vikings make a draft-day trade that netted the Lions an extra first-round pick, so stranger things have happened.
On paper, it makes some sense. The Packers clearly have
big things in mind
for rookie
Morgan Burnett
, whom they traded up in the third round to draft. Bigby hasn't signed his restricted free-agent tender, has had trouble staying healthy in recent seasons and has been skipping voluntary workouts.
The Lions have
Louis Delmas
starting at one safety position but there are no clear options for the other spot. I'm not sure that the Packers would make an exception in this case, but if they were willing to do a trade within the division, it could help both teams.
June, 4, 2010
6/04/10
7:55
AM ET
We're Black and Blue All Over:
Detroit Lions officials weren't saying much about their potential interest in free-agent safety Oshiomogho Atogwe after Thursday's organized team activity.

Amid indications that the Lions would be interested at a low(er) price, general manager Martin Mayhew said: "I'm never gonna say who we are or we're not interested in, because it doesn't help us in any way," according to
John Niyo of the Detroit News
.
Coach Jim Schwartz used more words to say about the same thing: "But I think I'd just leave it with what we've said before, which is every chance we have to improve the team, we're going to explore. And I'll probably just leave it there."
Atogwe, a native of nearby Windsor, would fill the need for a starter opposite Louis Delmas. Whether it's an attractive situation for Atogwe, 29, remains to be seen. Neither he nor his agent have commented publicly since he became a free agent Tuesday.
Continuing around the NFC North:
June, 3, 2010
6/03/10
7:30
AM ET
We're Black and Blue All Over:
We've seen more denials of interest in St. Louis Rams safety Oshiomogho Atogwe than actual clues of attention, leaving us to wonder about the likelihood of Atogwe
fulfilling our dreams
and landing in the NFC North.
The Minnesota Vikings aren't interested and won't be pursuing him, according to
Judd Zulgad of the Star Tribune
. The Detroit Lions, meanwhile, seem iffy at best. Here is analysis from
Nicholas J. Cotsonika of the Detroit Free Press
and
John Niyo of the Detroit News
. A key thought from Niyo: "But even in a year with no salary cap, many teams -- including the Lions -- already have spent most of their budget."
We'll keep monitoring it, but to this point: No dice.
Continuing around the NFC North:
June, 2, 2010
6/02/10
7:30
AM ET
It's official. St. Louis Rams safety Oshiomogho Atogwe is now a free agent. My
NFC West colleague Mike Sando
notes the Rams could still sign him to a long-term contract, but Tuesday was an important milestone nonetheless. If any NFC North team is interested, Atogwe can be signed with no compensation going the Rams' way.
ESPN's John Clayton
has suggested the Detroit Lions as a possible landing spot, while
ESPN's Adam Schefter
reports the Minnesota Vikings could be interested. The Chicago Bears have likely reached the limit of their cash expenditures, writes
Michael Wright of ESPNChicago.com
, while the Green Bay Packers rarely sign veteran free agents and drafted Morgan Burnett for depth at the position.
As always, we'll keep an eye on the situation for you.
Continuing around the NFC North:
June, 1, 2010
6/01/10
7:05
AM ET
We're Black and Blue all over:
I hope everyone had a fun, safe and respectful holiday weekend. Not much has changed since I put together
Monday's BBAO
, so at the outset I'll refer you to that post. I'll also remind you we touched on a
potentially interesting news story
coming later Tuesday: the status of St. Louis Rams safety Oshiomogho Atogwe, who could soon be a free agent or trade bait and is of interest in all four NFC North cities.
We've got a full day of blogging heading your way, but for now here are a few more stories that popped up in the past 24 hours:
May, 31, 2010
5/31/10
1:15
PM ET
No player from outside the NFC North is generating more interest from you than St. Louis Rams safety Oshiomogho Atogwe, especially after ESPN's John Clayton suggested the Detroit Lions
as a a possible suitor
when Atogwe's contract status changes Tuesday.
[+] Enlarge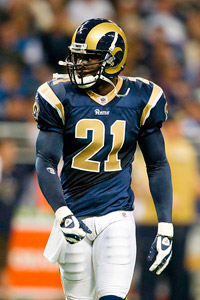 Jeff Curry/US PresswireMight St. Louis safety Oshiomogho Atogwe fit in the NFC North?
Josh of Fort Sill in Okla
. thinks Atogwe and Louis Delmas would "solidify the Lions' safety position for years to come."
David of New Haven, Ind.
, thinks the Chicago Bears won't pursue Atogwe "because it makes too much sense." But if they do, David writes: "safety is no longer a worry but a strength!"
Wooly of Busan, South Korea
, knows that the Green Bay Packers used a third-round draft pick on safety Morgan Burnett but writes: "Surely [Atogwe] is a wise move in the long term."
Chaz of St. Cloud, Minn.
, thinks the uneven performance of Minnesota Vikings starters Madieu Williams and Tyrell Johnson last season provides all the necessary incentive. Writes Chaz: "I think it is worth serious consideration, Williams always waited for the play to develop. Atogwe could be the playmaker the Vikings need to get all the way to the Super Bowl."
My NFC West colleague Mike Sando recently put together
an excellent primer on Atogwe's situation
. In short, NFL rules will require the Rams to increase their one-year offer from $1.226 million to nearly $7 million. If they don't do it by Tuesday, he will become a free agent with no compensation required to sign with another team.
(Even if they do increase the offer, the Rams could trade Atogwe to avoid paying the higher salary.)
Finances are only part of this issue, however. Atogwe suffered a season-ending shoulder injury last year and also had surgery to repair a sports hernia this spring. His physical condition is a bit of an unknown.
And as Sando fairly pointed out, Atogwe's reputation might precede him. He intercepted eight passes in 2007 and received the Rams' franchise player tag after the 2008 season, but the reality is Atogwe has never been to a Pro Bowl. His 2009 season -- two interceptions in 12 games -- was disappointing.
None of these potential obstacles have deterred NFC North fans from considering Atogwe's potential impact on their team. So take it away. If you want the Lions, Bears, Packers or Vikings to pursue him, by all means tell me why in the comments section below. We'll revisit this conversation later in the week.