February, 21, 2012
2/21/12
3:25
PM ET
Thanks to everyone for participating in
Tuesday's SportsNation chat
, which included a surprising number of people wondering what the
Chicago Bears
could get in exchange for linebacker
Lance Briggs
. Last summer, of course, Briggs requested a trade when the Bears declined to upgrade his contract.
Given our place in the NFL silly season, let's entertain the relevant conversations:
Michael (Redmond, WA)

Do you see any merit to the proposition that the Bears and Giants swap Briggs and [Osi] Umenyiora in a trade?

Kevin Seifert (2:35 PM)

Has that been rumored? Or is that your idea? Either way, it would be an exchange of two aging but still effective players who want to be paid more than their teams think they are worth. I like the idea of using Osi in a part-time role, if he's willing to be paid that way.

Bear Down (KS)

I think Briggs played pretty well last season and I don't see him backing off on his contract demands from last season. In the event that the Bears do not give him a new deal, what type of draft pick do you think the Bears could get if they traded him?

Kevin Seifert (2:44 PM)

Given his age, and the fact that he would want a new deal, I'm thinking a third-round pick would be an awfully nice result.

Erik (Tn)

You like the Osi and Briggs trade? What about [Brandon] Marshall and Briggs trade? I like this one more.

Kevin Seifert (2:49 PM)

Ohhh, maybe we'll throw that in too.
A straight-up Briggs-for-Marshall trade seems unlikely, as
jmac3444
wrote in the comment section: "Why would the Dolphins want a aging unhappy lb for a young wr who is considered one of the best at his position?"
Briggs for Umenyiora is a more nuanced deal that would give the Bears some help at position where they really only used two players in 2011,
Julius Peppers
and
Israel Idonije
. The biggest problem would be the utter lack of potential replacements the Bears have on their roster, but it's possible to draft an outside linebacker and immediately plug him into a starting lineup.
So what do you think? Is this just fantasy talk? Would you trade Briggs if the Bears aren't willing to extend his contract? And if you would, would you take Umenyiora in return? Or a third-round pick? Or Marshall, even if it meant throwing in a draft pick as well?
January, 13, 2012
1/13/12
1:30
PM ET
»
Divisional Final Word
:
Saints-49ers
|
Broncos-Patriots
|
Texans-Ravens
|
Giants-Packers
Three nuggets of knowledge about Sunday's New York Giants-Green Bay Packers divisional playoff game:
[+] Enlarge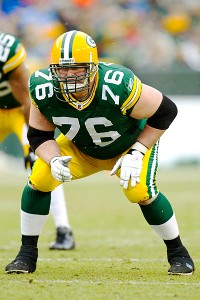 Jeff Hanisch/US PresswireChad Clifton will face one of the league's elite pass rushers in Jason Pierre-Paul.
Home-field advantage:
The playoffs will return to Lambeau Field for the first time in four seasons. The Packers are 15-3 all-time at home in the postseason. They've also won 13 consecutive regular-season games at Lambeau. Over that stretch, which began in Week 7 of last season, the Packers have outscored opponents by an average spread of 37-18 and have a +23 advantage in turnovers. The Giants have won two of their last three games at Lambeau, including the 2007 NFC Championship Game, but have won a total of three games in the state of Wisconsin since 1957. What does all of this mean? The Packers no doubt prefer playing at home over the alternative, but their opponent Sunday can draw on some relatively recent success to minimize the intimidation factor Lambeau would otherwise carry.
Key matchup:
We've spent time this week discussing the challenge facing the Packers' defense. (They are trying to become the first team in NFL history to win the Super Bowl after finishing the regular season with a defense ranked below No. 25 overall, based on total yards allowed.) We've also noted that the Packers have scored 83 points in two games against the Giants in the last 13 months. (All of our coverage is available through
this handy "Giants-Packers" link
.) But one of the most interesting subplots will be the return of Packers left tackle
Chad Clifton
to full-time duty -- just in time to face one of the NFL's top players in 2011. Giants defensive end
Jason Pierre-Paul
earned first-team All-Pro honors after compiling 16.5 sacks, including six in the Giants' final four regular-season games. Pierre-Paul is expected to start at right end, and when he takes a break or moves elsewhere, the Giants probably will use veteran pass-rusher
Osi Umenyiora
. Clifton hasn't played a full game since Week 4 because of hamstring and back injuries, and at 35 he's giving up 12 years to Pierre-Paul. But Clifton knows every veteran trick in the book, and he has traditionally fared well against elite pass-rushers, most notably
Jared Allen
. The Packers trust Clifton to figure out a way to keep the pass rush away from quarterback
Aaron Rodgers
.
Philbin factor:
After the death of Michael Philbin this week, the NFL community learned just how revered his father is by those who know him. The grief of Packers offensive coordinator Joe Philbin deeply touched the entire organization, and dealing with those emotions was an undeniable part of the team's preparation this week. Coach Mike McCarthy referred to it as a "punch in the heart" and fought back tears during a news conference Wednesday. It's too clichéd to speculate whether the tragedy will help or hurt the Packers' mindset when they take the field Sunday, or whether it affected their week in a tangible way. But if nothing else, we learned that Joe Philbin is deeply intertwined within the Packers' structure and success.
December, 2, 2011
12/02/11
1:30
PM ET
»
NFC Final Word
:
East
|
West
|
North
|
South
»
AFC
:
East
|
West
|
North
|
South
Five nuggets of knowledge on Week 13:
Closing in:
The
Green Bay Packers
have a great chance to clinch a playoff spot Sunday, regardless of what happens in their game at the
New York Giants
. (It can happen with a Packers victory, or a loss by one of the following teams: the
Chicago Bears
,
Detroit Lions
or the
Atlanta Falcons
.) The Packers can also clinch the NFC North with a victory combined with a Lions loss to the
New Orleans Saints
. Even if they lose to the Giants, losses by the Lions and Bears this weekend would hand the division to the Packers. And then the real fun begins. The Packers' next goal would be to secure home-field advantage throughout the playoffs and, possibly, a 16-0 regular season.
History:
The Giants have lost three consecutive games and aren't expected to have defensive end
Osi Umenyiora
(ankle/knee) for this game. The Packers, meanwhile, have won 17 consecutive games, including the playoffs. But optimism in New York for an upset has centered, in part, on the Giants' history in such situations. On three occasions, the Giants have snapped an opponent's winning streak of 18 or more games. They beat the
New England Patriots
in 2004, the
Denver Broncos
in 1998 and the Chicago Bears in 1934. With that said, nothing has happened lately to suggest that these Giants are in position to make it a fourth time -- other than the fact that previous incarnations of their teams have pulled it off.
Must win:
Let's be blunt: If the Bears want to participate in the 2011 postseason, they'll need to beat the
Kansas City Chiefs
at Soldier Field. The Chiefs have lost four consecutive games and are expected to start quarterback
Tyler Palko
, who has thrown six interceptions in the Chiefs' past two games. The other alternative is former Bears quarterback
Kyle Orton
, who has spent a week with the team. The Bears are 5-1 and are averaging 31.3 points per game at home this season, their only loss coming in Week 3 to the Packers. There is a general assumption that quarterback
Caleb Hanie
will settle down for his second NFL start, but the Chiefs' poor perimeter run defense could help tailback
Matt Forte
gobble up yards outside the tackles. (The Chiefs are allowing 5.7 yards per rush outside the tackles.) No matter how it happens, the Bears can't afford a loss Sunday.
Tough to win:
As we noted earlier Friday
, the Lions will have their work cut out for them Sunday night in stopping the New Orleans Saints' offense, which is particularly explosive at the Superdome. To be fair, it's worth noting that the Lions have a decent opportunity to score against the Saints' risk-taking defense. The Saints are giving up the sixth-most passing yards per game in the NFL this season (253.7) and have only six interceptions, tied for the second-lowest in the league. The fractured right index finger of Lions quarterback
Matthew Stafford
has healed, and the Lions at least have the capacity to exchange blows in a shootout.
Defending Tebow:
The
Minnesota Vikings
' beleaguered secondary will get something of a break this week against Denver Broncos quarterback
Tim Tebow
. The Vikings will be without four of the top five defensive backs they opened the season with, and on Sunday rookie
Mistral Raymond
will make his first NFL start. But the Broncos rarely throw downfield with Tebow and instead focus on their option running game. The Vikings will need to pay particular attention when Tebow is in the spread formation; the Broncos are averaging 6.5 yards per rush and have five rushing touchdowns when Tebow is in the shotgun.
December, 27, 2010
12/27/10
11:20
AM ET
After the Green Bay Packers' 45-17 victory against the New York Giants, here are three issues that merit further examination:
Kevin SeifertFollowing their win against the New York Giants, the Packers take their turn in the examination room.

In discussing the explosion of the Packers' passing game Sunday, I didn't spend enough time noting how well the Packers protected quarterback Aaron Rodgers against the team that entered the game leading the NFL in sacks. Rodgers was sacked twice and hit on three other occasions in the course of 41 dropbacks. By most accounts, left tackle Chad Clifton controlled Giants defensive end Osi Umenyiora, and the Packers smartly rotated help to right tackle Bryan Bulaga, limiting pass rusher Justin Tuck to one sack. Tuck got decent penetration on a second-and-goal play in the third quarter, but on that occasion, Rodgers calmly stepped up in the pocket and found tight end Donald Lee for a key touchdown. "My initial reaction is that our guys did a nice job," offensive coordinator Joe Philbin said. By the way, Rodgers became only the second Packers quarterback to throw for at least 400 yards and four touchdowns in the same game. The other was Don Horn, according to the Elias Sports Bureau. It was also the first time since 1953 that the Giants had allowed an opponent to do it.

I'll let Packers receiver Greg Jennings explain what is so fun and interesting about the rise of backup tailback John Kuhn in the Packers' offense: "The thing about John Kuhn is that when he [enters] the game, the fans know he's getting the ball. The defense knows he's getting the ball. And he never disappoints them." Indeed, Kuhn has been a nearly unstoppable conversion machine of late. Sunday, he touched the ball eight times. Six of them resulted in first downs and three went for touchdowns. In his past two games, according to ESPN Stats & Information, Kuhn has 11 first downs on 17 touches. He also made a smart move after an 8-yard scoring run in the second quarter, encouraging the Packers' extra-point team to hurry onto the field because he thought his knee might have hit the ground before he crossed the plane. The Packers obliged, and the Giants missed an opportunity to challenge.

Yes, you saw it right: Rodgers made an exaggerated "safe" sign after sliding at the end of a 15-yard run in the first quarter. His failure to do so two weeks ago, of course, played a role in his second concussion of the season. "I got a lot of texts the last two weeks from friends and family," Rodgers said. "Slide was the main subject there." Afterwards, Rodgers pointed at Dr. John Gray, one of the Packers' team physicians. Rodgers: "I basically was teasing Dr. Gray all week -- really the last couple of weeks -- because he's been talking about being smart outside of the pocket. So I slid and did the safe signal and pointed over at Dr. Gray that I was thinking about what he had told me."
And here is one issue I still don't get:
Even after 16 weeks of the season, I'm not sure whether I trust Jordy Nelson or James Jones as the Packers' No. 3 receiver. Both have made huge plays this season, including Nelson's 80-yard touchdown reception to open Sunday's scoring. But both have also made huge mistakes that could ultimately make the difference in a playoff victory or loss. Sunday, Nelson fumbled while trying to extend for a first down, his third lost fumble of the season. And Jones dropped what would have been a long touchdown pass. They are both dynamic playmakers in their own right, but it would be nice to see them tighten down as the playoffs approach.
October, 4, 2010
10/04/10
2:00
PM ET
After the Chicago Bears' 17-3 loss Sunday at the New York Giants, here are three issues that merit further examination:
Kevin SeifertThe Chicago Bears take their turn in the examination room after their loss to the Giants.

Offensive coordinator Mike Martz doesn't speak to reporters after games, so we can't speak with certainty about his game-planning or play-calling. But from the outside, however, it was completely perplexing and ultimately inexcusable to allow quarterback Jay Cutler to continue dropping back as the first-half sack totals piled up. Giants defensive end Osi Umenyiora told NBC after the game that he felt comfortable focusing on the passing game because the Bears appeared to have given up on the run. The Bears played the first half like they were trailing 30-0 rather than 3-0, passing on 20 of their 27 first-half plays. Either Martz stubbornly failed to make adjustments or Cutler stubbornly failed to execute them. Regardless, the Bears' 110 offensive yards was their lowest total in four years.

On occasion, it's necessary to rotate offensive linemen during a game to determine the best candidate for a starting job. But it should never be a long-term answer. But even before they were beset with another round of injuries, the Bears were rotating Roberto Garza and Edwin Williams at left guard and Kevin Shaffer with J'Marcus Webb at right tackle. Ultimately, Williams had to replace injured right guard Lance Louis. It's awfully hard to judge offensive line play from the outside, but if you think the constant rotation wasn't involved in some Giants rushers coming free, you're fooling yourself.

It's amazing to see the role defensive end Julius Peppers has had on helping the Bears defense regain its swagger. Sunday night, he caused one turnover by knocking the ball out of quarterback Eli Manning's hands and helped create a frenzy on the line of scrimmage for most of the game. No matter what combination they tried, the Giants couldn't block him. His aggressiveness has spread throughout the defense, most notably to cornerback Zack Bowman on Sunday night. Bowman returned from a Week 3 benching to post three tackles and force a stunning fumble on Ahmad Bradshaw's breakaway run in the fourth quarter. The defense wasn't perfect, but after four weeks it's clear that Peppers has the Bears defense playing at an ambitious level.
And here is one issue I still don't get:
Will this game prove an aberration, or will it fulfill a trend that some would suggest has been building all season? There are many ways to win in the NFL, and the Bears won once this season when an opposing player had a potential game-winning touchdown taken off the scoreboard with 25 seconds left to play. They won another game when their opponents lost a touchdown and two turnovers as part of an 18-penalty mess. There are no asterisks on NFL records, and the Bears are 3-1. But did you watch Sunday night's game and think it was just a bad matchup? Or were the Bears exposed?
October, 3, 2010
10/03/10
10:00
PM ET
GREEN BAY, Wis. -- I'm still stationed here in NFC North territory, so like you I'm only watching the Chicago Bears' game at the
New York Giants
on television. But I'm compelled to point out two points before turning my attention away from the computer screen:
Bears quarterback Jay Cutler has set an NFL record by taking NINE sacks in the first half. The NFL record for most team sacks in a game is 12, set most recently in 2007. Osi Umenyiora has three sacks on his own, while Justin Tuck has two. The Bears have rotated seven offensive linemen, but my own amateur assessment is that CUTLER HAS TO GET RID OF THE BALL QUICKER. Whether that's on Cutler or the play-calling of offensive coordinator Mike Martz is yet to be explained. *Update: Backup Todd Collins is starting the second half, reportedly because Cutler is getting checked out for a possible concussion.
That sack total has overshadowed a really impressive outing by the Bears defense, which has kept the team in the game and held the Giants to 98 yards, four first downs and three points.
That is all. Carry on.
October, 1, 2010
10/01/10
4:28
PM ET
Chicago Bears:
To no one's surprise, left tackle
Chris Williams
(hamstring) and safety
Major Wright
(hamstring) were ruled out of Sunday night's game against the
New York Giants
. Left guard
Roberto Garza
(knee) returned to practice and will play. Meanwhile, the Bears caught one and maybe two breaks on the Giants' report. First, defensive end
Mathias Kiwanuka
(bulging disk)
was ruled out
. Secondly, defensive end
Osi Umenyiora
reported a swollen knee and was listed as questionable.
Detroit Lions:
Running back
Jahvid Best
(toe) practiced Friday and was listed as questionable for Sunday's game at the
Green Bay Packers
, but coach Jim Schwartz said: "I think he's on the right track." Defensive end
Kyle Vanden Bosch
(neck) sat out practice but is probable for the game. That's the good news. The bad news: Receiver
Nate Burleson
(ankle) and middle linebacker
DeAndre Levy
(groin) are doubtful after sitting out the entire week of practice. It seems highly unlikely that either will play, meaning
Bryant Johnson
will start at receiver and either
Landon Johnson
or
Spencer Havner
will start at middle linebacker.
Green Bay Packers:
It appears that two prominent players will miss Sunday's game. Linebacker
Brandon Chillar
(shoulder) has been ruled out, while nickel cornerback
Sam Shields
(calf) is doubtful. It's likely that
Brandon Underwood
will play in most nickel situations Sunday.