NFC North:

Packers-Bears II 2012
December, 16, 2012
12/16/12
11:50
AM ET
CHICAGO -- With a little over an hour remaining before Packers-Bears II, let's roll through Sunday morning's roster maneuverings and a few other pregame notes. The
Chicago Bears
will be even more short-handed than originally thought.
December, 16, 2012
12/16/12
10:32
AM ET
CHICAGO -- Good morning from Soldier Field. As you can see from
this Instagram photograph
it is cloudy, windy and mournful here as we await what could be one of the more significant games in recent NFC North history.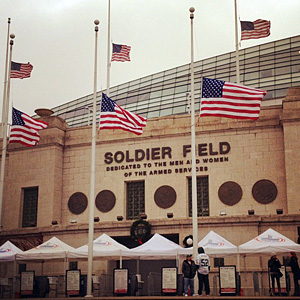 Kevin Seifert/ESPN.comFlags are at half-staff at Soldier Field.
Flags around the country are at half-staff in remembrance of
the Newtown, Conn., school tragedy.
Although it is a cloudy day in downtown Chicago, temperatures are unseasonably mild -- it was 47 degrees at 10 a.m. ET -- and there is no rain in the forecast.
As we discussed all week
, the
Green Bay Packers
can clinch the NFC North with a victory over the
Chicago Bears
. A loss by the Bears would be their fifth in six games and would raise the heat on coach Lovie Smith. Because the Bears finish the season with two consecutive road games, it would be fair to wonder whether Smith had coached his final game at Soldier Field.
Here's what ESPN's Adam Schefter reported on the topic Sunday morning:
When the Bears introduced Lovie Smith in 2004 as their next head coach, he said his first goal was to beat the Green Bay Packers. Recently, Smith's teams have struggled to do that. Heading into today's game against Green Bay, the Bears have lost four straight games to the Packers and are trying to avoid a fifth straight loss that would jeopardize their chances of advancing to the postseason.

Smith's overall record against the Packers is 8-9. Some in the Bears organization are uneasy over Smith's job security and recognize that another Chicago loss to the Packers could ultimately wind up costing Smith his job, according to one source. It's difficult to say any one game determines whether someone keeps or loses his job. But the significance of today's game against the Packers is not lost on many in and out of the Bears organization.
If the Bears lose Sunday, they would need help getting into the playoffs even if they win out and finish 10-6. There is much yet to be determined, but there is no doubt Sunday's game could prove a turning point in Smith's career in Chicago.
December, 14, 2012
12/14/12
10:00
AM ET
During a spot this week with our friends at the "D-List" on ESPN 540, I was asked to boil down what has happened to the
Chicago Bears
after their 7-1 start. I wish I could have simply held up the chart in this post, but apparently, you must articulate your points verbally in the radio medium. (You can listen to a
podcast of our discussion here.)

In losing four of their past five games, the Bears' defense has fallen off dramatically from the pace it set in takeaways and sacks. As you can see in the chart, the Bears rank No. 21 in the NFL in a metric that combined those statistics since Week 9.
I would add two other pieces of context to that capsule. The Bears had seven defensive touchdowns through Week 9, putting them on pace to obliterate the NFL record of nine for an entire season. But they haven't added to that total since, and there is little doubt the Bears' offense was more productive when playing from ahead thanks to the leads their defense handed them.
In fact, of the seven touchdowns receiver
Brandon Marshall
scored through Week 9,
five came with the Bears holding at least a 17-point lead
. It's much more difficult to throw the ball and make big plays in a close game or when trailing, as we've seen in the game ssince then.
Obviously there are other issues floating as well. But to me that's the most efficient way to explain why a team that started 7-1 is now fighting for its playoff life in Week 15.
December, 13, 2012
12/13/12
2:22
PM ET
When the
Chicago Bears
and
Green Bay Packers
met in the 2010 NFC Championship Game, we noted
how professional and cordial their rivalry was.
Their fans might hate each other, but the teams themselves rarely crossed into trash-talk and never engaged in dirty play.
So much for that -- at least the former. We'll find out Sunday at Soldier Field if the latter will emerge as well.
Bears linebacker
Lance Briggs
was the latest to break the mold, calling Packers tight end
Jermichael Finley
an
"idiot"
for suggesting the Bears might be better off with linebacker
Brian Urlacher
sidelined. Speaking to reporters Thursday, Briggs advised Finley to "just suit up and play ball."
Frankly, I'm so immune to Finley's often-inane comments that I was hardly moved by this one. I don't disagree with part of his premise -- Urlacher has indeed been slowed this season -- but as always, other parts can be read as provocative. Briggs took the bait, or at least capitalized on the opportunity, and off he went.
Whether it's for show or a display of genuine emotion, we've seen an unmistakable sharpening of the edges this season in the Packers-Bears rivalry. It can probably be traced back to Week 2 and
some sharp comments
from Packers defensive back
Charles Woodson
, who said he saw "the same old Jay" in reference to quarterback
Jay Cutler
's four interceptions. Woodson also seemed perturbed that "all of a sudden [the Bears] were the team to beat because they got a couple new guys."
As we noted yesterday
, Bears receiver
Brandon Marshall
further stoked the fire by saying he took exception to the Packers' analysis of why he caught only two passes in that Week 2 game. Finley jumped in with his usual nonsense, and that brought us to Briggs.
So what exactly is going on here? Part of it, I'm certain, is an edgy Bears team that knows
the implications of another December collapse
. In addition, the Bears have lost seven of their last eight games to the Packers while playing nice with them. What do they have to lose by mixing it up a little more?
In the end, absolutely none of this will have an effect on who wins Sunday. But it sure helps fans and media members pass the time before kickoff.
December, 13, 2012
12/13/12
1:16
PM ET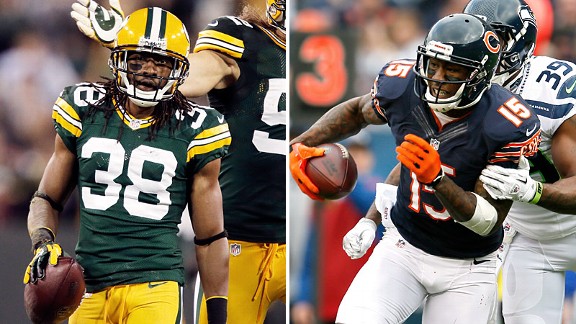 AP PhotosPackers CB Tramon Williams will be tasked with covering Bears WR Brandon Marshall on Sunday.
Thanks to everyone for participating in our "PackBearsChat" over on Twitter earlier Thursday afternoon. We used three of your topics to roll through a discussion on Sunday's big matchup between the
Green Bay Packers
and
Chicago Bears
at Soldier Field.

We discussed which team would do a better job protecting its quarterback, sought analysis on the matchup between Bears receiver
Brandon Marshall
vs. the Packers' defense and wondered if the Bears would make adjustments to stop the Packers' suddenly-effective running game.
If you missed the chat, you can scroll through it in archive form below. Also, feel free to participate in the SportsNation poll if you think one of these topics will be the deciding factor in the game.
This was an experiment of sorts as we try to integrate our growing Twitter following (
@espn_nfcnblog
) into the blog. I think it went OK. We'll learn, polish and do it better next time. Thanks to ESPN.com editors Emily Schaible and Alisha Puckett for their help in conceiving the idea, structuring the discussion and pulling it together in this post.
December, 13, 2012
12/13/12
11:00
AM ET
Way back in 2009,
we christened the
"JayRod" rivalry
to help us track what we figured would be a long and competitive rivalry between two young and ascending quarterbacks in the NFC North.
Since that point,
Jay Cutler
has led the
Chicago Bears
to a 32-21 regular-season record, in addition to an appearance in the 2010 NFC Championship Game.
Aaron Rodgers
, meanwhile, has pushed the
Green Bay Packers
to a 44-15 mark, along with a Super Bowl championship in 2010. He won the league MVP award in 2011.
In head-to-head matchups, however, the rivalry hasn't been much of a contest. More in this week's Blogger Blitz.
December, 12, 2012
12/12/12
3:25
PM ET
Well, that escalated quickly. I snuck away from the blog for an hour Wednesday afternoon to record the weekly Inside Slant podcast, and two related news items were waiting upon my return.
Marshall
First,
Green Bay Packers
defensive back
Charles Woodson
has been
ruled out
of Sunday's game against the
Chicago Bears
. Woodson had returned to practice last week as he continued to recover from a broken collarbone, but coach Mike McCarthy told reporters that Packers doctors aren't ready to clear him for this game.
That turn of events will prevent Woodson from answering to
a series of blunt public statements
from Bears receiver
Brandon Marshall
, who told reporters that "I really dislike the Green Bay Packers and their players" because of what he deemed was their inappropriate analysis of his performance in the teams' Week 2 matchup at Lambeau Field.
Marshall managed two receptions for 24 yards in that game, a 23-10 Packers victory, but took exception to the suggestion that Packers cornerback
Tramon Williams
shut him down on his own.
"For their players to be over there talking about how awesome of a job they [do] shutting down certain players, I don't respect that," Marshall said. "With two and three guys on you, on other guys, so [defensive coordinator Dom] Capers did an amazing job of game-planning us and game-planning me. I didn't beat double and triple coverage or whatever they were throwing at us.
"I take it as a slap in my face when guys talk about my lack of ability to do something against them when they have help all over the place, so I'm looking forward to one-on-one coverage. Hopefully those guys in a game like this will go to their coach and say, 'Let me have him. I want Brandon Marshall. I want to stop Brandon Marshall. Let me have him one-on-one press coverage,' and let's see what happens."
I was in the Packers' locker room after that game. There was no doubt the Packers found a level of satisfaction that they had defeated a team that had been hyped as Super Bowl contenders. Woodson, in fact, said he thought it was "
funny that all of a sudden they were the team to beat because they got a couple new guys."
Obviously Marshall was the major new player the Bears acquired this season. The Packers did dominate him, and I wouldn't think there is much to be ashamed in doing it with two or even three men at a time. If anyone was crowing about beating him in single coverage, I didn't hear it.
We can only be left to assume that Marshall felt compelled to spice things up this week to shake the Bears out of a funk borne from a 1-4 slide. Perhaps he was trying to goad the Packers into doing something that would make little schematic sense: Leaving Marshall in single coverage with an offense that really hasn't had another playmaker this season in the passing game.
I'm sure he will be as motivated as ever Sunday, but the Packers had the most effective plan this season for shutting him down. I'm guessing they won't be drawn into Marshall's fun little game this week.
December, 12, 2012
12/12/12
10:00
AM ET
Green Bay Packers
offensive lineman
T.J. Lang
(ankle) was healthy enough to be in uniform for last Sunday night's game against the
Detroit Lions
. That progress has led to reasonable speculation that he will be ready to play this Sunday against the
Chicago Bears
.
The question is what position Lang will play. Coach Mike McCarthy left open the possibility for leaving rookie
Don Barclay
at right tackle, allowing Lang to return to his natural left guard spot. Barclay might be a less polished pass protector than Lang, but there is no denying his role in a recent upswing in the Packers' running game.
John McTigue of ESPN's Stats & Information supplied the two charts in this post. As you can see, the Packers rushed more frequently and with much better success to the right side of their formation against the Lions and
Minnesota Vikings
than they did in their previous 11 games before. (Barclay replaced an injured Lang in the second quarter of the Week 13 game against the Vikings.)
Judging offensive line play is difficult from the outside, but the Packers' public satisfaction with Barclay's performance seems to jibe with the numbers. Whatever combination they have stumbled on during this period has worked.
It's worth noting that the Bears' defense has allowed at least 100 team rushing yards in each of their past seven games. Their opponents' average of 141 rushing yards per game ranks the Bears No. 28 in run defense over that stretch. Prior to Week 8, they had limited opponents to an average of 71 rushing yards per game.
December, 11, 2012
12/11/12
2:30
PM ET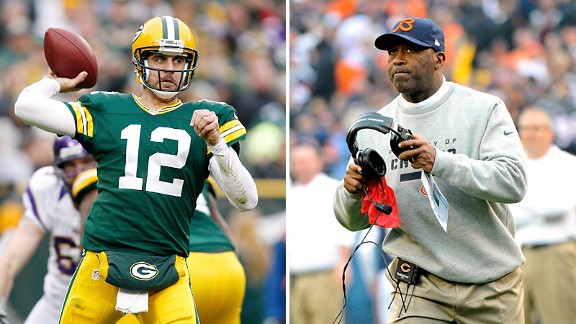 Getty Images, USA TODAY SportsThe future for Lovie Smith as Bears coach may be in question with another loss to Aaron Rodgers.
You know how we are around here. We don't like to live in the moment. We want to look ahead, to anticipate what's next, to project and speculate and prognosticate. When at all possible, we look for deep meaning and revealing symbolism in everyday events.
Week 15 provides us an opportunity to do just that. So I'll introduce this sentiment for your consideration: Sunday's game at Soldier Field could put the competitive rivalry between the
Chicago Bears
and
Green Bay Packers
on hiatus for several years.
A Packers victory would be their sixth consecutive win over the Bears, including the 2010 postseason. More importantly, it would clinch the Packers' second consecutive NFC North title. And while the Packers appear poised for continued success, the Bears could soon be jolted into a significant overhaul this winter.
A division championship would validate the Packers' re-tooling effort, one that has centered around getting younger on defense. A loss for the Bears could leave them needing help to get into the playoffs even if they win out and finish at 10-6. (
ESPN.com's Playoff Machine
will show you how they could lose a tiebreaker to the
Washington Redskins
at 10-6.)
Thus the Bears would be at risk of becoming the second team in the 23-season history of this playoff format to miss the postseason after a 7-1 start, a collapse that would pile a number of difficult decisions on the desk of general manager Phil Emery. Topping his list would be the status of coach Lovie Smith, but this season has also exposed the Bears' aging defense as well as their continued inability to find continuity on their offensive line.
Emery's course for the franchise will hinge in part on whether he re-signs quarterback
Jay Cutler
, whose contract will expire after the 2013 season. Cutler mused about various possibilities
during his ESPN 1000 radio show
Monday and acknowledged the franchise's path isn't clear.
"I don't know how they feel about me and where they see the franchise going," Cutler said. "You get a new GM in and we'll see how it goes. He's got a lot of tough decisions coming forward. ..."
[+] Enlarge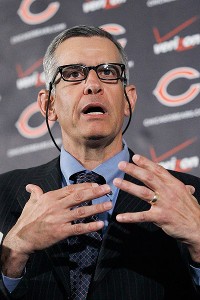 AP Photo/Charles Rex ArbogastWith another late-season fade in progress, Bears GM Phil Emery could find himself in rebuilding mode soon.
It's hard to imagine the Bears parting ways with Cutler under any circumstances. But
Brian Urlacher
's physical fade in the past year illustrates why Emery might want to plan more aggressively for the eventual departure of linebacker
Lance Briggs
, cornerback
Charles Tillman
and defensive end
Julius Peppers
. He will also need to re-evaluate the franchise's in-house strategy for building an offensive line. For three consecutive seasons, the Bears have fielded a patchwork group that has left Cutler battered. In 2011 and 2012 alone, 10 different linemen have made at least one start.
From a big-picture perspective, the biggest gap between the Bears and Packers is that Cutler has been forced into the role of the Bears' sole difference-maker while the Packers have reduced their reliance on quarterback
Aaron Rodgers
. One piece of surprising evidence: Rodgers has thrown only two touchdown passes in his past three games, the fewest over any three-game stretch of his career, according to ESPN Stats & Information.
Instead, the Packers are building a running game based on patience, if nothing else. They have averaged 135.8 rushing yards over their past five games, giving carries to five different running backs over that period in what has amounted to a mini tryout. And of the six defensive players the Packers selected at the top of the 2012 draft, four are part of the regular rotation and a fifth -- linebacker
Nick Perry
-- would be were it not for a season-ending wrist injury.
The Bears have a much shorter list of young building blocks at this point. Of the 56 players on their active roster or injured reserve, you could count maybe six as established and credible starters who will be under the age of 28 next season. That list includes defensive tackle
Henry Melton
, guard
Lance Louis
, receiver
Earl Bennett
, safeties
Major Wright
and
Chris Conte
and receiver
Alshon Jeffery
.
These issues will exist whether or not the Bears win Sunday, and they won't dissipate even if they go on to win the Super Bowl. But a loss would be the Bears' fifth in six games, a year after they dropped five of their final six to scuttle a 7-3 start. That might be enough to spur the kind of sea change we haven't seen in Chicago in a decade, one that cedes divisional competitiveness for a stretch.
Just a thought. We'll be here all week.
December, 11, 2012
12/11/12
1:56
PM ET
A bit later Tuesday, we'll take a look at the big-picture implications of Sunday's matchup at Soldier Field. In the meantime, however, let's note that the
Chicago Bears
won't have three of their top special-teams players
when they host the
Green Bay Packers
.
Gould
Place-kicker
Robbie Gould
(calf), safety
Craig Steltz
(chest) and safety
Sherrick McManis
(knee) were all placed on injured reserve Tuesday. Among other roster moves, the Bears signed 39-year-old veteran
Olindo Mare
to kick in Sunday's game and presumably for the rest of the season.
Gould has been the Bears' place-kicker for 122 consecutive games, dating back to Week 5 of the 2005 season. But he strained his left calf during pregame warmups last Sunday at the Metrodome and apparently won't recover in time to kick freely again for at least three weeks. Sunday, he managed two extra points but ceded kickoffs to punter
Adam Podlesh
and didn't attempt a field goal.
Mare hasn't played in the NFL this season but was the
Carolina Panthers
' regular place-kicker in 2011. He could have some winter weather to adjust to Sunday at Soldier Field, but the Bears' final two regular-season games -- at the
Arizona Cardinals
and at the
Detroit Lions
-- shouldn't be impacted by the elements.
Meanwhile, McManis ranked third on the Bears with 10 special-teams tackles entering last Sunday's game. Steltz had five and was also getting turns in the Bears' rotation at safety. As the world turns. ...

NFC NORTH SCOREBOARD
Friday, 8/22
Saturday, 8/23