NFC North:

Packers-Bears MNF 2010
September, 28, 2010
9/28/10
2:21
AM ET
CHICAGO -- The
Chicago Bears
took quite an interesting path to becoming the NFC's only unbeaten team Monday night. They deactivated one of their core defensive players as well as one of their quarterback's favorite receivers before kickoff and benched their No. 1 cornerback midway through a
20-17 victory
over the
Green Bay Packers
.

Harris

Aromashodu
Defensive tackle
Tommie Harris
and receiver
Devin Aromashodu
were healthy scratches, coach Lovie Smith confirmed afterwards. Cornerback
Zack Bowman
, meanwhile, gave way to reserve
Tim Jennings
after the Packers jumped out to a 10-0 lead.
Smith said the Harris and Aromashodu decisions were "performance-based" but added they were "one-game decisions." As for Bowman, he said: "We just felt like we needed to get a different look in there. Wasn't pleased with the way we started the football game out in that position. Tim Jennings has been practicing hard. We had a lot of confidence in him and just felt like it was time to give him a shot. He played outstanding ball."
The moves were unconventional but all seemed to work Monday night. Harris' production has been in decline for years, and you wonder if this will be a wake-up call or the beginning of his end in Chicago. Frankly, I don't really get the Aromashodu decision; he had five catches for 71 yards three weeks ago against the
Detroit Lions
.
Bowman, meanwhile, is going to be a major part of any successful season the Bears ultimately have. But if they didn't know before, Bears player do now: With the team in win-or-else mode, everyone is on a short leash.
September, 28, 2010
9/28/10
2:15
AM ET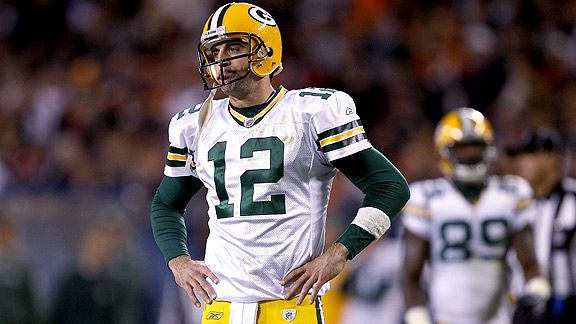 Jonathan Daniel/Getty ImagesPenalties plagued Aaron Rodgers and the Packers on Monday against the Bears.
CHICAGO -- The
Green Bay Packers
' fall from grace can be boiled down to a pair of plays midway through the third quarter Monday night at Soldier Field.
On a third down from the
Chicago Bears
' 15-yard line, quarterback
Aaron Rodgers
rifled a pass past two defenders and into the arms of tight end
Jermichael Finley
in the end zone. Touchdown? Nope. A whistle. Right tackle
Mark Tauscher
was holding.
Two players later, on fourth down, Bears defensive lineman
Julius Peppers
burst through a hole in the Packers' protection to block
Mason Crosby
's 37-yard field goal attempt.
"That was a big change there," Rodgers said after the Bears'
20-17 victory
. "When you lose by three points, you have to look at plays like that."
You'll hear plenty this week about the Bears' 3-0 start, the best record in the NFC. Our friends over at
ESPNChicago.com
have it covered wall-to-wall. I'll be the first to admit that I never saw the Bears as the NFC North's final unbeaten team, let alone the entire conference. No matter how it happened, the Bears deserve all praise that comes their way this week.
But before we crown the Bears, let's take a moment to bury the Packers. (At least for the moment.) Quite frankly, this was an epic collapse for a team that has its sights set on the Super Bowl. The Packers set a team record with 18 penalties, wiping out Finley's touchdown as well as two fourth-quarter turnovers. Their special teams gave up two long kick returns, including
Devin Hester
's 62-yarder for a touchdown.
Receiver
James Jones
' fumble with 2 minutes, 18 seconds remaining both scuttled the Packers' potential game-winning drive and set up the Bears' winning field goal.
And according to
FOX-6 in Milwaukee
, safety
Nick Collins
got in a heated debate with a Bears fan on the way off the field, provoked by what he told the station was the use of the "N"-word.
"We lost our composure," receiver
Greg Jennings
said, speaking generally about the game. "Anytime you have that many penalties and mistakes, you've lost your composure."
That wasn't supposed to be the storyline for this Packers team, which is no longer the NFL's youngest and in fact has established veterans at most positions. The Packers were the league's most-penalized team last season, but all indications were that they had taken the next step and were ready to compete on the league's biggest stage.
Instead, they were an undisciplined mess. Linebacker
Nick Barnett
used a crude reference to describe their performance, comparing it to a bodily function that runs down a nerve-wracked person's legs.
"That's what it boiled down to," Barnett said.
So how could that happen in a game that seemed destined to deify the Packers as the NFC's top team? If I didn't know any better, I'd think the pressure got to them. Some teams and players embrace the so-called "front-runner" status. Monday night, at least, it appeared the Packers were consumed by it. They simply couldn't handle themselves on this stage, at least not yet.
Mistakes happen in every NFL game, but their frequency Monday night suggested a team playing outside of its comfort zone. Overall, 12 different Packers players committed at least one penalty. It was across the board, ranging from rookies to the most seasoned veterans on the team.
Rodgers typically has a good sense of the Packers' locker room, and so I asked him after the game if he sensed any correlation. I thought he chose his words carefully.
"I hope not," Rodgers said. "We're still a young team. But when you get into the grind of the week-to-week schedule, I'm hopeful that, like myself, the focus is solely on the opponent at hand, not on the expectations or experts' picks or how they say we're going to do that week. I can only speak for myself. That's training camp talk. For the most part, we're focused on our opponent and preparation."
It's true that rookies committed both penalties that overturned both turnovers. Linebacker
Frank Zombo
's brutal hit to Bears quarterback
Jay Cutler
's chin nullified Barnett's interception, while a pass interference call against safety
Morgan Burnett
put the Bears in position for
Robbie Gould
's game-winning 19-yard field goal.
But even Rodgers, who played a whale of a game while fighting through second-half cramps, contributed to the mess. His intentional-grounding penalty pushed the Packers back 10 yards on the play prior to Jones' fumble.
"You can't win a game like that," Barnett said. "We just can't have that. We have to clean up all sides of the ball and play better football."
"Seeing all those penalties," cornerback
Charles Woodson
said, "that's just a tough pill to swallow. It's a tough situation. We'll have to get that fixed."
Even so, the Packers won't get a chance to take back Monday night's game. One-sixth of their NFC North schedule has already fallen victim.
Barnett acknowledged that the Bears "were the better team today" but not "a better team than us period." He added: "Honestly, I feel we have a better team. I feel we have better players. But they played better today. That's my personal opinion, and I feel we can play a lot better than we played today."
The way the Packers played Monday night "doesn't cut it," coach Mike McCarthy said.
For one night, at least, the Packers didn't match their hype. Instead, they seemed swallowed by it.
September, 28, 2010
9/28/10
2:08
AM ET
CHICAGO -- Not since the final week of the 2007 season had
Devin Hester
done what, in essence, made him DEVIN HESTER. But amid rumors that the Bears were contemplating his removal from special teams altogether, Hester once again electrified Soldier Field.
[+] Enlarge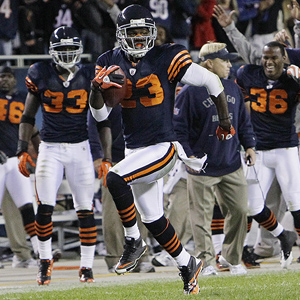 AP Photo/Charles Rex ArbogastDevin Hester gave the Bears the lead in the fourth quarter with this 62-yard punt return for a score.
His 62-yard punt return gave the
Chicago Bears
their first lead of a game they eventually won
20-17
over the
Green Bay Packers
. Earlier, he had popped a 28-yard punt and clearly was running with an aggressive purpose.
"I knew what I could do," Hester said. "I just really had to tune that stuff out. I know deep down inside what type of player I am. That's the reason why we do the things we do, you know. … At the same time, it was a really humbling experience. I'm not going brag about it now. I'm just going to continue to work hard, and eventually I'll pop another one and start rolling."
Hester has appeared uncertain and has too often taken off for the sidelines over the past two seasons, running horizontally rather than vertically down the field.
"I was just pressing on it to make sure I really hit it hard this time," he said, "and don't second guess myself, and that's just what I did."
It was the eighth punt return for a touchdown in Hester's career. Overall, he has 12 kick returns for a touchdown in his career, tied for second-most in NFL history. The record is 13, set by Brian Mitchell.
September, 27, 2010
9/27/10
11:46
PM ET
CHICAGO -- Let's hit the high points of a wild
20-17
Bears victory at Soldier Field:


What it means:
Would you believe it? The Bears are the lone 3-0 team in the NFC and have taken early control of the NFC North. (They also have a 2-0 divisional record). A winless preseason has given way to an improbable but impressive undefeated start. The Packers, meanwhile, dropped to 2-1 and will be left wondering how they could make so many mistakes in such an important early game.
Hero:
Bears linebacker
Brian Urlacher
forced Packers receiver
James Jones
to fumble with 2 minutes, 18 seconds remaining in the game, giving the Bears the ball on the Packers' 46-yard line to set up the game-winning drive.
Number to note:
The Packers committed an inexcusable 18 penalties, a team record, and a few of them had huge impact on the game. Two of them wiped out interceptions, and none was bigger than rookie safety
Morgan Burnett
's pass interference on a pass intended for
Earl Bennett
with 1:51 remaining. Safety
Nick Collins
intercepted the ball, but the penalty moved the ball from the Packers' 33-yard line to their 9 and set up an easy 19-yard game-winning field goal for
Robbie Gould
. Meanwhile, rookie linebacker
Frank Zombo
's brutal helmet-to-helmet hit against Bears quarterback
Jay Cutler
in the fourth quarter drew a roughing the passer penalty that wiped out a
Nick Barnett
interception and extended a drive that ended in a Robbie Gould's game-tying 25-yard field goal.
Missing in action:
The Packers had little semblance of a running game, finishing with 63 yards on 15 attempts.
Tomorrow's talker:
No matter what happened the rest of the evening, the Bears had to be thrilled with Hester's re-emergence as a punt returner. His 62-yard dash in the third quarter was the 12th touchdown return of Hester's career, but his first since the 2007 season. The drought coincided with his conversion to full-time receiver duties, and there had been some rumblings in recent weeks that the Bears would take him off their special teams altogether. But after ripping off punt returns of 62 and 28 yards Monday night, I'm guessing Hester put that possibility to rest.
Mystery Science Theater:
Defensive tackle
Tommie Harris
was largely invisible in the first two games of the season, totaling one tackle. But it was still surprising to see the Bears deactivate him for this game. It was a coaches' decision and unrelated to any disciplinary measure, according to ESPNChicago.com's Jeff Dickerson. Harris wasn't on the injury report last week, so there really is nothing else to conclude other than the fact that he has played his way out of the lineup. What a dramatic fall for a guy who was one of the NFL's most unblockable players a few years ago.