NFC North:

Packers-Cardinals 011010
January, 10, 2010
1/10/10
11:36
PM ET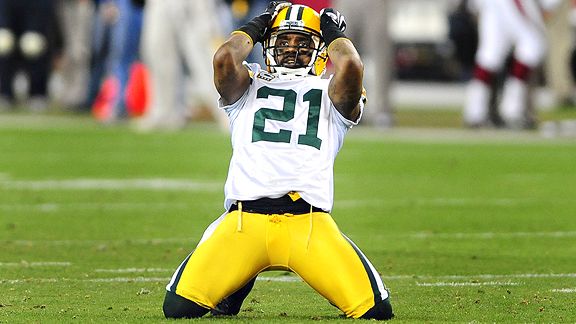 Mark J. Rebilas/US PresswireCharles Woodson was beaten twice for scores by Arizona's Larry Fitzgerald in Green Bay's loss.
GLENDALE, Ariz. --
Aaron Rodgers
took a breath Sunday and tried to explain how the
Green Bay Packers
had scored 45 points, run up nearly 500 total yards and still seen their season come to an abrupt end.
"I started very slowly and didn't make a lot of good plays early on to get us into position to win," Rodgers finally said. "We were able to get on a roll there in the second half. Unfortunately, we couldn't make enough plays to win."
He might as well have been talking about the Packers' entire 2009 season. They spent the second half of it digging out from the hole they created in the first half. Indeed, said coach Mike McCarthy, "our greatest strength … is really to overcome adversity."
But that's just it, isn't it? The Packers proved better at getting themselves back to even than they did getting past it. Their 7-1 record after the season's midpoint pushed them into a wild-card playoff spot, and a comeback in that first-round game from a 21-point deficit extended the
Arizona Cardinals
into overtime.
But ultimately, the Packers weren't good enough to make that final hurdle. Sunday, Rodgers fumbled on the third play of overtime -- his second turnover of the game. Arizona linebacker
Karlos Dansby
grabbed the ball and dashed 17 yards for the game-winning score in a wild
51-45 Cardinals' victory
.
The Packers lost two games in the 10 weeks after Nov. 8. On both occasions -- Sunday and Dec. 20 at the
Pittsburgh Steelers
-- they tied the game with blazing comebacks before losing on the final play.
Ultimately, this was a team of almosts and what-ifs. Rodgers almost hit receiver
Greg Jennings
on the first play of overtime for what would have been an 80-yard touchdown. ("I just missed it," Rodgers said.) What if officials had called a
face mask penalty
on the game's final play?
"This is a tough pill to swallow," right tackle
Mark Tauscher
said. "It sucks. We have a very good team here and we just were not able to get where we wanted to go. We put ourselves in position to get there, but we just didn't finish it."
[+] Enlarge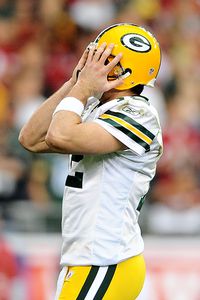 Mark J. Rebilas/US PresswireAaron Rodgers' two turnovers resulted in Arizona touchdowns.
Look, this is not meant to douse the optimism Green Bay generated in 2009. The Packers were one of the six best teams in the NFC this season, and that means something. It also says something that they could score five touchdowns over the final 26 minutes of regulation to force overtime. Remember, the Cardinals led 31-10 midway through the third quarter.
Rodgers set a Packers postseason single-game record by throwing for 422 yards, and tight end
Jermichael Finley
did the same with 159 receiving yards. Coach Mike McCarthy admirably called for a third-quarter onside kick that jump-started the comeback. The Packers defense, steamrolled for much of the game, awakened for a key stop early in the fourth quarter.
"If you had come in this morning and told me our offense would score 45 points," said defensive end
Cullen Jenkins
, "I'd be like, 'Yeah, we're going to win.'"
It's hard to come down too hard on a team that fought to this extent. I was among many who
left them for dead
in the second half of this game. But I was also in the Packers' locker room about 15 minutes after Dansby's touchdown, and I can tell you it was full of stunned and spent players. Anger, exasperation and arrogance are staples of professional locker rooms, but Sunday it was clear the Packers had given everything they had.
So there are two lessons to take from the Packers' 2009 season. The first was an illustration of the dangers of early deficits. If nothing else, the Packers worked for most of the past three months with no margin for error. They put themselves in too many situations that required near-perfect play to overcome.
Green Bay plowed into the playoffs by nearly eliminating turnovers, committing 16 over the course of 16 regular season games. Sunday, they overcame two early turnovers but lost as a direct result of a third.
The second lesson: For all the good things their defense did this season, finishing No. 2 overall in the NFL rankings, it did nothing to so much as slow down the elite quarterbacks it faced this season.
Minnesota's
Brett Favre
threw for 518 yards and seven touchdowns in two games. Pittsburgh's
Ben Roethlisberger
totaled 503 yards and three touchdowns last month. Sunday,
Kurt Warner
had a near-perfect passer rating (154.1) while completing 29 of 33 passes for 379 yards and five scores.
Arizona, in fact, took several pages from the Steelers' playbook. According to cornerback
Charles Woodson
, the Cardinals got the Packers in a predominance of nickel and dime situations, spreading them across the field and then focusing their routes in the middle.
"It was the same type of deal. Really similar type of offense," he said. "They were able to move the ball up and down the field the same way."
Woodson spent most of his day matched up on the outside against receiver
Larry Fitzgerald
, who caught two touchdowns when Woodson fell down. But the arrangement also left open the middle of the field. According to ESPN's Stats & Information, Warner completed 21 of 22 passes in between the numbers for all five of his scores.
"That was basically our game plan," Woodson said. "We've done a good job of protecting the middle this season. … Their guys made some plays, but that's on us as a defense for not being able to get a guy down."
There's no shame in losing the aerial battle to Warner, Roethlisberger or Favre. But to get rolled over to that extent suggests the Packers have some fundamental tightening to do in that part of their scheme this offseason.
The Packers were a good team in 2009, but they got in their own way on the path to greatness. They battled through adversity, but like a basketball team that goes on a 20-2 run to tie a game, they were too spent at the end to keep it going.
January, 10, 2010
1/10/10
10:55
PM ET
GLENDALE, Ariz. -- We'll have a lot more on the historic nature of
Arizona's 51-45 wild-card playoff victory
Sunday, but here is a quick glance at the new milestones the teams reached:
Most combined points in a playoff game:
96
Most combined touchdowns in a playoff game:
13
Most combined first downs in a playoff game:
62
The teams combined for 1,024 offensive yards, including 788 through the air, and 57 completions. All three marks are the second-highest totals in NFL postseason history in their respective categories.
January, 10, 2010
1/10/10
9:09
PM ET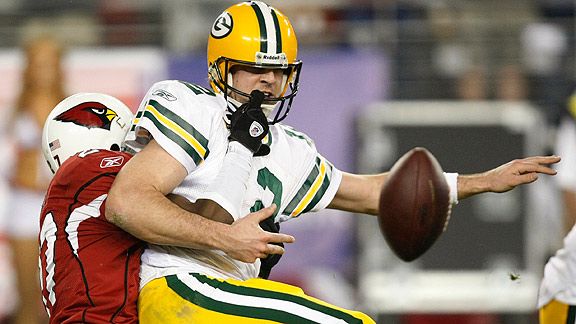 AP Photo/Matt YorkArizona's Michael Adams hits Green Bay's Aaron Rodgers on the final play of Sunday's game.
Green Bay's 51-45 loss at Arizona included any number of subplots.
Here's one of them: On the final play of the game, Cardinals cornerback
Michael Adams
seems to have a hold of Packers quarterback
Aaron Rodgers
' facemask. Rodgers fumbled the ball, and it was returned 17 yards by
Karlos Dansby
for a touchdown.
Discuss.
January, 10, 2010
1/10/10
8:07
PM ET
GLENDALE, Ariz. -- Green Bay's season is over, but not before one of the most entertaining wild-card playoff games in recent memory.


Trailing 31-10 early in the third quarter, the Packers roared back to force an old-time shootout at University of Phoenix Stadium. Over the final 26 minutes of regulation, the Packers scored 35 points, ran up 364 offensive yards and had the game tied at 45 with less than two minutes remaining.
But ultimately, the Packers lost for the same reason they fell behind in the first place: a turnover. Arizona linebacker
Karlos Dansby
returned an
Aaron Rodgers
fumble 17 yards for the wining score in overtime.
The Packers committed the fewest turnovers in the NFL this season (16), but they had two in the first five minutes of this game to fall behind 14-0. Needless to say, those turnovers made the difference in this game.
Rodgers threw for a Packers playoff record 422 yards but was sacked five times in addition to a pair of turnovers.
Much more in a few hours.
January, 10, 2010
1/10/10
7:53
PM ET
GLENDALE, Ariz. -- That's who wins this wild shootout in overtime, right? Stay tuned.
January, 10, 2010
1/10/10
7:16
PM ET
GLENDALE, Ariz. -- Green Bay's defense just got its first stop of the day -- with 11 minutes, 53 seconds remaining in the fourth quarter of this game.

It came not a moment too soon. The Packers finally have the ball in a one-possession game. Their offense has been red-hot in the second half, and I'm going to bunker down and watch (more) closely the remainder of this game.

Back with you shortly after the game.
January, 10, 2010
1/10/10
6:51
PM ET
GLENDALE, Ariz. -- Please disregard the
previous post
. The Packers have scored 14 points in less than three minutes, thanks in part to a well-timed onside kick, and we have a 31-24 ball game with 4:07 left in the third quarter.
My fundamental question remains: Can the Packers' defense gets some stops against the Cardinals' offense? If not, this comeback -- yes, we now have evidence -- won't matter.
January, 10, 2010
1/10/10
6:33
PM ET
GLENDALE, Ariz. -- If you believe that the first five minutes of the third quarter is a critical portion of a game, you can conclude this wild-card game is over.
Sure, there is enough time for the Packers to catch up despite a 31-10 deficit. But after having the halftime portion to adjust, Green Bay's defense looked no different on the Arizona's first possession of the third quarter. The Cardinals moved 80 yards on six plays, culminating in Larry Fitzgerald's 33-yard touchdown reception after colliding with cornerback
Charles Woodson
.
Cardinals quarterback
Kurt Warner
is approaching record-setting territory with a 153 passer rating at this point. Stranger things have happened, but I think we can all agree it's not looking good for the Packers. We'll keep you updated.
January, 10, 2010
1/10/10
6:16
PM ET
GLENDALE, Ariz. -- A few halftime thoughts with Green Bay trailing by two touchdowns at University of Phoenix Stadium:


It's rare that you overcome two turnovers in the first five minutes of a road playoff game. That's what the Packers are up against here. Aaron Rodgers' poor decision on his first play, and Karlos Dansby's punch-out after a Donald Driver reception, were the two big plays in Arizona building a 14-0 lead. It bears repeating: The Packers committed 16 turnovers in 16 regular-season games. They had two in the first five minutes of their first playoff game.
Thanks to those turnovers, the Cardinals started their first two drives at the Packers' 40- and 22-yard lines, respectively.
There hasn't been a moment where I've thought Rodgers was in rhythm. It started with his first pass, an across-the-body toss into double coverage just before he stepped out of bounds, and continued throughout the half. He seems to have returned to his early-season tendency to hold the ball too long. I haven't seen many receivers running open in the secondary, but Rodgers needs to be willing to throw the ball away. Arizona has four sacks in the first half.
Some of us wondered if the Packers were up to defending the Cardinals' three-receiver set. That issue seemed to have been minimized by the absence of receiver Anquan Boldin, but the Packers have still been on their heels for the entire first half. Early Doucet has two touchdowns in Boldin's absence; on the second, oft-targeted nickelback Jarrett Bush was in coverage.
As it turns out, the only thing keeping the Packers from having been completely blown off the field was Charles Woodson's forced fumble against Arizona receiver Larry Fitzgerald in the red zone. That became a 10-point play when the Packers eventually converted a field goal. It also got coach Mike McCarthy off the hook for having Mason Crosby attempt a 54-yard field goal. The predictable miss gave the Cardinals possession on the Packers' 45-yard line.
January, 10, 2010
1/10/10
5:40
PM ET
GLENDALE, Ariz. -- Time will tell whether
Charles Woodson
just got Green Bay back in this game or simply delayed an impending blowout.
Woodson created the Packers' first turnover of the game here early in the second quarter, knocking the ball loose from Arizona receiver
Larry Fitzgerald
inside the Green Bay 20-yard line. When the Packers eventually turned it into a 1-yard touchdown run by
Aaron Rodgers
, you figured it was at least a 10-point swing.
Trailing 17-7, the Packers still have a long way to go. But Woodson -- who forced four fumbles during the regular season -- might have sparked something.
January, 10, 2010
1/10/10
5:02
PM ET
GLENDALE, Ariz. -- We noted earlier this week that Green Bay committed 16 turnovers in its 16 regular-season games, the lowest total in the NFL.
The Packers have now committed two turnovers in the first five minutes of their first game of the postseason. An
Aaron Rodgers
interception and a
Donald Driver
fumble have helped Arizona to a 14-0 lead with 9 minutes, 16 seconds left in the FIRST QUARTER.
Rodgers threw a poor pass into traffic and deserves full blame for the mistake. Driver's fumble was the result of an exceptional strip play by linebacker
Karlos Dansby
.
There is an old adage that suggests it's better to fall behind early because it leaves you more time to catch up. At this point, the Packers are going to need every second they can get. We've hardly settled into our seats and they're almost out of this game already.
January, 10, 2010
1/10/10
3:47
PM ET
GLENDALE, Ariz. -- You're in for a special treat Sunday. I'm going to be joining NFC West colleague Mike Sando and Matt Williamson of Scouts Inc. in a special edition of NFL Nation Live.
It's basically a real-time chat during the game with the help of a moderator.
We'll start it at 4:30 p.m. ET and continue throughout the game. Follow
this link
to join in.
I'll also post a few blog items when appropriate as well.
January, 10, 2010
1/10/10
3:23
PM ET