NFC North:

Packers in Philly
January, 9, 2011
1/09/11
11:02
AM ET
PHILADELPHIA -- Greetings from Philly, where the sun is shining, the temperature is 25 degrees and there is only a couple of inches of snow on the ground.
Or, in East Coast terms, it's frigid.

Seriously, the National Weather Service is calling for a game-time temperature of 29 degrees when the
Green Bay Packers
and
Philadelphia Eagles
kick off at 4:30 pm. ET. Winds will be gusting at up to 15 miles per hour. I don't see those conditions impacting the Packers at all.
We have one bit of news to pass along. ESPN's Sal Paolantonio reports that Packers defensive end
Cullen Jenkins
, who hasn't played in a month because of a calf injury, remains on track to be in uniform Sunday.
I'll be joining a host of ESPN.com colleagues over at Lincoln Financial Field in a few hours. For now, let's run through a Packers-only version of Black and Blue All Over:
January, 8, 2011
1/08/11
2:00
PM ET
The Philadelphia Eagles' Michael Vick led all NFL quarterbacks with 676 rushing yards this season.

Green Bay Packers quarterback Aaron Rodgers ranked No. 3 with 356 yards.

Our friends at ESPN Stats & Information took a different and interesting look at each quarterback's ability as a pure scrambler. As best they could, they discounted designed runs and kneel-downs to come up with a "scramble" ranking -- reflecting only those runs that began as a passing play but broke down for whatever reason.

As the chart to the right shows, Rodgers scrambled more often than any NFL quarterback other than Vick, totaling 366 yards on 43 scrambles.

(The absence of kneel-downs and short-yardage sneaks accounts for why the scramble subtotal is higher than his net rushing yards.)

What do these numbers tell us?

More than anything, we know that on Sunday at Lincoln Financial Field, we'll be watching the two quarterbacks in the NFL this season who were most likely to break the pocket.

Talk to you in Philly.
January, 7, 2011
1/07/11
4:00
PM ET
»
Wild-card Final Word
:
NY Jets-Indy
|
Baltimore-K.C.
|
N.O.-Seattle
|
G.B.-Philadelphia
Three nuggets of knowledge about Sunday's Packers-Eagles wild-card game:

Legacy:
We've already had plenty to say about this matchup; you can view those posts through this handy
"Packers in Philly" filter
. But it's worth noting that this game will be a career-changer for one of the two starting quarterbacks. Either
Aaron Rodgers
will get his first playoff victory for the
Green Bay Packers
, or, as
ESPN's Sal Paolantonio notes
, the
Philadelphia Eagles
'
Michael Vick
will conquer the crossroads he finds himself in. No quarterback is defined by his performance in one wild-card playoff game or the team's result. But for different reasons, both Rodgers and Vick would start in a new direction with a victory.
[+] Enlarge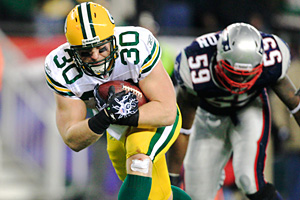 AP Photo/Charles KrupaRunning back John Kuhn has established himself as the Packers' best option in short-yardage situations.
Short-yardage issues:
Fullback-turned-cult-hero
John Kuhn
has been the Packers' best option in short-yardage situations, and he finished the year with 26 first downs on 84 carries. But overall, the Packers' biggest offensive weakness is their limited options in short yardage or at the goal line. In an ESPN Insider piece,
Bill Barnwell of Football Outsiders
ranked the Packers No. 25 in the NFL in converting "power" situations, defined as "carries on third or fourth down with two yards to go or less, or carries on first or second down within two yards of the end zone." It's been a particular problem near the goal line, and sometimes the Packers' best option has been for Rodgers to scramble. Everything is magnified in a playoff game, where the falloff from a touchdown opportunity to a field goal can be severe. The Packers need to capitalize on every opportunity to score.
History:
Before defeating the Eagles in Week 1 this season, the Packers had lost their previous nine games in Philadelphia. Nearly 48 years passed between victories. But coach Mike McCarthy's teams generally have not been flummoxed by difficult road environments or winter weather. Since McCarthy took over in 2006, the Packers are 21-19 on the road and 15-8 in December/January games. Lincoln Financial Field isn't the friendliest place for an unfamiliar opponent, but the Packers aren't likely to be affected much by that segment of this matchup.
January, 7, 2011
1/07/11
2:40
PM ET
Defensive end
Cullen Jenkins
has been the
Green Bay Packers
' big injury question entering Sunday's wild-card playoff game against the
Philadelphia Eagles
. Jenkins hasn't played in a month because of a strained calf muscle, and on Friday the Packers officially listed him as questionable on their injury report.
But barring a setback over the next 48 hours, it appears Jenkins is going to be ready for at least a limited role Sunday. Despite playing in only 11 games this season, he led Packers defensive linemen with seven sacks during the regular season.
"I'm hopeful that he'll go,"
coach Mike McCarthy said Friday
. "... Everything has been very positive, and if he's ready to go, he will go on Sunday."
The Packers did rule three players out for Sunday: linebacker
Frank Zombo
(knee), safety
Atari Bigby
(groin) and fullback
Korey Hall
(knee). Everyone else on the Packers' 53-man roster should be available to play.
January, 7, 2011
1/07/11
10:00
AM ET
Here's what you need to know about the 'B-word' as we enter into wild-card weekend:
The
Philadelphia Eagles
blitz significantly more than the NFL average.
Green Bay Packers
quarterback
Aaron Rodgers
plays well against the blitz, except when it's against the Eagles. The Packers didn't dare blitz Eagles quarterback
Michael Vick
during his unscheduled appearance in the teams' Week 1 meeting, but Vick proved vulnerable to extra rushers as the regular season progressed.
Got all that?
We'll start at the top, noting at the outset that all statistics in this post should be credited to our friends at ESPN Stats & Information.
Under defensive coordinator
Sean McDermott
, the Eagles have rushed at least five men this season on 41.2 percent of their plays. The league average in 2010 was 33.3.
Rodgers has historically performed well against the blitz, and as the chart shows, his final 14 opponents blitzed him on only 30.3 percent of his dropbacks. He threw 15 touchdown passes and only three interceptions on those occasions for a 118.3 passer rating.
In that Week 1 meeting, however, the Eagles went after Rodgers like no other team. They blitzed him on 51.4 percent of his dropbacks, forcing two interceptions. He completed a bit more than 50 percent of the passes he threw against those schemes.
On the other hand, the Packers treated Vick with caution after he replaced the injured Kolb in Week 1. They blitzed him on only four of his 31 dropbacks; that 12.4 percent mark was lower than every other Eagles opponent except the
Washington Redskins
.
Lately, however, teams have broken through against Vick by blitzing a defensive back. (NFC North fans will remember the
Minnesota Vikings
used cornerback
Antoine Winfield
to harass Vick all evening in a 24-14 victory Dec. 28.)
In Vick's final three games of the regular season, opponents blitzed a defensive back on a third of his dropbacks. In those situations, Vick threw two interceptions and was sacked eight times and had a 73.3 passer rating.
I don't have to remind you that one of the NFL's best blitzing cornerbacks wears a Packers uniform. Cornerback
Charles Woodson
has seven sacks in his past three seasons, including two in 2010, and 13.5 in his 13-year career.
I'll let you do the math on those matchups. A layman would suggest the Packers should get after Vick as often as they can. The Rodgers issue is a little more complex, but certainly he has the benefit of reviewing what went wrong against the blitz in that Week 1 game.
Two days to Philly.
January, 6, 2011
1/06/11
12:30
PM ET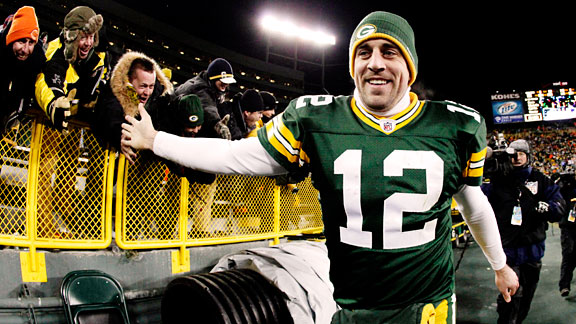 AP Photo/Morry GashAaron Rodgers has played well in close games, but still seeks his first playoff win as a starting QB.
The sun will rise Sunday morning in Philadelphia.
Perched high in a tree, a bird will sing.
Someone will pour melted cheese on grilled meat.
And
Aaron Rodgers
' playoff record will be discussed.
As inevitable as the sun rising and cheese-steak consumption, Rodgers' lack of a playoff victory (in one opportunity) will hang over the
Green Bay Packers
' wild-card playoff game Sunday against the
Philadelphia Eagles
. You'll hear how no quarterback can be considered great until he takes his team on a playoff run. No doubt, someone will mention that Rodgers has an 0-1 postseason record, a 2-13 record in games decided by four points or less and then leave out most everything else that has happened in between.
I have no idea how Rodgers will play Sunday against the Eagles, or whether he will have a direct impact on whether the Packers advance to the divisional round. But I look forward to the day when this issue is no longer relevant, because it's one case in which the numbers don't tell a full story. In fact, I would argue Rodgers has already put together some would-be iconic moments over the past two seasons that have been rendered moot by events that, at best, were minimally under his control.
Rodgers plays in a bottom-line business ruled by clichéd standards, however, and so even he agreed this week that playoff victories are a part of any elite quarterback's resume.
"I think it's important," Rodgers told reporters in Green Bay. "I think the greatest quarterbacks are remembered for winning big games, but it's not all about the quarterback. Great teams win games, and then the quarterbacks on those great teams are often remembered as being great quarterbacks. We want to win. Every time we take the field we want to win. It's important to win. That's why we play the game. And eventually, if you want to be remembered as a great player, you've got to win in the playoffs."
In his only postseason appearance, Rodgers brought the Packers back from a 24-point third-quarter deficit against the
Arizona Cardinals
last year. He threw four touchdown passes over the final 23 minutes of regulation, finishing with a career-high 423 passing yards in one of the
wildest playoff games in recent memory
.
Two turnovers played a key role in the Packers' eventual 51-45 overtime loss, and they tend to dominate discussion of Rodgers' performance in that game. One was a first-pass interception that came after a receiver ran the wrong route. The other was a fumble against a Cardinals blitz in overtime, one that linebacker
Karlos Dansby
scooped up and returned 17 yards for the winning score.
Did Rodgers lose that game for the Packers? I suggest they wouldn't have made it to overtime without him.
"Everyone on this team, we think he is one of the elite quarterbacks in the NFL for sure," linebacker
A.J. Hawk
said on
ESPN Radio
. "... You can't really knock that playoff thing on him. Last year, we as a defense didn't do our job. I think we gave up 51 points and he put up [45] for us. You can't really put that on him at all. He gave us a chance to even be in the game."
There have been a number of similarly lost performances. In addition to the Cardinals game, I can think of at least three other moments that should belie any notion that Rodgers doesn't function well in close and/or stressful games:
Week 15 of the 2009 season: Rodgers led the Packers to 22 points in the fourth quarter at Pittsburgh's Heinz Field, bringing them back from a 10-point deficit and building a 36-30 lead with 2 minutes, 6 seconds left to play. But the Steelers' offense scored on the game's final play for a 37-36 victory. Rodgers finished the game with 383 passing yards and accounted for four touchdowns.

Week 6 of 2010: Down 20-13 to the Miami Dolphins late in the fourth quarter, the Packers drove 69 yards in 12 plays over the final 5:07 to tie the score. Rodgers converted two fourth downs on the drive, including an audibled 1-yard touchdown dive on fourth-and-goal. In overtime, however, Rodgers was sacked at the end of the Packers' only possession, and the Dolphins took over for the eventual winning drive.

Week 12 of 2010: As we chronicled at the time, Rodgers took the Packers on an epic 16-play, 90-yard drive to tie a tight game against the Atlanta Falcons. The final play was a fourth-down touchdown pass to receiver Jordy Nelson with 56 seconds remaining. The Falcons, however, won after a face-mask penalty on the ensuing kickoff put them close to field-goal range.
"We've put together some good fourth-quarter drives this season, I think," Rodgers said recently.
I'm sure some of you will consider this an over-the-top defense of a player who, fair or otherwise, has not yet taken his team to the heights expected from an elite quarterback. And I'm the first to admit,
as we discussed last Sunday
, that Rodgers and the entire Packers offense has fallen short of the expectations most of us had for this season.
But if anything, I believe Rodgers is as equipped as any quarterback in the NFC playoffs to handle the pressure he will face Sunday. Take a look at chart accompanying this post. Since he became the Packers' starter in 2008, Rodgers has more dropbacks in a tie game than any NFL quarterback. He has a better rating in those situations than all but the
Indianapolis Colts
'
Peyton Manning
.
I realize this is an incomplete analysis of how quarterbacks perform in close situations, but part of the reason Rodgers has a 2-13 record in close games is that he has participated in so many of them. In more than a few, Rodgers was the primary reason they were even close. I'm sure he would be the first to admit the Packers could have won more of them, but it's silly to allow a convenient cliché to cloud reality.
January, 5, 2011
1/05/11
5:43
PM ET
Appearing on
ESPN Radio's "The Scott Van Pelt Show,"

Green Bay Packers
linebacker
A.J. Hawk
weighs in on this weekend's matchup against the
Philadelphia Eagles
, his varying roles this season and the NCAA scandal at his alma mater of Ohio State.
January, 5, 2011
1/05/11
3:00
PM ET
Mike Spofford of Packers.com
beat us to the punch Wednesday: This weekend will mark the debut of the NFL's new playoff overtime rule, one that should be of particular note to Green Bay fans.
The Packers played two overtime games during the regular season, and as the chart shows, have had four overtime playoff games in the past six seasons. (One,
coincidentally
, was against this Sunday's opponent, the Philadelphia Eagles.)
To summarize the new rule: A playoff game can no longer be decided by a first-possession field goal in overtime. If the first team to gain possession in overtime kicks a field goal, the second team is guaranteed a possession. Only at that point will the game become a sudden-death situation.
If that first team scores a touchdown, however, the game is over immediately and the second team gets no possession.
The idea behind the rule, enacted last spring, is to avoid the kind of quick endings -- short kickoff and a couple of passes followed by a long field goal -- that are particularly disquieting in the playoffs.
Speaking Wednesday to reporters in Green Bay, coach Mike McCarthy said he has discussed strategic options with Mike Eayrs, his director of research and development. The rule adds a few wrinkles to game management, including whether to push for a touchdown on a first possession or whether to settle for a field goal. (I truly hope no coach will defer the overtime kickoff as a result, but you never know.)
For what it's worth, none of the Packers' recent overtime playoff games would have been impacted by this rule. Two were decided by touchdowns, and both teams had at least one overtime possession in the others.
January, 4, 2011
1/04/11
5:30
PM ET
What's the first thing you think of when see "
Philadelphia Eagles
" next on your schedule?
Yes, I know.
Michael Vick
. I imagine we'll discuss him once or twice this week as the
Green Bay Packers
prepare for Sunday's wild-card game at Lincoln Financial Field.
In some ways, however, Vick is part of a larger trend of the Eagles' offense. They have three of the best open-field ball carriers in the game: Vick, tailback
LeSean McCoy
and receiver
DeSean Jackson
. So I took a stroll through the ESPN Stats & Information database to see not only how good they've been this season, but also how well the Packers defense has tackled.
Some interesting information emerged:
First, as the chart shows, 46.9 percent of the Eagles' total passing yards have been accumulated after the catch. That ranks the Eagles No. 13 in the NFL. For more context, consider that the Packers offense ranks one spot ahead of them.
McCoy has gotten his YAC on (Yards After Catch) this season. In fact, he has 724 YAC this season, the most in the NFL. His average of 9.3 YAC per reception ranks No. 9 in the NFL. Meanwhile, Jackson has 359 YAC and is averaging 7.6 YAC per reception. Again, for context, Packers receiver Greg Jennings has 412 YAC and is averaging 5.4 YAC per reception.
I'm all about the YAC.
YAC, YAC, YAC, YAC, YAC.
Packers opponents have gotten 47.4 percent of their passing yards after the catch. That's the fifth-highest percentage in the NFL. But keep in mind that overall, the Packers have allowed the sixth-fewest passing yards in the league. If I were to interpret those numbers, I would say that opponents are being forced to dump the ball to short-range receivers, who then take off downfield -- and not necessarily a sign of poor tackling.
What's the bottom line of this mumbo jumbo? The Packers will not only have to keep track of where Vick, McCoy and Jackson are before the snap. They'll need to take special care to wrap them up when they have a chance.
We'll touch on a Eagles-Packers matchup topic each day heading into Sunday's game. YAC.
January, 3, 2011
1/03/11
11:45
AM ET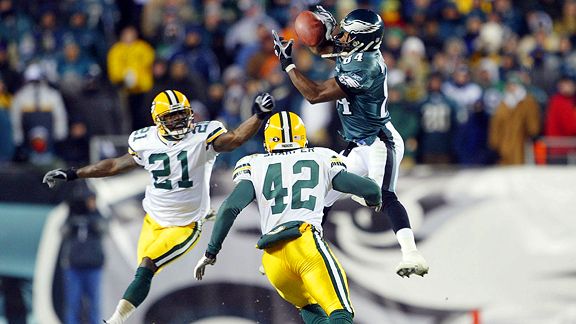 Doug Pensinger/Getty Images
We interrupt this Monday to offer an opportunity to let flow your creative juices. If the significance of this photograph escapes you, then please move along. If you know what it depicts, feel free to dig through your scar tissue and finally let out the pain.