NFC North:

Packers-Lions112609
November, 26, 2009
11/26/09
4:12
PM ET
A few final nuggets on the
Packers' 34-12 victory at Detroit
:
[+] Enlarge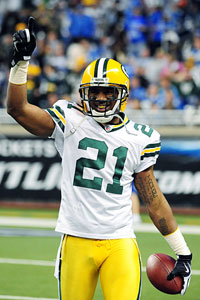 Andrew Weber/US PresswireCharles Woodson had a sack, forced fumble and interception return for a score Thursday.
I know I teased some discussion of Thursday's quarterback play, but I can't start with anything other than the performance of Green Bay cornerback Charles Woodson. Unofficially, Woodson finished with seven tackles, two interceptions, a forced fumble and a sack. He returned the second interception 38 yards for a touchdown to ice the game. That's how a superstar responds when another starter at his position, in this case Al Harris, is lost for the season. I've got Woodson at the top of my list for NFL defensive player of the year. How about you?

We feared for the Lions' pass defense before the game, and to little surprise, it couldn't keep up with the Packers' offense. Quarterback Aaron Rodgers completed 71.7 percent of his passes (28-of-39) for 348 yards and three touchdowns. Rodgers took only one sack and typically had as much time as he needed to throw.

Lions quarterback Matthew Stafford was in obvious pain at the end of the game, but it was clear he wouldn't take himself out despite a separated left shoulder. To me, that's where someone above him -- an offensive coordinator or a head coach -- has to step in and say something along the lines of, "Great effort, Matt. Now get well." Unfortunately, no one did, and Stafford finished the game with four interceptions and a 46.5 completion percentage. Did the injury impact his play? I don't have any direct evidence, but it's certainly easy to make that connection if you wish. I'm impressed with Stafford's toughness but unconvinced this display was necessary. That's why you have backups.

It was also very clear that Lions receiver Calvin Johnson was nowhere close to full speed, mostly because of what appears to be a lingering knee injury. Again, there is much to be respected about a player who finds a way to get himself on the field. But Johnson was significantly, significantly limited.

I should amend my earlier note on the pregame discussion between Lions general manager Martin Mayhew and backup quarterback Daunte Culpepper. John Niyo of the Detroit News, who was at Ford Field, tweeted that Mayhew and Culpepper later shook hands.

OK, gang. That's it for today. Everyone please have a happy and safe holiday.
November, 26, 2009
11/26/09
3:53
PM ET
Green Bay maintained its status in the NFC's postseason race with its thorough victory Thursday at Ford Field.


The Packers will take a 7-4 record into the weekend, a mark the
New York Giants
and Philadelphia must match to keep pace as we head into the playoff run. The Giants play at Denver this evening, while the Eagles host Washington on Sunday. Green Bay, New York and Philadelphia comprise the top tier of teams competing for the NFC's two wild-card berths.
Check back in a bit for some more detailed thoughts and observations about Thursday's victory over Detroit, including a look at the, uh, dissimilar performances from the two starting quarterbacks.
November, 26, 2009
11/26/09
2:17
PM ET
A few halftime thoughts from NFC North headquarters:
I haven't seen any overt evidence that Detroit quarterback Matthew Stafford is favoring his separated left shoulder, but I know I was cringing during the Lions' final drive of the half. On the sack by Green Bay cornerback Charles Woodson, it looked like Stafford protected his left shoulder by turning his right shoulder toward Woodson. Putting your throwing shoulder in harm's way is not ideal. The hit Stafford took from Brad Jones and Johnny Jolly on the next play was pretty violent, as was Clay Matthews' sack. All in all, Stafford got roughed up a lot relative to the Lions holding the ball for only 10:38.
I'm not sure what to make of the televised confrontation between Lions general manager Martin Mayhew and backup quarterback Daunte Culpepper. Actually, it was more of a one-sided lecture from Mayhew, who appeared pretty animated before storming off. FOX's Pam Oliver reported Culpepper was deeply disappointed not to start the game, but it's impossible to know the entire circumstance of their conversation. But it's never a good thing for a player when the general manager is yelling at you before a game.
The Lions' strong red zone defense -- or, more accurately, the Packers' weak red zone offense -- is the only thing keeping this game close. Green Bay has rolled to 256 offensive yards and hasn't punted yet. But they've had to settle for three field goal attempts by Mason Crosby, who was wide right on a 43-yarder but converted from 25 and 20 yards. The Packers really should be disappointed not to have at least 20 points.
This is easily the most time Packers quarterback Aaron Rodgers has had to throw this season. I've only seen him get touched once, a near-late hit by linebacker Larry Foote on a blitz. Otherwise, Rodgers has picked the Lions apart and has 204 passing yards at halftime.
The Lions don't seem to have enough firepower without tight end Brandon Pettigrew, who left with a knee injury during the game's first series. Their only score came after recovering Jordy Nelson's fumble on the Packers' 20-yard line after the opening kickoff. Stranger things have happened, but they're going to need similar help if they're going to score more points in the second half.
November, 26, 2009
11/26/09
12:15
PM ET
I don't think there's any doubt Ford Field will go nuts this afternoon the first time quarterback
Matthew Stafford
steps on the field. As you probably know by now,
Stafford will start
Detroit's Thanksgiving Day game against Green Bay.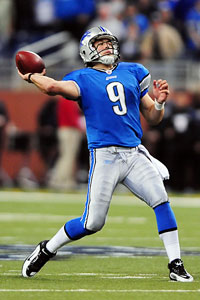 Andrew Weber/US PresswireDetroit quarterback Matthew Stafford is starting Thursday, just four days after he separated his left shoulder.
Whether the Lions are nuts for playing him is another story. Stafford separated his left shoulder four days ago in a violent hit at the end of the Lions' 38-37 victory over Cleveland. He was listed as doubtful on the injury report and the decision to play him Sunday comes as a big surprise to everyone.
I realize the injury is to Stafford's left shoulder. He's a right-handed quarterback, so a big part of Stafford's challenge Thursday this will be pain tolerance, not whether he can make the necessary throws. I'm obviously no doctor, but one thing I've learned about sports injuries is that athletes often compensate for them. Even if it's on a subconscious level, they sometimes alter one part of their mechanics to protect another.
That's one of many reasons the Lions are flat-out taking a risk with their franchise player. There's no doubt the Lions need more, not less, of the kind of heroics Stafford supplied last weekend. It's fair to ask, however, whether it's smart to trot him back out on the field four days later.
We might not know the answer for a while. It's possible the Lions exaggerated the extent of his injury during the week for competitive advantage.
But I hope this isn't a stunt designed to inspire fans or set some kind of new franchise standard for toughness. I also hope the Lions didn't let themselves get talked into it by an enthusiastic but inexperienced 21-year-old. This is a major decision that will play a big role in my judgment of coach Jim Schwartz, one way or the other, at the end of the season.
November, 25, 2009
11/25/09
4:47
PM ET
Some final tidbits as the countdown continues to Packers-Lions II:
Detroit Lions:
What a mess the Lions have at safety. They placed starter
Ko Simpson
(knee) on injured reserve and declared
Kalvin Pearson
(hamstring) out of the game. Fellow starter
Louis Delmas
(ankle) is questionable but likely to play. Still, that leaves
Marvin White
as the only other safety available on the active roster. White was claimed off waivers from Dallas last month. … Linebacker
Ernie Sims
(hamstring) has also been declared out for the game, while quarterback
Matthew Stafford
(shoulder) and defensive end
Dwayne White
(toe) are doubtful and unlikely to play. … Receiver
Calvin Johnson
(knee, hand) is questionable but will be limited at best if he plays.
Green Bay Packers:
An MRI showed no damage on center
Scott Wells
' knee, so it appears he will start Thursday. Wells told
Wisconsin reporters
that "nothing's torn" and that the swelling has receded. He's officially listed as probable. Tailback
Ahman Green
(groin) and tackle
Allen Barbre
(ankle) are the only two players the Packers likely won't have available to them.
November, 25, 2009
11/25/09
11:30
AM ET
It's almost time for more football! Exactly 25 hours from the publication of this post, Green Bay and Detroit will square off on Thanksgiving Day for the 18th time. I'll be positioned at NFC North headquarters to bring you thoughts before, during and after the game.
As you're cleaning the bird this afternoon, take a few minutes to anticipate a few talking points for this game:


The Lions have sold out Ford Field for this game and their fan base is energized after quarterback Matthew Stafford's heroics in Sunday's victory over Cleveland. Fans also enjoyed a breakout game from receiver Calvin Johnson, who set a career high with 161 receiving yards. Unfortunately for everyone (except the Packers), Johnson's status is very iffy because of knee and hand injuries. Stafford will start despite being listed as "doubtful" with a left shoulder injury, the Detroit Free Press reported.
Fans could miss out on a potential encore performance, and the Lions could wind up playing both of this season's games against the Packers without their two best players. (Stafford and Johnson missed the Oct. 18 matchup at Lambeau Field, a 26-0 Packers victory.)
The Packers have tweaked their offensive approach in the past two weeks, but it's hard to get past the mismatch their passing offense presents for the Lions' defense. After all, this is a group that gave up four touchdown passes to Cleveland quarterback Brady Quinn. The Lions' pass defense has gotten worse as the season has continued, and here are the numbers as of Week 12: Opponents have a 70.4 completion percentage, a 24-6 touchdown-interception ratio and a 110.3 passer rating. And here's a new twist: Two of the Lions' top three safeties, Ko Simpson and Kalvin Pearson, haven't practiced this week because of injuries. If he wants to, Packers quarterback Aaron Rodgers could have an early Thanksgiving feast in this game.
The Packers have faced their share of injuries as well in this short practice week. As of Wednesday morning, they're not sure if center Scott Wells (knee) will be able to play. [Update: Wells is expected to play.] That could force rookie Evan Dietrich-Smith into the starting lineup. And as has been mentioned once or twice, the Packers will have two new starters on defense after losing linebacker Aaron Kampman and cornerback Al Harris to knee injuries. Thursday will mark a transition game for the entire Packers defense.
A few people have mentioned the Lions' 11-6-1 record against the Packers on Thanksgiving Day in Detroit. Let's not put too much stock in that mark. Recently, the series has been all Packers. Coach Mike McCarthy has never lost to the Lions in seven games, and overall the Packers have an eight-game winning streak against them. In the bigger picture, the Packers have won 16 of the past 18 in this series. In this decade, the Lions are 2-7 on Thanksgiving Day.