NFC North:

Patrick Peterson
August, 18, 2014
8/18/14
5:30
PM ET
GREEN BAY, Wis. --
Green Bay Packers
cornerback
Sam Shields
broke in to the top 100 on
ESPN's #NFLRank project
, but just barely.
It remains to be seen how many cornerbacks will check in higher than Shields as the rest of the list is unveiled over the next two weeks. The fifth-year cornerback was No. 95 on the
list of top defensive players
in the league as polled by 85 ESPN NFL contributors, including all 32 NFL Nation reporters.
But the four-year, $39 million contract he signed as a free agent in March suggests the Packers expect him to be even better than that.
Based on average per year, Shields' $9.75 million pay ranks tied for sixth among all NFL cornerbacks behind
Darrelle Revis
($16 million),
Richard Sherman
($14 million),
Patrick Peterson
($14.01 million),
Joe Haden
($13.5 million) and
Brandon Carr
($10.02 million).
According to ESPN Stats & Information, since Shields' rookie season of 2010, no player has more postseason interceptions than he does (four).
This is the second year of this ESPN project, and Shields did not make the top 100 last year. Over the next two weeks, the list of players will be revealed 10 at a time. The Packers did not have any players in the 91-100 category on the offensive side of the ball.
September, 15, 2013
9/15/13
8:35
PM ET
GLENDALE, Ariz. --
Observed in the locker room after the Detroit Lions' 25-21 loss to the Arizona Cardinals.
Bush
Bush walking fine:
Lions running back
Reggie Bush
injured his left knee during the second quarter and missed most of the second half due to it. While he will undergo tests Monday to find out what is going on, he moved fairly well around the locker room after the game as he packed up his things.
Johnson exchanges jerseys:
After the game,
Calvin Johnson
exchanged jerseys with Arizona cornerback
Patrick Peterson
. Johnson finished with six catches for 116 yards and two touchdowns. When asked what he was going to do with the jersey, he said, "It's my jersey." In other words, he's likely keeping it.
Stafford happy with offensive line:
As quarterback
Matthew Stafford
walked out of the locker room, he turned to his linemen and said, "You played good out there." Then he commented that for another week he was largely clean after only being sacked once.
How they are identified:
Instead of nameplates Sunday, each Lions player merely had their number on a white background outlined in black identifying which locker was theirs.
September, 12, 2013
9/12/13
5:35
PM ET
ALLEN PARK, Mich. -- They lined up against each other in the Arizona air and didn't say much. In one of the premier individual matchups in the NFL last season -- one commencing again this Sunday -- both players were gassed.
"Shoot, we weren't really talking a lot,"
Calvin Johnson
said. "Because there was a lot of running going on. A lot of heavy breathing."
This type of matchup is one Johnson, often considered the best receiver in the game, craves. A year ago, he put up big numbers against
Patrick Peterson
, catching 10 passes for 121 yards, but Arizona beat Detroit, 38-10.
Johnson
Peterson
Those 10 catches, though, came on 17 targets. That's part of the danger of going against Peterson, who had an interception against Detroit last year. Even if a receiver puts up numbers, it'll likely take a lot to reach it.
Peterson is one of the few cornerbacks in the league who won't need help on a play-by-play basis on Johnson. There will be times, despite what last year's statistics say, where Peterson will be able to stay with him.
Not many others can say that. Then again, not every corner is considered the best in the NFL. That's how Arizona coach Bruce Arians views Peterson. Alone against each other they will go.
"You have to have a lot of confidence in him," Arians said. "They're two great athletes. Calvin is special and so is Patrick. We're going to put him in that situation.
"You can't always single-cover the guy, but you have to be able to mix-and-match it."
Peterson is able to single-cover Johnson at times because of his size -- 6-foot-1, 219 pounds -- along with his speed and his coverage skills. Johnson explained Peterson often tries to use his size to press receivers and he has the speed to catch up to a receiver if he doesn't jam him on the line.
It is a challenge Johnson likes.
"It brings out the best in competitors," Johnson said. "When you get to go against the best, you know.
"Especially when you get one-on-one coverage. I view it as an opportunity."
Last season gave him some idea of how Peterson might approach him. He also figures to potentially see more single coverage Sunday than he will in many other games this season.
Not that Johnson's teammates are worried about it.
"I'm not really concerned about Calvin going against Pat," Detroit receiver
Nate Burleson
said. "Pat is a really, really good cornerback. He's one of the best in the league.
"But I think Calvin is the best in the world. Period. When Calvin gets an opportunity against Pat, you know I've got faith in Calvin."
Much like Arizona has similar confidence in Peterson.
Johnson seems excited about the matchup. The way Peterson defends impressed him enough he joked he almost plays like a receiver. The Cardinals have a 60-play package for Peterson on offense along with his defensive and special teams responsibilities.
Arians said Peterson's defensive responsibilities often dictate how much offense he'll play.
"He's a guy that, when you have a playmaker like that, you want to put the ball in his hands," Detroit coach Jim Schwartz said. "We've just got to be alert any time 21 comes on the field. We have to do our jobs and make sure he doesn't make a big play in the game."
On offense. Or on defense. Or on special teams.
Of course, Peterson won't face a receiver like Johnson every week. So perhaps Arizona will keep him on defense so he can stay fresh against one of the best receivers in the game.
Either way, it's a matchup even Johnson's teammates want to see.
"I'm looking forward to it, too, man," Burleson said. "I like seeing some of the best going up against the best. I got Calvin's back.
"I'm not a gambling man, but if I was, I'd put my money on Megatron."
September, 12, 2013
9/12/13
12:00
PM ET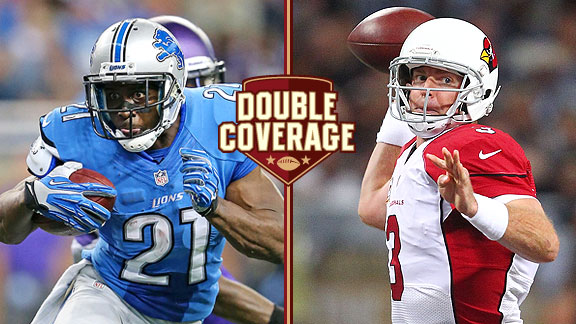 Getty ImagesReggie Bush and Carson Palmer have given their respective teams major upgrades on offense.
A lot has happened since the
Detroit Lions
' most recent trip to University of Phoenix Stadium, last December.
The
Arizona Cardinals
hired an entirely new coaching staff and enlisted a veteran quarterback to bolster the offense. The Lions, meanwhile, added a shifty new running back by the name of
Reggie Bush
. In last year's meeting, Detroit quarterback
Matthew Stafford
played poorly, and it allowed the Cardinals to break a nine-game losing streak.
My, how times have changed. The Lions are flying high off a season-opening victory against NFC North rival Minnesota, while the Cardinals are still trying to find their footing in 2013.
Cardinals reporter Josh Weinfuss and Lions reporter Michael Rothstein discuss Sunday's matchup.
Josh Weinfuss:
A lot has been made of offseason additions on both sides. How has the Lions' offense changed by adding Bush?
Michael Rothstein:
It has definitely become much more dynamic. You'll see a lot more screen passes and short passes to get Bush in space and allow him to create. The perfect example came on the 77-yard screen that went for a touchdown against the Vikings. Not sure the Lions had anyone with that kind of speed out of the backfield last season. Add to that Bush's ability to run between the tackles when he needs to, and it creates another dimension for defenses to be concerned about. No longer is it pay attention to
Calvin Johnson
and make Detroit's other pieces find a way to win. If teams do that, Bush will force them to abandon that strategy.
Sticking with offense, has the addition of
Carson Palmer
aided the passing game for both
Larry Fitzgerald
and
Michael Floyd
?
Josh Weinfuss:
Without a doubt. Palmer has brought not only stability to a position that's been a hurricane in the three seasons since Kurt Warner retired, but also talent. The proof of that came Sunday when Palmer and Fitzgerald connected for two touchdowns -- one on a 4-yard fade to the back left corner, the other on a 25-yard beauty that dropped into Fitzgerald's hands. Last season, Cardinals quarterbacks targeted Fitzgerald nine times in the red zone and didn't complete any. Palmer is already 2-for-3 in the red zone to Fitzgerald. Floyd also will benefit from Palmer's accuracy. With Floyd being a larger target than Fitzgerald, Palmer can get a little more creative with where he throws the ball, an issue all four Arizona quarterbacks had last season.
Let's switch sides of the ball. After his incident against the Vikings, is Lions defensive tackle
Ndamukong Suh
becoming a distraction already this season?
Michael Rothstein:
Distraction? No. The reason I say that is most people around the Lions have been around this situation before with Suh. If his teammates are telling the truth and indeed accepted his apology, it should be a nonissue for most in the locker room -- for now. Where it becomes a problem, perhaps, is if Suh does something like this again. It should become a distraction or an issue only if he were to be suspended in the future.
Since you asked about Suh, how does Arizona's offensive line deal with him,
Nick Fairley
and the rest of Detroit's deep, talented defensive line?
Josh Weinfuss:
This is a different situation from Week 1, when the Cardinals focused on stopping two very strong outside rushers. With Suh and Fairley coming up the gut, Arizona will have to rely on its guards and center more -- which could be an issue, considering that right guard
Paul Fanaika
played in his first game in almost two years Sunday. Don't expect the Cardinals to overload the box with blockers. Palmer said he'd rather have less time to throw and more options downfield, but the Cardinals more than likely will keep a running back home to pick up that inside rush and a tight end on the outside to allow the tackle to cheat over and help the guard.
Speaking of the offense, has any team figured out how to slow down Johnson, because stopping him is unlikely -- and if anyone has slowed the stud receiver, how'd they do it?
Michael Rothstein:
Kind of, Josh. Kind of. Johnson had four catches for 37 yards against Minnesota on Sunday. While he was targeted nine times -- and missed two touchdowns by not much -- the addition of Bush to the Lions' offense has taken some pressure off Johnson. When Minnesota chose to try to take away Johnson, Detroit focused on letting Bush operate. While I don't think teams will ever take Johnson out of the game while he is in his prime, it wouldn't shock me if he has some games in which Detroit looks to Bush more instead of always featuring Johnson. That, of course, just makes the Lions' offense much more difficult to stop.
I'll wrap it up with a question to you. How much is
Patrick Peterson
going to be involved in the offense? And can he be a true two-way player, be it this week or beyond?
Josh Weinfuss:
Ideally, Peterson would play a prominent role in the offense. And the Cardinals have planned for that, installing a package specifically for him that was, at last check, 60 plays deep. They want him out there, so much so that on cut day, coach Bruce Arians said Peterson would be considered the Cardinals' fifth receiver. But with all the hype, he played only three offensive snaps. Granted, Peterson's involvement will always be dictated by the situation, but I think a lot of people were expecting more in Week 1. As to your second question, that's tough to answer. Peterson is already playing nearly every down on defense and is the Cards' primary punt returner. He's young -- 23 in July -- so his body can handle it, but I don't know whether there's anyone these days getting significant time in all three facets. He's more likely to get hurt on offense, but if he can make an impact on defense, special teams and offense, you're looking at a potential MVP.
September, 11, 2013
9/11/13
8:10
PM ET
ALLEN PARK, Mich. --
Arizona Cardinals
coach Bruce Arians and quarterback
Carson Palmer
spoke with the Detroit media Wednesday ahead of Sunday's visit from the Lions.


Here, in friendly bullet points, are the highlights of what they said:
BRUCE ARIANS
CARSON PALMER
He and Larry Fitzgerald worked out as much as they could, including for "a handful of days" in July when they were off.
Palmer on Bush, who also went to USC: "I loved it. I remember watching his highlight film when I was in college. They were excited about the guy they were getting, and I was watching his San Diego high school football film saying 'Wow, this kid is something special.' You could tell back then what he was going to be in college. Just a phenomenal college career, obviously."
Palmer said Peterson would be a factor in the offense. Couldn't say how many plays, but he will factor in.
May, 9, 2011
5/09/11
7:45
AM ET
We're Black and Blue All Over:
Is Cal safety Chris Conte a smart find or an untested reach? That's the question
Brad Biggs of the Chicago Tribune
explores of the Chicago Bears' third-round draft selection.

Biggs: "There was a wide range of opinions about 6-foot-2, 197-pound Conte on draft weekend. One scouting director in another city said he was the top safety on his team's board. A veteran scout for another club mocked the selection, the seventh safety the Bears have drafted in seven years. The disparity is likely due to the fact Conte was one-year starter at safety and a relative unknown. A mixup that prevented him from playing in a college All-Star game kept him under the radar for West Coast scout Marty Barrett. The Bears view Conte as a future starter and perhaps more importantly they consider him a free safety. It's the position where they have been trying to fit a square peg into a round hole."
Conte has prototypical size (6-foot-2, 197 pounds) to play safety, and his background as a cornerback suggests he has more cover skills than some college safeties. But the fact of the matter is that he's only played one year at the position. Can the Bears develop him into a future starter? Or was he an expensive special-teams selection? We're probably a year or more away from answering that question.
Continuing around the NFC North:
May, 7, 2011
5/07/11
10:00
AM ET
Better late than never, let's take a moment to reflect on the highlights of
Tuesday's SportsNation chat
. I was too caught up in a whole lot of nothing this week to circle back on our chat, but you brought forth a number of interesting topics to continue mulling.
Topping the list was a surprising number of you who thought the
Detroit Lions
operated from miscalculated priorities during the draft. We also hit the
Minnesota Vikings
' quarterback situation, the
Chicago Bears
' plans for their offensive line and the
Green Bay Packers
' future returner.
We'll move through the issues one team at a time, adding a few extra smart-aleck comments and commentaries along the way.
Detroit Lions
Nathan (DC)
Everyone loves the Lions pick of [Nick[ Fairley in the first round. I don't. [Anthony] Castonzo and [Prince] Amukamara were still on the board. The Lions won't be able to afford to pay both [Ndamukong] Suh and Fairley in a few years. I think they blew it. Am I way off base?
Kevin Seifert (2:03 PM)
Well, I wouldn't assume they wouldn't be able to pay both of those guys. Even if there is a cap at that point, your management of it is strategic. You put your money in your priorities. The Lions have clearly prioritized their defensive line. And regardless, they should have at least four years of both guys signed to their rookie deals. Four years is about as far ahead as anyone in the NFL looks. I'm fine with them passing on Castonzo and Amukamara as long as they continue to address their needs in free agency. But I do agree it's a risk.
Andy (Arlington, VA)
Kev, Detroit is getting way too much love for their draft. They took their best position on defense, and bolstered it. They left their dreadful LB corps and secondary intact. I realize media types get all drooly thinking about Suh and Fairley together, but don't you think Mike McCarthy might have an idea how to gameplan that?
Kevin Seifert (2:26 PM)
Well, it's hard to gameplan to get around two monsters in the middle. That's why they're so valuable. They're the closest to the quarterback and the first opportunity to disrupt the play.
Further comment:
At some point, the Lions are going to have to address an offensive line that has a 33-year-old left tackle in
Jeff Backus
and a 32-year-old center in
Dominic Raiola
. But it's clear the Lions' consternation doesn't equal that of some fans. As for cornerback, the Lions might be prepared to make a significant financial investment in free agency. Don't forget they were willing, according to reports, to give up first-, second- and fourth-round draft picks to trade up for LSU cornerback
Patrick Peterson
.
Minnesota Vikings
doc (montana)
The Vikings have taken a lot of heat for there first round pick. I am old school and Bud Grant once told me the closer the player is to the ball the smarter he has to be, center and quarterback is what he is talking about and if you look a
Matt Birk
and some of the elite quarterbacks they are a lot smarter then they are physical specimens. If you buy into that in which I do ( think we may have the steal of the draft. What am I missing?
Kevin Seifert (2:16 PM)
Well, Ponder has the first part taken care of. There's no doubt he's a book-smart kid. He'll be able to learn the plays and know the reads without a doubt. But does that mean he can play? Two different issues. A smart quarterback can still get rattled in the pocket and can still make poor decisions. Difference between smarts and instincts.
Elliot (Toronto, ON)
Kevin, you may be no [Rick] Spielman, but if you were, would you have traded the 2nd-round pick to Dallas to get
Blaine Gabbert
? Getting [Kyle] Rudolph was important, but who'd you rather have, him and Ponder or Gabbert?
Kevin Seifert (2:24 PM)
I would have looked at it this way: Is the difference between Gabbert and Ponder worth a second-round pick? I think that's questionable. But if I felt it were, absolutely I would have done it. Drafting a quarterback in the first round should be a once-in-decade thing. You should do everything you need to do to get it right.
Further comment:
Ponder's intelligence is particularly important when you realize he'll be asked to absorb the Vikings' playbook after little to no offseason work and, the team hopes, win the starting job out of training camp. As for whether Gabbert is a second-round pick better than Ponder, I think that's questionable at best.
Chicago Bears
Paul (Denver)
What do you think of [Gabe] Carimi? Does he hold down LT for ten years or will he be shifted over to RT as a nasty run blocker?
Kevin Seifert (2:45 PM)
I'm thinking right tackle, especially this season. But it's incumbent on them finding someone to play left tackle. I wonder if that will be
J'Marcus Webb
.
Steve (NY)
I read a draft analysis on Yahoo! that said Carimi is overrated... thoughts?
Kevin Seifert (2:28 PM)
As always, it depends on who you talk to. Seems like a mean, tough guy. The Bears could use some more of that, even if he ends up on right tackle. Other than
Olin Kreutz
, a lot of the linemen they played last year were pretty passive.
Further comment:
When people say Carimi is a "Mike Tice" kind of offensive lineman, referring to the Bears' offensive line coach, they mean he is a blue-collar mountain mover who is strong enough to overpower opponents and thick-skinned enough to absorb Tice's barbs constructively. If he is who we think he is, Carimi will help set an important attitude tone for this line.
Green Bay Packers
Bryant (Milwaukee)
Does
Randall Cobb
instantly become the Packers best option to return punts and Kicks?
Kevin Seifert (2:49 PM)
I would think so, yes. Let's get
Tramon Williams
as far away from punt returns as possible.
Further comment:
The question isn't whether Cobb becomes the Packers' returner. It's the extent to which McCarthy can find an immediate role for him in the offense. Cobb has the potential to be a game-changer.
Bonus "question"
Peter (Atlanta, GA)
Is
Rashard Mendenhall
the dumbest athlete on the planet right now?
Kevin Seifert (2:46 PM)
I would say yes. Resoundingly.
Further comment:
Is any necessary? More than an intelligence issue, Mendenhall has a judgment issue. Free speech is great. Factual distortion, on the other hand, is not guaranteed by the First Amendment.
May, 4, 2011
5/04/11
10:00
AM ET
Thanks to everyone for bearing with us as we debuted
our newest blog innovation
. Our inaugural NFC North SportsNation poll revealed a clear winner.
As you can see, 60 percent of the more than 25,000 responders (as of this posting) believe the
Detroit Lions
had the division's best draft. (Imagine if they
had traded up
and got LSU cornerback
Patrick Peterson
.)
I was a little surprised that only 9 percent of you voted for the
Chicago Bears
, who filled important needs with their first two picks, but this isn't exactly a scientific poll.
If you have any ideas for future polls, feel free to let me know.
Carry on.
May, 4, 2011
5/04/11
7:35
AM ET
We're Black and Blue All Over:
We've noted
once or twice
that the Detroit Lions failed to fill their need for a cornerback in the draft. But according to
Jason La Canfora of the NFL.com
, it wasn't for lack of trying.

La Canfora reports the Lions tried to trade up to the No. 5 overall pick, owned by the Arizona Cardinals, to draft LSU cornerback Patrick Peterson.
Dave Birkett of the Detroit Free Press
reports the Lions offered a hefty bounty -- their first-, second- and fourth-round choices -- for the pick.
In the end, however, the Cardinals really wanted Peterson and chose him.
Had the trade gone through, the Lions would have had a thin draft but also the best college cornerback in the country last season. During these quiet lockout days, it's worth considering the pros and cons.
Continuing around the NFC North:
March, 9, 2011
3/09/11
2:15
PM ET
Mel Kiper's latest ESPN.com mock draft

features a mixture of need and value for the NFC North teams. Let's take a look:

12. Minnesota Vikings
Kiper's pick:
North Carolina defensive end
Robert Quinn
Seifert comment:
Kiper had the draft's top two quarterbacks off the board with the first four picks. He doesn't consider his third-ranked quarterback, Washington's
Jake Locker
, a smart choice at No. 12. That order of events would leave the Vikings with a talented player, but not a clear answer at quarterback. Quinn is well-regarded edge rusher who is suited for either a 3-4 or 4-3 scheme, and the Vikings are expected to bid farewell to starting left end
Ray Edwards
. They would have to thoroughly investigate Quinn, who did not play in 2010 because of an NCAA suspension for accepting gifts from an agent.

13. Detroit Lions
Kiper's pick:
USC offensive tackle
Tyron Smith

Seifert comment:
For months, media draft analysts have seen offensive line value at this segment of the draft. In this mock, Smith is the first offensive lineman off the board. Smith's stock hasn't dropped despite a limited showing at the scouting combine, and he could figure as a long-term replacement for left tackle
Jeff Backus
. Kiper didn't give the Lions a cornerback here because LSU's
Patrick Peterson
and Nebraska's
Prince Amukamara
are already off the board. Kiper has his next cornerback, Colorado's
Jimmy Smith
, going late in the first round.

29. Chicago Bears
Kiper's pick:
Colorado offensive tackle
Nate Solder
Seifert comment:
Going this late would represent a significant slide for Solder, an athletic 6-foot-8 mammoth who could play left or right tackle. The Bears should be pretty happy if this scenario occurs. Solder would give the Bears additional flexibility to arrange their best five linemen in a coherent Week 1 starting group.

32. Green Bay Packers
Kiper's pick:
Arizona outside linebacker
Brooks Reed

Seifert comment:
Kiper refers to Reed as a "sleeper" in his class with strong instincts and good enough speed to get to the passer in a 3-4 scheme. My guess is the Packers will take an outside linebacker here only if value suggests they should. It's a need, but not to the extent that general manager Ted Thompson will move past his core philosophies.
January, 13, 2011
1/13/11
4:00
PM ET
Our
inaugural 2011 DraftWatch post
got lost in the shuffle following quarterback Andrew Luck's surprise announcement that he would bypass the draft and instead return to Stanford next season. This week, we'll take another look at
Mel Kiper's updated Big Board
, which requires an Insider subscription for full viewing, and extract his top two players at the three positions most likely to be targeted by the NFC North teams whose draft position is set.
(Wow. That was a mouthful.)
The
Minnesota Vikings
need a quarterback. The
Detroit Lions
could use help at cornerback and outside linebacker. Here is how Kiper currently rates the elite players at those positions among his top 25 prospects:
Quarterback

8.
Blaine Gabbert
* (Missouri)
14.
Cam Newton
* (Auburn)
Cornerback

4.
Patrick Peterson
* (LSU)
6.
Prince Amukamara
(Nebraska)
Linebacker

9.
Von Miller
(Texas A&M)
12.
Akeem Ayers
* (UCLA)
*Underclassman
January, 13, 2011
1/13/11
7:30
AM ET
We're Black and Blue All Over:
In discussing the Minnesota Vikings' stadium situation Wednesday, a top official
told the Associated Press
that the team would pay for one-third of the cost of an open-air stadium. Lester Bagley, vice president of stadium development and public affairs, said the team doesn't need a roof, which could add more than $200 million to what would otherwise be a $700 million project.

Bagley's statement was newsworthy because it signified the team plans no changes to its long-standing approach on financing this project. The Vikings know that an open-air stadium is far less likely to be approved by the state legislature than either a dome or one with a retractable roof, which would allow events to be held in the facility year-round and serve as a true replacement for the Metrodome. But the Vikings want to position those who would benefit from a roof -- state taxpayers -- to pay for the additional expense.
For the Vikings, it's a difference between paying about $230 million and perhaps $300 million for their share of the project.
Continuing around the NFC North: