NFC North:

Patrick Robinson
October, 10, 2011
10/10/11
1:20
PM ET
After the Minnesota Vikings' 34-10 victory against the Arizona Cardinals, here are three issues that merit further examination:
Kevin SeifertFollowing their win against the Arizona Cardinals, the Vikings take a seat in the examination room.

I honestly don't get what people expected from quarterback Donovan McNabb this season. He is generally a well-respected NFL citizen. So when the Vikings acquired him this summer from the Washington Redskins, no football person was going to come out and say how far his career had plummeted. But the evidence was all there for the taking. The Washington Redskins were willing to give him away for a sixth-round draft pick and take their chances with Rex Grossman and John Beck. The Vikings were able to leverage McNabb into a contract worth $5.05 million, one that befits a top backup. And that's the way he has played so far this season: Like a veteran seat-warmer. McNabb has been inaccurate on short and deep passes and has mustered one victory in five games. None of this should be a big surprise, nor should coach Leslie Frazier's decision to retain him as his starter. Frazier wanted a veteran to start ahead of a rookie he didn't think would be ready to play. The NFL doesn't have enough good quarterbacks for a team to find a high-functioning one who can fit that description. Frazier got a seat-warmer who is playing like one.

Let's give defensive end Brian Robison some credit. A few of us wondered if the Vikings had made the right decision by allowing starter Ray Edwards to depart via free agency and inserting Robison into the starting lineup. Robison had been a backup for four seasons, and usually you are what you are by that point. But Robison's two-sack day Sunday brought his season total to 4.5, tying his career high. (It's also three more sacks than Edwards has for the Atlanta Falcons, but that's an apples-to-oranges comparison.) The Cardinals couldn't single-block Robison on Sunday, and his forced fumble on quarterback Kevin Kolb in the first quarter was one of the key plays in springing the Vikings to a 28-0 lead.

I didn't think it was possible, but tailback Adrian Peterson ran with more purpose than I've seen him with the possible exception of the 2009 NFC Championship Game. That's not to say there are games that he doesn't run hard in. But you could just see in Peterson's eyes and movement that he wasn't going to be denied. The most impressive of his three touchdown runs was the last one. I doubt that rookie cornerback Patrick Peterson will forget coming in high and taking a 5-yard ride into the end zone. It's difficult for a non-quarterback to accomplish, but all superstars at times need to will their team to scores. Peterson did that Sunday.
And here is one issue I still don't get:
This is truly a question I don't know the answer to: How does the Vikings' mostly veteran roster truly feel about McNabb? Most veterans want an experienced quarterback to avoid the roller coaster performances of a rookie. They want someone who knows where to throw it, gets them the ball on time and mostly on target. McNabb has done those things only sporadically this season. Are players OK with what they've seen? Or are their eyes starting to wander toward rookie Christian Ponder? Of course, players would know better than us if Ponder has a chance to be any better at this point.
April, 7, 2011
4/07/11
12:00
PM ET
»
NFC Draft Watch
:
East
|
West
|
North
|
South
»
AFC
:
East
|
West
|
North
|
South
Each Thursday leading up to the NFL draft (April 28-30), the ESPN.com NFL blog network will take a division-by-division look at key aspects of the draft. Today's topic: history in that spot.
Chicago Bears

The Bears' top pick is No. 29 overall. Here are the past seven players taken in that spot, with their NFL team in parentheses:
2010: Cornerback
Kyle Wilson
(
New York Jets
)
2009: Wide receiver
Hakeem Nicks
(
New York Giants
)
2008: Defensive end
Kentwan Balmer
(
San Francisco 49ers
)
2007: Offensive guard
Ben Grubbs
(
Baltimore Ravens
)
2006: Center
Nick Mangold
(New York Jets)
2005: Defensive back
Marlin Jackson
(
Indianapolis Colts
)
2004: Wide receiver
Michael Jenkins
(
Atlanta Falcons
)
ANALYSIS:
The bottom of the first round is a great place to find starting-caliber guards and centers. The top tackles are usually off the board. Fortunately for the Bears, they could use a guard or center just as much as a tackle. While coach Lovie Smith wants to bring back veteran center
Olin Kreutz
, a free agent, he will have to be replaced someday. And more depth at guard could allow the Bears to move 2008 first-round draft pick
Chris Williams
back to left tackle.
Detroit Lions

The Lions' top pick is No. 13 overall. Here are the past seven players taken in that spot, with their NFL team in parentheses:
2010: Defensive end
Brandon Graham
(
Philadelphia Eagles
)
2009: Defensive end
Brian Orakpo
(
Washington Redskins
)
2008: Running back
Jonathan Stewart
(
Carolina Panthers
)
2007: Defensive lineman
Adam Carriker
(
St. Louis Rams
)
2006: Linebacker
Kamerion Wimbley
(
Cleveland Browns
)
2005: Offensive lineman
Jammal Brown
(
New Orleans Saints
)
2004: Receiver
Lee Evans
(
Buffalo Bills
)
ANALYSIS:
Unfortunately for the Lions, this isn't a great spot to get an elite cornerback. Those types of players are usually drafted in the top seven or eight picks. (The Lions are hoping that Nebraska's
Prince Amukamara
somehow slips through the cracks.) This is a nice area to draft a second-tier defensive lineman, and this year, the Lions will probably have their pick of offensive tackles as well.
Green Bay Packers

The Packers' top pick is No. 32 overall. Here are the past seven players taken in that spot, with their NFL team in parentheses:
2010: Cornerback
Patrick Robinson
(New Orleans Saints)
2009: Defensive tackle
Ziggy Hood
(
Pittsburgh Steelers
)
2008: Defensive end
Phillip Merling
(
Miami Dolphins
)*
2007: Receiver
Anthony Gonzalez
(Indianapolis Colts)
2006: Defensive end
Mathias Kiwanuka
(New York Giants)
2005: Offensive guard
Logan Mankins
(
New England Patriots
)
2004: Tight end
Benjamin Watson
(New England Patriots)
*First pick of second round.
ANALYSIS:
There are some awfully productive players on this list. Part of the reason is that the previous year's most successful organization was in that spot and thus was more likely to make a good scouting decision. But it also tells us the Packers should have an opportunity to select a player who can make an immediate impact as long as they don't limit themselves to certain positions.
Minnesota Vikings

The Vikings' top pick is No. 12 overall. Here are the past seven players taken in that spot, with their NFL team in parentheses:
2010: Running back
Ryan Mathews
(
San Diego Chargers
)
2009: Running back
Knowshon Moreno
(
Denver Broncos
)
2008: Offensive tackle
Ryan Clady
(Denver Broncos)
2007: Running back
Marshawn Lynch
(Buffalo Bills)
2006: Defensive lineman
Haloti Ngata
(Baltimore Ravens)
2005: Linebacker
Shawne Merriman
(San Diego Chargers)
2004: Linebacker
Jonathan Vilma
(New York Jets)
ANALYSIS:
This list tells us what we knew already: You can get a blue-chip, impact player here if you exercise good judgment. The Vikings' decision, of course, will be complicated by their need for a quarterback. What will they do if they have, say, a potentially elite pass-rusher like North Carolina's
Robert Quinn
available to them? Take Quinn and look for a quarterback later? Or prioritize the quarterback?
June, 3, 2010
6/03/10
10:50
AM ET
It's probably not time for a postscript to the
X-Files exchange
between the
Minnesota Vikings
and
New Orleans Saints
safety
Darren Sharper
. So consider this post a "midscript" to provide some interesting context for NFC North blog readers who might not follow the daily trends in New Orleans. (Including me.)

Sharper
Namely, there is a genuine chance that Sharper won't be much of a factor for the Sept. 9 season opener that has provided the backdrop for this Twitter-trash. Let me pull a few paragraphs of a
recent post
from NFC South colleague Pat Yasinskas:
The start of the season is a long way off. Besides, I'm thinking there's a very good chance Sharper won't even be in the starting lineup for that game. Malcolm Jenkins was getting the first-team work at free safety [last week].

I know this might not sit well with Sharper's fan club in New Orleans, and that's understandable because the guy was a huge contributor as the Saints won the Super Bowl. But he also is 34. Jenkins was a first-round draft pick last year and the Saints want to get him on the field.
Indeed, the Saints re-signed Sharper to a one-year contract this spring. Later, it was revealed Sharper had microfracture surgery on his knee, a serious procedure that has varying timetables for recovery. Then the Saints used their first-round draft pick to select cornerback
Patrick Robinson
and moved Jenkins to free safety. The team is clearly planning for a Sharper-less future, whether it's immediate or just soon.
Yasinskas, among others, has referred to Sharper as "insurance" to the Robinson-Jenkins plan. If either isn't ready to start, then Sharper would ostensibly be available to fill the gap. But if they're ready? Who knows? Even if the Saints keep Sharper on their roster, would a 34-year-old backup safety be part of the 45-man game-day roster Sept. 9?
Just something for you to consider as you imagine Sharper busting
Visanthe Shiancoe
under his chinstrap.
April, 9, 2010
4/09/10
12:05
PM ET
Much of our debate on Green Bay's pre-draft needs has centered on offensive tackle and outside linebacker. But some of you suggested an alternate focus during
last week's discussion
: cornerback.
A cornerback with sophisticated coverage skills is one of the four most-difficult targets in any draft, a list that (in my opinion) also includes pass-protecting left tackles, pass-rushing defensive ends and competent quarterbacks. That's one of the reasons you saw the Packers issue a high tender to restricted free agent
Tramon Williams
, who has made 20 NFL starts.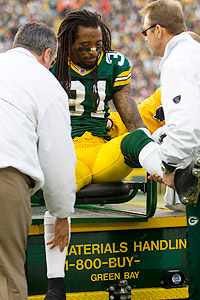 Jeff Hanisch/US PresswirePackers cornerback Al Harris, who injured his knee last season, might not be ready when the 2010 season begins.
Another big reason is something we haven't discussed much in this space: The uncertain future of longtime starter
Al Harris
, who at 35 is rehabilitating a left knee injury that was more serious than we originally thought.
Harris has been chronicling his recovery over at the
National Football Post
, but coach Mike McCarthy spoke with realism last month when discussing Harris' timetable for returning to the field. McCarthy called it a "real serious injury" and indicated that team doctor Patrick McKenzie performed two separate procedures on him to regain full range of motion.
"We'll just continue to watch that and see how he responds," McCarthy said, adding that it's "probably fair" to compare Harris' timetable to the one right tackle
Mark Tauscher
followed last year. Tauscher wasn't ready to start practicing until October.
If Harris isn't ready to start the season, Williams would start opposite
Charles Woodson
. In that scenario, the Packers would be counting on several other players to recover from injuries, including
Will Blackmon
and
Pat Lee
, to provide depth.
A first-round cornerback might not be a dramatic need, but it wouldn't be a luxury either. For what it's worth, here are Mel Kiper's
top five available cornerbacks
:
1. Florida's Joe Haden
2. Alabama's Kareem Jackson
3. Rutgers' Devin McCourty
4. Boise State's Kyle Wilson
5. Florida State's Patrick Robinson
April, 9, 2010
4/09/10
7:20
AM ET
We're under the two-week mark in our 2010 NFL draft countdown, which actually makes this a quiet Friday morning. Most teams (and media members) have hunkered down to complete last-minute draft preparations and evaluations.
Notre Dame quarterback Jimmy Clausen does have a throwing session scheduled for today, and we have discussed the possibility of Minnesota's interest if he falls to No. 30 overall. But unless he is planning to use a private plane, it seems unlikely Vikings coach Brad Childress will be in attendance.
As the
Star Tribune reported
, Childress will speak at a Florida coaches convention Friday and work out a number of draft-eligible players, including quarterback Tim Tebow, afterward.
In the meantime, let's take a peek at news around the division:
January, 21, 2010
1/21/10
10:05
AM ET
Mock drafts tend to be more speculative as you move deeper in the draft, so this year we'll have to be judicious about citing them. At this point, the NFC North has only one pick in the first 22 spots of the draft's first round. By the time we get to Green Bay at No. 23, the pool of potential selections will have grown substantially.
That said, there are some interesting selections in Mel Kiper's
first mock draft

of the 2010 draft season. You'll need an Insider subscription to see the whole thing, but I'm proud to say I've been authorized to bring you his three NFC North picks. (Remember, Denver owns Chicago's first-round pick as part of the
Jay Cutler
trade.)
Here are the choices, followed by some moderately insightful comments from yours truly:
Detroit Lions

Selection:
No. 2 overall
Player:
Oklahoma defensive tackle Gerald McCoy

Mel says:
Getting McCoy both fills a big need for the Lions and is an extraordinarily good consolation prize for any team unable to get [Ndamukong] Suh. McCoy makes his living in opponents' backfields and is such a talent he could have landed in this position last year had he declared as a redshirt sophomore.
Seifert says:
I don't think the Lions have any more pressing need than defensive line. As crazy as it sounds, though, I can't help wondering whether St. Louis will be tempted to go with a quarterback at No. 1 overall. If so, Suh falls to the Lions. We can dream, right?
Green Bay Packers

Selection:
No. 23 overall
Player:
USC safety Taylor Mays
Mel says:
If you had told Green Bay in August that it could get Mays at No. 23 overall, the Packers would have been thrilled. An extraordinary athlete, Mays might have suffered against expectations, but the Pack hit a home run with
Clay Matthews
… out of USC last year, and Mays both fills a need and has great potential.
Seifert says:
There's nothing wrong with adding a great athlete, no matter what position he plays. Safety is a complicated situation for the Packers. The contracts of both starters are expiring.
Atari Bigby
and
Nick Collins
will be restricted free agents if the NFL moves to an uncapped system, as expected. I have no reason to expect the Packers plan to jettison one of them, but depth behind two free agents isn't a terrible idea.
Minnesota Vikings

Selection:
Around No. 30
Player:
Patrick Robinson
, CB, Florida State
Mel says:
Need meets value here. Robinson is the second-best corner in the draft, and Minnesota should be happy to grab him this late. Robinson has the chance to step in and contribute.
Seifert says:
The Vikings got by this season with starter
Antoine Winfield
missing six games, but no team should bypass a good cover corner. I still maintain that quarterback is the Vikings biggest need entering this draft.
January, 14, 2010
1/14/10
3:00
PM ET
As we
noted
earlier this week, Green Bay will have the No. 23 overall pick in the draft. That's easy to figure out. Now the hard part: Who might they choose if they remain in that spot?
At this point in the draft season, it's nearly impossible to tell. But draft evaluation is a year-round business, so there is always a list. Below, I've given you two assessments of the players who enter the Senior Bowl ranked in the middle-to-end of the draft's first round. Remember, in some cases juniors haven't declared for the draft.
First, here is the 10 players ranked between No. 18 and No. 28 by
Scouts, Inc.
:
18.
USC safety Taylor Mays
19.
North Carolina outside linebacker Bruce Carter
20.
Florida inside linebacker Brandon Spikes
21.
Florida defensive end Carlos Dunlap
22.
California running back
Jahvid Best
23.
Oklahoma tight end
Jermaine Gresham
24.
Maryland offensive tackle Bruce Campbell
25.
Florida State cornerback Patrick Robinson
26.
Notre Dame receiver
Golden Tate
27.
Iowa offensive tackle Bryan Bulaga
28.
Notre Dame quarterback
Jimmy Clausen
Mel Kiper's
Big Board
only includes 25 players, so here are Mel's Nos. 18-25:
18.
Rutgers offensive tackle
Anthony Davis

19.
Mays

20.
Michigan defensive end Brandon Graham

21.
Texas linebacker Sergio Kindle
22.
Gresham
23.
Best
24.
Illinois receiver
Arrelious Benn
25.
Robinson