June, 11, 2013
6/11/13
8:49
AM ET
By
ESPN.com staff
| ESPN.com
Chicago Bears
Defensive end Shea McClellin has been
dealing with plantar fasciitis
this offseason. However, he is not expected to be limited when the team continues workouts on Tuesday.
Steve Rosenbloom of the Chicago Tribune
: "How difficult had [Jay] Cutler become? For those of you scoring at home, Cutler has warred to some degree with the ousted Ron Turner, the ousted Mike Martz and the ousted [Mike] Tice. Raise your hand if you think Cutler's coach-killing doomsday clock just moved one more closer to the end. There are two common denominators here: One, Turner, Martz and Tice have not been snapped up as OC's in the NFL, and two, Cutler. Just because the offensive coordinators haven't been hired for that role by other teams doesn't mean Cutler isn't impossible to work with."
Detroit Lions
Dave Birkett of the Detroit Free Press
previews the Lions' minicamp
.
Cortland Finnegan was
on the Lions' radar in 2012
, but the two sides were unable to work out a deal.
Green Bay Packers
Hall of Fame running back
Paul Hornung remembers Vince Lombardi
on what would have been the coach's 100th birthday.
A passion for the game
helps Ryan Pickett continue to thrive
in Dom Capers' 3-4 defensive scheme.
Minnesota Vikings
Former Vikings wide receiver Percy Harvin is
focusing on the future
and leaving the drama back in Minnesota.
Wide receiver Stephen Burton is out to prove he can
contribute to the team's offense
.
May, 17, 2013
5/17/13
8:30
AM ET
We're Black and Blue All Over:
Good mid-Friday morning and let's get straight to our morning tour:
November, 21, 2011
11/21/11
4:30
PM ET
The buildup to our NFC North Thanksgiving Feast is going to short, intense and full of distractions. This week would have been busy even without Thursday's matchup between the 10-0
Green Bay Packers
and the 7-3
Detroit Lions
, so as of this moment I'm declaring
complete and total pandemonium in the ring
.
[+] Enlarge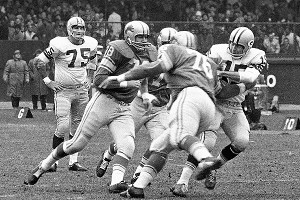 AP File PhotoDetroit's Darris McCord, 78, and Roger Brown, 76, sack Green Bay's Bart Starr on Nov. 23, 1962. The Lions dealt Vince Lombardi's Packers their only loss of a championship season, sacking Starr 11 times.
As we monitor the
Chicago Bears
'
quarterback transition
and
the health status
of the
Minnesota Vikings
' star running back, we'll start our Packers-Lions coverage with the story of a rematch nearly 50 years in the making.
If you qualify for AARP membership, or if you watched Bob Costas' weekly essay Sunday night on NBC, you know the Packers and Lions played a Thanksgiving game under similar circumstances in 1962. The Packers entered the game undefeated at 10-0, but the Lions handed them their only loss of the season.
Many people consider the 1962 Packers
the best team in franchise history
and one of the best in the history of pro football. It had 10 future members of the Hall of Fame, including fullback Jim Taylor, right tackle Forrest Gregg, quarterback Bart Starr, linebacker Ray Nitschke, cornerback Herb Adderley, defensive end Willie Davis, center Jim Ringo, halfback Paul Hornung, safety Willie Wood and defensive tackle Henry Jordan.
But on November 23, 1962, the Lions handed them a decisive 26-14 defeat. They sacked Starr 11 times and intercepted him twice.
Monday, the Lions made several members from that team available via conference call. On that day, recalled Hall of Fame linebacker Joe Schmidt: "We were all out to prove to the world that we were as good or better than Green Bay."
(Sound familiar?)
History tells us the Lions were hardly slouches in those days. They won the NFL title in 1957 and won the Runner-Up game in 1960 and 1961. But after opening the 1962 season 3-0, the Lions lost to the Packers in a game that has gone down in franchise lore.
Jerry Green of the Detroit News
recalled that game in detail this season. The short version: Leading 7-6 with less than a minute to play, the Lions called a pass play. Receiver Terry Barr slipped, and Adderley intercepted Milt Plum's pass to set up Hornung's game-winning field goal.
Tempers flared in the post-game locker room, and defensive tackle Roger Brown said Monday that the Lions had a "vendetta" against the Packers in the Thanksgiving rematch. Added Schmidt: "We always felt down deep that we were a better football team."
The Lions were well-versed in Packers' coach Vince Lombardi's offense, and defensive coordinator Don Shula worked with Schmidt to recognize each play.
"They basically ran six or seven plays off a couple different formations," Schmidt said. "By the formation, I could call a slant to where they were going to run. Our defensive line penetrated them so severely that their offensive line lost their poise."
Said Brown: "We were determined to get to Bart Starr. I don't think the German Luftwaffe could have stopped us that day."
The parallels for this year's game are interesting, if not completely relevant. The Packers are again 10-0, of course, and the Lions are quite eager to demonstrate they are, as Schmidt said, just as good. Like the 1962 team, today's Lions are built around a nasty defensive line. I'm not sure if
Kyle Vanden Bosch
,
Ndamukong Suh
and company will register 11 sacks Thursday of Packers quarterback
Aaron Rodgers
, but they'll be trying.
It's worth noting that the Packers rebounded from that 1962 loss to finish 13-1 and win the NFL title. The Lions finished 11-3 and made another trip to the Runner-Up game. If nothing else, it's nice to have a game this season that means something to everyone -- the teams, both sets of fans and the playoff race.
July, 1, 2010
7/01/10
11:30
AM ET
Notable players:
Fullback Jim Taylor, right tackle Forrest Gregg, quarterback Bart Starr, linebacker Ray Nitschke, cornerback Herb Adderley, defensive end Willie Davis, center Jim Ringo, halfback Paul Hornung, safety Willie Wood, defensive tackle Henry Jordan.
[+] Enlarge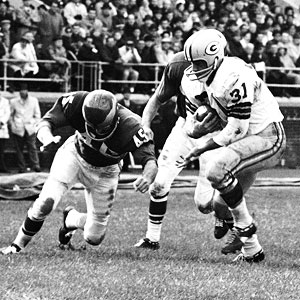 AP Photo/Bill IngrahamIn their 49-0 win over the Eagles, Jim Taylor and the Packers gained a total of 628 yards.
Analysis:
There are notable players, and then there are the best of the very best. All 10 players listed above have been inducted into the Pro Football Hall of Fame. In other words, nearly half of the
Green Bay Packers
' 1962 regular lineup were among the best of their era. That type of talent collection could never be replicated in today's era of superstar contracts.
Under Hall of Fame coach Vince Lombardi, this Packers team shut out two of its first three opponents and won its first four games by a combined score of 109-14. It went on to finish the season 13-1, leading the NFL in both points scored and fewest points allowed, and won the league championship with a 16-7 victory over the
New York Giants
. There hasn't been another one-loss season in Green Bay ever since.
The Packers have won 12 titles in their history, including five under Lombardi, but the 1962 team was a powerhouse unto itself. If you've read David Maraniss' biography of Lombardi, you understand why: This edition of the Packers recorded a pair of 49-0 victories and
set an NFL record
for highest average point differential in its games (19.1 points). Here are some other notable marks:
In the second 49-0 drubbing, this one at Philadelphia, the Packers gained -- yes -- 574 more yards than the Eagles (628-54).
The 49-0 victories are the two biggest shutouts in team history.
The 1962 Packers scored 53 touchdowns, the second-most in team history despite a 14-game season at the time. Its 36 rushing touchdowns remain an NFL record.
The defense led the NFL with interceptions (31) and fewest passing yards allowed (2,084).
The season's running performance was the grist for Lombardi's epic "Run To Daylight" with Bill Heinz. While Hornung is often remembered as the Packers' top back, in 1962, Taylor led the team with 1,474 yards and an amazing 19 touchdowns.
The Giants were hell-bent on revenge in the championship game, having lost to the Packers 37-0 the year before. The game was in New York, but the Packers controlled the game throughout in 17-degree weather at Yankee Stadium. The Giants' only score came on a blocked punt. (Check out this
NFL Films video
on that game. Cool stuff.)
Most impressive win:
It's hard to overlook an NFL title game, but beating any team 49-0 and outgaining it by 574 yards is a stunning demonstration of dominance.
Did you know?
Nitschke was the MVP of the championship game but might have had a bigger impact on the league a few hours after the game. As the story goes, Nitschke appeared on the television show "What's My Line?" wearing his trademark black rimmed glasses. A film producer named Ed Sabol bought the rights to that appearance for $3,000. Sabol's company eventually became known as NFL Films.
Honorable mention:
1966:
Won Super Bowl I after finishing the regular season 12-2. Its two losses, to San Francisco and Minnesota, came by a total of four points.
1996:
Led the NFL in points scored and fewest points allowed, the only team to do so in the past 36 years, and won Super Bowl XXXI.
1929:
Clinched the Packers' first NFL Championship, this one based on final standings, with an undefeated record (12-0-1).
July, 17, 2009
7/17/09
10:46
AM ET
Posted by ESPN.com staff
Chicago Bears
Packers receiver Donald Driver may have angered some Bears fans with his harsh assessment of Chicago's receiving corps, but Brad Biggs of the Chicago Sun-Times points out that based on the performance of Bears pass-catchers against the Pack last season, Driver has a point.
In a SportsNation chat on ESPN.com Thursday, KC Joyner said the Bears have "the next Brian Westbrook" in running back Matt Forte.

Detroit Lions
Shutdown Corner had a Q&A with Matthew Stafford that kept things light. When asked who he'd dine with if he could chose any three dinner companions, dead or alive, Stafford chose Abe Lincoln, Michael Jordan and Tupac.
Tight end Casey FitzSimmons hopes he can continue to stick with the Lions -- he's the only tight end left who was with the club last season.
Green Bay Packers
Minnesota Vikings
NFL.com's Solomon Wilcots questions whether Brett Favre brings enough upside to the Vikings to make him worth signing.
Hall of Famer Paul Hornung doesn't have much faith is Favre succeeding in Minneapolis. "[Favre] ain't going to win in Minnesota," Hornung said at a Wisconsin sports banquet on Tuesday.
Single-game tickets for preseason and regular-season Vikings games will go on sale at 9 a.m. on Monday, July 20.
July, 15, 2008
7/15/08
8:28
AM ET
Posted by ESPN.com's Kevin Seifert
The masses have spoken: "Brett Favre" is not on the tip of everyone's tongue. At least a few people care about the three other teams in this division. We understand. So we'll start off with two non-Favre/Packers stories, just to show we care.
Ex-Detroit Lions running back Kevin Jones will visit Chicago's Halas Hall today, according to David Haugh of the Chicago Tribune. Jones seems to have narrowed his selections down to the Bears or Tampa Bay and could make a decision as early as today. This can't be short-term fix for the Bears, who released starter Cedric Benson this spring and are confident in rookie Matt Forte. Jones had surgery to repair a torn ACL earlier this year and won't be ready for contact when training camp starts. He's a long-term insurance policy. He also has been talking to the Bucs for a while and could be visiting the Bears to determine his market value.
The Minnesota Vikings have had a number of players work out this summer with personal trainer Tom Shaw at Disney's Wide World of Sports in Orlando, Fla. Among them is quarterback Tarvaris Jackson, who reportedly ran the 40-yard dash in 4.54 seconds.
OK, enough of that.
Green Bay Packers legend Paul Hornung thinks the Packers should trade Favre. "Get the most you can out of it," Hornung said. Hornung was participating in a golf tournament as part of the Packers Hall of Fame induction this weekend. As of Monday, Favre was still expected at the event Saturday to introduce center Frank Winters.
The Favre saga is reminiscent of Barry Sanders' estrangement from the Detroit Lions, writes Mike O'Hara of the Detroit News. O'Hara notes some differences in the situations, but warns of the dangers of alienating a franchise icon.