NFC North:

Percy Harvin to Seahawks
March, 11, 2013
3/11/13
6:32
PM ET
Make that two prominent
Minnesota Vikings
veterans who, from at least a competitive standpoint, weren't huge fans of Monday's decision to trade receiver
Percy Harvin
to the
Seattle Seahawks
.

We've already noted
that tailback
Adrian Peterson
tweeted he had been kicked in the stomach "several times." Meanwhile, defensive tackle
Kevin Williams
told Sirius/XM NFL radio that he hopes the move doesn't lead to a short-term step back for the franchise and admitted: "I can't tell you one receiver that's on the team right now."
As we discussed earlier,
the Vikings' top returning receiver is
Jarius Wright
, a 2012 fourth-round draft pick who played in seven games as a rookie last season. Williams made clear that the Vikings have an opportunity to rebuild the receiving group between now and the start of the season, but it won't be an easy task.
"I mean, I can't say I'm just happy about it," Williams said. "Who knows how much longer I have in Minnesota. And the timing, now, you want to win games. You don't want to go through a year like we had a couple years ago at 3-13 and 6-10. Those seasons are not fun and the older you get, you don't want to go through that as a veteran player. You want to win.
"I think [Harvin] gave us a great chance to win. But, on the other side, too, the guys who run the team, they're in that position for a reason and I guess they believe they're doing the right thing."
Williams has played 10 seasons and will be 33 in August. It would be understandable if he were disappointed in the departure of a young, dynamic player. Players don't care about salary-cap headaches, and not all of them worry about the behavior of their teammates.
Many of them want to win now, regardless of long-term implications. I guess that's why there will never be a player-general manager in the NFL. Sometimes the two interests are competing.
March, 11, 2013
3/11/13
4:37
PM ET
If you're wondering what
Minnesota Vikings
players think about their team's decision to trade receiver
Percy Harvin
, look no further than what MVP tailback
Adrian Peterson
tweeted
a few moments ago
:
The best all around player I ever seen or you'll ever see! Goes to Seattle! I feel like I just got kicked in the stomach. Several times!!!

— Adrian Peterson (@AdrianPeterson) March 11, 2013
Peterson went on to tweet: "I wish my boy Percy nothing but success! God bless you homie"
Earlier, we discussed the likelihood that the Vikings rendered judgment on Harvin based on much more information than the public is aware of. But those sort of off-the-field issues don't matter to teammates who want to win, like Peterson, and know that the Vikings are going to have to work awfully hard just to get back to even at receiver upon Harvin's departure. I'll have more on that topic in a bit.
I wouldn't overreact to this tweet. Peterson is allowed a moment of frustration. He'll get over it, just like NFL players get over all other front-office decisions. Eventually, we all move on.
March, 11, 2013
3/11/13
3:45
PM ET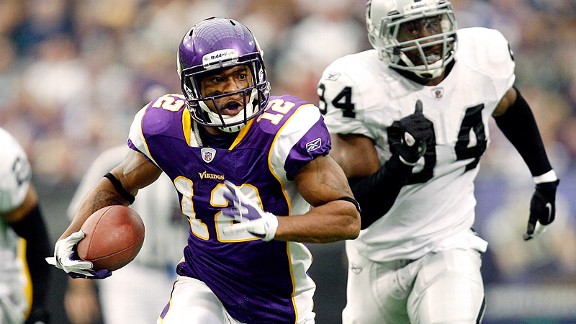 Eric Miller/ReutersWhat happened in Minnesota for the Vikings to be so willing to trade away an asset like Percy Harvin?
There was a time when
prevailing wisdom
suggested the
Minnesota Vikings
would struggle to get a second-round draft choice in return for trading receiver
Percy Harvin
. As the thinking went, Harvin's reputation as a high-maintenance personality and the need to satisfy his financial demands would drive down his trade value.
So under the circumstances, you could say the Vikings did well Monday to extract a first-rounder -- plus two other picks -- from the
Seattle Seahawks
in
exchange for Harvin
.
Under the circumstances …
Under the circumstances …
Under the circumstances …
Frankly, the depth of those circumstances will determine whether the Vikings made the right decision Monday. Make no mistake: They shipped out one of the NFL's most dynamic playmakers a few months shy of his 25th birthday, leaving themselves as short on offensive firepower as any team in the league. They received a nice kitty in return, but certainly not one that guarantees a replacement of his skills.
Nothing, and I mean nothing, that has been reported about Harvin's eccentric off-field behavior -- his dust-ups with both Vikings head coaches he has played for and his decision to rehabilitate his sprained ankle elsewhere last season, among others -- merits this move. And I truly doubt that the Vikings -- who have
spent nearly $1 billion on player salaries
in the tenure of owner Zygi Wilf -- made this decision based on finances. Over time, Wilf has been more than willing to reward the Vikings' core players. If Harvin made exorbitant contract demands, such as a deal close to the one the
Detroit Lions
gave
Calvin Johnson
, it could only have been to accelerate his departure. We'll know for sure when we get the numbers on his deal with the Seahawks.
There is only one explanation here that makes sense: What we've heard about Harvin is but the tip of the proverbial iceberg. If NFL teams gave up on every superstar, blue-chip player who argued with coaches and exhibited diva-like tendencies, well, you would see a lot more Percy Harvins being traded and/or released. Instead, teams almost always accept those negatives because they are outweighed by the positive of his on-field production.
The Vikings had the NFL's least-explosive passing game last season and are desperate for more, not less, talent at the position. Every rational football thought suggested the Vikings should find a way to make it work with him. Dealing with high-maintenance players, especially ones with a career horizon as long as Harvin's, is part of successful NFL team building.
So what happened? We can only be left to assume the Vikings found him not just high maintenance and not simply a diva. They would have had to arrive at a much more dire conclusion than that. I don't expect them to ever reveal their true reasoning, but to justify it internally, the Vikings would have had to conclude Harvin was an incorrigibly lost cause who was hell-bent on disrupting the franchise until it finally granted him leave.
What evidence did they have to support that theory? Did Harvin tell them he would hold out for the first 10 games, the maximum a player can sit out without losing credit for a full accrued season? Possibly. Had he displayed rarely-seen behavioral tendencies, even based on NFL standards? Perhaps.
To be sure, there have always been whispers of suspicion about the ways Harvin conducted himself. Former coach Brad Childress openly questioned how serious Harvin's ongoing migraine headaches were in 2009 and 2010. There was a very odd and only partially-explained absence from training camp in 2010, which Harvin first attributed to a family member's death and later to migraines.
There were reports of a confrontation
with Childress in 2010
and
Frazier last season
. Many of us wondered
why Harvin couldn't play
after spraining his ankle last season against, ironically, the Seahawks. We thought it was interesting, if nothing else, that Harvin never rejoined the team after being placed on injured reserve.
For me to accept this trade as smart, I have to assume the Vikings found malicious and deliberate intent in most of what they publicly explained as coincidental when it came to Harvin's dramas. And I have to think there were further words or actions -- or both -- in the past few months that cemented those feelings. The Vikings were smart to keep those misgivings to themselves, and the protection of their presumed grievances helped generate the return they got in Monday's trade.
I've presented that theory Monday afternoon to a number of people I trust who would have better insight than me. They all considered it the understatement of the year, in the paraphrased words of one.
If that's the case, then caveat emptor for the Seahawks and coach Pete Carroll. While the Seahawks seem better equipped to make Harvin happy at the moment, given the presence of quarterback
Russell Wilson
and their apparent willingness to meet his contract demands, their situation might not always be so rosy. The Vikings have experienced Harvin's reaction to adversity -- real or imagined -- and you saw Monday what they did about it.
It would take an extraordinary litany of confrontations, altercations and mistrust to make a player like Percy Harvin a net negative and thus expendable. The Vikings did well to get what they did for him, but if this was addition by subtraction, well, that's a lot of negatives.
March, 11, 2013
3/11/13
2:05
PM ET
OK, I hope you all enjoyed
the impromptu chat we held in the previous post.
Thanks to ESPN.com blog editor Emily Schaible for setting that up. We thought it was a fun way to start the conversation on the
Minnesota Vikings
' trade of receiver
Percy Harvin
to the
Seattle Seahawks
.
Here's what has been reported as of this moment:
The trade is contingent on a physical and Harvin reaching agreement on a contract extension. You can assume there will be few, if any, issues there if the discussions have reached this stage.
The Vikings will receive the Seahawks' first-round draft pick, No. 25 overall. According to Fox Sports' Jay Glazer, they will also get a 2013 seventh-round draft pick and a mid-round pick in 2014. That's a higher sum than many had predicted, but to me a first-round pick should have always been the minimum compensation required. It leaves the Vikings with enough firepower (No. 23 and No. 25 in the first round) to move far up in the draft if they want.
I'll have a longer column coming up in a moment, but let's make something clear: This move must be considered the start of something else. Sometimes you have to clear out the cupboard before you re-stock it. The Vikings' offense is worse today than it was yesterday, which makes tomorrow just as important as today. Or something like that. Back in a bit.
March, 11, 2013
3/11/13
1:16
PM ET
By
ESPN.com staff
| ESPN.com