November, 9, 2011
11/09/11
11:15
AM ET
Rule 8, Section 5, Article 3(c)
of the NFL rule book is straightforward. But as is the case with many NFL rules, the interpretation is not. Here is what it says, in part:
"Acts that are permissible by a player include but are not limited to … contact that would normally be considered pass interference, but the pass is clearly uncatchable by the involved players…."
That instance would seem to apply to a key play in the fourth quarter of the
Green Bay Packers
' 45-38 victory Sunday over the
San Diego Chargers
. As you recall, Clete Blakeman's crew called Packers cornerback
Charles Woodson
for pass interference on a fourth-down incompletion, giving the Chargers a new set of downs to pursue the potential tying touchdown with three minutes, 26 seconds remaining in the game.
A look at the replay reveals
Antonio Gates
running a drag route along the Packers' 35-yard line and stopping abruptly at about the middle of the field. Woodson, trailing Gates in man coverage, kept running. The two collided as the ball sailed past them and fell to the ground.
Rational people could debate whether the play constituted pass interference. The rule book allows for both "incidental contact" and also for "inadvertent tangling of feet" when both players are competing for the ball. For the sake of this discussion, let's assume it was pass interference.
The ball landed about six yards past Gates and three yards behind him. I don't have the math degree to figure out the geometric number of yards the ball was, but let's just say Gates would have had to have some serious jets to have caught up to where quarterback
Philip Rivers
delivered the ball.
Blakeman's crew needed to decide whether the ball was "clearly uncatchable." I think you can make a reasonable argument that it was, but Blakeman must not have seen it that way. More often than not, when a receiver and defender collide and fall to the ground on a fourth-down play, you're going to see pass interference.
Dirty Laundry update:
Two weeks ago,
we reviewed a roughing-the-passer penalty against Packers linebacker
Clay Matthews
during a victory over the
Minnesota Vikings
. Matthews' hit didn't appear late and his contact with Vikings quarterback
Christian Ponder
was all below the neck.
We wondered if referee Peter Morelli threw the flag because Matthews grabbed Ponder behind the legs and drove him into the ground, a technical violation of NFL rules if Morelli deemed the hit unnecessary or violent. That would have made it a subjective judgment call.
In an appearance
on "The Scott Van Pelt Show" on ESPN Radio
, however, Matthews said he was told he launched into Ponder using the top of his helmet. That clearly didn't happen, which means Morelli simply missed it.
"When I had asked the ref what he had called me on," Matthews said, "he said I had used the top of my helmet to launch into him. I could see where he wouldn't be able to see the correct angle. It's understandable, but obviously with video replay and photos out there, I like to think it's a textbook tackle as well as any of the hits we put on quarterbacks. But it really comes down to a split decision, and you can't fault the refs for that. But at the same time, it did give them 15 yards and they went down to score and make the game that much closer."
Now, on to our Penalty Tracker:
December, 2, 2010
12/02/10
10:00
AM ET
Hat tip to Jason Wilde of ESPNMilwaukee.com, who
pointed out via Twitter
(
@jasonjwilde
) the NFL's official explanation for
the play we ranted about
Wednesday. The
NFL Network appearance
of Carl Johnson, the league's vice president of officiating, provides us a platform for a quick follow-up.
For starters, Johnson acknowledged that referee Peter Morelli's crew erred on a critical call in the second quarter of the
Green Bay Packers
' 20-17 loss to the
Atlanta Falcons
. Tight end
Tony Gonzalez
should not have been credited with a 6-yard reception on fourth down.
"It was not a catch," Johnson said. "He did not maintain firm grasp and control."
There is no disputing that conclusion. But in the process of explaining what happened, Johnson provided further grist for our argument against the current replay system.
He touted the instance as "an excellent example of the chess games teams play" and praised the Falcons for rushing to get off another play and prevent Packers coach Mike McCarthy from challenging the call. Johnson also acknowledged that "TV networks aren't obligated to show significant replays or any types of replays" and said that the home-field advantage in the replay system "balances out" because "you have eight home games and eight away."
Johnson is simply the messenger of the NFL's policy-making monolith, so I don't blame him personally. But how can this be a fair way of neutrally officiating high-stakes NFL games? Getting calls right shouldn't be subject to "chess games." The NFL can't be solely reliant on TV networks if they're not obligated to provide the service they're being counted on for. And home-field advantage only balances out if there is an equal number of questionable calls spread among your 16 games -- an unrealistic possibility, at best.
Grrrrrrrrrr.
Maybe I'm preaching to the choir on this one, but count me as still riled by Sunday's sequence and now disheartened by the league's response.
One other note before I drop this (for the moment): A few of you pointed out something I should have realized myself in the original post. Network feeds inside NFL stadiums often run on a significant delay, and that was the case Sunday in the Georgia Dome. Sitting in the press box, I could watch the play live and then look up at the television monitor to see the same play just starting.
So if you were viewing at home, you saw a solid replay of the "catch" well before the Falcons took the next snap. But if you were in the coaches' booth, you didn't see that replay until after the next play occurred in live action. Without spending too much time in a space-time continuum debate, the bottom line is that McCarthy is right: His assistants didn't see any replay of the play until it was too late. Consider the internal feed delay another pock on the system as currently configured.
December, 1, 2010
12/01/10
1:30
PM ET
It would be easy to criticize
Green Bay Packers
coach Mike McCarthy for not challenging a fourth-down reception in the second quarter of last Sunday's 20-17 loss to the
Atlanta Falcons
. Referee Peter Morelli's crew credited Falcons tight end
Tony Gonzalez
with a 6-yard reception on fourth-and-3, although subsequent replays showed the ball fell through Gonzalez's hands and hit the ground before the whistle blew.
McCarthy said on Sunday that no one in the coaches' booth saw a conclusive replay until several plays later, a timeline the Falcons smartly sped up by going to the no-huddle offense. The play was critical enough to consider a so-called "blind challenge" based on hope rather than knowledge, but
McCarthy said Monday
that Morelli's crew "is among the lowest at turning over challenges" and thus not a prudent risk.
While I don't totally understand McCarthy's explanation -- FOX aired a pretty solid replay well before the next snap -- I don't want to harp on his inaction. For me, this episode is part of a larger theme we have hit a couple times this year. (In
October
and
November
.)
Good officiating shouldn't rely on coaching challenges, the speed of television networks nor be subject to home-field advantage. The whole idea of having officials is to establish neutral third parties to administer and adjudicate the game as fairly as possible. The addition of coaching strategy, the reliance on network producers and the emergence of creative scoreboard operators block that ideal.
If there is going to be instant replay in pro football, I would much rather see it implemented with the same neutrality that officials are expected to operate under. You might be tired of hearing this from me, but why should a home team be more entitled to good calls than the visitors? McCarthy grimly referred to that as "part of our game," but I don't think it should be.
In the fourth quarter, as you might recall, Falcons quarterback
Matt Ryan
completed a short pass to Gonzalez, who was ruled to have been tackled at the Packers' 1-yard line. Almost immediately, the Georgia Dome scoreboard displayed a magnified replay that showed Gonzalez might have been in the end zone when he initially made the catch. Falcons coach Mike Smith ultimately was stymied on his challenge -- Morelli apparently didn't see conclusive evidence to overturn from his replay -- but obviously McCarthy wasn't afforded the same opportunity in the second quarter.
Kudos to the Falcons for capitalizing on an advantage this system offers. But the only way to administer the replay system fairly is to put it fully in the hands of the officials If there is a questionable call, allow the designated replay official in the booth to initiate it. Can't we stop depending on coaches who are buried in play-calling and game management, as well as on network producers who shouldn't have a role in the outcome of games, and expect the neutral third party to fully officiate games?
Enough for now -- although I'm going to hold on to my soap box so I'll be ready the next time this happens.
On to our updated Challenge Tracker:
January, 28, 2010
1/28/10
10:14
AM ET
At the risk of opening old wounds, I'd like to bring you the NFL's response to several key officiating calls in Minnesota's 31-28 loss at New Orleans in the NFC Championship Game.
[+] Enlarge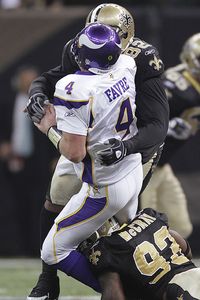 AP Photo/Mark HumphreyA penalty for hitting Brett Favre below the knees would have nullified a Saints interception.
Appearing Wednesday night on both the
NFL Network
and
NFL.com
, vice president of officiating Mike Pereira admitted there should have been a 15-yard penalty on the third-quarter play where Vikings quarterback
Brett Favre
suffered a left ankle injury. We
questioned the no-call
on Monday, and Pereira said: "We just missed it."
On the play, Saints defensive end
Bobby McCray
hit Favre in what Pereira called "pretty much a direct shot into the back of the legs." That contact violated an NFL rule prohibiting low hits on quarterbacks.
"It's the type of hit that we don't want," Pereira said, "… because clearly we're trying to protect the knees and we need to focus on this to make sure we don't miss [them]."
Had the penalty been called,
Jonathan Vilma
's interception would have been nullified and the Vikings would have re-gained possession with a first down at the Saints' 19-yard line.
Pereira was less direct about two instances involving instant replay during overtime, both of which went in the Saints' favor. I agree that both fell in a gray area, as Pereira explained.
On the first, a 9-yard reception by receiver
Devery Henderson
, Pereira admitted the ball touched the ground. "But the issue is not whether it hit the ground or not," he said. "The issue is whether he had control [of the ball before and after it hit the ground]" On that question, Pereira agreed with referee Peter Morelli: Replays didn't show enough to reverse the original call.
"I think if we had called it incomplete on the field," Pereira said, "it stays incomplete" after a review.
The same premise applied to the next play,
Pierre Thomas
's 2-yard run on fourth-and-1. There has been some discussion about where Thomas' forward progress should have been marked, especially after Vikings linebacker
Chad Greenway
appeared to have knocked the ball loose.
"One of those situations where it's so hard to tell [on replay]" Pereira said. "Did he lose possession? Hard to say. Was he short of the line to gain? Equally hard to say."
If Pereira addressed a third controversial call in overtime, a 12-yard pass interference penalty against Vikings linebacker
Ben Leber
, I didn't see it.
I know these comments won't satisfy everyone. NFC North readers react more emotionally to officiating than just about any other topic, and that's why we tried to address it weekly through our Dirty Laundry feature.
In the end, of course, there is nothing you can do about erroneous calls -- admitted or otherwise -- after the game is over. Officiating imperfection is part of sports at all levels, and ultimately -- although unscientifically -- I believe they even out over time. If anything, I give Pereira credit for speaking to some of the bigger questions on a weekly basis.
January, 25, 2010
1/25/10
1:36
AM ET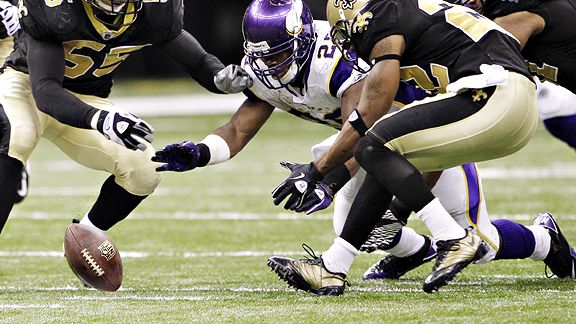 AP Photo/David J. PhillipAdrian Peterson fumbled twice in the third quarter on Sunday. He also scored three times in the game.
NEW ORLEANS -- About 15 minutes after his season ended,
Adrian Peterson
emerged from the Minnesota locker room. Still wearing his full uniform and with a rare scowl on his face, Peterson walked out of the Superdome tunnel and stood transfixed. Playing out in front of him was New Orleans' NFC championship celebration, complete with gold glitter and Will Smith's ubiquitous "Welcome to Miami" playing over the Superdome sound system.
He stood watching for a full minute before turning his back, shoulders slumped and head down, and returning to the locker room.
"Painful," Peterson said. "It was painful [to watch], especially the way the game ended. Our guys fought hard. I honestly thought we gave the game away. … It was just to see the feeling of the guys celebrating and dancing around. Just giving myself something good to build off this offseason."
For me, Peterson's polar performance Sunday will be the lasting image of
the Vikings' 31-28 loss in the NFC Championship Game
. I know many will be blinded by the two-play sequence on the Vikings' final drive -- one a penalty for 12 men on the field and the other Brett Favre's final-throw interception in the fourth quarter. I'm aware there were some questionable decisions from referee Peter Morelli's crew, some of which the Vikings openly questioned in the postgame locker room.
But it was Peterson who best illustrated the dichotomy of a Vikings team that beat the Saints in every way except on the scoreboard. He became the fifth running back in NFL history to rush for three touchdowns in a championship game, and his 122 yards were his highest total in nine games.
But Peterson fumbled twice and caused a turnover on a third play when he botched a handoff in the second quarter at the Saints' goal line. Worse, he was so out of control in the second half that the Vikings benched him in the most critical point of their season. Despite an overwhelming advantage on the stat sheet -- they outgained New Orleans' explosive offense 475-257 -- the Vikings' five turnovers denied them a chance to play in Super Bowl XLIV.
We don't know if Favre will return next season, as my colleague Gene Wojciechowski
points out
, so it's difficult to know exactly what the 2010 Vikings will look like. But one thing remains clear: If they're going to count on Peterson as a primary building block, the Vikings must stabilize his performance from what we saw in the final half of 2009 and throughout the NFC Championship Game.
Peterson put the ball on the ground three times Sunday in a span of 10 minutes in the second and third quarters. One cost the Vikings a chance to score on 2nd-and-goal from the 4-yard line. Over-excited about the prospect of taking the lead before halftime, Peterson was slow to get his arms in a fundamental position to take the handoff from Favre.
"Poorly executed by me," Peterson said. "Didn't make a big enough pocket and it hit my elbow."
Peterson admitted the play stayed on his mind in the second half and played a role in fumbles on the Vikings' first two possessions of the third quarter. He ran wildly and seemed to break every rule of responsible running -- breaking the ball to the outside to outrun the defense, swinging the ball far from his body and contributing to a frenetic pace that left the Vikings gasping for much of the second half.
I don't blame the Vikings one bit from playing him sparingly thereafter, but I consider it a pretty critical situation when one of a team's best players can't get on the field in the NFC Championship Game because he's out of control.
"It was all about mindset in holding on to the ball," Peterson said. "Thinking about it when you're out there. You have to make sure you hold on to the ball. I've been saying it all year. It's a battle I've got to fight. Eventually I overcame it."
Indeed, Peterson returned to tie the game on a 2-yard touchdown run with 5:03 remaining, but by all rights the Vikings shouldn't have been fighting to get even in this game. Their defense had played exceptionally well for most of the game, limiting the Saints to 15 first downs on only three of 12 conversions on third down.
"We beat ourselves," tight end
Visanthe Shiancoe
said. "We made a lot of plays, but we left a lot of plays out there. Those things happen. I guess it's too bad it happened in the NFC Championship Game."
No player singled out Peterson, and I want to be clear that I don't consider him anywhere close to solely at fault for the Vikings' loss. Receivers
Bernard Berrian
and
Percy Harvin
also lost fumbles, and coach Brad Childress said Favre "would be the first to tell you he wished he had those [two] throws back."
But truth be told, the Vikings entered this game with a plan to rely on Peterson more than they have at any point during a Favre-dominated season. They opened the game with five consecutive passes, but ultimately their plan was for Peterson to help keep the Saints' offense off the field.
"I think we knew we had to," left guard
Steve Hutchinson
said. "The style and capability of the offense the Saints have, we knew we had to control the clock. And it worked, or at least part of it. I think we did that. We just had turnovers and penalties that cost us at inopportune times."
I think that's why Peterson was so morose after the game, even after the Vikings ran up their biggest rushing total (165 yards) since mid-October. He knew the Vikings needed him to get to Miami, but he wasn't able to complete the job.
Although he has led the NFL in fumbles since entering the league in 2007, only a handful have negatively impacted a game. Sunday, however, was different. Peterson has said often that obsessing over fumbles only creates a compounding effect. But I think he has reached the point where he needs to consider a fundamental intervention this offseason to address the issue.
"With my running style," he said, "it will be something I think about as far as protecting and keeping the ball high. The way I run, the ball kind of gets low. I've got to be more cautious of that: Keeping the ball high. That will be something I'm more conscious of in the offseason."
As we saw Sunday, it can be the difference between watching a championship celebration from the tunnel and participating in it on the field.
November, 11, 2009
11/11/09
2:30
PM ET
Posted by ESPN.com's Kevin Seifert
Matt of Little Falls, Minn.
, admits he sometimes sees Green Bay games through "green-and-gold tinted glasses." Nevertheless, Matt asks for another look at the illegal contact penalty against linebacker
A.J. Hawk
in the fourth quarter of the Packers' 38-28 loss at Tampa Bay.
As you might recall, the penalty wiped out Hawk's interception with 6:48 remaining in the game, allowing the Buccaneers to continue their march toward a go-ahead touchdown. After watching the replay, there are two issues to consider:
Did the contact occur inside or outside the 5-yard marker?
Should it have been classified as incidental?
On the former question, referee Peter Morelli's crew absolutely got the call correct. The replay clearly shows Hawk grabbing Tampa Bay tight end
Kellen Winslow
at the 44-yard line. According to the official gamebook, the line of scrimmage was the 50.
On the latter, here's how the NFL's rule book defines Hawk's parameters in this situation: "A defender may use his hands or arms only to defend or protect himself against impending contact caused by a receiver. If the receiver attempts to evade the defender, the defender cannot initiate contact that redirects, restricts, or impedes the receiver in any way."
This part is a judgment call. But when I looked at the play, Winslow seemed to gain a step on Hawk. In response, Hawk reached out and grabbed Winslow, in essence to redirect him. Technically, that's an illegal play.
The contact wasn't particularly blatant or physical. But on both counts, I can't argue with the call.
Meanwhile,
there were plenty of Bears players and coaches who were upset about the offensive pass interference call on tight end
Greg Olsen
in the second quarter of their 41-21 loss to Arizona. The penalty wiped out Olsen's 16-yard reception to the Cardinals' 14-yard line and stalled what had been a promising drive.
The replay shows Olsen releasing off the left side of the line of scrimmage, which was the 30. He collides with Cardinals safety
Adrian Wilson
at the 24-yard line and both players push each other. Olsen then cuts the route off toward the sideline and is wide open when he catches Jay Cutler's pass.
Referee Ed Hochuli's crew was quick to make the call, and the NFL rule book is pretty clear. One definition of pass interference -- offensive or defensive -- is "initiating contact with an opponent by shoving or pushing off, thus creating a separation in an attempt to catch a pass."
So who initiated contact on this play? Technically, it looks like Olsen. He ran a pattern directly toward Wilson, who seemed to be sitting in a zone. As with many calls, you could argue whether the contact was violent enough to give Olsen an illegal advantage to get open. But as with the Hawk call, I can't argue with Hochuli's decision. Olsen would have been better served to make his break before or during the contact rather than after.
Now, on to our Challenge Tracker, which went unchanged this week:
NFC North Challenge Tracker
Team
Coach
Challenge
Overturned
Success rate

Chicago

Lovie Smith

7

2

28.6

Detroit

Jim Schwartz

2

0

0.0

Green Bay

Mike McCarthy

4

1

25.0

Minnesota

Brad Childress

5

2

40.0

Source: NFL