June, 17, 2012
6/17/12
2:55
PM ET
I just
filed a story to our ESPN.com news desk
on an extensive statement released Sunday by the agent for
Green Bay Packers
defensive end
Anthony Hargrove
, who will have his appeal heard Monday on an eight-game suspension in connection with the
New Orleans Saints
' bounty case. The news takeaway was that agent Phil Williams questioned whether the league has any "concrete evidence" of what Hargrove is accused of after reading through the 200 pages of evidence the league provided Friday.
I'll have some thoughts on the story, and whether it could affect the length of Hargrove's suspension, in a bit. But the statement also includes several other layers, and the first thing I wanted to do was provide you the complete [sic] text so you could read it yourself. Here you go:
Questions for the League Office in Regards to "Bountygate:"

Why is the NFL acting in a way that, to many of us, appears to be so "cloak and dagger"? Even though the CBA gave you the right to wait until Friday afternoon to hand over "evidence", was it really necessary to do so? Why was it important to give them (the NFLPA and players) only a weekend to study what you considered to be the "evidence"? If these men have committed such grievous crimes that you have determined that their careers should be in danger and/or their names sullied, why be so secretive about the "evidence" that you use to condemn them? Do you care about NFL players enough to be above board with them? They are what makes the NFL the NFL, are they not? If there is a large "pool" of players that you could have made examples of from across the NFL (and there is!), why did you choose these men? And do you really think it fair to "make examples" out of them? What if you are the ones chosen to be "made examples of" in the future?

Why must you demand your right to be judge, jury, and executioner? Even if you have the right, must you use it? Is there anything to be lost by allowing those who are impartial to have a say-so in whether these judged men are truly given a shot at justice? And did you sincerely consider what you gave the NFLPA sufficient enough to tarnish men's careers and reputations? If you believe the "evidence" to be so substantial that you would espouse the 50,000-plus page file, why would most of those pages have zero to do with "bounties" or even "pay-for-performance"? Do you actually have any concrete evidence that any player from another team was injured as a result of a "bounty" and that a player from the Saints was therefore paid accordingly? Can you honestly say that the Saints employed a 3-year "bounty program" if no one was ever paid for a "bounty"? Would that not constitute one of the worst followed programs ever witnessed? Should there not have been dozens of rewards paid out, if in fact, "bounties for injuries" (which is what this was all about in the beginning, I think) paid out money? And why would your "independent" counsel be so highly paid for their counsel (by you) and also be so secretive? Again, if the facts are so obvious, why not allow someone truly impartial to make the final decision and therefore validate your judgments?

Is honesty truly paramount to you? If so, why did you take Anthony Hargrove's declaration and state that it said things that it did not say? Is that honest? Why did you state that Anthony "admitted to lying" when he has done no such thing? Do you hold yourself to the same standard as you hold others? Have you "admitted to lying"? To clarify, would you consider it lying to say someone "admitted to lying" when they did not do so? And why did you not consider the remarkably difficult situation that Anthony was put in by his coaches, who to him were the NFL"? What would you have done if you had been back in the NFL for less than a year, having served a year-long suspension, with the threat of your career ending (again) hanging over your head? Would you have disobeyed your employer? Would you now? And is it possible that the interview was about semantics, anyway?

Why did you state that the players declined to be interviewed? Did you not know that Anthony agreed to be interviewed in early April, even scheduled a meeting (Tuesday, April 3, 10A.M.) and was told he would be sent flight information, waited for it, and never even received a cancellation notice? If this is true, which it is, is it fair to state as fact that he simply declined, after which he again agreed to consider meeting if certain criteria were met, which you declined to do? Is that being totally truthful? And why do you say that he spoke to someone on another team about an alleged "bounty" program back during the time in question, when in fact he did not? And why was he the only player you chose to interview about the so-called "bounty" program at that time? Was it because of his difficult past? Was it possibly because he was an easy target?

Do you not recognize that we sometimes utter words or phrases that have different meanings depending on their context? For example, have you as fathers ever told your children that you wanted to "tear them up" or "wring their neck" or "blister their hide" or some such other threat? Tough words, but have we not all spoken such rash things at times, though obviously not meaning the full extent of their definition? Do moments of "lost tempers" or "harsh words" for our children "when things get emotional" constitute "programs of terror" on them? Does clamoring for an 18-game schedule exhibit wanton disregard for the health and safety of the players you "lead" (or was that simply a motivational ploy as it related to the negotiation of the CBA)? Is it possible that some might construe that as a "bounty program" in its own right, i.e. extra revenues resulting in a probability of more injuries? In fact, is it possible that the overwhelming majority of this pressing dilemma is about semantics? And if so, is it possible to admit it? Or, has the genie escaped the bottle with no hope of return?

I love Anthony Hargrove. Plain and simple. I have watched him grow from a dysfunctional young man into a man that I admire and respect. Perfect? No. But who is? I have watched him reach "the bottom" and then mature in ways that almost defy what I could have possibly hoped for. He has learned to handle adversity in ways I believe we all could learn from, not the least of which is how I have watched him deal with his potential suspension and what has been said about him and his supposed role in what has been called Bountygate. Though a more appropriate name might be Semantics-gate.
February, 4, 2010
2/04/10
12:00
PM ET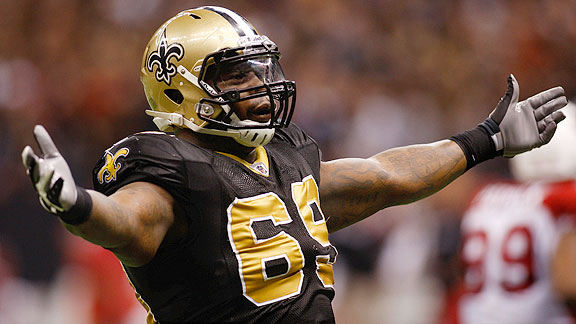 Chris Graythen/Getty ImagesAnthony Hargrove has taken advantage of the opportunity the Saints gave him entering this season.
MIAMI --
I was at a friend's house and I walked past a mirror. The person I saw, I didn't recognize. Dark eyes. Looking bad. I realized I had to do something different. Everybody has their moment when they say, "Man, I have to do something different."
For
Anthony Hargrove
, that moment came on April 4, 2008. A promising but troubled defensive end in St. Louis and Buffalo from 2004-07, he had been suspended from the NFL for multiple violations of its substance abuse program. It was time to get help.
What happened between that moment and today is one of the most compelling storylines of Super Bowl XLIV. Hargrove is now an important part of the
New Orleans Saints
, the only team willing to sign him last summer. He's a havoc-wreaking defensive tackle and a 300-pound cover man on special teams. He has spoken openly and eloquently about his journey, and so it seems appropriate to let him tell most of this story himself.
When you have the kinds of problems I did, you feel like you're locked in a closet. You're hoping someone will come by and let you out. Finally, somebody did.
Hargrove lost his mother to AIDS at age 9 and spent his childhood bouncing between family members and foster care. He believes God compelled him to see the ravages of drugs and alcohol when he looked in the mirror on that day almost two years ago. It directed him toward the Miami-based Transitions Recovery center for what turned out to be 10 months of rehabilitation.
When you go through a period like that in treatment, you see so much. I saw a lot of different things. I saw death. I saw people just giving up on life.
So you switch. You turn over. You say to yourself, I don't want to get to that point where I just give up on life, or I just throw in my cards and say, "I'm done with this." I'm always telling people, we can always do stuff with time. It's not over until we see 0:00 on the clock.
He watched the Super Bowl last year from Transitions.
It's quieter, I can tell you that. It's a lot quieter to watch a Super Bowl from rehab.
It was hard to watch the game because I wanted to be there. I was coming in and out of the room, doing laundry and whatever else. I really didn't want to watch it because I hadn't played that season. You get caught up thinking about all the stuff I did wrong to keep me out of the game.
While that game was going on, it was a reminder of all the stuff I did wrong to keep me out of the season and a reminder that I might not get back to it.
Days later, he met with NFL officials about reinstatement. His indefinite suspension was lifted after one year.
But now the hard part: How to convince a team to sign him? Playmaking defensive linemen are rare and valuable commodities. But who would want a player that two organizations already had given up on?