January, 16, 2010
1/16/10
2:30
PM ET
We're less than 24 hours away from Sunday's divisional playoff game at the Metrodome. If you're late to the party, you can catch up on all of our "Pushoff 2010" coverage simply by
clicking here
. I wanted to throw one final nugget your way before you go to bed dreaming of this Dallas-Minnesota matchup.
Surely you recall our
Williams Wall discussion
this summer. The NFL suspensions of Minnesota defensive tackles
Kevin Williams
and
Pat Williams
still haven't been resolved yet, so they're free to play throughout the Vikings' playoff run.
The Vikings limited Pat Williams' playing time earlier this season, and he's now playing with a brace on his arm because of an elbow injury. Minnesota's run defense "slipped" to the No. 2 overall slot in the NFL this season, one behind Green Bay, but the Williams Wall still ensured they led the NFL in rush defense up the middle.
Opponents tested the middle of the Vikings' defense this season 160 times this season, gaining 481 yards. Both figures were the lowest among NFL teams this season, according to ESPN Stats & Information.
Why such a long-winded statement of fact?
The Cowboys enter this game with the NFL's best average (4.5 yards) in rushes up the middle. As we discussed earlier Saturday when examining the
Percy Harvin
-
David Buehler
matchup, it's a strength-on-strength issue that should be fascinating to watch.
Can the Cowboys make hay against the middle of the Vikings' line? Or will they have to adjust and run more outside the tackles? I'll meet you Sunday at the Metrodome, where we'll all find out.
January, 16, 2010
1/16/10
10:00
AM ET
If you're into special teams matchups, there will be a fascinating dynamic in play Sunday at the Metrodome.
Minnesota rookie
Percy Harvin
made the Pro Bowl as a kick returner this season, but he was almost a non-factor during the second half of the season as opponents intentionally kicked away from him via squibs or short, high kicks. Here is how Harvin's season broke down:
Games 1-8:
30.7-yard average on 28 returns, two touchdowns
Games 9-16:
21.1-yard average on 14 returns, no touchdowns
The Vikings have had eight kickoffs returned by blockers over that stretch, including five by tight end
Jeff Dugan
. Lately, they've been using punt returner
Darius Reynaud
as an upback to give them a more explosive alternative.
On the other hand, the Cowboys employ kickoff specialist
David Buehler
, who has one of the strongest legs in the NFL. Buehler led the league with 29 touchbacks during the regular season and had three last week in the Cowboys' wild-card playoff victory over Philadelphia.
I, for one, will be interested to see if the Cowboys will let Buehler kick deep or if they'll join previous Vikings opponents and keep the ball away from Harvin. I bet the Vikings would be more than willing to let Harvin return the ball from relatively deep in the end zone.
Speaking to Minnesota reporters this week, special teams coordinator Brian Murphy said Harvin will use the lettering of Vikings logo in the end zone as a "warning track" for returning the ball. But Harvin has also been told to judge whether a deep kick is still returnable based on hang time and trajectory.
"Not all of them are going to be touchbacks," Murphy said. "We need to take advantage of it when it is a returnable ball."
Just another nugget to consider with the opening kickoff 27 hours away.
January, 15, 2010
1/15/10
8:35
AM ET
I was sitting at Brett Favre's Wednesday news conference when he said: "Honestly, I see us sitting here next week having this press conference again. If that doesn't happen, to me it will be a shock."

It was in response to a question about whether he plans to play next season, and I took it as Favre's way of saying he hasn't thought about it because he remains in the routine of the season. He has said many times in his career that the end of the season always comes abruptly and is in fact "a shock."
I didn't make anything of it -- and trust me, I'm always looking to make something of nearly nothing. Somehow, however, it ignited a war of words with Dallas safety Gerald Sensabaugh, who joined some media members in claiming Favre had guaranteed a victory over Dallas in Sunday's divisional playoff game.
"We'd have to beat ourselves to lose," Sensabaugh told local reporters, according to my
NFC East buddy Matt Mosley
. "The way we're playing right now, I don't think we can be beat."
Favre made a rare Thursday appearance before local reporters to say "I'm not guaranteeing anything." According to
Judd Zulgad of the Star Tribune
, Favre added: "The last thing I ever want to do is be bulletin-board material. Of course, I gave the Cowboys a ton of respect. They deserve it. They are playing outstanding. They are playing -- and I'm speaking NFC -- as well if not the best maybe in the league. San Diego, obviously, would argue that. How could I sit there and say, 'Well, next week possibly [we] could be home?' That very well could be true, could be over, for both teams. I'm sure people want to take it [as] he's guaranteeing a victory."
Favre doesn't need me to defend him, but I really don't think anything about what he originally said should be interpreted as a guarantee. It's silly hype for a huge game that doesn't need any. Sensabaugh, however, took the bait and offered up a genuine bit of trash talk for the Vikings. Excellent work, Gerald. See you Sunday.
Continuing around the NFC North:
January, 14, 2010
1/14/10
11:42
AM ET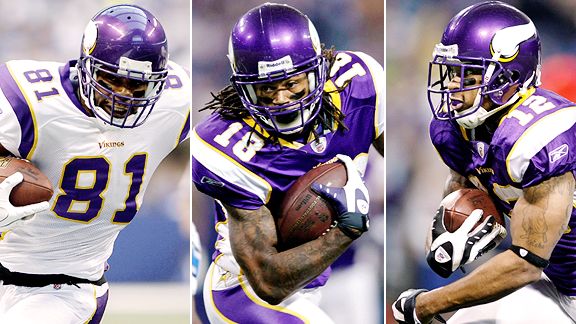 US PresswireVisanthe Shiancoe, Sidney Rice and Percy Harvin are just three of the six Vikings receivers to catch at least 40 passes this season.
EDEN PRAIRIE, Minn. -- Take a look at Minnesota's offensive stat sheet sometime. You'll notice
Sidney Rice
led the team in receptions. But slot man
Percy Harvin
was the Vikings' top target on third down and tight end
Visanthe Shiancoe
was their leading scorer.
More than anything else, quarterback
Brett Favre
's first season in Minnesota has been characterized by an egalitarian approach that spread the ball more evenly than all but one team in NFL history. It has generated and elevated six legitimate targets, a number that represents the Vikings' biggest advantage in Sunday's divisional playoff game against Dallas.
To this point, pregame discussion has centered on the Cowboys' pass rush: Will
DeMarcus Ware
and
Anthony Spencer
overwhelm the Vikings' offensive line? Favre himself acknowledged that dynamic this week, noting: "We have to block [them] to have success."
But there is a reason the Cowboys' pass rush is so critical; when given time this season, Favre has used his array of weapons to pick apart defenses. The Vikings are one of two teams in league history to boast six players with at least 40 receptions, the product of several factors that will place dramatic urgency on the Cowboys' ability to rush the passer.
"My favorite receiver is the one who is open," Favre has said many times this season. He has thrown most often to Rice, who caught 83 passes for 1,312 yards. But he hit Harvin on more third-down throws (40) than any other target, while Shiancoe caught all 11 of his team-leading touchdowns in the red zone.
From what I can tell, this dynamic has evolved from three factors: Favre's 19-year knowledge of NFL passing trees, predominantly single coverage from defenses, and continuing (if
unfounded
) fear of the Vikings' running game.
Let's start from the top. Favre entered the NFL in 1991 and has played in a version of the Vikings' offense for 17 seasons. Terminology has changed and some adjustments have occurred, but as coach Brad Childress said: "He knows his way around this system and knows where the backside No. 4 [receiver] is."
Childress continued: "That is a huge thing, to be able to progress. It sounds easy, but young quarterbacks typically get stuck on the No. 1 and No. 2 [receiver]. They can't come back to the backside No. 4. As I always say, [Favre] knows where all the bones are buried."
Examples have punctuated the Vikings' season. Rice was Favre's fourth read on a 58-yard reception Oct. 18 against Baltimore, one that set up
Ryan Longwell
's game-winning field goal. A number of Shiancoe's touchdowns have come only after Favre checked Rice's status. A combined 86 receptions between tailbacks
Chester Taylor
and
Adrian Peterson
-- for an average of 9.5 yards per catch -- point to multiple reads as well.
"The key for any offense is being able to utilize all of those means or a mixture," Favre said. "To equally … mix it up to guys is very difficult to do within the framework of a game. It's not so much about keeping people happy as it is about winning. I think we have proven we can do that."
But as we have
discussed recently
, defenses have rarely adjusted to compensate for what Childress termed "equal-opportunity throwing." With a few exceptions, Rice and Harvin faced mostly single attention in man coverage. Shiancoe has been allowed to roam the seams in zone calls.
You can measure true respect from defenses by noting where their "extra man" is allocated. For the most part, Vikings opponents routinely devoted an eighth player to the line of scrimmage to help defend Peterson. There are many versions of the so-called "eight-in-the-box" approach, but Peterson recently said the Vikings saw one of them on 98 percent of their plays this season.
By rule, that approach makes it impossible to adequately account for more than three legitimate threats in the passing game.
"We really didn't see [opponents] legislate against a particular receiver," Childress said. "I think the thing that was constant was that they were going to always come in and play to defeat the run, but you didn't see a lot of matching Sidney Rice running around, or
Bernard Berrian
running around. … You saw the same things: The run principles to take away the run."
[+] Enlarge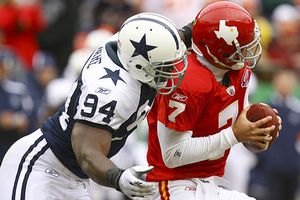 AP Photo/Ed ZurgaThe success of DeMarcus Ware and the Dallas pass-rushers appear to be key in this matchup.
The exceptions have been notable. According to Favre, both Arizona (Dec. 6) and Carolina (Dec. 20) dropped their extra man into coverage because their base defensive lines were stopping the run and getting more than adequate pass rush.
In those games, Peterson combined for 56 yards on 25 carries. As a result, Favre said, the Cardinals were able to roll a second man in coverage toward Rice on some occasions and Harvin on others, especially on third down.
"It was a hard adjustment for us to make," said Favre, who was sacked seven times and threw three interceptions in those games.
Which brings us, in my mind, to the crux of Sunday's matchup. If the Cowboys can get pressure with their aggressive front line, they'll have enough bodies to cover the Vikings' targets. If they can't get pressure, however, Favre has routinely demonstrated the capacity to find the open receiver.
"[Arizona and Carolina] didn't have to pressure from the secondary or the 'backers or anything," Favre said. "They could play whatever coverage in the back end and just rush three or four, and there's not a lot of windows to throw in. That, more than anything, is what the Cowboys thrive on."
January, 13, 2010
1/13/10
1:00
PM ET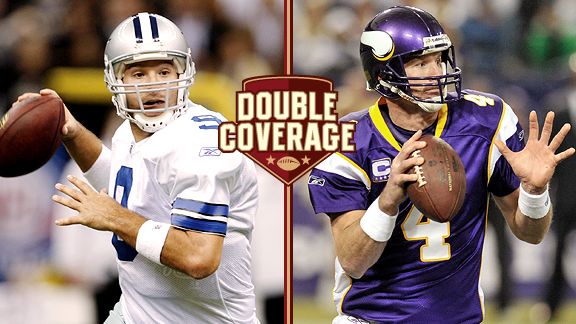 Icon SMIThe Vikings-Cowboys playoff matchup on Sunday will feature high-powered passing attacks led by Tony Romo and Brett Favre.
Here on the ESPN Blog Network, we're bracing ourselves for quite possibly the biggest divisional playoff game in the history of the 2010 postseason. Come Sunday afternoon at the Metrodome, Dallas and Minnesota will reprise a storied postseason rivalry -- sans (hopefully) whiskey bottles, push-offs and Hail Marys. (Well, at least the
push-offs
.)
ESPN.com's Matt Mosley and Kevin Seifert have spent most of the week buried in the film room -- er, basement -- refining the blogging plan for the rest of the week. As now they're ready to start breaking down this most critical game.
Kevin Seifert:
Greetings from the North Pole, Matt. Actually, you're going to get lucky this weekend. We're expecting unseasonably warm temperatures here this weekend, with highs in the 30s. Normally we call that "May" in Minnesota. Usually at this time of year, you can get frostbite on half your hand while walking from the parking lot to the media entrance at the Dome.
Matt Mosley:
I will look for any excuse to visit Minneapolis in mid-January and this game is as good as anything else I might come up with.
Sid Hartman
and I have been waiting on this postseason matchup for years. Jerry Jones tried to capture the "charm" of the Metrodome in his new Cowboys Stadium, but I'm not sure things worked out. And by the way, Drew Pearson told me to pass along his best wishes to Vikings fans.
KS:
OK, Matt. Let's get down to it. Everyone in the world thinks the Cowboys are going to win this game. Even
ESPN's Trent Dilfer
is convinced of it. You've been close to the Cowboys this season. Are they as hot as everyone says they are?
MM:
Kevin, in my eight years of covering the team, I've never been around a more confident bunch of players. I think they're the hottest team in the NFC right now because of something that took place last month in New Orleans. The players got sick and tired of all the talk of their December failures and went out and overwhelmed a Saints team in the Superdome. That game did wonders for the Cowboys' confidence. No quarterback in the playoffs has performed as well as
Tony Romo
over the past six games and he benefits from having a dominant defense. So yes, I think the Cowboys are as hot as everyone at the Mall of America is indicating.
KS:
Actually, Matt, you need to be more specific. We now have
Mall of America Field
here in addition to the
Mall of America
. At Mall of America
Field,
the conversation is revolving around two things: Are the Vikings willing to accept that they are a pass-first offense? And can their tackles,
Bryant McKinnie
and
Phil Loadholt
, keep
DeMarcus Ware
and
Anthony Spencer
at bay long enough for
Brett Favre
to get the ball downfield?
If they come out of the gates aggressively and use their full array of offensive weapons, I think they can put up some serious points against the Cowboys' defense. The Vikings are one of two teams in NFL history to have six players catch at least 40 passes. That's too many receivers for any defense to keep track of if the pass protection is there.
What's your take, Matt? Do you think Ware & Co. can be slowed down?
MM:
I agree with the aforementioned Dilfer that Loadholt and McKinnie are outmatched by the Cowboys' outside linebackers. Since the last time you saw this team, Spencer has become a force. Cowboys defensive coordinator/head coach Wade Phillips even lines them up next to each other at times.
Donovan McNabb
didn't have a chance against the Cowboys' pass rush and you can argue that
Jason Peters
and
Winston Justice
are superior offensive tackles to what the Vikings have to offer. The Cowboys' plan is to make sure Favre has to test those 40-year-old legs. The last time he saw this defense, he completed 5 of 14 passes and was intercepted twice before being knocked out of the game at Texas Stadium. He was of course with a 10-1 Packers team at the time in '07.
Keith Brooking
told me Tuesday that the Eagles and Vikings have similar offenses, but he alluded to the fact that Brad Childress is much more likely to use the running game than his mentor, Andy Reid. Of course, that's a lot easier to do when you have the pride of Palestine, Texas,
Adrian Peterson
, in your backfield. It's been quite a while since a team has put up points on this defense -- and that includes a Chargers team that was held to a season-low in points. I don't think we'll have a shootout on our hands, but Sid might have other ideas.
[+] Enlarge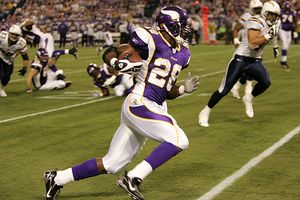 K.C. Alfred/Union-Tribune/Getty ImagesHow will Adrian Peterson figure into the Vikings' game plan against Dallas' tough run defense?
KS:
I'll check with Sid when I see him. In the meantime, Matt, we have two elephants crowding the room for this game: The head coaches. In Minnesota, there is an unspoken fear that Brad Childress will get in the way and try to force his power running game on the Cowboys. Prior to Favre's arrival, and at times this year, that has been Childress' preference. Childress also made a couple of questionable game-management decisions in last year's playoff loss to Philadelphia.
On the other side, however, is Phillips. Do Minnesota fans have anything to fear in this matchup?
MM:
Calling Phillips an elephant is a low blow, Kevin. The man might fill out a pair of Russell coaching shorts, but he deserves better from you. And yes, there's reason for Vikings fans to fear The Wade. No matter what you say about his head-coaching credentials, he's always been an excellent defensive coordinator. He puts players in position to succeed and he does a superb job of exploiting weaknesses. From reading your fine work on a regular basis, I'm aware that Vikings center
John Sullivan
isn't a large man. He'll be facing one of the best nose tackles in the game in
Jay Ratliff
. From time to time, the behemoth-type centers give Ratliff a little trouble. But he's been known to destroy the guys who are close to his size. Everyone's focused on the offensive tackles, but I could see the "Ratt" having a big game in the middle. It all starts with him in this defense.
KS
: Interesting. OK, Matt. This was great but is only a step in our coverage plan for this week. Keep checking back on the NFC East and NFC North blogs through Sunday.
MM:
Just to be honest, my coverage plan for Saturday is a little weak because of travel. But I've thoroughly enjoyed this tremendous show of synergy within the NFL Blog Network. Kevin, I arrive at 8:10 local time on American, so please pass that along to my driver. Peace and courage from the Beast.
January, 12, 2010
1/12/10
2:45
PM ET
We're going on a myth-busting crusade this week. On Monday, we addressed the fallacy of
prioritizing run defense
over pass defense when approaching Minnesota's offense. Today, I want to take a look at the Vikings' purported home-field advantage at the Metrodome for Sunday's divisional playoff game against Dallas.
[+] Enlarge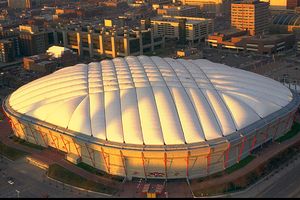 Judy Griesedieck//Time Life Pictures/Getty ImagesThe Vikings were 8-0 at home during the 2009 regular season.
Because it is small, enclosed and, shall we say,
wired for sound
, the Metrodome's reputation precedes itself. Some opponents walk into the building believing it will be loud and disruptive, a mental battle the Vikings win even before the opening kickoff.
The Vikings, for their part, were 8-0 at home this season and are 14-2 there in the past two seasons.
But some of us who sit in the Metrodome's open-air press box have noted long stretches of relative silence from the crowd, depending on the Vikings' most recent set of plays. It can also be jarring to hear the volume drop off when stadium operators turn off the sound effects. (NFL rules prohibit artificial noise after the play clock starts.) Finally, the Vikings, without question, squandered some of their pregame hysteria when they stopped introducing players individually to the crowd.
So how big of a hurdle will the Cowboys face Sunday? With the help of my friends throughout the statistical world, I poked through the numbers Tuesday. Here's what we found: Since the Metrodome opened in 1982, the Vikings have the NFL's third-best home record during the regular season. In the playoffs, however, it's been about a 50-50 proposition.
In the chart below, supplied by Vikings public relations guru Jeff Anderson, you see the Vikings have won about two-thirds of the 221 regular-season games at the Metrodome.
Most teams play better at home than on the road, but the Vikings have one of the more lopsided ratios in this regard over the past two decades. I reached out to NFC North friend Bill Barnwell of
Football Outsiders
on this issue.
Bill looked at the 15-season period between 1994-2008 and determined the Vikings had an average point differential of 8.45 between home games and those on the road. In the Vikings' case, they averaged 5.29 points more than their opponents during home games over that period. They had a losing record on the road over the same stretch, scoring an average of 3.16 points less per game than opponents.
According to Football Outsiders, the differential ranked No. 3 in the NFL:
St. Louis:
8.66
Kansas City:
8.49
Minnesota:
8.45
Arizona:
8.24
Denver:
8.19
Not unexpectedly, the postseason is a different story. Opponents are more skilled and battle-tested. The Cowboys, for example, advanced to the playoffs in part because they soundly defeated New Orleans at the Superdome last month.
The Vikings have lost four of their past seven home playoff games, dating back to 1992. Overall, their playoff record is 6-5 at the Metrodome. In other words, they're about a .500 team since the stadium opened 27 years ago.
So what does all this mean? As usual, it puts us somewhere in the middle. We can't minimize the impact of playing in the Metrodome over an extended period of time. And we can note that the Cowboys have two players -- offensive tackle
Flozell Adams
and tight end
Jason Witten
-- who have combined for 12 false start penalties this season. That would make them exceptionally susceptible to crowd noise.
But I also think we should be careful not to overestimate the value of this dynamic, especially in the postseason. Opponents are usually better equipped to handle such obstacles if they advance to the second round of the playoffs. This game will be won on the field, not in the stands.
January, 12, 2010
1/12/10
1:00
PM ET
»
NFC
:
Cardinals
|
Saints
|
Vikings
|
Cowboys
»
AFC
:
Jets
|
Chargers
|
Ravens
|
Colts
A look at a player who could be a difference-maker this weekend.
Want to impress your friends this weekend? When someone asks who led Minnesota in touchdown receptions this season, you can look at the headline of this post and answer correctly.
[+] Enlarge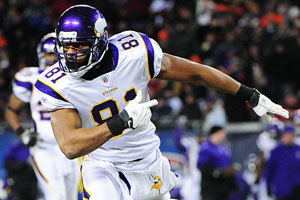 Kyle Terada/US PresswireVisanthe Shiancoe has proved to be one of Brett Favre's favorite red zone targets.
That's right. It wasn't Pro Bowl receivers
Sidney Rice
or
Percy Harvin
. It wasn't
Bernard Berrian
or
Chester Taylor
. Yes, tight end
Visanthe Shiancoe
was the Vikings' most dangerous red zone receiver in 2009, catching all of his 11 touchdowns from inside the 20-yard line.
Although Shiancoe was the Vikings' third-leading receiver overall with 56 catches, you'll probably hear much more about Rice, Harvin, Berrian, Taylor and
Adrian Peterson
during pregame hype for Sunday's divisional playoff game against Dallas. But make no mistake: Shiancoe's reliability in the red zone is critical in a close playoff game, where the difference between a touchdown and a field goal could determine which team advances to the NFC Championship Game.
Quarterback
Brett Favre
is a product of one of the original West Coast offenses under Mike Holmgren in Green Bay. That scheme always favored the tight end as it approached the end zone, and Favre has long made it a habit to look that way.
Shiancoe has taken full advantage, catching three 1-yard touchdowns this season. Seven of his 11 scores came inside the 10-yard line. With defenses focused on the corner fade pattern to Rice, Shiancoe has worked the middle of the end zone to his advantage.
Shiancoe, in fact, has caught 18 touchdowns over the past two seasons. No other NFL tight end can match that production. In fact, the only two NFL players who have caught more touchdowns than Shiancoe over the past two seasons are Arizona receiver
Larry Fitzgerald
(25) and New England receiver
Randy Moss
(24).
His name is hard to remember and harder to pronounce. (FYI: It's Vi-SAHN-te SHANK-oh.) But if things go well Sunday for Minnesota, it will be mentioned often.