May, 10, 2012
5/10/12
11:15
AM ET
As we await what are likely the final steps in approving the
Minnesota Vikings
' new downtown stadium, let's take an early look at some of the questions that will remain after Gov. Mark Dayton presumably signs the bill:
What about the Minneapolis City Council?
Yes, it's true that the majority of the
council's 13 members
must approve the final bill before construction could begin. But that has been considered a formality since March, when Mayor R.T. Rybak
announced that seven members had pledged support
. Thursday morning, Rybak
told Minnesota Public Radio
that the bill contained "every single one of the things we asked for" and added: "I don't anticipate there will be a change [of heart]."
What will the new stadium look like?
[+] Enlarge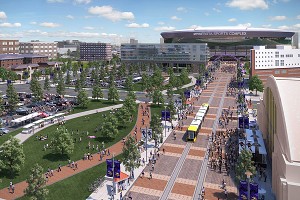 Courtesy of Minnesota VikingsA conceptual image of the proposed new Minnesota Vikings stadium looking east, including the "Winter Garden" area for tailgating and pregame activities.
The frantic pace of this legislation produced very few details on the design and features of the facility. There have been general terms that include 65,000 seats and 150 luxury boxes, but those are general estimates. The team released three images last month, one of which is reproduced in this post. But those are only concepts and a significant amount of architectural, engineering and design work remains to be done.
Where will the Vikings play during construction?
The team has said it will play in the Metrodome in 2012 and has expressed hope that it will be able to spend at least a portion of the three following years there as well before the new facility opens in 2016. But that timetable is subject to the unfinished work we just discussed. The expectation is that there will be at least one season, and probably a portion of a second, played at the University of Minnesota's TCF Bank Field. That will require a multi-million upgrade at "The Bank" to include, among other things, heating coils for the outdoor field.
What about a retractable roof?
Vikings owner Zygi Wilf has expressed strong interest in playing outdoor games when possible, and a retractable roof would probably help lure an MLS team to the facility as well. The $975 million bill, however, calls for a fixed roof. Legislators said the Vikings would have to cover the additional costs and maintenance of a retractable roof.
At one point last year
, team officials projected a $25 million difference between a retractable roof and a fixed one. That might be a low estimate, however; the
Indianapolis Colts
' retractable roof at Lucas Oil Field was estimated to add $75 million to the project. I don't have an updated figure for the Vikings' stadium, but I wouldn't be surprised if Wilf at least considers the upgrade.
April, 11, 2012
4/11/12
9:51
AM ET
We're Black and Blue All Over:
Classic sports blogger dream: I'm on a football team. Everyone's wearing white T-shirts and shorts, so I don't know what team it is, and it's quite possible we're in some kind of institution. I'm on offense and defense, it's a day before the first game, and I don't know any of the plays.
I walk into the defensive meeting room. The late Foge Fazio is the defensive coordinator, and he kicks me out because I don't know where I'm supposed to line up. Tells me to go to the offensive meeting room. I can't find it. I wake up breathless. Overslept. BBAO is late!!!!!
True story. I think the dream means I don't know anything about football. Or maybe I have anxiety about not knowing anything about football, which many of you would consider entirely justified.
Anyhoo. Let's get to it:
March, 23, 2012
3/23/12
7:40
AM ET
We're Black and Blue All Over:
Free agent Ted Ginn Jr. visited two of our NFC North teams as he tested the market, presumably in search of a role or contract better than what the San Francisco 49ers were offering. He must not have seen enough opportunity with either the Detroit Lions or Minnesota Vikings, because Ginn
returned to the 49ers
late Thursday night on a one-year contract.
In Detroit, Ginn would have been at best the No. 4 receiver. It's worth monitoring whether the Lions will bring back Stefan Logan considering Ginn likely would have replaced him.
Meanwhile, the Vikings' primary motivation to pursue Ginn might have been to relieve Percy Harvin of most return duties. The Vikings don't have a bevy of receiver depth, but Ginn took a pass regardless.
Continuing around the NFC North:
March, 5, 2012
3/05/12
9:45
AM ET
In quick-hitting fashion, let's roll through the news items that occurred during our quiet time last week:
Item:
An NFL investigation
revealed Friday
that the
New Orleans Saints
ran a bounty program to reward hits on opposing players. Among other things, it established a $10,000 reward if a player knocked
Minnesota Vikings
quarterback
Brett Favre
out of the 2009 NFC Championship Game. Favre was pummeled in the game, absorbing two illegal hits and a third the league later acknowledged should have been penalized.
Comment:
The Vikings have been privately fuming about the Saints' aggression toward Favre for two years, starting with a next-day complaint to the NFL. But for the team and its fans, this story has done nothing but dredge up a disappointing memory. The outcome of the game won't change. If anything, it raises the respect I have for Favre, who at age 40 didn't miss a snap in the game despite an organized and incentivized opposition determined to knock him out. Given what we're now learning, it should rank as one of the proudest moments of his career.
Item:
The
Chicago Bears
placed
the franchise tag
on tailback
Matt Forte
last Friday.
Comment:
This has been the likeliest scenario since contract discussions
broke off last summe
r, a strategy so obvious from a club standpoint that it transcended their general manager transition. The Bears owe Forte a relatively affordable $7.7 million or so in 2012. Why turn down that opportunity when the likes of
Marshawn Lynch
are
getting $18 million guaranteed
from the
Seattle Seahawks
? The
Houston Texans
, meanwhile,
agreed to a five-year deal Monday morning
with tailback
Arian Foster
. The next move is Forte's. If the Bears don't modify their offer, will he stay away from offseason workouts and/or training camp?
Item:
The Vikings
announced a plan last week
that would put a $975 million stadium near the current Metrodome site.
Comment:
This was an important step toward securing a new facility, mostly because it has the backing of two important Minnesota politicians: Gov. Mark Dayton and Minneapolis mayor R.T. Rybak. The Vikings will be responsible for raising $427 million, plus $11.5 million annually in operating costs. But the project has two huge political hurdles remaining: approval from the Minneapolis City Council and the Minnesota state legislature. At the moment, a majority of city council members favor a voter referendum to approve the city's $150 million up-front contribution. State legislators advocated for a voter referendum during the debate over a failed proposal from suburban Arden Hills, Minn. Add it all up, and to me the Vikings have just crossed the 50-yard line in this process.
Item:
The
Detroit Lions
face a 4 p.m. ET deadline Monday for using their franchise tag on defensive end
Cliff Avril
.
Comment:
The cost of the tag will be around $11 million, but it might be necessary if the Lions
are as committed to keeping Avril
on their roster as they say they are. If the deadline passes without a long-term deal, Avril would be eligible to depart via free agency next week. Teams generally don't allow established pass-rushers to leave without compensation, but the Lions are in a tight salary-cap situation.
Item:
Green Bay Packers
coach Mike McCarthy told
Bob McGinn of the Milwaukee Journal Sentinel
that he'll likely leave
Charles Woodson
at cornerback in 2012.
Comment:
My bad for not asking McCarthy that question during an interview session last month at the combine. As we've discussed, moving Woodson to safety requires an adequate replacement as a starting cornerback. McCarthy can't count on nickelback
Sam Shields
to make that jump yet.
Item:
Packers receiver
Donald Driver
will
participate in this season's "Dancing With the Stars
" on ABC.
Comment:
I'm sure Driver will have a blast and the appearance will raise his national profile. But it won't change the fact that his future with the Packers remains uncertain. He has already said he would take a pay cut to remain with the team, but it's possible the Packers will release him outright to create room for younger receivers.
Item:
Packers linebacker
A.J. Hawk
cut his hair recently to benefit children who have lost their hair during cancer treatment. (
Photo here
.)
Comment:
Hawk originally grew his hair out in college as a tribute the late
Pat Tillman
, so I'm sure this decision didn't come lightly. But those who have participated in Locks of Love know how much it means to those who benefit from it. Kudos to Hawk for seeing the big picture.
Item:
The Bears released
defensive tackle
Anthony Adams
and offensive lineman
Frank Omiyale
.
Comment:
Adams was relegated to part-time status in 2011, playing just under 26 percent of the team's defensive snaps. Omiyale proved to be one of the worst free-agent signings of former general manager Jerry Angelo's career, failing as both a guard and tackle after signing a four-year contract worth $11.5 million in 2009.
January, 27, 2012
1/27/12
7:00
AM ET
We're Black and Blue All Over:
As Minnesota state leaders zero in on the Metrodome site in Minneapolis for a new Minnesota Vikings stadium, a significant political hurdle has arisen. Part of the city charter requires a voter referendum for any expenditure of more than $10 million toward a new stadium, and on Thursday, a majority of city council members expressed opposition to overriding that charter for this project.

As
Eric Roper of the Star Tribune
points out, Minneapolis mayor R.T. Rybak has proposed $300 million in city tax revenues be used for the stadium. The plan had been to insert language in the bill that would override the referendum requirement, but the council opposition will at least require further massaging of the issue.
A referendum would not only delay the process but also almost certainly scuttle the project. It's generally assumed that voters want a new stadium but won't approve public funds to be used for it. A referendum request is largely responsible for darkening hopes for the Vikings' proposed project in suburban Arden Hills, Minn.
Baseball's Target Field was built only after a public referendum in Hennepin County was avoided.
Rybak bravely said: "We're not going to do a referendum in the city. We are going to have a referendum in a couple years when I stand for re-election." To that end, however, it looks like he has more work to do.
Continuing around the NFC North:
January, 24, 2012
1/24/12
9:45
AM ET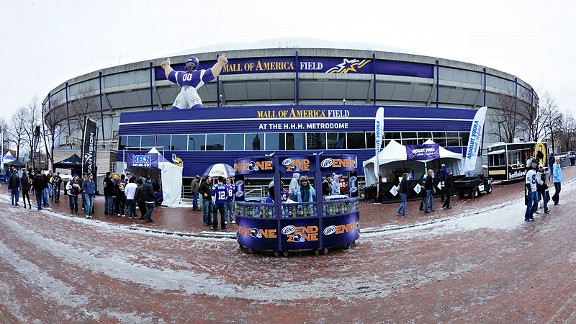 Kirby Lee/US PresswireThe Vikings aren't excited about the idea of building a new stadium on the current Metrodome site.
As the 2012 session of the Minnesota state legislature convenes Tuesday, Minnesota Gov. Mark Dayton has narrowed the focus of the Minnesota Vikings stadium debate to one site. That's a good thing. Some legislators wouldn't have entertained the issue in its chaotic three-site form. One huge question, and excuse for delay, has been eliminated.
That Dayton's site is on the current Metrodome grounds, however, appears to have enraged the Vikings and shifted the burden of further progress to them. Do they fall in line and accept a site that appears to be the most economically limited and least exciting option, but also the cheapest and least disruptive? Do they wait a year, sign a short-term lease to return to the Metrodome and renew their push for a more vibrant site next year? Or should they exert the leverage of their expiring lease and begin fielding relocation overtures?
My guess is the NFL wouldn't consider the Vikings to be serious relocation candidates as long as a credible stadium proposal, however flawed it might be, remains on the table. Unfortunately, grandiose ideas and award-winning vision have probably met political reality.
The Vikings have pursued other sites for a number of reasons. Parking opportunities near the Metrodome are limited. It doesn't offer many commercial development opportunities, and rebuilding it would force a costly three-year move to the University of Minnesota's TCF Bank Stadium.
Their preferred site in suburban Arden Hills, Minn., has room for 20,000 parking spots and hundreds of acres for future development. Two proposed sites on the west side of Minneapolis, the Farmers Market and Linden Ave., offer the potential for a sports entertainment district with baseball's Target Field and the NBA's Target Center in close proximity.
The Metrodome site, however, might be the only politically viable option. Minneapolis mayor R.T. Rybak favors it because it's slightly cheaper and is situated on the region's growing light rail line. A divided Minneapolis City Council appears cool to the idea of selling the land required to make the Linden Ave. site work,
according to the Star Tribune
, and no one has been willing to touch the Farmers' Market site, which would require a complex set of real estate transactions before construction could begin.
The Vikings have been politically strong-armed into their least-desirable option. Part of their frustration stems from years of failed attempts to entice Minneapolis leaders to partner with them on a stadium project. The cool reaction led them to Arden Hills, where they have put in almost a year's worth of planning, and only when that site grew credible and serious did Rybak emerge with a proposal of his own. It remains in its infant stages even now, and the city met a recent deadline to Dayton with a skimpy four-page outline of its plans. Most notably, there are few details available on how the city would fund its portion of the project, and the Vikings have not said how much they would pay, either.
In the end, however, it appears Rybak has been operating from a position of strength. It's obvious that the most powerful political forces in the state want the stadium in downtown Minneapolis, and they have maneuvered to block off all other options. Legislative leaders have refused to lift a requirement for a voter referendum to approve funding for the Arden Hills site, effectively quashing it. And something happened in recent days to convince Dayton that the Linden Ave. site doesn't have enough political traction, either.
The next move is the Vikings'. They won't have much choice but to negotiate the best Metrodome deal they can, which would include folding in projected losses at TCF Bank Stadium into the total cost of the project. Waiting until 2013 offers no guarantees, and seeking relocation as long as the Metrodome proposal remains credible isn't likely to fly with the NFL. But if compromise means no one is completely happy with the outcome, then the Vikings and the Metrodome site are a good fit.
January, 10, 2012
1/10/12
1:29
PM ET
A letter the Minnesota Vikings sent to Minneapolis leaders Tuesday is, of course, open to interpretation. Here's mine: The Vikings are moving closer to accepting not only that their new stadium will be in downtown Minneapolis, but also that it will be located on the current Metrodome site.
Otherwise, I'm not sure they would have taken such pains to spell out the costs associated with relocating to TCF Bank Stadium for three years while the new stadium is under construction. The letter,
released by the Vikings through their website
, suggests the relocation will cost $48 million and also points out that the new stadium will need $19 million in parking enhancements to meet NFL standards.
The letter still refers to the suburban Arden Hills site as "ideal," but it's grown increasingly evident that state leaders are skeptical of its financial viability. Minneapolis mayor R.T. Rybak favors the Metrodome site because of existing infrastructure, and the Vikings are no doubt reacting to the obvious wind shift.
In many ways, the letter represents an effort to get the best deal at the Metrodome site. It projects the Vikings will lose $37 million in revenues by playing in a smaller stadium, implying that deficit should be folded into the new stadium's financing. It also notes that someone will have to pay $11 million for improvements in the state-owned TCF Bank Stadium, including underground heaters to prevent the field from freezing at the end of the NFL season.
The letter, signed by Vikings owner/president Mark Wilf, acknowledges that the Metrodome site is "workable" but requires the relocation and parking issues to be addressed before the proposal could be complete. That's a long way from the days when the Vikings considered Arden Hills their only viable option.
October, 28, 2011
10/28/11
7:30
AM ET
We're Black and Blue All Over:
Minneapolis mayor R.T. Rybak has produced
an expected last-minute push
to win an ongoing site battle for the Minnesota Vikings' proposed new stadium, but it's unclear how serious and practical the Minneapolis option can be at this late stage in the game.

Rybak is no doubt backed by some powerful business interests that want the Vikings to remain downtown, but the team rejected his efforts Thursday and said it is committed to its chosen site in suburban Arden Hills. According to
the Star Tribune
, Rybak made the proposal without an endorsement from the Minneapolis City Council, which must vote to approve any funding mechanism.
In some ways, the Minneapolis proposal will distract from what remains the single biggest obstacle facing the Vikings: Convincing a large number of stadium opponents and tax opponents in the state legislature to approve the project. Thursday, a bipartisan group of state legislators held a news conference to confirm they would prefer relocation of the team over committing taxpayer dollars (or new gambling revenues) to a new stadium.
Said Sen. David Hann: "We don't want them to leave, but if they're going to leave I guess that is going to happen."
As we have discussed many times, stadium politics usually careens into some scary rhetoric. We've now entered that arena.
Continuing around the NFC North:
May, 9, 2011
5/09/11
5:56
PM ET
At long last, the city of Minneapolis
has announced a proposal
to replace the Metrodome, approximately 12 years after the Minnesota Vikings began campaigning for new facility. The news comes at a sensitive and complex time and requires a re-set of sorts. Here's my best effort:
There are now two local government entities pursuing the project, Minneapolis and Ramsey County. The Vikings have the bidding war they wanted but appear to have reservations about both sites.
The Minneapolis proposal, announced Monday by mayor R.T. Rybak, calls for an $895 million stadium that will include a portion of the existing structure. The Vikings/NFL would pay about $400 million, nearly twice their most recent public offer. The city would contribute $195 million through a variety of local taxes, and the state of Minnesota would establish user fees to raise the remaining $300 million.
In a classic case of, uh, Minnesota Nice priorities, the proposal also sneaks in $95 million to renovate the Target Center for the woebegone Minnesota Timberwolves.
Among many obstacles to the Minneapolis proposal: The state legislature would have to override a city charter that requires a voter referendum on stadium proposals exceeding $10 million.
Another obstacle: The city did not consult with the Vikings during its race to put together this proposal. The Vikings reacted tepidly, and in a statement said: "Team officials first saw a broad outline of this plan late last week. The Vikings were not involved in developing the specifics of this proposal and have not agreed to any of the financing elements. While we have concerns about provisions within the City's proposal, the team will examine it in further detail and respond accordingly."
Under the Minneapolis proposal, the Vikings would play at TCF Bank Stadium for two or three years. The Vikings reportedly would lose $40 million in revenues over three years if required to make that move.
The Minneapolis proposal was an obvious response to recent reports that the Vikings are close to accepting a site offer from Ramsey County. That proposal hasn't been released, but infrastructure improvements are expected to push the total cost to above $1 billion if the stadium is ultimately built on Ramsey County's site in the suburb of Arden Hills.
Much of the local business community supports a third site known as the Farmers Market, located behind baseball's Target Field. Rybak, however, prefers salvaging the Metrodome site. The government entity that initially championed the Farmers Market site, Hennepin County, pulled out of the running last week.
Up to $150 million of the Vikings' eventual contribution was expected to come from the NFL through its G-3 stadium loan program. That program is tapped, however, and won't be refunded before the league agrees with its players on a new collective bargaining agreement.
A bill with the broad outlines of a stadium plan was introduced to the state legislature last month but has yet to be heard by a committee. The deadline for initial committee hearings has already passed, meaning the stadium bill would require special dispensation to be heard.
The state legislature adjourns in 14 days.
The Vikings' lease at the Metrodome expires on February 1, 2012.
A reasonable person could read through that laundry list and wonder how this could all come together in the next two weeks. Politics are fluid and ideas can gain support in a hurry. But count me among those who are having trouble conceiving a conventional path for so much to happen in such a short period of time. If you're a stadium supporter, you have to hope that the frenzy of the past week will jump-start planning for the 2012 session.
February, 22, 2011
2/22/11
7:30
AM ET
We're Black and Blue All Over:
Shortly after he suffered a season-ending wrist injury in 2009, we debated whether Chicago Bears linebacker Brian Urlacher
had done enough in his career
to merit enshrinement in the Pro Football Hall of Fame. Our conclusion: Borderline.

But what about now, after Urlacher returned for a Pro Bowl season in 2010? In an
interview with the Bears' website
, coach Lovie Smith said: "I don't think there's any doubt."
Smith: "He's the face of the franchise here for a good reason. He's been [defensive] MVP of the league. I think it would help for us to be able to win a championship with him. But his body of work is worthy of being in the Hall of Fame. He's one of the [best] all-time players to play the game. Judging him against other great linebackers, I'd say that Brian is deserving."
The 2010 season certainly helped Urlacher narrow the gap. Time will tell.
Continuing around the NFC North:

NFC NORTH SCOREBOARD
Thursday, 9/4
Sunday, 9/7
Monday, 9/8