NFC North:

Rashard Mendenhall
July, 9, 2014
7/09/14
10:00
AM ET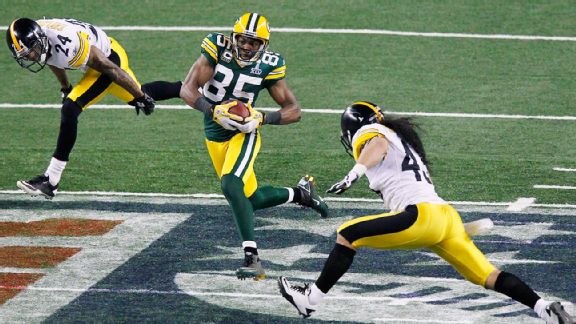 Jason O. Watson/USA TODAY Sports
»
VOTE HERE
»
NFC Plays:
East
|
West
|
North
|
South
»
AFC:
East
|
West
|
North
|
South
This is one of three nominations for the most memorable play in
Green Bay Packers
history. The others are: Bart Starr's quarterback sneak for a touchdown to win the Ice Bowl and Brett Favre's 54-yard touchdown pass to Andre Rison on their second offensive play of Super Bowl XXXI. Please vote for your choice as the Packers' most memorable play.
Score
: Packers 31, Steelers 25
Date
: Feb. 6, 2011
Site
: Cowboys Stadium
Just like in Super Bowl XXXI, there were several defining plays the Packers' Super Bowl XLV victory. There was Nick Collins' 37-yard interception return for a touchdown in the first quarter, and
Clay Matthews
' forced fumble of running back
Rashard Mendenhall
in the fourth quarter.
But Super Bowls often are about quarterbacks, and there's a reason
Aaron Rodgers
was the MVP of this game.

One of those reasons was his throw to receiver
Greg Jennings
on a third-and-10 play in the fourth quarter. Leading 28-25 with 7:29 left, the Packers took over and needed to bleed the clock and keep the ball out of the Steelers' hands. They faced a third-and-10 play on their own 25-yard line.
"I remember that as I was lined up in the shotgun, I knew how important this play was," Rodgers said in a recent interview. "And I also knew that if I kept the play on, I had really only one place to go with the football that would get us the first down."
And that was to Jennings.
With the Steelers rushing only three and dropping eight into coverage, Rodgers knew he had to be precise with his throw.
"They were playing two-man with inside leverage and we had in-breaking routes, so I really knew Greg had to win against
Ike Taylor
and I'd have to make a really good throw," Rodgers said. "But I've made that throw a number of times and felt good about it. I was able to take a nice healthy hitch into it and put the ball where I wanted to."
Taylor appeared to get a fingertip on the ball, but Jennings caught it and went 31 yards to help set up a field goal that would force the Steelers to have to score a touchdown on their final possession.
"I didn't know until after the game that the ball had been slightly tipped," Rodgers said. "But that was one of the better throws of my career."
@RobDemovsky @AaronRodgers12 hitting Jennings in stride on 3rd&10 down seam L8 in 4Q. Vivid memory of ensuing euphoria. #NFLNPackersTopPlays

— Derek (@ChopHSUey) June 11, 2014
October, 30, 2012
10/30/12
2:00
PM ET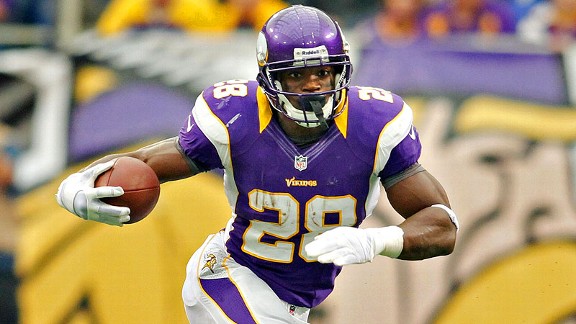 Bruce Kluckhohn/US PresswireVikings RB Adrian Peterson isn't playing like a guy who had major knee surgery in December 2011.
Six years ago, I spent some time with
Adrian Peterson
while working on a profile for the Minneapolis Star Tribune. Our conversation turned to his career goals, and a relatively lighthearted conversation grew serious.
If he were an actor, I would guess Peterson was pausing for effect. In this case, however, I think he was just taking a moment to put his ambitions into words. Eventually, Peterson turned, looked me straight in the eye and said he wanted "to be the best player to ever play this game."
That mentality is, I think, an appropriate context with which to view his unprecedented return from major knee surgery. Peterson wasn't driven simply to resume his career as soon as possible after tearing the ACL and MCL in his left knee on Dec. 24, 2011. He wanted to do it more quickly, and with better immediate returns, than anyone in the history of the game.
There are no objective ways to judge that mission, given medical advances and variances in the timing of injuries. But with the help of several resources, including ESPN Stats & Information, I looked at a cross-section of running backs who have suffered at least a torn ACL over the past decade or so. The chart shows our results, and while you'll notice some nice production in the first post-injury season for several backs, each had a substantially longer recovery time than Peterson.
Less than 10 months after his injury, Peterson leads the NFL in both yardage (775) and yards per game (96.9) while ranking second in offensive touches (174). He has run with power, leading the league with 479 yards after first contact while forcing a league-high 28 missed tackles, according to
Pro Football Focus
. And he has been explosive, ripping off a league-high eight runs of at least 20 yards and breaking away for a 64-yard touchdown scamper last Thursday against the
Tampa Bay Buccaneers
.
"He's doing everything you would hope he could do," Vikings coach Leslie Frazier said. Indeed, I would suggest Peterson has re-written the protocol for returning from an injury that has been career-ending even in some recent cases.
For years, the adage for NFL running backs was that any production in the first year after an ACL injury was gravy.
FootballDocs has a thorough examination (from a fantasy perspective.)
The mid-1990s case of former Vikings tailback
Terry Allen
marked the first really effective and immediate return from an ACL injury, but it's worth noting Allen's occurred during a July 1993 practice, giving him a full calendar year to recover before putting together a 1,031-yard season in 1994.
Until recently, however, Allen's case had proved the exception. It was only 11 years ago, in fact, that
Atlanta Falcons
tailback
Jamaal Anderson
retired because of lingering impact from a 1999 injury.
Denver Broncos
running back
Terrell Davis
, meanwhile, played two relatively unproductive seasons after tearing his ACL and MCL in 1999.
Medical advances have helped running backs resume their careers more regularly since then, and it's worth noting that
Baltimore Ravens
running back
Jamal Lewis
rushed for a combined 3,393 yards in his first two seasons back from an ACL injury. But like Allen, Lewis had a full 12 months to recover before resuming practice because the injury occurred during training camp in 2001.
Peterson, of course, had no such luxury after his injury occurred in Week 16 of the 2011 season. Yet he returned to the lineup, and played on more than half of the Vikings' offensive snaps, 260 days later. On the season, Peterson has played 70 percent of the Vikings' snaps and has appeared stronger with every week -- culminating in consecutive 100-yard games in Weeks 7 and 8.
"I said before I was at 100 percent, which I am," Peterson said recently. "But it's just so much more that I know is going to come. So each week, I feel myself getting better and just try to stay on path."
As a result, Peterson has outgained two other elite running backs who suffered ACL injuries last season.
Jamaal Charles
of the
Kansas City Chiefs
, whose injury occurred three months before Peterson's, has 595 yards in seven games. Meanwhile, the
Pittsburgh Steelers
'
Rashard Mendenhall
has returned to the field earlier this month after a January 2012 injury, but he is currently sidelined by an Achilles injury.
Documenting Peterson's production and putting it in perspective is easy. Explaining how it happened is much more difficult. As we've discussed, Peterson is as ambitious and competitive as they come. The Vikings have smartly limited the times he is asked to run laterally, directing 94.6 percent of his carries between the tackles, according to ESPN Stats & Info. Medical advances are making ACL rehabilitations more routine, and you can't discount the plan crafted by Vikings athletic trainer Eric Sugarman, who accommodated Peterson's wishes to do part of his rehab in Houston during the offseason.
A more detailed discussion is for another post, probably at the end of the season. For now, however, we can say that Adrian Peterson is on his way to being the best player to ever return to the game after suffering a catastrophic knee injury.
May, 7, 2011
5/07/11
10:00
AM ET
Better late than never, let's take a moment to reflect on the highlights of
Tuesday's SportsNation chat
. I was too caught up in a whole lot of nothing this week to circle back on our chat, but you brought forth a number of interesting topics to continue mulling.
Topping the list was a surprising number of you who thought the
Detroit Lions
operated from miscalculated priorities during the draft. We also hit the
Minnesota Vikings
' quarterback situation, the
Chicago Bears
' plans for their offensive line and the
Green Bay Packers
' future returner.
We'll move through the issues one team at a time, adding a few extra smart-aleck comments and commentaries along the way.
Detroit Lions
Nathan (DC)
Everyone loves the Lions pick of [Nick[ Fairley in the first round. I don't. [Anthony] Castonzo and [Prince] Amukamara were still on the board. The Lions won't be able to afford to pay both [Ndamukong] Suh and Fairley in a few years. I think they blew it. Am I way off base?
Kevin Seifert (2:03 PM)
Well, I wouldn't assume they wouldn't be able to pay both of those guys. Even if there is a cap at that point, your management of it is strategic. You put your money in your priorities. The Lions have clearly prioritized their defensive line. And regardless, they should have at least four years of both guys signed to their rookie deals. Four years is about as far ahead as anyone in the NFL looks. I'm fine with them passing on Castonzo and Amukamara as long as they continue to address their needs in free agency. But I do agree it's a risk.
Andy (Arlington, VA)
Kev, Detroit is getting way too much love for their draft. They took their best position on defense, and bolstered it. They left their dreadful LB corps and secondary intact. I realize media types get all drooly thinking about Suh and Fairley together, but don't you think Mike McCarthy might have an idea how to gameplan that?
Kevin Seifert (2:26 PM)
Well, it's hard to gameplan to get around two monsters in the middle. That's why they're so valuable. They're the closest to the quarterback and the first opportunity to disrupt the play.
Further comment:
At some point, the Lions are going to have to address an offensive line that has a 33-year-old left tackle in
Jeff Backus
and a 32-year-old center in
Dominic Raiola
. But it's clear the Lions' consternation doesn't equal that of some fans. As for cornerback, the Lions might be prepared to make a significant financial investment in free agency. Don't forget they were willing, according to reports, to give up first-, second- and fourth-round draft picks to trade up for LSU cornerback
Patrick Peterson
.
Minnesota Vikings
doc (montana)
The Vikings have taken a lot of heat for there first round pick. I am old school and Bud Grant once told me the closer the player is to the ball the smarter he has to be, center and quarterback is what he is talking about and if you look a
Matt Birk
and some of the elite quarterbacks they are a lot smarter then they are physical specimens. If you buy into that in which I do ( think we may have the steal of the draft. What am I missing?
Kevin Seifert (2:16 PM)
Well, Ponder has the first part taken care of. There's no doubt he's a book-smart kid. He'll be able to learn the plays and know the reads without a doubt. But does that mean he can play? Two different issues. A smart quarterback can still get rattled in the pocket and can still make poor decisions. Difference between smarts and instincts.
Elliot (Toronto, ON)
Kevin, you may be no [Rick] Spielman, but if you were, would you have traded the 2nd-round pick to Dallas to get
Blaine Gabbert
? Getting [Kyle] Rudolph was important, but who'd you rather have, him and Ponder or Gabbert?
Kevin Seifert (2:24 PM)
I would have looked at it this way: Is the difference between Gabbert and Ponder worth a second-round pick? I think that's questionable. But if I felt it were, absolutely I would have done it. Drafting a quarterback in the first round should be a once-in-decade thing. You should do everything you need to do to get it right.
Further comment:
Ponder's intelligence is particularly important when you realize he'll be asked to absorb the Vikings' playbook after little to no offseason work and, the team hopes, win the starting job out of training camp. As for whether Gabbert is a second-round pick better than Ponder, I think that's questionable at best.
Chicago Bears
Paul (Denver)
What do you think of [Gabe] Carimi? Does he hold down LT for ten years or will he be shifted over to RT as a nasty run blocker?
Kevin Seifert (2:45 PM)
I'm thinking right tackle, especially this season. But it's incumbent on them finding someone to play left tackle. I wonder if that will be
J'Marcus Webb
.
Steve (NY)
I read a draft analysis on Yahoo! that said Carimi is overrated... thoughts?
Kevin Seifert (2:28 PM)
As always, it depends on who you talk to. Seems like a mean, tough guy. The Bears could use some more of that, even if he ends up on right tackle. Other than
Olin Kreutz
, a lot of the linemen they played last year were pretty passive.
Further comment:
When people say Carimi is a "Mike Tice" kind of offensive lineman, referring to the Bears' offensive line coach, they mean he is a blue-collar mountain mover who is strong enough to overpower opponents and thick-skinned enough to absorb Tice's barbs constructively. If he is who we think he is, Carimi will help set an important attitude tone for this line.
Green Bay Packers
Bryant (Milwaukee)
Does
Randall Cobb
instantly become the Packers best option to return punts and Kicks?
Kevin Seifert (2:49 PM)
I would think so, yes. Let's get
Tramon Williams
as far away from punt returns as possible.
Further comment:
The question isn't whether Cobb becomes the Packers' returner. It's the extent to which McCarthy can find an immediate role for him in the offense. Cobb has the potential to be a game-changer.
Bonus "question"
Peter (Atlanta, GA)
Is
Rashard Mendenhall
the dumbest athlete on the planet right now?
Kevin Seifert (2:46 PM)
I would say yes. Resoundingly.
Further comment:
Is any necessary? More than an intelligence issue, Mendenhall has a judgment issue. Free speech is great. Factual distortion, on the other hand, is not guaranteed by the First Amendment.
March, 19, 2011
3/19/11
9:00
AM ET
After the NFL labor situation took a few unfortunate turns last week, let's once again check in with Vince Lombardi: "Once you have established the goals you want and the price you're willing to pay, you can ignore the minor hurts, the opponent's pressure and the temporary failures."
I'll be here all week via
the mailbag
,
Facebook
and
Twitter
.
Clay of Minooka, Ill., wants to comment on Minnesota Vikings tailback Adrian Peterson's use of the term "modern-day slavery" to describe players' relationship with NFL owners:
I feel everyone is making it up to be something bigger than what it is. If you read the entire statement, he discusses how the players, like most employees under owners, are making fractions of what the owners make. He seems to be saying that without the employees there is no business, and yet owners constantly try to take away from them.
This is very true for a majority of today's business. (Hence modern-day slavery.) He wasn't making any remarks toward race, simply making an analogy which really is not off base. Given that we are in a world where everyone gets to have an opinion (as I am doing right now) I think it is too bad that people with a forum that has a following (such as ESPN) are trying to make this a story. I guess I miss the days where ESPN wasn't such a gossip-filled media.
Kevin Seifert
: Typically I don't choose questions or comments that long, but I think Clay has given us a relatively level-headed perspective on exactly why this
is
a story and why using the term "modern-day slavery" in the context of NFL labor relations is inappropriate and indefensible.
First, let me reiterate what I originally wrote. My dealings with Peterson over the past four years have revealed him to be a thoughtful and charitable man. He chooses his words carefully, is fully aware of public perception and always projects himself professionally. Almost without fail, he represents the Vikings in a positive manner.
I also think NFL players can justifiably argue that they, as Clay writes, make a fraction of what team owners make. And like many businesses, the NFL wouldn't be as successful as it is without the unique skills of its players. Perhaps players should be rewarded more, not less, for their efforts.
Here's the problem: That debatable inequity isn't slavery, either in the modern or historical sense. It's a predicament. A bad deal. A discrepancy.
People often use the term "modern-day" to denote the evolution of something historical into a faster-paced era. "Modern-day romance" can spark via internet dating services. "Modern-day warfare" takes place in areas far removed form the traditional battlefield. "Modern-day medicine" is ruled by insurance companies, not doctors.
And "modern-day slavery" is known as human trafficking. Anyone who thinks that it's analogous to the NFL should check out the
U.S. State Department's 2010 report on human trafficking
. It estimates that 12.3 million people worldwide were in forced or bonded labor, or forced prostitution during 2010. The report includes countless
victim profiles
that describe the work forced upon abducted children, among other atrocities.
Here's one that details a woman abducted in Kenya and enslaved in Saudi Arabia:
Salima was recruited in Kenya to work as a maid in Saudi Arabia. She was promised enough money to support herself and her two children. But when she arrived in Jeddah, she was forced to work 22 hours a day, cleaning 16 rooms daily for several months. She was never let out of the house and was given food only when her employers had leftovers. When there were no leftovers, Salima turned to dog food for sustenance. She suffered verbal and sexual abuse from her employers and their children. One day while Salima was hanging clothes on the line, her employer pushed her out the window, telling her, "You are better off dead." Salima plunged into a swimming pool three floors down and was rescued by police. After a week in the hospital, she was deported. She returned to Kenya with broken legs and hands.
If you can find a parallel between Salima and an NFL player, let me know.
I agree that Peterson's comments in no way invoked race, but slavery has never been just about race. It's about class, sexism and many other issues.
The big point -- and for me it's so obvious that I don't know if I need to make it -- is that NFL players aren't forced into anything and do nothing against their will. Owners might have a monopoly on their profession, which might be unfair, but it's hardly a moral atrocity.
As for the issue of using the ESPN forum "to make this a story," I think quite the opposite. In this case, I'm grateful to have the opportunity to (hopefully) push people away from comparing everyday bummers to illegal evils.
I was going to let this issue slide until
Pittsburgh Steelers
tailback
Rashard Mendenhall
expressed support for Peterson's statement
via Twitter, saying: "Anyone with knowledge of the slave trade and the NFL could say these two parallel each other."
Actually, even the most cursory knowledge of slavery -- either historical or modern-day -- reveals there are no parallels whatsoever. Everyone is entitled to an opinion, but this isn't an issue of subjective interpretation. To me, it's frightening to see social misinformation spread in the name of an economic cause. NFL players might feel minimized, condescended to and used. Enslaved? Please.
---
Anthony of Clinton Township, Mich., writes:
Remember at the beginning of last season your NFC North faithful readers had an NFC North ESPN fantasy football league? I won, I think I should get a little blip in a story.
Kevin Seifert:
I vaguely remember someone asking if I would organize and participate in a fantasy league. I passed, mostly in fear of being revealed as an uninformed fraud. But I'm glad to hear you all organized amongst yourselves and I offer my hearty congratulations to you and yours.
---
Jim of St. Paul noted I wasn't sure of the Green Bay Packers' season ticket payment deadline and wrote:
I am a season ticket holder at Lambeau. Their payment deadline is March 31.
Kevin Seifert:
Several other readers noted this date as well. I'm still interested to see if the Packers, or any other NFC North team, follow the
New York Giants
' lead and push back deadlines until after the NFL and its players reach a new collective bargaining agreement (CBA). That's the fairest way for teams to treat their best customers during a time when the business has been shut down.
---
Kyle of Grand Rapids, Mich., writes:
I am still hot about this draft boycott idea by the NFLPA. I don't get it. The prospects being at the draft is far more for them and the fans than for ANY team or owner. What exactly is boycotting going to accomplish? To me it just shows even more that the players' claims to be concerned about the fan are either lip service or they are generally disconnected with what fans want.
Kevin Seifert:
In the event any of you missed it, the NFL typically invites 15-20 players to attend the draft in New York City and shake commissioner Roger Goodell's hand upon being selected. Kyle is referring to
Adam Schefter's report
that the NFL Players Association will "ask" those players to decline their invitations. Instead, there have been indications the NFLPA will hold a parallel event for them to attend.
Honestly, Kyle, I'm not caught up in the outrage over this request. I'm sure it's probably cool for the 15-20 players who attend. But I'm sure it's much cooler to deposit that first paycheck a few months later. If this labor strife has shown us anything, it's that this game is all about the money.
And I have to ask how devalued the draft broadcast really would be without those players. Will people really tune in to watch
Cam Newton
hug his agent and proceed to a photo op with Goodell? Or do you watch
to find out who your team drafts?
To me, that is and will always be the true drama of the draft.
---
Nathan of Phoenix writes:
Todd McShay's draft scenario
is a dream come true for me as a Lions fan and as a Baylor graduate. However, try to imagine this scenario: The Vikings picking at No. 12, where they are about to take _____ and then they realize, "If we take _____, then Detroit will take
Prince Amukamara
. Do we really want that?" To your point, do they let a division rival get an elite cover cornerback with 4.37 speed?"
Kevin Seifert:
It's a very interesting point and scenario, Nathan. In the end, however, I don't think you can play defense in the draft, especially in the first round. At that point, there should be no motive other than picking the best player for your team.
The trickier question is whether the Vikings should pass on Amukamara for their own purposes. The only certainty they have at cornerback is veteran
Antoine Winfield
, who turns 34 in June.
Cedric Griffin
is recovering from a torn anterior cruciate ligament, his second in as many seasons.
Chris Cook
showed some promise last summer in training camp but two knee injuries held him back during the season.
The Vikings would have to think hard about taking Amukamara. The Lions' needs shouldn't have anything to do with it, but their own might provide enough motivation.
---
Lou of Yuma, Ariz., writes:
Thanks so much for your
comments on the "
Calvin Johnson
Rule!" I'd totally forgotten about Bill the Cat, and his normal comment exactly describes how I feel about the entire situation. I haven't laughed so much in years -- it was a "funny-always" line (as opposed to "funny-once" or "funny-never").
Kevin Seifert:
Glad someone got it! I'll tell
Milo and the gang
next time I see them.
---
Andy of Chicago writes:
Much has been made about the Packers' roster depth. Along with the 53 they had at the end of the season, they could return as many as 15 players from IR and perhaps
Johnny Jolly
from suspension. Throw in another 8 or 9 draft picks, and those first-year gems that Ted Thompson seems to find outside of the draft before the season (
Sam Shields
,
Frank Zombo
,
Ryan Grant
, etc.) and that's a lot of bodies in camp. Figuring they'll probably lose 7 or so players to free agency, do you think Thompson might change his strategy and package picks in the draft to prioritize quality over quantity, i.e., move up on the board?
Kevin Seifert:
It's an interesting perspective that more than a few of you have asked about. The first thing to remember is that from a pure numbers standpoint, no team is allowed more than 80 players in training camp. That number could change in the new collective bargaining agreement, but I realize you're referring to a lot of players who could/should make the team, as opposed to just a lot of players.
So is this the year that the Packers can afford to sacrifice multiple draft choices if there is a player they really feel strong about? A few of you have asked about Texas A&M linebacker
Von Miller
, who
Scouts Inc. is ranking
as the second-best prospect in the entire draft.
If the Packers think Miller is as good as media analysts suggest, would it be worth them to trade multiple picks to get into the top 5 and draft him? The idea would be that any players the Packers take on the second and third days of the draft are going to have a hard time making their roster.
It makes some sense, but I it would require a significant departure from the way Thompson has built the team in the first place. I think the chances of his staying course -- adding more and more talent on annual basis -- are much higher than a one-time philosophical shift.
February, 14, 2011
2/14/11
11:03
AM ET
Anyone catch the "Sound FX" segment featuring Super Bowl XLV, currently airing on the NFL Network? Using microphones embedded around the field at Cowboys Stadium, the piece provided -- among other things -- some interesting insight into one of our pregame XLV posts.
As you might recall, we
discussed the possible mismatch
when the
Pittsburgh Steelers
ran behind right tackle
Flozell Adams
. From that post:
According to ESPN Stats & Information, the Steelers averaged 5.9 yards per carry during the regular season when they ran behind right tackle Flozell Adams, the second-highest total in the NFL. And for reasons that will be hard to pinpoint, the Packers' otherwise strong run defense allowed 5.2 yards per carry in that same direction during the season. That number placed them No. 26 overall among NFL teams in that category.
It wasn't entirely clear why the Packers' defense was weak in that direction, but "Sound FX" made clear the Steelers' assessment. At one point, running backs coach Kirby Wilson points to linebacker
Clay Matthews
' position on a grease board. Wilson tells backup running back
Isaac Redman
that the Steelers would target Matthews for the entire game.
[+] Enlarge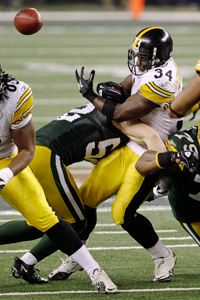 AP Photo/Kathy WillensRashard Mendenhall fumbled on his last carry of Super Bowl XLV.
"He doesn't want to take on the run," Wilson said. "He's a pass-rush specialist. He wants to pass rush Mike Vick. He wants to pass rush
Matthew Stafford
. ... We're going to keep pounding and make this guy quit."
We then see Matthews manning the right side of the Steelers offense, recognizing a formation that suggests the Steelers were planning to run in his direction.
"Watch the power! Watch the power!" Matthews says.
At the snap, Steelers guard
Chris Kemoeatu
pulls toward Matthews and flattens him. Running back
Rashard Mendenhall
scoots by on his way to a 19-yard run.
Next, Matthews is on the bench shaking his head about the play, noting that he recognized what was coming but lamenting that Kemoeatu is " just a big boy."
Kemoeatu is listed at 344 pounds, or 89 pounds more than Matthews.
Mendenhall finished the game with 14 carries. He gained 66 yards on runs that went to the right of center, based on a review of the official play-by-play. Mendenhall ran twice to the left, netting zero yards, and lost three yards on his only run up the middle.
It's not uncommon for power offenses to run toward elite pass-rushers, hoping either to guide them around the hole or capitalize on weight mismatches. Ultimately, the Packers minimized this mismatch in two ways.
First, their early 14-0 lead limited the Steelers' opportunities to run. Second, Matthews forced Mendenhall to fumble on the first play of the fourth quarter to end a Steelers' drive at the Packers' 33-yard line. Turnovers are the great equalizer, and this one recaptured momentum for the Packers. Instead of potentially giving up a 21-17 lead, their offense capitalized with an 8-yard touchdown pass to receiver
Greg Jennings
to give the Packers an 11-point lead.
The play was Mendenhall's last carry of the game.
December, 26, 2010
12/26/10
4:24
PM ET
CHICAGO -- Let's not waste time getting to it.
Chicago's quest for the No.2 seed in the NFC and accompanying first-round bye remains alive by virtue of its win Sunday over the
New York Jets
in a
38-34 shootout
.


It's time to move on to the good stuff.
What it means
: The Bears took care of their end in attaining the NFC's No. 2 seed for the postseason by defeating the Jets. Interestingly, the Bears could find themselves rooting for a divisional foe. The Bears needs the Vikings to defeat the Eagles on Tuesday night (the game was
postponed because of a snowstorm
in Philadelphia) and the Packers to beat the
New York Giants
to clinch the No. 2 seed and the first-round bye.
Defensive struggle
: But not in the way one might expect from two defenses that entered Sunday's game ranked among the league's best.
The Jets entered the game ranked No. 5 in overall defense, while the Bears held the eighth spot.
Hundreds of yards later between both teams, it seemed the defenses disappeared.
When the Bears took possession for their first drive of the fourth quarter, the teams had already combined for 610 yards. The Jets' vaunted defense gave up three touchdowns in the third quarter alone, as quarterback
Jay Cutler
bounced back from a horrid first-half performance (his passer rating was 43.2 at halftime) to finish the third quarter with a passer rating of 116.1 after completing 6 of 7 passes.
Hester's impact
: Jets coach Rex Ryan said his team wouldn't punt to
Devin Hester
, but punter
Steve Weatherford
made the mistake doing it.
Bad move.
After playing keep-away from Hester in the first half, Weatherford booted a returnable punt to Hester that allowed the Bears to take their first lead since the opening quarter.
Hester caught a Weatherford punt at Chicago's 30-yard line in the third quarter and made five Jets defenders miss on a 32-yard punt return (his 37th return of 20 yards or more since 2006) that gave the Bears possession at the 32. Hester caught a 25-yard touchdown pass three plays later from Cutler as the Bears took a 31-24 lead after
Robbie Gould
's extra point.
Hester didn't touch the ball again until the 8:30 mark of the third quarter. When he did, Hester took a kickoff 40 yards to set up a Cutler scoring strike to
Johnny Knox
.
Forte joins exclusive club
:
Matt Forte
gained 113 yards on 19 attempts to become just the third running back this season to rush for 100 yards or more against the Jets.
Last week, Steelers running back
Rashard Mendenhall
came close to becoming the third back to accomplish the feat, but a day after the club defeated the Jets 22-17, the NFL reduced his yardage total from 100 yards to 99.
What's next
: Having already clinched the NFC North title and no worse than the third seed in the NFC playoffs, the Bears close the season Sunday at Green Bay, which hosted the Giants on Sunday afternoon.
March, 31, 2010
3/31/10
1:00
PM ET
»
NFC History
:
East
|
West
|
North
|
South
»
AFC
:
East
|
West
|
North
|
South
»
Draft Watch
:
Biggest needs
(2/17) |
Busts/gems
(2/24) |
Schemes, themes
(3/3) |
Recent history
(3/10) |
Needs revisited
(3/17) |
Under-the-radar needs
(3/26) |
History in that spot
(3/31) |
Draft approach
(4/7) |
Decision-makers
(4/14) |
Dream scenario/Plan B
(4/21)
Each week leading up to the NFL draft (April 22-24), the ESPN.com blog network will take a division-by-division look at key aspects of the draft. Today's topic: History in that spot.

Chicago Bears
The Bears' top pick is No. 75 overall. Here are the last five players taken in that spot, with their NFL team in parentheses:
2009:
Ball State tackle
Robert Brewster
(Dallas)
2008:
Oklahoma defensive back
Reggie Smith
(San Francisco)
2007:
Illinois State receiver
Laurent Robinson
(Atlanta)
2006:
Louisville guard
Jason Spitz
(Green Bay)
2005:
Virginia Tech defensive back
Eric Green
(Arizona)
Robinson had 37 receptions as a rookie but has since moved to St. Louis. Spitz was the Packers' opening-day center last season before a back injury sidelined him. He is a candidate to start in 2010. Smith has played in 13 games over the past two seasons for the 49ers, with seven tackles and no interceptions.

Detroit Lions
The Lions' top pick is No. 2 overall. Here are the last five players taken in that spot, with their NFL team in parentheses:
2009:
Baylor offensive tackle
Jason Smith
(St. Louis)
2008:
Virginia defensive end
Chris Long
(St. Louis)
2007:
Georgia Tech receiver
Calvin Johnson
(Detroit)
2006:
USC running back
Reggie Bush
(New Orleans)
2005:
Auburn running back
Ronnie Brown
(Miami)
Brown, Bush and Johnson have all been dynamic playmakers for parts of their careers. Coincidentally, all three have been slowed by knee injuries of varying severity. The Rams are still waiting for elite payoff from Long and endured an inconsistent rookie season from Smith.

Green Bay Packers
The Packers' top pick is No. 23 overall. Here are the last five players taken in that spot, with their NFL team in parentheses:
2009:
Mississippi offensive tackle
Michael Oher
(Baltimore)
2008:
Illinois running back
Rashard Mendenhall
(Pittsburgh)
2007:
LSU receiver
Dwayne Bowe
(Kansas City)
2006:
Oklahoma guard
Davin Joseph
(Tampa Bay)
2005:
Nebraska cornerback
Fabian Washington
(Oakland)
Oher, Mendenhall, Bowe and Joseph have been full-time starters. Washington moved from Oakland to Baltimore.

Minnesota Vikings
The Vikings' top pick is No. 30 overall. Here are the last five players taken in that spot, with their NFL team in parentheses:
2009:
Rutgers receiver
Kenny Britt
(Tennessee)
2008:
Purdue tight end
Dustin Keller
(
New York Jets
)
2007:
LSU receiver
Craig Davis
(San Diego)
2006:
LSU running back
Joseph Addai
(Indianapolis)
2005:
Virginia tight end
Heath Miller
(Pittsburgh)
All five are skill players, for what it's worth. Davis has been a bust, but Miller, Addai and Keller are highly productive players. Britt is on pace to be as well.
August, 24, 2008
8/24/08
1:11
AM ET

Posted by ESPN.com's Kevin Seifert
MINNEAPOLIS -- The Minnesota Vikings had the NFL's lowest-rated pass defense in 2007. They ranked 31st the year before that, 22nd the year before that, 29th the year before that, 26th the year before that and 29th the year before that.
(For those keeping track, that litany takes us back to 2001 -- the last year the Vikings had so much as a top-20 pass defense. In a 32-team league.)
(And if you're really keeping track, yes, we've already used the word "that" six times in this post. High school English teachers around the country are yelping.)
It takes time to wash away years of ineptitude, but Saturday night it appeared the Vikings at least were on the right track. In two quarters of play, their No. 1 defense shut down the Pittsburgh Steelers from all angles. Most notably, the Vikings limited quarterback Ben Roethlisberger to 65 passing yards, sacking him twice and hurrying him on at least three other occasions with primarily a four-man pass rush.
"We brought a little extra pressure somewhere in there but for the most part it was four-man," defensive coordinator Leslie Frazier said. "One of the things we really wanted to find out this preseason was if we have improved in that area. This was really the game we pointed to as a group. [The Steelers] were a playoff team a year ago and should be again. This was an area that we needed to step up in, and I think we did."
Indeed, the Vikings committed three draft choices and $31 million in guaranteed money to step up their pass defense during the offseason. Pairing defensive end Jared Allen with Pro Bowl tackles Kevin and Pat Williams, as well as emerging left end Ray Edwards, gave the Vikings one of the NFL's best defensive lines -- on paper.
In the Vikings' first two preseason games, however, Allen and his new teammates still seemed to be working out the kinks. Even the Vikings' vaunted run defense -- they have led the NFL in each of the past two seasons -- had sprung some leaks. (Opponents rushed for 5.6 yards per carry in those games.)
But Saturday night, Edwards set the tone by hurrying Roethlisberger into a third-down incompletion on the third play of the game. Edwards and Kevin Williams each sacked Roethlisberger once, and Williams forced rookie running back Rashard Mendenhall to fumble late in the first quarter.
"We're two weeks from [the season]," Williams said. "We're trying to get keyed up and we wanted to show that tonight. We wanted to show why we brought in Jared and how solid we are against the run. We just wanted a good showing over the other two preseason games, and I think we did it."
Even the run defense returned to its dominant self, holding the Steelers' starters to 18 rushing yards on 10 carries.
"We got some runs leaked out on us the first few games," Williams said. "But just to shore up the doubters on our run defense, it's there. And we're going to get after the passer, too."
How active were the Vikings Saturday night? On a second-quarter pass play, all three of the Vikings' primary rushers -- Williams, Allen and Edwards -- defeated their opponent and got into the backfield. Roethlisberger stepped up in the pocket, causing a comical collision as Williams sent Allen careening to the ground.
Roethlisberger escaped, but it's fair to say that not many quarterbacks would have in a similar situation.
"[Williams] is a big man," said Allen, who was able to chuckle about it afterwards. "I think he re-adjusted my spine for me."
Whatever it takes, the Vikings will welcome their defensive readjustment.