March, 13, 2013
3/13/13
10:32
AM ET
I took a moment Wednesday morning to read through your feedback
via Twitter mentions
and
the mailbag
. Much of it centered around the departures of two key
Minnesota Vikings
players this week, and a few were represented by
this comment via Twitter
from
@HinrichsRuss:
@espn_nfcnblog As season ticket holder - I can't help but feel the Vikings are cutting salary on orders from ownership. Other explanation?

— Russ Hinrichs (@HinrichsRuss) March 13, 2013
I understand where you're coming from. You've seen the Vikings trade receiver
Percy Harvin
, who received a six-year contract worth $67 million from the
Seattle Seahawks
. Right tackle
Phil Loadholt
received a premium contract extension Tuesday worth $25 million over four years, but minutes later the Vikings released cornerback
Antoine Winfield
and his $7.25 million salary. And at the moment, there are no indications the Vikings plan to host a free agent who would command a big salary.
[+] Enlarge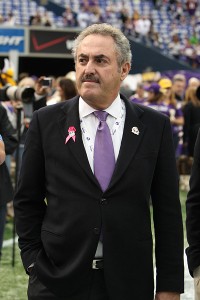 Brace Hemmelgarn/USA TODAY Sports Since buying the Vikings in 2005, Zygi Wilf has spent $922 million on payroll.
Vikings fans earned the right to be suspicious during the tenure of former owner Red McCombs, who openly and deeply cut back expenses when it became clear he was not going to secure public funding for a new stadium. In this instance, all I can tell you is that a financial cutback would represent a 180-degree reversal from owner Zygi Wilf's previous approach. To think it would come less than a year after approval of $498 million in public subsidies for a new stadium would be downright conspiratorial.
I'm all for conspiracies, but we should at least consider the facts here. As
Tom Pelissero of 1500ESPN.com
has noted, the Vikings have spent nearly $1 billion (in cash, not cap space) on player salaries since Wilf bought the team from McCombs in 2005. Their raw payroll figure of $922 million ranks second among all NFL teams over that span, a status that should at least give the Vikings the benefit of the doubt at the moment.
Some of that financial commitment stretches into the 2013 season. Defensive end
Jared Allen
($14.2 million), running back
Adrian Peterson
($11.5 million) and linebacker
Chad Greenway
($7 million) are scheduled to earn a combined $32.7 million alone. That number would increase to $40.2 million if the Vikings don't adjust the salary of defensive tackle
Kevin Williams
, who is scheduled to earn $7.5 million.
There is an indisputable drop-off from that point, but is that based on a budget limitation or is it the quantified version of general manager Rick Spielman's oft-stated philosophy? The Vikings committed last season to young players, who in most cases were highly drafted, at quarterback, left tackle, free safety, cornerback and place-kicker. They quite simply aren't eligible yet for big contracts.
Spielman said Tuesday that "the philosophy here is putting an emphasis on signing your own back." If that's the case, the Vikings eventually will spend big on contract extensions for quarterback
Christian Ponder
, left tackle
Matt Kalil
, safety
Harrison Smith
, cornerbacks
Chris Cook
and
Josh Robinson
and place-kicker
Blair Walsh
. In the overall arc of team-building, the Vikings are at an inexpensive stage.
It's true that Spielman referred to the departures of Harvin and Winfield as "business moves," but I assume he meant it in a way to dispute that personal issues were involved in either decision. Finances might have played a role in the Harvin trade, but only in the context that the Vikings must not have felt comfortable paying him a major contract
given the behind-the-scenes misgivings they must have felt
.
And as we discussed Tuesday
, the Vikings had part-time plans for Winfield in 2013 that wouldn't have merited a $7.25 million salary.
For the moment, we're left to assume that the Vikings' current spending habits are a function of their philosophy rather than a cause of it. We'll know soon enough.
January, 21, 2013
1/21/13
9:45
AM ET
As the opponents in Super Bowl XLVII took shape Sunday, it wasn't difficult for an NFC North blogger to envision a long-ago time when one of the most prominent veterans on each team held polar corners of the
Minnesota Vikings
' locker room.
In 1998, the Vikings drafted receiver
Randy Moss
(No. 21 overall) and center
Matt Birk
(No. 173). In 2004, their differences surfaced publicly and helped explain the Vikings' decision to trade Moss to the
Oakland Raiders
. Eight years later, one of them will be a first-time Super Bowl champion.
[+] Enlarge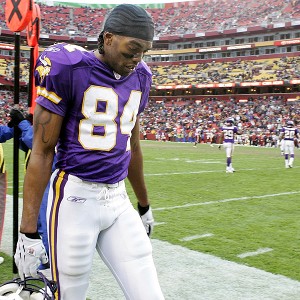 AP Photo/Evan VucciMatt Birk wasn't happy with Randy Moss after the receiver decided to leave the field before this game in 2005 was over.
We can't really say that Moss and Birk will face each other Feb. 3 in New Orleans. As a receiver for the
San Francisco 49ers
, Moss isn't likely to be on the field at the same time as Birk, the
Baltimore Ravens
' center. It's unlikely they'll get close enough to exchange pleasantries, even if they wanted to.
The last documented time they spoke was in the visitor's locker room at FedEx Field on Jan. 2, 2005. Frustrated with an impending loss to the
Washington Redskins
, one that left the Vikings needing help to back into the playoffs, Moss stalked off the field with two seconds remaining as the Vikings lined up for an onside kick. Enraged, Birk confronted Moss in the locker room.
In interviews later
, Birk said his tirade could be repeated only with "a lot of bleeps" and made clear: "I didn't like it. I made sure to get to the locker room quick to talk to him about it. And hopefully, it won't happen again."
It never did, but that was because Moss had only two games remaining in his first stint with the franchise. About an hour after the Vikings were knocked out of the playoffs by the
Philadelphia Eagles
, a few reporters were loitering in the Vikings' locker room. Birk approached Moss and said, "Do you have a minute?" Moss looked away, put his headphones over his ears and walked out of the locker room.
"Guess not," Birk said.
A few months later, then-owner Red McCombs ordered Moss traded. That day, I spoke with Birk about the move. He agreed it would be difficult to replace Moss' play-making skills but hoped the locker room would be less chaotic. Birk had heard enough from Moss' caretakers, who believed he would mature over time, and as we spoke, he
quoted a line from a magazine he was reading
:
"You can stroke a dog's ear the wrong way all you want, but ultimately it just goes back to the way it was meant to be."
I asked Birk if Moss was the "dog" in that quote. He said he had just happened to see it as we spoke. Birk is a Harvard graduate and not prone to random thoughts, so I guess we can all draw our own conclusions on that one.
Look, I don't think the Moss-Birk storyline will rank among the top 10 that reporters pursue in the next two weeks. It shouldn't be. The Vikings didn't trade Randy Moss because of Matt Birk. More simply, Birk was a public representative of those in the organization who had grown weary of his act. And by all accounts, Moss has toned down his act considerably with the 49ers.
Frankly, what's most notable about their inclusion in Super Bowl XLVII is that both are still in the league at all.
Moss, 35, was out of the game last year before returning in a part-time role with the 49ers. Birk, 36, seemed to be taking years off his career as he played with multiple sports hernias that forced surgery on both hips. He missed four starts in 2004 and all of 2005 as a result, but he has started 112 consecutive regular-season games since.
I'm guessing that bygones are bygones for this pair. Their histories, however, will provide a layer to the Super Bowl that's worth noting. And so we have.
May, 10, 2012
5/10/12
3:19
PM ET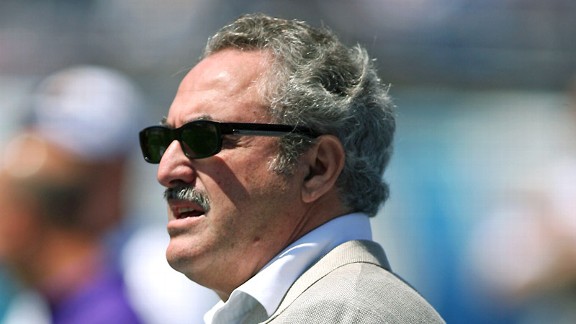 Icon SMIZygi Wilf was able to secure a new stadium for the team without resorting to threats of relocation.
More than a decade of memories came flooding back after seeing the
Minnesota Vikings
' stadium bill
pass through the state Senate
and head toward the inevitable signature of Gov. Mark Dayton on Thursday, ensuring at least 30 more years of franchise continuity.
I picked up the beat in 2001, when state leaders began years of inattention by insisting the Sept. 11 attacks made for an inappropriate time to discuss stadium subsidies. I remember calling a young state legislator named Tim Pawlenty, who cheerfully suggested the team's top stadium lobbyist secure a straight salary rather than working on commission. "There's just no appetite here for more stadiums," Pawlenty said a few years before he was elected governor.
I took a trip to San Antonio, home of former owner Red McCombs, to scout it out as a potential relocation site. I wrote about an NFL meeting in 2003 in which league officials made a preliminary plan to place the Vikings in the NFC West if they eventually relocated to Los Angeles. I watched plans to share a stadium with the University of Minnesota collapse, as did suburban collaborations in Anoka and Arden Hills.
But most of all, I remember sitting in a converted racquetball court in the Vikings' cramped practice facility on June 16, 2005. On that day, new owner Zygi Wilf made a pledge that astonished all of us and figured to haunt him for the rest of his tenure atop the franchise.
Wilf said he would never move the team, regardless of a revenue deficit that forced McCombs to sell. He acknowledged he would like a new stadium but said: "If we're stuck in the Metrodome, then we'll be stuck in the Metrodome."
Given the years of inaction we had already witnessed, most of us figured the only way the Vikings would secure a new stadium would be by waving a ready-made offer to relocate elsewhere. But here, on one of his first days as an owner, Wilf had cut his leverage out from beneath himself and guaranteed a struggle to upgrade the franchise's home.
So on this day, it's worth noting that Wilf and his staff have agreed to relatively equitable terms on a bill for a new stadium without so much as an indirect or implied threat of relocation -- much less engaging in any substantive discussions with another locale.
Really, the only tense moment came last month when a state committee derailed the bill in a spate of political infighting. NFL commissioner Roger Goodell swooped into St. Paul to
add some weight to the Vikings' campaign
, and from then on final approval has seemed nearly inevitable. In the context of stadium debates, Wilf and the Vikings kept the tone cordial, amicable and most importantly aboveboard, securing a state legacy for the franchise and the owner himself.
It's been months since Wilf has spoken publicly on the stadium issue, a strategic decision the Vikings made to minimize attention on the "billionaire subsidy" argument and focus it on Dayton and the resulting job creation a stadium would bring. I'm sure there will be plenty of people who can't get past the additional revenues Wilf and his investors will receive in this deal, and I understand that. But in the context of professional sports, I truly think Wilf and his investors deserve some credit for saving the franchise for Minnesota.
Think about it. For years, state leaders fully exercised the leverage they held by virtue of the Metrodome lease and Wilf's publicly stated willingness to continue playing there. When the tables turned, Wilf declined to reciprocate and instead pursued a deal with the same people who wouldn't take the Vikings' phone calls in previous years.
Really, from a cold business standpoint, Wilf would have been better off minimizing his expenses, awaiting the expiration of the lease then shopping the franchise to the highest bidder from around the country. He paid $600 million in 2005 and, six years later, the
Jacksonville Jaguars
were sold for $760 million with a stadium situation much worse than the Vikings'. Outsiders bidding for the franchise almost certainly would have left the Minnesota legislature to match a much less equitable deal to keep the team, if it had the opportunity at all.
Instead, over the past seven years, Wilf and his partners have funneled the team more than $100 million in personal funds to account for a competitive player payroll, a larger front-office staff and modernization of the practice facility. Wilf aggressively pursued the stadium issue but passed on every opportunity to up the ante or enhance his leverage by turning his attention elsewhere. You might disagree with some of his decisions as a franchise operator, but Wilf and his investors have proved exemplary franchise stewards.
I can't control how you view Wilf and his group of out-of-town investors. But, Vikings fans, you guys lucked out. This could have been ugly and easily might have ended differently. Zygi Wilf made sure it didn't.
Earlier:
The first
post-approval questions
the Vikings must consider.
March, 27, 2012
3/27/12
2:57
PM ET
PALM BEACH, Fla. -- Apparently, our next stop in sniffing out the
Minnesota Vikings
' true intentions this offseason is to make the dangerous connection between a stadium drive and football expenditures.
John of Belleview, Ill.,
is worried that the Vikings could become the "Kansas City Royals of football" for one of two reasons: Either owner Zygi Wilf will bring down his player payroll to limit further losses, or state legislators will require the team to pay so much toward construction that debt service will render moot the increased revenue of a new stadium.

Here's what I can tell you: Wilf has done nothing if not spend liberally on players during his first seven years as the team's majority owner. If my count is right, he has made five capital calls to his investment partners to cover the difference between revenues and his player payroll. In total, Wilf and his partners have pumped about nearly $100 million into the franchise on top of the $600-million purchase price.
And I feel confident in suggesting Wilf wouldn't have agreed to the current terms of his stadium proposal if it would have shortchanged his projected revenues.
There is no denying the Vikings have made but one significant free-agent expenditure, signing tight end
John Carlson
to a five-year contract worth $25 million. And I understand why Vikings fans would be suspicious given the blatant financial scaleback they endured in the final years of previous owner Red McCombs' tenure.
But if the Vikings have made a shift, it's one of philosophy rather than finances, general manager Rick Spielman said here at the NFL owners meetings.
Spielman: "Our ownership has always been very supportive of what we need to do, getting players and things like that. I think that doesn't have any effect on whether we're going to sign or not sign a player."
Owner/president Mark Wilf echoed that sentiment: "It's a long-term process in terms of building through the draft, filling in through free agency, and that combination is something we wanted to structure the organization to have our best chance at long-term success. … We want to win right away, too, but the main thing is we want to be first-rate and first-class on a consistent basis."
I realize that no team official would admit to a financial scaleback, but in Wilf's case, we have seven years of free spending and one offseason of a longer-term view. It doesn't add up to anything sinister for me.
May, 24, 2011
5/24/11
5:00
PM ET
A hat tip to
Judd Zulgad of the Star Tribune
, who pointed out an interesting exchange between radio host Rush Limbaugh and former Minnesota Gov. Tim Pawlenty, who announced his candidacy for president Monday.
[+] Enlarge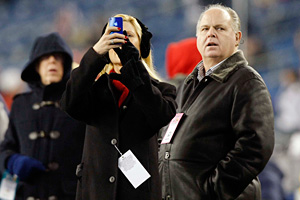 David Butler II/US PresswireRadio host Rush Limbaugh, shown at last season's Packers-Patriots game, was part of an investor group that hoped to purchase the St. Louis Rams.
Limbaugh had an interesting reaction when the topic somehow turned to whether Limbaugh might purchase the
Minnesota Vikings
and move them to Los Angeles. Here's the
transcript from Limbaugh's web site
:
Rush Limbaugh: "I know you're not in the statehouse any longer, but there's an issue roiling the state right now and that's the Vikings and their new stadium and how much of it should be publicly financed. The usual threats are being made: If the public doesn't chip in and build a new stadium the Vikings are gone. They'll move to LA or someplace."

Tim Pawlenty: The rumor is you're gonna buy 'em and move 'em. Is that true?

RL: (laughing) "Well, uh, this interview is about you." (laughing)

TP: (laughing)

RL: "I'll keep it focused on you."

TP: (laughing) "All right."

RL: "What's the...? Are you apprised? What's the status of that in Minnesota?"

TP: "Well, the legislature ends today and they didn't pass that bill. There's probably gonna be a special session, so it will probably come back up. But the public doesn't support it. Of course people appreciate the Vikings as an asset in Minnesota, but when I was governor, we didn't get that done for a reason because they wanted a bunch of money from the state. We did build a baseball stadium in Minnesota for the Twins, but there was no state money involved in that. The Twins and a local county paid for that. We didn't put any state dollars into that."
The exchange wouldn't mean much if Limbaugh hadn't recently been part of an investor group that hoped to purchase the
St. Louis Rams
. The group
eventually dropped Limbaugh
because of the subsequent negative publicity he brought. So it's at least notable that Limbaugh didn't say,
I've been down that road before. No thanks,
or words to that effect.
Zulgad asked a team official if there had been any discussions between the Vikings and a group involving Limbaugh. The team's response: "We are 100 percent focused on getting this stadium issue resolved at the Arden Hills site."
I'm sure some of you will consider this post a stretch, and I admit we're working off what wasn't said -- not anything that was. But those of us with institutional memories of this franchise know not to rule out the possibility of any scenario emerging, no matter how unlikely. In the past 14 years, four men have held news conferences to announce they had purchased the team: Tom Clancy, Red McCombs, Reggie Fowler and Zygi Wilf. That group batted .500. The NFL has no real rules about who pursues teams. It doesn't start examining details until it comes time for approval.
Wilf has said he won't move the team but has not ruled out selling to someone who would. The entertainment company AEG is poised to build Farmers Insurance Stadium in downtown Los Angeles. I've been surprised that there hasn't been more discussion of that venue while the Vikings' stadium bill remains stalled in the Minnesota political system. But unless a bill is passed this summer, such talk is only a matter of time.
October, 7, 2010
10/07/10
7:25
AM ET
We're Black and Blue All Over:
Wednesday evening, shortly after ESPN's Adam Schefter reported that Green Bay Packers linebacker Nick Barnett (wrist) will
miss the remainder of the season
, I put out the following mad-lib on Twitter:
If you're a knee-jerker, you see 3 starters down in GB, Cutler woozy in CHI and Moss now in MIN and say _____.
More people than I thought were up and tweeting at that hour, and
@cavalawyer
offered my favorite response:
Don't conform to media standards of extremism and start writing off preseason favs or assuming Vikes now unstoppable
I agree wholeheartedly. It's been a rough couple days for Packers and Bears fans, and certainly those who follow the Vikings have received a much-needed boost. But let's not start suggesting that the Packers and Bears are cooked or that the Vikings are poised to rise into their spots. It's Week 5. Halloween is still distant on the horizon, much less Thanksgiving or Christmas. Let's let this thing play out a bit.
Continuing around the NFC North:
October, 5, 2010
10/05/10
8:44
PM ET
Yes. I've heard the
FoxSports.com report
that the
Minnesota Vikings
are close to re-acquiring receiver
Randy Moss
.
Funny, I just saw a pig fly by my window.
And money grew on a big oak tree across the street.
And a bed of four-leaf clovers just sprouted in my yard.
When the Vikings ran Randy Moss out of town in March 2005, I was convinced of two things:
They had done the right thing
He would never, ever be in a Vikings uniform again.
The atmosphere around him was toxic. On multiple occasions, he walked off the field before the conclusion of competitive games. He pretended to moon the crowd at Lambeau Field in an infamous 2004 playoff game. He mocked the NFL's looming discipline for the incident, telling a group of reporters that he would pay the fine with "straight cash" and that next time he would shake another body part at the crowd.
Owner Red McCombs was fed up with the negative publicity. Coach Mike Tice was out of ideas on how to manage him. In an interview years later, Moss acknowledged he had been "fired."
But from top to bottom, this is a different Vikings organization. They have a new owner, a new coaching staff and only a handful of players -- tight end
Jim Kleinsasser
, linebacker E.J. Henderson and defensive tackle Kevin Williams among them -- remaining from Moss' final team. They are making one final push to the Super Bowl with their current group of players and, most important, they have a quarterback in
Brett Favre
who has desperately wanted to play with him for years. I guess time does heal all wounds.
When we
discussed this possibility
a few weeks ago, I gave it almost no chance of happening. Yes, I'm totally flabbergasted that the deal is even close, much less that it will probably get done. But I promise I'll collect myself and come back shortly with more analysis.
Wait ... I think I just saw a shooting star.
May, 3, 2010
5/03/10
11:50
AM ET
As previously noted, Minnesota state legislators announced formal legislation Monday for a new Vikings stadium, one they hope will be approved during the final two weeks of this year's session. According to a news release, it proposes a $791 million project -- paid for by a combination of sports-themed lottery tickets; taxes on hotels, rental cars, jerseys; and a $264 million contribution from the Vikings/NFL.
[+] Enlarge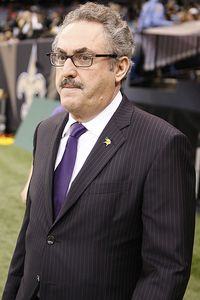 John David Mercer/US PresswireIf the Minnesota legislature doesn't approve funding for a new stadium, owner Zygi Wilf may consider selling the team.
The Vikings would also be responsible for any cost overruns, which seem likely considering the project was originally priced at anywhere between $870 million and $980 million.
Now starts the grimy political process of determining if enough state leaders will support the project. Already, a team spokesman has balked at the $264 million contribution; owner Zygi Wilf has previously capped his commitment to $215 million, including a loan from the NFL. But the bottom line is that the Vikings have two more years on their lease at the Metrodome, after which they will become franchise "free agents."
Over on our
Facebook page
,
Israel
asks the most pertinent long-term question:
If the new Vikings stadium bill does not pass, what are the chances Mr. Wilf tries to sell the team? How would this affect any upcoming free agents such as Sidney Rice, Adrian Peterson, and Chad Greenway?
There are many people closely tracking the use of their tax money here, but Israel's question cuts to what I think is the biggest issue.
I don't think anything significant will happen immediately if the bill is rejected this year, other than the possibility of higher costs if the issue is re-considered next winter. But if it ultimately becomes clear that funding won't be approved, I believe Wilf will give strong consideration to selling the team.
I don't believe Wilf will move the team himself. My educated guess is that he isn't interested in having his family name associated with the departure of a franchise the way "Irsay" is known in Baltimore and "Modell" in Cleveland. But selling to a new owner who wants to relocate would allow Wilf to escape that legacy.
If Wilf puts the team up for sale, I can tell you it's generally not a good short-term sign for the franchise. Every situation is different, but in most sale situations, it doesn't make sense to invest more than what is absolutely necessary to maintain the franchise value. Sure, the Vikings would be better off signing their star players to long-term contracts. But would it change the franchise value if they depart via free agency? In most cases, probably not.
Vikings fans witnessed that approach for three years under former owner Red McCombs. More recently, St. Louis hasn't exactly broken the bank this winter while awaiting the conclusion of its sale process. The Rams will have to pay quarterback
Sam Bradford
what could be a record NFL contract, but the lack of negotiations thus far causes a cynic to wonder if current ownership is hoping to leave future ownership with the bill.
The Vikings are nowhere close to that point right now. But I think people in Minnesota are fooling themselves if they believe nothing will change if a stadium is indefinitely delayed.
April, 21, 2010
4/21/10
9:00
AM ET
»
NFC Draft Tale
:
East
|
West
|
North
|
South
»
AFC
:
East
|
West
|
North
|
South
Entering the 2003 draft, Minnesota targeted
Kevin Williams
, a little-known defensive tackle from Oklahoma State. The team's decision-makers were convinced Williams would be an elite playmaker, and they were equally confident there were few other teams in the draft's top 10 who thought the same way.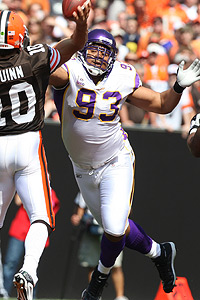 Matthew Emmons-US PRESSWIREThe Vikings almost missed out on drafting Kevin Williams in the 2003 draft.
The Vikings' master plan was to trade down from their No. 7 overall position and still snag Williams later in the first round. That was music to the ears of then-owner Red McCombs, who had placed severe financial restrains on a franchise he was hoping to sell. McCombs figured to save millions of dollars by trading down.
Trade discussions heated up as the Vikings' 15-minute window opened on draft day. Team officials were close to completing a trade with Baltimore, allowing them to move down two spots to No. 9 overall. The Ravens reportedly wanted to draft quarterback
Byron Leftwich
.
With about a minute left in the window, however, the Vikings still hadn't confirmed the trade. They had reported it to the appropriate league official but the Ravens had not, later saying the phone line had been busy.
Panicked, team officials wanted simply to draft Williams at No. 7 overall. But according to reports, a McCombs representative in the draft room ordered trade discussions to continue.
In the confusion, the Vikings' time expired. Jacksonville, holding the No. 8 pick, leapfrogged them to select Leftwich. Carolina jumped up and took tackle
Jordan Gross
before the Vikings finally nabbed Williams at No. 9.
The mistake could have been more damaging, but the Vikings had been correct: Neither the Jaguars nor the Panthers were interested in Williams.
April, 24, 2009
4/24/09
6:57
AM ET
Posted by ESPN.com's Kevin Seifert
How did Minnesota miss its pick in the first round of the 2003 draft? For some reason, former Vikings owner Red McCombs re-visited that issue Friday with Rick Alonzo of the St. Paul Pioneer Press.

As you might recall, the Vikings believed they had made a deal with Baltimore to move from No. 7 to No. 9, but the trade was never fully reported to the NFL before time expired. The Vikings ended up selecting defensive tackle Kevin Williams with the No. 9 pick after Baltimore and Jacksonville leapfrogged them in positioning.
McCombs told Alonzo that the mistake occurred "because Mike [Tice] and the guys didn't have their damn signals straight. That was like junior high school handling of a situation. We didn't go up and get our draft pick in. That showed lack of organization."
The story that has always been told is that then-Vikings president Gary Woods, a McCombs associate from San Antonio, ordered the Vikings to trade down moments before the snafu occurred. In an e-mail to Alonzo, Tice said: "Being told MINUTES before the pick was to be made... 'TRADE THE PICK'... thanks."
McCombs, however, disputed that version and said: "That never happened."
Check out the story for Tice's full response to McCombs' finger-pointing.
I look at this exchange as an unfortunate addition to some of the bizarre chapters McCombs wrote at the end of his tenure with the team. Tice technically had veto power over draft decisions, but to blame him and his coaching staff alone for the mistake is a stretch.
Missing the pick reflected franchise-wide disorganization and confusion, starting at the very top. There was undoubtedly an error made, but to rub anyone's nose in it six years later seems totally unnecessary. I think the statute of limitations would have passed by now.

Continuing around the NFC North:
December, 21, 2008
12/21/08
9:11
AM ET
Posted by ESPN.com's Kevin Seifert
Is this the biggest moment at the Metrodome since the 1998 NFC Championship Game? That seems to be the suggestion from the Star Tribune, which chose Sunday to commemorate the 1998 Vikings team that went 15-1 but were stopped by -- yes -- Atlanta in its march to the Super Bowl.
Ten years later, those same Falcons have arrived in Minnesota in hopes of delaying the Vikings' march to the NFC North title. The Vikings have won only one division title since the 1998, but they can clinch it Sunday with a victory over the Falcons. (Or a Chicago loss Monday night to Green Bay).
To give this game its due, let's take an expanded look from a local perspective. Check one post above for the Bears' playoff scenarios, as well as links to coverage in Green Bay and Detroit.
December, 3, 2008
12/03/08
9:33
PM ET
Posted by ESPN.com's Kevin Seifert
Early Wednesday, I started making a list of all the bizarre, you-only-see-this-once bits of drama I covered during nine seasons on the Minnesota Vikings beat.
| | |
| --- | --- |
| | |
| | Jonathan Daniel/Getty Images |
| | Former Vikings WR Randy Moss caught some heat for "mooning" the Lambeau Field crowd. |
There was Randy Moss nudging a traffic cop with his car, which was later found to have marijuana in the ash tray.
Onterrio Smith and the Whizzinator.
Dennis Green agreeing to a contract buyout, running practice, and then announcing his departure during his daily media briefing in 2001.
Koren Robinson driving 110 miles per hour down a state highway to make training camp curfew.
Moss "mooning" Lambeau Field during a 2005 playoff game.
Moss declaring a few days later that he would pay the resulting fine with "straight cash," and suggesting that next time he would shake a different body part in front of the crowd.
The Vikings missing their turn in the first round of the 2003 draft.
Personnel director Fran Foley getting fired in 2006 after three months on the job; he had exaggerated his resume and threatened staffers with a "bloodbath" after the draft.
The more time I spent with the list, the more I realized how historically insignificant the suspensions of Pat Williams and Kevin Williams actually were in Vikings off-field lore. It seemed to be standard stuff relative to this franchise.
Until, of course, a Minnesota judge took the unprecedented action Wednesday night of temporarily lifting their suspensions pending further hearings on the topic.
The NFL plans an immediate appeal, and it's conceivable both players will be "re-suspended" as early as Thursday. But as we sit here Wednesday night, about 85 hours before the Vikings' game Sunday at Detroit, no one has any idea what will happen next. Will the NFL's steroid policy be voided? Will the move ultimately force the players to miss a playoff game? Who knows?
This is the type of chaotic sideshow we've never seen in these parts.
Oh, wait. There was the time Mike Tice found out that his contract was set to expire during the 2004 season because of a clerical error. The mistake forced then-owner Red McCombs to pick up his option for 2005 amid rumors he wanted to fire Tice and hire a new coach.
It's rare that a team in the playoff chase must deal with such off-field distractions. Except for the time in 2004 when Moss walked off Washington's FedEx Field prior to the end of a one-score game. Center Matt Birk went after him in the locker room afterwards. Later that day, the Vikings earned a wild-card bid.
You couldn't come up with a story like this if you tried. Two All-Pro players going to court to take down the NFL's steroid abuse policy? Come on. It's almost like a bunch of players deciding to, I don't know, rent some boats on Lake Minnetonka, fly in some out-of-state strippers and have a party.
Oh wait, that's what happened on the Love Boat in 2005.
Birk, a St. Paul native, complained a few days later that the out-of-state invite list was an "insult to Minnesota strippers." For that smart-aleck remark, Birk went nose-to-nose with quarterback Daunte Culpepper and linebacker Keith Newman in what turned out to be heated locker room confrontation.
Ah, we don't mean to make light of the situation. The reputation of two players, not to mention about $1.5 million in salary, is at stake here. Nothing evil happened, right? Just two players trying to make weight. It's not like they were caught in a compromising situation with a naked woman in a downtown stairwell or something.
That was safety Dwight Smith. August, 2006. Remember?