March, 25, 2014
3/25/14
7:15
PM ET
GREEN BAY, Wis. -- No more dunking over the goal posts.
What's next, no more Lambeau Leaps?
It was worth wondering if that could be abolished after NFL vice president of officiating Dean Blandino said Tuesday the league will penalize players if they
celebrate with a dunk
over the crossbar.
Like the Lambeau Leap, which dates to 1993, the goalpost dunk was previously grandfathered in by the league, making it exempt from a celebration penalty.
Unlike the dunk, it looks like the Lambeau Leap is safe.
In response to an email seeking clarification about whether the Lambeau Leap could eventually join the goalpost dunk on the list of banned celebrations, NFL senior vice president of communications Greg Aiello wrote: "The goalpost issue is the potential delay of game for having to re-set the crossbar after being knocked askew by a dunker. It has happened a few times. Not the case for the leap."
The Lambeau Leap has become expected of all
Green Bay Packers
players who reach the end zone during a home game. It began when then-safety LeRoy Butler jumped into the stands during a game on Dec. 23, 1993, after he scored on a 25-yard fumble return that was originally recovered by defensive end Reggie White, who lateraled the ball to Butler.
"We grandfathered in some [celebrations], the Lambeau Leap and things like that, but dunking will come out," Blandino said, according to NFL.com. "Using the ball as a prop or any object as a prop, whether that's the goalpost, the crossbar, that will come out and that will be a foul next season."
February, 1, 2014
2/01/14
7:30
PM ET
Only the members of the Pro Football Hall of Fame selection committee know why former
Green Bay Packers
outside linebackers coach
Kevin Greene
came up short again in his bid for induction on Saturday.
Greene, who stepped away from coaching last month after a five-year stint with the Packers, probably has a good idea.
Not that he agrees with it.
But given the fact that of the NFL's top-five career sack leaders Greene is the only one not in the Hall of Fame, he seems aware of the perception that he was a one-trick pony during his 15-year career. That's something Greene vigorously disputed during an interview late last season.
"You know this position, there's three phases," Greene said at the time. "To be successful at this position, you've got to be able to do all three. You can't just do one, and really suck at playing the run and suck at covering people. It just doesn't jive at this position. If you have success at one of the areas of this position, chances are you're doing a pretty good job in the other two as well. So it is what it is."
Greene, who was a finalist each of the past three years, leads all NFL outside linebackers with 160 sacks, and ranks third on the list behind defensive ends Bruce Smith (200 sacks) and Reggie White (198), both of whom are in the Hall of Fame.
Chris Doleman, who is fourth on the all-time list with 150.5, also is in the Hall of Fame. Michael Strahan, who is fifth on the list with 141.5, was voted in on Saturday.
Greene made the cut from the 15 finalists down to 10, but did not make the cut to the final players to be voted on for this class.
"I can tell you first of all that I truly have a peace about what I was able to accomplish," Greene said late last season. "I know, really, inside, how I played and the time that I put in, the film that I studied. The countless hours on the field, in the workout room -- all those things. I've got a peace about that. It's not something I regret. Should I have done more? Could I have done more? No. I did everything I possibly could to try to be the best at the position in all three phases of the game. Not just one phase."
August, 2, 2012
8/02/12
1:20
PM ET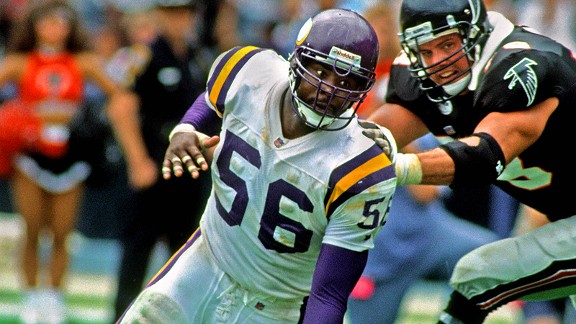 Manny Rubio/US PresswireChris Doleman had a knack for getting to the quarterback and jarring the ball loose.
Chris Doleman was a long-armed pass rusher with the height (6-foot-5) to match up with big left tackles and the speed to run around them. He retired in 1999 with 150.5 sacks, which at the time qualified as the second-most in NFL history, while playing two stints for the
Minnesota Vikings
.
What you might not know: Doleman also retired with the most forced fumbles of any player since the NFL began tracking the statistic. He forced 44 fumbles in 232 career games, and on the eve of his enshrinement in the Pro Football Hall of Fame, it might be Doleman's most enduring legacy.
As fun and momentum-shifting as a violent sack might be, Doleman was among the first to realize that pulling back a bit on the force provided a better opportunity to achieve a more impactful play.
"The era that I played in, we had some pretty good defensive linemen," Doleman said in a conference call this week. There was Bruce Smith. Reggie White. They had their own style. When I was at that defensive end position, I definitely wanted to be perceived as a pass-rusher. But would I be a speed rusher? A power rusher? A guy that takes plays off? One of the things I found I [had a knack for] was separating the quarterback from the ball.
"When you separate the ball from a running back, you just have a fumble. But for a quarterback, that's a sack and a fumble. That's a much bigger play. It wasn't about putting brutal hits on them, but controlling them and getting the ball from them."
As the chart shows, the recently-retired
Jason Taylor
passed Doleman on the all-time list, and the latest generation of pass-rushers have achieved a higher ratio of forced fumbles per game. Players like Taylor,
Dwight Freeney
and
Robert Mathis
made an art of reaching their hand toward the ball even when they're being blocked away from the quarterback. Doleman deserves his share of credit for proving the value of those efforts.
March, 17, 2012
3/17/12
8:00
AM ET
Given how fluid this time of year is, I once again mined the mailbag for questions and topics that didn't figure to be impacted by breaking news over the weekend. You can get in touch with me
via the mailbag
,
Twitter
or our
nearly full Facebook page
.
Onward….
Mark of San Diego writes:
I've seen several columnists comment on the high amount of drops
Brandon Marshall
has had in his career, but they all mention in almost the same breath how many targets he gets. Is there a chart someplace (like maybe a future blog post) that shows drops as a percent of targets?
Kevin Seifert:
That's a good and fair question, Mark. Statistics are always more valuable when viewed in context, and it stands to reason that the more passes a player is thrown, the more likely he'll have a higher number of drops.
The raw number, according to ESPN Stats & Information, is that Marshall has dropped 26 passes since 2008, the third-highest total in the NFL over that stretch. I don't have his total targets over that stretch, but I can give you a glimpse into his drop percentage over the past two seasons and how that fits into the league rankings.
In 2010, Marshall had a drop percentage of 8.5, which ranked 60th in the NFL that season. That means 59 receivers caught a higher percentage of the catchable passes thrown their way.
In 2011, Marshall's drop percentage was 6.9, ranking him No. 52 in the league.
In this case, the percentage confirms what the raw numbers suggest. Marshall's drops weren't only a function of his high involvement in the
Miami Dolphins
offense. He missed more catchable passes than dozens of other NFL receivers.
To be clear, that shouldn't take away from Marshall's accomplishments as one of the league's most productive receivers over that period. The percentages merely give us a broader view of his performance.
---
Matt of Appleton, Wis.,
is curious about the long-term salary cap implications of
Detroit Lions
receiver
Calvin Johnson
's new contract.
Kevin Seifert:
Johnson signed what is technically an eight-year, $132 million deal. Deals that long often get restructured before the end, but usually teams at least leave the first three years intact before going back at it.
To that end, former agent Joel Corry provided a three-year cap breakdown
for the National Football Post
. The deal will count $11.5 million against the cap in 2012, $12.2 million in 2013 and $12.2 million in 2014, according to Corry.
It's never ideal to have a player count more than $10 million against the cap, especially in the case of the Lions, who have three players -- Johnson, quarterback
Matthew Stafford
and defensive tackle
Ndamukong Suh
-- who will always have high cap numbers because they were top draft picks under the previous NFL system for rookie contracts.
But remember, Johnson was going to count $22 million this season against the cap, and if he received the franchise tag, $26.4 million in 2013 and $31 million in 2014. Considered that way, his new cap charges seem quite reasonable.
---
Eric of Fariview Heights, Ill.,
isn't satisfied with
our explanation
for why the
Minnesota Vikings
didn't participate more actively in the opening days of free agency.
Carl Nicks
is 26 and probably if not absolutely is the best guard in the league. A five year deal helps Ponder and Peterson, neither of which are getting protected. Talks with an aged, twice injured TE is more important than a top WR signing? Explain! So we want
Percy Harvin
,
John Carlson
, and
Kyle Rudolph
clogging up the middle? Where is our deep threat? How can you write an article defending not going after Nicks, a top receiver, OR one of the top cornerbacks? I mean seeing how we've been HORRIBLE in the secondary... It's a joke. Let's hear the true talk on this inactivity please!?
Kevin Seifert:
That's fair. First I'll give you a rundown of what I would guess the Vikings were thinking, and then I'll offer my own comments.
Six years ago, the Vikings signed
Steve Hutchinson
to the biggest contract for a guard in NFL history. Historically, however, NFL teams don't like to devote cap space to the guard position. There are too many instances of success when inserting younger, cheaper players into those jobs while spending your money on left tackle and center. Hutchinson, the Vikings thought then and now, was a once-in-a-generation player.
Rather than devoting $47.5 million to Nicks over the next five years, the Vikings figure they can move
Charlie Johnson
to left guard. Johnson signed a three-year, $10 million contract last summer. He might not perform to Nicks' level, but is the difference between Nicks and Johnson worth, say, twice or three times the salary cap space? The Vikings didn't think so.
The same goes for cornerback. The Vikings will get the promising
Chris Cook
back on the field in 2012, which is an automatic upgrade from what they finished with. I can only assume that they didn't think any of the cornerbacks available on the market, most notably
Brandon Carr
and
Cortland Finnegan
, were worth the $10 million annual salaries they eventually received.
As for Carlson, none of us can pretend to understand whether he is a risk for injury moving forward. Beyond that, the Vikings saw him as a polished 27-year-old pass-catcher who could make their offensive more dynamic. Does he solve all of their problems, including the deep threat issue? No. But that doesn't mean he can't help.
General manager Rick Spielman said last week that the team wasn't "one player away" from contending for the Super Bowl. That's one of the reasons the Vikings weren't more aggressive. A fair counterargument, of course, is this: What if they are? What if quarterback
Christian Ponder
develops quickly, and tailback
Adrian Peterson
returns to form and the offensive line improves with the presumed drafting of Matt Kalil?
In that case, the Vikings would be vulnerable in their otherwise unaddressed secondary, and a chance to have a better-than-expected season could be quashed. I'm fine with the Vikings sitting out the crazy receiver market. I do question if they're going to be able to field a competitive defensive secondary, but we'll withhold final judgment until the full players acquisition period is complete.
---
Grayson of Roseville, Calif., writes:
Why wouldn't the Packers have made a play for
Mario Williams
? I know they don't often do anything in free agency but Williams seems too good to pass up, like Reggie White and
Charles Woodson
were. It makes so much sense!
Kevin Seifert:
It makes sense from the standpoint of the Packers needing a pass rusher (or two) and Williams is the best pass rusher on the market. Williams has more experience as a 4-3 end rather than a 3-4 outside linebacker, but perhaps the idea of playing opposite
Clay Matthews
-- and the presumably favorable matchups that would go with it -- might have been enough to lure him to the Packers.
But as we noted during the week
, the Packers aren't really in position to start handing out $100 million contracts to free agents -- at least, not if they plan to re-sign a trio of players who are in line for extensions. Matthews, receiver
Greg Jennings
and quarterback
Aaron Rodgers
could have their deals addressed in the next calendar year. I'm guessing the Packers prioritized them over any free agent.
With that said, it doesn't mean the Packers couldn't afford to investigate other free agent pass rushers. I wouldn't be opposed to them pursuing
Kamerion Wimbley
, whom the
Oakland Raiders
released Friday.
February, 4, 2012
2/04/12
6:56
PM ET
We spent plenty of time in recent days discussing
the tough road for wide receivers
making the Pro Football Hall of Fame. In the process, we ignored where the selection committee has turned its attention: pass-rushers.
Not one receiver made the last cut to five modern-day finalists in Saturday's balloting in Indianapolis. But former Minnesota Vikings defensive end Chris Doleman became the third consecutive NFC North pass-rusher
to earn enshrinement
, following Richard Dent in 2011 and John Randle in 2010. Former Minnesota Vikings receiver Cris Carter again failed to make the cut, a victim of the perceived value between pass-rushers and wide receivers.
[+] Enlarge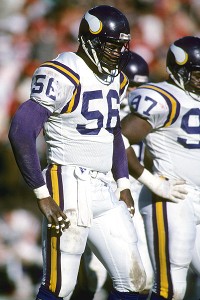 AP Photo/NFL PhotosNot only was Chris Doleman a sack specialist, but the former Vikings star is also among the NFL career leaders in fumble recoveries.
At least one pass-rusher has won election in each of the past five years. Bruce Smith and Derrick Thomas were part of the 2009 class, and Fred Dean was in the class of 2008.
Doleman's 150.5 career sacks rank fourth in NFL history, behind Smith (200), Reggie White (198) and Kevin Greene (160). Smith and White are both in Canton, and as of Saturday, five of the top eight players with the highest career sack totals have or will be enshrined. Greene, Michael Strahan (eligible in 2013) and the recently retired Jason Taylor (139.5) are the only players who have been left out.
(More on Greene, who didn't even make the cut from 15 finalists to 10, in the coming days.)
I don't want to take anything away from Doleman, who was a pass-rushing force for an extended period in the NFL. His two best seasons -- 21 sacks in 1989 and 15 sacks in 1998 -- came nine years apart. Doleman was part of four teams that finished the season with the NFL's top-ranked defense, recovered the seventh-most fumbles (24) in league history and was an eight-time Pro Bowler.
But with the exception of Greene, it's clear that sack totals are among the most reliable tickets to the Hall of Fame. Minutes after Doleman's election was announced, longtime Twin Cities sports analyst Patrick Reusse (also a colleague of mine at ESPN 1500)
tweeted
: "Apparently, it's all about sacks, since in his absolute prime, Doleman was 2nd best D-lineman on his team, behind Keith Millard."
To me, the definition of a Hall of Fame player is that he was one of the best of his era. Doleman was named to the NFL's 1990's All-Decade team, along with three other defensive ends. Was he one of the best players of that generation? He was if you accept that pass-rushing is as important as the voting committee considers it.
But enough of that. I'm not going to diminish Doleman's big day by questioning his credentials. There is little doubt he was a great player for a long time in this league.
Yes, the beauty of the annual Hall of Fame announcement is that it produces as much debate afterward as it did beforehand. Doleman is a Hall of Fame player because the voting committee places premium value on his particular skill set. (Again, Greene appears to be the lone exception to that rule.)
Carter isn't in the Hall of Fame because the voting committee doesn't value his position and corresponding statistics nearly as much. There are still only 21 receivers in Canton, the lowest total of any position other than tight end and kicking specialist. That's the deal -- no more and no less.
February, 4, 2011
2/04/11
10:10
AM ET
DALLAS -- The Pro Football Hall of Fame voting committee will gather here Saturday morning to determine the class of 2011. Three players with significant NFC North ties are finalists: Receiver
Cris Carter
, defensive end
Richard Dent
and defensive end
Chris Doleman
.
Handicapping their chances for enshrinement requires the acknowledgment that two other finalists, cornerback
Deion Sanders
and running back
Marshall Faulk
, are widely considered to be locks for election. That leaves 13 men competing for three spots, and a tremendous campaign is under way to push NFL Films founder Ed Sabol into one of those positions.
Regardless of the politics involved, let's stay in our lane (for now) and consider our neck of the woods. The announcement is scheduled for Saturday at 7 p.m. ET.

Carter
Cris Carter
Key qualification:
When he retired after the 2002 season, he ranked second on the NFL's all-time list of receptions (1,101) and touchdowns (130).
Working against him:
Receivers historically have a tougher time than at other positions. There are currently 21 receivers in the Hall of Fame, fewer than running backs (27), quarterbacks (23), offensive linemen (35) and defensive linemen (28). I refuse to believe that Carter's at-times caustic personality has impacted anyone's view of his on-field performance. But you never know for sure. Carter also will be competing with fellow receiver
Tim Brown
on this ballot.

Dent
Richard Dent
Key qualification:
When he retired after the 1995 season, his 137.5 sacks ranked third all-time in the NFL, thanks in part to a run of five consecutive seasons with 10 or more sacks.
Working against him:
There is nothing from a statistical standpoint to argue for Dent's continued exclusion. But for whatever reason, he has been passed over by other 100-sack players like Fred Dean,
Bruce Smith
and
John Randle
in recent years. This year, he is competing against two others in Doleman and
Charles Haley
. Sometimes players get lost in the maze. In the end, you hope that voters decide Dent has waited long enough.

Doleman
Chris Doleman
Key qualification:
You might not realize it, but Doleman's 150 career sacks rank fourth all-time in the NFL. Only Smith,
Reggie White
and
Kevin Greene
had more.
Working against him:
He's competing with two other high-sack players in Dent and Haley who have more ballot tenure. Also, Greene's exclusion demonstrates that voters don't always reward sack totals in a vacuum.
April, 17, 2010
4/17/10
11:00
AM ET
Next week at this time, we'll be knee-deep in draft coverage. So on our final weekend before Draftapalooza (Overused suffix? Yes? No?), let's see what's on your mind. Remember, I read everything submitted to the
mailbag portal
, to our rollicking
Facebook page
and to the
NFC North Twitter feed
. Whether I respond is based on a complex algorithm I developed during my time in Oxford. (#slightresumeexaggeration.)
On with it:
Nathan in Phoenix writes:
With
Brandon Marshall
in Miami, can we officially revive the
Ted Ginn Jr.
/
Cliff Avril
trade talk?
Kevin Seifert:
I selected this question and wrote most of the answer minutes before Miami
traded
Ginn to San Francisco on Friday afternoon. If the Lions were interested, they missed out. But I still think Avril-Ginn remains an interesting conversation topic. (And I don't like wasting work time.) The trade means the Lions certainly had an opportunity to grab Ginn if they wanted.
We
first discussed
this rumor -- and I still have no confirmation it was anything more than that -- in February. At the time, I was in favor of making the deal if I were Detroit. I didn't change my opinion, even though pass rushing is generally more valued than pass receiving in the NFL.
Ginn received a fair amount of grief in Miami, but much of it is related to his status as the No. 9 overall pick in the 2007 draft. He hasn't produced like a Top-10 pick, but it's amazing what perception means to a player's production.
Take a look at the chart to your right. Ginn caught 38 passes last season and returned two kickoffs for touchdowns. If the Lions got that type of production from their No. 3 receiver, which is what Ginn would have been behind
Calvin Johnson
and
Nate Burleson
, I think everyone would have been awfully pleased.
At the same time, there would have been some risk in parting with Avril after two seasons. As the chart shows, Avril has 10.5 sacks his first 28 NFL games. Those aren't exactly
Reggie White
numbers, but they're notable in the context of the Lions' otherwise horrendous pass defense over that stretch and suggest future growth is possible on what should be an improved defensive line this season.
If it were up to me, however, the benefit of adding a proven offensive playmaker with room to grow would outweigh the risk of giving up on a pass rusher who might or might not advance beyond five sacks on an annual basis.
---
Responding to an earlier post, Lvmagicman54 wants to know why Chicago general manager Jerry Angelo wouldn't give up his 2011 first-round pick to move up this year and draft a starting-caliber safety. If the gambit doesn't work, reasons Lvmagicman54, someone else will replace him to clean up the mess.
Kevin Seifert:
I understand this sentiment, which has surfaced from many Bears fans who recognize that Angelo and coach Lovie Smith have entered "Or Else" territory in their tenures. That status should put them in a mode of maximum aggressiveness, but I still don't think it should make them reckless with the Bears' future assets.
Even if they can grab a quality safety in this manner, the trade would leave the Bears short-handed in next year's draft. Assuming they gave up the 2011 pick for a second-round choice in 2010, that would leave them in a debilitating stretch of three consecutive drafts without a chance in the first round.
If the Bears were a safety away from winning the Super Bowl, it would be a smart move. But I don't think safety is an important enough position to make that claim; regardless, the Bears are more than one player away from a championship.
Let's say the Bears make such a deal and play well enough in 2010 for Angelo and Smith to keep their jobs. They'll remain employed, but with at least one more year of scraping the barrel for talent. They need to take that scenario into account as well. I can see gutting a draft for a quarterback or pass-rushing defensive end. But not for a safety.
---
Rick of Grand Rapids, Mich., quotes a certain blogger as writing:
"I would say that player's last name rhymes starts with an 'S', ends with an 'r' and has a 'u' in the middle." Either I am really bad at riddles or perhaps you had a few beers with lunch ... or both.
Kevin Seifert:
I wish I could use that as an excuse. I wish I could claim to have concocted a riddle so complex that no one could figure it out. I wish I could claim my "delete" button was broken and/or that the "r" button is next door to the "h" button.
Alas, I have no excuse. At the time I wrote that fated sentence, I was a word that starts with "i," ends with "t" and includes "dio" in the middle.
---
Jordon of Rapid City, S.D., writes:
How far do you think
Jimmy Clausen
would have to fall before the Vikings begin seriously thinking about trading up to draft him?
Kevin Seifert:
If you go by
this trade value chart
, which has its flaws, you see the Vikings probably would have to give up their second-round choice if they wanted to go as high as No. 20 overall for Clausen. So I'm guessing he would have to fall to the mid-20s before it becomes a reasonable possibility.
But before we get too far down that road, I'm not getting the feeling that the Vikings have a ton of interest in Clausen. When he took the field to throw last week for the first time this offseason, neither coach Brad Childress nor vice president Rick Spielman were in attendance. Instead, both Childress and Spielman traveled to Gainesville, Fla., for a weekend of activities that included working out Florida quarterback
Tim Tebow
.
At this time of year, you have to be careful attaching too much significance to that scenario. There is always the possibility that the Vikings are trying to hide their interest. But Clausen also wasn't among the players the Vikings brought in for a private meeting at their facility earlier this month, according to reports.
Given the importance attached to drafting a quarterback in the first round, would the Vikings really pass on so many opportunities to evaluate him in order to mask their interest? If I had to guess, I would say not. It's more likely that they don't plan to draft him.
---
Nick of Princeton, N.J., writes:
In talking about the Packers needs. I've noticed that many people point out the obvious: LT, CB, and OLB (although I think we're just fine there). Here's the question: Why aren't too many people looking at safety for the Packers? You have a Pro Bowler in
Nick Collins
, you have the oft-injured
Atari Bigby
, and then after those two, you have
Derrick Martin
and the hateable
Jarrett Bush
. I mean looking at that group, you'd have to think that safety was a pressing need. Right?
Kevin Seifert:
I guess I don't see it that way, Nick. When your concerns are mostly centered around backups, then the priority can only be so high.
It's true that Bigby missed three games last season and nine in 2008. But he's starter-quality when healthy, and unless he has a chronic condition, there's no objective reason to anticipate future injuries. Past injuries isn't enough to rearrange the Packers' draft priorities, in my opinion.
I agree the Packers could use more depth behind Collins and Bigby, but that's not as important as finding a future starter at both tackle positions and finding more pass-rushing sources.
---
Via Facebook, Craig writes:
In your
most recent chat
you stated, "I think last summer gave us all the evidence we need on [Tarvaris] Jackson and [Sage] Rosenfels." You also stated, "[Jackson] was horrendous in training camp and lost in the first preseason game. What he did after that, which is when [Brett] Favre signed, is immaterial to me. When he had the pressure of actually starting, he wasn't up to it. Nothing personal against him. I just think I'm in line with a lot of people who don't think he can play."
Correct me if I am wrong, but didn't he get hurt early in camp? If that is true, then maybe that is the reason why he didn't start the first preseason game, and only went 7-15 in it. But if you look at his entire numbers in preseason (23-36, 306 yards, 3 td 0 int), a fair person wouldn't state that this is someone who can't "play." ... While I know you can't reveal sources, you can inform your readers if you have spoken to anyone on the coaching staff, or players, who don't have confidence in Jackson?
Kevin Seifert:
Thanks for the questions, Craig. We'll start with the final one. I can unequivocally state I have spoken with more than a few personnel people and NFL executives who expressed strong doubt that Jackson would ever become a successful NFL starter. But don't take it from me. We saw that belief in action during the offseason.
Jackson was a restricted free agent, but to my knowledge, no NFL team showed interest. It's true that few RFAs changed teams this year. But the quarterback position is an entirely difference species. If there is someone available with potential, teams will jump. Seattle traded for San Diego's No. 3 quarterback,
Charlie Whitehurst
. He's never started an NFL game. Seattle's new general manager, John Schneider, had a front-seat view of Jackson's career while working for the Packers' front office.
As for last summer, you're right. Jackson did sprain his knee on the second day of camp. In the interim, Rosenfels took over working with the No. 1 offense. That's why he started against Indianapolis. I realize that it might seem hypocritical to criticize his performance against the Colts and then write off his success in the other three games, but it is what it is: He played poorly when competing for the job and much better when he had no pressure on him.
I don't want this to appear to be a personal campaign against him. I think Jackson is a pretty decent guy. But on the field, it's my opinion that he has never demonstrated the capacity to be a long-term starter in the NFL. And I'm not the only person who thinks that.
February, 12, 2010
2/12/10
12:58
PM ET
My AFC West colleague, Bill Williamson,
took a detailed look
at the upcoming two-year anniversary of the
Jared Allen
trade, and I have a few Minnesota-centric thoughts to add.
First, let's review the terms of the April 2008 deal. The Vikings got:
Defensive end Jared Allen

Kansas City's sixth-round pick in the 2008 draft. (It became starting center John Sullivan.)
The Chiefs got:
[+] Enlarge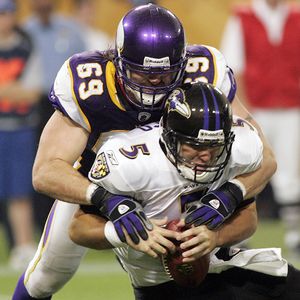 AP Photo/Paul BattagliaMinnesota's Jared Allen has at least 14.5 sacks in each of the past three seasons.
It would be tough to argue that Minnesota didn't win this trade, and Bill never made that claim. He does point out that Allen wouldn't be an ideal fit for the Chiefs' new 3-4 scheme, and notes that Charles seems set to be their tailback of the near future.
But while the Chiefs did get good value, they traded away a then-26-year-old player who will go down as one of the best defensive players in his era. No NFL player has more than Allen's 72 sacks over the past six years, the type of figure that voters will one day consider when measuring Allen's candidacy for the Pro Football Hall of Fame.
After quarterbacks, outside pass-rushers are the second-most valuable commodity in the NFL. They can change a game in an instant, and there are only a handful who consistently can put up 10-sack seasons, let alone Allen's production.
And it's not as if Allen has dropped off since the trade. He has 29 sacks in his first 32 games with the Vikings. Only Dallas'
DeMarcus Ware
(31) has more sacks over that span. Allen, in fact, is one of only two players in NFL history to have three consecutive seasons with more than 14 sacks. Reggie White was the other.
The Chiefs will be hard-pressed to match that value even with the bounty they extracted from the Vikings. I'm not even considering that Minnesota also got its starting center in the trade; the Vikings liked Sullivan entering the draft and probably would have drafted him without the trade.
We're only two years in, but I don't think Allen could have given the Vikings anything more than what they've gotten. They were seeking one of the rarest NFL commodities, regardless of cost, and that's exactly what Allen has been.
February, 3, 2009
2/03/09
4:00
PM ET
Posted by ESPN.com's Kevin Seifert
I admit it. I clicked on this podcast to see if there were any hints of bitterness from former Minnesota receiver Cris Carter, who was excluded Saturday from the annual Pro Football Hall of Fame class for the second consecutive year.
I listened closely to a guy who doesn't usually have a problem speaking his mind. But Carter's reaction was classy, genuine and confident at the same time. Here's the full transcript of what he said this week on ESPN's "Mike and Mike in the Morning" radio show (emphasis is mine):
(Asked his feelings now that two years have gone by without getting into the Hall)
"Well, I ain't going to get no better next year, either [laughing]. I don't plan on having a big year. So it might be tough next year. Man, at this stage, I've been hanging out with [Mike] Golic and eating and everything. The thing about the Hall of Fame is, really, the news is not me not getting in. The news is the class that is going in -- all guys that did deserve to go in.
"I would probably start with my teammate Randall McDaniel, who was a dominant, consistent player. Undersized. Phenomenal teammate. He's everything you want in a teammate. He's everything you want in a Hall of Famer. ... I played with him for 10 years. He made the Pro Bowl every year. There was no down that I played with him that I didn't know I was playing with a Hall of Famer. Just like when you play with Reggie White.
"And Ralph Wilson Jr., him getting in, 90 years old. Give the man a chance to enjoy it. He should have been in. He's one of the pioneers and why we have success in the National Football League. The story is not me not getting in. The story is celebrating these guys: Bruce Smith, Rod Woodson, who I competed again. Bob Hayes, who finally got in. His sister was there. Big Derrick Thomas -- we saw him, Golic, unbelievable player.
"The story is not me. It's really not. I've done all I can do. Whenever the Hall of Fame calls, I'm pretty certain I'm going to answer."
August, 18, 2008
8/18/08
1:04
PM ET
Posted by ESPN.com's Kevin Seifert
| | |
| --- | --- |
| | |
| | Jeff Hanisch/US PRESSWIRE |
| | He may be a Jet right now, but Brett Favre was voted the greatest player in Green Bay history. |
Readers' pick: Brett Favre, QB
Ha! The words "Brett" and "Favre" return to the NFC North blog! Victory!
Without a doubt, Favre is the most popular player in Packers history. His personality, gunslinger mentality, durability and his Super Bowl championship endeared him to generations of Packers fans.
But Packers history is well fortified with champions. Quarterback Bart Starr, who finished a distant second behind Favre in the voting, won five NFL titles and two Super Bowl championships. Running back Paul Hornung, who finished sixth in the voting, led the NFL in scoring for three years.
The biggest inconsistency in the Packers voting is defensive end Reggie White finishing third behind Favre and Starr -- and in front of linebacker Ray Nitschke, wide receiver Don Hutson, Hornung and others. White had a Hall of Fame career, but he spent only six years with the Packers. As good as White was, it seems difficult from this vantage point to put him ahead of some players who contributed to the golden years of Packers history.