NFC North:

replacement refs
September, 27, 2012
9/27/12
10:15
AM ET
Green Bay Packers
guard
T.J. Lang
started off
the Twitter reaction to Monday night's debacle
at CenturyLink Field, so we might as well let him wrap it up as well. Here was Lang's reaction Thursday morning to news that the NFL had ended the lockout of its regular officials:
Good to see the regular refs coming back! I'm sure the scabs are disappointed they have to return to their jobs at footlocker.

— TJ Lang (@TJLang70) September 27, 2012
(Yes, from what I'm told, Footlocker employees wear referee uniforms at work.)
Lang has become a Twitter star since firing off two profane tweets in the moments after the Packers' 14-12 loss to the
Seattle Seahawks
. He has added more than 90,000 followers since then, and as of Thursday morning, the first tweet had been re-tweed nearly 70,000 times and the second was at about 98,000. The latter
qualifies as an unofficial Twitter record
, exceeding such B-list celebrities as Justin Bieber, Floyd Mayweather and one of the Kardashians.
So there's that.
Did Lang do anything more than draw attention to himself with these tweets. I'm not sure. I kind of agree with @achitko, who tweeted this my way: "I honestly think his tirade had a bigger impact than the play itself. The league knew player revolt was on horizon." If nothing else, Lang's initial tweet made clear just how aggrieved that Packers players -- and no doubt many other around the NFL -- had taken the situation.
September, 23, 2012
9/23/12
5:58
PM ET
MINNEAPOLIS -- As the NFL's replacement officials bumble through their now two-month stint, we often have discussed the difference between errors of judgment and errors of facts. All officials, replacement or permanent, make the former. The latter, borne of misunderstanding or misapplication of rules, is far less excusable and has generated a significant credibility question for the current system that no one seems to care about.
[+] Enlarge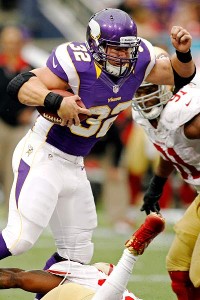 Bruce Kluckhohn/US PresswireVikings running back Toby Gerhart gains no yards and fumbles the ball to the 49ers in the fourth quarter.
We saw yet another example of it Sunday in the fourth quarter of the
Minnesota Vikings
'
24-13 victory over
the
San Francisco 49ers
. In essence, referee Ken Roan granted the 49ers a challenge at a time they were ineligible for one, ultimately leading to a change of possession on what Roan ruled a fumble by the Vikings'
Toby Gerhart
. Roan admitted the mistake in an interview with a pool reporter after the game. Fortunately for all involved, the decision did not impact the outcome.
The details: With 3 minutes, 33 seconds remaining in the game, Gerhart gained three yards on second-and-10 at the 49ers' 35-yard line. The 49ers called their final timeout in anticipation of a critical third-down play. But during the timeout, coach Jim Harbaugh threw his challenge flag after noticing on replays that Gerhart lost control of the ball. (The 49ers'
Patrick Willis
had fallen on the ball.)
A team must have at least one timeout available to mount a challenge, and technically, Harbaugh had just used his last one. Roan said Harbaugh called him to the sideline and said: "Hey, this is something that I want to challenge, but I just used my last timeout. Can I challenge and get my timeout back? How does that work?'
"He asked the guys on the side and they came over and got me," Roan added. "What I told him was, 'Well you challenged it not knowing what the result of the play was going to be.' So I granted him the challenge and we went and looked at it. That was wrong. I should not have. In order to do that, he has to have two timeouts left."
Actually, he needs just one. But we'll let that one slide for the larger point. Roan is only partially at fault here. It's totally unreasonable for the NFL to have expected lower-level officials to master its thick and nuanced rule book in time to make a credible showing this offseason. They are particularly vulnerable to suggestion in that area, and I wonder if Harbaugh really needed to ask, "How does that work?" Obviously we can't prove it, but you wonder if Harbaugh didn't try to capitalize -- smartly, I might add -- on the uncertainty to gain a competitive advantage.
Gerhart did in fact lose control of the ball before he was down, even though it appeared that umpire Tim Morris was in the process of blowing the play dead (by raising his hand). Again, it's important to note the play didn't affect the game's outcome. Four players later, Vikings cornerback
Josh Robinson
intercepted quarterback
Alex Smith
to ice it. But the game was not over until Harbaugh used the timeout that Roan gave back to him to challenge
another
potential fumble two plays after Robinson's interception.
I know there were other erroneous calls in NFC North games Sunday, but this is the one I witnessed. This joke can't end soon enough.
Related:
Roan's crew
made an impossible call
on the opening kickoff but quickly corrected it.
September, 23, 2012
9/23/12
1:19
PM ET
MINNEAPOLIS -- Here's how much of a joke the NFL's replacement official experiment is now: Replacement referee Ken Roan called an illegal block against the KICKING team a mere seconds into the
Minnesota Vikings
' game against the
San Francisco 49ers
.
The 49ers were the kicking team in question, and their sideline erupted in protest -- likely pointing out the slight contradiction in suggesting that a team kicking off would be blocking in the first place. Roan marked off the penalty against the 49ers before calling for a huddle among officials.
It's not clear if Roan meant to call the penalty on the Vikings, who as the RECEIVING team were no doubt doing their best to block, or if officials were confused during the play about who should be blocking and who should be getting off of blocks.
So Roan called it even, announcing that "by rule, there is no flag on the play."
No analysis is necessary here. After a weeks discussing the inadequacy of the NFL's contingency plan for an extended labor impasse, Roan's crew opened Week 3 with the most basic of mistakes. At least they corrected it, but still.
September, 18, 2012
9/18/12
11:14
AM ET
We've had
plenty to say
about the
NFL's replacement officials
over the past month. We've
warned about the difference
between questionable judgment calls and the not knowing the rules. We've noted that the league appears
to have won the PR
battle as a large swath of fans appear unmoved by the drop in competency. But I thought ESPN analyst Steve Young put it better than anyone after Monday night's game in Atlanta.
The NFL is "inelastic for demand," Young said, meaning that nothing -- including poor officiating -- can deter a significant percentage of fans and corporate sponsors away from the most popular game in the country. It's the primary reason the NFL has held steady in its labor impasse with regular officials: There is no sign that enough of the sporting public cares to make it a priority.
"There is nothing they can do to hurt the demand of the game," Young said in the video. "So the bottom line is they don't care. Player safety doesn't matter in this case. Bring Division III officials? Doesn't matter. Because in the end you're still going to watch the game."
To be clear, the NFL isn't solely to blame here. This is a labor impasse, and it takes two sides to tango. The NFL has failed, however, to advance a credible contingency plan. And to Young's point, the league hasn't provided any indication that it cares.
August, 25, 2012
8/25/12
9:30
AM ET
We anticipated Friday
that the third week of preseason games would bring heightened criticism and concern about the NFL's replacement officials.
Chicago Bears
place-kicker
Robbie Gould
started the ball rolling by referring to them as "clueless," and late Friday,
Minnesota Vikings
punter
Chris Kluwe
tweeted:
The NFL really needs to kiss and make up with the refs. These replacements are horrible. Frankly, it's kind of embarrassing.

— Chris Kluwe (@ChrisWarcraft) August 25, 2012
I'm sure they're trying hard, but they're just not good. So many blown calls tonight in both directions.

— Chris Kluwe (@ChrisWarcraft) August 25, 2012
Two of the most egregious at the Metrodome were both judgment calls, as opposed to misunderstandings of the rule. They were glaring nonetheless. As
Mark Craig of the Star Tribune
noted, Chargers coach Norv Turner was forced to challenge two obvious mistakes: That Vikings running back
Lex Hilliard
had in fact fumbled in the second quarter and that
De'Andre Presley
had corralled an interception a few minutes later.
Meanwhile, there was some confusion as to whether officials in the
Chicago Bears
' game against the
New York Giants
had erred by giving the Giants an untimed down at the end of the first quarter. The play came after Bears cornerback
Charles Tillman
was called for pass interference on what would have been the final play of the first quarter.
Typically you see untimed downs only at the end of the first half or game. I'm awaiting further explanation, but my reading of the NFL rule book suggests it's possible the decision was within the realm of NFL rules. The team that was penalized against has the option of accepting an untimed down at the end of the first or third quarter as well. It could be an advantage, say, when the team is about to lose a wind advantage on a stormy day.
NFL rule 4, section 8 reads in part: "At the election of the opponent, a period may be extended for one untimed down, if any of the following occurs during a down during which time in the period expires: (a) If there is a foul by the defensive team that is accepted, the offensive team may choose to extend the period by an untimed down after enforcement of the penalty. If the first or third period is not so extended, any accepted penalty is enforced before the start of the succeeding period."
The question is if Giants coach Tom Coughlin asked for the first quarter to be extended. I've not yet seen confirmation of that, but I'm not ready to slam the officials in this instance yet, either.
As we discussed Friday, you hate to see officials miss obvious judgment calls. But worse, to me, is when they misapply the rules. You hope it didn't happen during this Bears-Giants game, but it's fair to wonder why Coughlin would want to extend the first quarter of a preseason game. Regardless, the episode reminds us how deep the NFL rulebook is and how much information an official must process in a short time.
In the end, this is a labor dispute that you would imagine will soon come to a head. Locked-out officials are banking on the assumption that the NFL won't want to open the season with the potential embarrassment of replacements, while the league knows that officials don't want to miss weekly game checks by continuing to reject its contract proposals. Something's got to give, and usually in these situations, it does.
August, 24, 2012
8/24/12
11:00
AM ET
For a number of reasons, but mostly because of the sheer volume of news during training camps, the state of NFL officiating hasn't spurred widespread alarm. I imagine that will change as soon as we're done with this third week of the preseason, after which teams usually look beyond the fourth and final week and set their focus squarely on the regular season.
As you know, replacements have been working preseason games because the NFL has locked out its permanent officials in a labor dispute. Major mistakes have occurred weekly, and both games Thursday night featured fundamental problems with rule interpretation.
[+] Enlarge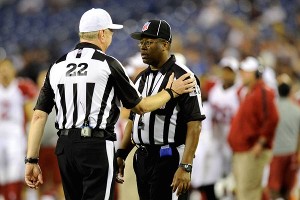 Joe Howell/AP PhotoSubstitute officials Robert Dalton (22) and Anthony Stroman confer in the fourth quarter of Thursday's Cardinals-Titans preseason game.
At least one NFC North player began speaking out as a result. After watching the
Arizona Cardinals
-
Tennessee Titans
game on ESPN,
Chicago Bears
place-kicker
Robbie Gould
-- who is also the team's player representative --
tweeted
: "Watching the coaches get upset on @espn because the refs [are] clueless @nfl when did you stop caring about the integrity of the game. …I understand there is a fine line in negotiations To get the refs back on the field. But I hope both sides can reach a deal soon."
Among the calls Gould was referring to: Referees mistakenly believed that a holding penalty against the Cardinals should offset a penalty for 12 men on the field against the Titans. According to NFL rules, the 12-man penalty should override a holding penalty, meaning only the Titans should have been penalized on the play. Afterwards, Cardinals coach Ken Whisenhunt ranted on the sideline to whomever would listen.
In addition, Titans coach Mike Munchak said after the game that there had been "some confusion" on timeouts before halftime. According to my AFC South colleague Paul Kuharsky, Titans defensive coordinator Jerry Gray walked away from an argument with replacement officials and called them "The Three Stooges" on the field.
Meanwhile,
Cincinnati Bengals
coach Marvin Lewis said replacement officials didn't fully understand the rule protecting defenseless receivers when they called safety
Taylor Mays
for a 15-yard penalty after hitting
Green Bay Packers
tight end
Tom Crabtree
.
Here's what Lewis
told reporters
: "It was exactly shoulder-to-shoulder. Unfortunately, the guy that made the call's explanation was not correct. It's one of those things. They are getting better. Hopefully, it will get closer and closer to what we need. His understanding was that the player was a defenseless receiver. He was, but you are allowed to hit a defenseless receiver shoulder-to-shoulder. There is no such thing as a defenseless player unless he is hit in the head with your head. It was a misinterpretation of the rule. I know they are working hard. The league is working hard to get this stuff corrected. They are working overtime on it actually. It'll get better and better."
The concern, however, is that these officials don't have much time to improve before the start of the regular season. Most of us have assumed that the NFL and its permanent officials will, under the pressure of the regular-season deadline, come to an agreement soon. If not, however, there is a strong likelihood that a regular-season game in Week 1 will be impacted not by a judgment call -- which happens every week of every season -- but by an official who either doesn't know all of the NFL's rules or misapplies them.
We have come to accept debatable calls for, say, pass interference or whether a player had two feet in bounds after making a catch. But losing track of timeouts? Not knowing how to apply the 12-men-on-the-field rule? Not demonstrating full knowledge of what constitutes a defenseless receiver? That's scary.