September, 8, 2013
9/08/13
6:00
AM ET
LAKE FOREST, Ill. -- Finally, it's time for the Bears to kick off the regular season Sunday, when they host the
Cincinnati Bengals
at Soldier Field.
Let's take a look at five things to keep an eye on in this matchup:
Rookies on right side of OL:
The debuts of rookies
Kyle Long
and
Jordan Mills
at right guard and right tackle, respectively, seems to have been one of the most widely debated topics all offseason. Well, now it becomes real.
Long is set to be the first rookie to start at right guard for the Bears in the Super Bowl era. In fact, the Bears haven't started multiple rookies on opening day since 1998.
"That's a cool trivia question," Long joked. "I try not to focus on that type of stuff. It's a good tidbit to know. But right now, I'm so focused on who to block on inside zone right and that kind of stuff. That stuff is far more important to me at this point."
[+] Enlarge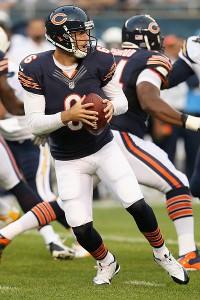 Jonathan Daniel/Getty ImagesProtecting Jay Cutler remains a top priority for Chicago's offensive line.
It definitely should be. Long and Mills face a Bengals defensive line that accounted for 43 of the team's record 51 sacks in 2012, and led by defensive tackle
Geno Atkins
, who led all NFL interior linemen last season with 12 sacks.
"Just having another rookie [in Long] to go through it with you is priceless," Mills said. "They have a great front seven with Geno Atkins,
Carlos Dunlap
,
Michael Johnson
,
Rey Maualuga
and the rest of the guys. But we're trying to be a great offense. We're going to come in there with a great game plan and we're going to be fine."
The new offense:
In terms of diversity with formations and play calling, this will be the most extensive look at the Bears' offense we've seen since the Aug. 23 preseason game at Oakland. Look for tons of shifts, formations and plays that get the ball out of
Jay Cutler
's hands quickly, not to mention some plays designed to move the pocket.
"The game plan is put together relative to how much we get practiced, how we want to spread the ball around," Bears coach Marc Trestman said. "Certainly it all starts with how we want to attack running and throwing the football. It's just a process you go through every Monday and Tuesday so to speak, during the course of a normal week; who you want to feature, how you want to use personnel groupings, how you want to use formations to be able to create advantages and working toward the strengths and weaknesses of the teams you'll be playing."
Trestman sounds as if Chicago's playbook is much deeper than what the team will select to execute against the Bengals. That's definitely a positive the Bears haven't had in the years before Trestman.
D.J. Williams at middle linebacker:
Trestman said Williams will play, but wouldn't give an indication of what degree, whether he'll be starting or how much he'll contribute. It's expected that Williams will start in the middle alongside
Lance Briggs
and
James Anderson
. But when you consider how much time Williams missed (virtually the entire training camp and preseason), it's reasonable to question whether the linebacker's conditioning level will be up to par to where he can play an entire four quarters.
It's also worth noting that Williams has missed the preseason the past two years, which means Sunday might not be as difficult for him as we think.
"I don't what to say I'm used to it, but I've been through this before," Williams said. "Being a veteran guy, you kind of know what you need to do to get yourself prepared for the game. I know coming into the first game there's going to be a little gas, a little winded. But the first game of the season, everybody is going to be kind of like that."
If Williams can't play the entire game, the Bears are confident they can go to
Jonathan Bostic
, who put together a strong enough preseason to inspire confidence in his ability to be a starter.
"I'm preparing like I'm a starter," Bostic said. "You never know what's going to happen."
Julius Peppers vs. Anthony Collins:
The Bengals might be thinking "uh-oh" when looking at this matchup on paper. Cincinnati Pro Bowl left tackle
Andrew Whitworth
is listed as doubtful heading into the game, which means the Bengals will line up Collins at the position, where he'll take on Peppers.
Look for the Bears to try to exploit the loss of Whitworth with Peppers, who is coming off a 2012 campaign in which he posted 11.5 sacks.
Former Bengals offensive lineman Dave Lapham, who is not a radio analyst told ESPN 1000's "Chicago Gamenight" on Thursday how he expected Cincinnati to handle Peppers without Whitworth in the fold.
ESPNChicago.com's Jeff Dickerson
takes you deeper
.
"I don't think he'll have movement issues with respect to Julius Peppers, but Peppers can bull rush you now, too," Lapham said. "He's a strong dude. So I'll be interested to see if Collins can hang in there against that bull rush that Peppers can employ to complement that quickness that he's got."
Devin Hester exclusively as a return man:
Hester worked all offseason exclusively as a return man, with the team stripping away his duties as a receiver. Now it's time to see if the extra focus on returns will pay off for Hester, who didn't receive much action in the preseason. Hester took part in just five returns (three kickoffs and two punts) and gained a combined 94 yards, with his longest runback being a 45-yard kickoff return.
Given that Hester is in a contract year, expect him to put together one of the best return seasons of his career. Hester needs only one more return touchdown to tie Hall of Famer Deion Sanders for the most career return touchdowns. My guess is Hester winds up breaking the record by Week 9.
April, 18, 2013
4/18/13
2:00
PM ET
In the aftermath of
Green Bay Packers
linebacker
Clay Matthews
' record-setting
contract extension
, and as we look ahead to next week's draft, it's worth a reminder about the middling impact of college production on pro projections.
We all like to cite college statistics and instinctively feel more comfortable about a receiver who caught 80 passes his senior year. We like our defensive ends to have hit 10 sacks against inferior competition. We want our running backs to have broken the 1,000-yard barrier.
Absent such production, even NFL talent evaluators need to find a credible reason. Did the scheme limit a defensive end's ability to get upfield? Was the receiver playing with a deficient quarterback? Did the running back play behind a poor offensive line?
As the chart shows, the Packers needed to address those questions for Matthews, who had just 4.5 sacks in his senior season at USC. Part of the analysis was a relatively
late physical development
that took him from a 166-pound high school junior to a 240-pounder in his final college season. It was also fair to note that Matthews played alongside two other elite college linebackers,
Brian Cushing
and
Rey Maualuga
.
The Packers felt strongly enough about Matthews' potential that they traded back into the first round to select him No. 26 overall. For his part, Matthews had more sacks by Week 12 of his rookie season than he did during his entire college career.
In many situations, college production can be a reliable projection tool. In Clay Matthews' case, it was not.
May, 10, 2010
5/10/10
10:30
AM ET
Take a look at the background picture of Green Bay linebacker
Clay Matthews
'
Twitter account
. It's a 2009 Sports Illustrated cover featuring Matthews and two of his former USC teammates:
Brian Cushing
, later drafted by Houston, and
Rey Maualuga
, who landed in Cincinnati.
[+] Enlarge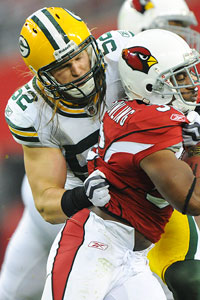 Kirby Lee/US PresswireClay Matthews posted 51 tackles, including 10 sacks, during his rookie season in Green Bay.
Barely a year later, Matthews is the only one of the trio unscathed by controversy. Maualuga was arrested in January for drunken driving and was scheduled to spend
30 days in rehab
. Cushing, the 2010 NFL defensive rookie of the year for Houston, was
suspended
four games Friday after testing positive for performance-enhancing drugs.
And for those who will start the guilty-by-association discussion between Cushing and Matthews, who gained some 60 pounds between his junior year in high school and the start of his college career, let's follow the lead of
Greg A. Bedard of the Milwaukee Journal Sentinel
.
Bedard points out Matthews' April 2009 response to rumors he had tested positive for steroids himself. Matthews explained how he developed from an unrecruited 161-pound high school junior to a 220-pound college linebacker and expressed frustration at how quickly steroid rumors start when young football players gain weight.
Let's allow Matthews' unambiguous words, courtesy the
Packers' website
, speak mostly for themselves.
Clay, were you part of an erroneous report?
Clay Matthews: Yeah, the same website actually reported that B.J. [Raji] had tested positive for recreational drugs and me and my other teammate, Brian Cushing, had tested positive for steroids, which is completely false. Unfortunately in years past people have had to just wait it out and let the smoke clear and at that time their name is damaged. No matter if you come out clean, people are going to think less of you as a person. So [we] were fortunate enough to be able to call the head administrator for the drug test and he let us know, no, you didn't test positive. It was just a matter of shutting a guy down and letting people know the real story. It's unfortunate, but I guess we're in this position that we are today and it wouldn't be happening if we weren't in this position. You learn from it and you grow from it really.
When you went to SC, were you 161 pounds?
CM: No, that weight has been exaggerated tremendously. I want to set the record straight and say I was 228 coming into SC. After camp, around 220. I just worked hard. I'd love for the writer of that article to come see how I train and live a day in my shoes, and he can see how I put on this weight and what not. It was funny, I just heard the other day Aaron Curry was 195 at Wake Forest when he first checked in. People can put on weight. They work hard. It's not that hard provided you have a workman's mentality.
You redshirted and were there a long time, so was it not just the weight room but you hit some growth spurts there too?
CM: Yeah, absolutely. Fortunately and I guess unfortunately, Matthews are just late bloomers. The same with my dad and my Uncle Bruce, we all going into college, we put on a tremendous amount of weight. It was just a little late in the recruiting process so you have to walk on here and there and make a name for yourself. That's what I had to do. You can talk to anyone at that program and they'll say I'm one of the hardest workers and I'm going to be in the weight room. Not just in the weight room, but on the practice field, watching film, game film, and they'll tell you the type of character that I possess.
So what did you weigh your junior year when they wouldn't recruit you?
CM: 166.
How tall were you?
CM: Probably around 6-foot, 6-1. Probably the only college guy to have actually grown in height too throughout college.
Some of you will suggest that we in the media perpetuate guilt-by-association themes by introducing them in the first place. Writing about it draws a connection readers might not otherwise make, you might say, and extends the damage rather than letting the issue settle.
I strongly disagree. I covered baseball from 1996-99, the years leading up to the steroid revelation era. At the time, writers bent over backward to avoid mentioning steroids, even in the presence of obvious clues, in order to avoid sullying the reputation of players who hadn't admitted to using them. And since there was no reliable testing at the time, no one admitted it. So for the most part, steroids were not part of the public discussion even though, as we now know, they were being used by some of the best players in the game.
Nowhere am I suggesting that Matthews should come under more scrutiny now that one of his college teammates has tested positive. But we would be na´ve to think that ignoring the connection would help diminish its legitimacy. Every American with a computer can publish his or her opinion via the Internet. So in an era of unattributable accusations and connecting of the dots, we need more openness, more public discussion and maximum accountability. I'd rather have someone like Clay Matthews step forward and assert he has never taken steroids than sit back and believe rumors will dissipate if they go unaddressed.
January, 6, 2010
1/06/10
2:30
PM ET
╗
NFC Wrap-ups
:
East
|
West
|
North
|
South
╗
AFC
:
East
|
West
|
North
|
South
╗
Clayton
:
Video
|
AFC grades
...
NFC
╗
More
:
Fantasy MVPs
|
FB Outsiders

|
Awards

A team-by-team analysis of the division. The arrow indicates which direction each team is trending.

Minnesota Vikings
Final Power Ranking
: 3

Biggest surprise
: Against all odds and previous trends, Minnesota became a passing team. Coach Brad Childress prefers a power running approach, one honed during his time as the offensive coordinator at the University of Wisconsin, and he built one of the league's best behind
Adrian Peterson
over the previous two seasons. The recruitment of quarterback
Brett Favre
was intended to provide a viable alternative when defenses ganged-up on Peterson. Instead, the Vikings proved they are better equipped to throw than force the run against defenses stacked to stop Peterson. All told, the Vikings threw 101 more passes in 2009 than they did last season -- an 18 percent increase. Their net yardage rose nearly 25 percent, and they threw as many touchdown passes (34) as they did in the 2007 and 2008 seasons combined.
Biggest disappointment
: Play at both safety positions was invisible at its best and glaring at its worst. Veteran
Madieu Williams
, signed two years ago because of his alleged coverage ability, started all 16 games but failed to make a single interception. Along the way, he proved to be a poor tackler and broke up only four passes. Second-year player
Tyrell Johnson
, who the Vikings targeted last season as
Darren Sharper
's eventual replacement, was average at best. It was no coincidence that he lost some playing time to rookie
Jamarca Sanford
at the end of the season.
Biggest need
: A ball-hawking safety would help, but as odd as it sounds, the biggest organizational need is a long-term plan at quarterback. Favre turned 40 in October and is very much a year-to-year proposition. Childress remains supportive of backup
Tarvaris Jackson
, but the success of the 2009 offense was another indictment of Jackson's previous ineffectiveness. Childress has never seemed comfortable with No. 3 quarterback
Sage Rosenfels
. If there were ever a time for the Vikings to draft their quarterback of the future, it's now.
Team MVP
: Brett Favre. As the Vikings hoped, he was the final piece in making them a Super Bowl contender. He was the difference between 10-6 and 12-4, and gives the Vikings a legitimate chance to push deep into the playoffs.
Best thing that never happened
: Signing free-agent receiver
T.J. Houshmandzadeh
. The Vikings targeted Houshmandzadeh at the start of free agency and were on the brink of signing him. Concerns about the pre-Favre quarterback situation prompted Houshmandzadeh to spurn their offer and join Seattle. Had he signed in Minnesota, however, one of the Vikings' key players would never have emerged. They would have either stunted the development of third-year receiver
Sidney Rice
, who made the Pro Bowl with an 83-catch season, or might not have drafted slot receiver
Percy Harvin
. The NFL's offensive rookie of the year, Harvin, made the Pro Bowl as a kick returner but also ranked second on the team with 60 receptions and 790 yards.
---

Green Bay Packers
Final Power Ranking
: 6

Biggest surprise
: The sudden pass-rushing prowess of rookie linebacker
Clay Matthews
. Packers general manager Ted Thompson thought highly enough of Matthews to trade back into the first round and select him with the No. 26 overall pick. Matthews had only 4.5 sacks as a senior at Southern California, and a series of spring and summer leg injuries suggested he would have a slow rookie season. But after being inserted into the starting lineup in the fourth game of the season, Matthews collected a team-high 10 sacks. By the end of the year, he couldn't be blocked. Matthews finished third in the NFL's Defensive Rookie of the Year award voting and should be a force for years to come.
Biggest disappointment
: The Week 1 offensive line. Quite simply, the Packers are lucky that quarterback
Aaron Rodgers
survived the first half of the season. Rodgers might have held the ball too long on occasion, but for the most part he was under constant pressure from opposing defenses. Rodgers, in fact, took 37 sacks over the first eight games. The Packers took an unjustified risk in starting
Allen Barbre
at right tackle and didn't have a good plan to replace left tackle
Chad Clifton
when he was sidelined by injuries. They deserve credit for finding a multi-pronged solution, including the return of right tackle
Mark Tauscher
, but that came only after they dug themselves a huge hole.
Biggest need
: Depth behind tailback
Ryan Grant
would help, but the Packers need a long-term answer at both offensive tackle positions. Clifton and Tauscher will be free agents after the season. Rookie
T.J. Lang
could figure at one of the positions, but the Packers must address the other high in the 2010 draft.
Team MVP
: Cornerback
Charles Woodson
. A favorite for the NFL's Defensive Player of the Year award, Woodson was at his best in Dom Capers' attacking 3-4 scheme. He has retained his coverage skills at age 33, and he also proved to be the Packers' best blitzer and all-around playmaker. His final tally was nine interceptions, three of which he returned for touchdowns, along with two sacks and four forced fumbles.
A dark moment turns bright
: After finishing 6-10 last season, coach Mike McCarthy retreated to Lambeau Field and went underground for nearly a week. When he emerged, McCarthy had decided to turn over much of his coaching staff. Out of that tumultuous time period came the decision to change defensive schemes and, ultimately, hire Capers. The end result was the NFL's No. 2 defense, one that allowed the league's fewest rushing yards (1,333) and created its highest total of turnovers (40).
---

Chicago Bears
Final power ranking
: 22

Biggest surprise
: That new quarterback
Jay Cutler
would turn into an interception machine. Cutler brought a gunslinging mentality from Denver, but never in his previous three seasons had he finished with more interceptions than touchdown passes. In his first 14 games with the Bears, however, Cutler threw 25 interceptions against 19 touchdowns. A late surge reversed that ratio, but it won't hide the fact that Cutler personally submarined at least three losses -- at Green Bay, Atlanta and San Francisco -- with multiple interceptions. He threw a total of 11 in those games.
Biggest disappointment
: Tailback
Matt Forte
. There were reports recently that Forte played most of the season with a sprained knee. That could explain the drop-off from his rookie season and especially his lack of power near the goal line. According to ESPN Stats & Information, Forte had the third-most goal-to-goal carries in the NFL this season (33). But he managed only three touchdowns on those carries, a ratio that ranked him No. 102 among all rushers who got a carry in that situation. How many more games would the Bears have won if they had converted more of those runs? Among other things, it would have left Cutler in fewer positions where he felt compelled to force a pass into the end zone.
Biggest need
: The Bears need an enforcer on their defense, which has lost the intimidation factor it carried into the Super Bowl three years ago. That player could come at any position, but it's most needed at safety. The Bears need someone who can put fear in receivers and influence quarterback decisions. That's not necessarily a hallmark of the Tampa 2 defense coach Lovie Smith plans to continue using, but it could change the way the Bears are perceived by opposing offenses.
Team MVP
: Only because it's a required category: Linebacker
Lance Briggs
was the Bears' lone Pro Bowler and their leading tackler. He was also a 15-game starter on a defense that played terribly for most of 2009.
In hindsight
: The Bears executed only 50 percent of their goal to improve their quarterback play. They paid a premium price to get a young and potentially elite arm in Cutler. But they failed to follow through with appropriate integration. Cutler didn't appear comfortable in a pocket scheme and, despite what anyone says, had mostly limited targets. None of his receivers required a double team, which made the offense easier for opponents to defend. The Bears will have to spend the offseason reformulating their plan around him.
---

Detroit Lions
Final power ranking
: 31

Biggest surprise
: We knew quarterback
Matthew Stafford
had an elite arm. It's what rocketed him to the top of the draft charts at this time last year. But was there any way to know how much of a "gamer" he is? Opponents battered Stafford in several games this season, none more so than his now-legendary Nov. 22 victory over Cleveland. Every player on the Lions' roster -- from the biggest offensive linemen to the smallest receiver -- knows how tough their leader is. When the Lions refused to rest his separated left shoulder, Stafford made two more starts with the help of painkilling medication before finally shutting it down. Stafford's greatest contribution would be spreading that determination to the rest of the roster.
Biggest disappointment
: The Lions hired two respected defensive minds last winter in head coach Jim Schwartz and coordinator Gunther Cunningham. But ultimately their defense made only incremental improvement from last season's 0-16 group. Opponents threw at will against Detroit, completing 68.1 percent of their passes for 35 touchdowns and only nine interceptions. Personnel is thin at all defensive positions, but the Lions could have used more help from a scheme perspective.
Biggest need
: Schwartz had a blunt answer when asked this week of his team's biggest offseason need: "Improve the talent level of the team." Let's focus that goal on the defense, where depth is frighteningly thin. Entering the offseason, the Lions have three defensive players who seem locked in to start in 2010: Defensive tackle
Sammie Lee Hill
, linebacker
DeAndre Levy
and safety
Louis Delmas
. What do the Lions need? Starters at the other eight positions and depth behind everyone. That should about do it.
Team MVP
: Safety Louis Delmas. Stafford would have been in the running if he had made it through the season. But time and again over 16 games, Delmas proved to be a player the Lions can build around. He demonstrated aggressive tackling, strong ball skills and an admirable competitive edge. Like many young safeties, he ventured into unsportsmanlike conduct territory a few times, and he needs to level off that portion of his game. But in the meantime, there's nothing wrong with having a feared player on a defense that has long been anything but.
In hindsight
: We were among those who questioned the decision to draft tight end
Brandon Pettigrew
with the No. 20 overall pick, especially with offensive lineman
Michael Oher
and linebacker
Rey Maualuga
still available. No matter how good Pettigrew proved to be, is the tight end position more important than an offensive tackle or linebacker? The answer is no. The Lions still have tremendous needs at both positions. But we should say this much: Pettigrew proved not only a strong blocker, but also a dynamic part of the passing game before suffering a season-ending knee injury. He was a good tight end, but having one of those is generally a luxury.
December, 11, 2009
12/11/09
7:27
AM ET
We spent some time Thursday
discussing the possibility
of Detroit drafting Nebraska defensive tackle Ndamukong Suh next April, and
two weeks ago
about the Lions' across-the-board needs at most positions.

But as
Tom Kowalski of Mlive.com
writes, the Lions feel confident that they've filled at least three defensive holes already -- in the 2009 draft. Safety Louis Delmas, linebacker DeAndre Levy and defensive tackle Sammie Lee Hill all project as long-term starters. The Lions appear especially happy with Levy, whom they think has given them more versatility than a higher-rated player they passed on in the draft: Linebacker Rey Maualuga, who eventually went to Cincinnati.
Here's what Lions defensive coordinator Gunther Cunningham said about the Levy-Maualuga comparison: "I watched Rey Maualuga in this last game and he's a good player, but when it comes to third down, he's off the field. Our guy doesn't come off the field. You can say that Cincinnati's winning and I'm going to say 'We'll see down the road who was right.' I'm not being disrespectful to Rey, I think he's a heckuva football player. But I think if you draft a guy [high], that guy shouldn't come off the field -- ever. He should be good enough to be able to play all three downs and Levy can do that."
OK then. I've liked what I've seen from Delmas and Levy, although I've seen Levy bounce off a lot of missed tackles. Hill, on the other hand, has been injured for a good bit of the year. But when we evaluate draft impact at the end of the season, I think we'll have kind words for the Lions.
Continuing around the NFC North:
September, 18, 2009
9/18/09
4:00
PM ET

Posted by ESPN.com's Kevin Seifert
Five nuggets of knowledge about Sunday's games:
Hate to break this out right off the bat,
but I know you're thinking about it. Chicago wants to beat Pittsburgh on Sunday for all sorts of reasons, obviously. But here's a big one: Going back to 1990, only 13.8 percent of NFL teams have made the playoffs after starting 0-2. (We won't even go to 0-3 unless we have to.) It happened as recently as last season, when Minnesota won 10 of its final 14 games to clinch the NFC North. But suffice it to say, you don't want to put yourself in that position -- especially in what most of us believe is a much-improved division. Here's one bit of history: The Bears are 11-1 all-time against the Steelers when playing in Chicago.
The Chicago Park District re-sodded Soldier Field this week
after it got torn up by a number of high school games as well as a U2 concert. While it's better than the alternative -- dirt -- it's hard to imagine the new sod will be anything other than loose for this game. We've already heard a cascade of complaints about the surface, most notably from Bears tight end
Desmond Clark
. Ironically, Clark isn't expected to play because of a cracked rib suffered last Sunday at Green Bay.
| | |
| --- | --- |
| | |
| | Dilip Vishwanat/Getty Images |
| | Adrian Peterson had a big game against Cleveland and may be poised to post similar numbers against Detroit in Week 2. |
If you're into probability,
you (probably) know that Sunday's matchup with Detroit bodes well for Minnesota tailback
Adrian Peterson
. He has surpassed the 100-yard plateau in three of his four career games against the Lions. Moreover, Peterson has done a disproportionate amount of his career damage in the month of September. Last week's 180-yard performance in Cleveland was his sixth 100-yard performance in nine career September games. When you combine Peterson's fresh legs, his history against Detroit and the Lions' weak defensive performance last week in New Orleans, you can safely count on another big game Sunday.
A loss would extend the Lions' streak to 19 consecutive defeats,
which would tie them for the second-worst losing streak in NFL history. (The longest, in case you're wondering: Tampa Bay went down 26 consecutive times between 1976-77.) That said, the Lions usually play Minnesota tough at home. Of the nine games the teams have played this decade in Detroit, seven have been decided by a touchdown or less. The Lions have won two of them. The Vikings swept the Lions last year but only by a total of five points. And this week, Minnesota coach Brad Childress specifically warned his team against taking the Lions lightly. "Call a spade a spade," Childress said this week.
There will be quite a collection of former USC linebackers
Sunday at Lambeau Field. Cincinnati starts two of them, second-year player
Keith Rivers
and rookie
Rey Maualuga
, while the Packers are using rookie
Clay Matthews
in a number of sub packages behind starter
Brady Poppinga
. I was actually surprised at how much Matthews played Sunday against Chicago, considering how his sore hamstring limited him in training camp, but coach Mike McCarthy said: "He responded very well." It will be interesting to see if Matthews will soon be challenging Poppinga for the starting job.
April, 25, 2009
4/25/09
6:45
PM ET
Posted by ESPN.com's Kevin Seifert
ALLEN PARK, Mich. -- Brandon Pettigrew is my Knowshon Moreno.
Huh?

Let me explain. During our ESPN.com blogger mock draft this week, I gave Detroit running back Knowshon Moreno with the No. 20 overall pick. In doing so, I cited a quote from Lions coach Jim Schwartz, who said the team would not allow "need to trump talent" in this draft. In other words, the talent-poor Lions weren't in position to focus on a particular position at any point in this weekend's draft.
A few of you, uh, disagreed with that thinking and pointed out the needs of the Lions' horrendous defense. But given the choice between Pettigrew -- a tight end from Oklahoma State -- and USC linebacker Rey Maualuga, the Lions jumped on Pettigrew. (They also passed on Mississippi offensive tackle Michael Oher.)

The Lions probably have more of a need at tight end than at running back. But you can't make an argument they need more help at tight end than at linebacker. But I'm telling you, this is the way Detroit is going to conduct itself this weekend and moving forward. They're going to take the top player on their board, regardless of position, at every spot in the draft.
How you evaluate Pettigrew is an entirely separate issue. Is he as good as the Lions think he is? We'll know soon enough. But the point is that Detroit ranked him highly on its board, and the presence of a potential starting middle linebacker and a new left tackle wasn't enough to deviate from that approach.
April, 24, 2009
4/24/09
3:00
PM ET
Posted by ESPN.com's Kevin Seifert
We've been talking about this thing since January. Now, we've finally made it to the eve of the NFL draft. Soon we'll be under way -- and actually getting some answers to the questions we've been asking for months.
Aside from that nagging issue of Detroit's negotiations with quarterback Matthew Stafford, here is the latest on the key issues facing NFC North teams this weekend:

Will the Lions actually make a pick at No. 20 and No. 33, as currently scheduled? We all know the Lions have five of the first 82 draft choices, but overall they have eight for the weekend. Given their across-the-board personnel needs, that's not a high total. (Especially when you consider they have none in the fourth or fifth rounds.) The lower third of the first round, and the top of the second, are considered high value picks and the Lions should have opportunities to trade at least one of them to accumulate more picks in the middle of the draft. Here's another question: If USC linebacker Rey Maualuga is available at No. 20, as he is in Mel Kiper Jr.'s final mock draft,

do you take him or trade down?
Has Jeff Backus played his last down as a left tackle for the Lions? There has been talk of moving Backus to left guard if the Lions drafted a left tackle with the No. 1 overall pick. But assuming Stafford is the guy, Detroit might not be in position to draft a left tackle who is ready to start instantly. The Lions must hope Mississippi tackle Michael Oher falls to them at No. 20. A Stafford-Oher pairing not only would allow the Lions to move Backus to guard, but it would also give Detroit the flexibility to concentrate on defense for the remainder of the draft. For what it's worth, Kiper has Oher going to San Diego at No. 16.

Would Ted Thompson take Alabama tackle Andre Smith? The answer seems to depend on whom you talk to. I've heard from some people who don't think Thompson would take on a player with as many red flags as Smith has displayed, no matter how good a player he might be. (Smith left the scouting combine early, was out of shape at his pro day and recently changed agents.) Others consider Thompson a traditional personnel man whose top priority is football ability. If it's the latter, Smith will be a Packer if he's available. It's also possible we'll never find out. Kiper has Smith going to Cincinnati at No. 6, three spots ahead of the Packers' choice.
Where are the Packers going to get much-needed help at defensive end and linebacker if they go offense in the first round? Well, they still have an early second-round pick and two choices in the third to address those issues. For the sake of conversation, I'll pass along ESPN analyst Todd McShay's take in his seven-round mock draft.

With the No. 41 overall pick, McShay had the Packers taking Cincinnati linebacker Connor Barwin. McShay also had the Packers taking Oregon cornerback Jairus Byrd in the third round and USC defensive end Kyle Moore in the fourth.

Would Minnesota really pull the trigger on Florida receiver Percy Harvin? We know the Vikings have put an awful lot of work into researching Harvin's history, probably more than could be expected if it were all a smokescreen. (Would coach Brad Childress really spend a day on Florida's campus three days before the draft just to throw off other teams?) There are so many red flags on Harvin that it's hard to believe the Vikings would draft him. But they might view him as a special talent who wouldn't be available at No. 22 were it not for the issues he has encountered. Alas, the Vikings might never get a chance to make this decision. Kiper, at least, has Harvin going to the New York Jets at No. 17.
If they miss or pass on Harvin, will the Vikings still take a receiver at No. 22? The whole world seems to think so. Kiper has them taking Rutgers receiver Kenny Britt, while McShay predicts Maryland's Darrius Heyward-Bey. I've been slow to this bandwagon, believing the Vikings would be more likely to take an offensive tackle if all things are equal. But as it turns out, all things might not be equal. Arizona tackle Eben Britton likely will be available at No. 22, but there are some indications the Vikings aren't high on Britton at that value spot.

Will Chicago get an impact player at No. 49 overall? It probably depends on what position they draft. Unless the market tanks, you can reasonably expect at least five receivers to be off the board when the Bears' pick arrives. The chances aren't high of the draft's sixth-best receiver contributing right away. If they go with a receiver, he's more likely to be a complementary/developmental player. The same can't be said for safety, however. If things fall the right way, the Bears could have their pick of perhaps every safety in the draft. Western Michigan's Louis Delmas, Alabama's Rashad Johnson and Missouri's William Moore could all compete for a starting job right away.