September, 20, 2011
9/20/11
5:23
PM ET
To address a question many of you have posed: If
Minnesota Vikings
coach Leslie Frazier follows previous form, it's unlikely he'll release or immediately discipline safety
Tyrell Johnson
, who was
arrested early Tuesday morning
on suspicion of driving while impaired.
Two other players have been arrested since Frazier took over as the Vikings' permanent coach over the winter. Defensive lineman
Everson Griffen
was
arrested twice in the span of three days
in February, first for on suspicion of public intoxication and then for allegedly assaulting a police officer following a traffic stop. Meanwhile, quarterback Rhett Bomar was arrested for drunken driving during training camp.
Griffen remained with the team and is part of the Vikings' defensive line rotation. Bomar wasn't released until the Vikings needed to reduce their roster during the first round of cuts last month.
Johnson's blood-alcohol level was 0.12 percent when he arrested, according to reports.
We'll wait to hear from Frazier during Wednesday's media availability, but it seems as though he set a precedent with Griffen, if not Bomar. First offenses, which this appears to be for Johnson, haven't merited severe discipline under Frazier to this point.
As we discussed in
Tuesday's SportsNation chat
, which I appreciate everyone turning out for, the bigger question is whether Frazier sees anything in Johnson to merit his continued presence on the field. Johnson was the Vikings' top draft pick in 2008, but he has been locked in a two-year competition for a starting job with
Jamarca Sanford
. His drop of an interception in the fourth quarter Sunday against the
Tampa Bay Buccaneers
was one of the key misplays of a stunning 24-20 loss.
August, 30, 2011
8/30/11
6:00
PM ET
As you know, NFL teams were required to reduce their rosters to 80 players by Tuesday. That high figure allowed most teams to save difficult decisions for Saturday's final cut down deadline for 53-man rosters. We'll take a look at some of the NFC North's top looming questions over the coming days, but for now let's get you up to date on how each team got to 80 players.
Chicago Bears
: Released
five players Monday
, including defensive end
Vernon Gholston
. Running back
Chester Taylor
was not among those released and told reporters he expects to play in Thursday's preseason finale.
Detroit Lions
: Released
eight players Monday
, including running back
Mike Bell
and place-kicker
Dave Rayner
, and released fullback
Jerome Felton
on Tuesday. The Lions appear to be moving away from the fullback position. Running back
Mikel Leshoure
, on injured reserve, no longer counts against the Lions' roster limit.
Green Bay Packers:
Released
three players Sunday
, including tight end
Spencer Havner
and receiver
Brett Swain
, and
three more
Tuesday
.
Minnesota Vikings
: Released
10 players Monday
, including quarterback Rhett Bomar.
August, 29, 2011
8/29/11
9:51
AM ET
This week will be chock full of roster moves as NFL teams reduce their rosters to 80 by Tuesday and 53 by Saturday.
The
Green Bay Packers
got it
started Sunday
and have three more moves to make by Tuesday. Monday morning, the
Minnesota Vikings
released 10 players to get to 80 players.
I'll try not to bog you down with the full details of every roster move, but I'll at least point you in the right direction. The full list of the Vikings cut is on the team's website and includes quarterback
Rhett Bomar
, but it contains no surprises. Bomar didn't play this preseason and his departure will prevent me from misidentifying him (Brett Rhomar, anyone?) any longer.
Find the
full list through this link
.
August, 8, 2011
8/08/11
8:50
AM ET
We're Black and Blue All Over:
As training camp practices resume Monday morning around the NFC North, it's worth noting that one of the new players who excited many of us this offseason hasn't seen much action to date.

Detroit Lions receiver Titus Young suffered a leg injury in the team's first practice July 29 and hasn't been back on the field since.
Dave Birkett of the Detroit Free Press
has the details. Young entered camp with a strong chance to win the Lions' No. 3 receiver's job, and that could still happen once he returns to the field. But to this point, Young hasn't been able to escape the Lions' injury list.
As we
discussed in May
, the Lions hope Young will be able to stretch the field in a way that veteran Bryant Johnson was not. It's hard to get too worried about an injury before the preseason begins, however. Let's see if Young can get back on the field this week.
Continuing around the NFC North:
July, 25, 2011
7/25/11
8:28
PM ET
EDEN PRAIRIE, Minn. -- From a national perspective, at least, there seems to be a natural assumption that the
Minnesota Vikings
have no choice but to acquire a starting-caliber veteran quarterback in the coming days. The cancellation of offseason work, the theory goes, doomed any chance of getting rookie
Christian Ponder
ready to start right away.
[+] Enlarge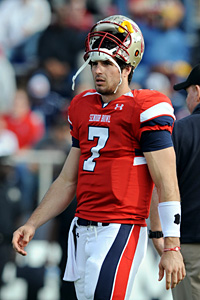 Chuck Cook/US PresswireChristian Ponder is the Vikings long-term solution at quarterback, and possibly their short-term solution as well.
As recently as Monday morning,
our friends at Football Outsiders

suggested the Vikings' top priority should be to trade for a veteran quarterback and named
Kyle Orton
(
Denver Broncos
) and
Donovan McNabb
(
Washington Redskins
) as possibilities.
I don't see it, never have seen it and won't see it until it hits me upside the head in a surprise. My sense is the Vikings drafted Ponder at No. 12 overall with the full expectation that he would be their immediate starter. He won't come to training camp completely cold, having studied a version of their new playbook for the past three months. There is no way he will be totally up to speed when the regular season begins, but would it be worth a draft pick to acquire the shortest of short-term starters?
My answer is no, and nothing team officials said during a news conference Monday suggested otherwise. I do think the Vikings will sign a veteran, but it will be someone to provide insurance against an unexpected hurdle in Ponder's development. I don't know who that person is, but I think it's much more likely to be someone of the
Tyler Thigpen
variety than Orton or McNabb.
Vice president of player personnel Rick Spielman alluded to that scenario Monday. He acknowledged the Vikings have discussed every possible scenario but added: "I know we've talked about making sure the veteran quarterback will be the right fit, too. Not only for us to potentially win ballgames if we go down that route, but also the right fit in the room for Ponder and
Joe Webb
and
Rhett Bomar
."
Coach Leslie Frazier wouldn't rule out any possibility, but we know Ponder will be his quarterback in the long term. I have no doubt he wants Ponder as his quarterback in the short term as well.
"We're going to try to do what's best for the Vikings and what's best for our roster," Frazier said. "But I wouldn't put it past us to open the season with a young quarterback if that's the case."
As the muckety-muck of an unprecedented lockout transitions into the NFL's new free-agent template, we still must guard against being led astray by teams who don't want their competitors to get a preview of their game plan. If the Vikings were preparing an offer for Orton or McNabb, they wouldn't have jumped up and said so Monday.
But I'll go on record now and suggest it would be a mistake to invest the assets necessary, be it draft picks or salary cap space or both, to bring in a veteran starter. Frazier is building his offense around tailback
Adrian Peterson
and can employ an array of playmakers in the passing game, even if free agent
Sidney Rice
signs elsewhere. That kind of team can and should support a rookie quarterback, lost offseason or otherwise.
July, 25, 2011
7/25/11
3:27
PM ET
»
NFC
:
East
|
West
|
North
|
South
»
AFC
:
East
|
West
|
North
|
South
»
Unrestricted FAs
A look at the free-agent priorities for each NFC North team:

Chicago Bears
Assemble a starting offensive line: As we've noted many times, the Bears have held off any public discussion about their five linemen pending the results of free agency. Well, we're here. It's time for the dominoes to start falling. The first will be whether center Olin Kreutz re-signs. It's generally expected, but nothing is guaranteed. Then, the Bears need to decide whether to pursue any starting-caliber guards or tackles. You would think they'll seek at least one new starter. Will they raid the Atlanta Falcons' glut of linemen? Might they take a flier on Robert Gallery? We'll know soon enough.
Establish a strongside linebacker: The position has largely been held by Pisa Tinoisamoa and Nick Roach over the past two years, but both have expiring contracts. It makes sense to re-sign at least one given the lack of offseason work for a presumptive new starter, and Roach is the younger of the two. If the Bears have another player on the roster they've targeted for this job, it's not readily apparent. While they're at it, the Bears should seek depth at defensive tackle following the release of Tommie Harris. They did draft Stephen Paea, but the Bears might pursue Seattle Seahawks free agent Brandon Mebane, as well.
Sift through receivers: From a media perspective, at least, there has been more offseason talk than ever suggesting the Bears will/should/might pursue a free-agent receiver. This year's class is deep, from Sidney Rice to Santonio Holmes to Randy Moss, and a number of other veterans could be available via trade. Coach Lovie Smith has said he wouldn't mind a receiver bigger than his current trio of sub 6-footers, and Devin Hester has lobbied publicly to sign Santana Moss. I think the increased discussion is largely a product of lockout boredom, but it wouldn't hurt the Bears to add depth so that Hester can be used more efficiently.
Top five free agents
: Center Olin Kreutz, safety
Danieal Manning
, punter
Brad Maynard
, linebacker Nick Roach, linebacker Pisa Tinoisamoa.

Detroit Lions
Sign a starting cornerback: The Lions' top cornerbacks under contract are Alphonso Smith and Nate Vasher. Chris Houston, who started 15 games last season, is a free agent, so it's possible the Lions will bring Houston back. Or they could seek an outside upgrade, be it Nnamdi Asomugha or Ike Taylor or Johnathan Joseph. Lions Fever would spike if they can land Asomugha, but they would have to use most of their salary-cap space to do it. For several reasons, the odds are against it.
Sort out the linebacker position: DeAndre Levy is the only linebacker assured a 2011 starting job, but even Levy can't be totally sure if he will play outside or in the middle. That answer will come only after the Lions sift through the available free agents. They could pursue one with a background in the middle, perhaps Stephen Tulloch. Or they could seek an outside linebacker to replace the released Julian Peterson. One of their outside positions is likely to be decided by a training camp competition among incumbents.
Evaluate right tackles: Early indications have been that Gosder Cherilus has made progress from microfracture surgery on his knee. If there is any question, however, the Lions might want to bolster their depth. Corey Hilliard did a decent job as Cherilus' replacement late last season. But keeping quarterback Matthew Stafford healthy is at a premium this season. Do the Lions want to face the possibility of opening the year with a backup plan at right tackle?
Top five free agents:
Linebacker
Bobby Carpenter
, cornerback Chris Houston, linebacker
Landon Johnson
, quarterback
Drew Stanton
, safety
John Wendling
.

Green Bay Packers
Stay the course: It's been well-documented that general manager Ted Thompson hasn't participated much in free agency over the past few years, and it's hard to imagine his changing tack dramatically this summer. Thompson's most important decisions will be deciding which of his pending free agents to re-sign and which ones he should allow to depart.
Re-sign place-kicker Mason Crosby: Thompson gave Crosby a second-round tender in February in the event Crosby wound up as a restricted free agent. That move suggested Crosby is in the Packers' future plans and makes re-signing him one of the first orders of business now that he is an unrestricted free agent. Crosby has had some difficulties over the years, but kicking in Green Bay is difficult given the weather and he has made some important adjustments. Concerns about his kickoffs should be minimized by the NFL's decision to move them up 5 yards.
Think twice: The Packers appear set to let defensive end Cullen Jenkins depart. They can do so knowing they have a number of intriguing young players to compete for that job, from Mike Neal to C.J. Wilson to Jarius Wynn. But another player the Packers might lose, Daryn Colledge, doesn't have an obvious replacement. Would the Packers shift T.J. Lang from backup tackle to guard? Would first-round draft pick Derek Sherrod, their projected left tackle of the future, get a crash course on step down? It's something to think about and, given the lack of an offseason, might spur further discussion about re-signing Colledge.
Top five free agents:
Guard Daryn Colledge, place-kicker Mason Crosby, defensive end Cullen Jenkins, receiver
James Jones
, running backs
John Kuhn
/
Brandon Jackson
.

Minnesota Vikings
Address receivers: Are the Vikings about to bid farewell to receiver Sidney Rice, a 24-year-old who is one year removed from an 83-catch Pro Bowl season? There is nothing they can do to stop it at this point, and Rice seems intent on at least testing his value on the open market. The Vikings spent most of last season searching for a suitable replacement when Rice was injured, and that job will intensify this summer. They have added an additional pass-catching threat in rookie tight end Kyle Rudolph. But if they lose Rice, the Vikings must either sign or trade for an established veteran to join Percy Harvin and Bernard Berrian (if he makes the team).
Find a kicker: The Vikings made no known effort before the lockout to re-sign veteran Ryan Longwell, who has converted 43 of 46 kicks over the past two seasons. It's possible they'll make their move now. But they did not draft a kicker, and if Longwell signs elsewhere, the Vikings will have to scour the always-murky free-agent market. I'm guessing they already have a plan on this issue, but we haven't smoked it out yet.
Establish QB depth: We all know that rookie Christian Ponder eventually will assume the starting job. But are the Vikings comfortable with Joe Webb and Rhett Bomar as their only alternatives if Ponder needs some development time? I'm not sure about that. I also wonder if making Webb the No. 2 quarterback would limit his opportunities to contribute in other ways, perhaps as a receiver or a kick returner. For that reason, it would make sense for the Vikings to seek a quarterback with more experience to pair with Ponder.
Top five free agents:
Defensive end
Ray Edwards
, linebacker
Ben Leber
, place-kicker Ryan Longwell, receiver Sidney Rice, nose tackle
Pat Williams
.
June, 1, 2011
6/01/11
12:19
PM ET
As some of you might know by now, new
Minnesota Vikings
quarterback
Christian Ponder
has organized and financed
a minicamp for Vikings players this week at an IMG Academy in Florida.

Sunday night,
IMG indicated that 11 Vikings players were planning to attend
. Among the names on that list: Receivers
Sidney Rice
,
Percy Harvin
and
Bernard Berrian
, along with tight end
Visanthe Shiancoe
.
According to multiple reporters who are on the scene, none of those four had arrived as of Wednesday morning.
According to Viking Update
, Ponder provided explanations for three of the absences. I'm sorry, but that tweet will go down as the greatest list of excuses since
Ferris Bueller took a day off
.
In sum: Harvin lost his phone, Shiancoe had a late conflict and Berrian missed a flight.
Hopefully. the dog didn't eat their playbooks.
To be fair, no one was obligated to attend this event. There will be other opportunities to gather before the ostensible start of training camp. But now I think you know why some teams are conducting their players-only workouts in private. Namely: to avoid public pressure to attend and discourage public criticism for skipping it.
But I think we can agree that if there is any value to players-only workouts during a lockout, it's to develop timing between quarterbacks and skill players. When the quarterback is new, as Ponder is, you can add a few exponents to that value.
Ponder has taken on a difficult task as a rookie quarterback, trying to operate as a leader in the absence of any alternatives even before he has formally met most of his teammates. He has succeeded in reaching a few of them. Here is the list through a day and a half of practices: Receivers
Greg Camarillo
and
Emmanuel Arceneaux
, tight end and
Kyle Rudolph
, quarterbacks
Joe Webb
and
Rhett Bomar
, center
Brandon Fusco
and safety
Mistral Raymond
.
I don't think we should draw any long-term conclusions, or develop any deep-seated conspiracy theories, about the Vikings' four most prominent pass catchers all coincidentally being unable to attend this minicamp. I mean, who hasn't lost their phone? Or missed a flight? Let's just say that Ponder is finding out how the NFL works -- a little more each day.
January, 3, 2011
1/03/11
12:15
PM ET
After the Minnesota Vikings' 20-13 loss to the Detroit Lions, here are three issues that merit further examination: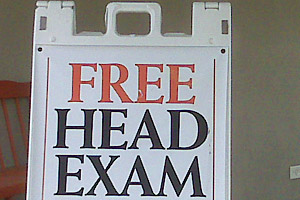 Kevin SeifertFollowing their loss to the Lions, the Vikings make their stop in the examination room.
There are many who believe this season's collapse illustrated the Vikings' need for a single football authority, be it a general manager or a head coach with those responsibilities. But the apparent decision to elevate Leslie Frazier to the permanent coaching job means one of two things: Owner Zygi Wilf has either decided not to streamline his leadership or it has already happened. It wouldn't make sense to hire a general manager with final authority after promoting Frazier. So the only other possibility is that Wilf has already promoted either Rick Spielman (vice president of player personnel) or Rob Brzezinski (vice president of football operations) and not announced it. If I had to guess, however, I would say Wilf will retain the current committee-style leadership structure he has in place, regardless of title.

The Vikings will be in rebuilding mode until they identify and develop a new starting quarterback. They've used the Band-Aid approach since Daunte Culpepper's career-changing knee injury in 2005, and perhaps that will continue in 2011. But none of the three quarterbacks who were active for Sunday's game -- Joe Webb, Patrick Ramsey and Rhett Bomar -- should be candidates for the No. 1 job next season. The Vikings had the NFL's third-worst team passer rating this season (67.7), and they'll have to start from scratch.

With the season finally complete and Frazier's ascendance reported to be near complete, expect to hear a lot about the Vikings' stadium situation for the next few months. Repairs to the Metrodome roof aren't expected to be complete until March, and the team has already expressed concerns about playing there in 2011. They could move to TCF Bank Stadium as part of a larger plan to replace the Metrodome, but that would require Minnesota legislators to act on the team's long-ignored plea for some $700 million in public financing.
*Truncated offseason version
December, 23, 2010
12/23/10
7:55
AM ET
We're Black and Blue All Over:
Hall of Fame quarterback Fran Tarkenton returned to Minnesota last Sunday for the Vikings' 50th anniversary celebration. But Tarkenton left town before Monday night's game against the Chicago Bears, skipped an on-field halftime ceremony and clearly still hasn't come to grips with Brett Favre's two-year tenure as the Vikings' quarterback.

During a
radio interview on 97.5 FM in Philadelphia
, Tarkenton slammed Favre for pushing his way into the lineup Monday night and said Favre has "set the franchise back."
Tarkenton: "It's absolutely selfish. With Brett Favre -- he talks about the team, and I'm for the team and I want to play for my home fans and my teammates. It was "Monday Night Football" last week. He hadn't had enough publicity in the last week. He had been on the bench for two weeks. It's not right. He ought to take himself out of the equation and say 'This is not best for the team.'"
I would agree with that sentiment if Favre had actually leapfrogged a more worthy candidate. I'm not sure if Joe Webb, a rookie whose future could well be at another position, qualified under what was "best for the team" Monday night. But I think we all know where Tarkenton has stood, continues to stand and will forever stand on this issue.
Continuing around the NFC North:
NFC NORTH SCOREBOARD
Thursday, 9/4
Sunday, 9/7
Monday, 9/8