November, 18, 2012
11/18/12
8:00
PM ET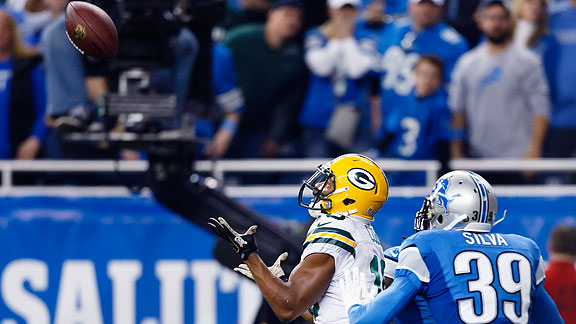 AP Photo/Rick OsentoskiWide receiver Randall Cobb hauled in the game-winner in the Packers fifth victory in a row.
DETROIT -- Remember what
Aaron Rodgers
told
us this summer?
As he sat in the locker room after a late-July practice, Rodgers said the
Green Bay Packers
would be a better team in 2012 than they were in 2011 -- when they finished the regular season 15-1. Rodgers made no prediction on a final record but said: "We're going to play better football. It might not be 15 wins, but I think we're going to be a more sound team."
We're starting to see what Rodgers was talking about.
Sunday's 24-20 victory
over the
Detroit Lions
forced the Packers to take a path they rarely traveled last season but are now on their way to mastering. In winning five consecutive games, the Packers are grinding out victories through unexpected means while slicing through substantial adversity.
The 2011 Packers knew how to score. This season, much as they did during their run to Super Bowl XLV in 2010, the Packers are showing us how to win.
"This is a mature team," Rodgers said Sunday after leading a game-winning drive in the final minutes of the fourth quarter. "We've won a lot of games together. In the past, these are games that we probably come up on the other side. Because of the success that we've had, and understanding what it takes to win, these games are now in the win column for us."
Sunday's victory could be attributed in equal parts to late-game heroics and a strong defensive effort that included a touchdown --
M.D. Jennings
' 72-yard interception return -- and five sacks, even with linebacker
Clay Matthews
sidelined by a hamstring injury. But despite that effort, the Packers trailed 20-14 when Rodgers and the offense took possession with four minutes, 19 seconds remaining in the game.
To that point, the Lions had led the game for nearly 50 of the previous 55 minutes. The Packers offense had scored only once, Rodgers' second-quarter touchdown pass to tight end
Jermichael Finley
, and place-kicker
Mason Crosby
had already missed
two field goals.
At that moment, Rodgers called the Packers' offense together on the sideline. And then, as Rodgers said, "When our best was needed we were able to come through."
Indeed, it took the Packers only six plays to move 82 yards and score the game-winner, a 22-yard pass to receiver
Randall Cobb
. There were two key plays on the drive, and both illustrated what we've seen from this team of late.
The first was a 40-yard pass from Rodgers to Finley on second-and-10 from the Packers' 29-yard line. Just before the play, Rodgers sent a subtle signal to Finley that the ball was likely coming his way on a pass that would travel 2 yards past the line of scrimmage and, Rodgers said, was designed to get into "third-and-reasonable."
Instead, Finley broke two tackles and benefited when receiver
Jordy Nelson
took out two Lions defenders.
"We were just trying to play our type of ball," Finley said.
Perhaps, but I think we're more used to seeing the Packers -- of 2010 and 2011, at least -- throw the ball over the top than watch their tight end break tackles and run 40 yards down the sideline. And we also don't often see Rodgers loft a lazy pass into the end zone, as he did three plays later on third-and-1 from the Detroit 22-yard line.
Cobb ran a corner route but was largely covered by Lions cornerback
Jacob Lacey
. Safety
Ricardo Silva
arrived for help as well, and Cobb said afterwards that his helmet visor was so dirty and sweaty that he didn't see the ball until it was almost in his hands. With Lacey pinning his right arm this his chest and Silva flashing across his face, Cobb still corralled the ball for the score -- his ninth catch of the game and his sixth touchdown in his past four games.
"You don't know how many opportunities you're going to get," Cobb said, "so you've got to make the play when it presents itself."
During the week, coach Mike McCarthy used a clip of "Forrest Gump" to illustrate his message for the week. I don't think McCarthy thought his team would win a laugher in Detroit. With a few exceptions, it hasn't been that type of team this season. McCarthy just wanted his team to "keep playing," he said, much like Forrest Gump just kept running. (I guess. Still trying to figure out that one.)
"Good teams win these kinds of games," McCarthy said. "We're a good team."
I don't want to overstate my position. I suppose it's just as easy to look at the Packers' winning streak as a group of sluggish victories against mostly inferior teams. Yes, the
St. Louis Rams
,
Jacksonville Jaguars
,
Arizona Cardinals
and Lions have a combined record of 12-27-1.
But I guess I see it differently. It sure feels like the Packers have put themselves through a postseason proving grounds over the past five games. That's what this season is about after seeing last year's regular season go for naught.
If I had a choice between a team cruising to regular-season victories and one that's forced to brawl for them each week, I'm taking the latter. Remember something else Rodgers told us this summer:
"One of the things that winning does is it masks some of the issues you might have. When you have a real successful season, the little things get swept under the rug and the big things become little things. It's hard to knock a team on energy and enthusiasm and effort when you're still going out and winning. But it can catch up to you at some point, and it did with us."
I don't see that being an issue in 2012, with the Packers at 7-3 after starting the year 2-3. Do you?
November, 18, 2012
11/18/12
11:41
AM ET
DETROIT -- Greetings from Ford Field, which welcomed me so kindly I felt competed to document it on our new NFC North Instagram account (kevinseifert_espn),
also viewable on Twitter
. We've got the list of inactive players for Sunday's game between the
Detroit Lions
and
Green Bay Packers
, and there are no real surprises.
The Packers won't have cornerback
Sam Shields
(shin), who returned to practice last week but isn't ready to play. Rookie
Casey Hayward
will start in Shields' place, and rookie
Dezman Moses
will start at outside linebacker for
Clay Matthews
(hamstring).
The Lions, meanwhile, will again have backup safeties
Erik Coleman
and
Ricardo Silva
starting for the injured
Louis Delmas
(knee) and
Amari Spievey
(concussion, placed on injured reserve Saturday). Defensive end
Ronnell Lewis
is inactive, allowing former Packers cornerback and new Lions addition
Pat Lee
to be active for this game. Cornerback
Drayton Florence
is also active for the Lions.
November, 15, 2012
11/15/12
4:00
PM ET
Around here, we
learned yet another lesson about the limits of conventional wisdom
last week. Playing without leading receiver
Percy Harvin
, the
Minnesota Vikings
completed 75 percent of their passes and put up 221 passing yards in a 34-24 surprise over the
Detroit Lions
.
Conventional wisdom, of course, would suggest that underwhelming performance by the Lions pass defense doesn't bode well for Sunday's matchup against the
Green Bay Packers
. Quarterback
Aaron Rodgers
might not have played to his 2011 MVP standards this season, but he has thrown 15 touchdown passes and just one interception during the Packers' four game winning streak. Receiver
Jordy Nelson
(ankle) has returned to practice, and this matchup certainly appears to favor the Packers strongly.
Nelson, along with fellow receivers
James Jones
and
Randall Cobb
, will face a secondary that is likely once again to start a pair of backup safeties in
Erik Coleman
and
Ricardo Silva
. Cornerback
Chris Houston
returned to practice Thursday and told reporters he will play Sunday, but he is dealing with an ankle injury serious enough to prevent him from returning to last Sunday's game at the Metrodome. There has been some speculation that the Lions could activate veteran cornerback
Drayton Florence
from injured reserve for reinforcement, but as of Thursday afternoon, no move had been made.
The Packers' offensive weakness this season has been sacks; Rodgers taken an NFL-high 29 of them. Is the Lions defensive line/pass rush up to the task, especially against a Packers offensive line that will feature a new right tackle (
T.J. Lang
) and left guard (
Evan Dietrich-Smith
)?
We noted earlier this week that defensive tackle
Ndamukong Suh
had a strong game against the Vikings despite a light statistical line. But almost sacking Rodgers doesn't mean as much as it would against other quarterbacks. And the bottom line, according to ESPN Stats & Information, is that the Lions are averaging one sack for every 18.1 opposing dropbacks, ranking No. 19 overall in the NFL.
As we learned last week, the moment you think you have this game figured out, it takes a sharp turn on you. But if conventional wisdom holds this week, it's difficult to envision how the Lions will stop the Packers' offense. Overall, the Packers have won 12 of their past 13 games against them, and that lone victory came in 2010, which Rodgers did not finish because of a concussion. That's the view from here, at least. But you already know how much I know.
November, 11, 2012
11/11/12
8:37
PM ET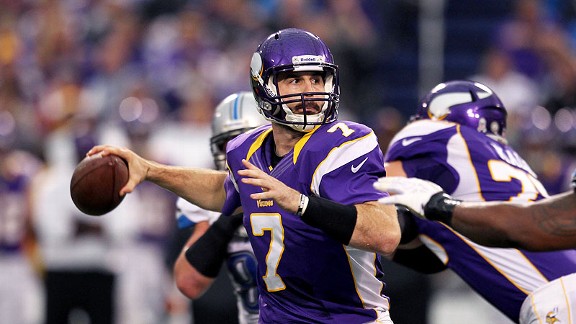 Brace Hemmelgarn/US PresswireNo Percy Harvin, no problem for Christian Ponder, who completed passes to nine different players against the Lions.
MINNEAPOLIS -- When you spend enough time around the NFL, you realize there is an inverse proportion between what you think you know and what you actually know. I'd like a show of hands from those people who genuinely were convinced, without emotion or rooting interest, that the
Minnesota Vikings
would tear up the
Detroit Lions
for 60 minutes Sunday at the Metrodome.
I'm sitting on my hands at the moment. I suspect you are as well.
The Vikings were on a two-game losing streak, on top of a monthlong offensive slump. Receiver
Percy Harvin
was sidelined by an ankle injury. Me? I spent time before the game looking up the NFL record for fewest yards in a game.
(Minus-7, by the Seattle Seahawks in 1979.)
The Lions, meanwhile, had won three of their past four games, and last Sunday they played their most complete game of the season in a victory over the
Jacksonville Jaguars
.
Naturally, the Vikings jumped on the Lions from the outset of Sunday's
34-24 victory
, setting season highs in scoring, total yards (403) and surprises.
"We were never in danger of losing," defensive end
Jared Allen
correctly assessed after a game that dropped the Lions to the far fringes of playoff contention. Because nothing makes sense in this league, the Vikings roared into their bye very much in the playoff conversation at 6-4.
I won't pretend that I suspected or predicted that divisional scenario after 10 weeks of the season. But we can work backward and suggest two recent developments in Minnesota that, in retrospect, indicated the Vikings could straighten themselves out against the Lions.
The first was Harvin's injury, which sparked a reassessment of the offense after a 62-yard passing performance last week against the Seahawks. The Vikings are assuredly a better team with Harvin on the field, but Sunday, offensive coordinator Bill Musgrave and quarterback
Christian Ponder
had no choice but to consider other options.
[+] Enlarge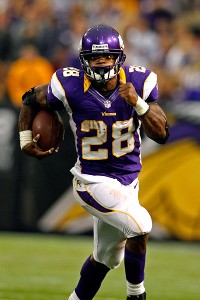 Bruce Kluckhohn/US PresswireAdrian Peterson has rushed for over 100 yards for four straight games.
Ponder spread his 24 completions among nine different pass-catchers -- 10, if you consider his own "reception" on a tipped pass in the first quarter. Tight end
Kyle Rudolph
re-emerged from mothballs with seven receptions for 64 yards and a touchdown, and Ponder finished with his best passer rating (114.2) in two months.
Running back
Adrian Peterson
will get plenty of national air time this week after rushing for 171 yards, bringing his four-game total to 629 yards. But most of the production Sunday came in the fourth quarter after Ponder had established an offensive rhythm.
"[Harvin's injury] could possibly be a blessing in disguise," Peterson said. "Because with Percy out there, we're definitely going to get the ball in his hands, and you see Christian kind of forced into giving it to him sometimes. So with him being out, other guys stepped up. He was able to get back there and just go through his reads and progressions and find the guys that were open."
Whereas Ponder had been in a "funk," Peterson said, he regained his "swagger" early in Sunday's game. That was clear when the Vikings opened the game with an empty backfield. Ponder scanned through three reads on his first pass before settling on fullback
Jerome Felton
for a 5-yard gain. Four plays later, Ponder calmly stepped up in the pocket on third-and-9 and threw deep down the middle to rookie receiver
Jarius Wright
.
Wright was playing in his first NFL game and was looking at his first NFL throw. In practice Friday, he had dropped the ball on that same play. Ponder said he worked with him afterward to "make sure he got it right," and had no hesitation about heaving a 54-yard bomb in the game. The completion was the Vikings' longest of the season, and it set up Wright's eventual 3-yard touchdown reception to open a never-relinquished lead.
The play was no accident. According to Ponder, the Vikings were convinced the Lions would play a soft Cover 2 defense in third-and-long situations. Wright easily ran past safety
Erik Coleman
to get open, the first of at least three big plays on which the Vikings exploited the Lions' undermanned secondary.
(The others: Rudolph broke safety
Ricardo Silva
's tackle attempt on his 20-yard touchdown, and Silva took a poor angle on Peterson's 61-yard score in the fourth quarter.)
"I think coming up and completing passes early was huge for our offense," Rudolph said. "Not only the quarterback but also the wide receivers and the offensive line, just getting in a rhythm as a whole. That's been the biggest thing. We haven't necessarily been having one thing that's hurt the passing game. It's really just having that rhythm and to come out and establish that rhythm."
The second development might have been an off-hand comment defensive coordinator Alan Williams made during his weekly meeting with reporters Thursday. Williams said he had identified several "loaf" plays from last week's game against the Seahawks, and from listening to Allen after the game, it sounds as if more than a few players took note.
"We're not supposed to talk about things in the paper," Allen said with a half-smile. "We're supposed to keep that in-house but I guess that's just for the players. ... But he makes a point. You have to play fast. I think that was more of his point. I hear the word 'loaf,' I think of guys not trying. That's never the case of this team. We've got to play fast to the ball. That's what we did today."
Indeed, the defense looked much more like the swarming, hard-hitting group that helped the Vikings start the season 5-2. The Lions converted only one of nine third-down attempts, and the Vikings were as intent on hitting receiver
Calvin Johnson
as they were in the teams' Sept. 30 meeting that
injured Johnson on multiple levels
.
"They hit him in the head twice," Lions coach Jim Schwartz said. "Only one of them was flagged."
So is this the Vikings team we can expect to see on the other side of their bye, with a remaining schedule that includes two games apiece against the
Chicago Bears
and
Green Bay Packers
? Is this team for real? I won't pretend to make a guess, and neither will anyone else with a brain.
"We're for real this week," Allen said. "That's all I care about. Hopefully we're for real in two weeks, and we'll take it week by week from there."
Sounds like a plan.
November, 1, 2012
11/01/12
12:03
PM ET
The
Detroit Lions
started the 2012 draft with a significant need at cornerback and finished it with three mid-to-late round prospects to throw in the mix.
One,
Chris Greenwood
, has spent the season on the physically unable to perform (PUP) list and only recently began practicing. A second,
Jonte Green
, has been pressed into action because of multiple injuries. The third -- and most intriguing -- just saw his season end because of a shoulder injury that might require surgery.
Bill Bentley
played in four games this season, starting three,
after earning a spot
among the Lions' top three cornerbacks in training camp.
To me, the question is whether we saw enough from Bentley's abbreviated rookie effort to project him as a potential starter in 2013. All four veteran cornerbacks on the Lions' roster --
Chris Houston
,
Jacob Lacey
,
Drayton Florence
and
Alphonso Smith
-- are eligible for free agency after this season. That predicament suggests some offseason roster shuffling, and it would be natural for the Lions to look to a 2012 draft choice for a starting role.
What did we see from Bentley this season? For one, he wasn't often healthy. He suffered a concussion in Week 1 against the
St. Louis Rams
and dealt with the shoulder injury for much of his remaining three games. Bentley committed five penalties in those four games, more than all but three NFL cornerbacks over the eight-week season,
according to Pro Football Focus (PFF)
. Four of those penalties were for pass interference, a not-uncommon mistake by rookies as they learn the speed of the NFL game.
Opponents targeted a receiver Bentley appeared to be covering on 20 passes, of which 17 were caught, according to PFF. He had neither an interception nor a pass defensed.
We won't use the rookie performance of a cornerback to make a final judgment on his future. But it would have been nice, both for us and the Lions, to get a longer look at Bentley to feel more comfortable about penciling him a prominent role for 2013.
For now, the Lions probably will play with Houston, Lacey and Green or Smith as their top three cornerbacks. (Veteran
Don Carey
will sign to provide depth.) Florence could return from a fractured arm later this month. Sunday against the
Jacksonville Jaguars
, it's possible the Lions' starting lineup will include Houston and Lacey at cornerbacks with
Erik Coleman
and
Ricardo Silva
at safety. Starting safeties
Louis Delmas
(knee) and
Amari Spievey
(concussion) haven't practiced this week.
October, 28, 2012
10/28/12
4:26
PM ET
A few thoughts on the
Detroit Lions
'
28-24 victory
over the
Seattle Seahawks
at Ford Field:


What it means:
The Lions improved to 3-4, and all three victories this season have required a fourth-quarter comeback. I don't know if that's a good or a bad thing, but as
we've said many times,
you're a fool to count out this team if its late-game deficit is at all manageable.
Comeback king:
Quarterback
Matthew Stafford
played his best game of the season, completing 34 of 49 passes for 342 yards. He threw for three touchdowns, including the game winner to receiver
Titus Young
with 20 seconds remaining, and also ran for a touchdown. His composure on the Lions' final drive -- a 16-play, 80-yard monster over five minutes, seven seconds -- was incredible. And here is a nearly unbelievable statistic: Stafford has won 16 career starts, and eight of them have required a fourth-quarter comeback. (He put together a total of nine game-winning drives.)
YoungWatch:
We finally saw Young live up to the hype surrounding him after training camp. In the Lions' first game without veteran
Nate Burleson
, he stepped up for nine catches, 100 yards and two scores -- the game winner and also a 46-yarder down the seam in the second quarter. I wasn't a huge fan of his extended celebrations after the scores, but I understand it's been a frustrating year for him. Young's performance helped mitigate a quiet game from
Calvin Johnson
, who caught three passes and dropped a sure touchdown four plays before Young's game winner.
Injury report:
Safety
Louis Delmas
did not return after injuring his left knee -- the same knee that required surgery in August -- in the third quarter. The Lions finished the game with
Erik Coleman
and
Ricardo Silva
(replacing
Amari Spievey
) at safety. The Seahawks did a nice job targeting some other injury replacements. Receiver
Sidney Rice
beat cornerback
Alphonso Smith
for a touchdown; Smith was playing because
Jacob Lacey
and
Bill Bentley
were out. Meanwhile, tight end Zach Miller's 16-yard touchdown in the fourth quarter came against linebacker
Ashlee Palmer
, who started for the injured
DeAndre Levy
, to give the Seahawks a 24-21 lead.
What's next:
The Lions will play at the
Jacksonville Jaguars
next Sunday.
September, 30, 2012
9/30/12
11:48
AM ET
GREEN BAY, Wis. -- Soon I'll be headed to Lambeau Field to position myself in front of the television in time for the start of Sunday's NFC North battle between the
Detroit Lions
and
Minnesota Vikings
. Until then, be advised there was one surprise in the Sunday morning roster maneuvering.
The Lions will start safety
Ricardo Silva
one day after promoting him from the practice squad. He'll replace
Amari Spievey
, who apparently had earned his starting job back but is inactive Sunday because of a groin injury. The Lions' other question of Sunday morning, running back
Mikel Leshoure
, is active and will start.
The Vikings, meanwhile, made room on their game-day roster for receiver
Jerome Simpson
by deactivating receiver
Stephen Burton
, who had appeared in the Vikings' first three games.
Jamarca Sanford
will start for injured safety
Mistral Raymond
, as expected.
August, 31, 2012
8/31/12
10:32
PM ET
Click
here
for the complete list of
Detroit Lions
roster moves.

Most significant move:
The Lions showed their commitment to fixing the secondary by keeping four new cornerbacks --
Kevin Barnes
,
Jacob Lacey
and draft choices
Bill Bentley
and
Jonte Green
. They left themselves thin at safety, though. The Lions retained five safeties from last year --
Louis Delmas
,
Amari Spievey
,
Erik Coleman
,
John Wendling
and
Ricardo Silva
-- but not adding a new safety is a little surprising considering the knee problems Delmas has dealt with. At corner, though, the Lions have a nice mixture of veterans and youth. Lacey is at least a solid third corner, Barnes came over from the Redskins in a trade, and
Chris Houston
is a solid starter. The Lions released
Alphonso Smith
,
Justin Miller
and
Ross Weaver
, who fell behind in the cornerback race.
Onward and upward:
Defensive end
Everette Brown
and defensive tackle
Andre Fluellen
had decent camps and could be picked up by other teams. Brown was particularly solid as a pass-rusher during the preseason. Still, it was going to be hard for Brown to crack the top four at defensive end with
Kyle Vanden Bosch
,
Cliff Avril
,
Lawrence Jackson
and
Willie Young
ahead of him. Brown's only hope was beating out fourth-round choice Ronnell Young, but the Lions wisely made a commitment to their draft board by keeping seven draft choices.
What next:
The Lions need to start thinking about locking up some of their defensive starters. Avril,
Corey Williams
,
Justin Durant
,
DeAndre Levy
, Houston and Delmas are unrestricted free agents. Spievey is a restricted free agent. That won't be easy. The Lions have less than $2.5 million of cap room, so they might be able to get only one deal done. They can't do a long-term deal with Avril because they come to an agreement by July 15. Franchise players have to settle for the one-year deal after that date. The Lions may have to put the franchise tag on Delmas after the season and then get a long-term deal done with Avril in February.
November, 29, 2011
11/29/11
6:00
PM ET