December, 2, 2013
12/02/13
11:15
AM ET
GREEN BAY, Wis. -- Brett Favre won all three of his NFL Most Valuable Player awards before the age of 30.
The former
Green Bay Packers
quarterback was 26 when he won the first one in January of 1996. He won his three MVPs in consecutive years, meaning his last one came at the age of 28.
Aaron Rodgers
was 28 he was named the NFL's MVP on Feb. 4, 2012.
The Packers' current quarterback turned 30 today. So does that mean his best years are behind him?
Probably not.
That Favre's MVP seasons all came in his 20s has not been the norm for award-winning quarterbacks in recent years.
Dating to the 2001 season, for which
St. Louis Rams
quarterback Kurt Warner was the MVP, 10 quarterbacks have won the award. Seven of them, including Warner, were in their 30s.
Rodgers is under contract through the 2019 season thanks to the extension he signed in April. He will be 36 years old when that deal expires.
How many more MVP-type seasons would be it reasonable to expect? This season, even if Rodgers returns this week from his broken collarbone --
which is still a big if
-- is lost in terms of his MVP candidacy. However, based on the past winners, the answer to that question would seem to be several.
An NFL scout told me last week he thought Rodgers had four more "great seasons" in him.
Three non-quarterbacks have won the MVP since 2001. All were running backs, and all were in their 20s -- Shaun Alexander (28), LaDainian Tomlinson (27) and
Adrian Peterson
(27). That's not surprising considering the shelf life for running backs is much shorter than for quarterbacks.
June, 6, 2013
6/06/13
8:55
AM ET
We're Black and Blue All Over:
Good morning from back at NFC North blog headquarters, where I arrived safely Wednesday night after two days at Green Bay Packers minicamp.
I'm planning to empty my notebook of a round of tidbits picked up over the two practices and access periods, saving a few topics for analysis later this summer. And I'm sorry to report that we in fact will not have a SportsNation chat today as originally indicated.
I wasn't available at the time they wanted me and they didn't have a slot for the time I needed to chat. Sometimes, everyone needs to go back to their corner to regroup. We'll do just that.
For now, our morning tour around the division:
May, 24, 2013
5/24/13
8:10
AM ET
We're Black and Blue All Over:
Thursday,
we broached the topic
of whether the Chicago Bears would retire the number of middle linebacker Brian Urlacher. As it turns out, the team is dealing with a backlog on that issue.

Almost a half-century after playing his final game with the team, Mike Ditka will have his No. 89 retired this season, according to
Brad Biggs of the Chicago Tribune
. (The Bears have
since confirmed the report
.) As Biggs explains, Ditka has had his ups and downs with the franchise after both his playing career and coaching tenure the latter of which brought the Bears a Super Bowl championship in 1985.
It's the first such gesture by the Bears since 1994.
Modern-day fans might remember Ditka as a coach, but I wonder how many know that he was the No. 5 overall pick of the 1961 draft and went to five Pro Bowls in his first six seasons. He was a two-time All-Pro, still ranks first on the Bears' all-time receiving list for tight ends and was inducted into the Pro Football Hall of Fame in 1988.
Congratulations to Da Coach, who is now an ESPN analyst.
Let's continue our morning tour around the NFC North:
January, 16, 2013
1/16/13
8:15
AM ET
In the middle of a cold January night, the
Chicago Bears
hit a brilliant home run. Either that, or they struck out wildly. I just don't see much gray area in their
decision to hire Marc Trestman
as their next head coach, a man who was once a hot coaching candidate but was so thoroughly rejected by NFL teams that he fled to the CFL five years ago.
The Bears were so excited about hiring Trestman as their next head coach that they announced it in a press release issued at 4:07 a.m. local time. His arrival is either a stroke of genius for general manager Phil Emery, who clearly sought an offensive guru for this role, or a classic case of overthinking a process in hopes of finding the perfect candidate in an imperfect world.
There was a time when Trestman was the Mike McCoy of the NFL -- the league's top young offensive assistant with an impressive résumé of success who seemed destined for a head coach's job. That time, quite frankly, was more than two decades ago and predates the teen years of most players on the Bears' roster.
[+] Enlarge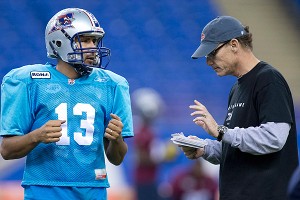 AP Photo/The Canadian Press, Paul ChiassonMarc Trestman led the Montreal Alouettes to three appearances in the Grey Cup, including consecutive championships in 2009 and 2010.
Trestman's offenses were explosive and innovative and loved by the quarterbacks who ran them. In recent days,
some of those quarterbacks have advanced the cause
of a coach they feel was unfairly passed over. We've heard from Rich Gannon and Steve Young, among others. They've spoken of Trestman's work with them, along with his success in developing a long list of other quarterbacks that include Bernie Kosar, Jake Plummer and Scott Mitchell. And Trestman's biggest benefactor might be former Hall of Fame coach Bud Grant, who hired him with the
Minnesota Vikings
in the mid-1980s.
You would be excused for a double-take after reading those names. Grant retired for good in 1985. Kosar has been out of the NFL for 17 years. Young's last season with Trestman was 1996. Mitchell last played in 2001. Today's NFL players probably view Gannon, the league's MVP in 2002, as a television analyst more than a contemporary.
In an industry in which teams are always looking for the next great head coach, Trestman was passed over repeatedly and without fail. His NFL success dates back to a long-gone era in a fast-moving league.
So in my view, Emery has either plucked a savant with exceptional ability to adapt over time or he has hired a relic based on a profile -- smart, innovative with head-coaching success -- whose window closed a long time ago.
As we noted earlier this week
, men of Trestman's age (57) almost never get a chance to be a first-time NFL head coach. Fair or not, general managers and owners value recent success and surely connect it to understanding the latest trends in the league.
Trestman's run as an NFL assistant began in 1985 -- when Bears quarterback
Jay Cutler
was 2 years old -- and ended around 2002. His last NFL job, before he returned to the college ranks and later moved to the CFL's Montreal Alouettes, was in 2004. Eight years is a long time to be away from the day-to-day workings of an industry.
To be clear, that alone doesn't make Trestman a bad hire or even over the hill. It means he is unique relative to the way NFL teams have typically done business in recent years, and it's why I think his chances to be a brutal strikeout are just as high as the possibility that he is a monster home run.
Living in Minnesota for the past 13 years, I can't tell you how many people I've heard speak reverentially about Trestman, a native of the Minneapolis suburb of St. Louis Park who played at the University of Minnesota. Those people range from Grant to Gannon to people Trestman went to high school with. They all believe he is a brilliant offensive strategist and quarterback guru, one whose professorial and quiet demeanor perhaps clouded the view of NFL teams who questioned his ability to command a room and lead an entire team. His name has been championed for every head-coach opening the Vikings and the University of Minnesota have had since I've lived here, and yet he has never received serious interest.
In terms of profile, Trestman fits everything you would imagine a general manager such as Emery would want. He has previous success in developing quarterbacks and has the capacity to elevate Cutler's game if the quarterback buys in. His ego is small enough, by all accounts, to trust the front office with all personnel moves. He was humble enough to take a CFL job and good enough to win two Grey Cups in the process.
But any skepticism is completely understandable. That previous NFL success is in many cases decades old, with schemes whose popularity have waned and with quarterbacks who haven't played in a long time. His success in Canada is better than the alternative, but the CFL is undeniably a different game at a lower level of competition with players of dissimilar mindsets than those in the NFL.
Without question, hiring Marc Trestman was a courageous decision. There are plenty of people who consider it brilliant and decades in the making. The bottom line, however, is that most of the NFL rendered its judgment on him -- right or wrong, fair or otherwise -- a long time ago. Are the Bears smarter than everyone else? We'll soon find out.
January, 11, 2013
1/11/13
8:40
AM ET
We're Black and Blue All Over:
Longtime head coach and current Fox broadcaster Jimmy Johnson caused a stir early Friday morning
with this tweet:

"Looks like 2 of my guys getting NFL jobs..Chud Cleveland and my QB coach at U Trestman to Chicago"
The Chicago Bears portion of that tweet refers to Marc Trestman, who was with Johnson at the University of Miami in the early 1980's and then spent nearly 20 years as an NFL assistant -- including two stints with the Minnesota Vikings and another with the Detroit Lions. He has spent the past the past five years as the head coach of the CFL's Montreal Alouettes and is known as a creative offensive mind.
The Cleveland Browns hired the other coach in that tweet, Rob Chudzinski, late Thursday night. Does that mean the Bears are going to hire Trestman? He was scheduled to interview earlier this week, but I honestly have no confirmation that the Bears have developed a list of finalists, much less zeroed in on a likely hire. At last check, they still had multiple first interviews with other candidates scheduled through the weekend.
At the same time, Johnson remains plugged into the league rumor mill and his thoughts aren't to be dismissed. So we will have to stay tuned on that one.
Continuing around the NFC North:
December, 30, 2011
12/30/11
1:30
PM ET
»
NFC Final Word
:
East
|
West
|
North
|
South
»
AFC
:
East
|
West
|
North
|
South
Five nuggets of knowledge on Week 17:
Lambeau Field rematch:
The season's first game between the
Green Bay Packers
and
Detroit Lions
was a tense, physical and emotionally-charged Thanksgiving Day affair
that included two ejections
and eventually ended in a 27-15 Packers victory. The rematch figures to be less intense. The Packers are hoping to become the sixth team in NFL history to win 15 games in the regular season, but they aren't likely to sacrifice their health to do it. It's likely that coach Mike McCarthy will empty his bench at some point, even if most of his regular players start the game. Historically, the Packers have been strong finishers regardless of the circumstances. They have won their final regular-season game for eight consecutive years, the best active streak in the NFL, and are 16-1 in regular-season finales since 1994.
[+] Enlarge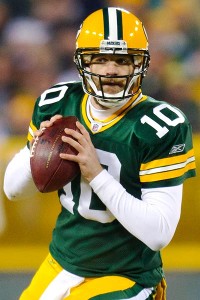 Jeff Hanisch/US PresswireThe Lions will also have to prepare for Matt Flynn for their Week 17 game against the Packers.
Lions positioning:
The stakes are simple for the Lions. A victory would be their first in the state of Wisconsin in 20 years, ending the longest streak of consecutive road losses to one opponent in NFL history at 19. It would give them their first 11-victory season since 1991, and would also clinch them the NFC's fifth seed in the playoffs and a first-round matchup at the winner of Sunday night's game between the
Dallas Cowboys
and
New York Giants
. Even if they lose, the Lions would still be the fifth seed if the
Atlanta Falcons
lose to the
Tampa Bay Buccaneers
. Otherwise, they will be the No. 6 seed and face a trip to play either the
New Orleans Saints
or the
San Francisco 49ers
.
Unleash Flynn:
McCarthy hasn't said much about his personnel plans for Sunday's game, but
he apparently told
former NFL quarterback and current broadcaster
Rich Gannon
that backup
Matt Flynn
will get at least some action. Starter
Aaron Rodgers
has suggested that Flynn is ready to compete for another team's starting job, and Flynn could sign elsewhere this offseason as a free agent. But there is a limited amount of regular-season tape to evaluate Flynn on, and none of it is from this season. So that makes whatever time he gets in Sunday's game particularly valuable to his future.
Quarterback issues:
The
Chicago Bears
will start 32-year-old journeyman quarterback
Josh McCown
at the Metrodome on Sunday, which I suppose is merited after his better-than-expected performance Sunday night against the Packers. But I strongly agree with
Dan Pompei of the Chicago Tribune
, who wrote this week that the Bears would be ignoring the central flaw of their season by not giving rookie
Nathan Enderle
extensive playing time. Backup quarterback
Caleb Hanie
flopped after taking over for injured starter
Jay Cutler
, sparking what is now a five-game losing streak. Part of developing backup quarterbacks is getting them regular-season playing time. If you can't squeeze a rookie quarterback into a Week 17 game after you've been eliminated from the playoffs, when can you? If Enderle is so ill-prepared that the Bears deem him unfit for even that assignment, they might as well cut their losses with him now.
Vikings stakes:
I wonder if Vikings fans are rooting for a victory or loss Sunday against the Bears. A win would allow them to avoid tying the franchise record for most losses in a season (13). They would also circumvent their first winless division record in team history. On the other hand, a loss would give the Vikings a top-three pick in the 2012 draft. A victory could drop them as far as No. 6. One thing is for sure: Everyone will be rooting for the Vikings to get into a goal-line situation. Coach Leslie Frazier has already said he'll give the ball to tight end/H-back Jim Kleinsasser, who will be playing in his final career game.
December, 29, 2011
12/29/11
4:15
PM ET
It's been interesting listening and reading to the NFC playoff scenarios this week. It usually goes something like this:
The Detroit Lions can clinch the No. 5 seed with a victory against the Green Bay Packers at Lambeau Field.


I wonder if everyone realizes how monumental that would be. (And not because of Lions center Dominic Raiola's tongue-in-cheek assessment of Packers fans, either. More below.)
It's been more than 20 years since the Lions last won a game in Wisconsin: A 21-17 victory by a Lions team on its way to a 12-4 season against a Packers team that was nearing the end of a 4-12 campaign. Erik Kramer threw two touchdown passes for the Lions on a 10-degree day, and Mike Tomczak's late touchdown pass to Vince Workman left the Packers four points short.
The Lions' ensuing 19-game losing streak in Green Bay/Milwaukee is the longest against a single opponent in NFL history, according to the Elias Sports Bureau.
"I think it had a lot to do with the guys they had playing quarterback since 1991 more than anything," Lions coach Jim Schwartz said.
Which brings us to Sunday. Packers coach Mike McCarthy hasn't announced his personnel plans, but with the Packers unable to improve their playoff standing, it's hard to imagine that he will play quarterback
Aaron Rodgers
the entire game. (Former NFL quarterback Rich Gannon
tweeted Thursday
that he spoke with McCarthy and that people "should expect to see some of" backup
Matt Flynn
.)
The Lions have a bit more incentive, given the consequences for a fifth seed over a sixth. It makes sense for the Packers to pull back and for the Lions to push full steam ahead. In all likelihood, the game will hang on a matchup between Flynn and
Matthew Stafford
. Will that be the combination that ends the streak? I doubt the Lions will care.
Related:
I doubt it will faze the Packers, but their fans will probably be motivated to see the Lions lose again after reading Raiola's comments made Thursday in Detroit. According to
Dave Birkett of the Detroit Free Press
, Raiola was asked about the Green Bay "tradition" of mooning the visiting buses when they arrive at Lambeau Field. Raiola: "I get to the stadium too early. I don't see that. But that'd be pretty awesome to see. I don't know if I want to see any of those people naked. They're not in real good shape up there." Later, according to
Chris McCosky of the Detroit News
, Raiola added: "It looks like they live a simple life. They love the Pack and that's pretty much it."
October, 25, 2011
10/25/11
2:01
PM ET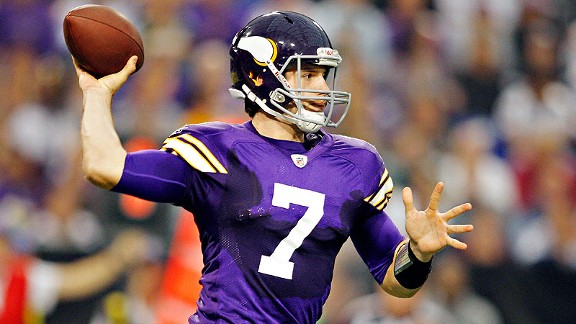 Bruce Kluckhohn/US PresswireChristian Ponder, the Vikings' 2011 first-round pick, made his first start this week.
Two ingredients are mandatory for the success of an NFL franchise.
You need a quarterback to win games and a modern stadium to make money.
And at this moment, it's uncertain whether the
Minnesota Vikings
have either.
So pardon the dramatics, if you will, but I truly believe the Vikings are entering the most critical time period in their 51-year existence.
During the month, they will find out whether the state of Minnesota will finance a new stadium or risk losing them to another market. And by the end of 2011, the Vikings should have a decent idea whether rookie
Christian Ponder
is a true franchise quarterback or just the next in a long line of short-term starters.
Check out the chart to your right. Since their inception in 1961, the Vikings have had only three quarterbacks I would consider long-term starters. Fran Tarkenton (13 seasons), Tommy Kramer (seven) and
Daunte Culpepper
(five) are the only quarterbacks to have been the Vikings' primary starter for more than three seasons.
The Vikings have filled the other 26 years with a mishmash of journeymen (Gary Cuozzo,
Wade Wilson
and
Rich Gannon
) and big-time veterans at the end of their careers (
Warren Moon
,
Brett Favre
,
Randall Cunningham
and
Jim McMahon
). Their hope is that Ponder, 23, will put an end to their annual search for a Band-Aid solution.
If first impressions mean anything, Sunday's debut performance against the
Green Bay Packers
was encouraging. Ponder threw aggressively downfield; seven of his 13 completions went for at least 15 yards. He was mobile, routinely buying extra time outside the pocket and gaining 31 yards on four scrambles. And he without question brought an energy and confidence to an offense that seemed to be treading water for the season's first six games.
"He took charge with confidence," tailback
Adrian Peterson
said. "He never seemed rattled. Just very comfortable, which is something I am very excited about. He bounced back from two interceptions and continued to go strong, which says a lot about him as a leader."
Peterson said the difference was "definitely very noticeable" and, as someone who just signed a seven-year contract extension, seemed optimistic about the franchise's future.
Smart Vikings observers know not to overreact to the emotional debut of a quarterback candidate, and there are plenty of unanswered questions about Ponder's long-term viability. After watching him float a few passes to the Packers' secondary, I would rank arm strength atop that list. But the next nine games should give us a good sense of where his career is headed.
If all goes well, Ponder will be the Vikings' quarterback when they open their next stadium. Where that facility will be located, of course, remains a topic of fierce debate both in Minnesota and in the NFL offices.
[+] Enlarge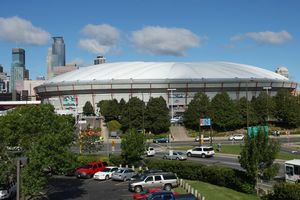 Doug Pensinger/Getty ImagesThe Vikings' lease at the Metrodome, their home since 1982, expires in less than four months.
The Vikings' lease at the Metrodome expires in less than four months -- on Feb. 1, 2012. A top league official has already acknowledged the Vikings would be free to pursue relocation options at that point, and owner Zygi Wilf has said he won't sign a short-term lease extension at the Metrodome without financing approval for a new stadium.
Without a deal in place by Feb. 1, the Vikings could technically move to Los Angeles or another market in time for the 2012 season, provided NFL owners grant approval. That timetable has finally moved a decade-long conundrum to the front burner of Minnesota politics, putting enormous pressure on a resolution -- one way or the other -- before Thanksgiving.
Gov. Mark Dayton has set a Nov. 7 deadline for settling on a project site and plan. Wilf prefers a suburban site for a project that would cost $1.1 billion, but powerful members of the business community are pushing for a site in Minneapolis. After making his recommendation, Dayton will oversee two weeks of debate and public hearings prior to a proposed Nov. 21 special session of the state legislature to vote on the final package.
Anything short of approval at that point almost certainly would push the next round of debate past the expiration of the Vikings' lease.
Would Wilf commence relocation efforts in February? Last week, NFL executive vice president Eric Grubman told
1500ESPN.com
: "[T]hey are free to explore their options and from all I know they already could be exploring their options. They do not need clearance from us."
It's more likely that Wilf would put the franchise up for sale under that scenario. Presumably, the new buyer would pursue relocation. In either event, we'll know in a matter of weeks whether that possibility will even exist. Barring an extension of Dayton's pre-holiday deadline, Judgment Day is coming for the Vikings -- both on and off the field.
October, 27, 2010
10/27/10
7:35
AM ET
We're Black and Blue All Over:
The Detroit Lions return to action this week to host the Washington Redskins. And make no mistake: The Lions are more optimistic following their bye week than at any point in recent years. Quarterback Matthew Stafford and middle linebacker DeAndre Levy are among those set to return from injuries, and even at 1-5 the Lions are only two games behind the NFC North leaders in the loss column.

Defensive lineman Kyle Vanden Bosch noted the Lions need to play better but believes a week of practice during the bye has put them on the right track.
Vanden Bosch (via Chris McCosky of the Detroit News): "There seems to be more parity this year than I can remember. At 1-5, I don't think anybody around here feels like we've been eliminated. ... Now, we have to play a lot better. We have to play the way we are capable of and start cleaning up a lot of things. I think we've taken a big step [during the bye] in cleaning up some of our mistakes and hopefully we are going to stop beating ourselves."
Before the season is over, the Lions will host the Green Bay Packers, Chicago Bears and Minnesota Vikings at Ford Field. As we've written before, the road to the NFC North title will go through Detroit, one way or the other.
Continuing around the NFC North:
August, 31, 2010
8/31/10
7:20
AM ET
We're Black and Blue All Over:
We've got a big day coming here on the NFC North blog, so let's get straight to our morning roundup:
December, 10, 2008
12/10/08
7:14
AM ET
Posted by ESPN.com's Kevin Seifert
Two former Purdue quarterbacks will meet Thursday night at Soldier Field, one at the top of his game and one striving to meet him there.
With 4,100 passing yards this season, New Orleans' Drew Brees has a chance to break Dan Marino's all-time NFL record of 5,084. yards. Chicago's Kyle Orton is enjoying the best season of his career in 2008, but Mike Mulligan of the Chicago Sun-Times puts the pair in perspective: "Brees is the type of player Orton hopes to become."
The players are different in most every way, but Mulligan points out that they both learned the game in Purdue's wide-open passing offense, one that puts the quarterback's first read on the deep pass and then moves closer to the line of scrimmage. The father of that offense, Purdue coach Joe Tiller, is expected to attend Thursday's game.
Look for a couple of preview posts on this matchup over the next two days as well as an extended postgame analysis Thursday night.
Continuing our morning jaunt through the NFC North: