February, 28, 2014
Feb 28
2:25
PM ET
In the past two days, the
Detroit Lions
have been given an idea of what the team might see when free agency starts March 11.
And they have had to make no moves of their own to do so.
By Philadelphia re-signing wide receiver
Riley Cooper
and Baltimore hanging on to tight end
Dennis Pitta
, two of the positions the Lions will potentially look to the most in free agency, Detroit now has a base of what could be expected.
Cooper signed a five-year
, $25 million contract after a breakout season where he caught 47 passes for 835 yards and eight touchdowns. In a deep crop of free agents at his position, Cooper was part of a tier of player that the Lions are likely going to look at to potentially fill a need, so this gives them a market value to work off of.
Pettigrew
Pitta's signing, as first reported by the Baltimore Sun, does more to shape Detroit's free agency than Cooper's will.
Pitta's contract will be five years for $32 million
, according to ESPN Insider Adam Schefter, and it could give an idea of what the Lions' own comparable tight end in the free agent market,
Brandon Pettigrew
, might want.
It would be logical to think that Pettigrew would at least seek out a deal similar in value to Pitta and depending how Detroit feels about that situation, could give an early indication whether the team might feel that is worth it to pursue.
Pettigrew actually put together better statistics than Pitta during the overlapping parts of their careers -- Pettigrew has one more year of service than Pitta -- but they are capable of doing similar things. Both are tight ends who are considered dual-purpose, meaning they can block and catch, so that helps set the market even further.
The final piece of this, and perhaps the reason why Pettigrew might end up leaving Detroit, is he might now be the top free-agent tight end. With
New Orleans using the franchise tag
on
Jimmy Graham
and the signing of Pitta, Pettigrew and Buffalo's
Scott Chandler
are now the top free-agent tight ends likely to hit the market in less than two weeks.
That could drive the value for Pettigrew higher than it might have been had Pitta not re-upped with the Ravens.
Detroit general manager Martin Mayhew said at the NFL combine a week ago that Pettigrew is a priority free agent for the Lions, but like with every move the team makes, everything will be interconnected both with comparative value through the rest of the league and also how it fits with other free agents the Lions are going to try and acquire.
November, 7, 2013
11/07/13
12:00
PM ET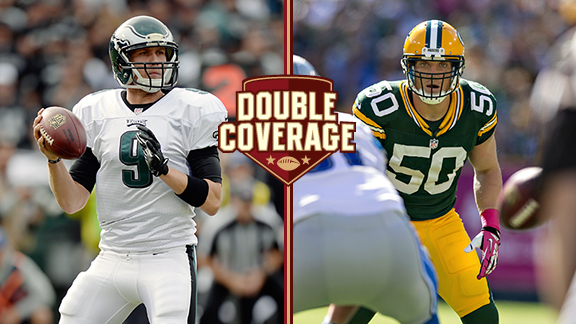 Getty ImagesNick Foles and A.J. Hawk meet Sunday in Green Bay in a game that's turned in the Eagles' favor.
If you expected the
Philadelphia Eagles
to have the edge at quarterback for their Week 10 meeting against the
Green Bay Packers
at Lambeau Field, go to the head of the class.
The teams play Sunday, a week after their quarterbacks made headline news. The Pack's
Aaron Rodgers
broke his collarbone in Monday night's loss to the
Chicago Bears
, a day after the Eagles'
Nick Foles
tied the NFL record with seven touchdown passes against the
Oakland Raiders
.
A game that looked to be safely in the Packers' column is suddenly wide open. NFC North aficionado and all-around NFL expert Kevin Seifert breaks down the game with ESPN.com Eagles reporter Phil Sheridan.
Phil Sheridan:
I'll start with the obvious one: Can the Packers win without Rodgers? Did they take his durability for granted in not having a better backup in place?
Kevin Seifert:
On a local level, the backup quarterback has been an annual source of controversy for the Packers throughout Rodgers' career as a starter. Nationally, most people didn't find out about it until Monday night.
Seneca Wallace
is the backup only because he was available when they realized none of the players they took to training camp was up to the job. He is 6-15 in his career as a starter, and his career seemed over in August 2012 when the
Cleveland Browns
released him.
The Packers' entire scheme is built around Rodgers doing things that only Rodgers can do. Think of what happened when the
Indianapolis Colts
played without
Peyton Manning
in 2011. The Packers will need to make fundamental changes to their offense -- and expect substantial elevation in other areas of their team -- to make it through this wilderness.
I have to imagine the Eagles can't believe their luck to be facing Wallace instead of Rodgers, huh?
Sheridan:
They are saying all the right things about wanting to face the best and never wanting to see anyone get hurt, but they aren't oblivious. This game looked like a double-digit loss the day the schedule came out, and it still looked like an easy Packers home win until Rodgers' collarbone broke Monday night. So it not only becomes a winnable game for the Eagles, it comes when a win, combined with a Dallas loss (the Boys are in New Orleans), would move them even with the Cowboys at 5-5.
And it's not like the Eagles owe anybody an apology when it comes to luck. They haven't had a quarterback start and finish two games in a row since September, and they've been down to
Matt Barkley
twice.
They may not have a starter as good as Rodgers, but their backup isn't half bad. Foles threw for seven touchdowns Sunday against an Oakland defense that didn't blitz or, at times, even cover receivers. Given Dom Capers' background, how would you expect him to respond to a challenge like this?
Seifert:
Capers is known for major scheme changes from week to week, depending on matchups. But as usual, the Packers are dealing with injuries that will limit his options. They are down four linebackers at the moment, although the Packers are hopeful that
Clay Matthews
can return soon -- if not Sunday -- and play with a club to protect his broken thumb.
In short, I'm not sure how many options Capers will have. He does have a group of talented cornerbacks --
Tramon Williams
,
Sam Shields
,
Casey Hayward
and
Davon House
. Capers will have to hope that they can stick with the Eagles' group of perennial All-Pros and future Hall of Famers better than the Raiders did.
Are the Eagles' receivers really that good?
Sheridan:
If they are, they have managed to keep that greatness a secret until Sunday in Oakland.
DeSean Jackson
is a dynamic player, no question about that, but he has been taken out of games in the past when cornerbacks get physical with him. The Raiders did not, and Jackson went off.
As for
Riley Cooper
and
Jason Avant
, they have not made up for the loss of
Jeremy Maclin
to a torn ACL during training camp. Cooper had great numbers Sunday -- five catches, three touchdowns, 139 yards -- but he has been neutralized more often than not during the season.
Tight ends
Brent Celek
and
Zach Ertz
had big numbers at Oakland too. So either the Eagles offense really turned a corner or the Raiders just didn't have anyone playing corner. Maybe a bit of both.
The Packers have added a more robust running game to their offense this season. Now that Rodgers is hurt, can
Eddie Lacy
& Co. carry the team until the quarterback is back? Is that even possible in this pass-happy league?
Seifert:
I tend to doubt it. Up until Monday night's game against the Bears, much of the Packers' success in the run game came against light boxes (six men or fewer) designed to focus first on the pass, according to the charting we get from ESPN Stats & Information. The Bears brought a safety into the box Monday night and the Packers still rushed for 199 yards, but we should note that the Bears have the NFL's fourth-worst rush defense this year.
And even when you run successfully, it usually takes longer to score and thus your total points can drive down. The Packers were averaging 30 points per game before scoring 20 Monday night against the Bears.
How do you think the Eagles will approach it? Eight men in the box? Nine? How about 11?
Sheridan:
This sets up a bit like the Tampa Bay game, I guess.
Mike Glennon
was making his second start, and the Bucs' passing game was not expected to be a big threat. The Eagles focused on shutting down
Doug Martin
, and they did, holding him to 67 yards on 16 carries. It helps, of course, to get a lead and force the opponent to throw the ball more.
All season, the Eagles' focus has been to stop the run while limiting big pass plays downfield. That made them vulnerable to intermediate passing and runs after the catch. Tampa Bay's
Vincent Jackson
, for instance, had nine catches for 114 yards and two touchdowns while the Eagles were focused on Martin.
That has to be the Packers' blueprint for success. If Wallace can get the ball out quickly and catch
Jordy Nelson
and
Andrew Quarless
in stride, the Packers can move the ball. The Eagles are better at tackling and covering underneath than they were, but there's opportunity there.
January, 9, 2011
1/09/11
11:31
PM ET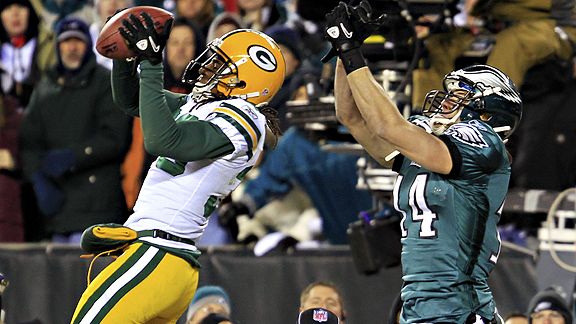 Chris Trotman/Getty ImagesPackers cornerback Tramon Williams' interception sealed Green Bay's 21-16 win over the Eagles.
PHILADELPHIA -- Forty-four seconds remained Sunday at Lincoln Financial Field. The
Philadelphia Eagles
were out of timeouts but only 27 yards away from a potential winning touchdown. Big-play receivers
DeSean Jackson
,
Jason Avant
and
Jeremy Maclin
were spread out, from right to left, across the formation.
Green Bay Packers
cornerback
Tramon Williams
, however, found himself lined up against reserve receiver
Riley Cooper
, a 6-foot-3 backup who caught only seven passes during the regular season and had been targeted on only two end zone throws. At the snap, Cooper began running a half-speed go-route that looked for all the world like a backside decoy. Surely, the Eagles wouldn't look his way and ignore their big-play trio.
Williams wasn't buying it, and the reason helps explain why the Packers were in position to take
a 21-16 wild-card playoff victory
.
"We watched these guys on film and they do a lot of that," fellow cornerback
Charles Woodson
said. "You have to pay attention to them. A lot of their deep routes, they kind of come off lackadaisical and then they take over. ... Maybe he tried to put Tramon to sleep. But obviously Tramon woke up pretty early this morning."
Indeed, Vick took a chance that Cooper could outjump Williams for the ball. But Williams calmly turned around, established position and intercepted the ball to clinch the game. That play is the best way I can illustrate why the Packers advanced to Saturday's divisional playoff round against the
Atlanta Falcons
. Unlike their 2009 postseason flameout, the Packers have both the skill and the scheme to play elite-caliber defense in the playoffs.
Their cornerback depth dropped off significantly beyond Woodson last season, and it showed in a 51-45 wild-card loss to the
Arizona Cardinals
. Sunday, however, Williams was the best pure cover man on the field. And the Packers' film study last week had prepared him for the exact situation he faced in the most crucial situation of the game.
"We know what kind of team we are," Williams said. "That's the frustrating part when you go out and put a performance up like the Arizona game last year. We came back this year and learned from it. We were put in a position to win the game by making a play defensively, and we won it."
A week ago, we
put some pressure on the Packers' offense
to step up after it managed 10 points in a playoff-clinching victory over the
Chicago Bears
. Against the Eagles, tailback
James Starks
broke through for 123 rushing yards and quarterback
Aaron Rodgers
threw three touchdown passes. It might not have been the kind of explosive performance that fantasy players have come to hope for from the Packers' offense, but it was more than enough for a Packers defense that has been remarkably stout all season.
The Packers, in fact, have scored at least 21 points in 10 games since the start of the regular season. They've won nine of them, thanks to a defense that has come of age.
[+] Enlarge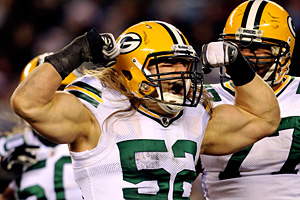 Al Bello/Getty ImagesIn 2009, New England traded the pick that became Clay Matthews and ended up with Darius Butler instead.
"We've had some ups and downs on this roller coaster of a year," said linebacker
Clay Matthews
. "But hopefully we're peaking at the right time. ... You can say we're dangerous, but we're just playing at the level that we know how. It shouldn't surprise anybody the way we played."
Yes, Williams' interception was but the pinnacle in an all-day harassment of the Eagles' offense. It began on the first play from scrimmage, when linebacker
Desmond Bishop
broke free on a blitz and sacked Vick for a 9-yard loss. It continued with Matthews' embarrassment of right tackle
Winston Justice
, a one-sided slaughter so severe the Eagles finally benched him in the fourth quarter.
Vick threw for 292 yards and rushed for 33 more, but the bottom line for any defense is points. The Eagles' point total was 40 percent below their season average of 27.4, and it's worth noting that one of their two touchdowns came after they recovered a Rodgers fumble at the Packers' 24-yard line in the third quarter.
"We knew coming in that we wouldn't stop Vick," defensive lineman
Ryan Pickett
said. "We just wanted to contain him. We always said, 'Make him earn every yard.' That was our thing coming into the game. I think that's what we did. ... He was pretty beat up by the end of the game. We got some licks on him. Vick is a tough guy. We got to him a lot. Our coaches did a lot to mix him up and confuse him."
And so it's instructive to look at how Packers defensive coordinator Dom Capers approached Vick.
From the outside, it appeared the Packers' overriding goal was to give Vick as many different looks as they could.
"You've got to use all of your calls in a game like this," Woodson said.
According to ESPN Stats & Information, the Packers used at least five defensive backs on 57 of the Eagles' plays. (The other three came in short-yardage packages.) That personnel usage was almost identical to the teams' Week 1 meeting, a 27-20 Packers victory in which they used at least five defensive backs on every defensive snap, but they blitzed considerably more Sunday.
Within that nickel scheme Sunday, Capers offered every combination imaginable. He sent at least five pass-rushers on 41.9 percent of Vick's dropbacks. On eight plays, Capers rushed three or less men. Vick completed six of eight passes against that look, but I would argue the variety paid dividends in the long run.
"You can't bring pressure every time," Matthews said. "He's going to pick you apart. You can't drop into coverage every play. He's going to do the same thing. So what we had was a good balance of both."
I'm not letting the Packers' offense off the hook here. It'll need to do its part. But what the Packers demonstrated Sunday was simple. They are playing a brand of defense that can lead the way in a playoff game and -- provided adequate support -- win every time.
That's a combination that could take a team places. Next stop for the Packers: the Georgia Dome.
January, 9, 2011
1/09/11
7:44
PM ET
PHILADELPHIA -- A few immediate thoughts from Lincoln Financial Field, where
the Packers edged the Eagles, 21-16
.


What it means
: It took a fair amount of nail biting, but the
Green Bay Packers
closed out a game they never trailed and eliminated the NFC East division champions. They'll play Saturday night at the
Atlanta Falcons
for the right to play in the NFC Championship Game.
Nervous anyone?
Although the Packers never trailed, it wasn't over until cornerback
Tramon Williams
-- who many thought had the best season of any defensive back on the Packers' roster -- made the game-clinching play. He intercepted Eagles quarterback
Michael Vick
in the end zone on a pass intended for
Riley Cooper
.
RodgersWatch
: After much debate about the relevance of his 0-1 career postseason record, Packers quarterback
Aaron Rodgers
put together a professional – if not elite – start to render that discussion moot. He completed 18 of 27 passes, three for touchdowns, and unofficially endured four big drives. Onward and upward…
StarksWatch
: Rookie tailback
James Starks
got his first carry on the Packers' third possession of the first quarter. It went for 27 yards. Was a heavy dose of Starks the Packers' game plan all along? Or did they just smartly ride the hot hand? We might never know the true answer to that question, but regardless, Starks provided a highly unexpected 123-yard day. When Starks was added to the roster at midseason, I don't think anyone thought he would be a key offensive cog in a playoff game. But as it turned out, Starks set a Packers rookie postseason record for rushing yards.
Goat
: Packers receiver
James Jones
dropped what would have been a 63-yard touchdown pass just before halftime, one of an unofficial four drops the Packers had in the game. If you're into the big picture, however, you could argue that Eagles place-kicker
David Akers
made up for it by missing attempts of 41 and 34 yards.
Who?
Packers backup tight end
Tom Crabtree
caught only four passes in the regular season and was never targeted in the red zone, according to ESPN Stats & Information. But his 7-yard touchdown reception was the first score of the game.
What's next
: Georgia Dome. Next Saturday. 8 p.m. ET. Be there.