NFC North:

Robert Gallery
July, 25, 2011
7/25/11
3:27
PM ET
»
NFC
:
East
|
West
|
North
|
South
»
AFC
:
East
|
West
|
North
|
South
»
Unrestricted FAs
A look at the free-agent priorities for each NFC North team:

Chicago Bears
Assemble a starting offensive line: As we've noted many times, the Bears have held off any public discussion about their five linemen pending the results of free agency. Well, we're here. It's time for the dominoes to start falling. The first will be whether center Olin Kreutz re-signs. It's generally expected, but nothing is guaranteed. Then, the Bears need to decide whether to pursue any starting-caliber guards or tackles. You would think they'll seek at least one new starter. Will they raid the Atlanta Falcons' glut of linemen? Might they take a flier on Robert Gallery? We'll know soon enough.
Establish a strongside linebacker: The position has largely been held by Pisa Tinoisamoa and Nick Roach over the past two years, but both have expiring contracts. It makes sense to re-sign at least one given the lack of offseason work for a presumptive new starter, and Roach is the younger of the two. If the Bears have another player on the roster they've targeted for this job, it's not readily apparent. While they're at it, the Bears should seek depth at defensive tackle following the release of Tommie Harris. They did draft Stephen Paea, but the Bears might pursue Seattle Seahawks free agent Brandon Mebane, as well.
Sift through receivers: From a media perspective, at least, there has been more offseason talk than ever suggesting the Bears will/should/might pursue a free-agent receiver. This year's class is deep, from Sidney Rice to Santonio Holmes to Randy Moss, and a number of other veterans could be available via trade. Coach Lovie Smith has said he wouldn't mind a receiver bigger than his current trio of sub 6-footers, and Devin Hester has lobbied publicly to sign Santana Moss. I think the increased discussion is largely a product of lockout boredom, but it wouldn't hurt the Bears to add depth so that Hester can be used more efficiently.
Top five free agents
: Center Olin Kreutz, safety
Danieal Manning
, punter
Brad Maynard
, linebacker Nick Roach, linebacker Pisa Tinoisamoa.

Detroit Lions
Sign a starting cornerback: The Lions' top cornerbacks under contract are Alphonso Smith and Nate Vasher. Chris Houston, who started 15 games last season, is a free agent, so it's possible the Lions will bring Houston back. Or they could seek an outside upgrade, be it Nnamdi Asomugha or Ike Taylor or Johnathan Joseph. Lions Fever would spike if they can land Asomugha, but they would have to use most of their salary-cap space to do it. For several reasons, the odds are against it.
Sort out the linebacker position: DeAndre Levy is the only linebacker assured a 2011 starting job, but even Levy can't be totally sure if he will play outside or in the middle. That answer will come only after the Lions sift through the available free agents. They could pursue one with a background in the middle, perhaps Stephen Tulloch. Or they could seek an outside linebacker to replace the released Julian Peterson. One of their outside positions is likely to be decided by a training camp competition among incumbents.
Evaluate right tackles: Early indications have been that Gosder Cherilus has made progress from microfracture surgery on his knee. If there is any question, however, the Lions might want to bolster their depth. Corey Hilliard did a decent job as Cherilus' replacement late last season. But keeping quarterback Matthew Stafford healthy is at a premium this season. Do the Lions want to face the possibility of opening the year with a backup plan at right tackle?
Top five free agents:
Linebacker
Bobby Carpenter
, cornerback Chris Houston, linebacker
Landon Johnson
, quarterback
Drew Stanton
, safety
John Wendling
.

Green Bay Packers
Stay the course: It's been well-documented that general manager Ted Thompson hasn't participated much in free agency over the past few years, and it's hard to imagine his changing tack dramatically this summer. Thompson's most important decisions will be deciding which of his pending free agents to re-sign and which ones he should allow to depart.
Re-sign place-kicker Mason Crosby: Thompson gave Crosby a second-round tender in February in the event Crosby wound up as a restricted free agent. That move suggested Crosby is in the Packers' future plans and makes re-signing him one of the first orders of business now that he is an unrestricted free agent. Crosby has had some difficulties over the years, but kicking in Green Bay is difficult given the weather and he has made some important adjustments. Concerns about his kickoffs should be minimized by the NFL's decision to move them up 5 yards.
Think twice: The Packers appear set to let defensive end Cullen Jenkins depart. They can do so knowing they have a number of intriguing young players to compete for that job, from Mike Neal to C.J. Wilson to Jarius Wynn. But another player the Packers might lose, Daryn Colledge, doesn't have an obvious replacement. Would the Packers shift T.J. Lang from backup tackle to guard? Would first-round draft pick Derek Sherrod, their projected left tackle of the future, get a crash course on step down? It's something to think about and, given the lack of an offseason, might spur further discussion about re-signing Colledge.
Top five free agents:
Guard Daryn Colledge, place-kicker Mason Crosby, defensive end Cullen Jenkins, receiver
James Jones
, running backs
John Kuhn
/
Brandon Jackson
.

Minnesota Vikings
Address receivers: Are the Vikings about to bid farewell to receiver Sidney Rice, a 24-year-old who is one year removed from an 83-catch Pro Bowl season? There is nothing they can do to stop it at this point, and Rice seems intent on at least testing his value on the open market. The Vikings spent most of last season searching for a suitable replacement when Rice was injured, and that job will intensify this summer. They have added an additional pass-catching threat in rookie tight end Kyle Rudolph. But if they lose Rice, the Vikings must either sign or trade for an established veteran to join Percy Harvin and Bernard Berrian (if he makes the team).
Find a kicker: The Vikings made no known effort before the lockout to re-sign veteran Ryan Longwell, who has converted 43 of 46 kicks over the past two seasons. It's possible they'll make their move now. But they did not draft a kicker, and if Longwell signs elsewhere, the Vikings will have to scour the always-murky free-agent market. I'm guessing they already have a plan on this issue, but we haven't smoked it out yet.
Establish QB depth: We all know that rookie Christian Ponder eventually will assume the starting job. But are the Vikings comfortable with Joe Webb and Rhett Bomar as their only alternatives if Ponder needs some development time? I'm not sure about that. I also wonder if making Webb the No. 2 quarterback would limit his opportunities to contribute in other ways, perhaps as a receiver or a kick returner. For that reason, it would make sense for the Vikings to seek a quarterback with more experience to pair with Ponder.
Top five free agents:
Defensive end
Ray Edwards
, linebacker
Ben Leber
, place-kicker Ryan Longwell, receiver Sidney Rice, nose tackle
Pat Williams
.
March, 5, 2011
3/05/11
10:00
AM ET
As we continue awaiting word on the NFL's labor situation, we again dip into our bag of Vince Lombardi quotes:
People who work together will win, whether it be against complex football defenses, or the problems of modern society.
I'm reachable
through the mailbag
,
Facebook
and
Twitter
. Please, share your stories, your hopes and your dreams.
George of Madison, Wis., writes:
What are the chances
Nick Barnett
could move to OLB opposite
Clay Matthews
?
Kevin Seifert:
Pretty low. Pass rushing is the top priority for an outside linebacker in the 3-4 defense. Barnett turns 30 in May. Does he have the kind of top-end speed and technique to get to the quarterback from that position? I'm not sure, so I passed your question along to Matt Williamson of Scouts Inc.
"I don't think that's a fit," Williamson said. "He just isn't the edge pass-rusher needed for that position."
Barnett should have several productive years ahead of him at his natural middle or inside linebacker position. The Packers appear to have moved on to younger players there, having signed
A.J. Hawk
and
Desmond Bishop
to multi-year extensions. It would be a stretch to expect Barnett to make such a significant change this late in his career.
---
Nathan of Phoenix writes:
Interested to hear your thoughts on
Clinton Portis
and the
Detroit Lions
being a match. I think he would serve tremendously as a mentor and as a complementary/short yardage back to
Jahvid Best
. But perhaps more than anything, he would be an enormous upgrade in blitz-pickup and pass protection. Additionally, isn't he known for being a wonderful "team guy?"
Kevin Seifert:
We actually
had this discussion last offseason
when it appeared the
Washington Redskins
might trade defensive tackle
Albert Haynesworth
. I agree with most of your assessment of Portis, especially the part about pass protection and how well he could transition as a third-down type of back.
Of course, Best's open-field skills also make him an important weapon to have on the field in passing situations. I'm guessing offensive coordinator Scott Linehan could draw up some plays that called for both Portis and Best to be on the field at the same time.
The biggest challenge here would be managing Portis in a reduced role. Would he sign with the Lions knowing he would be the clear backup to Best? Would he hope for the same experience the
New York Jets
gave
LaDainian Tomlinson
last season, elevating him to a primary role based on competition?
Of all the big-play ability Best showed us last year, I didn't walk away from the season convinced that he can be a 20-carry running back on a weekly basis. Maybe it was just the unfortunate consequence of his toe injuries. Regardless, the decision to non-tender backup
Kevin Smith
means the Lions absolutely have a need for a relatively established back behind Best.
That person could be holdover
Maurice Morris
. Portis would also fit that mold, if he is willing to take it on.
---
Russell of Norwalk, Iowa, writes:
Let's just say a new CBA is agreed upon and we have football next year. I love
Joe Webb
as the
Minnesota Vikings
' potential starting QB for next year. I feel he would struggle a bit early on, but it would start to click later on in the second half of the season for him. However, if Leslie Frazier and Bill Musgrave feel they need to go elsewhere, why don't the Vikings take a look at
Carson Palmer
? He clearly wants to leave Cincinnati and the Vikings could low-ball an offer (4th round pick or 3rd rounder next year) and wait for Cincinnati to accept it with him not wanting to stay.
It would save the 12th pick and a second-round pick to improve in other areas where they need help.
Kevin Seifert:
Palmer fits the profile of someone who could help maximize the roster the Vikings currently have. He is 31 and relatively healthy at this point, but there are a couple obstacles to your scenario.
First, I'm not sure any established starting quarterback could be acquired for a fourth-round pick. I'm not sure what the price tag would ultimately be, but I'm guessing the Bengals would start the bidding with at least a first-round pick. All it would take was more than one interested party to make that value stick.
Second, Palmer reportedly is willing to retire rather than continue playing for the Bengals. Some might consider that sentiment an attractive sign of high intelligence, given the decades of incompetence in Cincinnati. But I would also want to make sure that Palmer is still passionate about the game, that he truly wants to play rather than simply being willing to if the situation is right.
If all of that checks out, Palmer is among the best-case scenarios the Vikings could encounter this offseason.
But here's another option, one that wouldn't require draft choice compensation:
Matt Hasselbeck
, who is poised to leave the
Seattle Seahawks
as a free agent. He has been brittle the past few seasons, but he might make sense as a bridge plan to a quarterback the Vikings could draft this spring.
---
Denfran66 of Denver writes:
Would you assess a signing of
Robert Gallery
to the Bears to work with Mike Tice. Could a good o-line coach make a difference for him and the Bears?
Kevin Seifert:
Certainly. From the outside, you look at a talented athlete like Gallery and wonder what he could have been if he had started his career in a, well, more stable environment. That doesn't mean Gallery shouldn't shoulder some of the blame for his career fizzling in Oakland, but he seems tailor-made for a fresh start.
There is no doubt the Bears could use a personnel influx at offensive line, at any and all of the five spots. Tice has had some success refining the mechanics of some veteran offensive linemen, most recently Bears center
Olin Kreutz
, and I think it would be fascinating to see if he could resurrect Gallery's career.
The big question will be whether the Bears are willing to drop some money into the free agent market for the second consecutive year, or if they'll seek to improve their line through the draft. I don't have an answer to that question.
---
Via Twitter, @OSUwizard asks:
Would
Stephen Paea
of Oregon State be too much of a reach based on Lions needs? Still amazed by his combine performance.
Kevin Seifert:
Yes, Paea set a combine record with 49 repetitions of a 225-pound bench press. He's a 303-pound defensive lineman who grew up playing rugby in Tonga. Based on Scouts Inc.'s evaluation, Paea is a classic run-stopping nose tackle.
The answer here applies to all draft questions: It depends on where the Lions were to draft him. I'm not sure I would rank nose tackle as one of the Lions' top needs, but if he is available in the middle-to-late rounds, he becomes a good value.
From a pure need standpoint, Paea fits the Vikings more than any other NFC North team. They haven't re-signed nose tackle
Pat Williams
, and they didn't tender
Fred Evans
. There is an absolute need for fresh legs at the position.
April, 27, 2010
4/27/10
11:20
AM ET
Thank you, thank you,
Mallory of St. Paul
, for providing me the opportunity to address the most ridiculous thing I heard or read during the NFL draft. Take it away, Mallory:
I've heard a lot of various experts and analysts project that Green Bay's Bryan Bulaga will struggle to adapt to left tackle in the NFL due to short arms. But, checking combine numbers, his arms (33 1/4") were longer than NFL left tackles Joe Thomas (32 1/2") and Jake Long (32 7/8").

Both of these guys are able to play left tackle effectively in the NFL regardless of their arm length, so why are people making such a big deal about this? Is there really a huge correlation between "arm length" and being effective as a left tackle in the NFL? Is Bulaga being unfairly criticized because he attended the same school and played the same position as notorious NFL bust Robert Gallery (32 1/4" arms)?
[+] Enlarge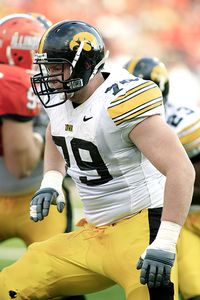 Chuck Rydlewski/Icon SMIThe Packers drafted Bryan Bulaga with the 23rd pick in the first round.
Yes, Mallory. This is draft analysis gone mad. Bonkers. Completely berserk. And this time, I'm not being sarcastic. Anyone who is worried about Bryan Bulaga because his arms are 2 3/4 inches shorter than the NFL ideal will have their Black and Blue blog membership cards rescinded. Go away. We don't want you anymore.
(OK, maybe that last sentiment is a slight exaggeration.)
I have no idea if Bulaga will flop or one day enter the Pro Football Hall of Fame. But I guarantee that if he flops, it won't be because his arms are too short. What do you people think? That
Julius Peppers
is just going to put his hand on Bulaga's head, sit there and laugh while Bulaga flails away? Come on.
I better take in some oxygen here. ....
There. That's better.
There's no doubt that in a vacuum, long arms beat the alternative when it comes to offensive tackles. If they could all have
Inspector Gadget's tools
, they would. The further you can reach, the better. Wingspan no doubt helps when you're protecting an open edge. But ask any offensive line coach about the ideal skills of a left tackle, and most of them will tell you that footwork is more important.
You block with your feet as much as with your hands. Getting yourself into proper position between the pass-rusher and the quarterback is most critical. If you're lunging at a pass-rusher, it doesn't matter whether you have 70-inch hoses attached to your shoulder. You're going to get beat.
On that topic, here's what
Scouts Inc.
had to say about Bulaga:
Gets set quickly, locks out arms and can ride explosive edge rushers past the pocket. Shows excellent body control and footwork when forced to redirect.
Credit Bulaga for having a sense of humor on the issue. He recently told the
Des Moines Register
: "I never really got myself in a position where I thought, 'Gosh, I wish my arms were longer.'"
I'm sure you could find some NFL scouts who question Bulaga's long-term viability. There is rarely consensus on any NFL draft prospect. But arm length? FAIL. Go back and find me something that matters.