August, 10, 2010
8/10/10
7:30
AM ET
We're Black and Blue All Over:
Chicago Bears linebacker Brian Urlacher admits he still feels some residual pain as he returns from a dislocated wrist, but Urlacher told
ESPNChicago.com
that the injury is medically healed and he wants to "show everyone that I'm back."

As he entered his second full week of training camp, Urlacher added:
"I knew it would hold up because they told me it was healed. There's still pain. It still hurts sometimes. I'm thinking about putting it on [offensive linemen]. I'm like, 'Is this gonna hurt?' And it hasn't hurt yet. So it's been good. It hasn't hurt me on the field yet, which is really surprising. It makes me think about using my hands more, actually. This is the best I've used my hands since I've been with [Bears coach Lovie Smith] -- like getting off blocks and moving and getting to the football. They're big on that."
Even as national observers focus on the Bears' offensive transition under new coordinator Mike Martz, Urlacher's status is no less important. So far, so good.
Continuing around the NFC North:
March, 24, 2010
3/24/10
9:43
AM ET
ORLANDO, Fla. -- I realize we've been a little light on Chicago-related posts this week, so I made sure to start my NFC coaches breakfast at the table of Bears coach Lovie Smith. We spent part of the time trying to pin him down on the positions of a number of new and incumbent players, and I also asked him how he planned to utilize
Greg Olsen
in a scheme that has usually ignored tight ends.
I'll get to Olsen a bit later. Olsen has already gotten plenty of attention for the uncertainty surrounding his 2010 role, but there are other players and position groups that -- for me, at least -- carry similar questions.
[+] Enlarge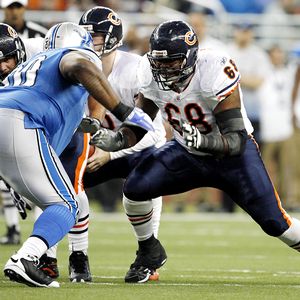 AP Photo/Paul SancyaFrank Omiyale appears to be a solid candidate to start at right tackle in 2010.
One of the primary areas is at offensive line, where Smith would name only three starters: Left tackle
Chris Williams
, center
Olin Kreutz
and right guard
Roberto Garza
. I left Wednesday's breakfast feeling strongly that
Frank Omiyale
will be moved to right tackle, while a number of young players will battle for the left guard position.
Officially, Smith said the Bears still have multiple options and that he's going to "let it all play out." But when we asked about Omiyale, he said: "Right now, if he ends up being our right tackle, it's a good thing. But going into it, we're not going to say he is for sure the right tackle."
When pressed, Smith admitted he hasn't told Omiyale his plans and implied he didn't want to speak publicly about it before he does.
You might think this is an awful lot of discussion about a right tackle, but I think everyone who watched the Bears last season knows they'll need significantly better play on their offensive line to make Mike Martz's offense work this season. Omiyale was a disaster at left guard in 2009, and he was a right tackle at Carolina before signing with the Bears.
While I'm pretty confident Omiyale will play right tackle, I think even Smith doesn't know where new defensive end
Julius Peppers
is going to end up -- right end or left end. Elite pass-rushers typically line up on the right side, capitalizing on a right-handed quarterback's blind side, but Peppers has played more frequently on the left in his career and Smith sounded intrigued by the possibility of playing a match-up game based on weekly opponents.
"We could just lock him in to the left and let him go against the right tackle," Smith said. "And he's had some success there, and that's good. But to answer your question, we're going to let him play both. He's done both, and we'll try to find ways to get him 1-on-1, which is important for us. ... He doesn't really have a preference. I've seen him be dominant from both sides. It's a lot of options that he's given us right now."
Most defensive linemen need more positional certainty, but Peppers has proved he can play both sides at an elite level. The only trick is having someone to play left end if Peppers is on the right side. Current right end
Alex Brown
hasn't done that in his career, but Smith also made a point about his excitement level for veteran
Mark Anderson
. He also said the Bears plan to install
Israel Idonije
as full-time defensive end rather than use him as a swing end/tackle.
"I'd like to see [Idonije] lock in and be more of a defensive end and see exactly how good he can become," Smith said.
As for the reserves among their defensive linemen, Smith said he projects
Henry Melton
as a defensive end and
Jarron Gilbert
as a defensive tackle.
More in a bit.
March, 25, 2009
3/25/09
5:25
PM ET
Posted by ESPN.com's Kevin Seifert
DANA POINT, Calif. -- When I asked Lovie Smith on Wednesday how many new starters he expected on his offensive line this season, he paused and said: "For sure, we'll have two."
| | |
| --- | --- |
| | |
| | Al Messerschmidt/Getty Images |
| | Former Browns tackle Kevin Shaffer will replace John St. Clair, who signed with Cleveland earlier this month. |
Now I know what the pause meant. (And it wasn't to give him extra time to decide between a smorgasbord of fruit on his breakfast plate.) The addition of free agent lineman Kevin Shaffer, whose three-year contract was announced a few hours after the conclusion of the NFL owners' meeting, means the Bears are likely to have three new starters when training camp opens this summer.
Shaffer had been Cleveland's right tackle for most of the past two seasons, and ESPN's John Clayton reports he will receive $2.75 million in 2009 and up to $8 million over three years. Those numbers suggest he will get every opportunity to win the Bears' right tackle job, allowing fellow newcomer Frank Omiyale to settle in as the left guard.
The ascension of second-year left tackle Chris Williams gives the Bears 60 percent turnover along the offensive line for 2009. In this likely scenario, the only returning starters will be center Olin Kreutz and right guard Roberto Garza.
If Shaffer doesn't measure up, he would likely serve as a swing tackle with Omiyale starting on the right side and Josh Beekman at left guard. It's also possible, but unlikely, the Bears could draft an immediate starter at right tackle.
Shaffer, 29, essentially swapped places with former Bears tackle John St. Clair -- who signed with Cleveland last week. For those interested, here is Scouts Inc.'s take on him earlier this year:
Shaffer was signed in 2006 to be Cleveland's starting left tackle. That experiment failed and after Joe Thomas was drafted Shaffer moved to the right side, which clearly fits him much better. Shaffer is very strong and has the size and skill set needed to best play on the right side. On the left side, his athletic ability was exposed, but he has performed admirably on the right side because he doesn't have to consistently face elite speed-rushers. He isn't very nimble or fluid, but does work hard. His pad level is a problem and he lacks the ability to consistently play the game low. He is a powerful man and pushes defensive linemen backwards as a power blocker. He is a thumper who plays to the whistle and is bright enough to get the most out of his physical abilities.