December, 12, 2013
12/12/13
3:15
PM ET
EDEN PRAIRIE, Minn. -- As the
Minnesota Vikings
' season draws closer to an end,
Jared Allen
's weekly news conferences feel more and more like a valedictory address. Allen is 31, will hit free agency this spring after carrying a $17 million salary cap figure this season and is playing on a team that already gave fellow defensive end
Brian Robison
a contract extension.
[+] Enlarge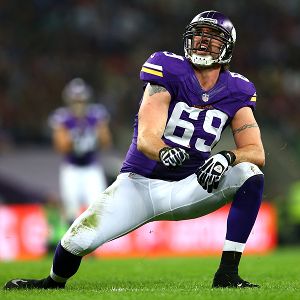 Michael Steele/Getty ImagesDE Jared Allen, 31, says he hasn't regressed despite recording only seven sacks through 14 weeks.
Essentially, Allen's days in Minnesota appear to be almost up, and he seems to know it. What remains to be seen is what kind of a reception he'll get on an open market that hasn't been terribly friendly to veteran pass-rushers in recent years.
We've talked about the modest deals
Dwight Freeney
and
John Abraham
found in free agency in recent years, and while Allen is younger than both players were when they hit the market, he's also fighting a perception that he's lost a step. Allen has seven sacks this season, and is in danger of not reaching double digits for the first time since 2006, though as Allen pointed out, he's among the league leaders in quarterback hits and hurries. But those things are often byproducts of a sack, when a pass-rusher isn't able to get there quite soon enough.
"Me and 'B-Rob' were laughing about it today," Allen said. "The (league) lead is 15 (1/2 sacks, by Indianapolis'
Robert Mathis
). I said, 'If we would take the ones that we had in our hands that we either missed or (we) knocked the guy and the ball falls forward, which is an incomplete pass versus a sack/fumble, I think we both would be sitting right around 12 or 13.' But again, that's kind of what football is. I look back at the year I had 22 (in 2011). You just didn't miss an opportunity. Boom, you got them on the ground."
Allen said he's still grading out well, taking into account how he plays against the run, how many passes he's able to knock down, etc. But he's always been defined by his sack totals, and Allen knows it. He said getting to double digits "means the world to me," and he needs three to pass
Derrick Thomas
for 13th place on the NFL's career sack list.
Where he'll be climbing that list next year is anyone's guess, especially after Allen said on Thursday he wouldn't accept a role as a rotational pass-rusher. "(I'll keep playing) as long as I feel good and compete at a strong level and I feel like I can still help a team win and be an active (participant). I'll retire vs. taking a step-down role and being a rotate guy. That's for the birds."
Teams might have a different perception of Allen next spring, and it remains to be seen what he'd accept if he can't find a suitor to treat him (and pay him) like a three-down lineman. But Allen still feels he'd be worth the investment.
"I'm playing good ball. I watch film. I'm probably more critical on myself than anybody can be," Allen said. "I'm there. It'd be one thing if you weren't there. ... I'd be telling myself if wasn't playing good ball. Technique's still good. I still know how to process things."
September, 7, 2012
9/07/12
1:30
PM ET
»
NFC Final Word
:
East
|
West
|
North
|
South
»
AFC
:
East
|
West
|
North
|
South
Five nuggets of knowledge about Week 1:
History-making:
The
Green Bay Packers
have a nine-game winning streak against the
San Francisco 49ers
, who haven't defeated the Packers in the regular season since Nov. 4, 1990. (They did knock the Packers out of the 1998 playoffs.) Both starting quarterbacks for this game,
Aaron Rodgers
and
Alex Smith
, were 6 years old at the time.
Eleven of ESPN's 14 experts
picked the Packers to win Sunday, but overall it's one of the
best Week 1 matchups in recent memory
. The teams combined for 28 victories last season. According to the Elias Sports Bureau, there has been only one opening game in NFL history where the opponents have combined for more. (1999,
Minnesota Vikings
at
Atlanta Falcons
.)
[+] Enlarge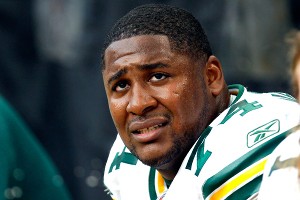 AP Photo/Charles Rex ArbogastLeft tackle Marshall Newhouse and the Packers' offensive line will face a fearsome 49ers' rush.
Important matchup:
There has been
plenty of discussion
about the return of 49ers receiver
Randy Moss
, both to the NFL and Lambeau Field. (People forget he already has been back once since his infamous 2004 mooning, a three-catch performance for the Vikings in 2010.) The Packers' pass defense
remains unsettled
from a personnel standpoint, but to me the bigger matchup will be the Packers' offensive line against the 49ers' powerful defensive front. Can the Packers maintain the line of scrimmage against beastly defensive end
Justin Smith
and speedy pass-rusher
Aldon Smith
? The best way to stop an elite offense, as the 49ers proved in their playoff victory against the
New Orleans Saints
, is to dominate the line of scrimmage and collapse the pocket. The Packers' defense might have improved, but is it ready to carry the team to victory if the Packers' offense gets overwhelmed at the line of scrimmage? Not sure about that.
Lions' advantage:
The
St. Louis Rams
enter the season on a seven-game losing streak, have lost 33 of their past 40 road games and
don't appear equipped to capitalize
on the
Detroit Lions
' injury-riddled secondary. (Safety
Louis Delmas
and cornerback
Chris Houston
aren't expected to play.) All 14 ESPN experts have picked the Lions to win at Ford Field, and this should be an easy Lions victory. One development I'll be watching: How will the improvement of receiver
Titus Young
, and the presumed emergence of new slot receiver
Ryan Broyles
, affect the Lions' attack? We saw only glimpses of both players in the preseason. Let's see what they can put on tape Sunday for future opponents to fret about.
Testing Urlacher:
The
Chicago Bears
' revamped offensive scheme will get
an early test
from the
Indianapolis Colts
' bookend pass-rushers,
Dwight Freeney
and
Robert Mathis
. But if I'm the Colts, I'm doing a little testing of my own. Despite middle linebacker
Brian Urlacher
's insistence that his surgically repaired knee
is sound
, there is every reason for rookie quarterback
Andrew Luck
to test him repeatedly in the deep middle portion of the field. The Colts are heavy underdogs in this game, and aren't likely to win if they play it safe. It's quite possible Urlacher will do his thing and keep the middle mostly clean of big gains. But it would be criminal for the Colts not to at least find out.
Immediate urgency:
Almost all of the national attention on the Vikings-Jaguars game has centered on the extent to which tailback
Adrian Peterson
will play after a 260-day recovery from two torn knee ligaments. But from the bigger picture, this game -- and next week's affair at Indianapolis -- represents a referendum on whether the Vikings can be written off as a rebuilding team. If they have any designs on competing in 2012, based on how their schedule shapes up, the Vikings need to claim victory in both of these highly winnable games. Owner Zygi Wilf
told players this week
that Sunday is the most important season opener in his eight-year tenure. Suffice it to say, however, the Vikings haven't engendered much national confidence. Six of ESPN's 14 experts have picked the Jaguars to win in the Metrodome.
September, 6, 2012
9/06/12
11:15
AM ET
For years, preparing for the
Indianapolis Colts
defense was schematically simple but physically difficult. The Colts lined up in their traditional 4-3 alignment and sent four pass rushers more than any team in the NFL between 2008-11, relying on bookends
Dwight Freeney
and
Robert Mathis
to pressure quarterbacks without using the blitz.
New coach Chuck Pagano has scrapped that approach in favor of a hybrid 3-4 scheme, one that technically converts Freeney and Mathis to outside linebackers. On an otherwise rebuilding team, Freeney and Mathis present the most notable challenge to a
Chicago Bears
team that is heavily favored to win Sunday at Soldier Field.
You might not need to be reminded of the details, but here you go: As the chart shows, Bears quarterback
Jay Cutler
was under duress more often last season than all but one NFL quarterback. The Bears have overhauled their scheme to provide him better protection in 2012, but it took most of the summer for left tackle
J'Marcus Webb
to secure his starting spot. And this week, offensive coordinator Mike Tice admitted that right tackle
Gabe Carimi
is
still working his way back
from a knee injury that cost him most of last season.
Whether Freeney and Mathis line up as 3-4 linebackers in the base or 4-3 ends in the nickel, their primary obstacles to Cutler will be Webb and Carimi. There is some concern in Indianapolis about the impact of Pagano's scheme on their pass rushers' effectiveness, but it should at least be matched by uncertainty the Bears feel with Webb and Carimi.
Tice told reporters this week that "I don't feel good about where we're at yet" but added: "I feel good about where we're going." Cutler said he thought the line has been "holding up really well" since the start of the preseason but acknowledged: "We can only do as much as they can handle."
The Bears hold most of the advantages in this matchup. That's why they're
favored by 9.5 points
and
all 14 ESPN experts
have picked them to win. But if they're going to run into any trouble Sunday, you would expect it to come on the edges. For what it's worth.
Note:
For those interested in the details, the Colts rushed four or fewer pass rushers on 81.3 percent of their snaps over the past four seasons, according to ESPN Stats & Information. The next-highest team was the
Tennessee Titans
(75.8).
August, 2, 2012
8/02/12
1:20
PM ET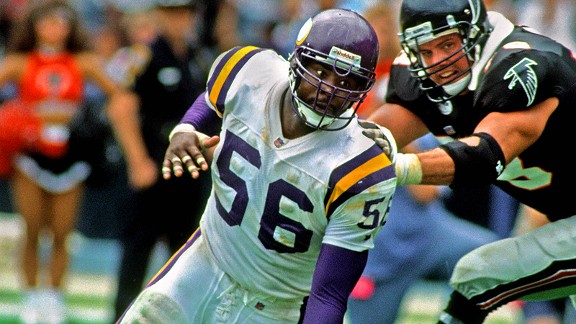 Manny Rubio/US PresswireChris Doleman had a knack for getting to the quarterback and jarring the ball loose.
Chris Doleman was a long-armed pass rusher with the height (6-foot-5) to match up with big left tackles and the speed to run around them. He retired in 1999 with 150.5 sacks, which at the time qualified as the second-most in NFL history, while playing two stints for the
Minnesota Vikings
.
What you might not know: Doleman also retired with the most forced fumbles of any player since the NFL began tracking the statistic. He forced 44 fumbles in 232 career games, and on the eve of his enshrinement in the Pro Football Hall of Fame, it might be Doleman's most enduring legacy.
As fun and momentum-shifting as a violent sack might be, Doleman was among the first to realize that pulling back a bit on the force provided a better opportunity to achieve a more impactful play.
"The era that I played in, we had some pretty good defensive linemen," Doleman said in a conference call this week. There was Bruce Smith. Reggie White. They had their own style. When I was at that defensive end position, I definitely wanted to be perceived as a pass-rusher. But would I be a speed rusher? A power rusher? A guy that takes plays off? One of the things I found I [had a knack for] was separating the quarterback from the ball.
"When you separate the ball from a running back, you just have a fumble. But for a quarterback, that's a sack and a fumble. That's a much bigger play. It wasn't about putting brutal hits on them, but controlling them and getting the ball from them."
As the chart shows, the recently-retired
Jason Taylor
passed Doleman on the all-time list, and the latest generation of pass-rushers have achieved a higher ratio of forced fumbles per game. Players like Taylor,
Dwight Freeney
and
Robert Mathis
made an art of reaching their hand toward the ball even when they're being blocked away from the quarterback. Doleman deserves his share of credit for proving the value of those efforts.
March, 22, 2011
3/22/11
1:00
PM ET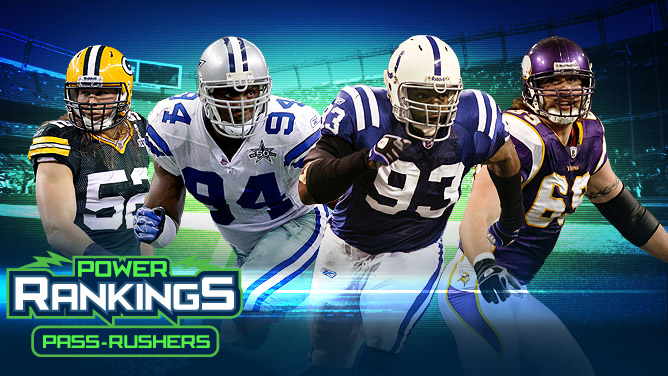 ESPN.com IllustrationDeMarcus Ware (94) was the clear choice for the top spot when our writers ranked the best pass-rushers in the game.
ESPN.com's NFL writers rank the top 10 pass-rushers in the league today. Next week: Top 10 tight ends.
ESPN.com's panel of power rankers had no trouble identifying the best pass-rusher in football. The rest of our Top 10 list? It was easily the most difficult to compile so far in what will be a 10-week project.
Dallas Cowboys
linebacker
DeMarcus Ware
received seven of eight first-place votes. AFC South blogger Paul Kuharsky ranked him No. 2, putting
Indianapolis Colts
defensive end
Dwight Freeney
at the top of his ballot. Overall, a total of 17 players received votes, and the crowd was dense enough to exclude established veterans such as
Houston Texans
defensive end
Mario Williams
,
New York Giants
defensive end
Justin Tuck
,
Baltimore Ravens
linebacker
Terrell Suggs
and Colts defensive end
Robert Mathis
.
The category was tough, explained NFC West blogger Mike Sando, because "sack numbers tend to fluctuate from year to year and it's tougher to know which pass-rushers are truly the best. I think the proliferation of 3-4 defenses also made this a tougher call. We weren't evaluating defensive ends exclusively. We were also looking at 3-4 outside linebackers. That deepened the pool while forcing us to compare players at more than one position."
Ware, for one, wasn't a difficult choice -- as long as sacks are the primary statistical representation of pass rushing. Ware led the NFL in sacks last season with 15.5, and he has also had more combined sacks over the past two, three and five seasons combined than any other NFL player. At 28, he would seem to have several ultra-productive seasons remaining in his career.
Beyond Ware, however, the debate was fierce. The
Green Bay Packers
'
Clay Matthews
received the second-most votes (61), but there wasn't much separating him from Freeney (58) or
Minnesota Vikings
defensive end
Jared Allen
(52).
[+] Enlarge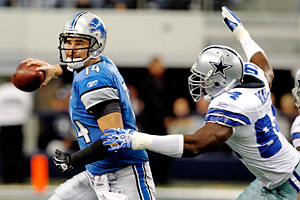 Tom Pennington/Getty ImagesDeMarcus Ware had 15.5 sacks last season and has 80 sacks in six seasons in the NFL.
Kuharsky's familiarity with Freeney gave him a unique perspective.
"I've had coaches and scouts I trust tell me, repeatedly, that Freeney is the best pure pass-rusher in the league," Kuharsky said. "They say he's the guy they'd want if they could have anyone and the most difficult guy to stop because of the way he plots out his game. That's stuck with me and was a big factor for me as I put together my ballot."
From an NFC North perspective, I think it's interesting that Ware is the only NFL player who has recorded more sacks than Allen over the past five seasons. Allen's total of 11.0 last season was his low-water mark over the last four seasons, however, and the explicit instructions for voters were to base judgments on what we can expect for the 2011 season.
Given a choice between Allen, Matthews or Freeney in building a Super Bowl team for 2011, whom would you choose? With all due respect for Freeney (and Kuharsky, such that he deserves it) Matthews, 24, seems the right answer to me.
Matthews, Allen and
Chicago Bears
defensive end
Julius Peppers
gave the NFC North a league-high three members of this exclusive group. Peppers' all-around contributions last season earned him a spot on The Associated Press' All-Pro team, but his total of eight sacks left him ranked eighth on our list.
Illustrating the difficulty of this exercise, two voters left Peppers off their ballots entirely and a third -- AFC North blogger James Walker -- ranked him No. 10. The
Atlanta Falcons
'
John Abraham
, The Associated Press' other first-team All-Pro defensive end, ranked a composite No. 7.
NFC South blogger Pat Yasinskas, who covers Abraham and until 2010 covered Peppers as well, ranked Peppers No. 5 and said: "I know the sack numbers can rise and fall, but he has the ability to completely take over a game at any time." Meanwhile, a younger Abraham would have ranked higher.
"He had 11 sacks last year but 5.5 the year before," Yasinskas said. "At 32, you have to at least question whether he would sustain 2010 numbers in 2011."
Finally, if you're outraged about the absence of Williams, Tuck, Suggs, Mathis, the
Philadelphia Eagles
'
Trent Cole
or even the
Denver Broncos
'
Elvis Dumervil
, you probably need to focus your ire at the inclusion of
Miami Dolphins
defensive end
Cameron Wake
. In his second NFL season, Wake exploded for 14 sacks.
Does one elite season merit inclusion on this list? Opinions varied widely among our voters. Wake was left off three ballots and voted No. 10 on three others. AFC East blogger Tim Graham, who saw more of Wake last season than any other voter, placed him No. 4.
"If we're ranking the best overall defensive ends or outside linebackers, then maybe Cameron Wake doesn't make my list," Graham said. "He's not a run-stuffer and is lacking when it comes to pass coverage. But we're rating pure pass-rushers, and that's the one thing Wake does on an elite level. He's a freakishly gifted athlete who creates havoc in the backfield.
"I also don't view Wake as a one-year wonder because he had a strong season in 2009 despite playing behind
Joey Porter
and
Jason Taylor
in most situations and under a different defensive coordinator. He should continue to thrive under Mike Nolan's guidance. I view Wake as a legitimate star who was overlooked on a mediocre team."
Your thoughts? I'm expecting them.
October, 7, 2010
10/07/10
11:00
AM ET
By
Scouts Inc.'s Matt Williamson
| ESPN.com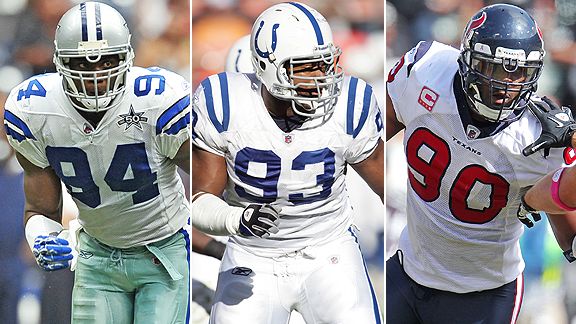 Icon SMI, AP PhotosDeMarcus Ware, Dwight Freeney and Mario Williams are among the most dominant pass-rushers.
Pass-rushers come in all shapes and sizes. But they are always at a premium.
Although they are difficult to find, there are a few tremendous interior forces when attacking quarterbacks. Those can be true upfield defensive tackles or even ends such as
Justin Tuck
who are versatile enough to move inside on passing downs.
But most great quarterback killers come off the edge, and this list reflects that. But edge-rushers also come in all shapes and sizes. Some are defensive ends in the 4-3, while others are pass-rushing outside linebackers in the 3-4. Some are tall, linear athletes with great wingspans, while others are shorter and built for leverage. Some pass-rushers rely on power, technique or speed. But every esteemed member of this group is more than just a one-trick pony.
One thing is certain: All can harass quarterbacks extremely well. These are the best of the best.
DeMarcus Ware, LB, Cowboys: Ware has it all. He has great quickness, but is also incredibly smooth and fluid with all his movements. Ware has a very long, lean athletic body type that he uses extremely well to keep blockers away from his frame, but also gets low and demonstrates great leverage. He also has a full array of pass-rush moves and a great motor to cap it all off. Ware already has four sacks in three games this year. Oh yeah, he also had 20 sacks in 2008.

Dwight Freeney, DE, Colts: If Freeney has lost a step, it is hardly noticeable. His body of work is amazing, but so is what he is doing now. Before his ankle injury last season, Freeney might have been rushing the passer at a higher level than at any point of his career. I also tend to think that the Super Bowl might have ended a little differently if the Colts' best defensive player had been healthy. Despite that injury, Freeney did notch 13.5 sacks in 2009.

Mario Williams, DE, Texans: This ultra-talented young man has come into his own in 2010. Only two players have more sacks this season than Williams (five). And he is one player on this list who is continually double-teamed. Few players look the part like Williams, and his skill set is off the charts. He has power, the body and closing speed. Now he is putting it all together. The league is taking notice.

Julius Peppers, DE, Bears: Peppers was great in Carolina, but looks rejuvenated -- and much more dangerous and consistent -- since joining the Bears. Peppers and Williams are the two players on this list who are just a different breed of athlete. Peppers and Williams are bigger and more gifted than the others. Although the Bears invested a small fortune in this great player, they must be happy with their investment to this point.

James Harrison, LB, Steelers: One of the functionally strongest players in the league, Harrison is a master at staying low and bullying his opponent. But his flat-out tenacity is what sets him apart. He got to the quarterback 16 times in 2008 and is also one of the very best in the business at dislodging the football when he does reach the quarterback. Harrison arrives with violence. Harrison and teammate LaMarr Woodley (see below) are probably the two best of this top 10 at setting the edge and playing the run.

[+] Enlarge

Jeff Hanisch/US PresswireClay Matthews leads the NFL with seven sacks.

Clay Matthews, LB, Packers: Bred to play the game, Matthews leads the NFL with seven sacks. Despite more or less learning a new position, he notched double-digit sacks as a rookie. He is a terrific blend of athletic ability, which he displays really well bending the edge without losing leverage or speed. But it is his technique -- most noticeably his use of his hands -- and overall tenacity that make Matthews special.

Robert Mathis, DE, Colts: Mathis is averaging a sack per game thus far in 2010, and the Colts have not played with their accustomed leads. Mathis benefits from Freeney being on the other side and also plays in the ideal conditions to use his amazing speed, but that should not take away from what he brings off the edge.

Jared Allen, DE, Vikings: Allen was second in the league in sacks last year, and from 2007 to 2009, Allen notched a whopping 44.5. Allen has begun this season rather slowly in this department, but the Vikings have played only three games and his track record speaks for itself. Not only is he a tremendous hustle player, but he uses his length extremely well.

Tamba Hali, LB, Chiefs: Hali doesn't get the credit he deserves or the accolades of the others on this list. In fact, Kansas City has really struggled to get after opposing quarterbacks over the last few years. But don't blame Hali. He has recently blossomed into a great 3-4 outside linebacker after spending time as a defensive end in Herm Edwards' Cover 2 scheme. The Chiefs are starting to get some recognition. Go out of your way to watch Hali. You will not be disappointed.

LaMarr Woodley, LB, Steelers: He has been great this year, but was out-of-this-world the second half of last season. He is one of the few pass-rushers on this list who usually lines up against slower-footed right tackles, but he can win one-on-one with technique, quickness or power. Woodley is just reaching his prime and will only get better.
Honorable Mention
:
Elvis Dumervil
,
Cameron Wake
,
John Abraham
,
Matt Roth
,
Ray Edwards
,
Trent Cole
,
Brian Orakpo
,
Terrell Suggs
,
Anthony Spencer
, Justin Tuck.
Scouts Inc. watches games, breaks down film and studies football from all angles for ESPN.com.