NFC North:

Rocky McIntosh
December, 20, 2013
12/20/13
12:20
PM ET
ALLEN PARK, Mich. -- It might be time for the
Detroit Lions
to be concerned about the availability of linebacker
DeAndre Levy
and tight end
Brandon Pettigrew
on Sunday against the
New York Giants
.
Both Levy (foot) and Pettigrew (ankle) missed their third practice this week.
If Levy doesn't play,
Rocky McIntosh
would likely see a majority of his snaps. If Pettigrew can't go, a host of players would take his place,
as I wrote about Thursday
.
They were two of five Lions to miss practice Friday.
Louis Delmas
(knee),
Rashean Mathis
(illness) and
Darius Slay
(knee) also were out. For Delmas, this is a typical maintenance day. Mathis also missed Thursday with an illness.
Slay actually was at practice with a sleeve on his right knee, just no helmet. He even participated in some light drill work with the other defensive backs.
Both
Calvin Johnson
and
John Wendling
were back at practice Friday.
November, 11, 2013
11/11/13
4:50
PM ET
CHICAGO --
Willie Young
thought he had Chicago stopped, having pressured and then plowing into Bears backup quarterback
Josh McCown
just after the ball was thrown and the
Detroit Lions
looked like they had held on to win Sunday against the Bears.
Except when McCown's pass to
Dante Rosario
went sailing out of the end zone, Young was flagged for roughing the passer on what appeared to be a helmet-to-helmet hit. Young wasn't happy on the field. He wasn't happy in the locker room after the game, saying players needed to call a meeting about certain calls made this season.
Young's personal foul, though, set up two things. First, it gave Chicago one last chance to tie. Second, it gave defensive tackle
Nick Fairley
, who had one of his better games of the season Sunday, a chance to make the game-clinching play.
Chicago lined up with three wide receivers and McCown in the shotgun with
Matt Forte
to the right of him. Fairley was lined up in his typical spot next to
Ndamukong Suh
, between center
Roberto Garza
and left guard
Matt Slauson
.
[+] Enlarge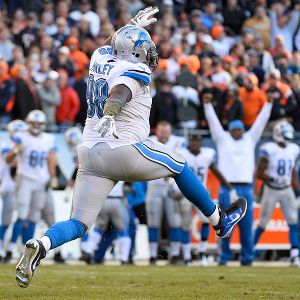 Mike DiNovo/USA TODAY SportsNick Fairley celebrates his goal-line stop Sunday that clinched the Detroit Lions' win.
And considering the Bears had thrown on the last play and had limited success running Sunday, most people could have assumed Chicago was going to pass. Everyone except the Detroit defensive line.
"Just looking at the offensive linemen, I had a hunch they were going to probably run," Suh said. "Just from the way they looked and that they were lined up. They didn't even come to my side but I know if Nick wasn't going to make the play, which he obviously did, I was going to help him clean it up."
With Suh, defensive tackle
C.J. Mosley
and even Fairley potentially anticipating a run, Detroit coach Jim Schwartz explained Monday it actually wasn't much of a surprise at all considering the Bears' tendencies.
And that on the prior two-point conversion play wiped out by the Young penalty, McCown might have actually been looking for Forte to catch a ball first. As McCown rolled to his right, he looked in the direction of Forte, who was blanketed by linebacker
Rocky McIntosh
.
So reading potentially two straight plays to Forte was actually a smart call.
"They were a yard away and both of their two-point plays they tried to get the ball to arguably their best player," Schwartz said. "They got a lot of good players on offense but Forte, the first play was a sprint-out and Rocky McIntosh did a fantastic job of getting him covered up. That's one of the reasons that play was incomplete. Even though we had a penalty on the play, that had nothing to do with Rocky or the execution of the scheme.
"But there's a lot of plays that the Bears get down to the red zone and they run the ball in. They ran one in the week before against Green Bay from 6-inch line and stuff like that. Anytime you're a defensive lineman, your first job is to stop the inside run. They attacked our perimeter for most of the game and for the most part we did a good job defending that, something that we were a little bit weak on in the first game we played them."
Once McCown snapped the ball, Fairley broke right past Garza as Slauson moved to the second level to engage linebacker
DeAndre Levy
. Fairley was already past Garza by the time McCown handed the ball to Forte and was 2 yards from him moving at full speed.
No matter the direction, Forte had little chance.
With Garza trying to grab Fairley from the back after he blew by him, the Lions defensive tackle essentially swallowed Forte with a tackle, enveloping him as Forte took his third step to his left trying to stretch the field.
"Just read my keys, had a big A-gap and I just figured it would probably be a run or play-action pass," Fairley said. "So I just got off the ball real good and it just so happened I made a play."
Garza actually tried to wrap Fairley from the back but actually ended up falling over Forte once he was tackled. That's how dominant Fairley was on that particular play.
Fairley threw Forte down and then kept going down the field after that, high-stepping down the field in celebration.
"Just made the game-changing play," Fairley said. "From the defense and the D-line in our room, that's what we always harped on as a D-line, 'let's go make a game-changing play. Somebody step up and make a play.'
"That was me [Sunday]."
September, 12, 2013
9/12/13
4:42
PM ET
ALLEN PARK, Mich. -- Outside linebacker
Ashlee Palmer
missed practice with an ankle injury according to the
Detroit Lions
' official practice report Thursday.

He was one of four Lions to miss practice, joining defensive tackle
Nick Fairley
(shoulder), right tackle
Jason Fox
(groin) and safety
Don Carey
(hamstring).
If Palmer were to miss Sunday's game, he would likely be replaced by veteran
Rocky McIntosh
, although
Tahir Whitehead
is listed as his backup on the unofficial depth chart.
McIntosh was the fourth linebacker used in Detroit's 34-24 win over Minnesota on Sunday. It also means the Lions now have five healthy linebackers on the roster: starters
Stephen Tulloch
and
DeAndre Levy
, McIntosh, Whitehead and
Travis Lewis
.
Detroit coach Jim Schwartz declined to discuss the injuries to Fairley and Palmer, although he did not Fairley did finish Sunday's game.
Safeties
Louis Delmas
(knee) and
John Wendling
(ankle) were limited Thursday. Running back
Reggie Bush
and defensive end
Jason Jones
practiced fully.
September, 6, 2013
9/06/13
5:15
PM ET
ALLEN PARK, Mich. -- The first time
Willie Young
faced Minnesota in his rookie season, the defensive lineman lined up opposite the offensive tackle. The ball was snapped.
But before he could even make a move and touch the offensive lineman, his entire focus changed. It was too late.
Adrian Peterson
, the top running back in the NFL -- the player Detroit's front seven will be doing everything it can Sunday to at least contain, if not stop -- already had the ball and would make anything Young was about to do useless.
"A lot of other backs, it's almost like there's a slight bit of hesitation when those running backs get the ball," Young said. "In this case, this scenario, as soon as [Peterson] gets it, there are instances where before I engage with the offensive tackle, he's already got the ball and I'm already in pursuit.
[+] Enlarge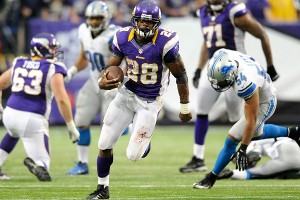 Hannah Foslien/Getty ImagesLions players marveled at Adrian Peterson's ability to leave defenders behind before they even know it.
"And I didn't even touch the tackle yet."
What he is saying is not any different than what others have said about Peterson in the past. He is that difficult to stop. He's the top running back in the league, a guy who gained more than 2,000 yards last season, for a reason.
It is that speed and ability, Detroit linebacker
Rocky McIntosh
said, that makes Peterson different from other backs. From the very first step he takes on any carry, Peterson believes he can score. From anywhere. In that single step.
It leaves opponents with a mix of determination, fear and excitement. Determination because shutting down Peterson could make a name for yourself. Fear because of what he could do. Excitement because if you can tackle him or stop him, you can say you hit a surefire Hall of Famer.
Everyone has a different opinion, too, about what makes Peterson as tough as he is. Some, like Young, point to his speed. Others see what he does with his eyes.
"The vision he has," Detroit rookie cornerback
Darius Slay
said. "He has this vision where he can bounce it inside between the tackles and he can outrun you on the edge. He has great speed, great size.
"Ain't too many people that's bred that way. He's got the whole package of the complete running back."
Somewhat surprisingly, Detroit hasn't fared too badly against Peterson in the past.
In 11 career games against Detroit, Peterson has averaged 105.9 yards a game and scored nine touchdowns. It may seem like a lot of yards, but consider this -- he has actually averaged more yards against both Chicago (108.5) and Green Bay (120.2). So, relatively speaking, 105.9 yards is decent.
Yet Peterson is still one of the few players in the NFL who can destroy any defense at any time.
"They've got that kingpin, 28, back there," Detroit defensive coordinator Gunther Cunningham said. "And he makes me not sleep very well at night."
The Lions added size on the defensive line this offseason, drafting 6-foot-5, 271-pound defensive end
Ziggy Ansah
in the first round of April's NFL draft and signing 6-5, 276-pound
Jason Jones
and 6-6, 275-pound
Israel Idonije
as defensive ends in the offseason to go with tackles
Ndamukong Suh
and
Nick Fairley
.
So there is some size there to pressure the Minnesota offensive line and attempt to get in the backfield to thwart Peterson before he starts getting comfortable.
Detroit's containment strategy when it comes to Peterson is to attack him early. If he starts off with a few big runs, he has already found his confidence and at least one hole in a game plan, so it would likely be a long day for the opponent.
This, of course, is extremely difficult to accomplish. Yet for any team to beat Minnesota, it almost has to happen.
"Literally," McIntosh said. "The game is on you."
The Lions seem to know that. Because with Adrian Peterson, everyone knows to expect an elite level of play every week. Whether it's a game-breaking play or the quest for another 2,000-yard season, anything is possible for Peterson.
The thing is -- sometimes, every once in a while -- he can give even more than that. It's why even in a room full of elite athletes, Peterson can still produce awe. It's something you can see from the start.
"It's obvious," Young said. "He's the top running back in the NFL."
September, 6, 2013
9/06/13
8:00
AM ET
Good morning and ROOOAAARRR!!!!!
It had been a stressful couple of days for Detroit Lions linebacker Rocky McIntosh after he was cut from the Lions on Sunday.
But even as he was being released, he had a feeling it wouldn't be his last time in Detroit. The Lions kept just five linebackers and would be moving running back Montell Owens to short-term injured reserve a couple of days later.
So McIntosh had a good feeling he would be back. Still, until it actually happens, there can be some moments of doubt.
"You're sitting there, waiting for that phone call," McIntosh, now back with the Lions, told ESPN.com on Thursday. "It almost brought me back to draft day. Just sitting and waiting to get a call.
"It could be kind of nerve-racking."
His NFL draft wait was a bit shorter, as he selected in the second round in 2006 by Washington. Now, McIntosh wanted to return to Detroit if possible because he already started to pick up the playbook. He just needed to re-learn some of the terminology over the past couple of days.
His first test, if he is active Sunday, comes against the best running back in the league -- Adrian Peterson.
With McIntosh back with the team, here's a look at the Lions from the rest of the Interwebs:
September, 1, 2013
9/01/13
4:45
PM ET
ESPN colleague Mike Sando's
annual age analysis of NFL rosters
found that the
Detroit Lions
have the oldest roster in the league.

That designation might seem odd when you consider the relative youth of the Lions' primary players. You also might not be interested in a ranking where the full range of age differences is only a few years. In sifting through the Lions' roster, however, the culprit -- if you consider an "old" roster a bad thing -- is a big group of veteran backups.
By my count, the Lions have nine projected reserve players whose ages range between 30 and 33 years old. Six are newcomers to the roster and three -- defensive tackle
Justin Bannan
, linebacker
Rocky McIntosh
and defensive back
Rashean Mathis
-- were signed two weeks ago.
On the one hand, it makes sense to have veteran backups when you have some young starters. If right guard
Larry Warford
struggles, the Lions could replace him with
Dylan Gandy
(31) or even
Leroy Harris
(29). If
Darius Slay
needs more seasoning, the Lions could replace him with Mathis (33).
McIntosh (30) is available to spell any of the Lions' three starting linebackers.
Israel Idonije
(33) will back up rookie defensive end
Ziggy Ansah
, while Bannan (34) and
C.J. Mosley
(30) will provide depth for
Ndamukong Suh
and
Nick Fairley
.
On the other hand,
we discussed earlier
the Lions' draft issues in the past five years. One of the reasons they needed veteran depth is the inability to develop it on their own. Signing veteran backups also makes it difficult to plan long-term and orderly transitions at certain positions.
Regardless, the team the Lions have on the field at any given point will be a nice blend of young and middle-aged players. If you look at their starters on offense, defense and special teams, you really only see five who are 30 and older. Three of those are on special teams -- place-kicker
David Akers
(38), long-snapper
Don Muhlbach
(32) and returner
Micheal Spurlock
(30).
So I'm not sure there is reason to panic here. But if nothing else, now you know why the Lions rank atop Sando's age rankings.
August, 31, 2013
8/31/13
6:28
PM ET

Most significant move:
There were no surprises for the
Detroit Lions
and, really, there were few big decisions. We noted earlier that the team decided to preserve a roster spot for No. 3 quarterback
Kellen Moore
, so the most significant move they did make was placing rookie tight end
Michael Williams
on injured reserve. The Lions had substantial plans for Williams this season as the third tight end in the jumbo package that lineman
Riley Reiff
filled last season. They also hoped to develop his receiving skills as veterans
Brandon Pettigrew
and
Tony Scheffler
enter contract years. Williams had surgery last week to repair a hand injury, and though coach Jim Schwartz said the team had no long-term injuries, Williams is in fact lost for the season. (NFL teams can't start placing players on short-term injured reserve until next week.) As a result, rookie
Joseph Fauria
-- a much better receiver but less of a blocker than Williams -- is on the 53-man roster with Pettigrew and Scheffler.
The dominoes:
The Lions apparently chose veteran Michael Spurlock as their kick returner, necessitating the release of rookie
Steven Miller
, who could return on the practice squad. Spurlock is also a receiver, and for the now he is one of six on the roster, presumably because of
Ryan Broyles
' sore knees. The release of veteran
Matt Willis
means
Kris Durham
is the sixth receiver. You wonder if the Lions would change directions soon in that regard. The Lions sifted through their big group of veteran defensive backups by tapping
Rashean Mathis
as a swing cornerback/safety and
Rocky McIntosh
as a backup linebacker while releasing the rest.
John Wendling
and
Don Carey
are the backup safeties for now.
What's next:
According to multiple reports,
the Lions will place running back
Montell Owens
on short-term injured reserve. That can't happen until next week, so for now he is part of the 53-man roster. He must miss at least six weeks of the regular season. You would think the Lions will bring back a number of the players they cut Saturday for their practice squad, and it's worth remembering that they are No. 5 in priority for NFL waiver claims. Sunday could be a busy day.
List of players cut:
WR:
Corey Fuller
, Matt Willis. RB: Steven Miller,
Shaun Chapas
. OL:
Rodney Austin
,
Kevin Haslam
,
Darren Keyton
,
Jake Scott
. DL:
Andre Fluellen
,
Ogemdi Nwagbuo
,
Xavier Proctor
, Jimmy Sadler-McQueen. LB:
Brandon Hepburn
,
Jon Morgan
(waived/injured)
Chris White
. CB:
Ron Bartell
,
Chris Greenwood
. S:
Amari Spievey
,
Tyrell Johnson
,
Martavius Neloms
(waived/injured) P:
Blake Clingan
.
August, 26, 2013
8/26/13
2:45
PM ET
Along with the rest of the NFL, the
Detroit Lions
must reduce their roster to 75 players by Tuesday. They'll play their preseason finale Thursday at the
Buffalo Bills
and then cut their roster again to 53 players by Saturday. On the cusp of a busy week, both in the NFL and here
on ESPN.com
, let's review some of the biggest personnel issues the Lions have been working through this summer:

Right tackle/right guard
Seifert comment:
Jason Fox
started at right tackle and rookie
Larry Warford
at right guard in the presumably pivotal third preseason game, and that's the combination many of us thought would ultimately emerge from this competition. But the Lions haven't announced any winners, and coach Jim Schwartz said: "We have a lot of different options and a lot of guys that can potentially get the job done."
No. 2 receiver
Seifert comment:
As we noted over the weekend,
the Lions reportedly are making calls to see if they can upgrade here. That's understandable.
Nate Burleson
and
Ryan Broyles
are both working in the slot position.
Patrick Edwards
hasn't done much in the preseason after being given a nice opportunity to earn the role. Journeyman
Matt Willis
has been more productive.
Chaz Schilens
and
Mike Thomas
have already been released.
Strong-side linebacker
Seifert comment:
The Lions started off veteran
Ashlee Palmer
in this role and he has not relinquished it. Second-year players
Tahir Whitehead
and Travis Lewis have not mounted a serious challenge, and defensive coordinator Gunther Cunningham has suggested Lewis might be better suited in the middle. Two recent veteran acquisitions,
Rocky McIntosh
and
Chris White
, seem targeted more for special teams roles.
Safety
Seifert comment:
So far, it appears that the Lions' limited plan for
Louis Delmas
' camp participation has worked. Delmas looked healthy and active in 12 preseason snaps last week, and barring a flare-up of his knee condition, he is expected to start in Week 1 against the
Minnesota Vikings
.
Cornerback
Seifert comment:
Rookie
Darius Slay
had some predictably tough moments last week against
Tom Brady
, but there doesn't seem to be much reason to go back to veteran
Ron Bartell
. If anything, newly-signed
Rashean Mathis
will push for playing time, perhaps at nickel in competition with
Bill Bentley
.
Kick/Punt returner
Seifert comment:
The Lions have gotten returns from five different players in preseason games. They're trying to decide whether to dedicate a roster spot for a returner or use a backup player to handle the job. To this point, none of the participants
Place-kicker
Seifert comment:
Once
David Akers
proved he was healthy, it was clear the job would be his.
Havard Rugland
has been a fun camp story, but it's hard to imagine the Lions finding a spot on their roster for him -- especially with punter
Sam Martin
kicking off. Akers has converted seven of eight field goals in the preseason.
August, 17, 2013
8/17/13
3:05
PM ET
In the past two days, the
Detroit Lions
have signed a 34-year-old defensive tackle and a 30-year-old linebacker. They've also made plans to work out a soon-to-be 33-year-old cornerback while also signing a rookie defensive lineman whose checkered past left him unsigned when training camp began.

What in the name of panic is going on here?
I guess the easy answer is that the Lions are disappointed with their defensive personnel at certain positions and have called in reinforcements. In reality, the Lions have essentially acted on contingency plans they put in place before the start of training camp.
Defensive tackle
Justin Bannan
visited the team in July, as did linebacker
Rocky McIntosh
. In the interim, the Lions haven't had someone step up as a backup defensive tackle behind
Ndamukong Suh
and
Nick Fairley
. And the two young challengers to the strongside linebacker job,
Tahir Whitehead
and
Travis Lewis
, have both looked overmatched in preseason games.
Bannan is likely to have a backup role along with
C.J. Mosley
, while McIntosh gives the Lions an option besides
Ashlee Palmer
at that third linebacker spot. And in veteran cornerback
Rashean Mathis
, who was scheduled to visit Saturday, the Lions could see an option to incumbent
Ron Bartell
, who has struggled with injuries and has been pushed for playing time by rookie
Darius Slay
.
*Update:
The Lions announced that Mathis signed a contract after his visit. He was set to participate in Saturday's practice in Allen Park, Mich.
Finally, rookie defensive tackle
John Drew
agreed to terms about a month after the
New England Patriots
reportedly pulled their contract offer to him. Drew finished his college career at North Carolina Central University after he was kicked off the team at Duke because of a
gun-related arrest
. The Lions obviously wanted to evaluate their own depth first before signing him.
May, 9, 2012
5/09/12
8:45
AM ET
We're Black and Blue All Over:
Let's take a break from
our (relatively) serious coverage
of the Minnesota Vikings' stadium bill to note some highly significant intersections of the NFC North and reality television.
First, Green Bay Packers receiver Donald Driver made it through another week on "Dancing with the Stars" and is
headed to the semifinals of the competition
. I guess that means we'll need to ramp up our "DWTS" coverage.
Via Twitter
, Driver said: "I want to bring the Mirror Ball to Titletown." The question now is if Titletown is ready for the Mirror Ball.
Meanwhile,
EW.com reports
that Detroit Lions defensive tackle Ndamukong Suh is part of a new celebrity dating show on Fox called "The Choice." New England Patriots tight end Rob Gronkowski is also a cast member.
Whether this appearance fits into Suh's
offseason image repair plan
remains to be seen.
With that, let's continue around the NFC North:
April, 19, 2012
4/19/12
8:15
AM ET
We're Black and Blue All Over:
It's safe to say the Chicago Bears are interested in upgrading their depth at linebacker after a whirlwind of veteran free-agent visits this week. According to
ESPNChicago.com
, the list includes Rocky McIntosh, Bryan Kehl and Zac Diles.

The Bears were thin at the position last year behind starters Brian Urlacher, Lance Briggs and Nick Roach. But anyone they sign at this point should be viewed as a backup who could potentially compete with Roach to start during training camp.
The bigger issue the Bears face is finding eventual replacements for Urlacher, who turns 34 next month and Briggs, who turns 32 in November. That work will have to be done during the draft.
Continuing around the NFC North:

NFC NORTH SCOREBOARD
Thursday, 9/4
Sunday, 9/7
Monday, 9/8