December, 16, 2013
Dec 16
7:36
PM ET
DETROIT -- His experience is minimal with 20 defensive snaps this season. And now, in the biggest game of the season for the
Detroit Lions
, on national television against the
Baltimore Ravens
, one of the starting cornerbacks will be
Jonte Green
.
Green was inactive for some games earlier this season and was essentially the last option for the Lions at cornerback when he was active. He will now have to cover
Marlon Brown
and be effective in his role.
Veteran
Rashean Mathis
is expected to line up opposite Baltimore's top target,
Torrey Smith
.
Green landed in this role due to injuries to starter
Chris Houston
and top reserve
Darius Slay
, both of whom are inactive for the Lions on Monday night. Detroit now has Mathis, Green,
Bill Bentley
and
Chris Greenwood
, who has never played an NFL game, as its active corners.
The Lions' other inactives were as expected as well: quarterback
Kellen Moore
, running back
Mikel Leshoure
, guard
Leroy Harris
, tackle
Jason Fox
and guard
Rodney Austin
.
November, 27, 2013
Nov 27
4:35
PM ET
ALLEN PARK, Mich. --
Darius Slay
has been in this position before.
Houston
With
Detroit Lions
cornerback
Chris Houston
not practicing all week and now officially doubtful for Thursday's game against Green Bay, Slay will once again potentially be one of the Lions' starting cornerbacks.
Just like he was the first week of the season.
Since then, Slay has bounced in-and-out of the lineup. He began the season starting opposite Houston at cornerback, but was pulled from both games for veteran
Rashean Mathis
.
Mathis eventually replaced him in the starting lineup full-time in Week 3, pushing Slay to spot duty and as an injury fill-in, which he had to do multiple times in place of both Houston and Mathis.
But those first two weeks, when he won the job, were difficult and it showed.
"My first two weeks, it was rough," Slay said. "The game and the speed was so different. I was like, 'man, this is what's going on right here in the NFL.'
"But then, as I got accustomed to it, they just slid me in back-and-forth, give me the feeling of it, brought my confidence like crazy, yes, this is where I need to be."
A potential starter again, Slay won't say he wasn't ready to start the first time, but he was "second-guessing" himself too much and striving for perfection when making the play is what he needed to do.
Sitting on the bench watching Houston and Mathis helped that. So did advice from Mathis telling him to stay loose and to do what he does well, along with what the coaches were saying.
Now in the same position again, he has a bit more experience and knowledge to potentially handle it.
"I'm ready," Slay said. "Ain't no second-guessing about me being a starter. If they tell me I'm going to be a starter, I'm going out there with the same mentality I got out there when I wasn't.
"Go out there and compete and beat the guy in front of me."
If Houston ends up inactive, Detroit's available cornerbacks would be Mathis, Slay, nickel
Bill Bentley
and little-used
Jonte Green
.
Also, the Lions signed offensive lineman Rodney Austin off the practice squad Wednesday while releasing defensive end
Austen Lane
, who was signed while
Ziggy Ansah
was injured.
September, 1, 2013
Sep 1
3:11
PM ET
The
Detroit Lions
have assembled
their full practice squad,
and all eight members are players the team waived Saturday.

They include three former draft choices: receiver
Corey Fuller
, cornerback Chris Greenwood and linebacker Brandon Hepburn. Also among the group: running back/kick returner Steven Miller, fullback
Shaun Chapas
, offensive lineman Rodney Austin, and defensive tackles
Jimmy Saddler-McQueen
and Xavier Proctor.
The two most prized possessions of that group are probably Greenwood and Miller.
The Lions couldn't justify a roster spot for Greenwood, who missed all of last season and a good portion of training camp this summer because of injuries, but he is as physically gifted as any defensive back on their roster. Miller, meanwhile, made a big push to win the returner job that presumably has gone to veteran newcomer
Micheal Spurlock
.
Note:
The Lions claimed
former
Washington Redskins
safety
DeJon Gomes
on waivers, according to multiple reports. That means a corresponding move will have to take place at some point Sunday to create a spot on the roster.
August, 31, 2013
Aug 31
6:28
PM ET

Most significant move:
There were no surprises for the
Detroit Lions
and, really, there were few big decisions. We noted earlier that the team decided to preserve a roster spot for No. 3 quarterback
Kellen Moore
, so the most significant move they did make was placing rookie tight end
Michael Williams
on injured reserve. The Lions had substantial plans for Williams this season as the third tight end in the jumbo package that lineman
Riley Reiff
filled last season. They also hoped to develop his receiving skills as veterans
Brandon Pettigrew
and
Tony Scheffler
enter contract years. Williams had surgery last week to repair a hand injury, and though coach Jim Schwartz said the team had no long-term injuries, Williams is in fact lost for the season. (NFL teams can't start placing players on short-term injured reserve until next week.) As a result, rookie
Joseph Fauria
-- a much better receiver but less of a blocker than Williams -- is on the 53-man roster with Pettigrew and Scheffler.
The dominoes:
The Lions apparently chose veteran Michael Spurlock as their kick returner, necessitating the release of rookie
Steven Miller
, who could return on the practice squad. Spurlock is also a receiver, and for the now he is one of six on the roster, presumably because of
Ryan Broyles
' sore knees. The release of veteran
Matt Willis
means
Kris Durham
is the sixth receiver. You wonder if the Lions would change directions soon in that regard. The Lions sifted through their big group of veteran defensive backups by tapping
Rashean Mathis
as a swing cornerback/safety and
Rocky McIntosh
as a backup linebacker while releasing the rest.
John Wendling
and
Don Carey
are the backup safeties for now.
What's next:
According to multiple reports,
the Lions will place running back
Montell Owens
on short-term injured reserve. That can't happen until next week, so for now he is part of the 53-man roster. He must miss at least six weeks of the regular season. You would think the Lions will bring back a number of the players they cut Saturday for their practice squad, and it's worth remembering that they are No. 5 in priority for NFL waiver claims. Sunday could be a busy day.
List of players cut:
WR:
Corey Fuller
, Matt Willis. RB: Steven Miller,
Shaun Chapas
. OL:
Rodney Austin
,
Kevin Haslam
,
Darren Keyton
,
Jake Scott
. DL:
Andre Fluellen
,
Ogemdi Nwagbuo
,
Xavier Proctor
, Jimmy Sadler-McQueen. LB:
Brandon Hepburn
,
Jon Morgan
(waived/injured)
Chris White
. CB:
Ron Bartell
,
Chris Greenwood
. S:
Amari Spievey
,
Tyrell Johnson
,
Martavius Neloms
(waived/injured) P:
Blake Clingan
.
June, 4, 2013
Jun 4
11:00
AM ET
Over the past couple of days, the
Detroit Lions
have added two free agent offensive linemen who have started a combined 170 games in their careers. On paper, at least, the arrival of guard
Jake Scott
and guard/center
Leroy Harris
has made for a crowded depth chart in the middle of the Lions' already-transitioning offensive line.

So what's going on here? Are the Lions disappointed with what they've seen in organized team activities (OTAs)? Are they concerned with their right guard situation, which to this point has featured a competition between
Rodney Austin
, rookie
Larry Warford
and a few others?
For now, I think it's best to recall what general manager Martin Mayhew
said of the offensive line after the draft in April:
"We're really young there so we'll look at some veteran guys there I think over the next few weeks."
Scott, 32, and Harris, who turns 29 this week, fit that bill. They are fallbacks if one of the Lions' younger linemen can't earn the starting right guard job. Both spent time with the
Tennessee Titans
during the time when Lions coach Jim Schwartz was an assistant there, and to be fair, both have seen better times in their careers.
Harris is recovering from a torn ACL suffered Oct. 28, while Scott was out of the league last season until the
Philadelphia Eagles
signed him for Week 11 and gave him seven starts the rest of the way.
I don't think the arrival of either player is a sign of concern from the Lions. If anything, it's the fulfillment of Mayhew's earlier promise.
May, 3, 2013
May 3
12:00
PM ET
»
NFC Eight in the Box
:
East
|
West
|
North
|
South
»
AFC
:
East
|
West
|
North
|
South
With the draft in the rearview mirror, what is the most pressing issue on each NFC North team's agenda?

Chicago Bears:
The top priority at Halas Hall, from now until the start of the season, is getting the offense organized in Marc Trestman's new scheme. This task has appeared annually for the Bears in recent years, but the failure to accomplish it played a big role in the firing of former coach Lovie Smith. There is also an additional level of urgency as quarterback
Jay Cutler
enters the final year of his contract. The Bears might not want to make a decision on Cutler's future until seeing him adjust successfully to this scheme, but will he do it in time for the Bears to make a decision?

Detroit Lions:
The next order of business in Detroit is to set up a plan for settling on the new right side of their offensive line. Right tackle
Gosder Cherilus
departed via free agency, right guard
Stephen Peterman
was released and right guard candidate
Riley Reiff
is likely to play left tackle. Rookie
Larry Warford
will compete with
Bill Nagy
and perhaps
Rodney Austin
at right guard, while right tackle will be a competition between
Jason Fox
and
Corey Hilliard
, among others.

Green Bay Packers:
Suddenly, the Packers have an offseason-long project on their hands: making a reconstructed offensive line work. After the draft, Packers coach Mike McCarthy moved
Bryan Bulaga
from right tackle to left tackle and flipped guards
Josh Sitton
and
T.J. Lang
. McCarthy now has his two best offensive linemen on the left side, with Lang pairing with a yet-to-be-named right tackle. There is no substitute for time when establishing continuity for an offensive line, so the Packers' next and continued order of business is getting Bulaga and Sitton comfortable on the left side. They'll also need to decide whether
Marshall Newhouse
,
Don Barclay
,
Derek Sherrod
or even rookie
David Bakhtiari
are best suited to be the right tackle.

Minnesota Vikings:
Identifying the 2013 middle linebacker is the Vikings' most unanswered question. After allowing 2012 bridge starter
Jasper Brinkley
to depart via free agency, the Vikings set their sights on the draft to find a longer-term replacement for
E.J. Henderson
. There was widespread and justified speculation that the Vikings would draft Notre Dame's
Manti Te'o
, but the unpredictable first round brought them three players they ranked higher on their board. Without second- or third-round picks, the Vikings weren't able to draft a starting-quality prospect. Veteran outside linebacker
Erin Henderson
told reporters this week that he was
preparing to take on the role
, apparently at the suggestion of coaches, but this is the time of year for experimenting with position changes that could be reversed before training camp. To this point, the Vikings haven't shown serious interest in free agent
Brian Urlacher
.
April, 26, 2013
Apr 26
11:30
PM ET
If it wasn't apparent already, the
Detroit Lions
made it clear Friday evening:
Riley Reiff
will be their left tackle in 2013.

The Lions could have drafted a left tackle in either the second or third rounds of this draft, but instead they selected Mississippi State cornerback
Darius Slay
and Kentucky guard
Larry Warford
, respectively. Both players fill needs and were better value picks than a left tackle, a position that drops off significantly after the top of the first round, and the Lions weren't in desperate shape there to begin with.
As we discussed Thursday
, we'll never know how interested the Lions were in drafting an elite left tackle and moving Reiff to right guard or right tackle. The draft's top three left tackles were all off the board when the Lions' turn arrived at No. 5. Conventional wisdom suggested they would have taken advantage of the opportunity to have a stronger line across the board, but they have no incentive to confirm that now.
Lions coach Jim Schwartz told Detroit-area reporters, in fact, that the Lions were prepared to use Reiff at left tackle as soon as they learned of
Jeff Backus
' retirement.
"That's why we drafted him," Schwartz said. "Again, when Backus got hurt last year, that's why we played [Reiff] there. You never say never. You never know who is going to become available, what's going to happen. But we drafted him as a left tackle. We thought he could play right tackle, we think he can play guard.
"You know, Riley, if you gave him time, could probably play center too. He played tight end for us. He's that kind of athlete. He's a guy that can move around and do those things, but we drafted him as a left tackle. Probably, with the way things ended up here, we'll probably start him off there. We have a lot of confidence in him. I mean, that's why we drafted him last year. Last year, Riley was the second offensive lineman picked."
Reiff will play next to veteran left guard
Rob Sims
, and it's assumed that veteran
Dominic Raiola
will hold on to his job for another year. Warford could compete at right guard with
Bill Nagy
and
Rodney Austin
. Meanwhile,
Jason Fox
and
Corey Hilliard
could compete at right tackle.
The Lions have five draft picks remaining Saturday, but it's difficult to expect a rookie starter coming after the third round. It happens, but not enough to count on it. Unless the Lions decide to jump back into free agency, chances are they'll roll this season with the offensive linemen now on their roster.
March, 21, 2013
Mar 21
1:15
PM ET
Everyone and their brother is excited about the
Detroit Lions
' potential
for a balanced and explosive offense
after the acquisition of running back
Reggie Bush
. It all makes perfect sense. What could go wrong?
One overlooked aspect, at least from a national perspective, is that the Lions will have a majority of new starters on the offensive line. Replacements for left tackle
Jeff Backus
, right tackle
Gosder Cherilus
and right guard
Stephen Peterman
won't be veteran free agents with years of experience. They will be former backups, spot starters and possibly a rookie as well.
[+] Enlarge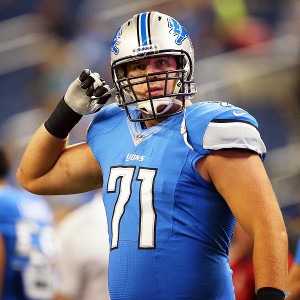 Mike Carter/USA TODAY SportsThe Lions aren't ready to committ to using Riley Reiff at one particular position on the offensive line.
The Lions have expressed confidence in their succession plan, although the details of it remain contingent on the draft and offseason competition. So I'll just say this: The Lions will have done an exceptional job in transition if they don't experience at least a few bumps from their offensive line in 2013.
"We have confidence in the guys that we've had there and that we've worked hard to develop," Lions coach Jim Schwartz said this week at the NFL owners meeting. "We've been prepared for it. Last year, if it had happened, we would have been prepared for it. We had what we considered good depth on our offensive line. It just wasn't tested. It didn't mean we weren't prepared for it to be. We've been comfortable with all of those guys."
To this point, however, the Lions aren't ready to start assigning positions to a group of starting candidates that includes
Riley Reiff
,
Jason Fox
,
Corey Hilliard
,
Bill Nagy
and
Rodney Austin
. Most notably, the Lions won't say if Reiff will play left tackle, the position he was drafted at last year, because he can also play right tackle and right guard.
In my experience, no teams consider using a true, genuine, franchise left tackle at another position. They are so difficult to find, and so unique in many ways, that it would make no sense to waste the qualities necessary to play there on a position that doesn't require them.
So that leaves us to draw one of two conclusions on Reiff: Either the Lions aren't convinced he is a long-term answer at left tackle or they don't want to tip their draft strategy by locking him in there publicly. As it stands now, the Lions could be in the market for one of the draft's blue chip left tackles with the No. 5 overall pick in next month's draft.
Lions general manager Martin Mayhew
told reporters
he "could see" Reiff playing left tackle this season but couldn't commit to that. Schwartz said Reiff's versatility makes him a candidate to play left tackle, right tackle or right guard.
"So it is a little bit in limbo I guess," Schwartz said. "But we're not practicing right now. It's not like he's being set back right now. It's not like we're spinning our wheels with him playing defensive line or something like that. All the guys right now are training and doing conditioning on their own."
If the Lions don't draft a left tackle in the first round, you would have to assume Reiff will open the season there. The dominoes should start falling next month.
February, 23, 2013
Feb 23
2:30
PM ET
INDIANAPOLIS -- Watching offensive linemen work out Saturday brought to mind the
Detroit Lions
' efforts in that regard.

The Lions have spent a few drafts building to a moment when they would turn over their own line, and that time has arrived. All that's left to know is whether it will take place in one season or be a two-year transition.
Already, the Lions have released
right guard
Stephen Peterman
. Right tackle
Gosder Cherilus
is a pending free agent and left tackle
Jeff Backus
could retire. Center
Dominic Raiola
appears to have bought himself another season by restructuring a contract that will expire at this time next year.
So who will take over? We know that 2012 first-round draft pick
Riley Reiff
will start somewhere, be it at guard or tackle. Here at the NFL scouting combine, I was a little surprised to hear general manager Martin Mayhew and coach Jim Schwartz repeatedly mention
Jason Fox
-- a little-used fourth-round draft pick in 2010 -- as a leading candidate to start as well.
Fox was limited by injuries in college as well as in his first two seasons with the Lions. He has played in five NFL games, only one over the past two seasons, and that was a six-snap outing on special teams in Week 12 last season. But he is 6-foot-6, 314 pounds and won't turn 25 until May.
"Jason Fox obviously had the injuries in his first couple seasons," Mayhew said. "He was able to stay healthy all last year, but we also stayed healthy at the tackle position. He didn't play very much for us. We think he has starter-type talent level. He has the size. He's a strong enough guy. He's a good technician. He's a hard worker. We think he has the ability to start for us."
It would be rare, but not unheard of, for an injury-plagued player to emerge from three years of inactivity to become a starter. But if the Lions need or want to replace most of their starters in one offseason, that's the kind of elevation they'll need to make.
There are some other little-used players remaining from the Lions' 2012 roster who could compete for starting jobs as well, including: guard-center
Billy Nagy
to guard
Rodney Austin
to tackle
Corey Hilliard
, a pending free agent himself.
In either case, by 2014, four of the five positions will assuredly have new starters. Left guard
Rob Sims
is the only player who figures to still be in his current role. The Lions are about to get young in a hurry on their offensive line.