NFC North:

Roger Staubach
May, 17, 2011
5/17/11
12:30
PM ET
Examining the most crucial event in the history of every team in the division.
The most important moment in
Green Bay Packers
history was nearly scuttled by an unlikely source. Shortly after Vince Lombardi accepted the Packers' job as head coach/general manager in 1959, his wife was "distraught," according to historian David Maraniss.
Marie Lombardi approached
New York Giants
owner Wellington Mara, who owned Lombardi's contract as a Giants assistant coach. As Maraniss writes in "
When Pride Still Mattered
," Marie begged Mara to block her husband's move.
[+] Enlarge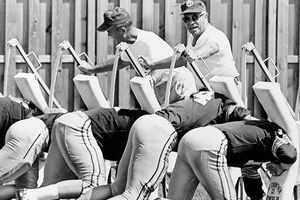 AP PhotoCoach Vince Lombardi (upper right) led the Packers to five championship wins in seven seasons.
Mara declined, knowing Vince was ready to be a head coach. Marie stood by her husband. And the rest, as they say, is Packers history.
Lombardi's arrival in Green Bay was your overwhelming choice
as the Packers' Flash Point
, and it received a higher percentage of votes (69 percent) than any individual event offered in last week's series of polls. Lombardi won his first NFL title in 1961 and collected four more before giving up the job in 1967, building an unmatched legend and painting the franchise in gold mystique for generations to come.
Some of you made impassioned arguments for Curly Lambeau's push to sell stock and make the franchise a non-profit organization in 1923, a short-term fundraising effort that embedded a structure still in operation today. "How can it not be Curly?" wrote
mallow420
. "If Curly doesn't save the Packers then there's no Packers to hire Lombardi."
Hadessniper
allowed that "Lambeau making the Packers public is more important for the Packers, as without that there is simply no way Green Bay keeps a team." But, wrote hadessniper, "Lombardi is probably more important for the NFL as a whole. The NFL was gaining popularity, but Lombardi gave the game a legend. Without Lombardi the NFL wouldn't be what it is today."
Timarquardt
was more direct: "Get back to me when someone else wins five championships in seven years. That's Lombardi's legacy and with all due credit to Curly, he did it when there was a bunch of good teams. Curly saved the franchise, obviously important, but without those Lombardi years the team never would have had the following through the dark years of the '70s and '80s to be successful."
What's fascinating to me is that Lambeau actually wanted Lombardi's job in 1959, a decade after an internal power struggle led to Lambeau's ouster. As Maraniss recounts, Lambeau flew to Green Bay during the interview process and launched a campaign to capture at least the general manager position that Lombardi ultimately filled. Dominic Olejniczak, president of the Packers board of directors, resisted the urge to hire him despite heavy public support.
The Flash Point mandate was less clear for the NFC North's other three teams. Let's sort through them in alphabetical order:
BEARS: A hero of 1985
About half of you
voted for the arrival
of defensive coordinator Buddy Ryan, the architect of the 46 defense that led the Bears to a championship in 1985.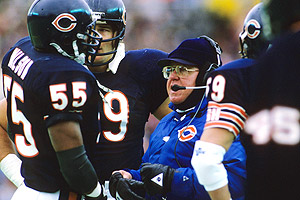 Ronald C. Modra/Sports Imagery/Getty ImagesBuddy Ryan's 46 defense formed the identity of the 1985 Super Bowl-winning Bears team.
Lewie21982
was livid and wrote: "Who are these people voting?? Are you just idiot baby boomers, hippies, or the '80s mullet crowd??? I was born in the '80s and clearly know the decision of drafting Red Grange or instituting the T-Formation was the most significant thing the Bears have ever done. The Bears have nine championships and eight of them were before Buddy Ryan, Mike Ditka, or the 46 defense ever came around!!"
I hear ya, Lewie21982. Red Grange made the Bears an early heavy hitter in pro football, and George Halas' schematic innovations led to the golden age in franchise history -- four world titles in seven years between 1940-46. But I understand where the baby boomers, hippies and mulleteers were going.
The 1985 Bears were the best team in franchise history and one of the most dominant of the NFL's post-merger era. With all due respect to Ditka and running back Walter Payton, Ryan's 46 defense was the biggest reason. It's impossible for a single moment to spawn something so impactful, and I heard a suggestion for ex-general manager Jim Finks acquiring many of that team's stars. But without Buddy Ryan, the 46 defense doesn't exist and the 1985 Bears as they were known never come to be.
LIONS: Forgetting yesteryear
The
Detroit Lions
' Flash Point vote
got more action
than any team in the division, garnering more than 53,000 votes. On that, we can agree.
[+] Enlarge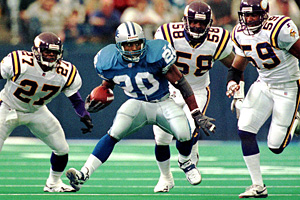 JEFF KOWALSKY/AFP/Getty ImagesBarry Sanders had a Hall of Fame career but couldn't get the Lions a championship.
But did the decision to draft running back
Barry Sanders
have more impact than any other event in franchise history? About 60 percent of you thought so, although the comments reflected a wider disparity.
I'm not on board, and neither was
j_sleik83
. We agree that quarterback Bobby Layne brought the Lions what Sanders never did. J_sleik83: "Bobby Layne in combination with the Hall of Fame defensive backfield the Lions had during the entirety of the '50s IS their defining era. Barry Sanders didn't lead them to the promised land, Layne did."
I mean no disrespect to Sanders, who forged a Hall of Fame career on some otherwise undermanned teams. But with Layne behind center, the Lions won NFL titles in 1952 and 1953. He contributed to a third in 1957, and upon his subsequent departure, Layne placed a (possibly apocryphal) 50-year curse on the franchise. (For that reason,
DWargs
thought trading Layne away is the defining moment in franchise history: "Haven't gotten close to a championship since.")
Several of you pointed to the ownership of the Ford family as the primary reason for that dubious run. Regardless, I understand that Lions history is defined more by failure than success. But on an otherwise desultory landscape, the Lions once had a brilliant run. Bobby Layne was the single biggest reason why.
VIKINGS: Varied opinions
I did either an excellent or terrible job of
choosing options
for the
Minnesota Vikings
' Flash Point: All four possibilities received between 19 and 32 percent of the vote. Assembling the "Purple People Eaters" had the highest percentage, but its total was hardly a mandate among the 38,000 or so votes cast.
[+] Enlarge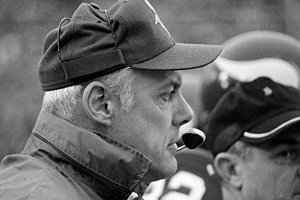 AP Photo/Jack ThornellBud Grant won 152 games as coach over 18 seasons.
Scanning the comments, it was clear that you agreed on only one thing: A Vikings Flash Point needed to reflect a long history of dysfunction.
Even looking beyond the obvious,
Ymacdaddy
offered this litany: "Herschel Walker, Metrodome [collapse], Gary Anderson, Dimitrius Underwood, too many in huddle, big-game chokers, etc. How about Darrin Nelson before Marcus Allen?"
The 1989 Walker trade, in which the Vikings ultimately gave up five players and six draft choices, received multiple mentions. So did Gary Anderson's shocking field goal miss in the 1998 NFC Championship Game.
BuckeyeVikes80
is "still reeling from that 12 years later."
Dbatten1
noted
Dallas Cowboys
quarterback Roger Staubach's Hail Mary pass to Drew "Push" Pearson in the 1975 playoffs.
TampaPacMan
's moment was the final play of the 2003 season, when the Vikings lost the NFC North title and a playoff berth by giving up an improbable touchdown to
Arizona Cardinals
receiver Nathan Poole. It was "the signature moment in a franchise history littered with failures!" wrote TampaPacMan.
If it were up to me, Bud Grant's arrival would rank as the most significant moment in Vikings history. Many of us would agree that Grant has made the single-biggest impact in this franchise's 50 years. But what do I know? I just work here.
January, 10, 2010
1/10/10
11:45
AM ET
Three things to know about next Sunday's Cowboys-Vikings divisional playoff game:


1. Minnesota tight end Visanthe Shiancoe had this to say Sunday morning via Twitter:
"Cowboys are leaving the suburbs and coming to the hood! Better be ready.. "ain't nothing nice"." Among other things, Shiancoe was referring to the Vikings' 8-0 record at the Metrodome this season, located in downtown Minneapolis. Minnesota has been a confident, proficient and aggressive team all season at the home, and it's probably the best advantage the Vikings will have going against a Cowboys team that is playing at an elite level. (The Cowboys are 5-3 on the road this season.) I really don't think the Metrodome is the loudest stadium in the NFL, but it's certainly claustrophobic and carries a long history of audio intimidation. The Cowboys lost their last three games there, including a 1999 wild-card playoff game, and last won at the Metrodome in 1995.
2. Minnesota coach Brad Childress gave his players the week off, and left tackle Bryant McKinnie better have made the most of it.
McKinnie finished the season with several minor physical ailments and didn't play well down the stretch, most notably getting benched after a disastrous night against Carolina's
Julius Peppers
. McKinnie figures to face Dallas'
DeMarcus Ware
, an equally fearsome pass-rusher, in what could be the game's most critical matchup. Ware had a dominant game Saturday night against the Eagles, and the Cowboys will have their pick of matching him against McKinnie or the Vikings' rookie right tackle,
Phil Loadholt
. The Vikings will have to slide protection toward Ware no matter where he lines up. We have little confidence that McKinnie (or Loadholt) would fare well in a one-on-one situation.
3. There has been a long and colorful playoff history between these two teams.
Perhaps the most-remembered loss in Vikings history came on Dec. 28. 1975. The Cowboys won that divisional playoff matchup after receiver Drew Pearson caught a Hail Mary pass from Roger Staubach to cap a fourth-quarter drive. In Minnesota, the receiver on that play is known as "Push Pearson" because of the long-held contention he pushed away cornerback Nate Wright before making the catch. Offensive pass interference wasn't called, and the crowd at the old Metropolitan Stadium got so rowdy that field judge Armen Terzian was hit by a whiskey bottle and knocked unconscious.
May, 5, 2009
5/05/09
6:54
AM ET
Posted by ESPN.com's Kevin Seifert
In late February, the Orlando Sentinel's Chris Harry pulled up a chair with retired quarterback Brett Favre and shot the breeze for 10 minutes. Inevitably, the subject of returning to the playing field came up. Here's what Favre said then, according to a story published Tuesday:
"I'm coming off a torn bicep tendon, but I still think I can throw. It hurt toward the end of the year, but I still think in my mind I can play. It's there. ... But soon to be 40? I just don't know if it's worth a try. But there will be a day, I'm sure, when I feel like I could play 291 more [games]."
Amazingly, those sentiments already represented a departure from what Favre said earlier in the month upon announcing his retirement -- that the tendon needed surgery in order to heal and that he wasn't interested in the procedure. If you're into reading between the lines, you can see that Favre was already moving away from his steadfast plan to retire just weeks after his decision.
Two months later, how much further has Favre traveled down that path? He texted ESPN's Trent Dilfer on Monday to respond to a question about whether he planned to play in 2009. The response: "NO." I suppose it would have been superfluous to add "FOR NOW."
Continuing around the NFC North: