NFC North:

Rolando McClain
April, 23, 2013
4/23/13
2:35
PM ET
Our 2013 #bloggermock took an early twist and left me only partially satisfied as the protector of NFC North interests. Of note: Not a single quarterback was drafted in the first round, something that hasn't happened in the real draft since 1996. We also passed up the running back position in the first round, which that hasn't happened since the common draft began in 1967.
Below are the players I would up picking for the NFC North and my reasoning in each instance.

Johnson
5. Detroit Lions
My pick:
Oklahoma left tackle
Lane Johnson
Final decision:
Between Johnson, Alabama cornerback
Dee Milliner
and BYU defensive end
Ezekiel Ansah
Process and reasoning:
The Lions' true intentions are tough to read at left tackle. When they drafted
Riley Reiff
at No. 23 overall last year, we all assumed he was the heir apparent at the position. Since the retirement of incumbent
Jeff Backus
, however, the Lions have emphasized Reiff's versatility and suggested he could play right guard or right tackle. To me, versatility is irrelevant if you have a true long-term answer at left tackle.
It's possible the Lions are deliberately clouding Reiff's future to hide their draft intentions. In the end, I thought the No. 5 pick was a great place to find a blue-chip left tackle and further strengthen the Lions' line by allowing Reiff to start at right guard or right tackle.
Johnson might be the third-best left tackle in the draft, but
draft analysts
have suggested that's a
matter of experience more than aptitude
. I had a brief pre-draft trade discussion with AFC East blogger James Walker, who wanted to use the
Miami Dolphins
' No. 12 overall pick to move up and draft a left tackle. But there was no way Johnson would be available at No. 12, so I needed much more than what Walker was offering (a second-round pick) to pass up getting him.
I know I've pushed the Lions to draft a cornerback like Milliner for years, but finding a left tackle can be even more difficult. I was tempted by Ansah, but decided to gamble that some decent defensive ends would make it to the top of the second round. In this mock, three of Mel Kiper's top five defensive ends would be available after the first: UCLA's
Datone Jones
, Auburn's
Corey Lemonier
and Florida State's
Tank Carradine
.
Ogletree
20. Chicago Bears
My pick:
Georgia linebacker
Alec Ogletree
Final decision:
There wasn't much debate.
Process and reasoning:
I did not expect Ogletree to be available at No. 20 and knew it would be difficult for the Bears to move up. But once he made it past the
New Orleans Saints
at No. 15, I thought I had a chance. The
New York Giants
have been speculated as a possible landing spot, but the Giants haven't selected a linebacker in the first round since 1984 (Carl Banks).
I'm still not sure Ogletree will be available at No. 20 in the real draft Thursday night, but in this case -- with Notre Dame tight end
Tyler Eifert
already off the board -- I couldn't justify passing him up as a long-term replacement for
Brian Urlacher
.

Williams

Hayden
23 and 25. Minnesota Vikings
My picks:
North Carolina defensive tackle
Sylvester Williams
, Houston cornerback
D.J. Hayden
Final decision:
Between Williams, Hayden, Cal receiver
Keenan Allen
, Notre Dame linebacker
Manti Te'o
Process and reasoning:
I really do think that Vikings general manager Rick Spielman has genuine interest in Te'o and wants to draft him. In looking back on this mock, I just got too greedy and sneaky for my own good.
I had enough ammunition to move up, but for whom? Tennessee receiver
Cordarrelle Patterson
went way too high (No. 8 to the
Buffalo Bills
), and West Virginia's
Tavon Austin
was gone at No. 13. Is Austin worth even an extra second-round pick to the Vikings? I couldn't do it.
Ogletree plays a position of need, but I felt sketchy about giving up extra draft choices for a player with multiple off-field flags in the past year.
So my plan was to grab two really good non-middle linebackers and then cross my fingers that someone, perhaps even Te'o, would be available in the second round, where Spielman could work some trade magic and grab one. It almost worked. Te'o made it to No. 32, where the
Baltimore Ravens
drafted him just after learning that
Rolando McClain
had been arrested once again.
Media analysis is split on whether Te'o is significantly better than the next tier of middle linebackers, and most people think the Vikings are most interested in him. So if the Vikings passed, I thought there was a chance he would tumble. In the end, that's why I passed him over even though I'm not sure Spielman will.
As for receiver, I had my eyes on Tennessee's
Justin Hunter
, but he went one slot ahead at No. 22. So I went with Williams, who could be a long-term replacement for
Kevin Williams
, and Hayden. I had a small chance to trade down, but the best offer I got to move from No. 25 to the top of the second round at No. 35 was an additional fifth-round pick. Not good enough. The cornerback class drops off after the first round, and Washington's
Desmond Trufant
was already off the board. In this scenario, the Vikings would be in position to maneuver in the second round for a receiver. Among those who are left is Clemson's
DeAndre Hopkins
.

Jenkins
26. Green Bay Packers
My pick:
Georgia defensive tackle
John Jenkins
Final decision:
Between Jenkins, Syracuse offensive lineman
Justin Pugh
, Florida State offensive tackle
Menelik Watson
Process and reasoning:
The honest truth of the matter is that I was just guessing here. Congratulations to the Packers. No one ever knows for sure who a team is going to draft, but this year, no one really has anything more than a guess on the Packers. They appear to be interested in improving their defensive line, at least based on their limited activity in free agency, and Jenkins seemed the best of what was still remaining on the board. I don't mind saying he was even more of a guess than usual.
December, 20, 2011
12/20/11
2:15
PM ET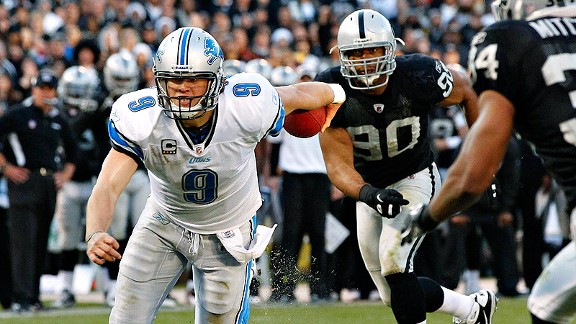 Cary Edmondson/US PresswireMatthew Stafford's fourth-down run for a first down in the fourth quarter on Sunday kept the Detroit Lions alive to beat the Oakland Raiders.
Years from now,
Detroit Lions
fans will remember where they were and how they felt when
Matthew Stafford
capped a 98-yard drive with a touchdown pass to
Calvin Johnson
-- the game-winning score in Sunday's 28-27 victory over the
Oakland Raiders
. But the "Megadrive," as I agree we should call it, never would have happened were it not for the most subtle and arguably most surprising play of Stafford's young career.
Back up and recall that the Lions trailed by 13 points with 5 minutes, 36 seconds remaining in the game. It was fourth-and-2 at the Raiders' 8-yard line, and a field goal would have provided little boost to their comeback efforts.
The Lions arranged themselves in an empty backfield with Stafford in the shotgun. They had two receivers lined up on the left and two on the right. Both groupings had a safety over top, and tight end
Brandon Pettigrew
had safety
Mike Mitchell
aligned in man coverage.
Stafford surveyed the defense and made a silent decision before the play began.
"They had three down linemen and a linebacker," Stafford said, "and everybody else was double-covered. I'm sitting there thinking, 'I'm about as good of an option as anybody else.'"
Not only were the Raiders in a three-man front, but nose tackle
Desmond Bryant
was offset to the right of center
Dominic Raiola
. Middle linebacker
Rolando McClain
was lined up 6 yards off the line of scrimmage. The Raiders were practically begging Stafford to pull down the ball and run to his left.
I don't blame them, not when the alternative was Stafford looking for Johnson in the end zone. And while Stafford is an athletic runner, he rarely scrambles. In 26 previous starts, in fact, Stafford had 43 carries and converted a first down on 10 of them.
In this case, however, there was no hesitation. He took two steps back after grabbing the snap, allowing the pass rush to advance, and then took off behind left guard
Rob Sims
. Bryant further opened the hole by stunting toward the right side of the line, and Stafford cut inside of McClain at the 8-yard line before gaining the first down and falling at the 3.
"It was a pass play," Stafford said. "Big number 55 [McClain] was the only guy I had to get past. I didn't tell anybody I was going to run. I jus went up to the line of scrimmage and figured I had to make a play. Put my foot in the ground and went north."
Were it not for that decision, we aren't talking this week about the Lions' first opportunity to clinch a playoff berth in 12 seasons. Instead, we'd be figuring out longshot tiebreaker scenarios and shifting our gaze to the offseason. A seemingly simple 5-yard run was confirmation of an observation that had been brewing for years: The Lions have the coolest, most collected 23-year-old quarterback in the NFL.
Johnson has received plenty of credit, all of it deserved, for his role in Sunday's victory. But the quarterback is almost always the key player in a comeback victory, and as the chart shows, Stafford has already directed six efforts to overcome a fourth-quarter deficit in less than three seasons.
Stafford has thrown a stunning 22 touchdown passes in those six games. The Lions trailed by at least 13 points in five of them, and it's worth noting that half of them came on the road. Quarterbacks with strong arms and high character enter the NFL every season. Only a fraction of them play their best in adverse situations.
"He's young but he's seasoned," Lions coach Jim Schwartz said. "He's played a lot football in his life. High school, college. He started as a true freshman at the University of Georgia in the Southeast Conference. I mean, there's some big games involved there, too. He's been on track for this for a long time. He didn't switch positions and start playing quarterback when he came into the NFL. He's been in a lot of these situations before and that's why we drafted him. He's going to lead this team to a lot of wins."
To be sure, Stafford and the Lions still trailed by two scores even after the conversion. But he threw a 3-yard touchdown pass to
Titus Young
on the next play, and on the "Megadrive," Stafford completed 5 of 7 passes for 91 yards and also threw a ball that resulted in a 17-yard pass-interference penalty. Most notably, Stafford understood the Lions needed downfield completions and managed to complete two -- for 21 and 48 yards to Johnson -- without forcing one pass.
"You need to [get] some chunks in there somewhere," Schwartz said. "You can't just check the ball down every single time. You're going to have to really zip some balls in. … There are not a whole lot of safe decisions when you're down six with no timeouts and 98 yards in front of you."
But on a half-dozen occasions already in his career, Stafford has demonstrated perhaps the rarest of qualities among NFL quarterbacks. He makes sound decisions under pressure -- even if they're sometimes a surprise.