January, 4, 2013
Jan 4
12:15
PM ET
We posted our
final Quarterback Report earlier this week
, noting that for all the discussion about our collection of elite and near-elite quarterbacks, only one really had a top-10 season in 2012. ESPN analyst Ron Jaworski concurred in his
final rankings of all NFL quarterbacks .

You'll need an Insider subscription to read the entire file, but I can provide you some snippets of Jaworski's NFC North thoughts along with my own below.
2. Aaron Rodgers
Jaworski excerpt:
"He has felt pressure at times -- and gotten a little frenetic as a result -- but he worked his way through it. He was very, very solid in the last quarter of the year."
Seifert comment:
Rodgers was sacked an NFL-high 51 times this season and doubled his turnover total from last season. But he led the NFL in touchdown ratio (39 in 552 attempts). Given injuries at receiver and line, 2012 was probably the second-best season of Rodgers' career.
12. Jay Cutler
Jaworski excerpt:
"He needs a support system that can help him maximize his talent."
Seifert comment:
With all due respect to Jaworski, Cutler seemed set up pretty well in 2012 considering the acquisitions of his favorite receiver (
Brandon Marshall
) and coach (Jeremy Bates). Admittedly, the Bears' failure to address their offensive line left him harried for much of the season.
20. Matthew Stafford
Jaworski excerpt:
"I know he understands what he needs to do, but the mechanics just aren't ingrained."
Seifert comment:
Jaworski has been the most vocal critic of Stafford's at-times unorthodox mechanics, especially his sidearm throws. As a result, Stafford was the biggest dropper in his rankings this season. The fundamentals issue is a sensitive topic for Stafford and the Lions. My amateur sense is that when players reach their fourth NFL seasons, they are what they are from a physical standpoint. It's hard to imagine a fundamental makeover at this point. As with any player, the good comes with the bad.
23. Christian Ponder
Jaworski excerpt:
"The Vikings don't need Ponder to be a Hall of Famer when they have
Adrian Peterson
."
Seifert comment:
That feels like faint praise to me, but expectations for Ponder fell so low at midseason that everyone is happy when he is short of terrible.
October, 4, 2012
10/04/12
7:10
PM ET
We continue this week's look at the first quarter of the 2012 season with
Ron Jaworski's re-assessment of the quarterback rankings

he
originally published over the summer
. You'll need an Insider subscription to see the entire list as it stands, but my ESPN security clearance authorizes this leak of the four NFC North entries:
Aaron Rodgers
Was:
1
Is:
1
Seifert comment:
Rodgers had his best game of the season last Sunday, throwing four touchdown passes against the
New Orleans Saints
, as the Packers continue adjustments designed to take away the deep pass.
Jay Cutler
Was:
8
Is:
13
Seifert comment:
Cutler threw four interceptions in Week 2 and had arguably the best game of his career in Week 4. I'm guessing that from Jaworski's perspective, there has been an intolerable level of inconsistency for an elite quarterback.
Matthew Stafford
Was:
14
Is:
15
Seifert comment:
Jaworski is worried about Stafford's mechanics, but the bigger problem is that opponents have exposed the Lions' imbalance on offense.
Christian Ponder
Was:
28
Is:
20
Seifert comment:
Ponder is the only NFL starter without an interception and has been put in mostly manageable positions by offensive coordinator
Bill Musgrave
.
July, 12, 2012
7/12/12
10:45
AM ET
We're Black and Blue All Over:
Hopefully Thursday morning's routine change didn't throw you off your game. My request last month for feedback made clear that BBAO remains in high demand, but many of you weren't concerned if it was the first post of the day. I'll plan to continue early-morning BBAO posts on most days, but occasionally there will be exceptions.
None of that should damper or diminish a
successful Wednesday night for the NFC North at the ESPYS
. Green Bay Packers quarterback Aaron Rodgers was named the NFL Player of the Year, while Detroit Lions quarterback Matthew Stafford won the Best Comeback award.
Rodgers lost out to LeBron James for Male Athlete of the Year. Such is life.
Let's take a mid-morning spin around the division:
July, 11, 2012
7/11/12
2:00
PM ET
On Tuesday
, we passed along that ESPN's Ron Jaworski ranked
Green Bay Packers
quarterback
Aaron Rodgers
as the top quarterback in the NFL.
On Wednesday, we as a matter of course bring you the, uh, contrarian view. You can probably guess the rest. On with it. ...
June, 14, 2012
6/14/12
11:30
AM ET
Some of you have noticed that ESPN analyst Ron Jaworski is conducting a 30-part review of the NFL's top quarterbacks, a production that should generate considerable interest in this division as we approach the top 10. The NFC North portion kicked off, however, with the
Minnesota Vikings
'
Christian Ponder
checking in at No. 28.
(
Tim Tebow
was No. 30 and
Blaine Gabbert
was No. 29, for those interested.)
[+] Enlarge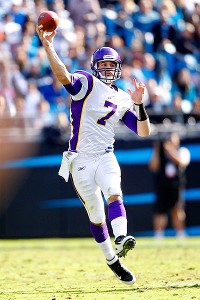 Bob Donnan/US PresswireVikings QB Christian Ponder showed promise during his rookie season, but he needs to work on making smarter decisions.
We discussed
Ponder's goals and challenges for improvement
last month. Jaworski said he expects Ponder "to improve significantly this season" and pointed out some positives and negatives in his assessment. Here are some excerpts:
"Ponder has many of the attributes I look for when I evaluate quarterbacks. I saw pocket movement, the ability to move within the pocket, maintain downfield focus and deliver the football with accuracy. I also saw the added dimension of getting outside the pocket in response to pressure with the speed to create an explosive gain. And how about this for a rookie quarterback: Ponder's rating was 114, the NFL's best inside the 20. His movement was also a big factor, as was his willingness to make stick throws into those small windows, a necessity in the tight red zone area. …

As he begins his second season, Ponder needs work as a progression reader. He had a tendency to predetermine some throws, and, in addition, there were too many times he did not recognize the coverage."
Jaworski specifically noted the first of Ponder's three interceptions in a Week 11 loss to the
Oakland Raiders
. (
Video here via NFL.com
.) On the play, Ponder forced a pass to his first read -- slot receiver
Percy Harvin
-- even though safety
Matt Giordano
had the play read perfectly from the outset.
Jaworski: "His primary read was Percy Harvin on a corner route from the slot. The half-field safety was sitting right there, settled, looking back at Ponder. As a quarterback, you have to be aware of that. That's part of the learning curve for Ponder."
That example fits perfectly with something Ponder acknowledged was an important part of his progression last month. As part of an effort to be more efficient on first down, Ponder said he wants to be more aware of checkdown possibilities.
"Just [need to make] smarter decisions, I think," he said. "Not trying to force the ball down the field. I think if we have go routes called, if it's not open, have the patience to be able to check it down. It all comes down to patience and knowing your reads and finding the open guy. Football is not a hard game. You've just got to find the open guy and get the ball to him."
We'll keep you updated on where Jaworski ranks
Aaron Rodgers
,
Jay Cutler
and
Matthew Stafford
. He is reporting on one player per day, so I'm guessing it will be a few weeks before we circle back on this project from a division perspective.
(Hat tip to ESPN communications guru Bill Hofheimer for passing along the transcript of Jaworski's analysis.)
November, 10, 2011
11/10/11
7:15
AM ET
We're Black and Blue All Over:
The Detroit Lions are hoping that rookie defensive tackle Nick Fairley has turned the corner in his recovery from a foot injury that forced him to miss five of this season's first eight games and left him with little first-half impact in 2011.

After resting during a well-timed bye week, Fairley said, via
Philip Zaroo of Mlive.com
: "I'm feeling real good. The break did a lot for me, especially just being able to sit back and rest up -- get off my feet, let it heal on its own without nothing moving, without doing a lot of walking around or whatever. ... I'm all good to go, ready to go now. Second half, here we go, here we come."
Given their depth at defensive line, the Lions have always been in good position to absorb Fairley's injury and allow for a slow and effective return. They started the season 6-2 without getting much of a contribution from him, but they could be in position to get a second-half boost from their first-round draft pick.
Continuing around the NFC North:
September, 29, 2010
9/29/10
5:01
PM ET
Here's all we can say for Week 3: The NFC North has seen better weeks in the penalty department. Our teams were called for a combined 43 penalties in two games Sunday afternoon and Monday night, including 18 on the
Green Bay Packers
and 12 on the
Minnesota Vikings
. There are so many to choose from for our weekly Dirty Laundry feature, so I've somewhat arbitrarily selected two.
The first was one that didn't pass the smell test at the time and, as it turns out, can't be reconciled in the NFL rule book, either. As you might recall from Sunday's game at the Metrodome, referee Ed Hochuli's crew ruled a third-quarter
Brett Favre
pass incomplete even after it landed four yards behind the line scrimmage.
It seemed the play should have been ruled a backward pass and thus a live ball. Vikings tailback
Adrian Peterson
was in the process of recovering it at the 25-yard line when whistles blew. In a lengthy explanation, Hochuli said that Favre's arm was initially moving forward and that it was re-directed by contact -- in this case, by blitzing Lions linebacker
DeAndre Levy
.
Indeed, here's what Rule 3, Section 22, Article 2, Note 2 says about that topic:
When a Team A player is holding the ball to pass it forward, any intentional movement forward of his hand starts a forward pass. If a Team B player contacts the passer or the ball after forward movement begins, and the ball leaves the passer's hand, a forward pass is ruled, regardless of where the ball strikes the ground or a player.
One problem: When you watch the replay, Favre's arm was never moving forward. Peterson was always his intended receiver, and he was at best one or two yards behind Favre at the time of the pass. At the moment Levy hit him, Favre was standing at more than a 90-degree angle to the line of scrimmage. Unless I'm missing something, Hochuli's crew misapplied this rule. It should have been a backward pass, and it should have been marked on the yard line that Peterson would have recovered it on.
[+] Enlarge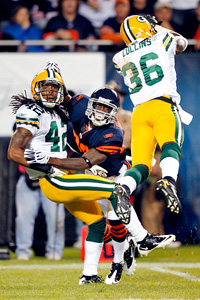 AP Photo/Paul SpinelliMorgan Burnett's 24-yard pass interference penalty gave the Bears a first down on Green Bay's 9-yard line.
Our second call sparked some outrage within the Packers' locker room. Cornerback
Charles Woodson
pleaded for a philosophical shift away from the mentality that he thought left officials no choice but to call pass interference on rookie safety
Morgan Burnett
with 1 minute, 44 seconds remaining in Monday night's game at Soldier Field.
"Somehow," Woodson said, "you've got to get away from letting quarterbacks throw the ball up for grabs when both players have engaged downfield and then you get the penalty and they get the ball at the [9]-yard line. That needs to change. That's heartbreaking for a team to battle all game and then it's always the offensive guy that gets that call. That has to change."
Woodson was blitzing on the play and didn't see it live. Perhaps he saw a scoreboard replay, but I have to agree with ESPN analyst Ron Jaworski. "That will be called every single time," Jaworski said during the live broadcast.
When you watch the replay, you see Burnett running to catch up with Bears receiver
Earl Bennett
at about the 10-yard line. Burnett first runs into Bennett and then wraps his right arm around Bennett's left hip. His hands remain in contact with Bennett even as he turns to look for the ball, which quarterback
Jay Cutler
had overthrown.
It's one thing to have contact as two players are playing the ball. Woodson has a point in arguing that those calls should be evened out or just wiped out altogether. But I don't see a time in the near future when NFL officials will allow defenders to grab and hold receivers before they turn to look for the ball themselves.
On to this week's Challenge Tracker:
February, 11, 2010
2/11/10
7:45
AM ET
Minnesota made a contract offer to free-agent running back DeDe Dorsey before he signed with Detroit this week, prompting
Judd Zulgad of the Star Tribune
to wonder what is the Vikings' plan for backup tailback Chester Taylor.

Taylor's contract expires next month, and he is eligible for unrestricted free agency whether or not the NFL moves to an uncapped season. There is no way the Vikings considered Dorsey a possible replacement, but there's also no guarantee they plan to bring back Taylor, either.
Taylor has been a backup for all but one season of his career and has a relatively small total of 1,028 carries over eight seasons. But he will turn 31 in September and it's not often that you see teams spend significant money on a running back over the age of 30.
There are no obvious replacements on the Vikings' roster. As always, stay tuned.
Continuing around the NFC North:
September, 16, 2009
9/16/09
5:15
PM ET

Posted by ESPN.com's Kevin Seifert
EDEN PRAIRIE, Minn. -- Sunday will mark the first of two pretty significant milestones for Minnesota quarterback
Brett Favre
. By opening the Vikings' game at Detroit, he'll extend his streak of consecutive starts to 271 and break the NFL record held by former Vikings defensive end Jim Marshall.
And if all goes well for Favre, he'll pass Marshall on the league's all-time list for consecutive games played later this season. (Note the distinction between games STARTED and games PLAYED.) The Vikings' Dec. 6 game at Arizona would be Favre's 283rd consecutive GAME.
New York Giants
punter
Jeff Feagles
is the only player ahead of Marshall with a mark of 337 consecutive games played and counting. (Punters don't get credit for starts.)
Reflecting on that history Wednesday, Favre recalled an earlier milestone. In a 1999 game against Chicago, he broke Ron Jaworski's record for most consecutive starts by a quarterback.
"They stopped the game," Favre said. "I was kind of like, it's not that big of a deal. It is and it isn't. But I feel like stopping the game every time now. I think I always knew how difficult it was to play. It's the game of football. You can get hurt doing anything. But the game of football is physical. I don't get hit every play like running backs and linemen, but I think about 16, 17 straight years. That's a long time."
Indeed, Favre hasn't missed a start since taking over the Green Bay job on Sept. 27, 1992. Wednesday, he said the closest he has come to missing a game was after fracturing the thumb on his throwing hand in Week 7 of the 2003 season.
"It's important because I know how hard it is to do," Favre said. "... But it's not important enough just to play just to keep the streak alive. That's never been my intention."
Perhaps not, but Favre is nevertheless entwined and invested in the streak. Part of his value and identity is showing up for work every day. Many moons ago, I covered the Baltimore Orioles when Cal Ripken broke Lou Gehrig's record of 2,130 consecutive games. There were regular calls for Ripken to end his streak after he broke the record, but Ripken considered his daily availability to be the ultimate individual contribution he could make in a team environment. I'm guessing Favre feels the same way.
April, 25, 2009
4/25/09
12:45
PM ET
ESPN's Mike Tirico, Trent Dilfer, Ron Jaworski, Tom Jackson, and Cris Carter debate whether Matthew Stafford is the right pick for the Detroit Lions.