November, 23, 2012
11/23/12
11:00
AM ET
After the Detroit Lions' 34-31 loss to the Houston Texans, here are three issues that merit further examination:
ESPN.com

In the hours after the loss, many Lions fans were upset to see the emphasis on coach Jim Schwartz's mistaken challenge and Ndamukong Suh's kick of quarterback Matt Schaub -- rather than several other plays that worked against the Lions. There is no doubt that Texans defensive lineman J.J. Watt should have been called for a hit to quarterback Matthew Stafford's chin, and it sure appeared that the Lions should have gained control after a first-quarter challenge on what looked like a muffed punt return. But missed calls are part of any game. What made the Schwartz decision and the Suh kick unique were that they came outside of the normal flow of a game. Both will merit attention from the league office. Schwartz likely triggered a re-write of the rule so that plays can still be reviewed even after a delay of game penalty. Suh could face a fine or suspension. I understand the frustration, but noting unique plays does not necessitate a recitation of all potential officiating mistakes to be fair.

I'm sure there were some people who got perverse pleasure from seeing Schwartz make a mental and/or emotional mistake during a game. After all, Schwartz has twice been caught lecturing others about knowing the rules. San Francisco 49ers coach Jim Harbaugh and referee Ron Winter were both recipients of such sentiment last season. Schwartz said afterwards that he knew the rule, which I believe, and took full responsibility for the impact of his mistake, which was what he should have done. So what did we learn from this episode? Frankly, Schwartz lost some credibility when it comes to imploring his players to maintain their composure during games. I've tried to avoid making the easy connection between Schwartz's fiery personality and the Lions' frequent mistakes of aggression during his tenure. But this incident makes that connection more difficult to avoid. The play came too early -- with 6:35 remaining in the third quarter -- to be directly responsible for the loss. But according to ESPN's expected points model (explanation here), it was as big of a swing play as you'll see (6.5 expected points lost). If nothing else, it was another example of the Lions making it too hard on themselves.

The Lions' offense got the ball into Texans territory on each of their final six possessions, including three in overtime, but didn't score once. Still, the day was far from a wash in terms of positive implications. Most notably, rookie receiver Ryan Broyles caught a season-high six passes for 126 yards, including big gainers of 40, 37 and 25 yards. Broyles is a different kind of receiver than the deposed Titus Young, but in the end it's about production rather than where a player lines up on the field. Broyles played 80 of a possible 89 snaps, while newcomer Mike Thomas played 58 snaps as the No. 3 receiver. At least Thursday, neither player appeared to have trouble getting open. Their performance -- Thomas caught a touchdown and also had a 14-yard run -- certainly reduces the urgency on getting Young back anytime soon. With a 4-7 record and some emerging talent, the Lions can afford to take a long-term view of Young's attitude rehabilitation.
And here is one issue I still don't get:
The more the NFL emphasizes concussions, the less I understand them. Last Sunday, Lions cornerback Drayton Florence absorbed a hit to the head on the first play of the game against the Green Bay Packers. He was visibly woozy, so much so that game officials noticed and sent him off the field. He passed sideline concussions tests and returned to the game. Monday morning, he was diagnosed with a concussion. Thursday, he started and played well -- five tackles and a broken up pass -- while missing only three of a possible 79 snaps. The Lions have credibility when it comes to concussions, given the year-long absence of tailback Jahvid Best, so I'm not suggesting anything untoward occurred here. But when you see such a quick turnaround for one concussed player, while others take weeks or longer to get back, you realize how unpredictable these injuries really are.
November, 21, 2012
11/21/12
12:15
PM ET
From the start, the
Green Bay Packers
' decision to line up for a 58-yard field goal attempt last Sunday at Ford Field didn't make sense. Place-kicker
Mason Crosby
had already missed from 50 yards (twice) and 38 yards, and another miss would have given the
Detroit Lions
the ball near midfield in a game they already led 17-14.
The Lions seemed suspicious, first calling a timeout and then stationing returner
Stefan Logan
on the field, presumably to field either a short kick or a quick kick. You know what happened next. Tight end
Tom Crabtree
mimicked the same movement he used to score on a fake field goal in Week 2 against the
Chicago Bears
, popping out of his stance before the snap and stopping behind long-snapper
Brett Goode
as if to take a pitch from holder
Tim Masthay
.
Crabtree then returned to his spot, but not before referee Ron Winter called him for a false start. The penalty forced the Packers to punt, as they probably should have done in the first place, but also raised two questions:
What was the difference between what Crabtree did and when an offensive player goes in presnap motion?
What exactly were the Packers trying to accomplish?
On the first point, the NFL recently drew a more defined distinction between legal movement before the snap and movement clearly designed to draw opponents offside. Here is how the rule book instructs officials to make that distinction, from Rule 1, Section 4, Article 2:
"It is a False Start if the ball has been placed ready for play, and, prior to the snap, an offensive player who has assumed a set position charges or moves in such a way as to simulate the start of a play, or if an offensive player who is in motion makes a sudden movement toward the line of scrimmage. Any quick abrupt movement by a single offensive player, or by several offensive players in unison, which simulates the start of the snap, is a false start."
Intuitively, I think this should make sense to anyone who saw the play. Crabtree didn't back off the line, turn and jog as players normally do when they go in motion. He moved "abruptly" as if the snap had already occurred and then extended his hands to catch a pitch. In essence, the Packers designed an illegal play.
I have heard of teams checking with officials before games on the legality of a potential play, but the officials' response on those occasions are not binding. They still need to see the play occur in real time. So even if the Packers checked with Winter pregame, they wouldn't have a recourse.
As for the second question, Crosby said after the game that the play was initially intended to draw the Lions offside. If they remained in place, Crosby said, "the intention was to kick it" when Crabtree got back in position. Overall, it's safe to say the play wasn't the highlight of the Packers' otherwise winning effort in Detroit.
On to our Penalty Tracker:
October, 25, 2012
10/25/12
11:45
PM ET
MINNEAPOLIS -- A few thoughts after Thursday night's
36-17 Tampa Bay victory
at the Metrodome:


What it means:
The Vikings are 5-3 at their season's midpoint. It's better than what many thought they would do, but their second-half schedule is far more difficult. That's what made Thursday night's presumably winnable game so crucial. Entering this game, home teams had won 13 of the past 16 Thursday-night games. Since 1990, 5-3 teams have made the playoffs 66.4 percent of the time.
Offensive struggles:
Quarterback
Christian Ponder
got off to a slow start on the heels of his 58-yard performance on Sunday against the
Arizona Cardinals
, completing just one of six passes for four yards in the fourth quarter. He played a really substandard game for the second consecutive week. But Ponder wasn't solely to blame for the Vikings falling behind 10-0 in the first quarter and 20-10 at halftime. Two fumbles near midfield, one from receiver
Jerome Simpson
and one from tailback
Adrian Peterson
, led to 10 Tampa Bay points in the first half. But two things seem clear. The Vikings don't have an offense capable of playing from behind. And Ponder doesn't look to be playing with a lot of confidence. He is guiding his throws instead of driving them.
Martin factor:
The Vikings had a hard time tackling an opposing running back for the second game in a row. Last week, it was the Cardinals'
LaRod Stephens-Howling
. Thursday night, it was rookie running back
Doug Martin
, who finished with 135 rushing yards and 79 receiving. Most notably, Martin ran through four arm tackles on his 64-yard touchdown reception on the opening drive of the third quarter.
Seeing blood:
Tensions rose late in the third quarter when Bucs left tackle
Donald Penn
, a former Vikings practice-squad player, pushed off defensive end
Jared Allen
's helmet after the play and landed several punches. Allen was left with a cut on the bridge of his nose and was livid when referee Ron Winter's crew assessed offsetting fouls. As he and Penn continued to gesture to one another, Allen followed up with a sack on the ensuing third down, setting the crowd into a frenzy.
Missed opportunity:
Trailing 30-17 at the time, the Vikings couldn't capitalize on the ensuing emotional wave. They went three-and-out on their next series, which included two plays that lost yardage, and their defense looked winded as the Bucs answered with a 16-play, 87-yard drive that took nearly nine minutes off the clock and ultimately made it a three-score game.
Injury report:
Cornerback
Chris Cook
didn't return after leaving the game in the third quarter with an arm injury. He was replaced by rookie
Josh Robinson
in base defense and veteran
A.J. Jefferson
in the nickel.
What's next:
The Vikings have 10 days to get ready for their next game, Nov. 4 at the
Seattle Seahawks
.
October, 4, 2011
10/04/11
2:30
PM ET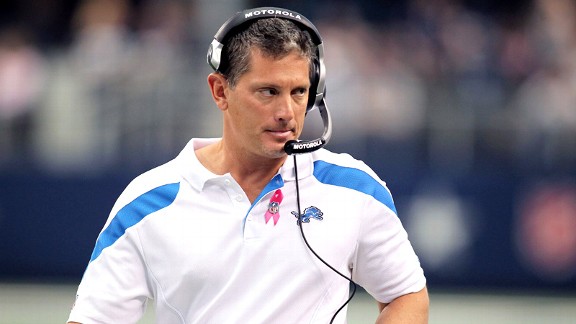 Tim Heitman/US PresswireJim Schwartz, known for his intense sideline demeanor, has one of his calmer game-day moments.
If a football team takes on the personality of its head coach and quarterback, then the
Detroit Lions
are the NFL's most bipolar franchise.
On one end, the Lions are coached by an emerging sideline madman. Already this season, coach Jim Schwartz has been caught cursing at officials, taunting opposing players and creating a postgame fist-pump that has risen to cult status in Detroit.
On the other end, quarterback
Matthew Stafford
's unflappable steadiness has lent serenity to the huddle even as the Lions faced 20-plus point deficits the past two weeks. If his biography didn't confirm that he grew up in Dallas, I would swear Stafford spent his formative days surfing somewhere in northern California.
"We take on Matt's personality out there on the field," receiver
Calvin Johnson
said. "I always say that Matt is cool, calm and collected in the huddle, no matter what the situation is."
Monday night, the nation will see for itself when the Lions host the
Chicago Bears
at Ford Field.
To be sure, Stafford has displayed the enthusiasm of a 23-year-old during the exciting moments of the Lions' 4-0 start. More importantly, however, he hasn't hung his head in moments of despair. After throwing an interception to end the Lions' first possession Sunday at Cowboys Stadium, Stafford simply walked off the field, slapped his hands together and checked in with offensive coordinator Scott Linehan to explain.
Asked about the pass after the game, Stafford shrugged and said: "It was the right read. Just threw a bad ball."
[+] Enlarge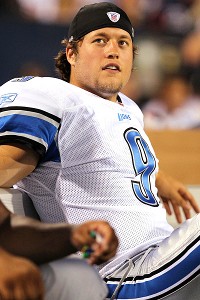 Timothy T. Ludwig/US PresswireMatthew Stafford's cool and measured demeanor provides a nice countermeasure to Schwartz's more fiery approach.
Asked how he handled a 27-3 deficit in the third quarter, Stafford said: "I think everyone was thinking, we've got to make some plays. That's the way it is."
I'm sure some people would prefer a more fiery attitude from a team's on-field leader, but I tend to think that Stafford's perspective is a critical element for this team. An excitable young quarterback is far more likely to force throws and make mistakes than one who mostly avoids the emotional roller coaster of a typical game.
That's especially true, of course, when the head coach is going berserk on the sidelines.
We first discussed Schwartz's sideline demeanor
after his first season with the Lions, noting he was once the epitome of sideline concentration during his tenure as the Tennessee Titans' defensive coordinator.
Like many new head coaches who hand off play-calling duties to assistants, Schwartz filled his game-day void by berating officials and falling prey to the disappointments of his rebuilding team. At the time, Schwartz insisted that his sideline icons were Tony Dungy and Tom Landry and said: "When we get this team the way we need to be, you'll see a lot different me. Because if you look at me for all my years in Tennessee, I wasn't that guy with veins popping out of my head. But you can only do that when you have good players and you have confidence in them and they know you really well."
So much for that.
At the end of the Lions' Week 3 victory over the
Minnesota Vikings
, FOX microphones caught him telling referee Ron Winter's to "learn the [expletive] rules!"
And in the third quarter last week, Schwartz took exception to
Dallas Cowboys
receiver
Dez Bryant
's trash-talking to Lions players during a break in the action while officials reviewed his 34-yard catch. Schwartz had immediately challenged it, and when referee John Parry reversed it, Schwartz took of his headset and pointed at Bryant.
His lips were easy to read.
"Hey, hey," Schwartz screamed. "How about that? Incomplete, you mother [expletive]!"
Asked about the episode Monday, Schwartz smiled and said: "I don't think Dez Bryant had a catch after about midway through the first quarter."
Actually, he caught one more -- a 6-yard touchdown in the second quarter. But the point was taken. Bryant didn't sustain his hot start, or justify his trash-talking, thereafter.
To be clear, Schwartz's sideline demeanor has never pushed him over the edge or left him unable to do his job. The Lions' 4-0 start has been characterized by aggressive but sound game management.
And away from the field, Schwartz has a pretty monotone conversational style. His news conferences suggest he has a future in filibustering if he ever decides to step down from coaching. In reality, he is a young coach whose first head-coaching offer came from what was, at the time, the worst franchise in the league. Like everyone else in the Lions organization, he has taken a special measure of pride in their resurrection this season.
But that's how it has worked so far for the 2011 Lions. The coach gets 'em fired up while the quarterback keeps 'em level-headed. So far, it's been a perfect combination.
November, 26, 2010
11/26/10
10:00
AM ET
After the Detroit Lions' 45-24 loss to the New England Patriots, here are three issues that merit further examination:
Kevin SeifertAmid some backbiting following their loss to the Patriots, the Lions take their turn in the exam room.

The Lions have done nothing to dissuade us of this intangible but real observation: They don't know how to win. They've been within five points of their opponents in the fourth quarter of all nine of their losses this season. Nose tackle Corey Williams and cornerback Chris Houston reacted emotionally after this latest loss. But they were essentially right to point out that in critical situations, the Lions don't know what to do, how to set aside adversity or what it takes to make that final sprint to the finish line. (Houston's suggestion that the team has "little heart" was a bit over the top. I would suggest it's more a matter of "little experience at winning.") There is no easy fix here. Ultimately, what you need is a player or a group of players stepping forward and demonstrating on a consistent basis how to rise to the occasion. A sack on third down. Forcing a turnover. Breaking tackles. If you're a young player on the Lions' roster, a good place to start is by watching defensive end Kyle Vanden Bosch.

I'm not sure if any scheme would have stopped Patriots quarterback Tom Brady, who survived a five-hit first half to finish the game with a perfect passer rating of 158.3. But it's worth noting that the Lions didn't really come after him from a blitz perspective. According to ESPN Stats & Information, the Lions were in their four-man rush on nearly 80 percent of Brady's dropbacks. In the second half, Brady completed 10 of 11 passes for three touchdowns against the Lions' standard rush. I would understand if the Lions weren't confident enough in their coverage to utilize the blitz more often, but on Thursday, it was clear their base defense wasn't up to stopping him.

Tight end Brandon Pettigrew caught five passes, giving him 55 for the season and a new Lions single-season record for receptions in a season by a tight end. But it was one catch he wasn't credited for that proved a huge turning point in the game. Referee Ron Winter's crew called Pettigrew for offensive pass interference after his 21-yard reception in the fourth quarter converted a third-and-5 situation, wiping out the catch and ultimately forcing the Lions to punt as they trailed 31-24. I thought the call was marginal at best, and the Patriots put the game out of reach on the ensuing drive.
And here is one issue I don't get:
Lions coach Jim Schwartz was obviously upset about the call against Pettigrew, as well as a pass interference penalty on linebacker DeAndre Levy that gave the Patriots a third-down conversion in the second quarter. Here's what Schwartz said: "The fact is, when you're a 2-9 football team, you're not going to get those calls. When you're a 9-2 team, you're going to get those calls. That's the way the NFL is. It's close games and we don't have the reputation of being a team that makes those plays. We need to make those plays and then complain about officiating." I agree with part of what Schwartz said. The Lions shouldn't expect to get marginal calls. But I don't think it's because they are 2-9 this season. It's because they continue to play sloppy, undisciplined football. Questionable calls aside, the Lions made plenty of unambiguous mistakes Thursday. If officials are inclined to be influenced in any way, it's for that reason. Penalties and mistakes beget more penalties and mistakes.
November, 4, 2009
11/04/09
2:00
PM ET
Posted by ESPN.com's Kevin Seifert
I'm starting to get regular requests from readers for Dirty Laundry. That's a good thing, and I'll do my best to expand this post as best I can. Please understand, however, that I probably won't be able to get to every questionable/interesting call.
We'll take a look at two calls this week, one of which is unfortunate while the other is a bit perplexing.
On the former:
Some Detroit fans were upset with referee Ron Winter's decision to penalize linebacker
Julian Peterson
for roughing the passer on a third down incompletion during the first quarter of last Sunday's 17-10 loss to St. Louis.
As you might recall, the Rams were facing 3rd-and-9 at the Lions' 27-yard line with 5:22 remaining in the first quarter. Peterson lined up as the Lions' right defensive end and beat Rams left tackle
Alex Barron
around the corner. Just as quarterback
Marc Bulger
released the ball, Peterson reached out and hit Bugler on the top of the helmet with his right hand.
The hit wasn't violent, but it was hard enough that Bulger's head moved slightly. His pass fell incomplete, which would have forced placekicker
Josh Brown
to attempt a 46-yard field goal. But Winter immediately whistled Peterson for roughing the passer, giving the Rams a first down. Ultimately, Brown converted an easier 41-yard field goal.
Unfortunately, Peterson was just out of luck on this call. The NFL rule book warns that "referees will be particularly alert to fouls in which defenders impermissibly … use hands, arms, or other parts of the body to hit the passer in the head, neck or face."
Peterson intended no malice but, as we
discussed last month
when the Lions fell victim to another weak roughing penalty, the NFL long ago decided to protect quarterbacks at all costs. Even Lions coach Jim Schwartz couldn't argue.
"He hit him in the head," Schwartz said. "It was a glancing blow but the rule book states you can't hit the quarterback in the head. … That's the definition of the rule. It's hard on defensive players. If you go low on the quarterback you're going to get a penalty. We had one of those a couple of weeks ago. If you go high and you hit him in the head you get a penalty. If you try to hit him in the belly and he ducks his head and you hit him in the head, it's a penalty. It's difficult for those guys. They just have to go play and they need to let the officials officiate. We just need to play. You hit the quarterback in the head, it's going to be a penalty. They're going to throw it."
On the latter call:
I received a question during Tuesday's SportsNation chat about Minnesota's botched snap in the first quarter of last Sunday's game at Lambeau Field. (I didn't address it because I wasn't sure of the answer.) Specifically, the issue was whether Vikings quarterback
Brett Favre
should have been called for illegal motion because he was walking toward the line of scrimmage when center
John Sullivan
snapped the ball.
The NFL rulebook is pretty explicit on this issue. It reads, in part: "No player is ever permitted to be moving obliquely or directly forward toward his opponent's goal line at the snap."
There are no exceptions, from what I can gather. Technically, then, Tony Corrente's crew should have called Favre for illegal motion.
We should make clear that this is nearly a moot point. Had illegal motion been called, the Packers would have declined because they recovered the ball at the Vikings' 21-yard line. Had the Vikings recovered, the lost yardage probably would have been more than the 5 yards docked for illegal motion anyway.
Finally, here is our updated Challenge Tracker:
NFC North Challenge Tracker
Team
Coach
Challenge
Overturned
Success rate

Chicago

Lovie Smith

7

2

28.6

Detroit

Jim Schwartz

2

0

0.0

Green Bay

Mike McCarthy

4

1

25.0

Minnesota

Brad Childress

5

2

40.0

Source: NFL