May, 22, 2013
May 22
2:30
PM ET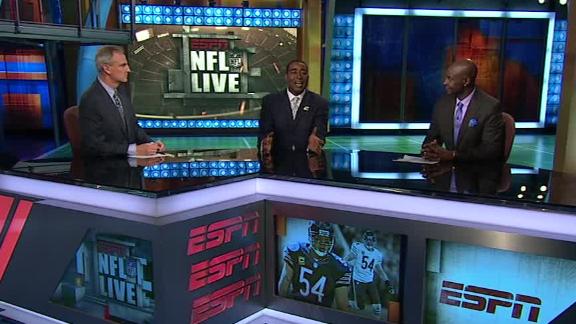 Reviewing the Pro Football Hall of Fame's list of middle linebackers is a sobering experience.
The position is well-represented, but almost all of the enshrinees -- Dick Butkus, Jack Lambert and Willie Lanier among them -- are drawn from a long-gone era of NFL defenses. In fact, former
Chicago Bears
star Mike Singletary is the only current Hall of Fame middle linebacker whose career started in the past 36 years.
The best case to be made for
Brian Urlacher
's candidacy, now that he has announced his retirement, is that his career reversed the decades-long decline in the value of the position. Along with the
Baltimore Ravens
'
Ray Lewis
, Urlacher modernized middle linebacking by adding speed and regular playmaking to the traditional role of helmet-jarring hits and fierce leadership.
Hall of Fame players can't simply be top performers over a period of NFL seasons. In a competitive environment where ballots are limited to five enshrinees per year, candidates must stand out. Some might be the best players in a generation, but if their position is as undervalued as middle linebacker has been over the past few decades, they also would need to have changed or impacted the game in a unique way.
I think Urlacher did that. It helped that he was drafted by a team that soon moved to a scheme that perfectly fit a middle linebacker who could run like a safety. It also helped that in his best years, Urlacher had some stud defensive tackles in front of him who limited free shots from offensive linemen.
Regardless, the Bears' defense in the Lovie Smith era wouldn't have worked without Urlacher covering the deep third of the field while also holding his own at the line of scrimmage. His ability to get 25 yards downfield, in between chasing runners from sideline to sideline, was a new development for the modern-day middle linebacker.
When Urlacher was sidelined, for 15 games in 2009 and four games last season, the Bears' defense dipped noticeably and obviously, especially against the pass. In the games that Urlacher missed over that stretch, opponents' Total Quarterback Rating (QBR) rose from 39.5 to 60.1 (on a scale of 0-100), according to ESPN Stats & Information.
He is one of four players in NFL history with at least 40 sacks and 20 interceptions in his career, as the chart shows, and he is one of seven players to win the NFL's Defensive Rookie of the Year and Defensive Player of the Year award. Of the other six, three are in the Hall of Fame and two others aren't yet eligible.
Urlacher's résumé of sustained elite performances,
even after his 2009 wrist injury
, and his notable impact on how the game is played merit Hall of Fame enshrinement. How long it will take for him to be elected is almost a silly discussion. We don't know what the backlog will be like in 2018, but there is a pretty strong group of players who will be eligible for the first time alongside Urlacher. The group includes Lewis,
Steve Hutchinson
,
Ronde Barber
and perhaps
Randy Moss
.
Timing, of course, is but a detail. I'm sure there will be plenty of discussion between now and then. But you would think Canton has room for Brian Urlacher. Frankly, he made that space for himself.
November, 20, 2011
11/20/11
8:00
PM ET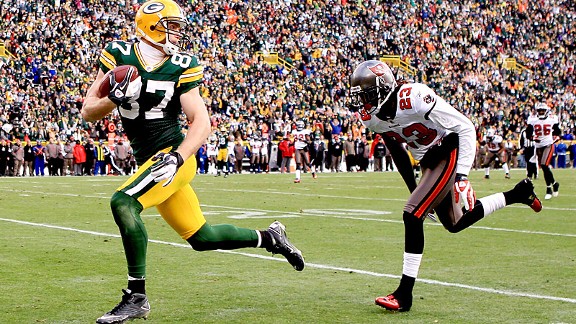 Matthew Stockman/Getty ImagesJordy Nelson caught six passes for 123 yards and two touchdowns against Tampa Bay.
GREEN BAY, Wis. -- I'm sorry to disappoint you. We had it half-right last week on
Jordy Nelson
. He does fit a stereotype -- just not the one that seeped its way into national discussion.
The son of farmers and a Kansan, Nelson wears his hair in a crew cut and still squints in front of television camera lights. He physically recoils in the public spotlight and really means it when he says: "I just prefer to do my job every day in practice, and in the game, and then go home and hide out with the family."
Nelson is a blue-collar Midwesterner if there ever was one, a condition that will be increasingly difficult to maintain after a stretch of games that could catapult him to the Pro Bowl. Nelson caught two more touchdown passes Sunday in the
Green Bay Packers
' 35-26
victory
over the
Tampa Bay Buccaneers
, including the game-clincher, and brought his season total to nine with six games remaining.
How understated is Nelson? Discussing his performance Sunday, the best word that coach Mike McCarthy and quarterback
Aaron Rodgers
could come up with was "consistent." Added McCarthy: "I wish I could be more complimentary: He is so consistent and he's the same guy every day, and that's huge on a lot of different fronts... ."
Which is largely why Nelson seemed so out of place last week
in a national discussion
about the speed and perception of white receivers. We touched on the topic twice, wondering whether opponents were truly underestimating him because of race or whether they have made a schematic decision to focus on other players in the Packers' offense.
Regardless, Nelson said the issue made him "uncomfortable" as it played out last week. He said he laughed when an official, and even some Bucs players, referenced it on the field Sunday. But you don't have to know Nelson well to recognize he wasn't going to dip his toe into those social waters.
"I hate the spotlight," he said. "I don't like it. That's why, what happened last week, I did not like that one bit. … I don't even deal with race and anything like that. It's something we've discussed in the locker room here, and I hope it didn't offend anybody. … I'm not mad at anybody. I just don't like to be in the spotlight, and that kind of put me out there."
It would be insulting to the Buccaneers to suggest they underestimated Nelson, for racial or any other reasons. Sunday marked his third 100-yard game in the past five weeks, and here are his numbers during the Packers' 16-game winning streak, dating to last season and including playoffs:
Receptions:
67
Yards:
1,255
TDs:
12
"I really don't care how they think," Nelson said, "because honestly, if someone underestimates you, it's better [for me]. But everyone in this league has a job. They watch film. They see what they see. I'm going to keep doing what I'm doing and keep grinding."
[+] Enlarge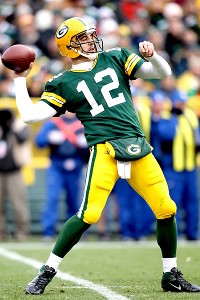 Matthew Stockman/Getty ImagesAaron Rodgers has thrown 31 touchdown passes this season, including nine to Jordy Nelson.
I would think opponents are now fully aware that Nelson is not a stereotypical white receiver, if there is such a thing. He can run past anyone, as suggested by his average of 18.7 yards per catch over that 16-game stretch. But there is only so much that can be done while also defending against receiver
Greg Jennings
, tight end
Jermichael Finley
and the rest of the Packers' offense.
Sunday, the Buccaneers fruitlessly searched for ways to handle Nelson while not losing sight of the Packers' so-called heavy hitters. Nelson is a starting-caliber receiver whom the Buccaneers mostly tried to defend with backups. Ever heard NFL people talk about having players who can step up when the focus is elsewhere? Nelson hasn't been underestimated; he's the best example of how the Packers' offense is overwhelming opponents on matchups.
Sunday, the Buccaneers tried nickel back
E.J. Biggers
on Nelson. They rotated cornerback
Ronde Barber
on him a few times, and for some reason had little-used
Myron Lewis
matched up in single coverage on third-and-four at the Bucs' 40-yard line with 3 minutes, 1 second remaining in the game.
The Packers were clinging to a 28-26 lead. If you watch the replay, it appears that Nelson put a dirty double-move on Lewis to leave him in the dust for a 40-yard touchdown.
Not so, Mr. Humble said afterward.
Nelson said he thought Rodgers was going to feed him a shorter pass that would be a jump ball.
"So I slowed down a little bit to gather myself to get ready to jump," Nelson said. "And when it came out of his hand, I was like, whoa, that kind of took off. That little hesitation did help myself. The DB did think it was going to be to the back shoulder."
Come on. Nelson wasn't going to say so, but make no mistake: It was a big-time move at a critical moment for a team that is making a run at history. This season, Nelson has showed us that stereotypes can be true. You just have to make sure you've nailed him on the right one.
September, 5, 2011
9/05/11
2:00
PM ET
You've
heard the news
by now:
Indianapolis Colts
quarterback
Peyton Manning
will pull back from his neck rehabilitation and is doubtful for Sunday's regular-season opener against the
Houston Texans
. Barring an unexpected change of course, it appears Manning's streak of 208 consecutive starts will end.
Favre
Manning
That event will remind us how incredible
Brett Favre
's NFL record (297 consecutive starts) is and how difficult it will be for anyone to break it. Keep in mind that Manning is 35, has started every Colts game since the beginning of the 1998 season -- and he still would have needed to play the equivalent of six more seasons to overtake Favre.
As
NFC West colleague Mike Sando
points out, those who trail Manning stand even less of a chance of approaching Favre's mark. Next up is
Tampa Bay Buccaneers
cornerback
Ronde Barber
, who at 179 games would need to play another eight seasons to do it. Barber is 36 years old.
Just as significant from a historical impact: The injury sets back Manning's pursuit of Favre's NFL records for completions, attempts, yardage and touchdowns. As we
discussed in May
, Manning is at least 3 1/2 seasons away from breaking any of those records, and even that projection was based on both a continuation of his career averages and consecutive games-played streak.
We've hardly mentioned Favre this summer and I don't intend any gratuitous posts moving forward. But on this occasion, it's worth noting the impact of Manning's injury on Favre's legacy.
July, 12, 2011
7/12/11
5:15
PM ET
Thanks to everyone who joined in on a
festive and well-attended SportsNation chat
. I'll circle back on a number of the issues you brought forth during the week, but I wanted to get to one right away because it applies to the
latest installment of our Calling Canton series
on the prospects of
Green Bay Packers
cornerback
Charles Woodson
.
Jay (Boston)

Kevin, enjoyed the Calling Canton article today. One stat that wasn't mentioned--and might be difficult to compare--that I always sing Woodson's praises on is tackles for loss. I think that there is what sets him apart from so many of the other topflight CB's currently playing--he does an decent job shutting down receivers and plays above average defending the run. Any idea how his tackles for loss numbers stack up against others?

Kevin Seifert (2:37 PM)

Not off the top of my head, but it would be worth checking out. I'll do a follow-up post if I can find it. Thanks, Jay.
As it turns out, the pro-football-reference.com database doesn't track tackles for loss, which are as unofficial as straight tackle statistics. But the Packers' public relations staff forwarded a modern-day comparison, via STATS Inc., that confirms Jay's suspicions.
Over the past five seasons, here are the NFL's unofficial leaders in tackles for loss among cornerbacks (or "stuffs," as STATS refers to them as):
Nate Clements: 18
Ronde Barber: 17
Antoine Winfield: 17
Charles Woodson: 16
Nnamdi Asomugha: 11.5
You ask, we tell. Sort of.
July, 12, 2011
7/12/11
11:30
AM ET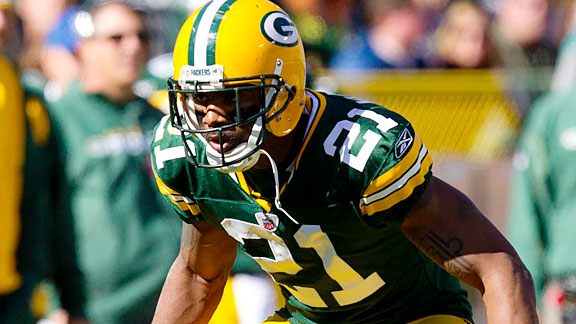 Jeff Hanisch/US PresswireCharles Woodson's longevity and nose for the ball have him on the path for the Hall of Fame.
Another in a series on NFC North players whose career trajectories put them on a path to consideration for the Pro Football Hall of Fame.
All of our previous Calling Canton nominees carry some kind of caveat among their credentials.
Green Bay Packers
quarterback
Aaron Rodgers
has been a starter for just three seasons. Defensive ends
Julius Peppers
(
Chicago Bears
) and
Jared Allen
(
Minnesota Vikings
) fall in a category that hasn't always rewarded high-sack producers. Vikings guard
Steve Hutchinson
plays an uncelebrated position amid some equally talented contemporaries.
I don't know that we'll find a substantive flaw in the candidacy of Packers cornerback
Charles Woodson
, however. Packers columnist Vic Ketchman recently suggested Woodson
will win election on the first ballot he appears
. It's always difficult to predict the first-ballot tendencies of voters, but I'm guessing Ketchman's perspective reflects that of the football establishment: It would be a stunner if Woodson isn't inducted soon after his career ends.
Why such a slam-dunk case? In 13 career seasons, Woodson has already put himself in the appropriate statistical range for Hall of Fame cornerbacks. He has enough interceptions. His coverage skills have never been in question. He won a defensive player of the year award at age 33, a testament to the longevity of his elite skills, and has a particular talent -- stripping the ball -- to hang his figurative hat on.
That's my case in a nutshell, but let's examine the details:
Fair or otherwise, interceptions are always a key measure for defensive backs. Woodson has 47, which places him No. 49 on the NFL's all-time list. Obviously, interceptions don't tell the whole story. But as the first chart shows, there are 11 Hall of Fame players who spent their careers almost exclusively at cornerback. The range for their career interceptions is 46-68. To me, that tells us Woodson's low(er) interception total, which should grow as his career concludes and is based at least in part on how often teams throw his way, won't hold him back.

Interceptions aside, Woodson has risen to near the top of several all-time NFL lists. His 10 interception returns for a touchdown ranks No. 3 all-time, behind Rod Woodson (12) and Darren Sharper (11). And Woodson has more forced fumbles (27) than any other cornerback in NFL history, according to the database at pro-football-reference.com.

Forced fumble records don't go back more than a few decades, as you probably noticed if you followed the link to the database. Even so, we can safely say Woodson is the best of several generations and one of the best ever. A forced fumble is less valuable than an interception, because it still requires recovery to qualify as a turnover. Regardless, the candidacy of any potential Hall of Fame player is buoyed by a skill that stands out from his peers. Woodson without question has that.

The performance that led to his 2009 DPOY award provides a strong illustration for Woodson's multi-faceted success. That season, he became the fourth player in NFL history to record at least nine interceptions and two sacks in a season. Against the Detroit Lions, Woodson became the first player in league history to record two interceptions, a touchdown return, a sack and a fumble recovery in the same game.

There is no reliable way to quantify a player's coverage skills. But throughout his career, Woodson has been well-known for his instincts, ball skills and physicality at the line. Scouts Inc.'s report on Woodson includes these plaudits: "Woodson does a great a great job anticipating break points and jumping routes. He does a great job at jamming and rerouting his opponent off the line of scrimmage in press coverage." And lest anyone doubt his one-on-one skills, go back and watch the play Woodson broke his collarbone on in Super Bowl XLV. He was running stride for stride with Pittsburgh Steelers speedster Mike Wallace, who, among other things, is 10 years younger.
As with our other Calling Canton posts, I think it's important to measure Woodson against his contemporaries, knowing that only the best of any given era typically find their way to the Hall.
Woodson was one of four cornerbacks to make the NFL's all-decade team for the 2000s, joining
Ronde Barber
,
Champ Bailey
and
Ty Law
. As the chart shows, Woodson has three more interceptions than Law and trails Bailey by one. Current stars
Darrelle Revis
and
Nnamdi Asomugha
will also enter the conversation at some point but will need several more years of sustained success to do it.
It's also important to note that since he entered the league in 1998, Woodson has more forced fumbles than any player -- at any position -- other than safety
Brian Dawkins
. Typically speaking, linebackers and safeties should have more opportunities to force a fumble than a cornerback. Woodson's numbers in that category are a testament to his all-around play and should be a big part of any argument for his inclusion on the first Pro Football Hall of Fame ballot he is eligible for.
Earlier:
Rodgers has
put himself on the path toward Canton
. Peppers and Allen
face stiff competition
. Hutchinson
has all the credentials
.
August, 10, 2009
8/10/09
8:39
AM ET
Posted by ESPN.com's Kevin Seifert
BOURBONNAIS, Ill. -- I'll be headed out to Chicago's practice here in a few hours on what is predicted to be a 92-degree day in the greater Bourbonnais-Kankakee area. That's football (practice) weather if I've ever heard of it.
Three-fourths of the NFC North was off Sunday, but one news item caught my eye Monday morning: Green Bay hasn't made any progress on Michael Vick, but it has moved a bit closer in contract negotiations with first-round draft choice B.J. Raji, according to Pete Dougherty of the Green Bay Press-Gazette. A deal might not be imminent, but Denver's agreement with No. 12 overall pick Knowshon Moreno seems to have had a positive effect on the Raji talks.
The Packers are back on the field at 3 p.m. ET Monday. You would think Raji's deal will be done at some time this week, but we're now entering the territory where his availability for the first preseason game will be in question. The Packers will host Cleveland on Saturday night.
Continuing around the NFC North:
January, 13, 2009
1/13/09
9:43
PM ET
Posted by ESPN.com's Kevin Seifert
A few evening notes from the NFC North: